November 25, 2015
Macaroon Tart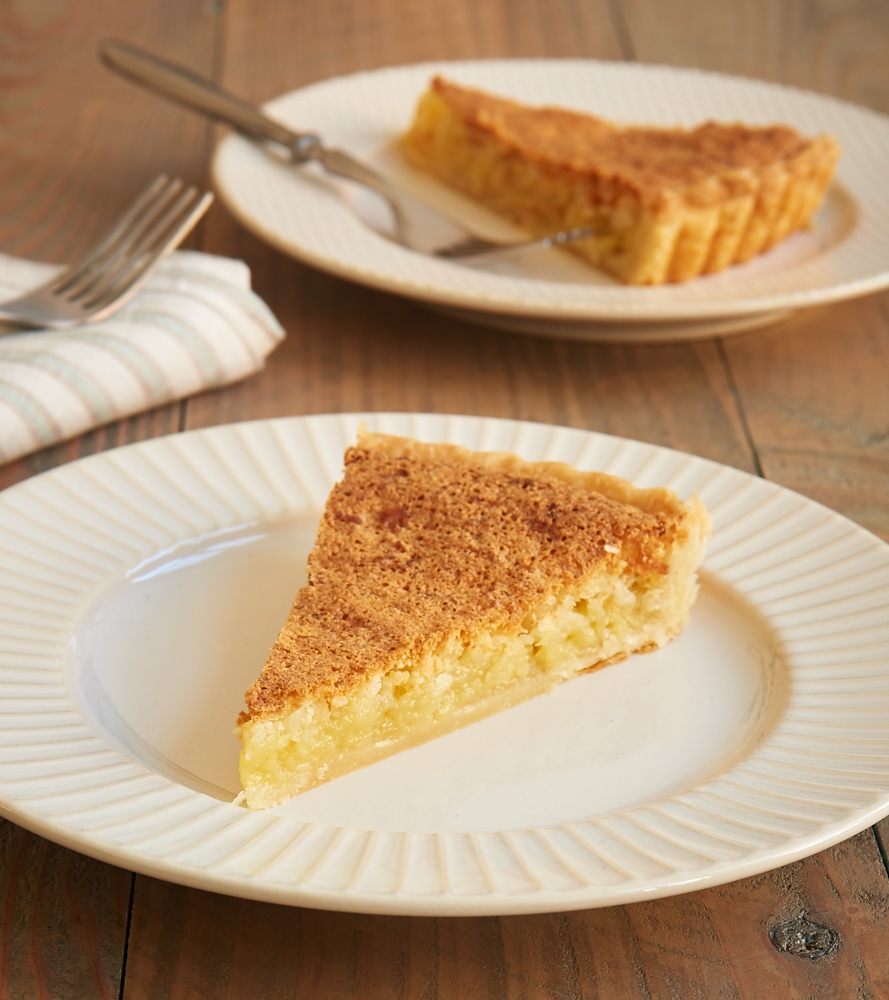 There are days when I completely lack inspiration in the baking department. I just simply cannot think of a thing to bake. That's when I like to get out my mother's and grandmother's recipes and see if anything strikes my baking fancy.
What caught my interest this time was a recipe in my mother's handwriting for Chewy Macaroon Pie. I had no memory of ever having this pie, but it sounded so good and simple that I knew I had to make it.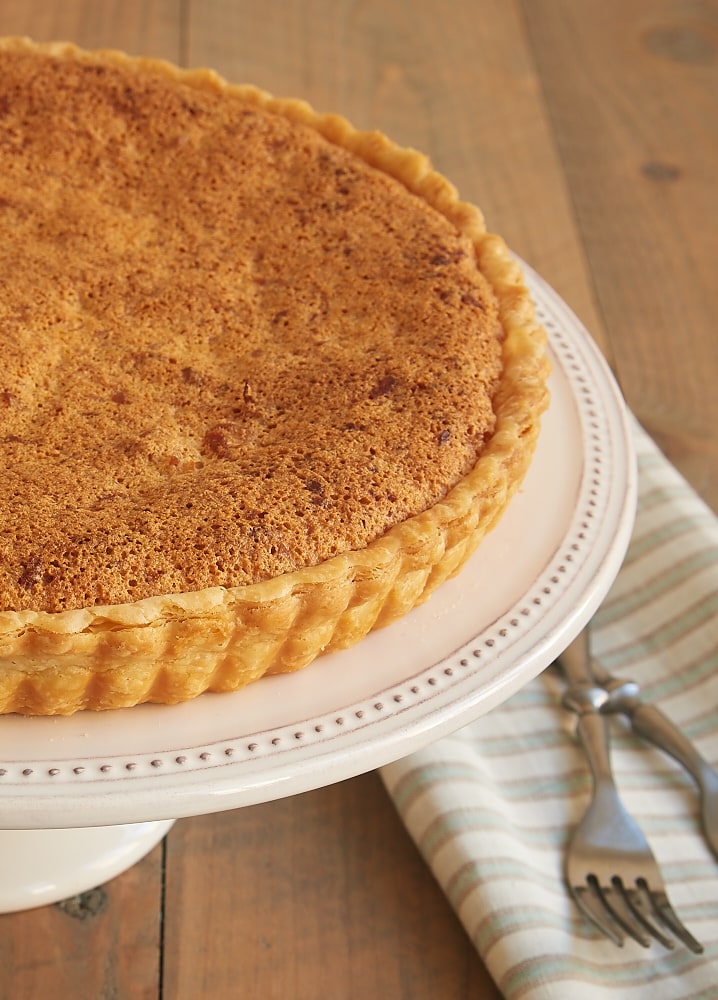 The ingredients list is similar to chess pie recipes – sugar, eggs, milk, butter. But the method is a bit different. Chess Pie is one of those wondrous desserts where you just mix everything in one bowl and pour it into a pie crust. This Macaroon Tart is almost that simple. All of the filling ingredients are mixed together, but the egg whites are beaten before being folded into the filling to give this pie a lighter texture.
Added to that simple filling is one of my favorite ingredients – coconut! It's a perfect companion to the sweet filling. I used vanilla extract with a bit of almond extract to add even more flavor. Try substituting lemon juice for the extracts for a little variety.
I must tell you that one bite of this pie was instant nostalgia for me. I may not have remembered the name of the pie, but I knew immediately that I'd eaten it many, many times when my mother made it. I'm so excited to have rediscovered this absolutely lovely dessert and to be able to share it with you!
Visit the Recipe Index for more pie recipes!
Macaroon Tart
Yield: 8 to 10 servings
Prep Time:35 minutes
Cook Time:35 minutes
Coconut lovers will want to devour this sweet, chewy Macaroon Tart!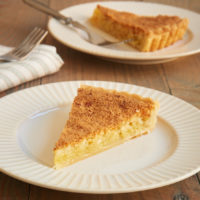 Ingredients:
For the crust:
1 & 1/4 cups all-purpose flour
1 teaspoon granulated sugar
1/2 teaspoon salt
1/2 cup cold unsalted butter, cut into 1/2-inch cubes
2 to 4 tablespoons cold water
For the filling:
2 large eggs, separated
1/4 teaspoon salt
1 cup granulated sugar
1/4 cup milk
2 tablespoons unsalted butter, melted
1 teaspoon vanilla extract
1/4 teaspoon almond extract
1 cup sweetened flaked coconut
Directions:
To make the crust:
Whisk together the flour, sugar, and salt in a large bowl. Add the butter and mix with a pastry blender or a fork until the mixture resembles coarse meal and the butter is the size of small peas.
Add 1 tablespoon of water and continue mixing. Add more water as needed, 1 tablespoon at a time, until a dough forms.
Wrap the dough tightly in plastic wrap. Refrigerate for at least 2 hours.
Remove the dough from the refrigerator. If necessary, let it sit at room temperature for 10 to 15 minutes until slightly softened but still cold.
Lightly flour a work surface. Roll out the dough into a circle about 1/8-inch thick.
Transfer the dough to a 9-inch tart pan with a removable bottom. Trim the edges of the crust.
To make the filling:
Preheat the oven to 375°F.
Beat the egg yolks and salt until combined. Add the sugar, about 1/2 cup at a time, and mix until combined. Add the milk, butter, vanilla, and almond extract, and mix thoroughly.
In a separate bowl, beat the egg whites until they form stiff peaks. Fold the egg whites and the coconut into the filling mixture.
Transfer the filling to the pie crust. Bake 30 to 35 minutes, or until the top is golden brown and a thin knife inserted into the center comes out clean.
Cool completely before serving.