Are you ready for a chocolate-filled dessert that's perfect for a crowd? Look no further than this Double Chocolate Chip Slab Pie!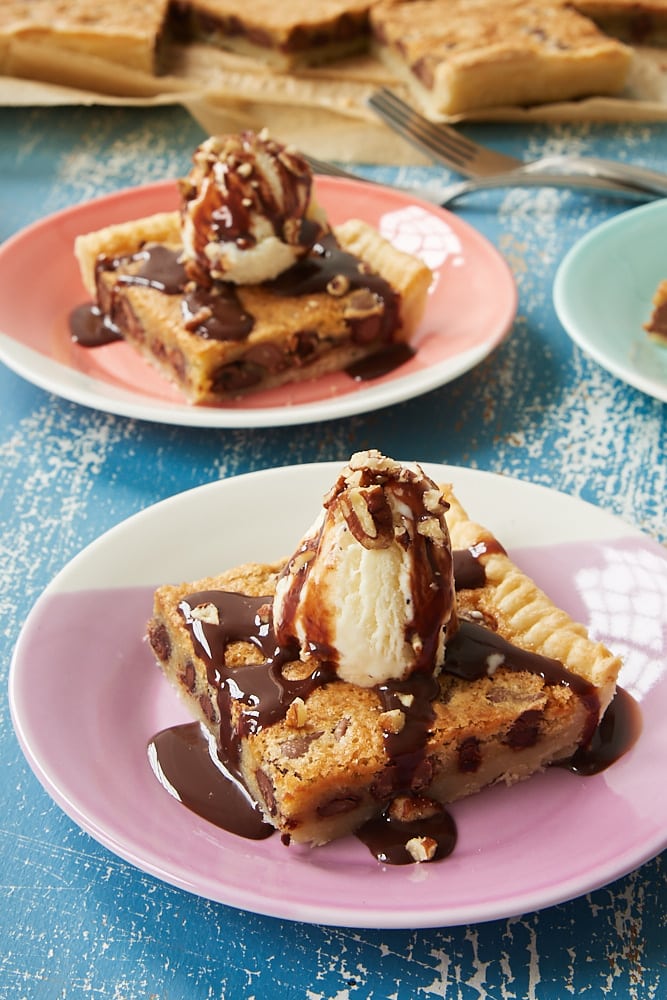 This fantastic Double Chocolate Chip Slab Pie needs to be at the top of the to-bake lists of everyone that can't get enough chocolate chip desserts. This is a giant pie that's jam-packed with two different kinds of chocolate chips for a chocolate lovers' dream.

This is such a simple pie with big flavor. It's made with semisweet and milk chocolate chips for a big-time chocolate experience. If you like, you can try different add-ins like other flavored chips, nuts, toffee bits, or whatever else sounds good to you. Just keep the total amount of add-ins roughly the same as the total amount of chocolate chips in the recipe.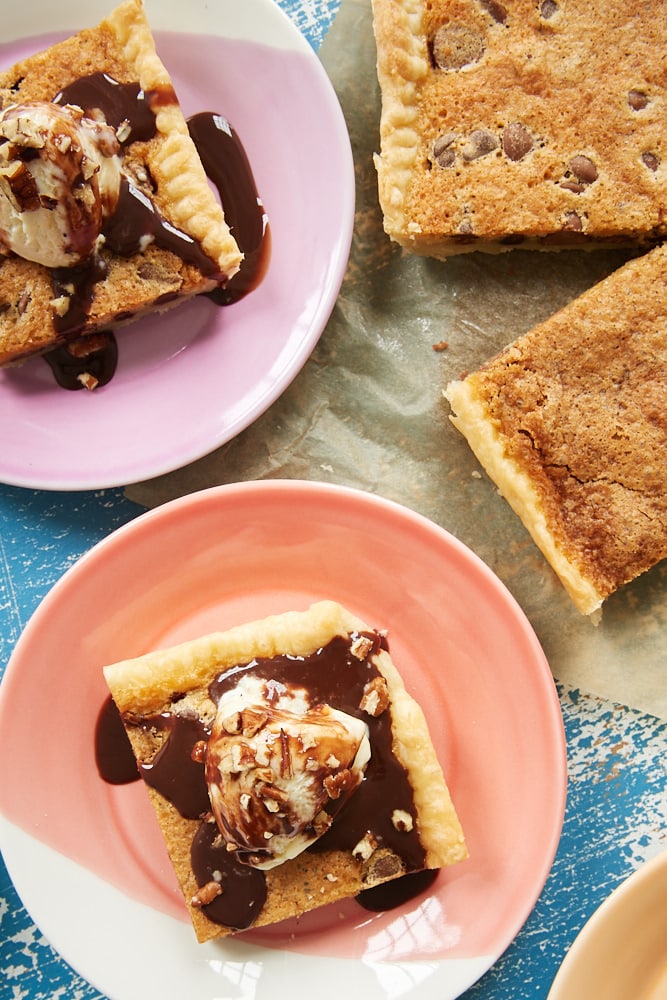 For a sweet and salty version, try adding a sprinkling of coarse salt on top before baking. That would tame some of that sweetness and give you an irresistible sweet and salty pie.
This pie is a variation of a recipe that I got from a friend's grandmother. I often make variations of this pie with nuts, but I opted to go with a full chocolate experience here. That makes this pie a little sweeter than if I'd substituted some nuts, so just keep that in mind when you're choosing your add-ins.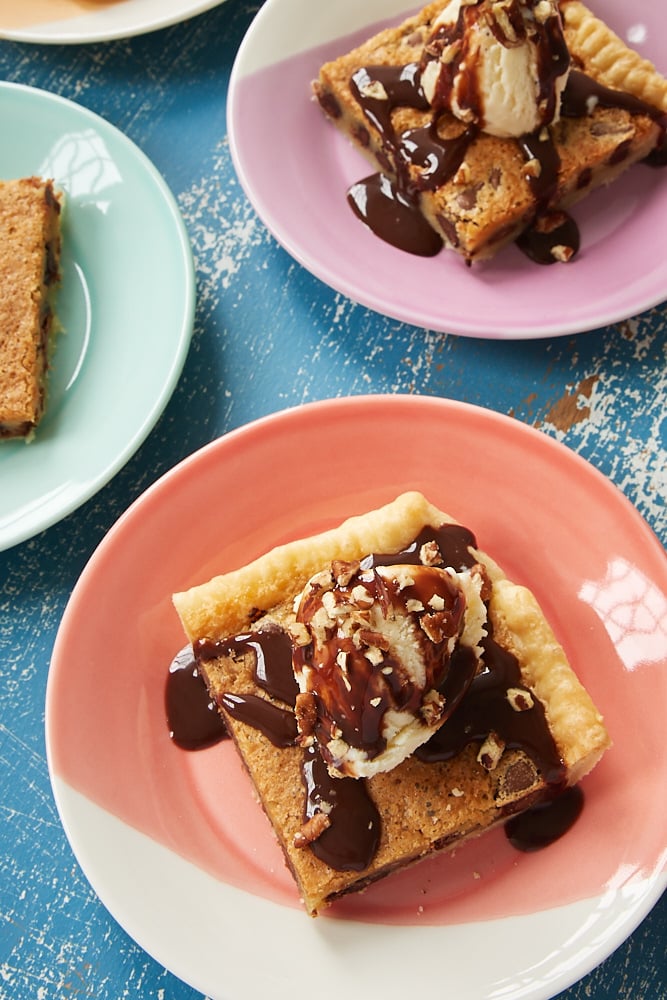 Making a slab pie is a little different than making a pie in a traditional pie plate. That's mainly due to the size of the crust. Make sure you have plenty of room to roll out the dough. It needs to fit in a half-sheet pan, so that's quite a bit of dough.
Transferring the dough to the pan can be tricky, too. I recommend rolling the crust onto a lightly floured rolling pin and unrolling it onto the pan. I use that technique for regular-sized pies, too, and it works really well.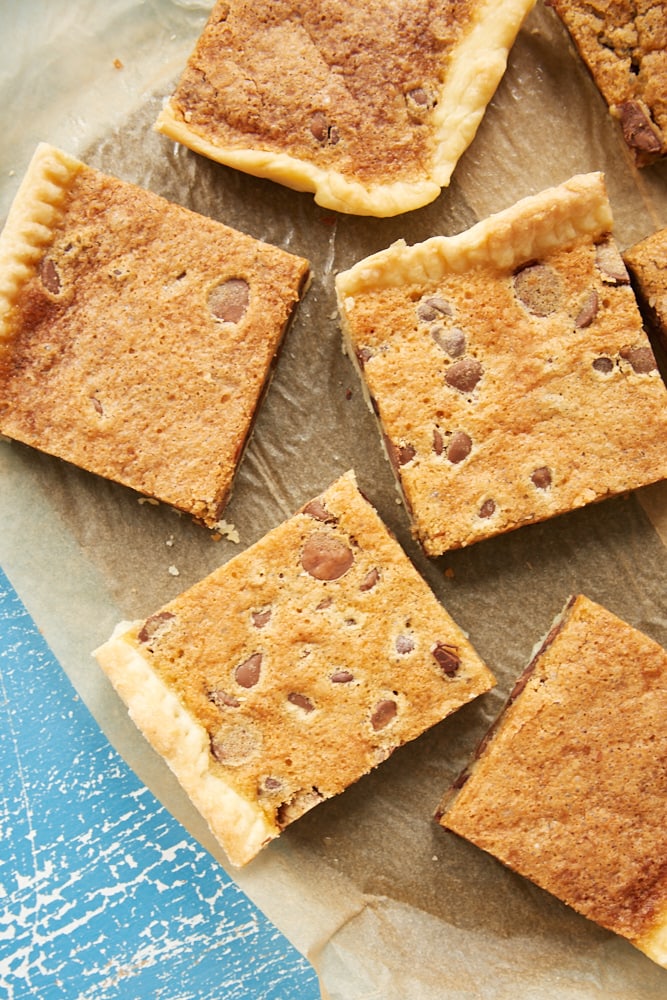 Slab pies are great for feeding a crowd. You'll get a range of servings from it depending on how you slice it. Squares are the simplest way to slice slab pies, but think creatively with other shapes, too.
And speaking of slicing and serving, that is why I like to line the pan with parchment paper so that I can remove it from the pan when it has baked and cooled. That makes it a little easier to cut and serve.
This Double Chocolate Chip Slab Pie pie eats just fine as is, but you can also go all out with a scoop of ice cream, a little chocolate syrup, and some nuts on top of a warm slice of pie. Perfect for an occasion when you want an all-out, crowd-pleasing dessert!
Find more pies in the Recipe Index.
More Chocolate Chip Pies