This easy Biscoff ice cream recipe combines classic Biscoff flavors with dulce de leche! A simple, no-churn homemade ice cream that's irresistibly creamy.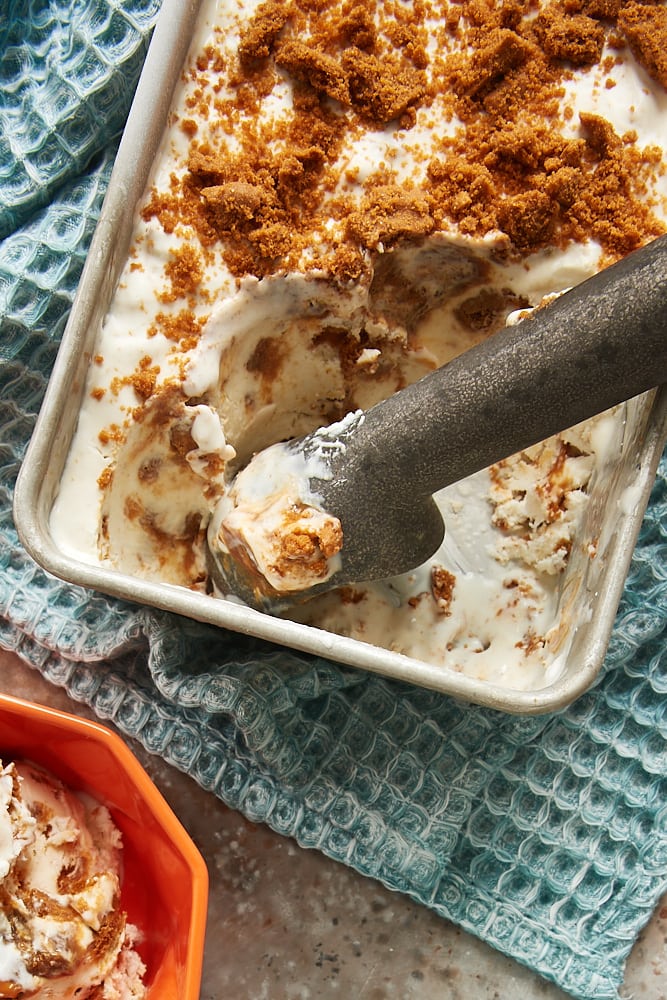 Homemade Biscoff Ice Cream
I'd never really been a big fan of making ice cream until I discovered no-churn ice cream. I love how simple it is to make, and I love its soft texture. No need to fuss with an ice cream maker and the flavors you can make are endless!
This easy no-churn ice cream recipe features two of my favorite flavors – Biscoff cookies and dulce de leche. The rich dulce de leche and the spiced cookies are such a wonderful pair. I'm smitten with it! I can't stop thinking of all the ways to feature that flavor combination in other treats!
If you're a fan of biscoff cookies and also enjoy a creamy bowl of ice cream, then there's really no reason not to try this recipe!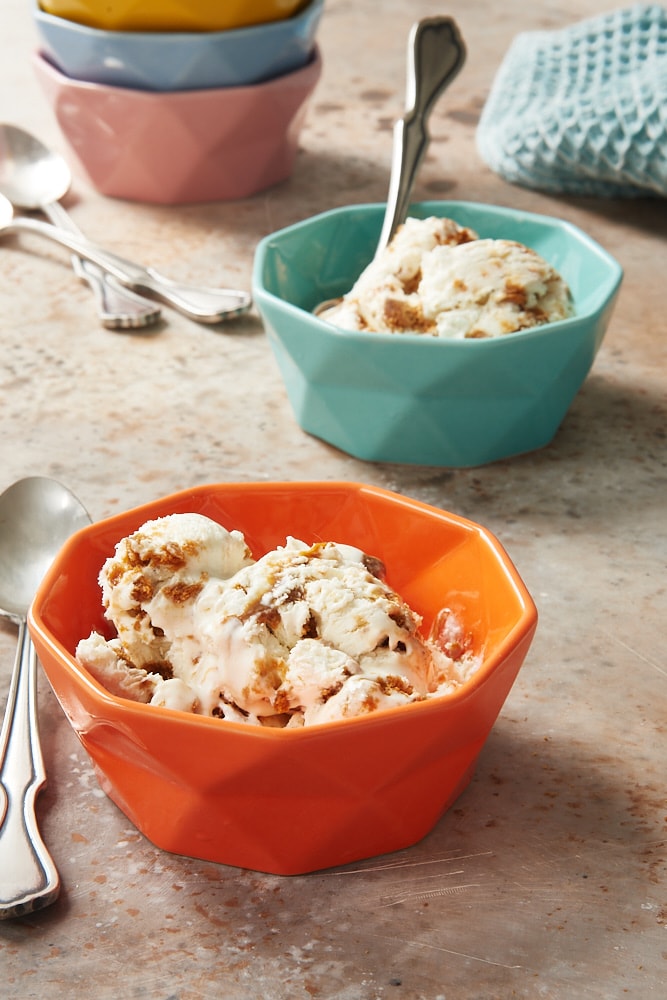 What is Biscoff Ice Cream?
Biscoff ice cream is a flavor made by Lotus. It combined creamy ice cream with crunchy Lotus Biscoff cookies and cookie butter.
My homemade version pairs a delicious vanilla ice cream with a whole bunch of crushed Biscoff cookies. How many cookies you use and how finely you crush them is a matter of preference. I've listed a ballpark amount in the recipe to give you a rough idea of how much to use. Honestly, I just toss some in a zip top bag and take out any frustrations I might have on that bag to get them crushed. I like ending up with fine crumbs as well as some larger pieces. I also like the look of sprinkling some crumbs on top of the ice cream, so set some aside if you want to do that as well.
A Touch of Tang Sets this Ice Cream Apart!
For something a little different, I added some sour cream to the base ice cream. We have a local ice cream shop that has a ridiculously good sour cream ice cream, so I was inspired to try it myself. While the flavor of the sour cream is not overwhelming, it does give the ice cream a little tangy bite. If you don't have sour cream or just prefer not to use it, then you can just substitute more heavy cream in its place. But the subtle tang is quite nice with the sweetness of the other ice cream ingredients!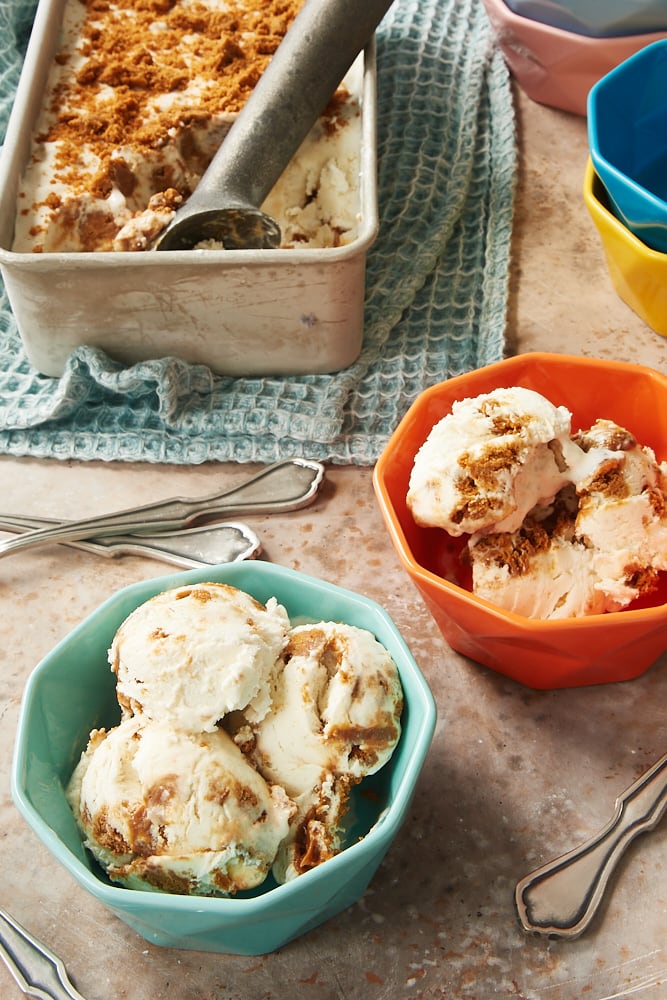 What is Dulce de Leche?
Dulce de Leche is caramelized milk and is also known as "milk jam." It is made by slowly heating sugar and milk for several hours, until you have a thick, light brown mixture that is sweet and pour-able.
How much dulce de leche should you use in this ice cream recipe? Similar to the biscoff cookies, you can use a little more or less than listed in the recipe if that suits your tastes. In all honesty, I don't always take the time to measure it accurately. The dulce de leche is swirled into the ice cream just before it all goes into the freezer.
How to Add a Swirl to Homemade Ice Cream
To get a good swirl, I prefer to work in layers. Add about half of the ice cream to the container, dollop about half of the dulce de leche over the top, and use a thin knife or spatula to swirl it together. Then repeat with the remaining ice cream and dulce de leche.
Storing Homemade Ice Cream
I like to add a layer of plastic wrap to the top of my ice cream before sealing it in an airtight, freezer-safe container. This helps prevent ice crystals from forming. Homemade ice cream should be eaten in 2 weeks. Since it doesn't have the same preservatives as store-bought ice cream it won't last quite as long.
I don't like to throw around terms like "favorite" very often. As much as I bake and make sweet treats, there's just always something new to take a coveted favorite spot. But I must say that this may very well be my favorite ice cream. The combination of flavors plus the simplicity of making it really rocket it to the top of my list! I hope you try this Biscoff ice cream and let me know what you think!
More No-Churn Ice Cream Recipes