These 6-ingredient Mini Caramel Tarts are a favorite for entertaining because you can make them ahead and garnish with all your favorite toppings when it's time to serve!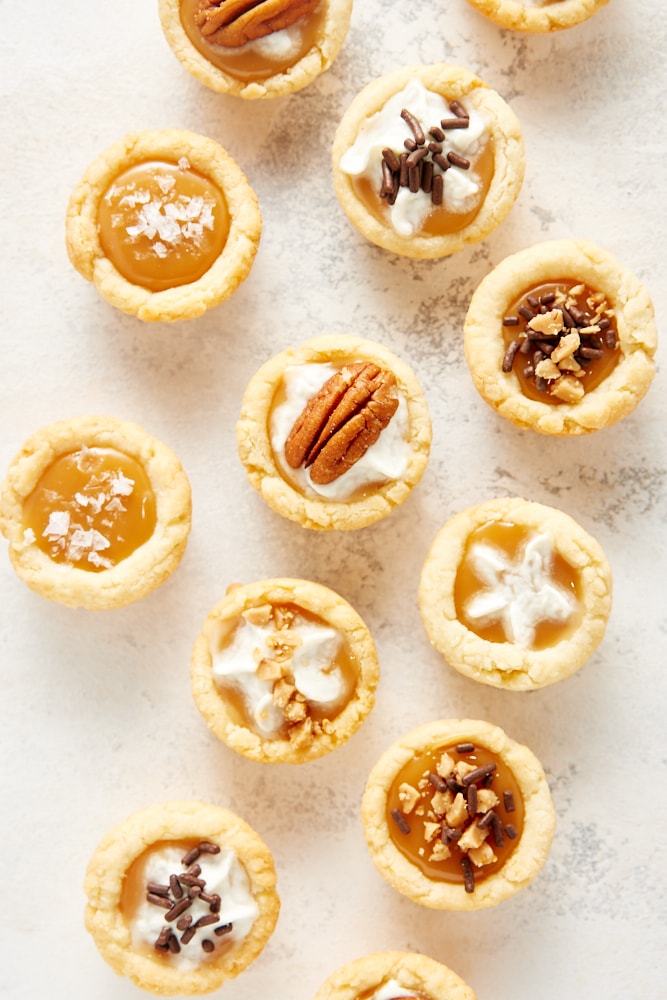 Mini Caramel Tarts
I'm so excited to share these Mini Caramel Tarts with you. They are just so good in so many ways that I am not entirely sure where to start to tell you about them. Do I talk about how they're so tiny? Or how good they are? Or maybe I should express my excitement over the short ingredient list?
If I have to pick one to get started, let's go with flavor. If you say "cream cheese pie crust" and "caramel," I'm pretty much sold without knowing anything else. With these tarts, you do indeed begin with cream cheese pie crust. Then, fill that with a simple caramel filling.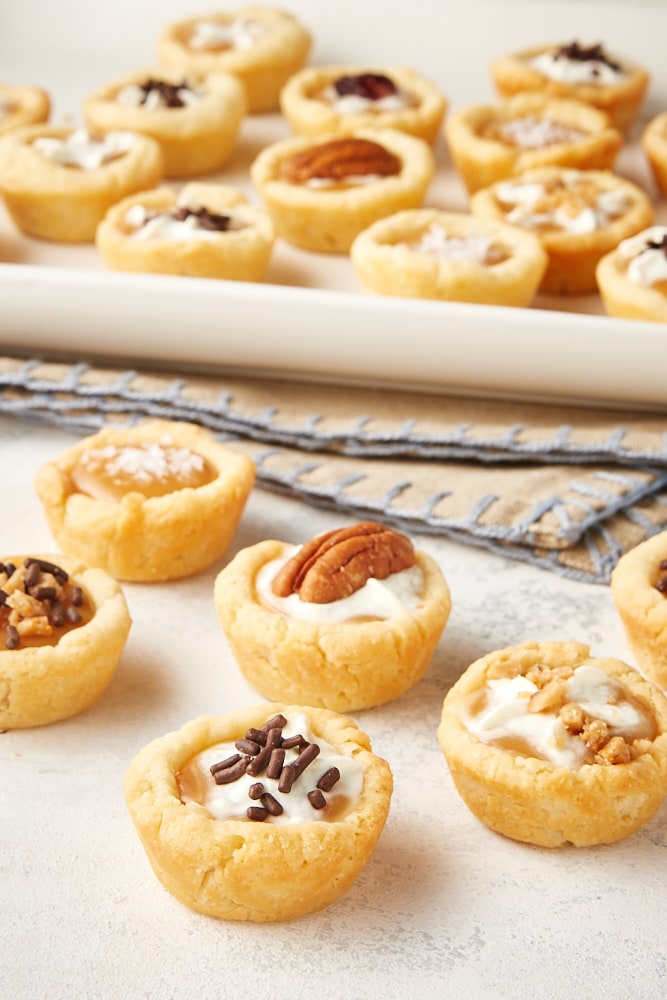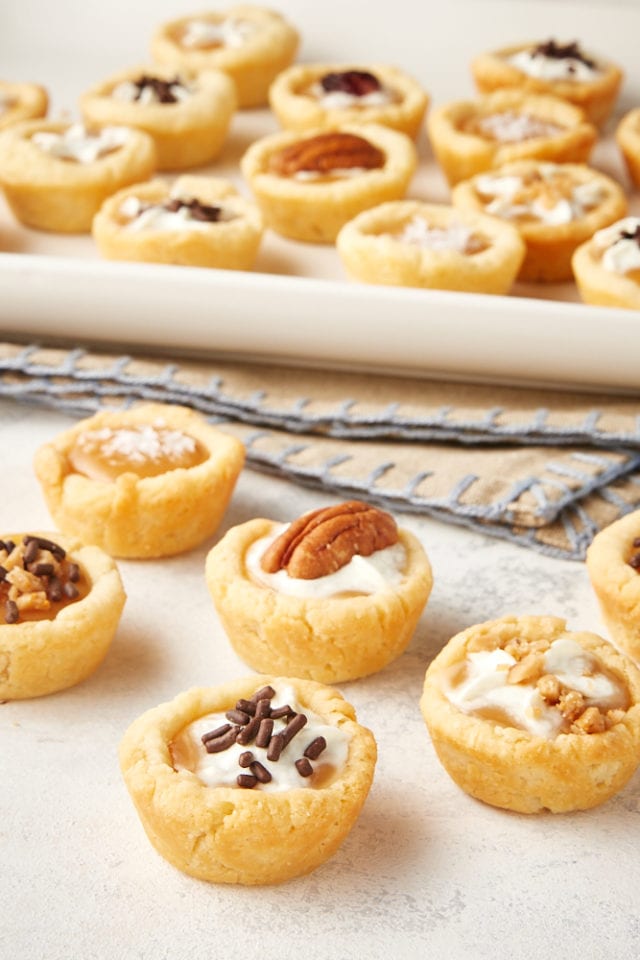 What comes next? That's up to you! A pinch of sea salt, whipped cream, glazed pecans, a single toasted hazelnut, dried fruit, chocolate shavings… All of these are excellent answers.
Now, we'll move on to the tiny aspect. I have such a soft spot for tiny desserts. Mini versions are, by default, cuter. Right? And mini desserts are great for large-ish gatherings because there's no cutting slices of anything. With these Mini Caramel Tarts, you can make many, many variations just by using different toppings. Just imagine these in all their garnished glory on a dessert tray. Gorgeous!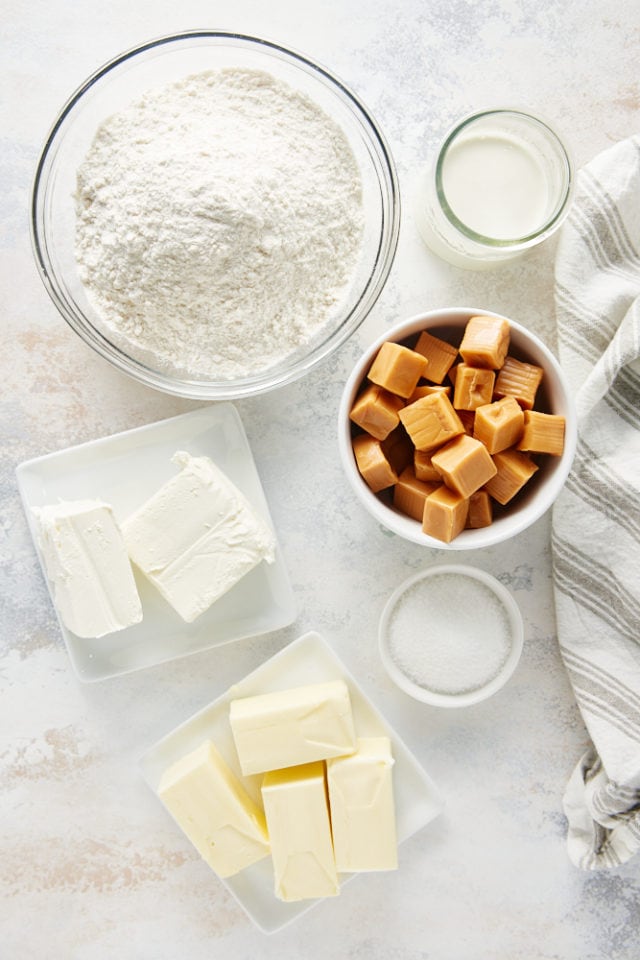 What You'll Need
If all of the previous points weren't enough to sell you on these Mini Caramel Tarts, let's talk about how simple they are to make and how the ingredient list is so unbelievably short. These beauties can be made with just six ingredients. SIX! Just four for the crust and two for the caramel filling. Serve them plain or with your favorite garnishes.
Cream cheese – Bring the cream cheese to room temperature so it will mix smoothly.
Butter – Set out the butter about 30 minutes before you're going to start baking.
Granulated sugar
All-purpose flour – Measure by weight for best results. Otherwise, spoon and sweep.
Soft caramels – These are the chewy kind that are usually found on the candy aisle. Common brands are Werther's and Kraft.
Heavy cream
Topping Ideas for Mini Caramel Tarts
Pick one topping or several. You can even combine a few!
Sweetened whipped cream – You can dollop it on top of the tarts, or pipe it for a fancier look.
Coarse salt – For the sweet and salty fans
Chocolate shavings or sprinkles
Nuts – Pecans, almonds, walnuts, hazelnuts… whatever you like! Try toasting or glazing them for more flavor.
Toffee bits
Dried fruit
Toasted coconut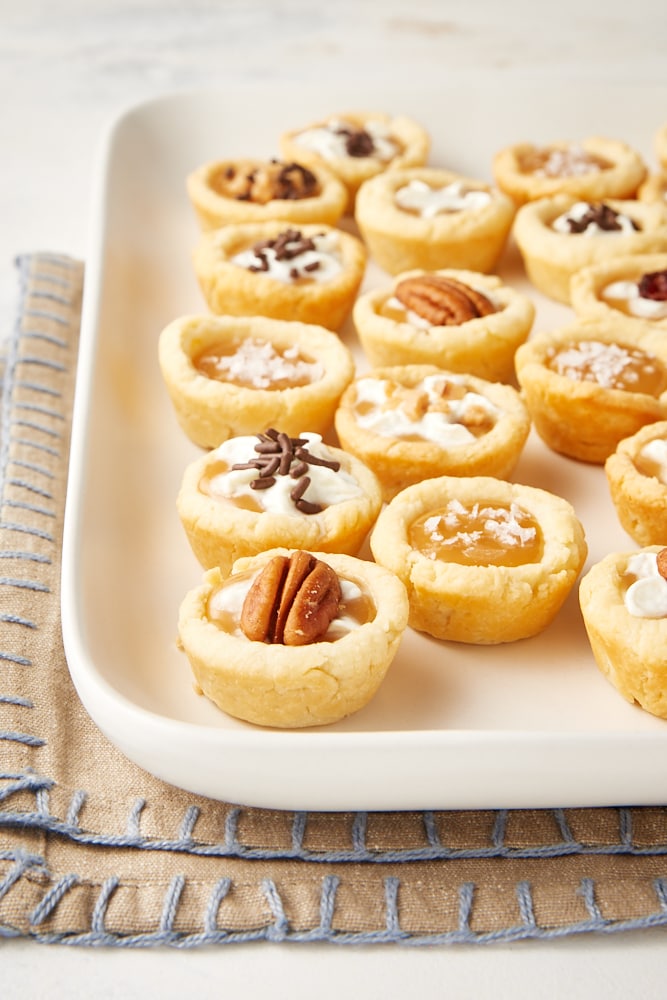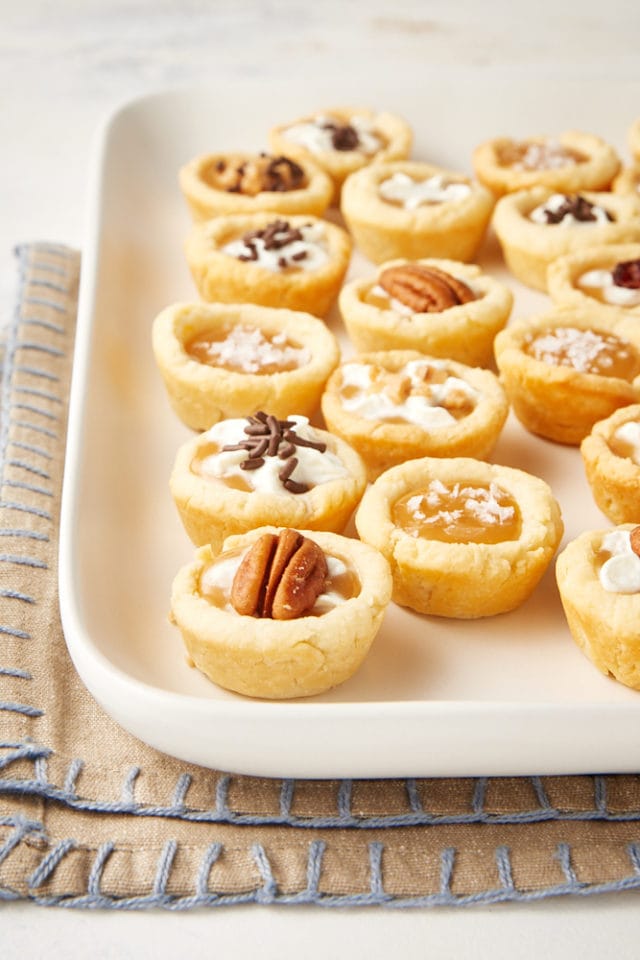 How to Make Mini Caramel Tarts
These bite-size tarts are quite easy to make. Despite the good bit of chilling time, your actual hands-on time is kept to a minimum.
Make the dough for the crust. First, beat the cream cheese, butter, and sugar until creamy. Next, with the mixer on low speed, add the flour in a few portions, and mix until combined. If you have a food processor, it's a great tool for making this dough.
Portion the dough. Form the dough into balls, using a tablespoonful of dough. If you have a very sturdy 1-tablespoon scoop, that will speed up the process. Place the dough balls on a lined rimmed baking sheet, and refrigerate for 1 hour.
Shape the crusts. First, place a ball of dough in the cups of 48 lightly-greased mini muffin cups. (If you got a few more or less than 48, that's fine.) Next, press the dough into the bottom and up the sides of the cups. To do this, a tart tamper works wonderfully, but you can use your fingers and the handle of a wooden spoon to shape them. However you decide to shape them, keep some flour nearby and put a little on your tool of choice so that there's no sticking. Finally, place the muffin pans in the refrigerator for about 15 minutes to let the dough rest.
Bake. The tart shells will need to bake for 12 to 15 minutes at 375°F. The edges of the crusts should be lightly browned. Place the pans on a wire rack to cool. It's likely that the crusts will puff a bit while baking. Just use the handle of a wooden spoon to tap them lightly and reshape them. After they've cooled, transfer them to a baking sheet.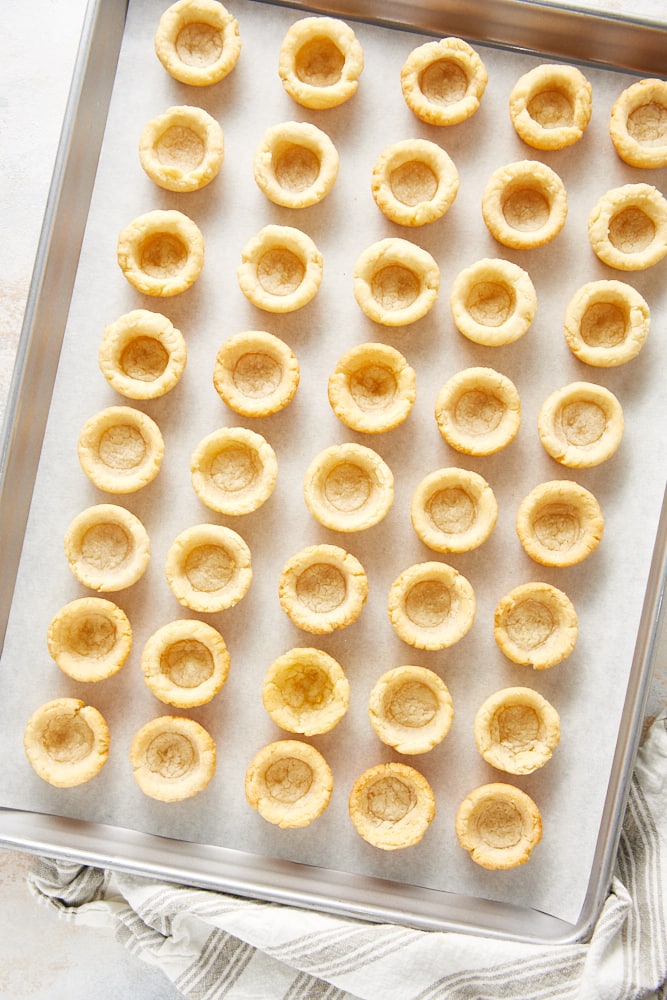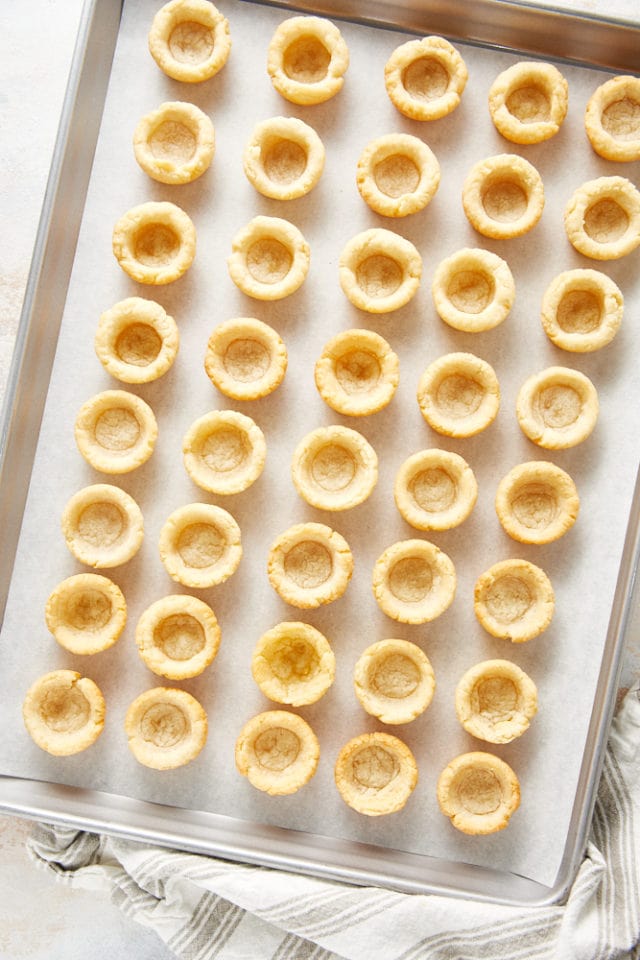 Make the filling. Place the caramels and cream in a microwave-safe bowl. Heat in the microwave at half-power in 30-second increments until the caramel melts when it's stirred. (You can also melt the caramel with the cream in a heavy saucepan on the stovetop over medium-low heat.) Stir until the mixture is smooth.
Fill the tarts. Use about a teaspoon of the caramel mixture to fill each tart shell. Place the filled tarts back in the refrigerator for at least an hour to allow them to set.
Add toppings. Set the tarts out at room temperature for about 20 minutes before serving. Garnish with sweetened whipped cream, chocolate shavings, nuts, or any of your favorite toppings.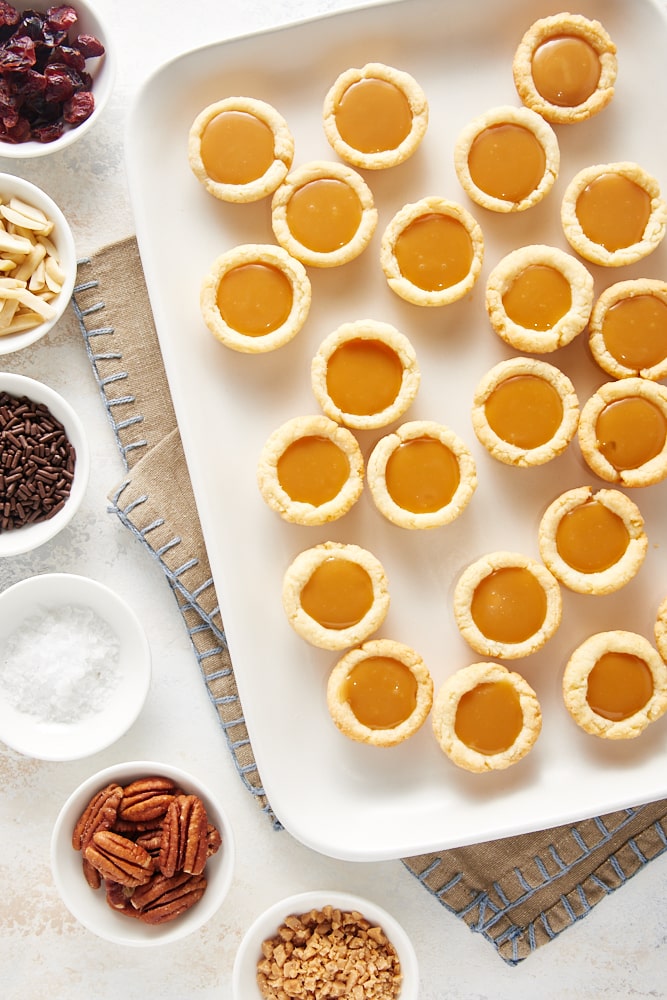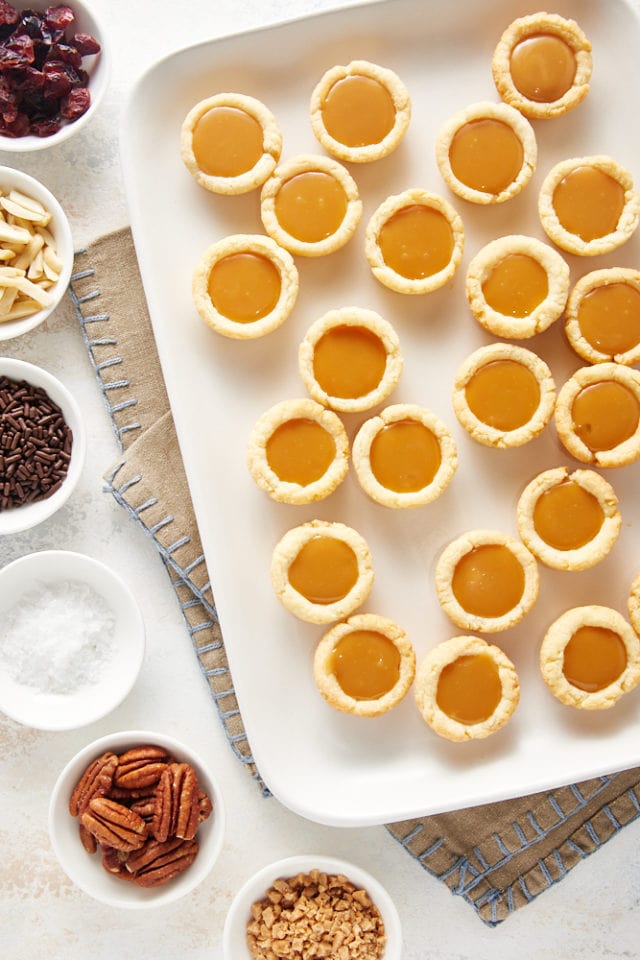 Tips for Success
Here are a few tips for making your Mini Caramel Tarts the best they can be!
Use light-colored metal pans. You'll get the best, most consistent results.
Don't skip the chilling time. The dough needs to rest after being portioned and again after being shaped.
Use a tart tamper or the handle of a wooden spoon. A tart tamper makes easy, quick work of shaping those little balls of dough into tart shells. If you don't have one, use your fingers to press the dough into the bottom and up the sides of the cups. Next, use the handle of a wooden spoon to finish shaping.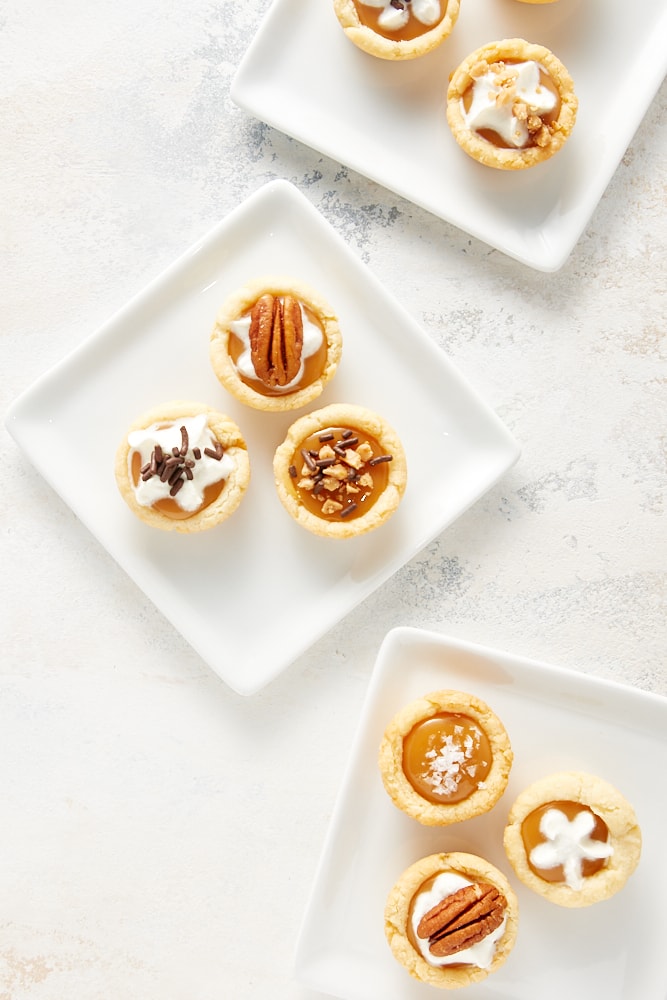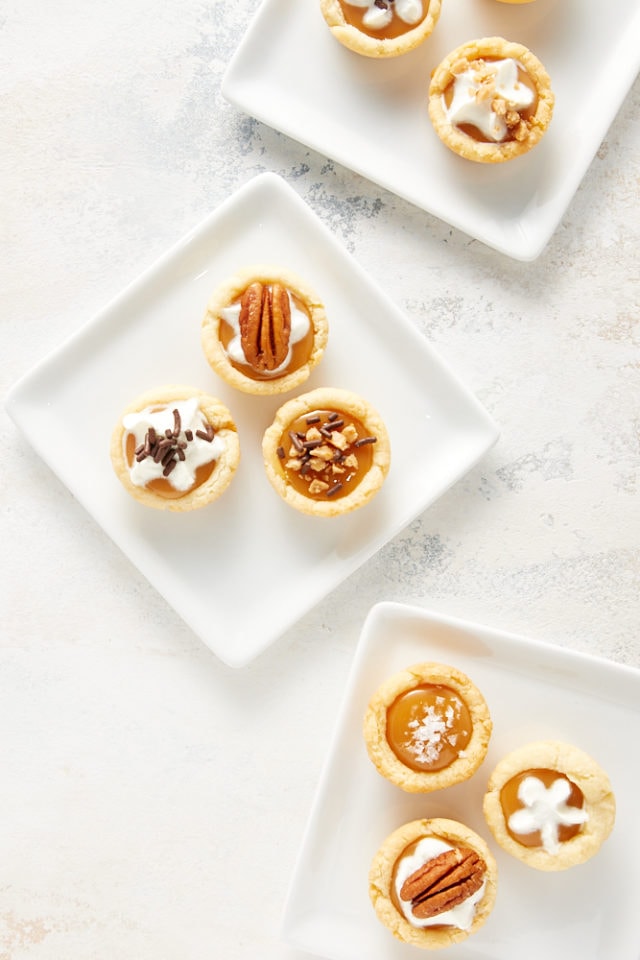 How to Store Mini Caramel Tarts
Keep these tarts tightly covered and refrigerated for up to a week. For best results, store them without any toppings.
To freeze these tarts, first place them (without toppings) in a single layer on a sheet pan in the freezer for a couple of hours to let them freeze. Next, wrap the tarts in plastic wrap. Finally, wrap them again in aluminum foil or place them in a freezer-safe container or bag.
Stored properly, they should keep in the freezer for up to 3 months. Thaw overnight in the refrigerator.
More Mini Pie Recipes
Disclosure: Werther's provided me with product samples and compensation for this post.