December 24, 2013
Hot Fudge Pie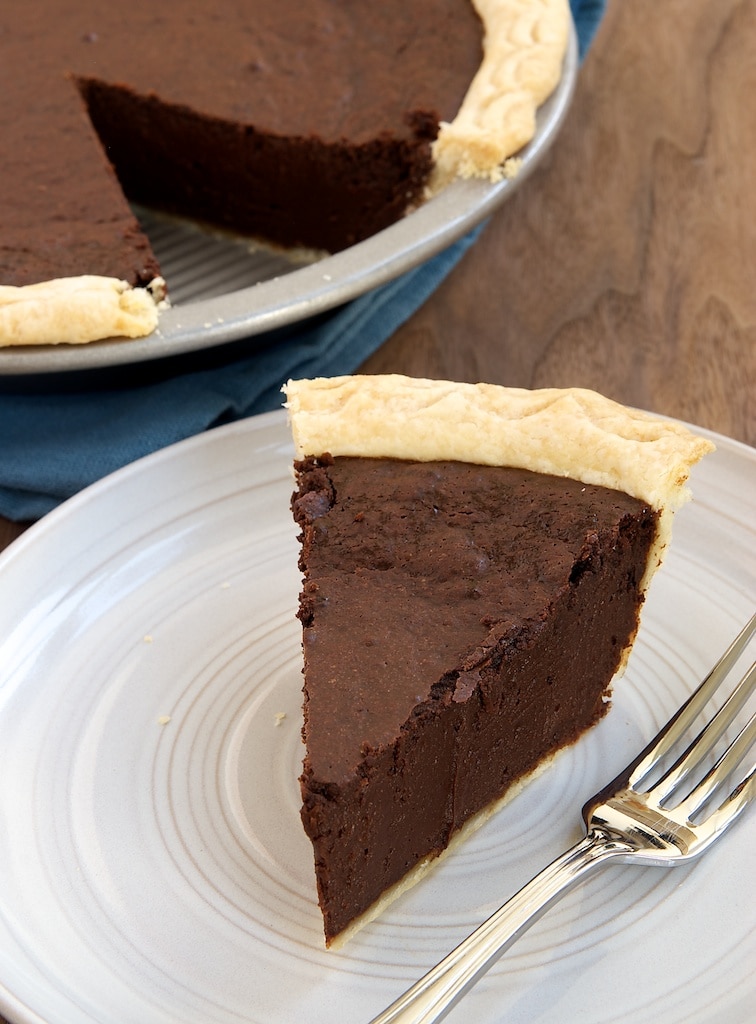 This pie is for all of the baking procrastinators out there. It's Christmas Eve, you know. If you don't have dessert planned, I'm here to help.
If you bake with any regularity, you probably have everything you need to make this pie. Make a homemade crust or use store-bought. Just be sure to use the best chocolate you have in your pantry.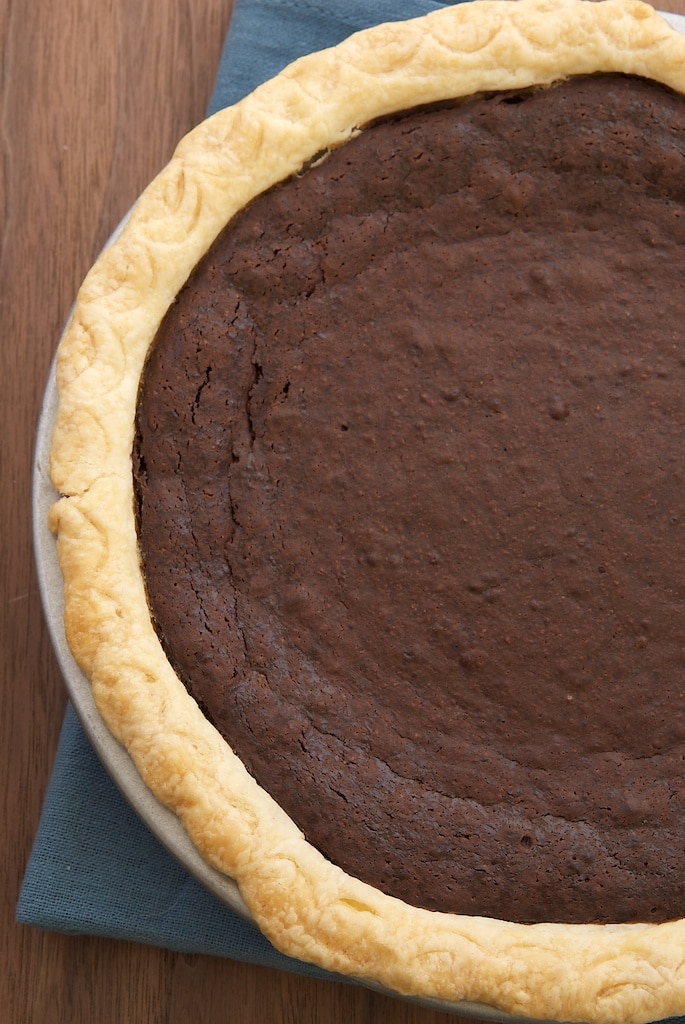 This tall, dark, and delicious pie is all about the chocolate. You'll use both bittersweet chocolate and cocoa powder to give it a double dose. The top is a little crackly like a good pan of brownies. The filling is rich and dense and fudgy and moist and really just lovely.
I upped the ante a bit by adding some coffee liqueur to the pie filling to enhance all that chocolate. You can use a different liqueur or omit it altogether.
I debated a topping for this pie. Ice cream? Whipped cream? Ultimately, I decided I would just enjoy the combination of deep, dark chocolate filling and pie crust. That's more than enough to make me happy.
Merry Christmas to all of you! I hope you have a wonderful holiday full of sweet things.
Find more pie recipes in the Recipe Index.
Hot Fudge Pie
Yield: 8 to 10 servings
Prep Time: 25 minutes
Cook Time: 50 minutes
Hot Fudge Pie is tall, dark, delicious, and all about the chocolate!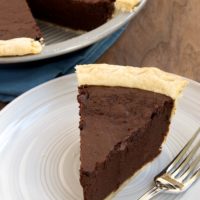 Ingredients:
For the crust:
1 & 1/4 cups all-purpose flour
1 teaspoon granulated sugar
1/2 teaspoon salt
1/2 cup cold unsalted butter, cut into 1/2-inch cubes
2 to 4 tablespoons cold water
For the filling:
1 cup half and half*
1/4 cup unsalted butter
8 ounces bittersweet chocolate, chopped
1 & 1/2 cups granulated sugar
3/4 cup unsweetened cocoa powder
1/4 cup all-purpose flour
1/4 teaspoon salt
2 large eggs
3 large egg yolks
2 tablespoons coffee liqueur
Directions:
To make the crust:
Whisk together the flour, sugar, and salt in a large bowl. Add the butter and mix with a pastry blender or a fork until the mixture resembles coarse meal and the butter is the size of small peas.
Add 1 tablespoon of water and continue mixing. Add more water as needed, 1 tablespoon at a time, until a dough forms.
Wrap the dough tightly in plastic wrap. Refrigerate for at least 2 hours.
Remove the dough from refrigerator. If necessary, let it sit at room temperature for 10 to 15 minutes until slightly softened but still cold.
Lightly flour your work surface. Roll out the dough into a circle about 1/8-inch thick.
Transfer the dough to a lightly greased 9-inch pie plate. Trim any excess dough from the edges. Crimp edges as desired.
To make the filling:
Preheat oven to 350°F.
Place half and half, butter, and chocolate in a microwave-safe bowl. Heat in microwave for 2 minutes or until the butter has melted and the chocolate melts when stirred. Stir until smooth.
Whisk together the sugar, cocoa powder, flour, and salt.
Add the eggs, egg yolks, liqueur, and chocolate mixture. Stir until well-combined and smooth.
Transfer the filling to the pie crust in the pan.
Bake 45 to 50 minutes, or until the center is set and the edges have begun to crack.
Cool 10 minutes before serving.
Notes:
*Half and half is a dairy product found alongside milk and cream. If you don't have access to half and half, you can use one of these substitutions:
1/2 cup whole milk plus 1/2 cup cream
3/4 cup whole milk plus 1/4 cup heavy cream
2/3 cup skim milk plus 1/3 cup heavy cream