November 15, 2012
Mixed Nut Tart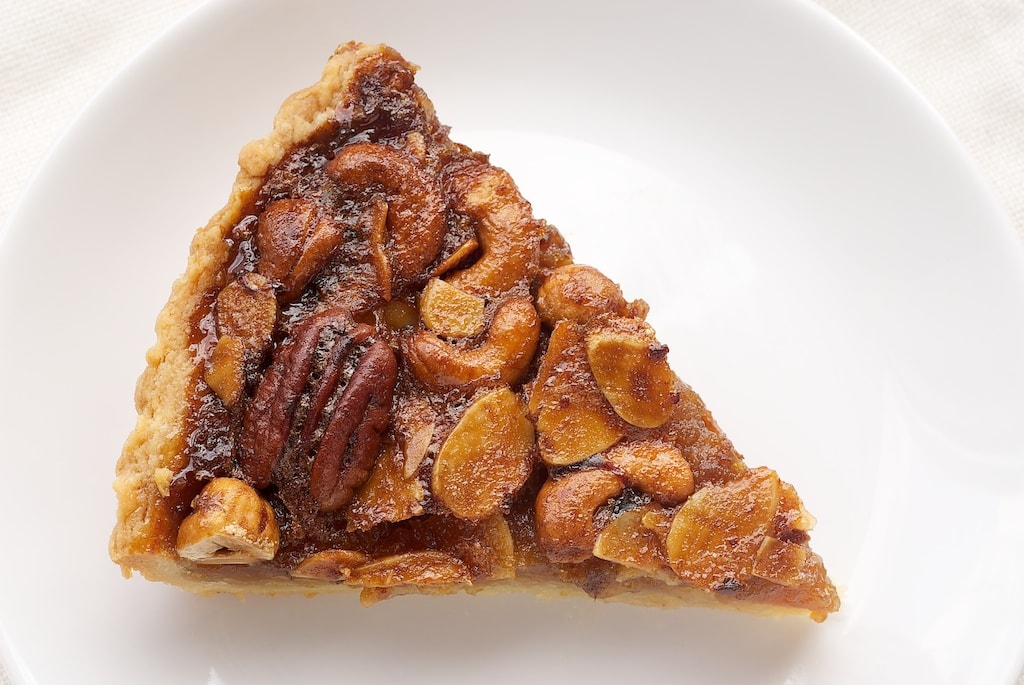 I've been making a family recipe for pecan pie for many years. It's just your straightforward, traditional pecan pie. And that's what I like about it.
This year, I found myself wanting something a little different. So, I decided to take the idea of that pie and change it up a bit. A little brown sugar, a variety of nuts, and there you go!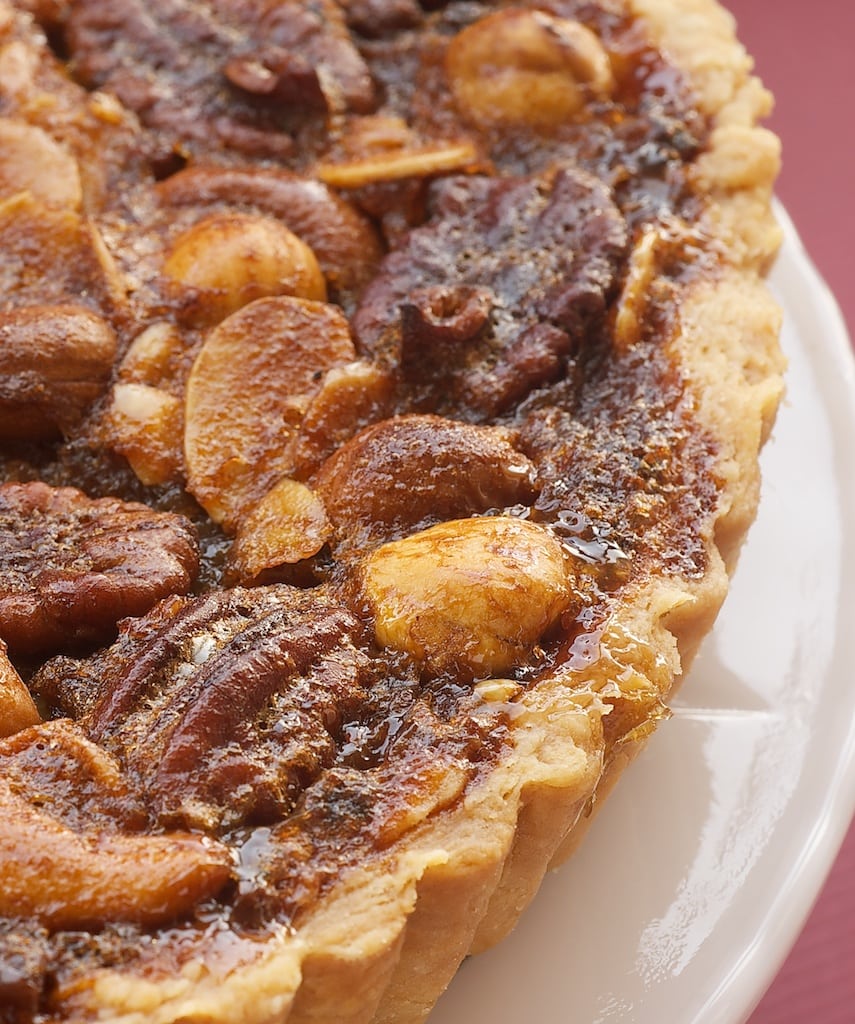 So, here's the thing. I'm pretty sure that this is now my favorite pie. Usually when I bake something, I get my sample of it and then move on to the next thing. Not with this.
I would be busy doing something not even baking related, and I'd suddenly just start thinking about it. There was no sharing. Sure, Quinn had his share, but no one else was allowed anywhere near this thing.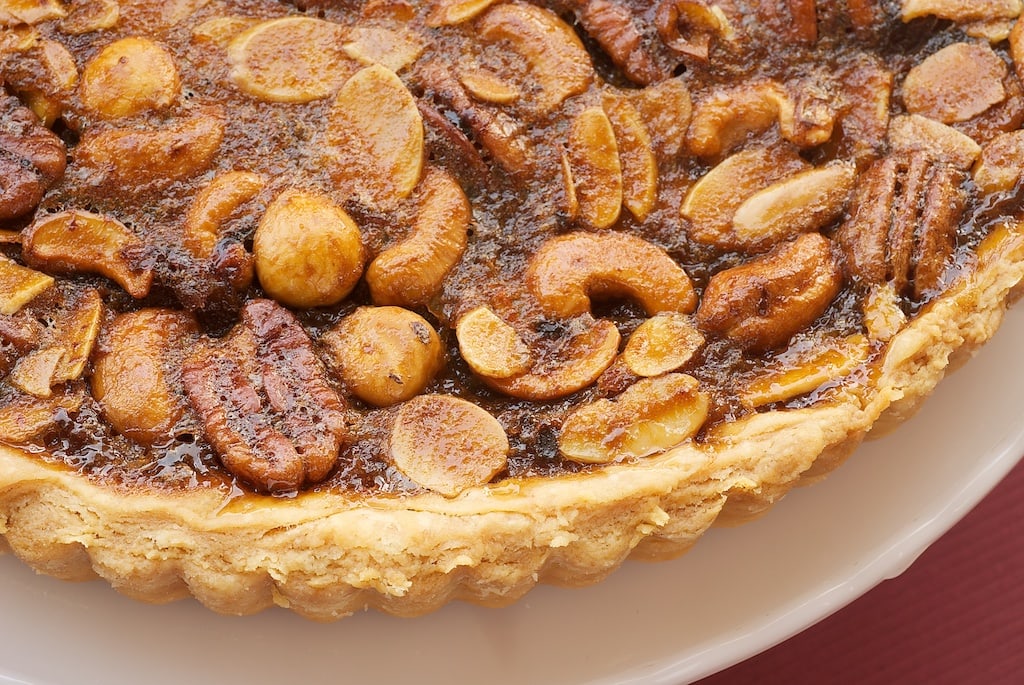 This is absolutely perfect for Thanksgiving, especially if you're looking for something a bit off the traditional path.
If you're a bit pie crust shy, be sure to see my Pie Crust Tutorial!
Mixed Nut Tart
Yield: 1 9-inch tart (8-10 servings)
Prep Time:45 minutes
Cook Time:60 minutes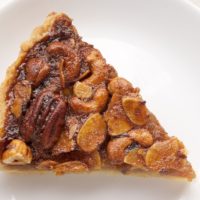 Ingredients:
For the crust:
1 & 1/4 cups all-purpose flour
1 teaspoons granulated sugar
1/2 teaspoon salt
1/2 cup cold unsalted butter, cut into 1/2-inch cubes
2-3 tablespoons cold water
For the filling:
3 large eggs, lightly beaten
1/4 cup unsalted butter, melted
1/2 cup granulated sugar
1/4 cup packed light brown sugar
1 cup light corn syrup
1 teaspoon vanilla extract
1/2 teaspoon salt*
1 & 1/2 cups nuts (pecans, hazelnuts, almonds, cashews, etc.)
Directions:
To make the crust:
Whisk together flour, sugar, and salt. Add cold butter and mix with a pastry blender or fork until mixture resembles coarse meal and the pieces of butter are pea-sized.
Add 1 tablespoon cold water and continue mixing. Continue adding water, 1 tablespoon at a time, and mix until dough holds together when you pinch it. (You may not need to use all of the water.)
Wrap dough tightly in plastic wrap and refrigerate for at least 2 hours.
Remove dough from refrigerator. If necessary, let it sit at room temperature for 10-15 minutes until slightly softened but still cold.
Flour work surface. Roll out dough into a circle about 1/4-inch thick.
Line the bottom of a 9-inch tart pan** with parchment paper. Press pie dough into bottom and up the sides of pan, trimming off the excess. Place tart pan on a large baking sheet.
To make the filling:
Preheat oven to 350°.
Place eggs in a large mixing bowl and beat lightly. Add butter, sugar, brown sugar, corn syrup, vanilla, and salt. Mix well. Stir in nuts.
Pour filling into pie crust in prepared pan. Leaving the tart pan on the baking sheet, bake 50-60 minutes or until center is set and crust is browned. Let cool in pan.
Notes:
*If you're using salted nuts, decrease the salt in the filling to 1/4 teaspoon.
**This will also work in a standard 9-inch pie plate.
For more on how to make a pie crust, read my Pie Crust Tutorial. You can also use a store-bought pie crust.