Making great pie crust eluded me for a long time. But finally I mustered up the determination to figure it out and make it work. Since then, I've actually come to love making pies, from mixing the wonderfully simple dough to rolling it out to filling it with something delicious.
Once I worked out my pie crust recipe, I stuck with it. That's not necessarily a bad thing, but it usually precludes me from trying other recipes and techniques. With the new book, Making Dough by Russell van Kraayenburg, I've been given a great excuse to explore pie dough all over again!
The book covers all kinds of dough, from pies to biscuits to puff pastry. I started with the pie dough, which differs from my go-to recipe in volume, types of flour, and ingredient ratios. The result was a thick, flaky, buttery pie crust.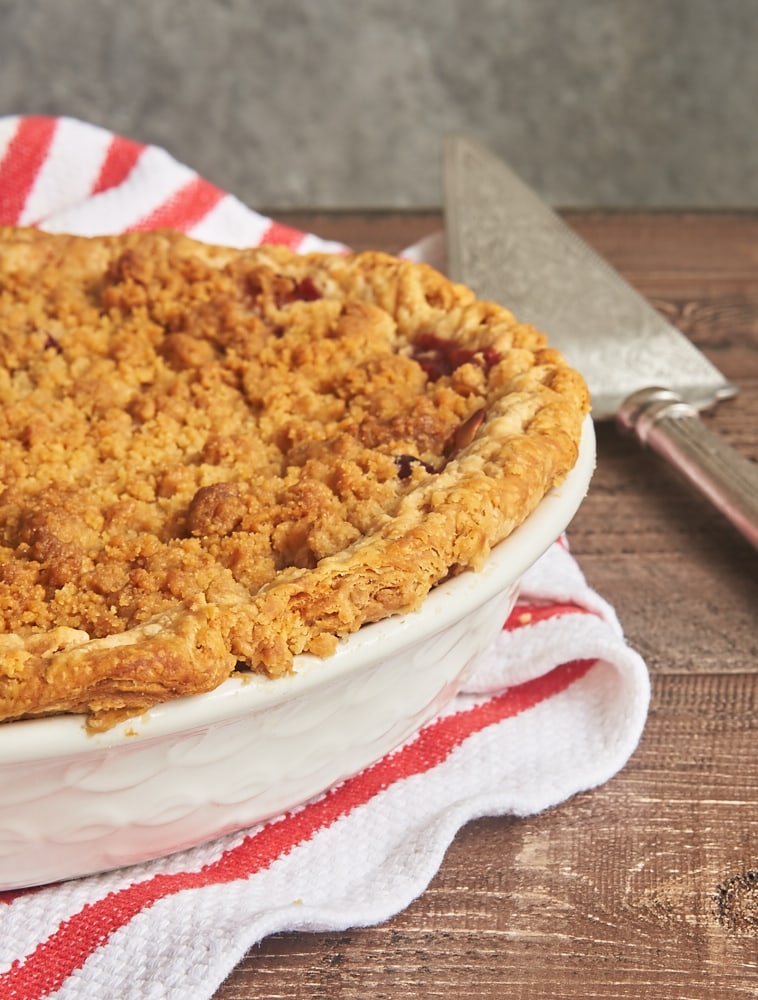 To fill this beautiful crust, I went with a favorite flavor combination – apples and cranberries. The apples get cooked with a bit of brown sugar and spices, while the cranberries cook with some sugar and lemon. That creates two thickened fillings that are combined to make an irresistibly sweet and tart pie.
Now, I must warn you that while this isn't what I'd call a quick recipe, it's not difficult to make. A little multi-tasking will simplify things a bit. Once you get the apples cooking, start cooking the cranberries. They'll finish about the same time, and then you can make the crumb topping while the apples and cranberries cool.
The time you invest will be well worth it when you take that first bite of sweet, tart pie. It was love at first bite for both Quinn and me. I often like to top slices of pie with ice cream or sweetened whipped cream, but we both preferred this one with nothing extra. It's so good on its own, that it doesn't need any help. Just grab a fork and enjoy!
I was provided with a copy of Making Dough by Quirk Books. To see what some other bloggers are making with the doughs from the book, be sure to visit Quirk Books. All opinions written are my own. This post contains affiliate links.