December 1, 2016
Chocolate Chess Pie
Chocolate Chess Pie gives a classic dessert a rich, fudgy twist. If you love chocolate desserts, then this fantastic pie is for you!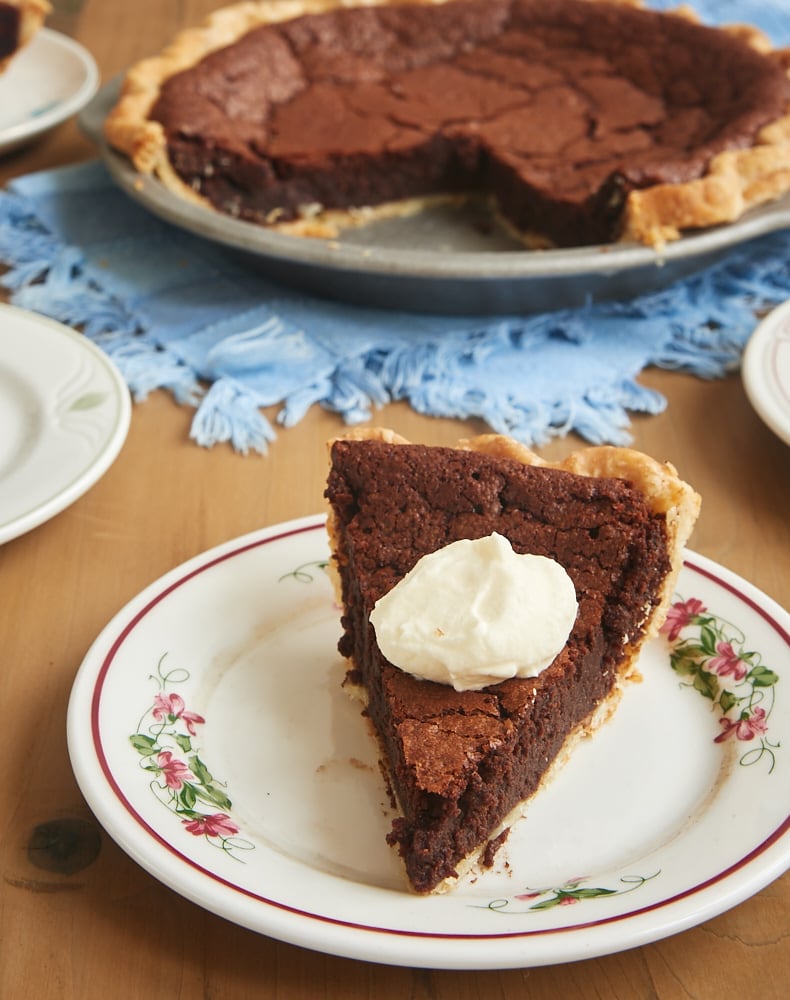 Chess pie has long been one of my favorite desserts. And I love to keep it interesting with various twists on it. One of my favorite variations is this rich, fudgy Chocolate Chess Pie.
Most Chocolate Chess Pie recipes I've seen and baked have cocoa powder in the filling. This one, however, has melted dark chocolate mixed into the filling. The result is a richer, fudgier take on a classic. And I absolutely love it.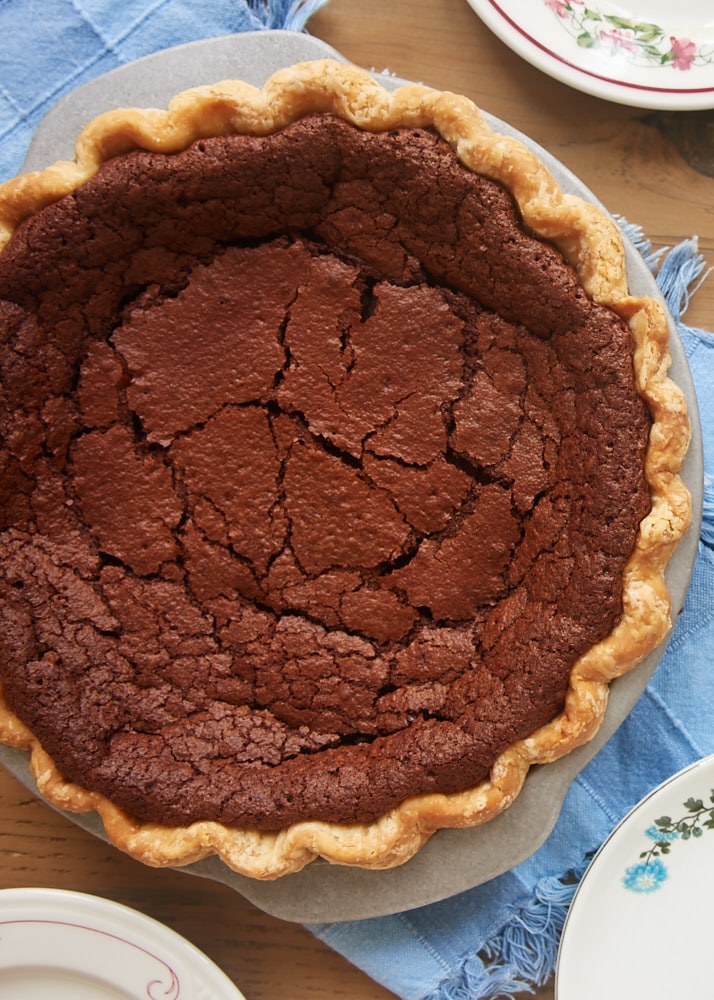 Because of the addition of that melted chocolate, the texture of this pie differs a bit from traditional chess pies. You'll still get the crackly, partially sunken top that is often seen with chess pies. But the filling is thicker than the custard-like filling of most chess pies.
If you're familiar with chess pies, you'll see that the ingredient list for this one doesn't vary that much. It's still a brilliantly simple combination of butter, sugar, and eggs. The addition of chocolate gives it so much fantastic flavor.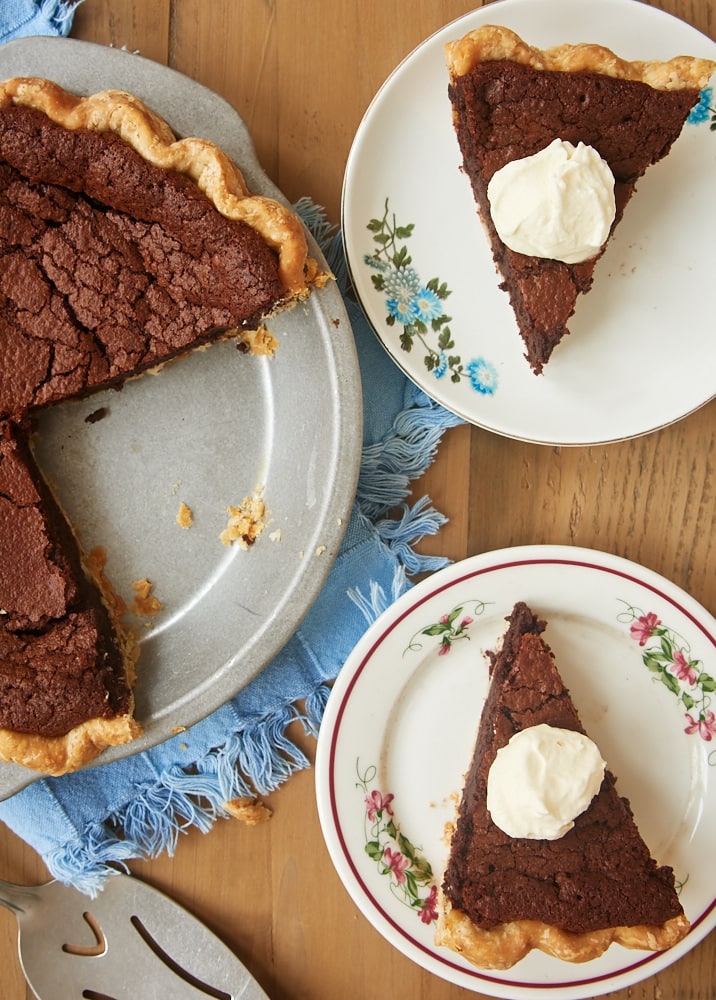 I couldn't resist adding a bit of Kahlua to the pie filling. Its coffee flavor is such a wonderful complement to that rich chocolate. Of course, you can omit it if you're serving an under-21 crowd. Or substitute brewed coffee if you'd like. Otherwise, I would suggest doubling the vanilla or perhaps adding a teaspoonful of coffee extract.
If you're a fan of all things chocolate, then add this recipe to your to-bake list. And go ahead and move it to the top. Serve it chilled, warm, or at room temperature. Adding a scoop of sweetened whipped cream is my favorite to enjoy it. That subtle sweetness offsets the richness of the pie in such a perfect way.
Find more pie recipes in the Recipe Index.
More Chess Pie Recipes
Chocolate Chess Pie
Yield: 8 to 10 servings
Prep Time:30 minutes
Cook Time:1 hour
Chocolate Chess Pie is a rich, fudgy twist on a classic dessert. A must for chocolate lovers!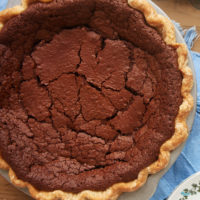 Ingredients:
For the crust:
1 & 1/4 cups (150g) all-purpose flour
1 teaspoon granulated sugar
1/2 teaspoon salt
1/2 cup (113g) cold unsalted butter, cut into 1/2-inch cubes
2 to 4 tablespoons cold water
For the filling:
1/2 cup (113g) unsalted butter
4 ounces (113g) dark chocolate, roughly chopped*
1/2 cup (100g) granulated sugar
1/2 cup (100g) firmly packed light brown sugar
1 & 1/2 tablespoons all-purpose flour
2 tablespoons Kahlua
1 teaspoon vanilla extract
1/2 teaspoon salt
3 large eggs
sweetened whipped cream or ice cream, for serving
Directions:
To make the crust:
Whisk together the flour, sugar, and salt in a large bowl. Add the butter and mix with a pastry blender or fork until the mixture resembles coarse meal and the butter is the size of small peas.
Add 1 tablespoon of water and continue mixing. Add more water as needed, 1 tablespoon at a time, until a dough forms.
Wrap the dough tightly in plastic wrap. Refrigerate for at least 2 hours.
Remove the dough from the refrigerator. If necessary, let it sit at room temperature for 10 to 15 minutes until slightly softened but still cold.
Lightly flour a work surface. Roll out the dough into a circle about 1/8-inch thick.
Transfer the dough to a 9-inch pie plate. Trim and crimp the edges as desired. Place the pie plate in the refrigerator while you make the filling.
To make the filling:
Preheat oven to 350°F.
Place the butter and chocolate in a microwave-safe bowl. Heat at half power in 30-second increments until the butter has melted and the chocolate melts when stirred. Stir until combined. Allow to cool about 10 minutes.
Add the flour, sugar, brown sugar, Kahlua, vanilla, flour, and salt to the chocolate mixture. Stir until thoroughly combined.
Add the eggs, one at a time, mixing well after each addition.
Transfer the filling to the crust. Bake 50 to 60 minutes, or until the center is set and the top is puffed.
Cool in the pan on a wire rack. The pie will fall as it cools.
Serve warmed, at room temperature, or chilled with sweetened whipped cream or ice cream.
Notes:
This recipe includes my go-to pie crust. If you have a different recipe you prefer, feel free to use that.
*I usually use a 72% cacao chocolate.