This Chocolate Chess Pie recipe gives a classic dessert a rich, fudgy twist. Think of it almost like a brownie in pie form!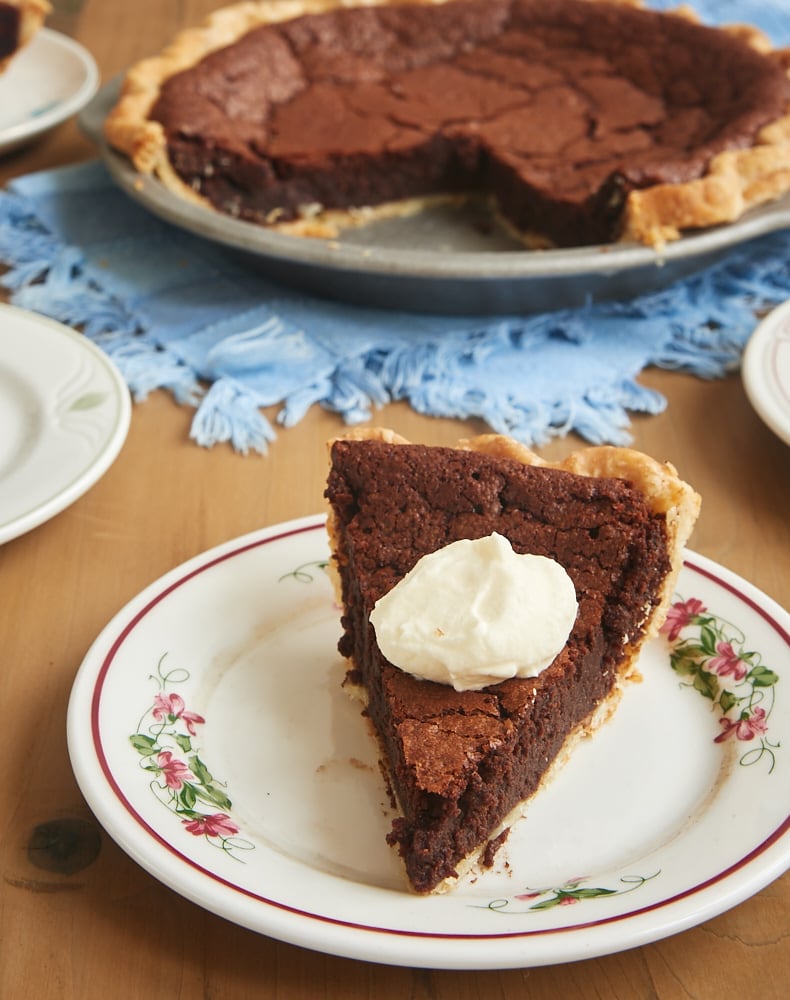 Rich, Fudgy Chocolate Chess Pie
Chess pie has long been one of my favorite desserts, and while there are a number of variations on the original, I think Chocolate Chess Pie is my absolute favorite. It's so fudgy and rich, and unlike any other pie you've ever tasted!
Most Chocolate Chess Pie recipes have cocoa powder in the filling. This one, however, uses melted dark chocolate instead. As you can imagine, the end result is a richer, more intense chocolate flavor. And you can never go wrong with more chocolate, right? Right!
Because of the addition of that melted chocolate, the texture of this pie differs a bit from traditional chess pies. You'll still get the crackly, partially sunken top, but the filling is thicker than the custard-like filling of most chess pies.
If you're a fan of all things chocolate, add this recipe to your to-bake list. And then go ahead and move it to the top. Serve it chilled, warm, or at room temperature. Adding a scoop of sweetened whipped cream is my favorite way to enjoy it. That subtle sweetness offsets the richness of the pie in such a perfect way.
What You'll Need
Like all chess pies, this one starts with a flaky crust and eggs, butter, and sugar for the filling.
For the crust:
All-purpose flour
Granulated sugar
Salt
Unsalted butter – The butter needs to be cold, which is how you get a delightfully flaky pie crust.
Cold water – Ice water is best; just take the ice cubes out before you measure the water.
For the filling:
Unsalted butter
Dark chocolate – Read more about melting chocolate properly here: Tips for Baking Brownies from Scratch.
Granulated sugar
Light brown sugar
All-purpose flour
Kahlua – Use leftovers to make Fudgy Kahlua Brownie Cookies!
Vanilla extract – Choose a high-quality vanilla extract for best results.
Salt
Eggs
Sweetened whipped cream or ice cream
Substitutions for Kahlua
I couldn't resist adding a bit of Kahlua to the pie filling. Its coffee flavor is such a wonderful complement to that rich chocolate. Of course, you can omit it if you're serving an under-21 crowd or substitute brewed coffee if you'd like. Otherwise, I would suggest doubling the vanilla or perhaps adding a teaspoonful of coffee extract.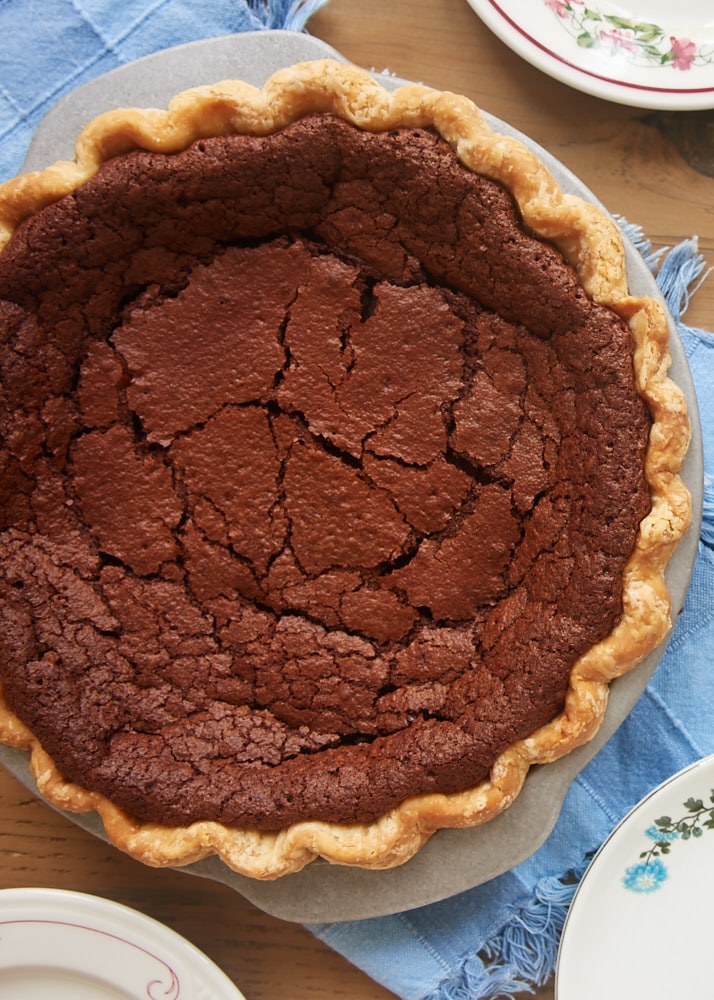 How to Make Chocolate Chess Pie
Other than the melted chocolate, the method for this chocolate chess pie recipe is similar to traditional versions!
To make the crust:
Combine the dry ingredients and butter. Whisk the flour, sugar, and salt in a large bowl, then add the chilled butter. Incorporate the butter with a pastry blender or fork until the mixture resembles coarse meal and the butter is the size of small peas.
Form a dough. Add a tablespoon of water and continue mixing. Continue to add more water as needed, a tablespoon at a time, until the crumbs come together to form a dough.
Chill. Take the dough out of the bowl and pat it into a circle. Wrap the dough tightly in plastic wrap and refrigerate it for at least 2 hours.
Roll out the dough. Remove the dough from the refrigerator and lightly flour a work surface. Roll out the dough into a circle about 1/8-inch thick.
Prepare the crust. Transfer the dough to a 9-inch pie plate, then trim and crimp the edges as desired. Refrigerate the crust while you work on the filling.
To make the filling:
Melt the butter and chocolate. Preheat your oven to 350°F. Heat the butter and chocolate in a microwave-safe bowl at half power in 30-second increments, stirring after each one. Stir until the butter has melted and the chocolate melts, then set aside to cool for 10 minutes.
Finish the filling. Stir the flour, sugar, brown sugar, Kahlua, vanilla, flour, and salt into the melted chocolate mixture. Add the eggs one at a time, mixing well after each addition.
Assemble and bake. Pour the filling into the pie crust. Bake for 50 to 60 minutes, or until the center is set and the top is puffed.
Cool. Let the pie cool in the pan on a wire rack; the pie will fall as it cools.
Serve. You can serve this Chocolate Chess Pie warm, at room temperature, or chilled, either on its own or with sweetened whipped cream or ice cream.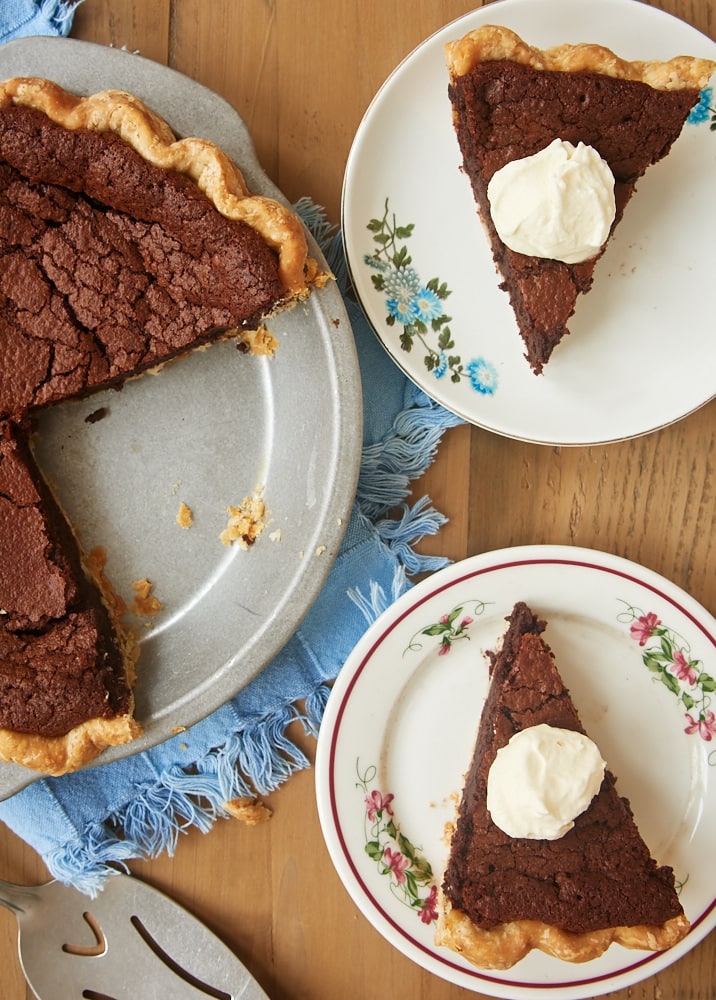 Tips for Success
Here are a few hints and tips that will help you along the way!
Switching up the pie crust. This Chocolate Chess Pie recipe includes my go-to pie crust. If you have a different recipe you prefer, feel free to use that, or if you're in a time-crunch, you can use a pre-made pie crust.
Rolling out the crust. If the dough seems too hard to work with after you remove it from the refrigerator, you can let it sit at room temperature for 10 to 15 minutes until slightly softened, but still cold.
About the chocolate. I use 72% cacao for this recipe. I recommend using a high-quality bar of chocolate rather than chocolate chips for best results.
How to Store
Cover the pie with plastic wrap and store it in the refrigerator for 3 to 4 days. You can also transfer the pie to an airtight container for storage.
Can I Freeze a Chocolate Chess Pie?
If you'd like to freeze your Chocolate Chess Pie, you can wrap it tightly (or transfer individual slices to an airtight storage container) and freeze it for up to 3 months. Let it thaw in the refrigerator before serving.
More Chess Pie Recipes