If you're a big fan of Chess Pie but want something a bit different, then try this Peanut Butter Chess Pie. It's got everything you love about the classic pie but with an irresistible peanut butter flavor!
Looking for a classic recipe? Try this old-fashioned chess pie!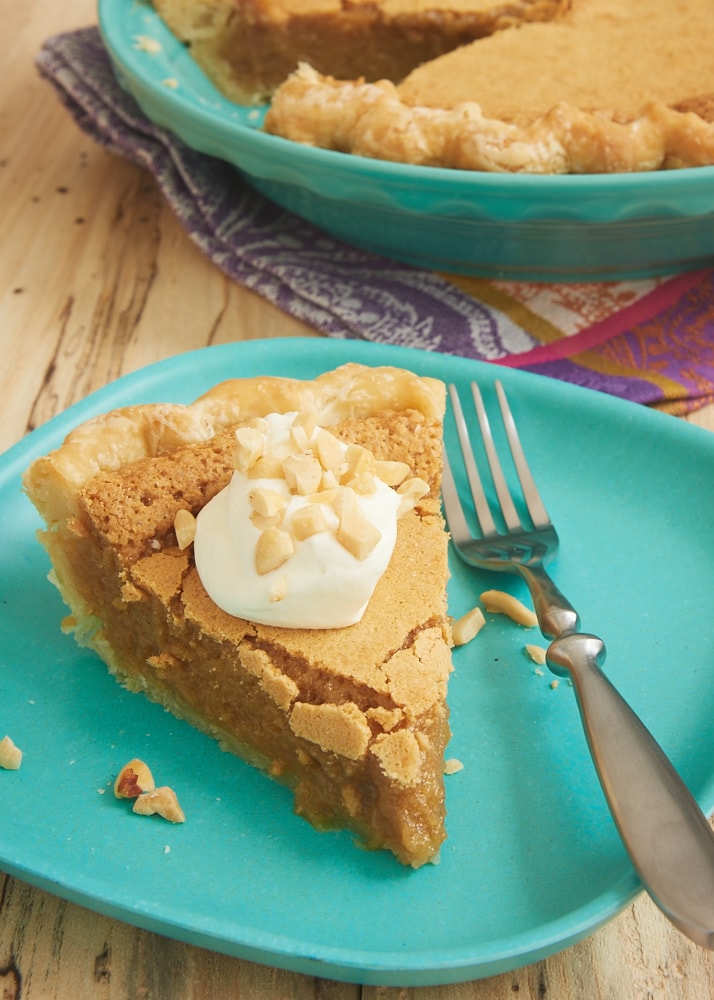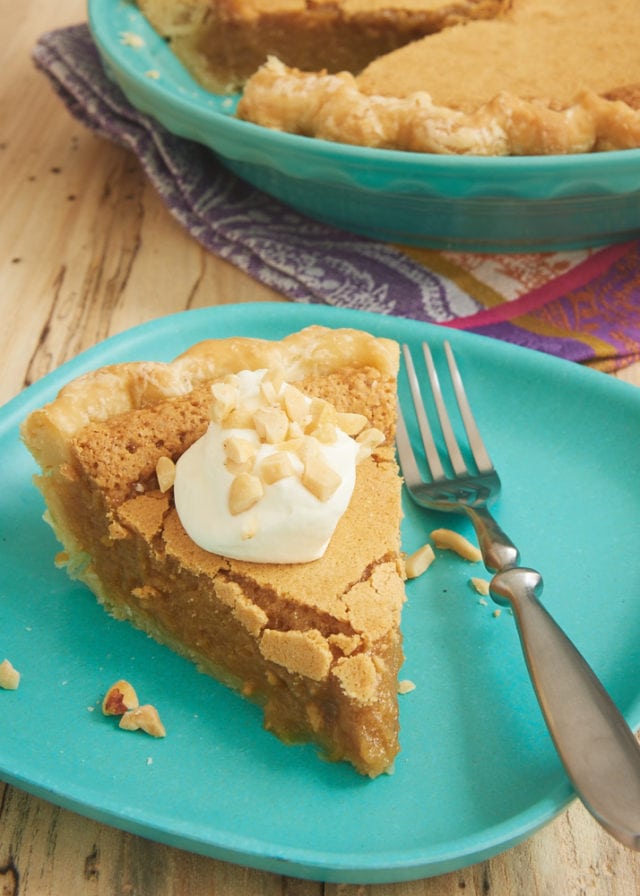 Peanut Butter Chess Pie
Chess Pie is one of those desserts that I can never resist. I've loved it and its sweet, gooey filling since I was a child. And now knowing how simply it's made with basic pantry ingredients, I appreciate it even more!
I've long had an idea to try adding peanut butter to this pie, thinking how that flavor addition would be such a great complement to an already fantastic pie. And now that I have, I so wish I'd tried it sooner!
To be honest, I was a bit worried what the addition of peanut butter would do to the filling. I thought it might make it too thick, but just one bite told me that it's still just like chess pie. It has that soft, sweet, gooey filling that we know and love! But you get a big dose of peanut butter flavor, too. Score!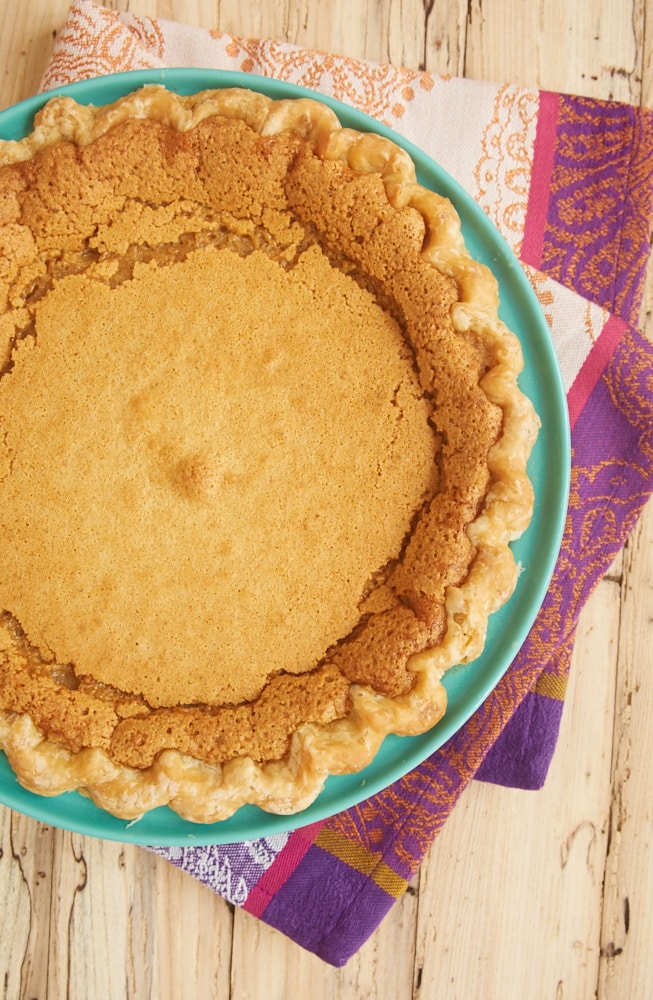 What You'll Need
One of the beauties of chess pie is that it's made with basic baking ingredients. See the recipe at the bottom of this post for ingredient quantities and full instructions. Here are some notes about the ingredients you'll need to make your peanut butter chess pie.
Pastry for a 9-inch pie: I've included my go-to pie crust in the recipe, but feel free to use your favorite recipe for a 9-inch pie. I find that most bakers have their preferred recipe, so go for it. I happen to like this one for its simplicity and for all of that butter.
Unsalted butter: I always bake with unsalted butter because there are varying amounts of salt in different brands of salted butter. Learn more: Unsalted vs Salted Butter
Eggs: The eggs are vital for creating the custard filling.
Sugar
Brown sugar: I prefer light brown sugar in this pie, but dark brown sugar should work, too.
Milk: Whole milk works best, but I've also used 2% successfully in this recipe.
Cornmeal: This helps to thicken the filling.
Vanilla extract
Salt
Peanut butter: I use traditional creamy peanut butter in this pie. Use caution with natural peanut butters, as they are likely not to perform in the same way.
Toppings: This pie is perfectly delicious all on its own, but I do like to add sweetened whipped cream or ice cream to warm slices of it. A few chopped peanuts on top are a nice way to finish.
How to Make Peanut Butter Chess Pie
This is a very simple pie to make. Besides bowls and tools for the pie crust, you'll just need a single mixing bowl, a mixing spoon or whisk, and a pie plate!
Make the pie crust. Follow the recipe below, use your favorite pie crust recipe, or go with store-bought. After the crust is ready in the pie pan, place it in the refrigerator while you make the filling. If you need some tips for making homemade pie crust, see my All-Butter Pie Crust.
Prepare for baking. Heat the oven to 325°F. Measure all of your ingredients and grab a mixing bowl.
Combine the filling ingredients. All of the filling ingredients mix in just one bowl. The peanut butter may take a little effort to mix, but the filing should come together easily.
Bake the pie. After pouring the filling into the chilled pie crust, bake the pie for about an hour. When it's finished baking, the pie should be golden brown and set in the center. The pie will puff up nice and tall as it bakes. Don't be alarmed to see it deflate as it cools. That just leads to that characteristic cracked topping that chess pies have.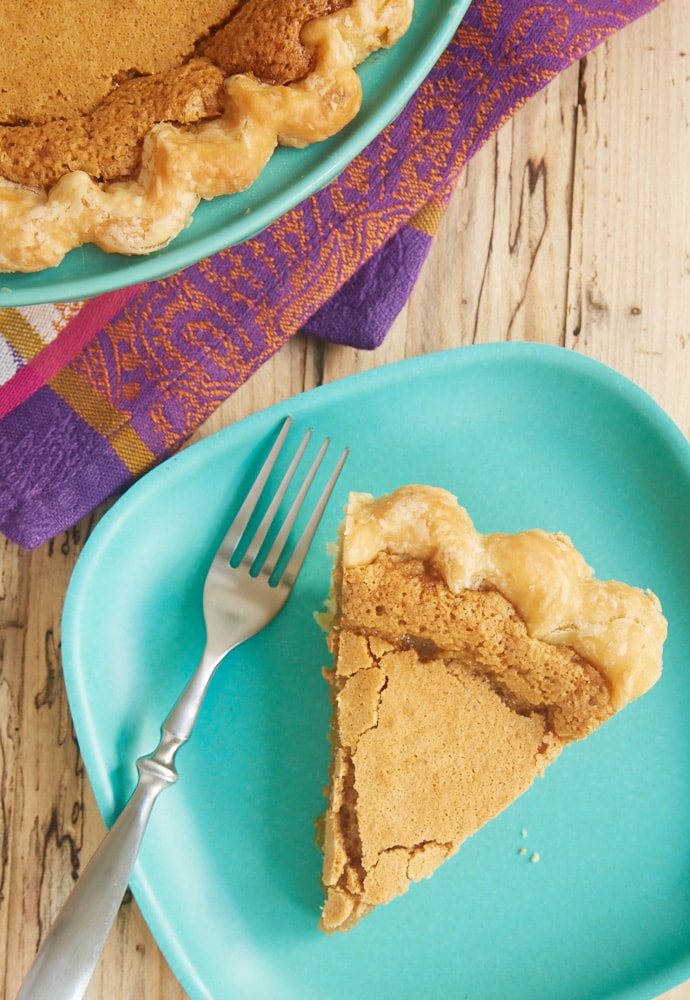 Tips for Success
Follow these simple tips to help ensure peanut butter chess pie perfection!
Measure accurately. This is always important in baking!
Allow the butter to cool. If the butter is too hot, the eggs will start to cook when they're mixed together. You'll end up with a less than optimal, lumpy filling.
Cover the crust edges if necessary. Keep an eye on the pie crust as it bakes. If the edges start to look done, then cover the edges with aluminum foil to prevent over-browning.
Cool completely before slicing. Allowing the pie to cool completely after baking gives the filling time to finish setting. Otherwise, you may have a gooey mess.
How to Store Leftovers
This Peanut Butter Chess Pie should keep tightly covered in the refrigerator for 3 days. Slices of pie can be rewarmed in the microwave or set on your kitchen counter to come to room temperature.
To freeze slices of the pie, first place them on a pan and freeze until solid. Then wrap each slice in plastic wrap and place in a freezer bag. Thaw overnight in the refrigerator or for a few hours at room temperature.
More Chess Pie Recipes