Chewy on the edges, gooey in the middle, and all around irresistible, this caramel chess tart takes a few simple ingredients and transforms them into a spectacular dessert!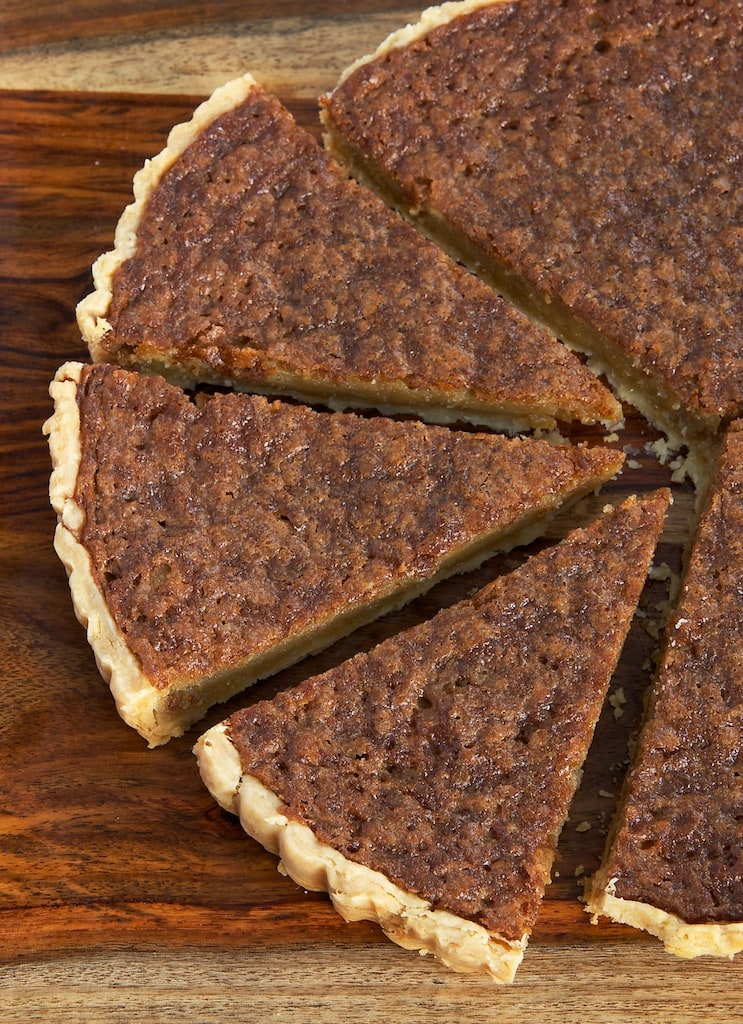 Chess Pie in a Tart Pan!
I know we've talked about it previously, but I am just so utterly fascinated by chess pie. It takes the most unassuming list of ingredients and turns them into a gooey and delicious pie. It's pure genius. There are endless variations of chess pie out there in the universe, but this caramel chess tart is among my favorites.
I feel a little bit like I need to add an asterisk after the word "caramel" in that title. You see, despite the caramel flavor of this tart, you don't have to labor over making caramel for it. The flavor magically evolves from all the brown sugar that's mixed into the filling.
Besides all of that caramel goodness, this is also one of the simplest pies you'll ever make. Just one bowl for the filling plus a pie crust. I made my go-to basic pie crust, but feel free to use your favorite, or even a store-bought crust. I won't judge.
You can dress up slices of this pie with a sprinkling of confectioners' sugar, a dollop of whipped cream, or a scoop of ice cream. I think it's plenty good all on its own.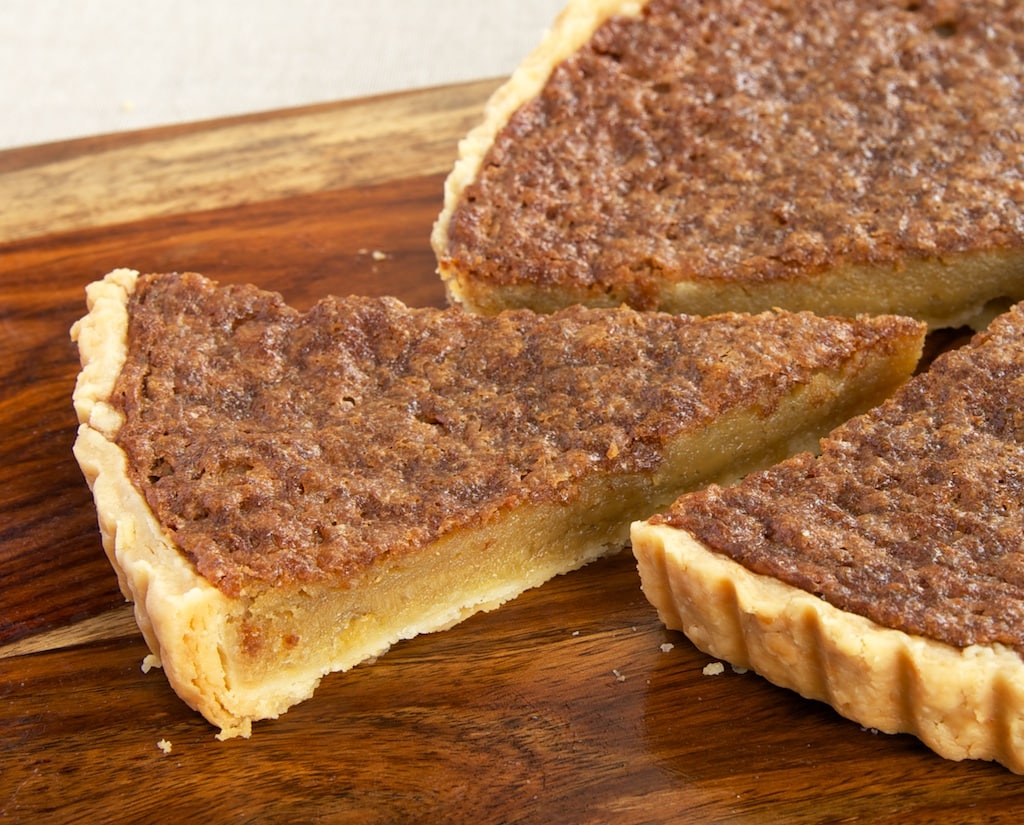 What You'll Need
Scroll down to the recipe card to find the ingredient quantities and recipe instructions.
What Is the Best Substitute for Buttermilk?
If you don't want to buy buttermilk every time you need it for a recipe, the best substitute is buttermilk powder. You can keep it on hand in the pantry for whenever you need it. Add the powder to milk, then use it in your recipe.
Another option is to pour 1 tablespoon of white vinegar or lemon juice into a liquid measuring cup, then pouring in whole milk until it reaches the 1 cup mark. Whisk and let the mixture thicken for about 5 minutes. This formula can be scaled up or down, depending on your recipe—although for this caramel chess tart, you'll have to figure out a way to measure 1/4 tablespoon of vinegar or lemon juice, which isn't exactly easy!
How to Make Caramel Chess Tart
In addition to the simple ingredients, making this caramel chess tart is simple as well. Here's what you'll need to do.
Prepare. Preheat your oven to 450°F and lightly grease a 10-inch tart pan.
Bake the crust. Fit the pie crust into the prepared pan, then line it with parchment paper or aluminum foil. Place pie weights or dried beans on top, then bake for 7 minutes.
Finish the crust. Take the tart pan out of the oven and carefully remove the lining and weights. Bake for 2 additional minutes, then set the pan on a wire rack to cool. Reduce the oven temperature to 350°F.
Cream the butter and sugar. Use an electric mixer on medium speed to beat the butter and brown sugar until they're fluffy.
Finish the filling. Beat in the eggs one at a time, then stir in the flour, buttermilk, salt, and vanilla.
Bake the tart. Place the tart pan with the partially baked crust onto a rimmed baking sheet. Pour the filling into the crust, then bake for 45 to 50 minutes, or until the center is almost set.
Cool. Let the tart cool completely on a wire rack, then remove the pan rim and transfer the tart to a serving plate.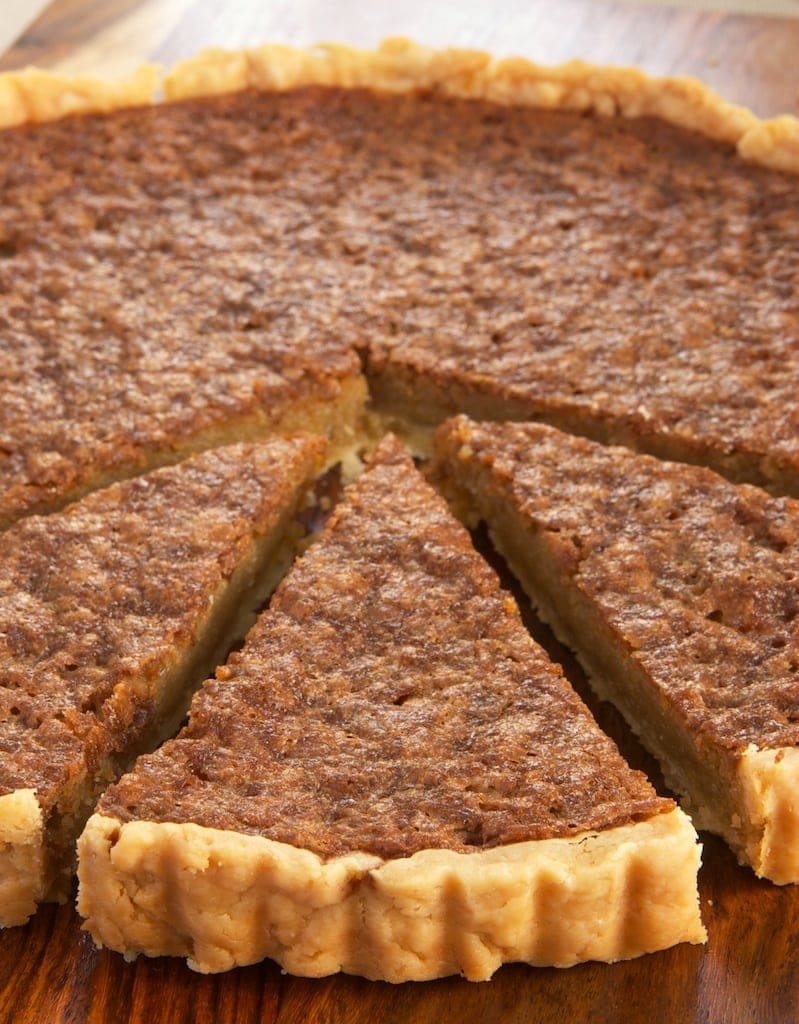 Tips for Success
Read my baking tips for beginners, then follow these additional tips for a perfect caramel chess tart.
Soften the butter. Set it out for about 30 minutes before starting the recipe, along with the eggs. This will help the filling mix more evenly.
Look for a little bit of jiggle. When the chess tart is done baking, it will still have a little bit of jiggle in the center; it should move like Jello, not like liquid.
Don't stress about cracks. It happens! It won't affect the taste of the tart and after you dust the top with powdered sugar, no one will notice.
How to Store
Allow your tart to cool completely, then cover it with foil or plastic wrap. It will keep well in the refrigerator for up to 3 days.
Can This Recipe Be Frozen?
Yes, this caramel chess tart can be frozen. Wrap it tightly in two layers of plastic wrap and store in the freezer for up to 3 months. Thaw overnight in the refrigerator before serving.