What do you get when you combine two classic fall treats? You get Caramel Apple Mini Pies! If you can't choose between a caramel apple or a slice of pie, this recipe gives you a taste of both.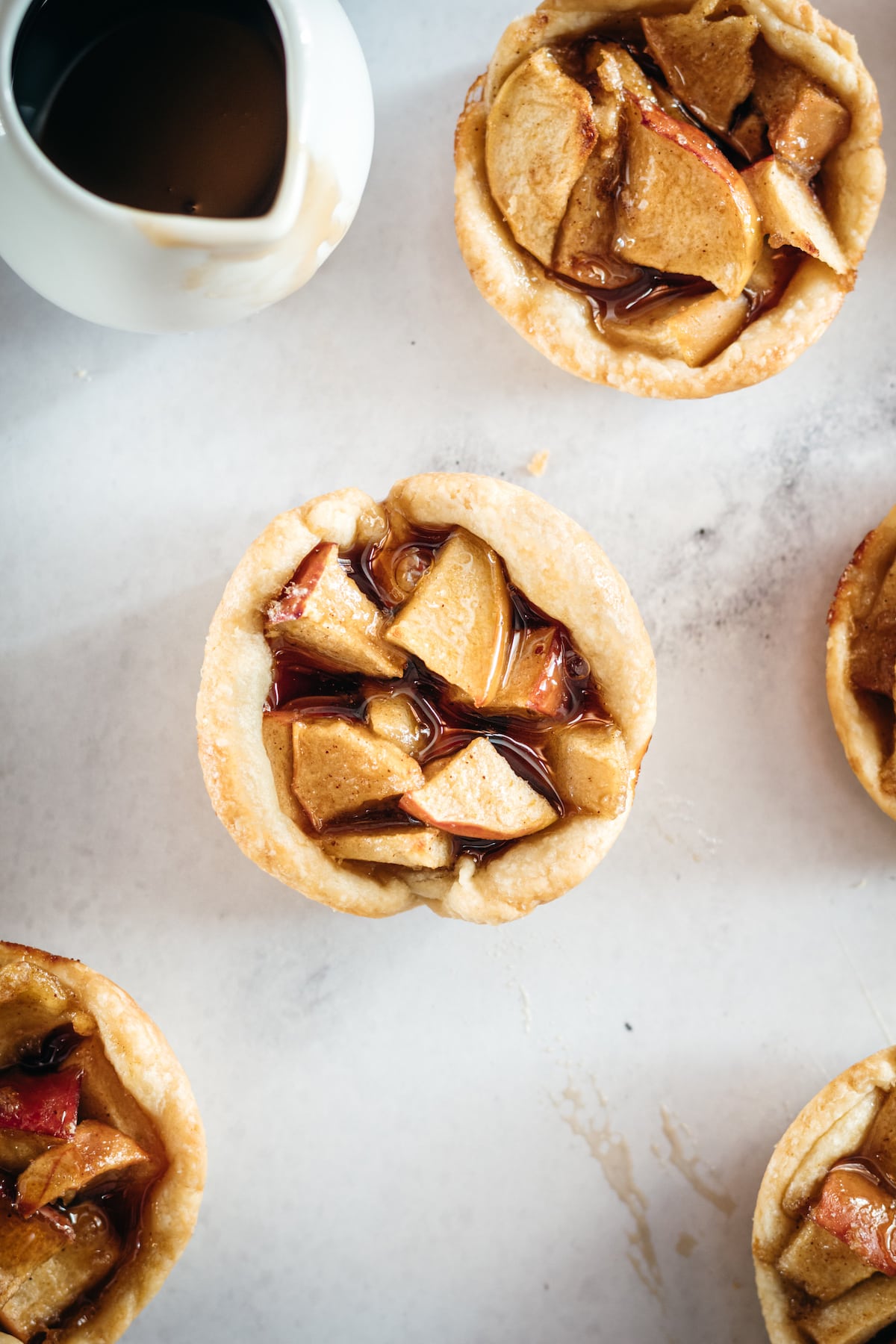 Easy Caramel Apple Mini Pies
These Caramel Apple Mini Pies are the perfect bite (or two). There's a buttery, flaky crust, tender cinnamon-spiced apples, and then to finish it all off, a generous drizzle of gooey caramel. Double the recipe for a party or make a batch for the family so everyone can enjoy an individually-portioned treat after dinner.
While a traditional apple pie recipe has a bottom crust and a top crust, I developed this Caramel Apple Mini Pie recipe to have only a bottom crust. I find that sometimes with mini pies, the crust-to-fruit ratio is a little off-balance. Crust is good, but it's not the main event, right? Here, you get just enough crust, but there's never any doubt that the cinnamon apples and caramel are the stars of the show.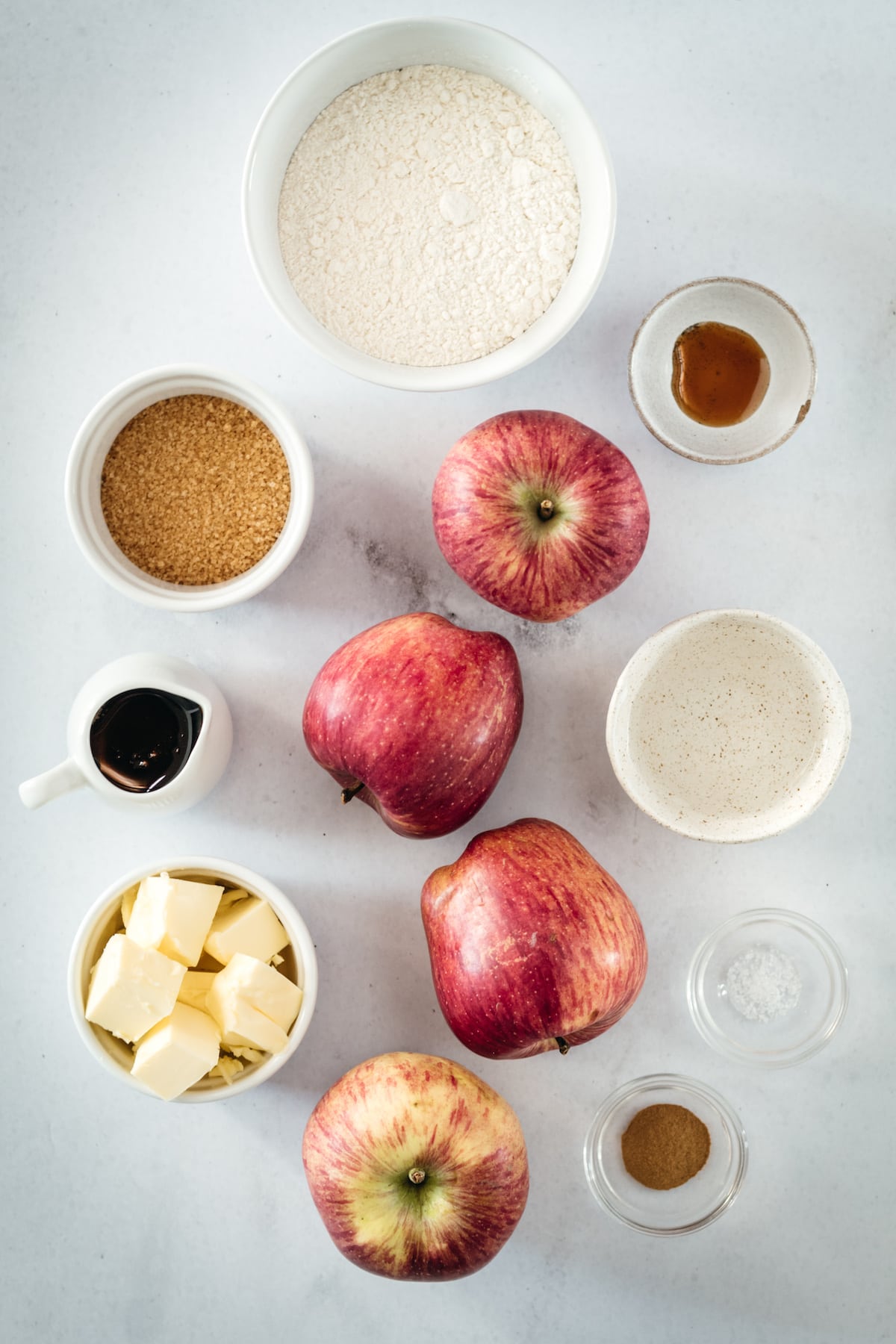 What You'll Need
The ingredient list for Caramel Apple Mini Pies is super simple! Here's what you'll need to get.
For the crust:
All-purpose flour
Light brown sugar
Salt
Unsalted butter – Unlike most other baking recipes that call for softened butter, the butter needs to be super cold when you're making pie crust. I like to cut it into cubes and return it to the refrigerator or place it in the freezer while I gather the other ingredients.
Cold water – Drop some ice cubes in it to make sure it's chilled!
For the filling:
Apples – See my notes below for choosing apples for these pies.
Light brown sugar
Cinnamon – Be sure your ground cinnamon is fresh, as it will lose its flavor over time.
All-purpose flour
Vanilla extract
Caramel topping – Use your favorite thick, gooey caramel!
What Are the Best Apples to Use for Apple Pie?
When making pie, you want an apple that will hold its shape after baking. Although tart apples are a popular choice, you can opt for something a touch sweeter, too. Braeburn, Cortland, Granny Smith, Golden Delicious, Honeycrisp, Jonagold, and Pink Lady are all great choices for this Caramel Apple Mini Pie recipe.
Can I Use a Pre-Made Pie Crust?
I love homemade pie crust, and especially the hint of brown sugar in this one. But if you want to save time, you can buy the refrigerated pie dough they sell at the grocery store and cut that into circles, then re-roll the dough and continue to cut until you have the 12 dough circles you need.
How to Make Caramel Apple Mini Pies
Ready to roll up your sleeves and make some mini pies? Let's get started!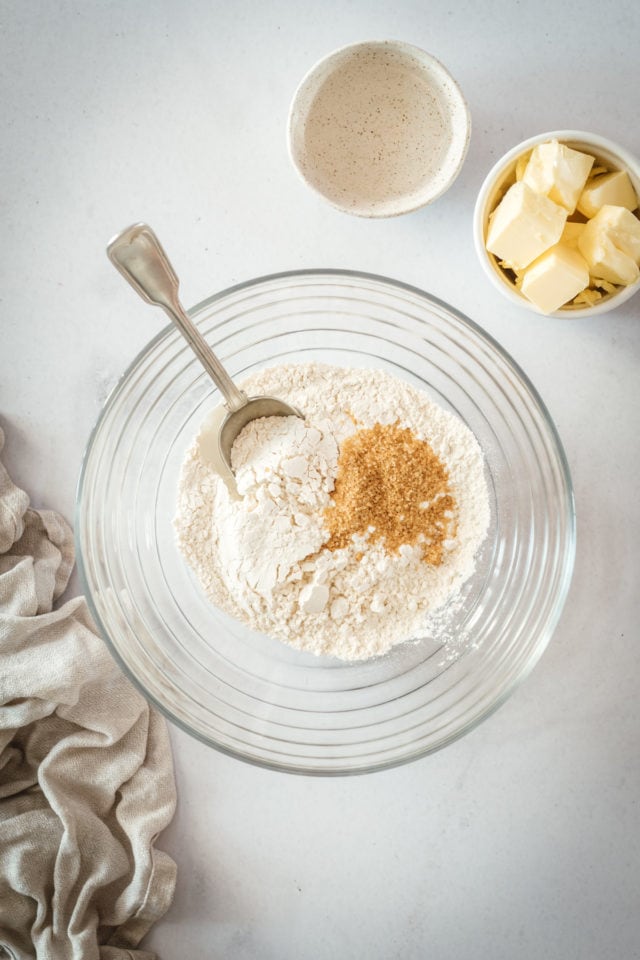 Start the crust. Whisk the flour, brown sugar, and salt in a large bowl, then add the butter. Use a pastry blender or a fork to incorporate the butter into the dry ingredients, until the bits of butter are about the size of small peas. Add a tablespoon of water at a time until a dough forms.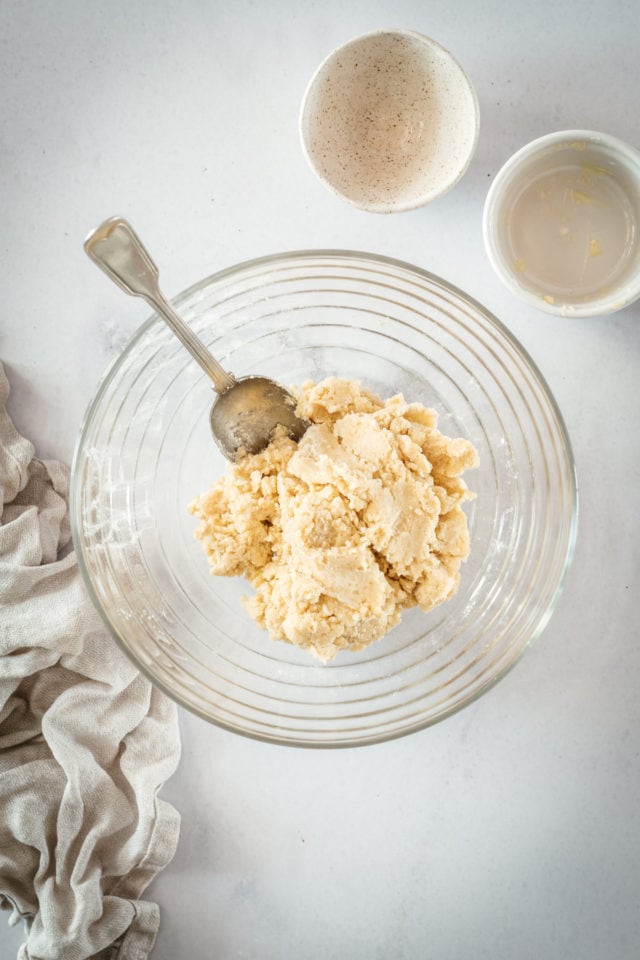 Refrigerate the dough. Remove the dough from the bowl and transfer it to a piece of plastic wrap. Wrap it tightly and refrigerate it for at least an hour or up to 2 days before you make these Caramel Apple Mini Pies.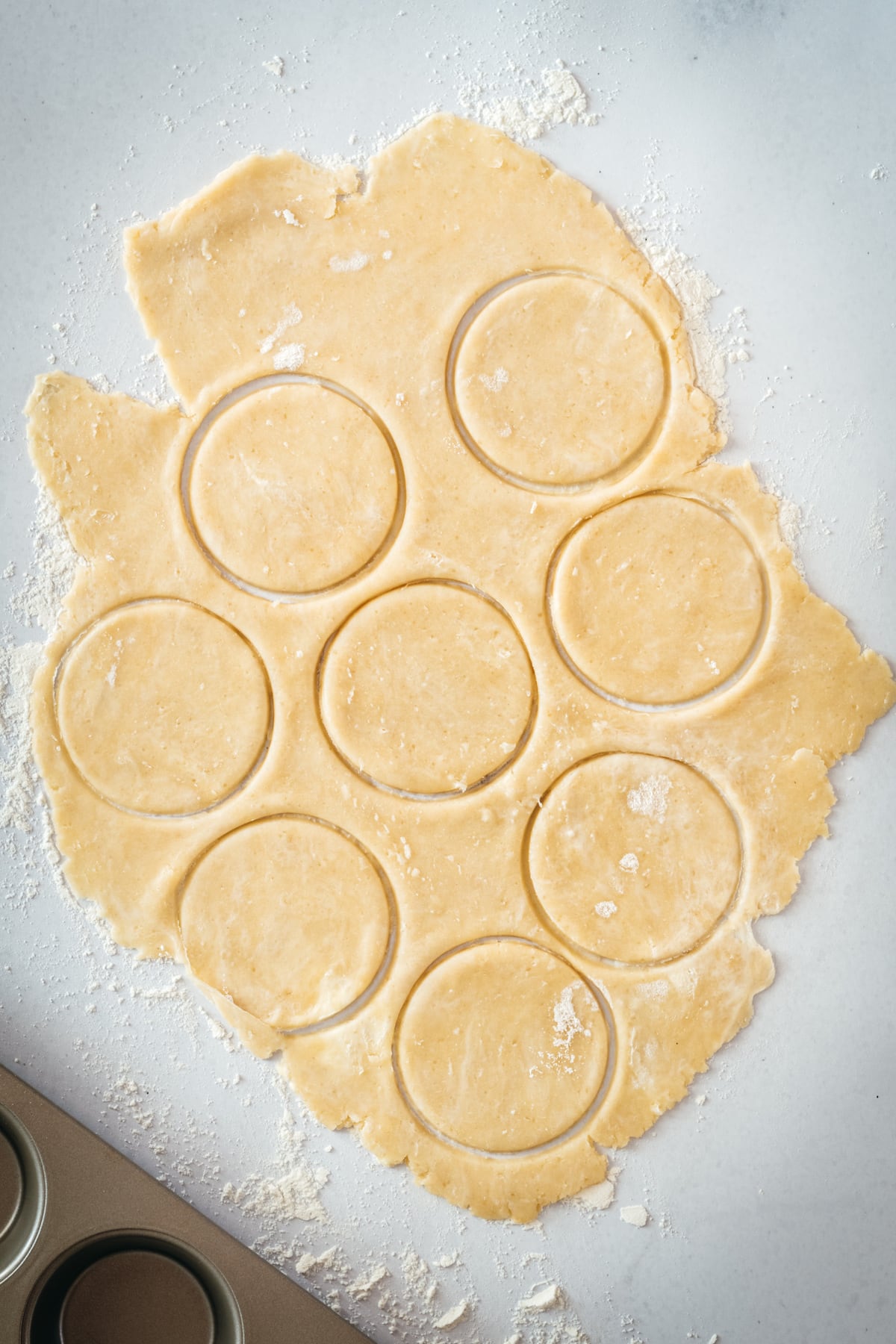 Roll out the dough. Take the dough out of the refrigerator and place it on a lightly floured work surface. Roll it out into a 1/4-inch-thick circle, then use a 4-inch circular cookie or biscuit cutter to cut circles for the crusts. Re-roll the dough and continue to cut circles until you have 12.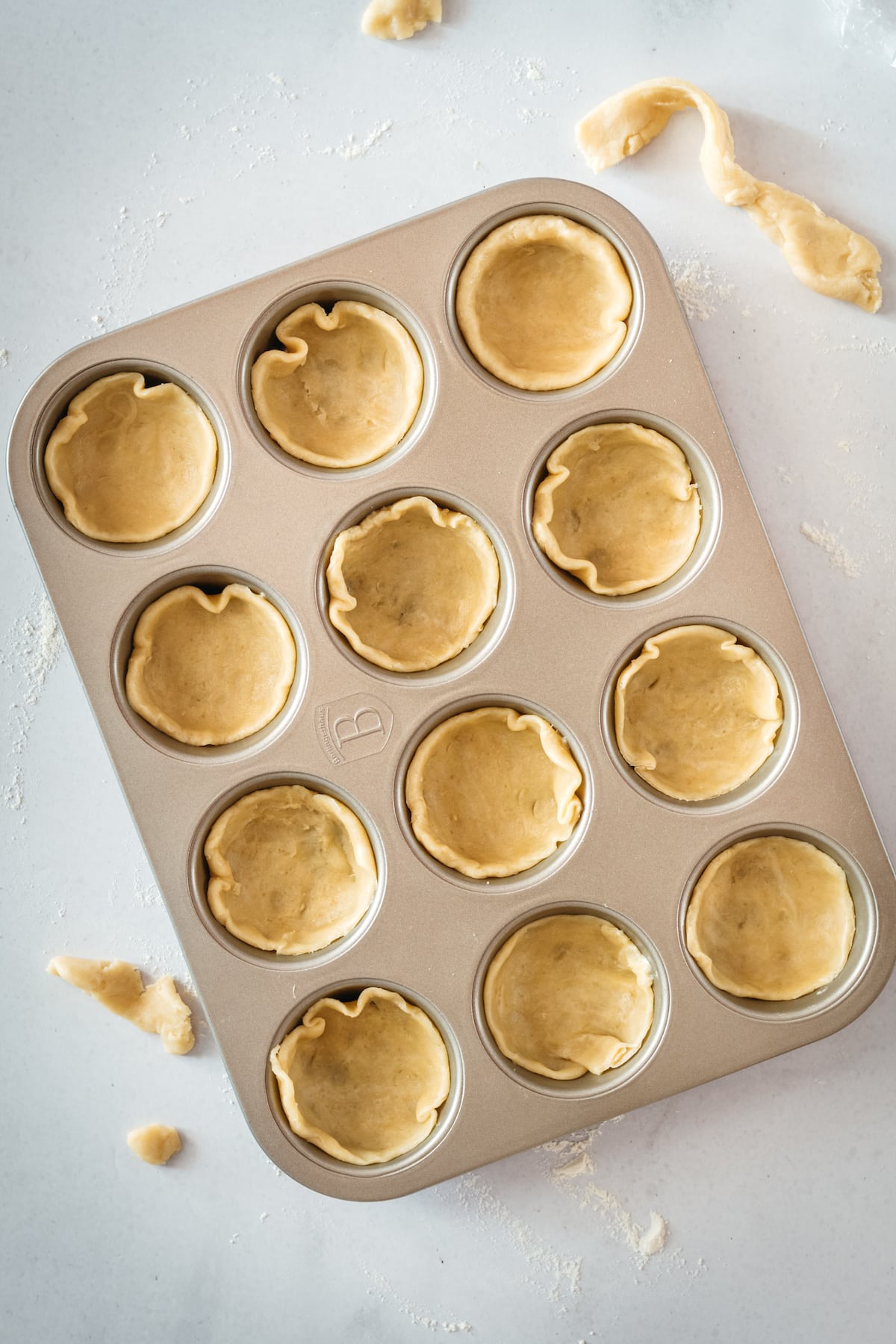 Make the bottom crusts. Press each of the circles into the bottom and up the sides of a muffin pan, then place the pan in the freezer for 30 minutes.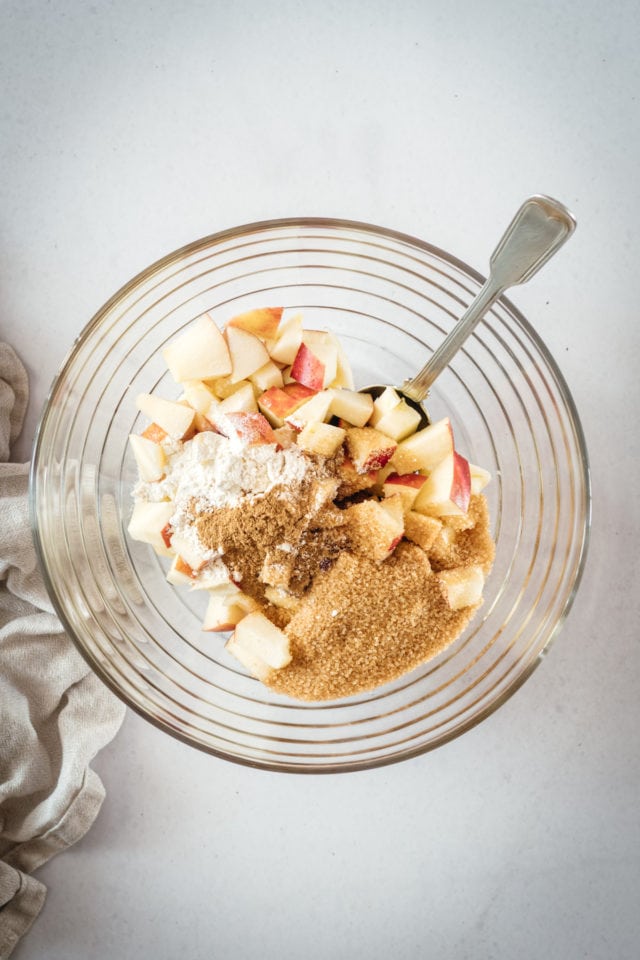 Prepare the filling. Combine the apples, brown sugar, cinnamon, flour, and vanilla in a large bowl, and preheat the oven to 375ºF.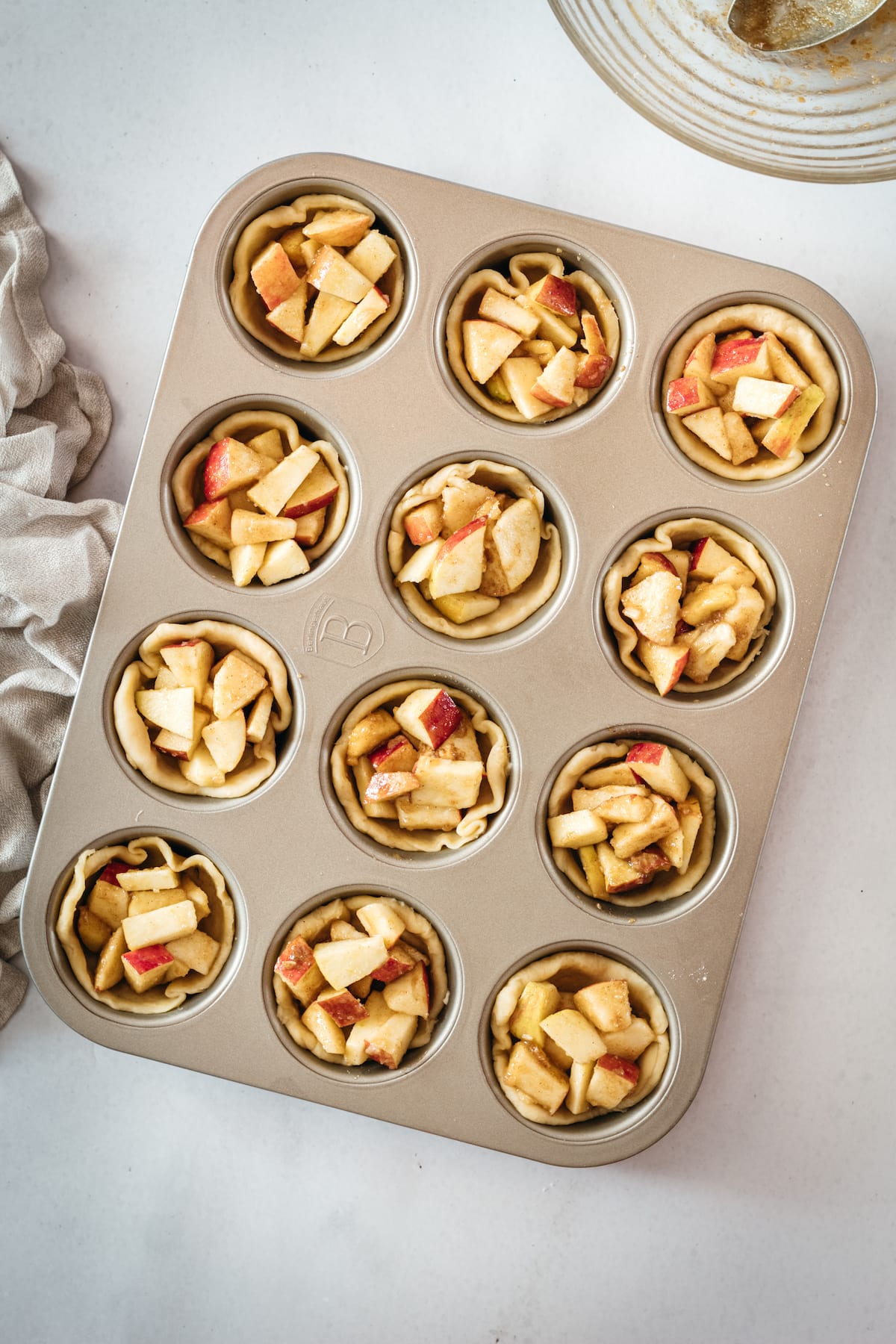 Fill the pie crusts. Spoon the apples into the crust, leaving any liquid behind in the bowl.
Bake. Place the mini pies in the oven and bake them for 20 to 25 minutes, or until the pie crust is golden and baked through.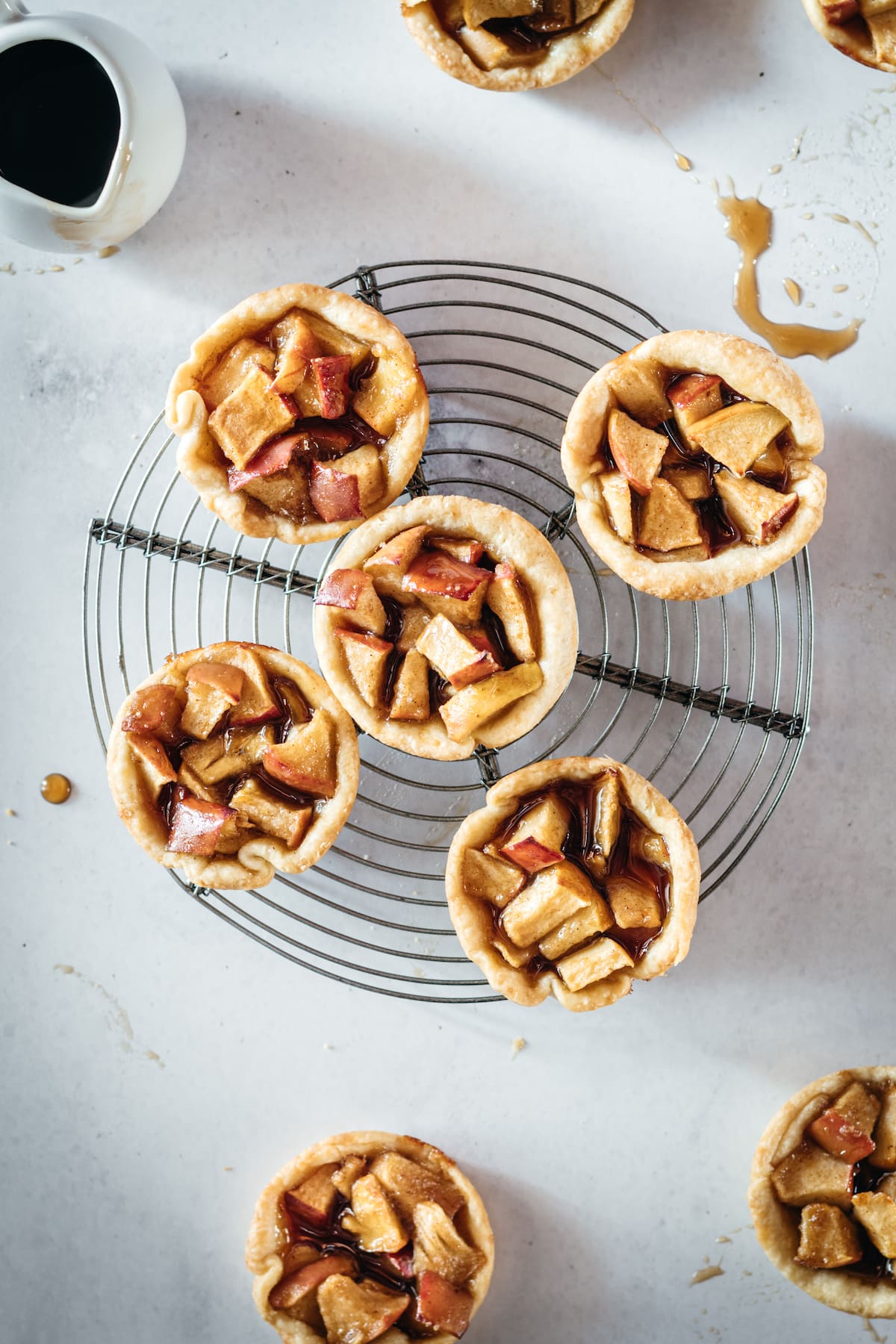 Garnish and serve. Drizzle a tablespoon of caramel over each mini pie, then let them finish cooling before serving.
Tips for Success
Here are some secrets to making the perfect Caramel Apple Mini Pies:
Use cold butter. If you're new to making pie crust, you can make things easier for yourself by popping the butter in the freezer for about an hour or so to make sure it's extra cold. If the butter becomes too warm while you're working with the dough, you won't have a flaky pie crust.
Splurge on your favorite caramel sauce. If there was ever a time to spring for the good stuff, this is it! Get one that has a nice, thick consistency at room temperature, rather than one that's thin and syrupy.
Fill the pies with apples, not liquid. Any juice at the bottom of the bowl should stay in the bowl! Otherwise, you'll end up with soggy crusts.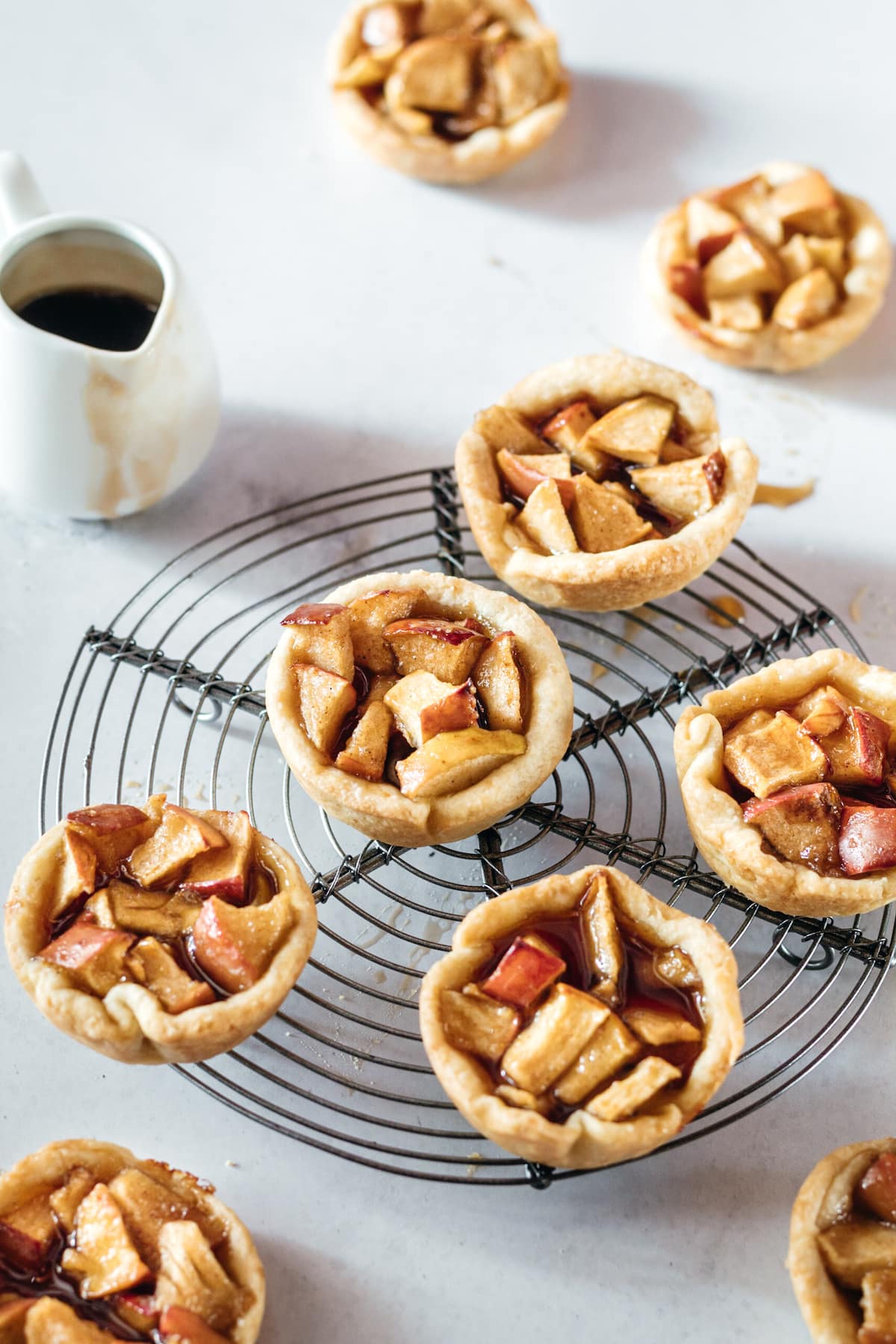 How to Store Caramel Apple Mini Pies
Store your Caramel Apple Mini Pies in an airtight container in the refrigerator for up to 3 days, or you can freeze them for up to a month. I recommend thawing them in the fridge overnight before serving, but you can heat them up if you're in a time crunch.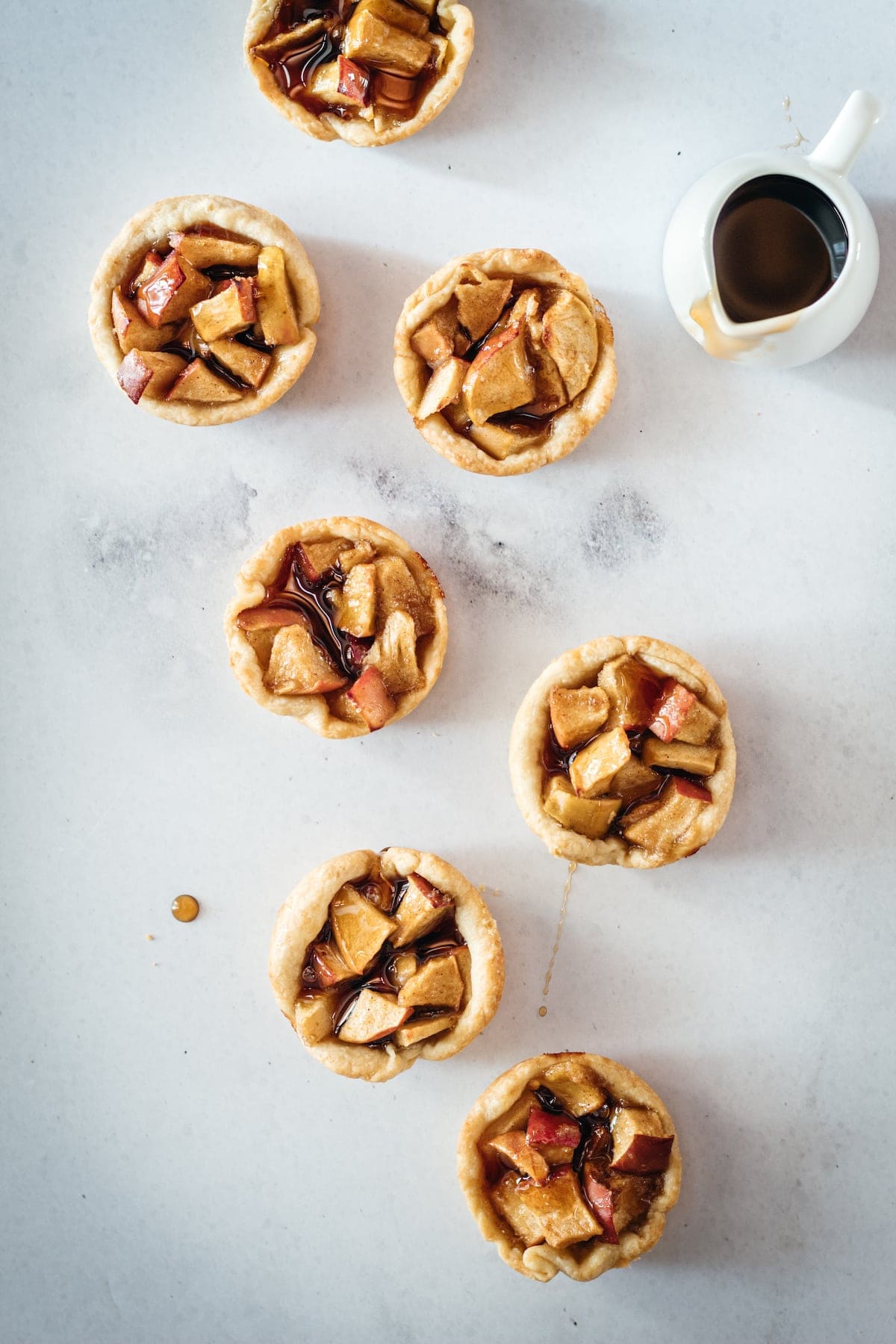 How to Warm These Up
Although I have no trouble eating pie chilled (especially bite-sized pie!), sometimes it's nice to warm them before diving into this apple deliciousness. This is especially true when ice cream is involved.
There are two ways to warm these pies:
In the microwave: Just microwave a pie for 15-30 seconds, depending on how warm you want it to be. Note that using this method will soften the pie dough.
In the oven: You can also reheat your mini pies in the oven. Preheat it to 350°F, then warm the pie(s) for about 5 minutes.
More Caramel Apple Desserts