November 3, 2016
Chocolate Chip Coconut Pecan Pie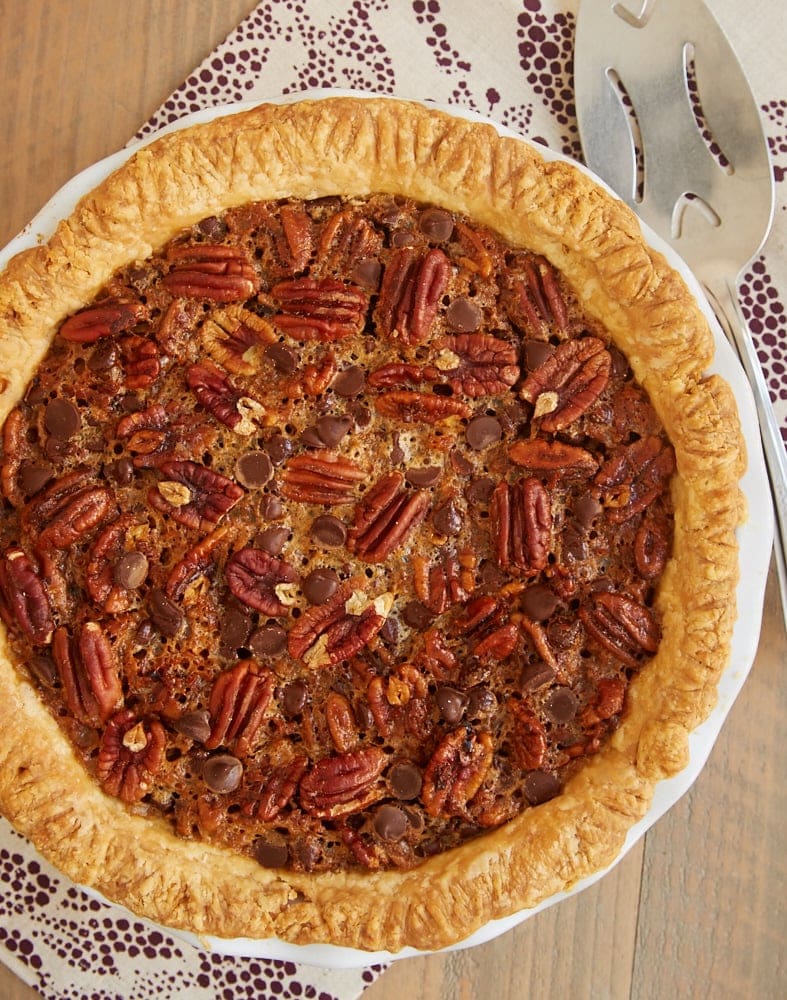 Pecan pie is one of my all-time favorite desserts. It's on my list of desserts that I can never seem to resist. I just love all that gooey filling and those crunchy pecans. I love it year-round, but I especially seem to crave it in the fall and during the holiday season.
Of course, I'm a recipe tinkerer, so I can't resist changing things up a bit. This pie is a variation of the same classic pecan pie I've been making for years. For a little something different, I decided to add a little coconut and chocolate. And that, my friends, was a very good decision.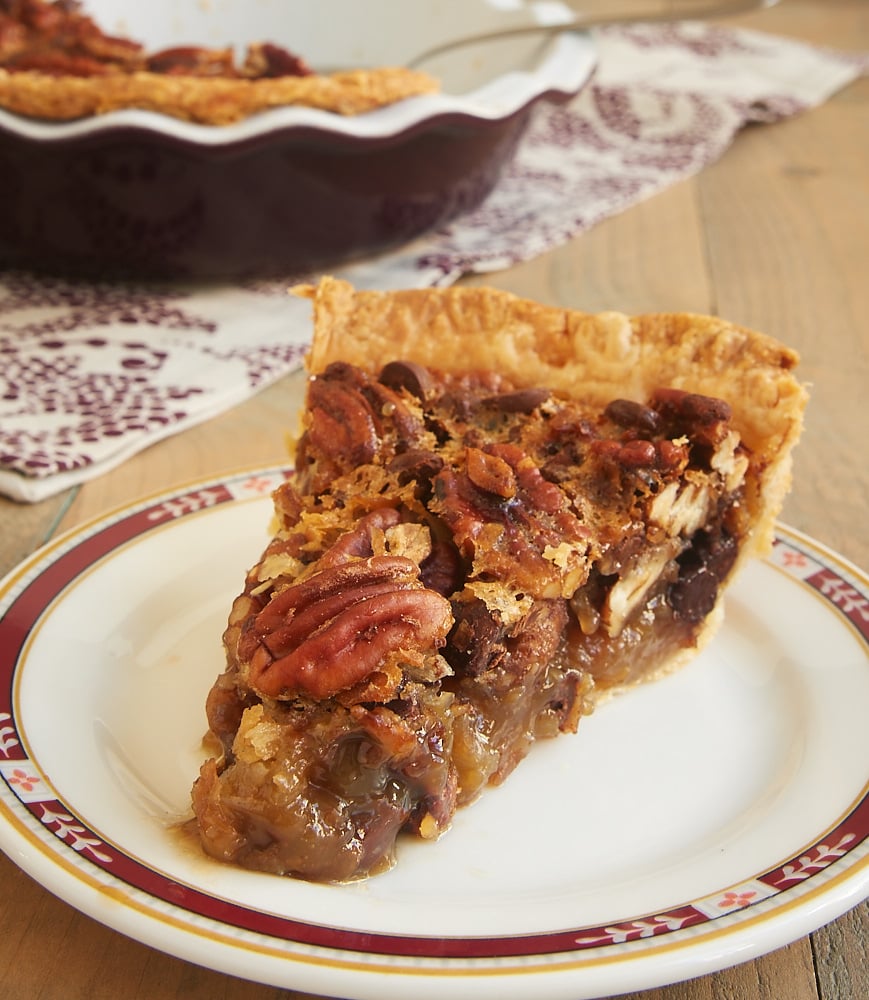 Pecan pie has such amazing flavor in its traditional form, but there's so much more flavor from the added chocolate and toasted coconut. More flavor than I would have expected, really. The components all complement each other in such a way that makes the finished pie greater than the sum of their parts.
Toasting the coconut is theoretically optional, but I highly recommend it for the great flavor it adds. It only takes a few minutes of effort and a little bit of oven time. If you're not already a pro at toasting coconut, be sure to see the note in the recipe for directions. Just remember to keep a close eye on the toasting process, as the coconut can go from toasted to burned fairly quickly.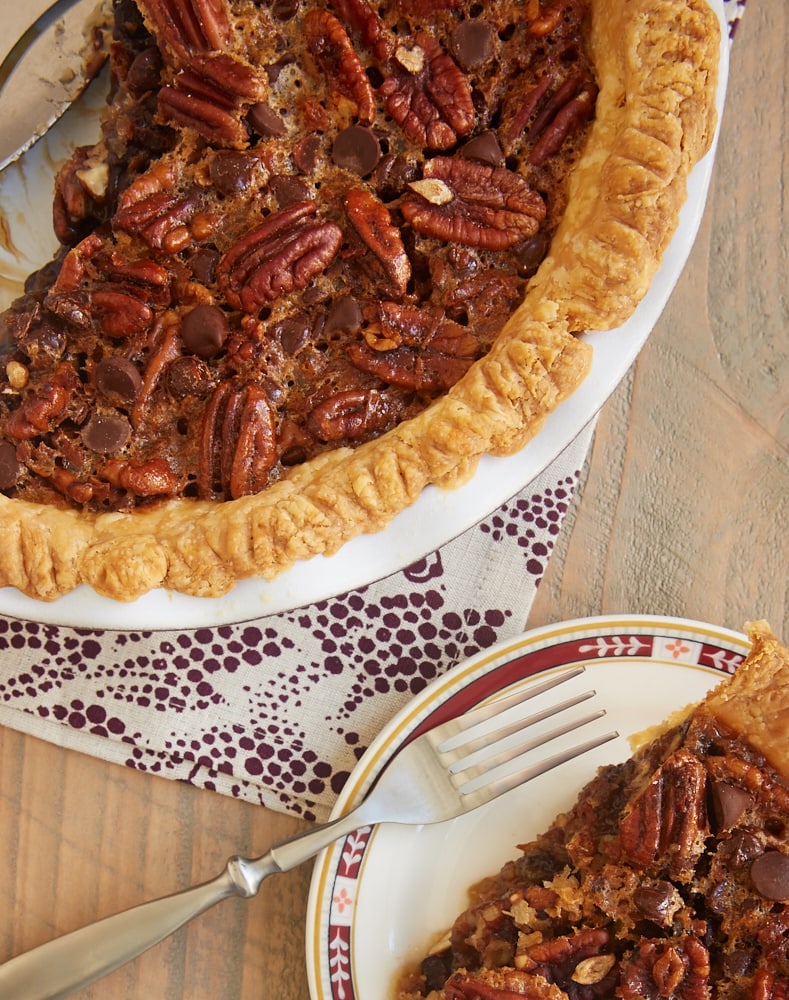 If you, too, love pecan pie but are looking for something just a bit different, give this pie a try. It has all the gooey, nutty deliciousness of the classic, but it just takes things a bit further with sweet, toasty coconut and rich chocolate chips. It may well become your new favorite take on pecan pie!
Find more pie recipes in the Recipe Index.
Chocolate Chip Coconut Pecan Pie
Yield: 8 to 10 servings
Prep Time:25 minutes
Cook Time:1 hour
Classic pecan pie gets even better and more flavorful in this Chocolate Chip Coconut Pecan Pie!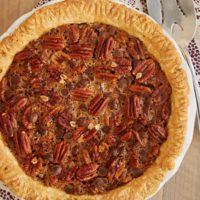 Ingredients:
For the crust:
1 & 1/4 cups all-purpose flour
1 teaspoon granulated sugar
1/2 teaspoon salt
1/2 cup cold unsalted butter, cut into 1/2-inch cubes
2 to 4 tablespoons cold water
For the filling:
3 large eggs
1/4 cup unsalted butter, melted and slightly cooled
1/2 cup granulated sugar
1/4 cup firmly packed light brown sugar
1 cup light corn syrup
1 teaspoon vanila extract
1/2 teaspoon salt
2 cup pecan halves
1 cup sweetened shredded coconut, toasted and cooled*
1 cup semisweet chocolate chips
Directions:
To make the crust:
Whisk together the flour, sugar, and salt in a large bowl. Add the butter and mix with a pastry blender or a fork until the mixture resembles coarse meal and the butter is the size of small peas.
Add 1 tablespoon of water and continue mixing. Add more water as needed, 1 tablespoon at a time, until a dough forms.
Shape the dough into a disc. Wrap the dough tightly in plastic wrap. Refrigerate for at least 2 hours.
Remove the dough from the refrigerator. If necessary, let it sit at room temperature for 10 to 15 minutes until slightly softened but still cold.
Lightly flour a work surface. Roll out the dough into a circle about 1/8-inch thick.
Transfer the dough to a 9-inch round pie pan. Trim and crimp the edges of the crust as desired. Place the pie pan in the refrigerator while you make the filling.
To make the filling:
Preheat oven to 350°F.
Place the eggs in a large mixing bowl. Beat lightly.
Add the butter, sugar, brown sugar, corn syrup, vanilla, and salt. Stir until combined.
Stir in the pecans, coconut, and chocolate chips.
Transfer the filling to the crust. Place the pie plate on a lined, rimmed baking sheet to catch any spills.
Bake 50 to 60 minutes, or until the crust has browned and the filling is set.
Notes:
*To toast the coconut, spread it in a single layer on a rimmed baking sheet. Bake in a 350°F oven for 10 to 15 minutes, stirring occasionally, until the coconut is toasted.