November 5, 2018
Pecan Hand Pies
There's no slicing or serving with these Pecan Hand Pies. Just grab one and enjoy!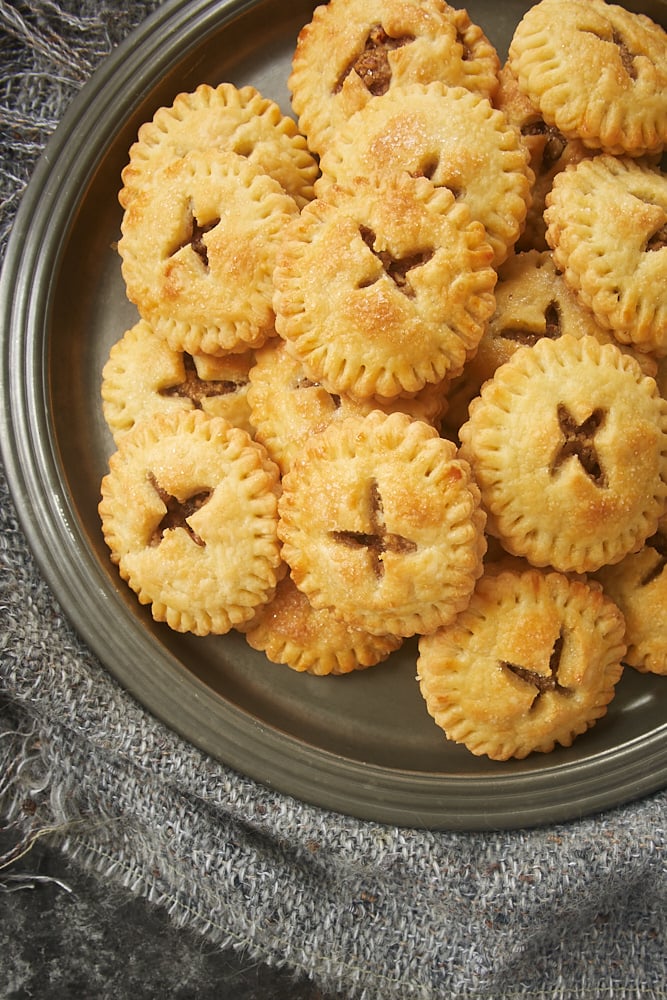 One of my all-time favorite desserts is pecan pie. It's been a staple in my baking for many years. I'm always thinking of new ways to make it, with additional flavors or some other twist. These Pecan Hand Pies are one of my favorite twists on the classic.
These little pies turn pecan pie into a grab-and-eat treat. There's no slicing and serving. Just pick up one of these and enjoy!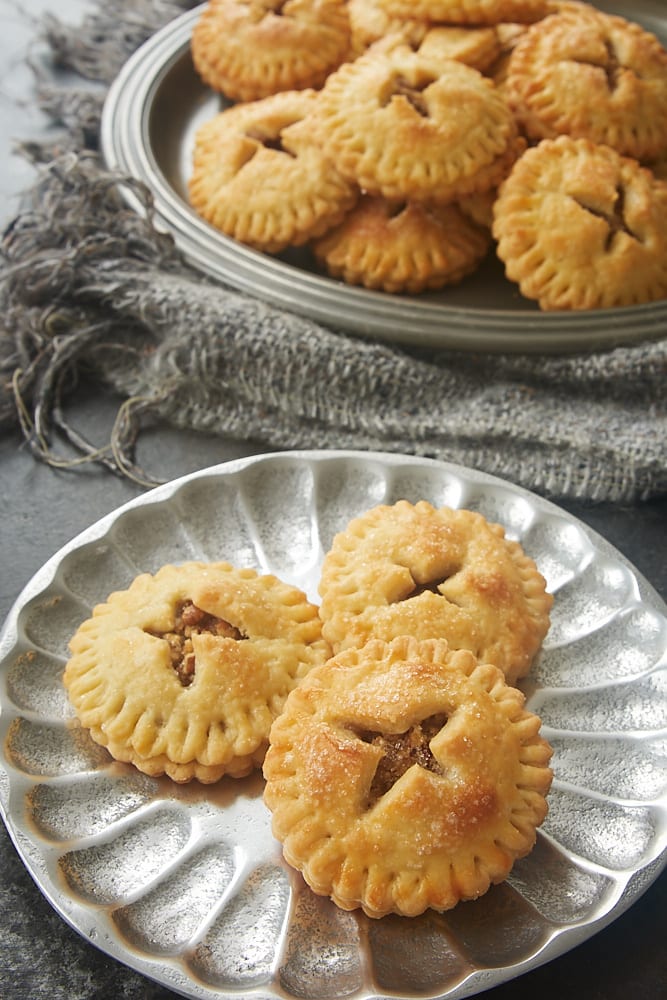 The filling is a little different than traditional pecan pie. It's less gooey with the absence of corn syrup. Instead, it's a simple mixture of butter, brown sugar, vanilla, and pecans that I think works better in for these pies. You'll still get the great flavor of a sweet pecan filling that you love.
For these pies, I like to use one of my favorite pastry doughs. You can, of course, use a traditional pie crust recipe, but this simple dough made with cream cheese is perfect for hand pies and mini pies. It mixes easily and handles so well. I almost always use a food processor to make this dough, but you can mix it by hand as you normally would mix a pie crust.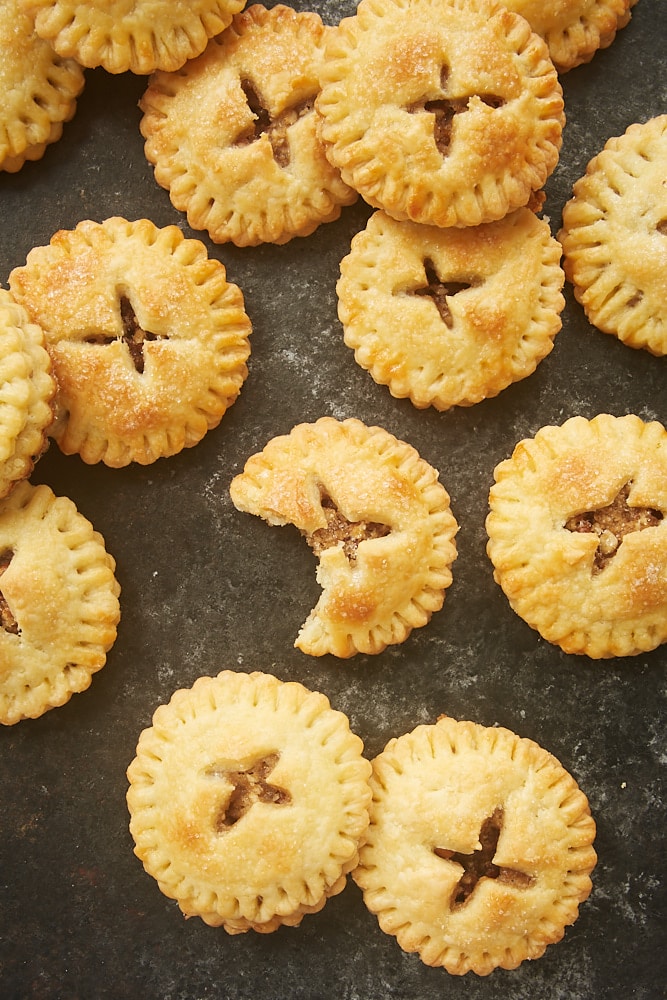 Unlike a lot of baked goods, these pies are actually better the day after they're baked. That makes them a great make-ahead dessert for those of us who like to get things done in advance. That also makes them great for gifting if you like to make homemade treats for friends and family.
These Pecan Hand Pies are a great alternative to traditional pecan pie, especially for those of you who don't like to use corn syrup or don't have easy access to it. Plus, they're just the kind of individual treats that add a perfect grab-and-eat option to dessert time!
Find more pie recipes in the Recipe Index.
More Hand Pie Recipes
Bake or Break is a participant in the Amazon Services LLC Associates Program, an affiliate advertising program designed to provide a means for us to earn fees by linking to Amazon.com and affiliated sites.
Pecan Hand Pies
Yield: about 20 pies
Prep Time: 30 minutes
Cook Time: 25 minutes
These grab-and-eat Pecan Hand Pies are such a great twist on a classic dessert!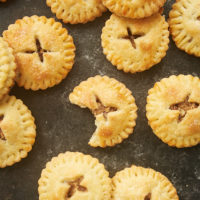 Ingredients:
For the pastry:
1 cup (226g) unsalted butter, cold & cut into 1/2-inch cubes
8 ounces (226g) cream cheese, softened & cut into 1/2-inch cubes
2 & 1/2 cups (300g) all-purpose flour
2 teaspoons granulated sugar
1/2 teaspoon salt
For the filling:
2 tablespoons unsalted butter, melted
1/2 cup (100g) firmly packed light or dark brown sugar
1/2 cup (60g) chopped pecans
1/2 teaspoon vanilla extract
pinch of salt
For assembling:
1 large egg
1 tablespoon water
Directions:
To make the pastry:
Place the butter, cream cheese, flour, sugar, and salt in the bowl of a food processor.* Pulse for about a minute, or until a dough forms.
Divide the dough in half, and form each portion into a disc. Wrap each disc in plastic wrap and refrigerate for 30 minutes. If you need to refrigerate longer, then you may need to let the dough sit at room temperature for about 5 minutes before rolling it out.
Preheat oven to 375°F. Line baking sheets with parchment paper or silicone liners.
Place one disc of the chilled dough on a lightly floured surface. Roll the dough to 1/8-inch thickness. Use a 2 & 3/4-inch round cutter to cut the dough into rounds. Gather and re-roll the remaining dough once as needed. Repeat with the remaining disc of dough. (You'll have about 40 cut-outs.)
Make a small slit (a single cut or an X) in the center of half of the dough rounds.
To make the filling:
Combine the butter, brown sugar, pecans, vanilla, and salt until thoroughly combined.
To assemble:
Place about 2 teaspoons of the filling in the center of the dough rounds without a slit. Spread over the dough, leaving about 1/4 inch border.
Place the dough rounds with the slit on top of each of filled dough round. Press the edges to seal. Use a fork or other tool to seal the edges further.
Whisk together the egg and water. Lightly brush the tops of each pie with the mixture. (You won't use all of the egg wash.)
Sprinkle a pinch or two fo sanding sugar on top of each pie.
Bake 20 to 25 minutes, or until the pies are golden brown. Cool on the pan for 10 minutes. Then transfer the pies to a wire rack to cool completely.
Notes:
*I recommend a food processor with at least an 11-cup capacity for this volume of dough. Alternately, you can also mix with a pastry blender, a fork, or your fingers.