November 18, 2013
Chocolate Pecan Tart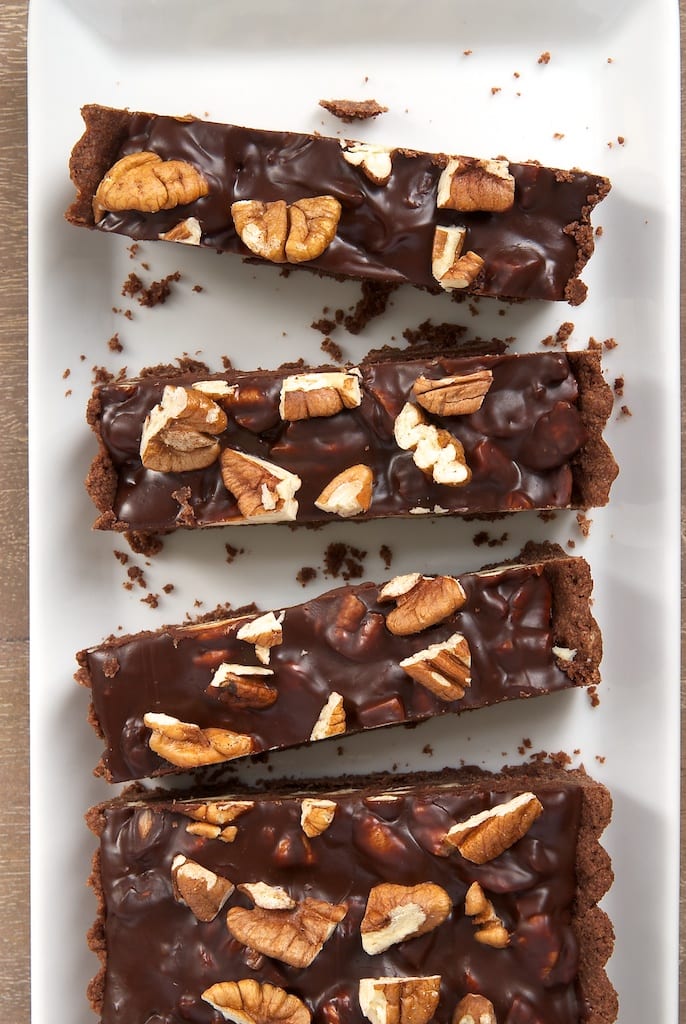 In case you haven't been checking the calendar, Thanksgiving is next week. I'm sure many of you, like me, have been in planning mode in an effort to make everything as perfect as possible for the big day.
When I start thinking about Thanksgiving dessert, my thoughts usually turn to pie. And, it seems I'm not alone. I've teamed up with some wonderful bloggers to bring all of our readers Pie Week! What better time to celebrate pie?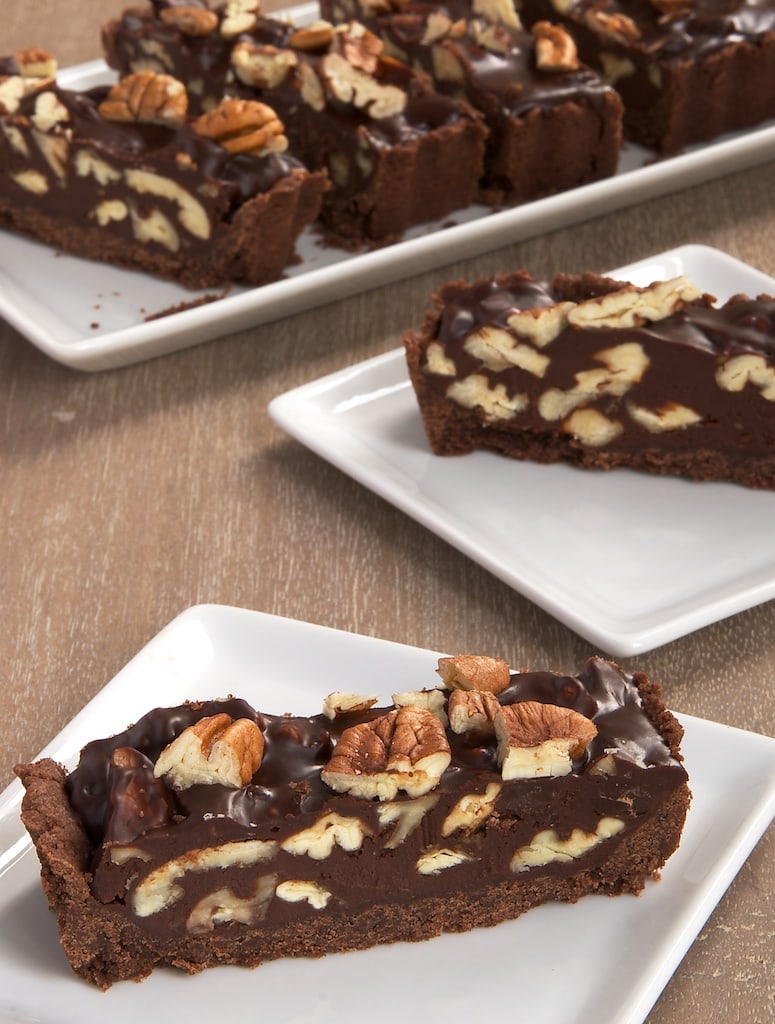 The only tough part of this week is narrowing down what pies I want to bake. I decided to start with a recipe I've had bookmarked for a long time. This tart combines two of my favorite things – chocolate and pecans – into an amazingly simple tart.
It starts with a simple chocolate crust made with cocoa powder. That is then filled with a chocolate ganache and toasted pecans. Plus, I put a splash of coffee liqueur in the ganache for a little extra flavor. And, that's all there is to it! You'll be amazed at how simple this tart is to make.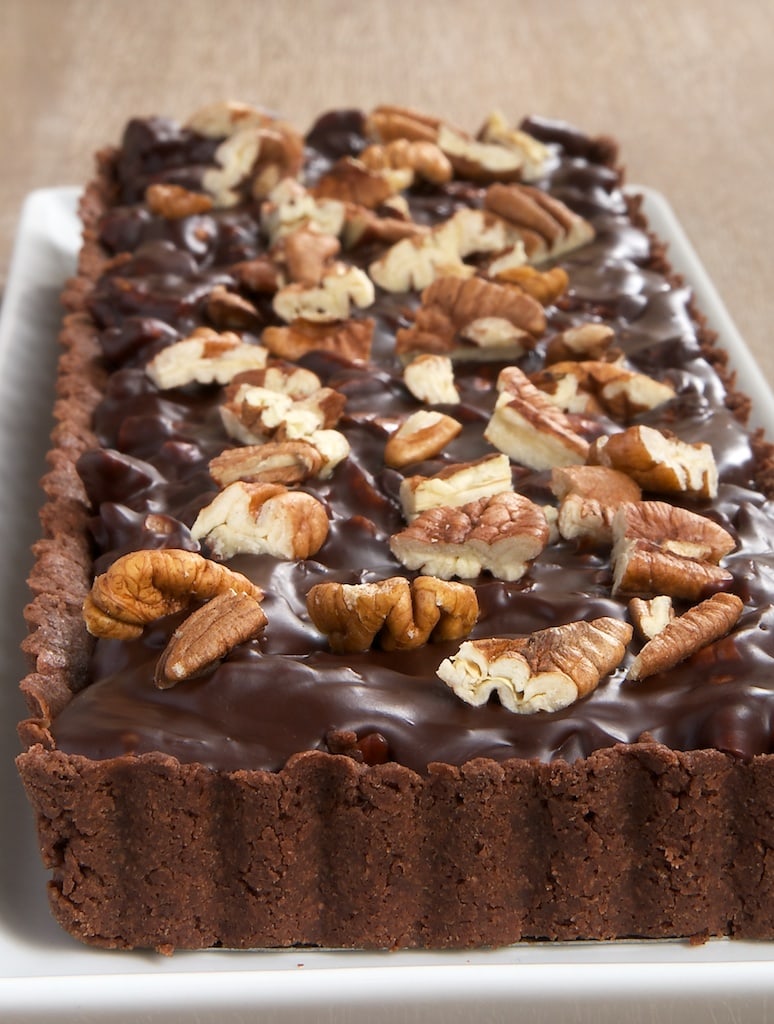 For all of you who like to get ahead of the game, this is a great pie for making in advance. You can store it for a couple of days in the refrigerator. Then, just set it out at room temperature for a bit before serving.
You and your guests will devour this rich, decadent tart. I recommend small slices because it is seriously rich.

Looking for more Pie Week recipes?
Brown Butter Apple Custard Pie from The Baker Chick
Bourbon Apple Hand Pies from Nutmeg Nanny
Pumpkin Pie Croutons from Chocolate and Carrots
Mini Pumpkin Pies from Dessert for Two
Winter Squash Pot Pie with Chickpeas and Swiss Chard from Eats Well With Others
Fancy Holiday Chocolate Pecan Pie from Keep It Sweet Desserts
Apple Cherry Galette with Kettle Chip Crumble from Country Cleaver
We want to include all of you in the fun as well. King Arthur Flour and Cabot, two of my favorite companies, are providing fantastic giveaways for you. Scroll past the recipe for all the details.
Chocolate-Pecan Tart
Yield: 8 to 10 servings
Prep Time:20 minutes
Cook Time:42 minutes
Ingredients:
For the crust:
1 & 1/4 cups all-purpose flour
1/4 cup unsweetened cocoa powder*
1/2 teaspoon salt
1/2 cup unsalted butter, softened
1/4 cup granulated sugar
2 large egg yolks
For the filling:
1 & 3/4 cups pecan halves
8 ounces (about 1 & 1/3 cups) semisweet chocolate*, chopped
pinch salt
3/4 cup heavy cream
2 tablespoons coffe-flavored liqueur
Directions:
To make the crust:
Preheat oven to 350°.
Whisk together flour, cocoa powder, and salt. Set aside.
Using an electric mixer on medium speed, beat butter and sugar until light and fluffy. Add egg yolks and mix well.
Reduce mixer speed to low. Gradually add the flour mixture, mixing just until combined but still a bit crumbly.
Press crust mixture into the bottom and up the sides of a 4″x 14″ rectangular tart pan or a 9-inch round tart pan.
Line the crust with parchment paper so that the paper overhangs on all sides. Fill pan with pie weights (or dried beans). Place the pan on a rimmed baking sheet.
Bake 20 to 22 minutes, or until the edges of the crust are dry. Then, carefully remove the parchment paper and pie weights. Continue baking crust for 10 to 12 minutes, or until dry and set.
Cool crust completely.
To make the filling:
Spread pecans in a single layer on a baking sheet. Bake at 350° 8 minutes, or until toasted and fragrant.
Allow the pecans to cool. Then, chop them roughly. Set aside 1/4 cup of pecans for garnish.
Combine chocolate and a pinch of salt in a large bowl.
Place cream in a small saucepan. Bring to a simmer. Remove the pan from the heat and pour the cream over the chocolate. Allow to sit for 1 minute. Then, stir gently until the mixture is smooth.
Stir in 1 & 1/2 cups of pecans and liqueur.
Pour the ganache into the cooled tart shell. Sprinkle with reserved pecans.
Refrigerate 1 hour, or until set. The tart may be loosely covered and refrigerated for up to 2 days before serving.
To celebrate Pie Week, my blogging friends and I have two great giveaways for you. King Arthur Flour is giving one reader a bag of all-purpose flour, a jar of pumpkin pie spice, a jar of apple pie spice, a pie plate, and a rolling pin. Cabot is giving one reader a gift basket containing a variety of cheeses and other Cabot products.
Please see the giveaway widget below for all the details and requirements for entering. If you are unable to see the widget, make sure your browser is updated or try viewing in another browser. The winner must be a U.S. resident 18 years or older. The giveaway products will be shipped from the company providing the products.
Giveaway has ended. Thanks to all who participated!
Disclosure: King Arthur Flour and Cabot are providing the giveaway products. All opinions are my own.