For an easy yet elegant dessert, you can't beat this Chocolate Pecan Tart. Made simply with a chocolate crust, chocolate ganache, and plenty of pecans, this show-stopping dessert is perfect for your holiday table.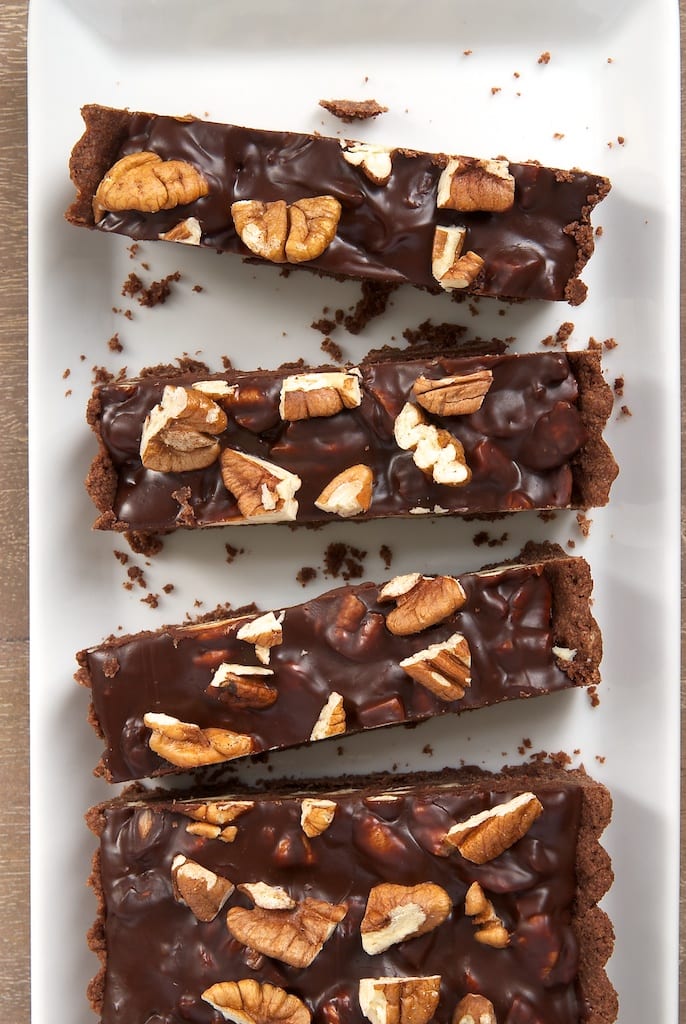 Rich Chocolate Ganache Pecan Tart
This Chocolate Pecan Tart combines two of my favorite things – chocolate and pecans – into an amazingly simple tart that is beautiful, elegant, decadent, delicious, and a whole host of other adjectives.
It starts with a simple chocolate crust made with cocoa powder. That is then filled with a chocolate ganache and toasted pecans. I also like to add a splash of coffee liqueur in the ganache for a little extra flavor. And, that's all there is to it!
It's just the kind of dessert that will wow your guests while only you know how little effort was involved. Seriously, you'll be amazed at how simple this tart is to make!
You and your guests will happily devour this rich, decadent tart. I recommend small slices because it is seriously rich.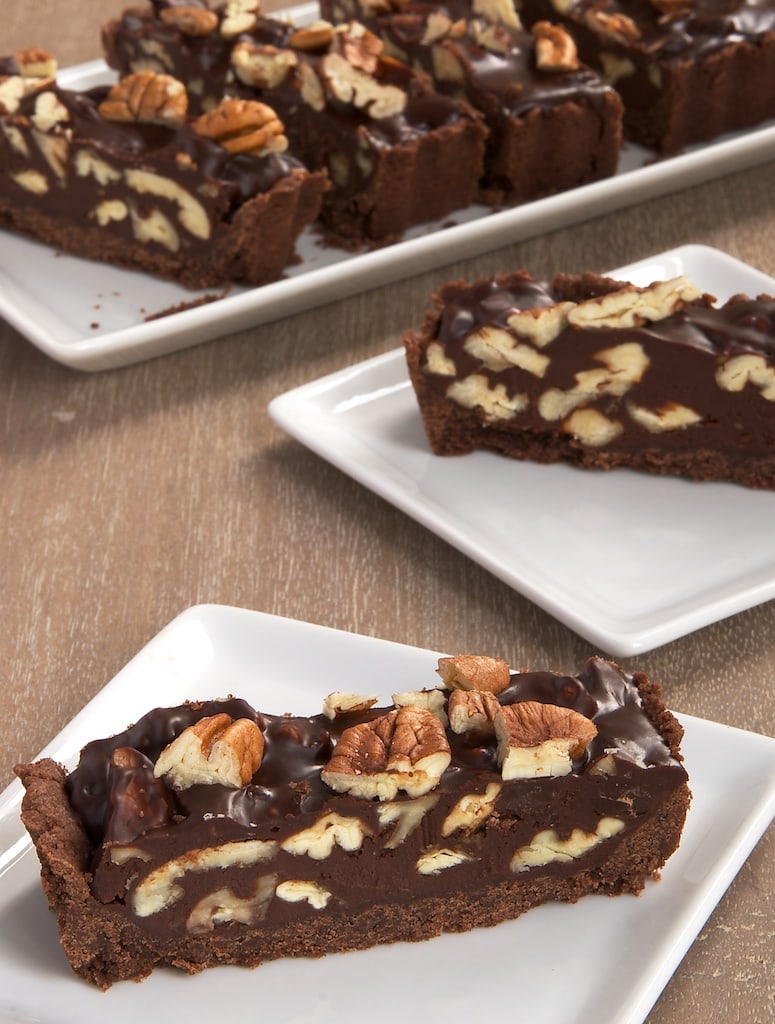 What You'll Need
For such a gorgeous and decadent dessert, this is quite a short ingredient list!
For the crust:
All-purpose flour – Measure by weight if possible. Otherwise, spoon and sweep.
Unsweetened cocoa powder – I usually use natural cocoa powder, but Dutch process would also work for a little different flavor.
Salt
Unsalted butter – Set out the butter about half an hour before baking to allow it to soften.
Granulated sugar
Eggs – Set these out before baking as well so that they can come to room temperature. They're easier to separate when they're cold, so I like to do that step when I first get them out of the refrigerator. (Need a use for those egg whites? Try Cinnamon Pecan Puffs or Peanut Butter Meringue Cookies.)
For the filling:
Pecans – You'll be toasting the pecans before roughly chopping them.
Semisweet chocolate – Use a good quality chocolate that you enjoy. While chocolate chips can work, you're likely to have better luck with bar or block chocolate. Chop it roughly so it will melt more quickly and easily.
Salt
Heavy cream
Coffee-flavored liqueur – Kahlua is the most commonly found brand. You can use a different liqueur if you like. Or if you want to skip the alcohol, you can omit it or use 1 or 2 teaspoons of vanilla extract.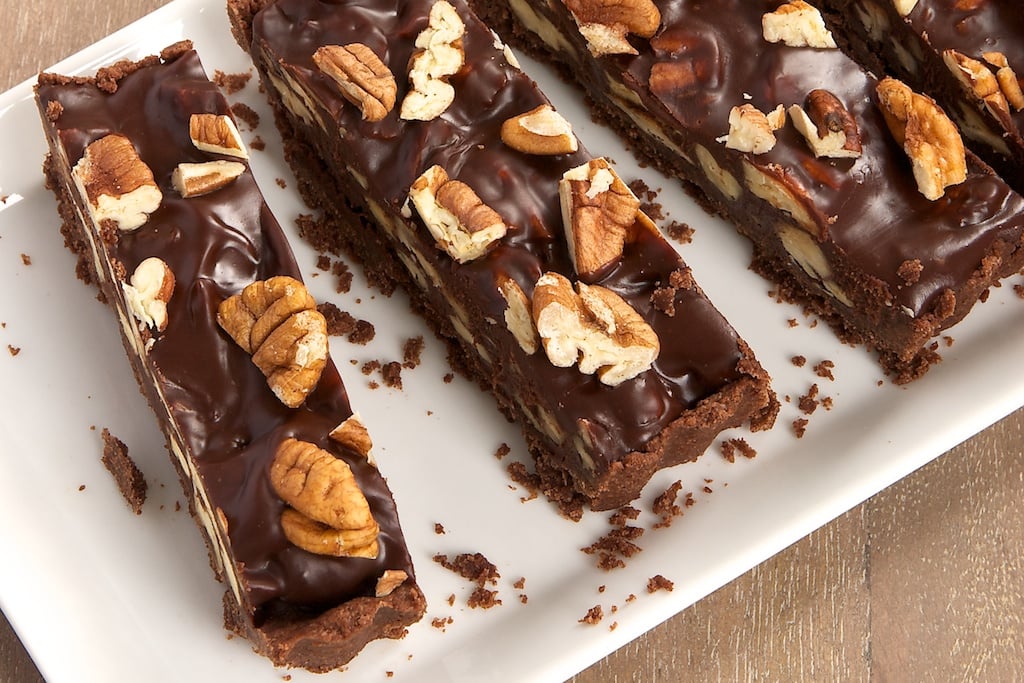 How to Make Chocolate Pecan Tart
This beautiful tart is wonderfully easy to make. I like to use a rectangular tart pan because it's just so pretty that way, but a 9-inch round tart pan will work, too. Using a tart pan with removable sides makes the tart much easier to serve.
Make the crust:
Prepare for baking. Heat the oven to 350°F. Gather all the crust ingredients.
Mix the dry ingredients. Whisk together the flour, cocoa powder, and salt.
Mix the wet ingredients. Beat the butter and sugar with an electric mixer on medium speed until the mixture is light and fluffy. Mix in the egg yolks.
Add the dry ingredients to the wet ingredients. With the mixer on low speed, gradually add the flour mixture and mix just until combined. The mixture should be a bit crumbly.
Press the crust mixture into the pan. Be sure to cover the bottom and the sides evenly. Line the crust with parchment paper so that it overhangs on each side. Use pie weights (or dried beans or your favorite method) to fill the pan, and place the pan on a rimmed baking sheet.
Bake the crust. First, bake the crust for 20 to 22 minutes. The edges of the crust should appear dry. Next, carefully remove the parchment paper and weights. Finally, bake for 10 to 12 more minutes or until set. Cool the crust completely.
Make the filling:
Toast the pecans. For a big batch like this, it usually works best to toast them in the oven instead of on the stovetop. Spread the pecans in a single layer on a baking sheet, and bake at 350°F until toasted and fragrant (about 10 minutes). After the pecans have cooled, roughly chop them. Set aside 1/4 cup for topping the tart.
Make the ganache. Place the chopped chocolate and salt in a large bowl. Bring the cream to a simmer in a small saucepan. Pour the heated cream over the chocolate. Allow it to sit for 1 minute; then stir until smooth.
Add the pecans and liqueur. Stir in 1 & 1/2 cups of the pecans and the liqueur.
Fill the cooled tart shell. Pour the ganache into the crust. Sprinkle the reserved pecans on top of the ganache.
Refrigerate. Place the tart in the refrigerator until set (about an hour).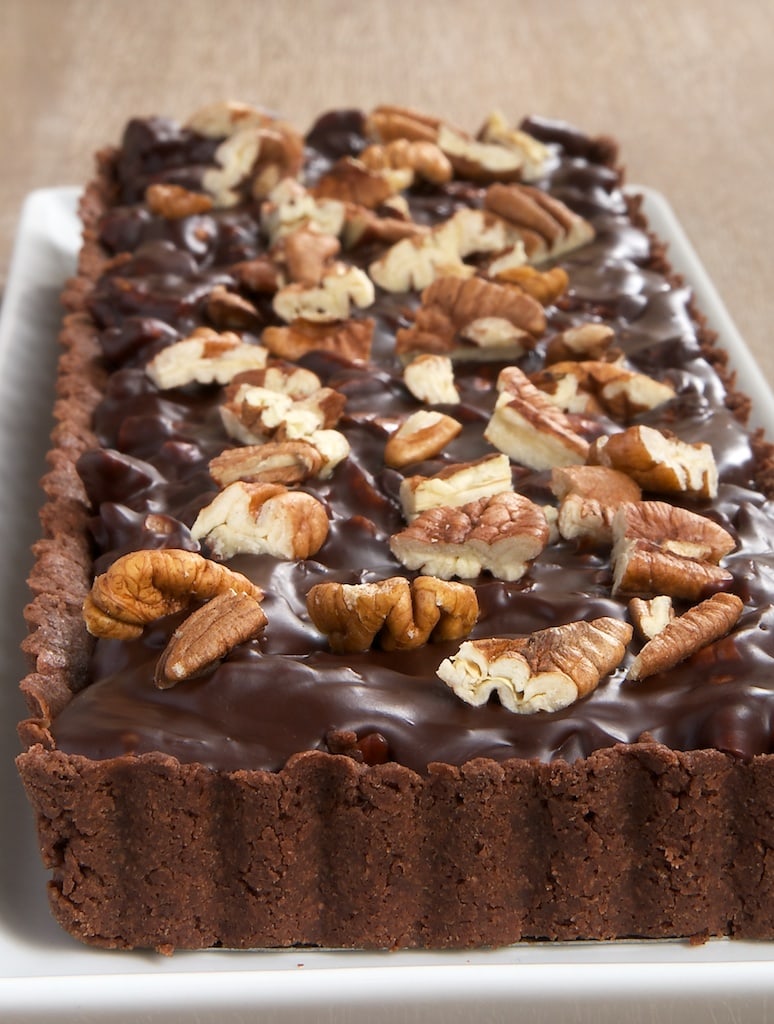 How to Store Chocolate Pecan Tart
Loosely cover the tart and keep refrigerated for up to 2 days. Bring it to room temperature before serving. (This is a great make-ahead dessert!)
Can This Chocolate Ganache Tart Be Frozen?
This tart can be frozen, although it will be best when it's fresh. Wrap the chilled and set tart or individual slices in a couple of layers of plastic wrap. Then wrap again in aluminum foil or place in a freezer-safe bag or container. Properly stored, it should keep about 2 months. Thaw overnight in the refrigerator.
More Nutty Chocolate Desserts