This Classic Pecan Pie recipe is simple to make and a pleasure to eat. It's full of deep caramel flavor, loaded with nutty pecans, and it's all inside a buttery, flaky homemade crust.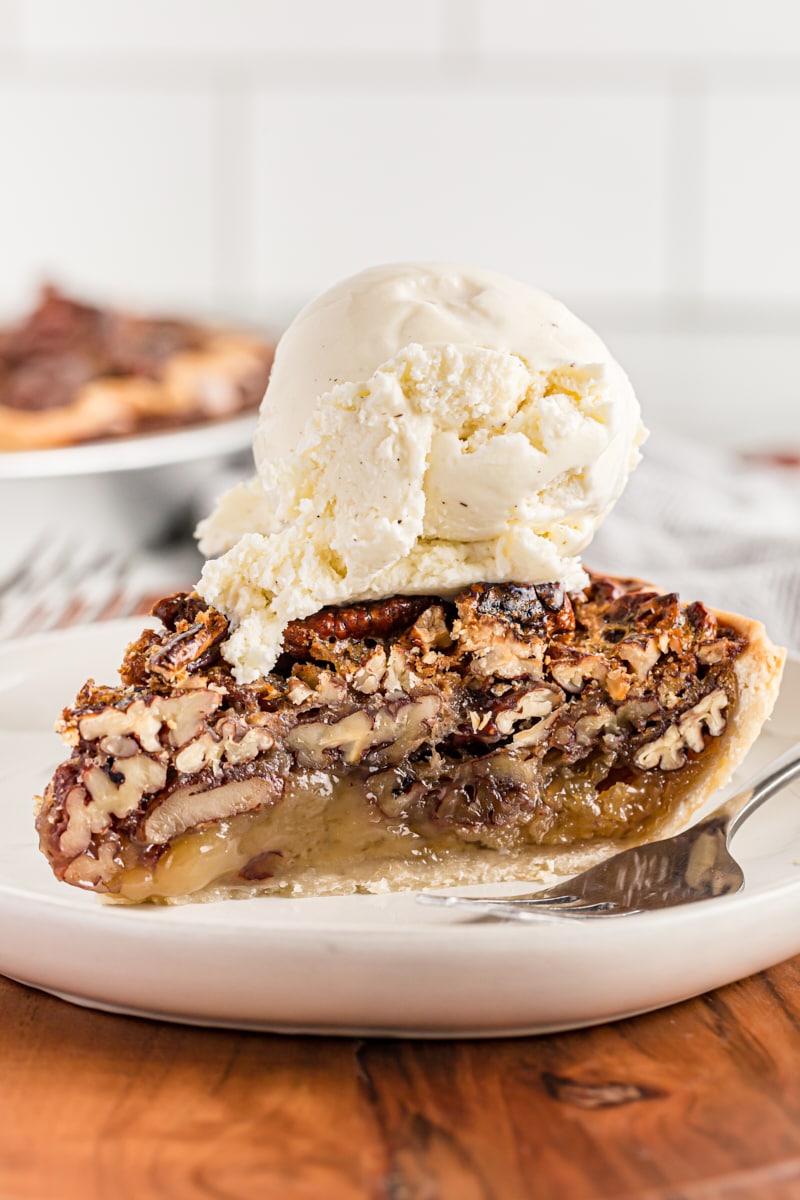 Easy Pecan Pie
I love pecan pie any way I can get it. Mini Pecan Pies, Chewy Pecan Pie Bars, Irish Cream Pecan Pie, Deep-Dish Pecan Pie—it's all good. But when Thanksgiving rolls around, this is the pecan pie that I make. It's tradition. I always make pecan pie.
Several years ago, I was smart enough to ask my great aunt, who was a very good cook, for her pecan pie recipe. Now, at the time, she was generally responsible for the pecan pie contribution for family gatherings. However, I wanted to know how to make it myself. Now that she is no longer with us and I have the recipe, I make the pecan pie. Whether they say it to humor me or not, everyone says it tastes just like hers. Trust me, there is no greater compliment than that.
This pie is so simple to make. Seemingly much too simple for how good it is. Isn't that the best kind of holiday dessert?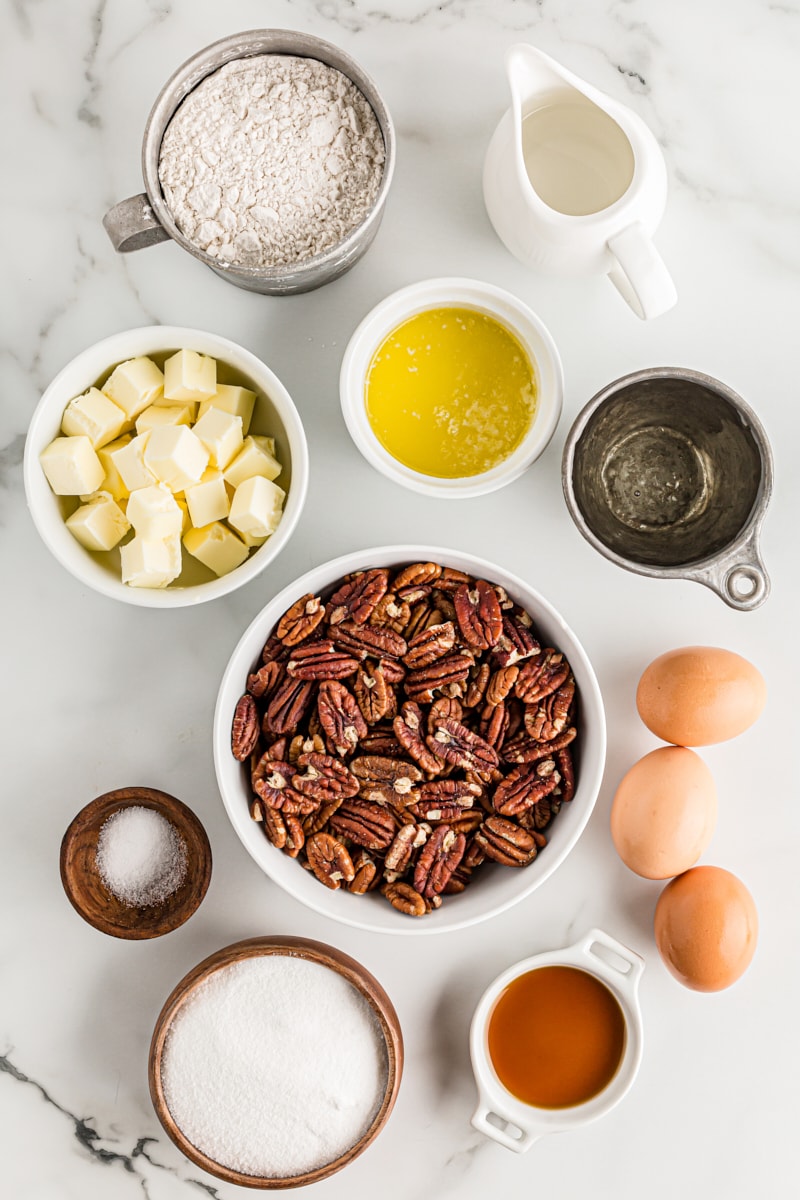 What You'll Need
Scroll down to the recipe card below this post for ingredient quantities and full instructions.
For the crust:
All-purpose flour – Learn more: How to Measure Flour
Granulated sugar
Salt
Cold unsalted butter – Cut this into 1/2-inch cubes and make sure it's quite cold. It's the secret for getting a flaky crust.
Very cold water
For the filling:
Eggs
Light corn syrup
Granulated sugar
Unsalted butter – Melt this in the microwave or on the stovetop.
Vanilla extract
Salt
Pecan halves – You can use cheaper pecan pieces, but for that classic pecan pie look, you'll need the pricier pecan halves.
Is Light Corn Syrup the Same as Corn Syrup?
Light corn syrup is a type of corn syrup that has been filtered to remove some of the color and impurities. It has a nice, subtle vanilla flavor that makes it a great choice for pecan pie.
How to Make Pecan Pie
As promised, this pie is easy—likely much easier than you expected if you've never made pecan pie before. Here's what you'll need to do.
To make the crust: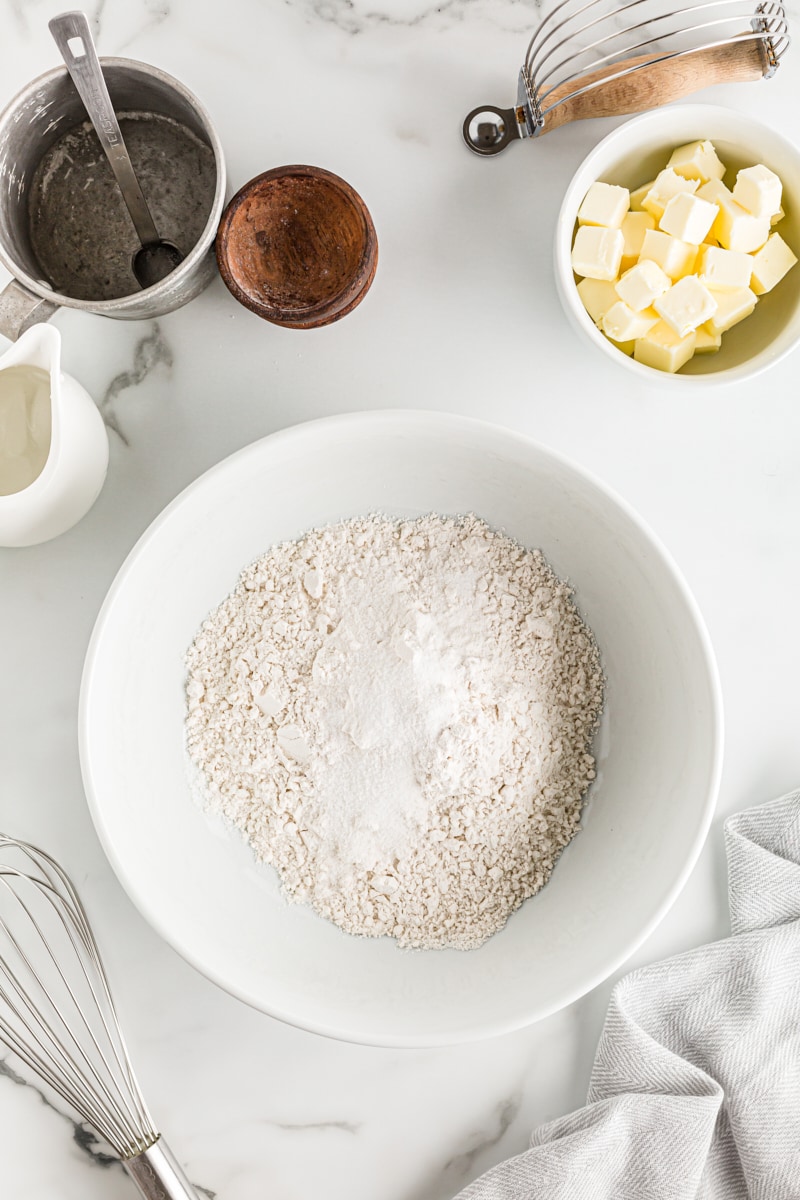 Combine the butter and dry ingredients. Whisk the flour, sugar, and salt in a large bowl. Add the chilled cubes of butter and mix them in with a pastry blender or fork until the mixture resembles coarse meal and the butter is the size of small peas. (You can also do this in a food processor.)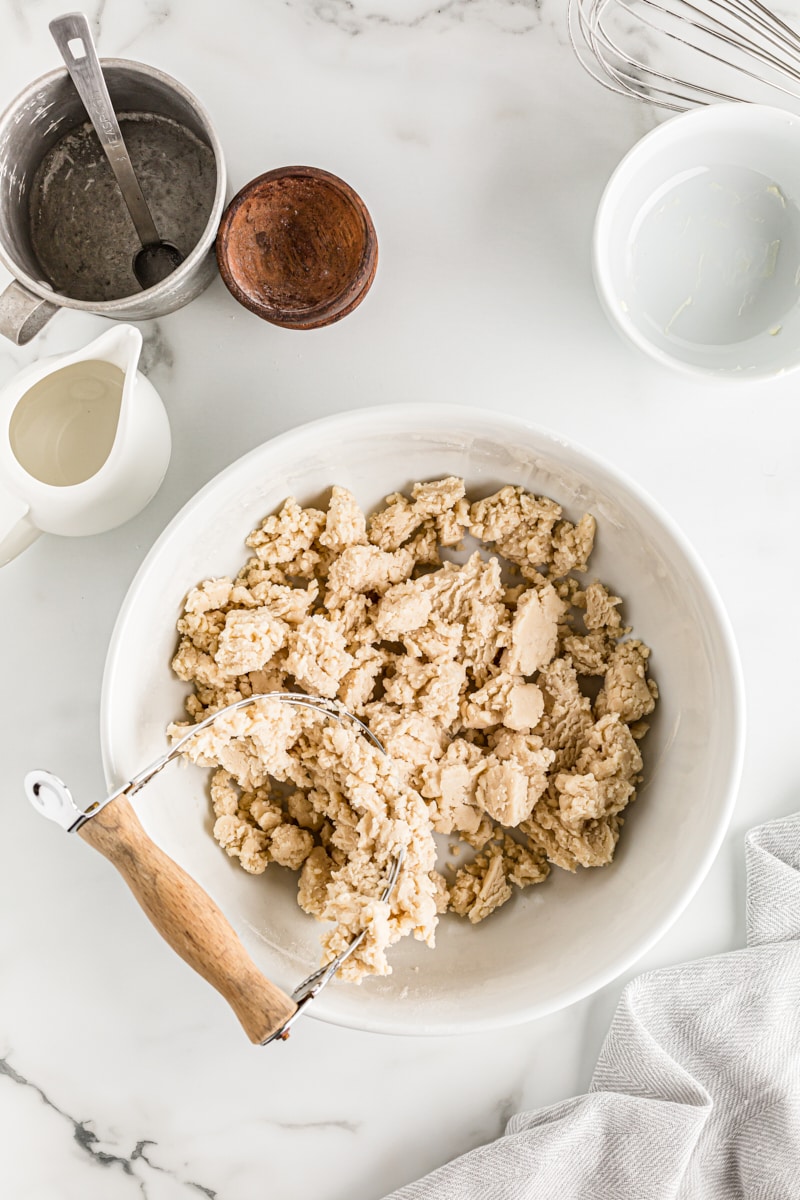 Add water. Add 1 tablespoon of water to the crumb mixture and continue mixing. Incorporate more water a tablespoon at a time until a dough forms.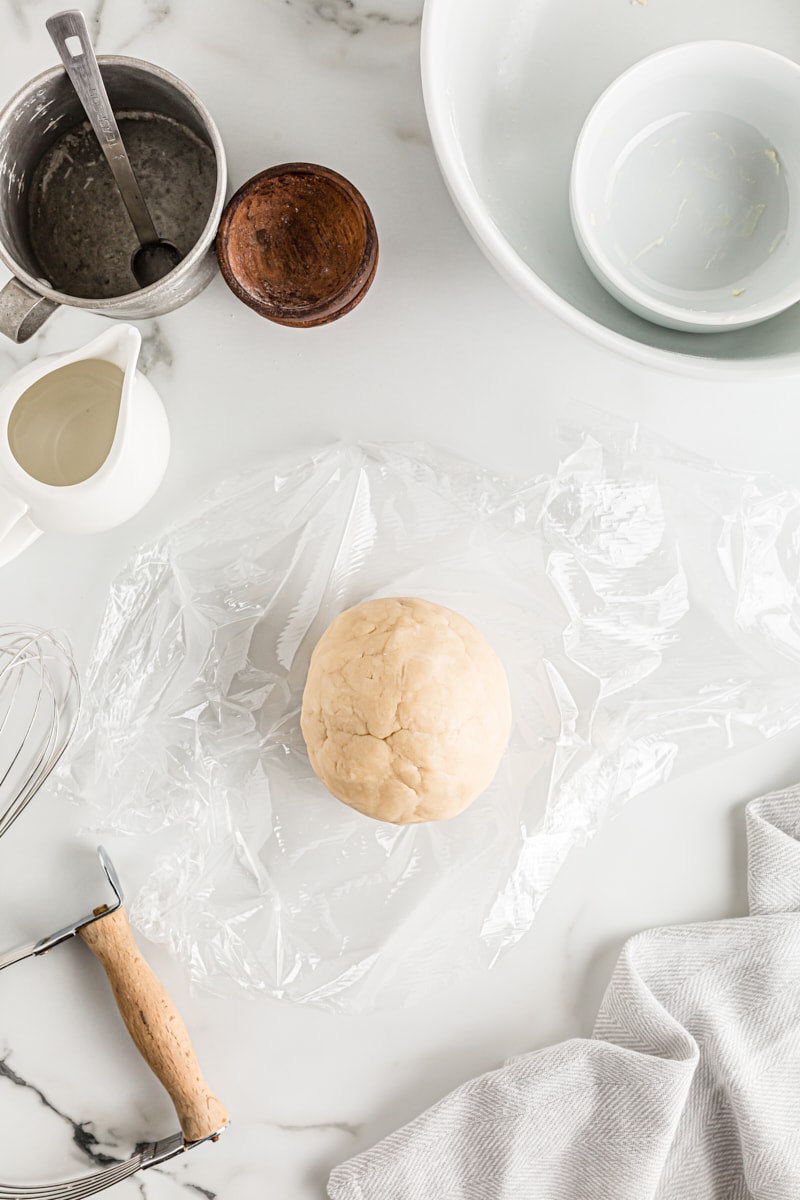 Chill. Turn out the dough onto a piece of plastic wrap and wrap it tightly. Refrigerate for at least 2 hours.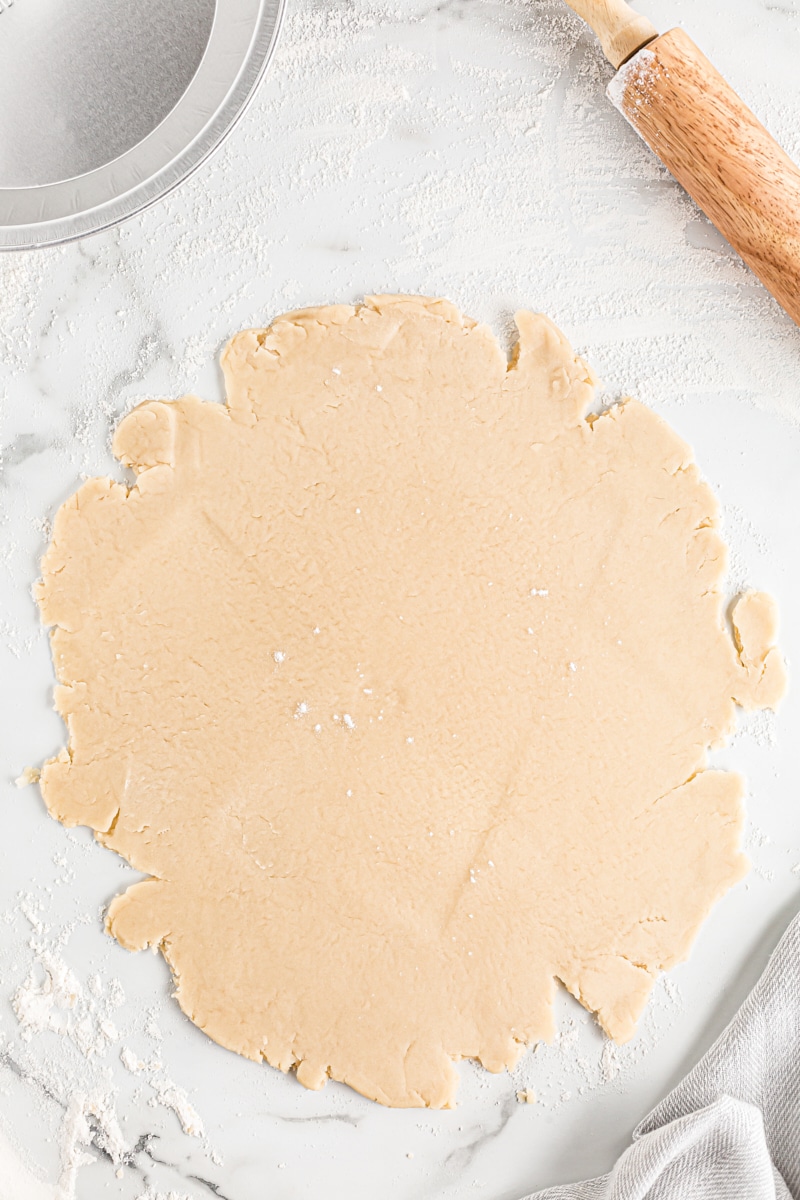 Roll out the dough. Remove the dough from the refrigerator, unwrap it, and place it on a lightly floured surface. Use a rolling pin to roll the dough into a circle about 1/8-inch thick.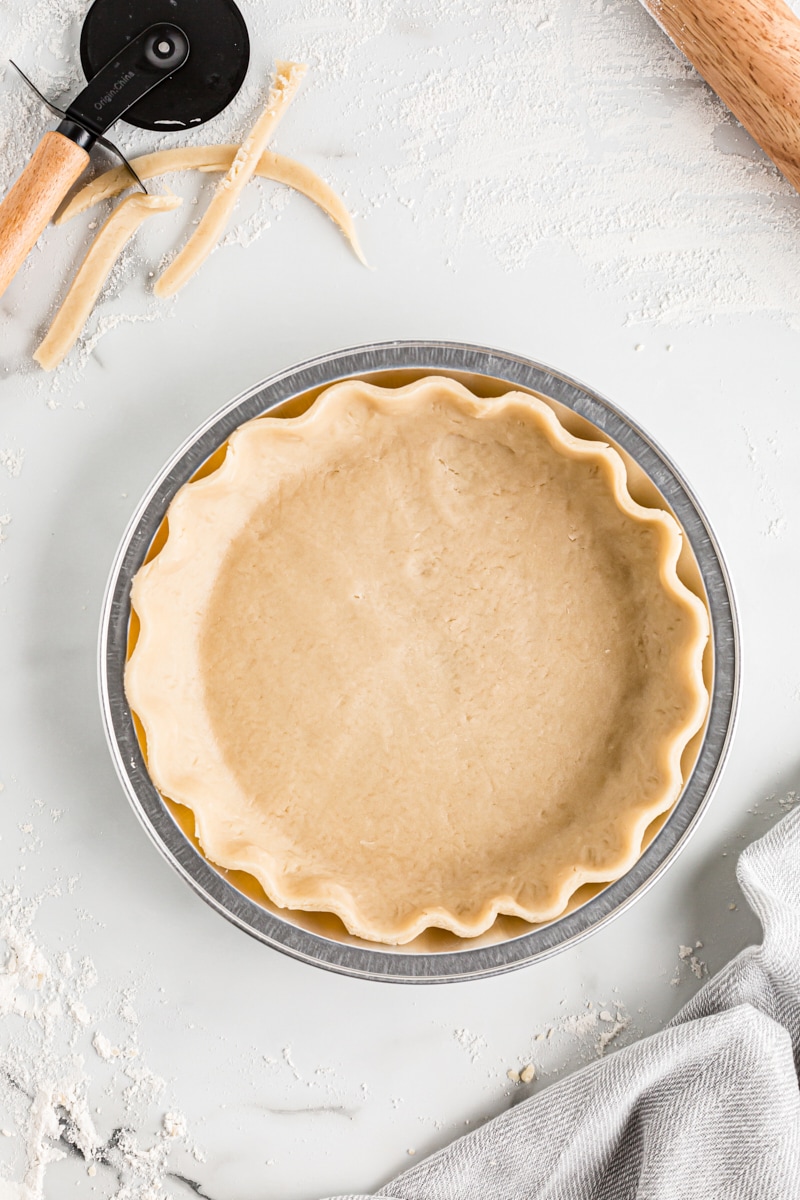 Finish the crust. Carefully transfer the dough to a 9-inch pie plate. Trim and crimp the edges, then place the plate and crust in the refrigerator while you make the filling.
To make the pecan pie filling:
Prepare. Preheat your oven to 350°F.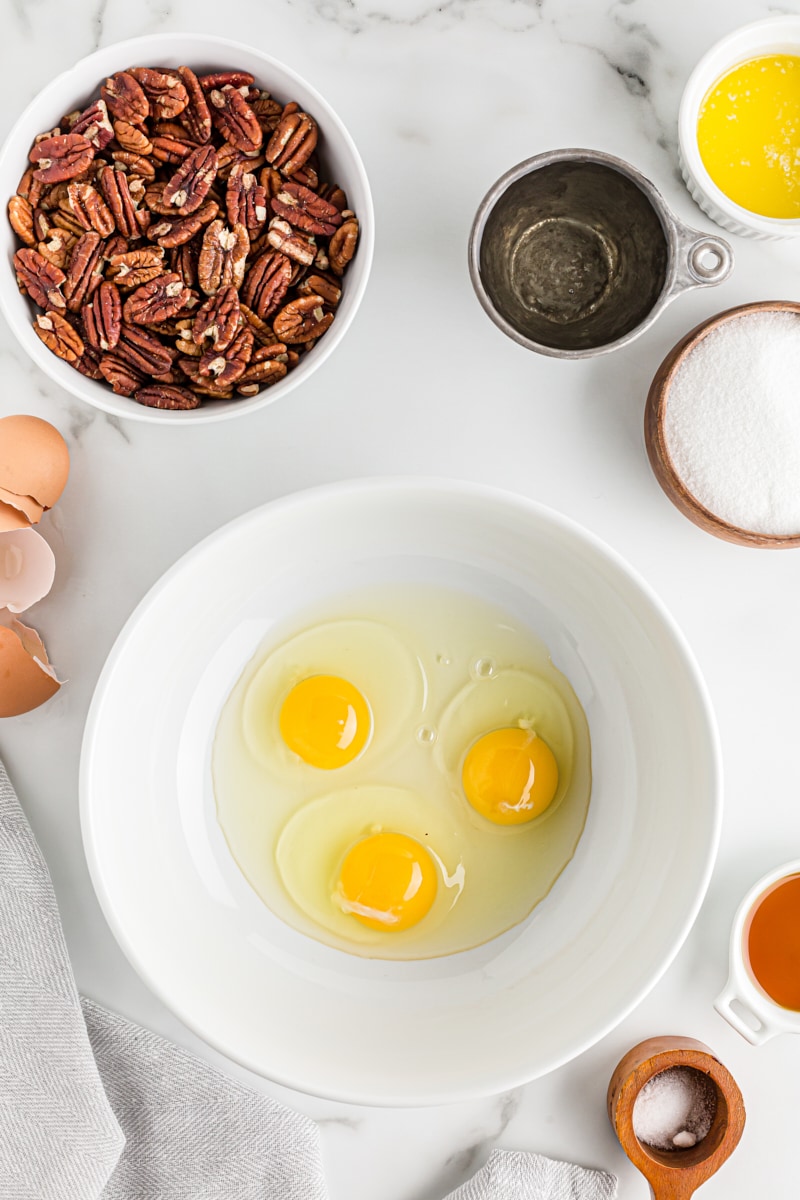 Combine the ingredients. Beat the eggs in a large bowl, then whisk in the corn syrup, sugar, butter, vanilla, and salt. Stir in the pecans.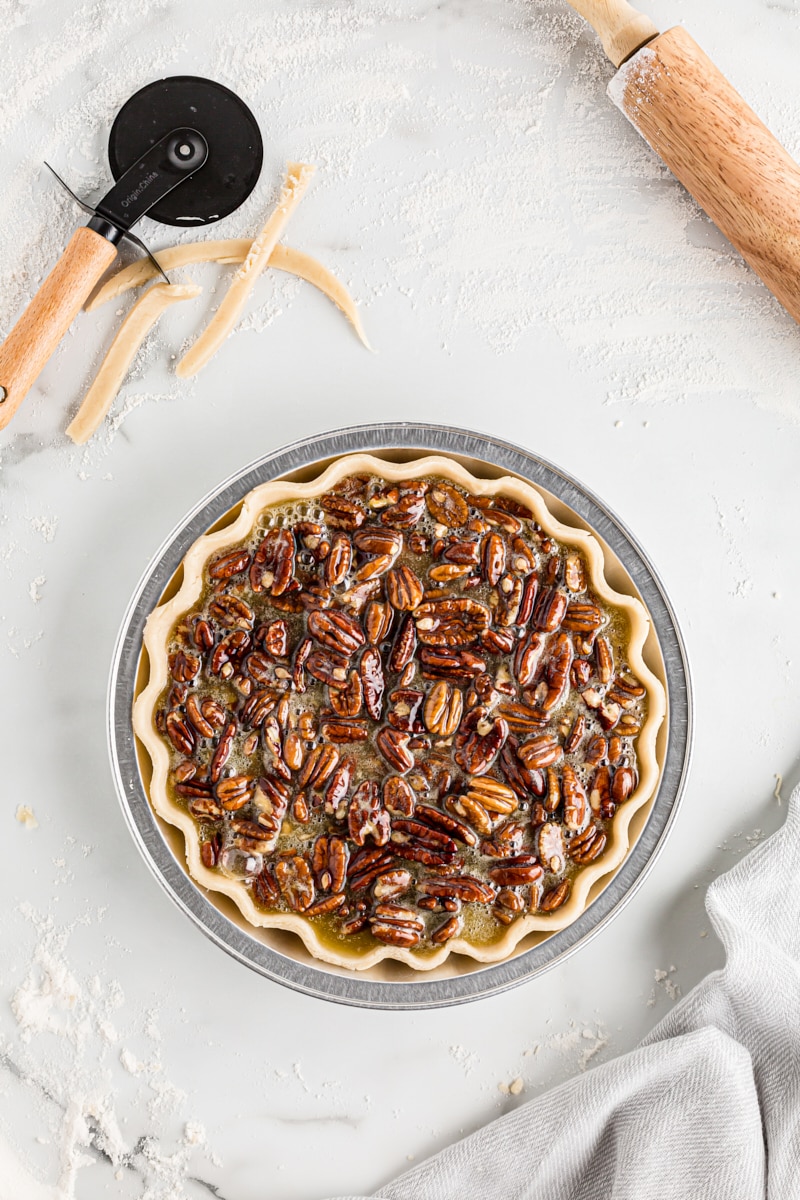 Bake. Pour the filling into the pie crust and bake for 45 minutes, or until the center is set. Cool completely before serving with whipped cream or a scoop of vanilla ice cream.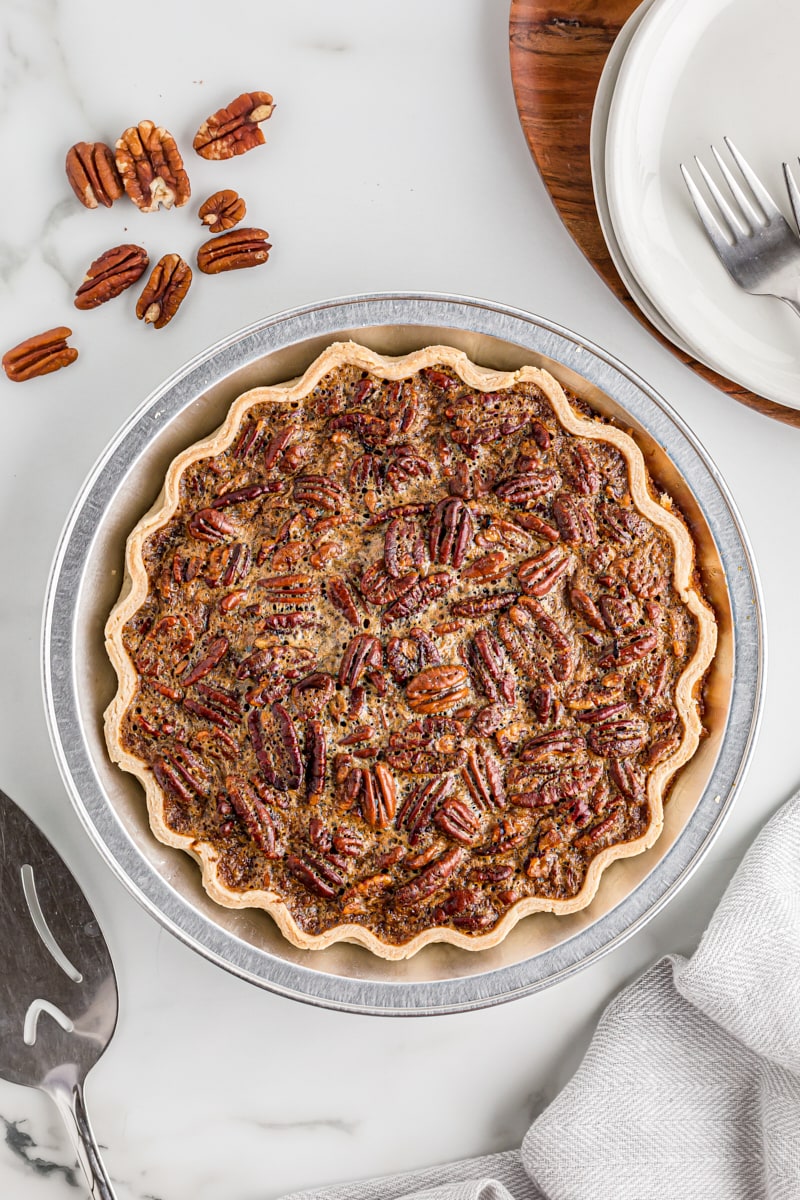 Is Pecan Pie Supposed to Jiggle?
The hardest thing about making pecan pie is knowing when it's done. The middle should have a little bit of jiggle to it, but it should not move like a liquid when you shake the pan. Think: jiggling like Jello, not moving like molten lava or sloshing back-and-forth.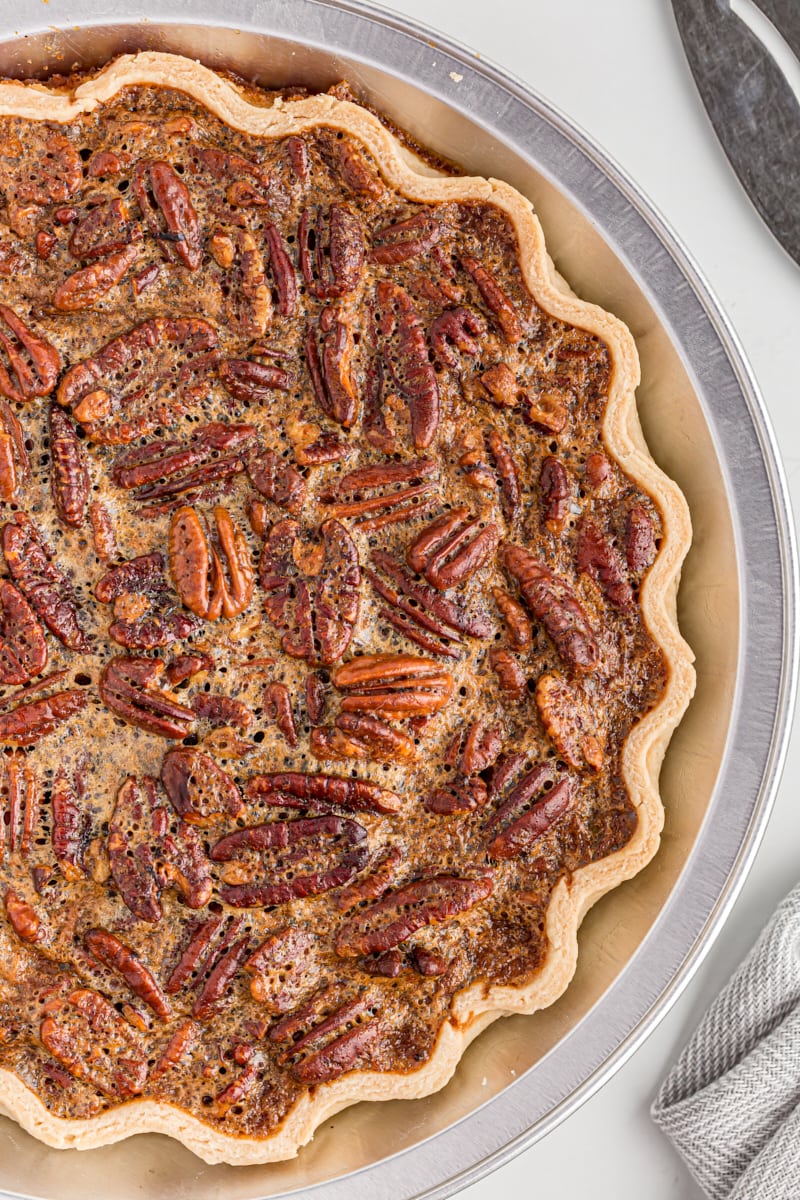 Tips for Success
Here are some simple tips for perfect pecan pie.
About the crust. I use my favorite pie crust recipe, but feel free to substitute your own go-to. And yes, a store-bought crust can be used if you're in a time crunch or simply don't want to fuss with making your own.
Rolling tips. If your fridge is especially cold, or if you've left the dough in there for more than 2 hours, you may need to let it sit at room temperature for 15 minutes or so to soften up a bit so you can roll it out. If you find it sticking to the rolling pin, lightly sprinkle the top of the dough with flour.
Err on the side of over-baking. There's no undoing an under-baked pecan pie; you'll slice into it and the filling will ooze out all over the pie pan.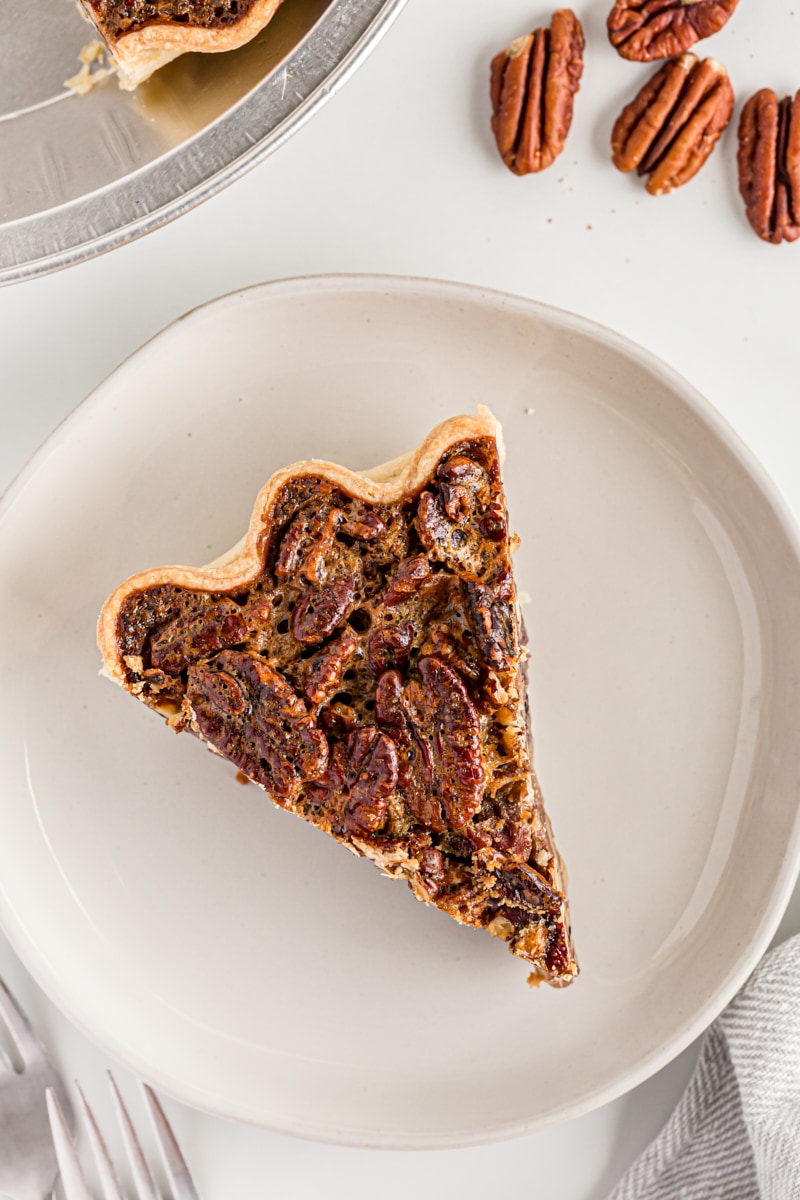 How to Store
Wrap the pecan pie with plastic wrap or foil and store it in the refrigerator for up to 4 days.
Can This Recipe Be Frozen?
You can freeze wrapped pecan pie for up to 3 months. Let it thaw in the refrigerator before serving.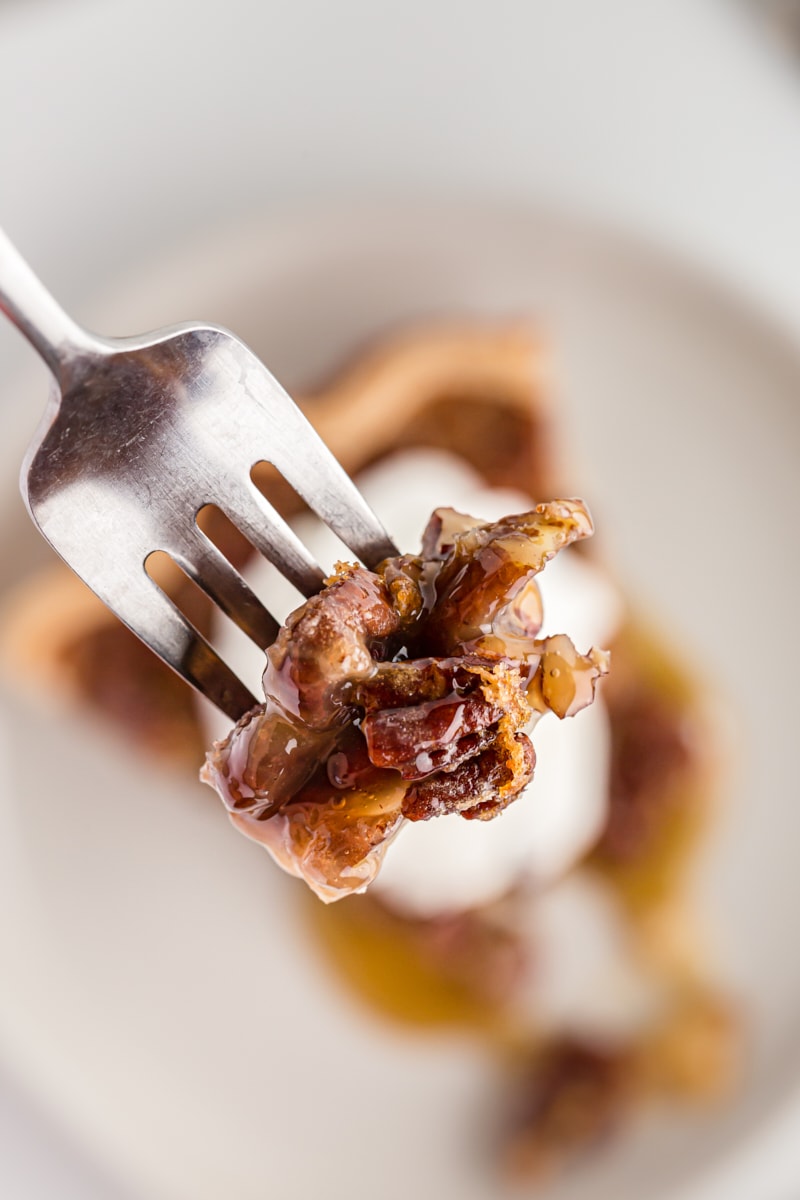 Video Tutorial: Pecan Pie