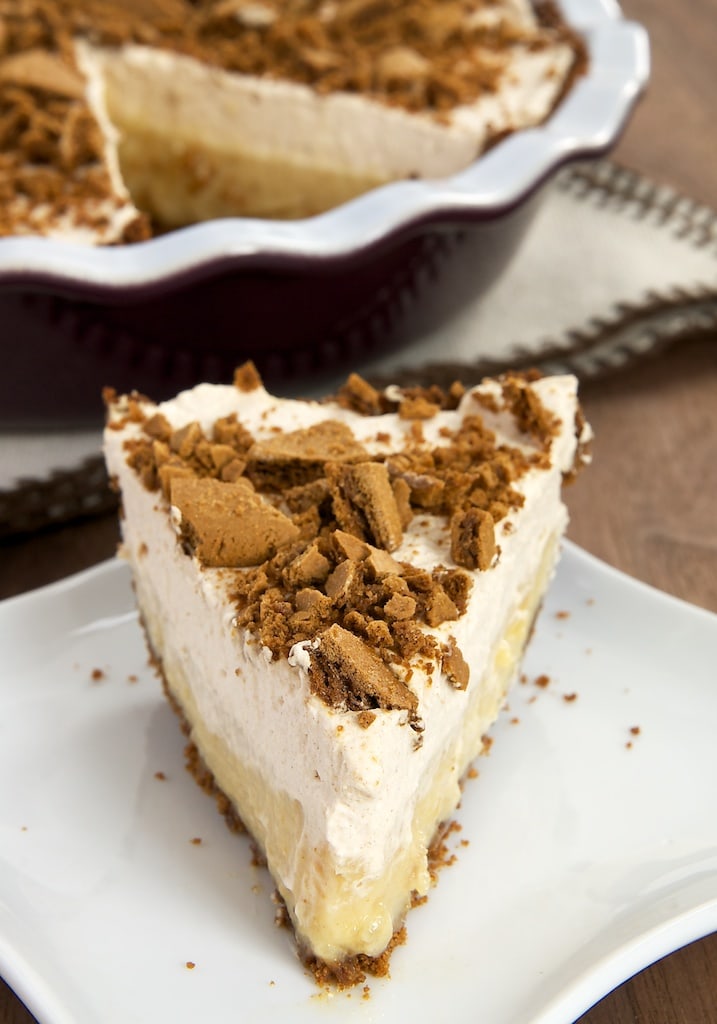 Remember that Apple-Pear Butter I shared with you yesterday? Well, I had another ulterior motive for making it. This pie.
I was flipping through Southern Living and spotted a recipe for an Apple Butter Pie. For days, it consumed a good portion of my thoughts. I knew I just had to make it.
This pie is a little off the traditional fall pie path. Sure, it has plenty of fall flavors, but it's a cold pie. I usually think of warm, toasty pie this time of year. But, this beauty changed my mind.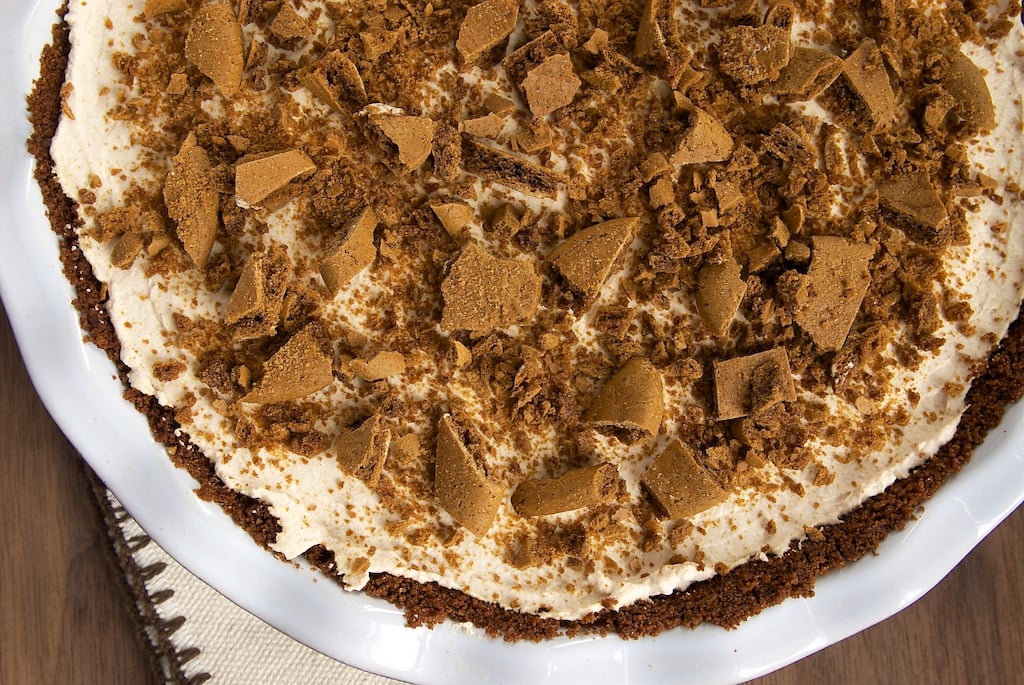 First, there's the gingersnap crust. I'm not a huge fan of gingersnaps, but they are absolutely perfect for this pie crust. It's one of those super simple two-ingredient crusts that you can make in just a few minutes.
The filling couldn't be simpler. We're talking 4-ingredients-simple. I used my homemade Apple-Pear Butter, but you can absolutely use store-bought apple butter.
I decided to top off the pie with a layer of cinnamon whipped cream. You know that there's never too much cinnamon in anything for me. If you want to dial it back, sweetened whipped cream will do. Then, just add some chopped gingersnaps top it all off.
I truly could not like this pie more. It is delicious, simple, and gorgeous. What more could you want?

I've teamed up with some great bloggers and sponsors to bring Pie Week to you! With Thanksgiving around the corner, what better time to celebrate pie? Be sure to visit these sites and see the pies they're baking this week.
Lattice-Topped Cranberry Blueberry Pie from The Baker Chick
Amish Peanut Butter Pie from Nutmeg Nanny
Whole Wheat Blueberry Hand Pies from Chocolate and Carrots
Chocolate Cream Pie with Meringue Crust (gluten free) from Dessert for Two
Bourbon Maple Pumpkin Pie from Eats Well with Others
Frosted Slab Apple Pie from Tracey's Culinary Adventures
Dulce de Leche Apple Hand Pies from Dinners Dishes and Desserts
Chipotle Southwest Mini Turkey Pot-Pies from Country Cleaver
Biscoff Ice Cream Pie from Carla's Confections
Apple Pie with Apple Pie Moonshine from Foodie with Family
And, be sure to see my first #PieWeek post from earlier this week for even more pie inspiration. You'll also find a couple of great giveaways from King Arthur Flour and Cabot.
The giveaway fun continues with great pie prizes from OXO and Le Creuset! Scroll past the recipe for entry details.
Yield: 8 to 10 servings
Prep Time: 25 minutes
Cook Time: 30 minutes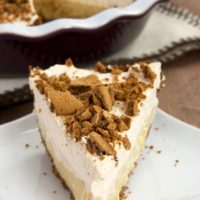 For the crust:
8 ounces gingersnaps plus more for garnish
pinch salt
3 tablespoons unsalted butter, melted
For the filling:
14 ounces sweetened condensed milk
1 cup Apple-Pear Butter or prepared spiced apple butter
3 large egg yolks
1 & 1/2 teaspoons apple cider vinegar
!For the cinnamon whipped cream:
1 cup heavy cream
2 tablespoons granulated sugar
1 teaspoon vanilla extract
1 teaspoon ground cinnamon
Directions:
To make the crust:
Preheat oven to 350°. Lightly grease a 10-inch pie plate.
Place gingersnaps and pinch of salt in the bowl of a food processor. Pulse until finely ground.
While the food processor is running, pour the melted butter through the food chute. Continue mixing until blended.
Press mixture into the bottom and up the sides of the prepared pie plate.
Bake 15 minutes. Then, place on a wire rack to cool.
To make the filling:
Whisk together sweetened condensed milk, Apple-Pear Butter, egg yolks, and apple cider vinegar until smooth. Pour into crust.
Bake 15 minutes or until set.
Place in refrigerator for at least 2 hours.
To make the cinnamon whipped cream:
Place cream in a large, cold mixing bowl. Using an electric mixer with a whisk attachment, beat at medium-high speed until the cream begins to thicken.
Sprinkle sugar over the cream. Whisk until combined. Add vanilla and cinnamon.
Continue beating until you can lift the whisk out of the whipped cream and a peak that curves downward forms in the cream. This should take 4 to 5 minutes.
Spread whipped cream over the chilled pie.
Roughly chop or crush 4 to 6 gingersnaps and sprinkle over the whipped cream. Refrigerate until ready to serve.*
Notes:
*Ideally, make the whipped cream as close to serving time as possible because the whipped cream will break down over time. If you need to make it in advance, it will still taste great.
The Pie Week giveaways continue! OXO is giving one reader a set of pie tools including a pie server, a dough blender with blades, spice jar measuring spoons, a silicone pastry brush, and a stainless steel multi-purpose scraper and chopper. Le Creuset is giving three readers a pie plate and a pie bird.
Please see the giveaway widget below for all the details and requirements for entering. If you are unable to see the widget, make sure your browser is updated or try viewing in another browser. The winner must be a U.S. resident 18 years or older.
Disclosure: OXO and Le Creuset are providing the products for the giveaway. All opinions are my own.