Who needs a double crust when you can top your apple pie with with a buttery cinnamon-brown sugar crumble topping? Add a scoop of vanilla ice cream to a warm slice of this apple crumb pie for the perfect fall dessert!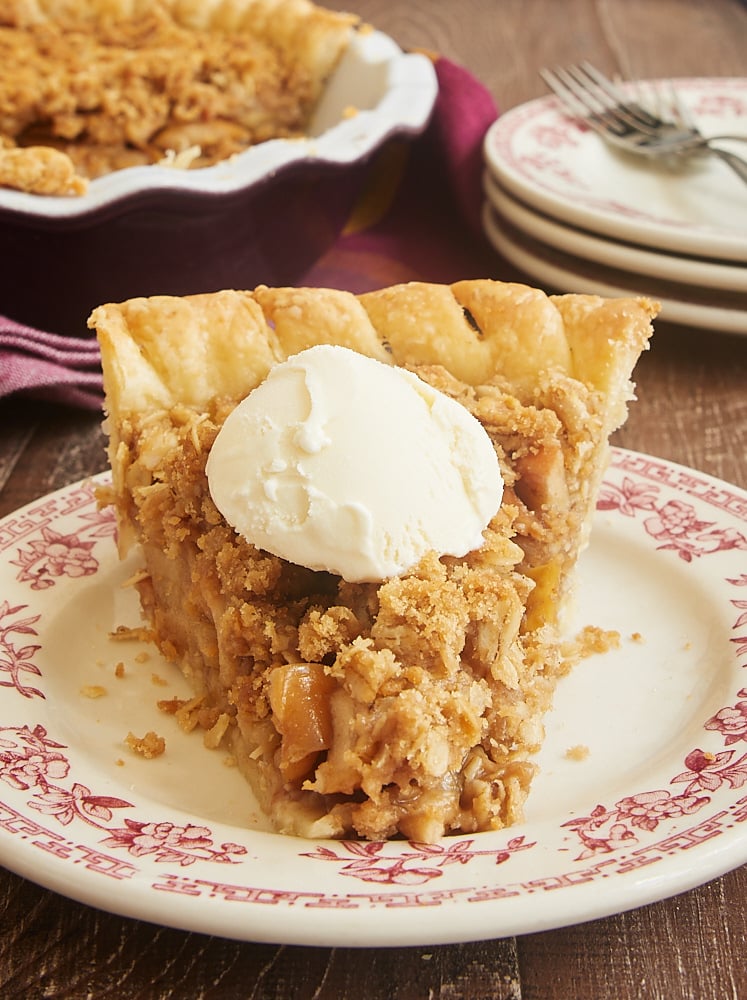 Easy Homemade Apple Crumb Pie
While the traditional American versions of apple pie often feature a lattice top or some other variation of a double crust, I'm partial to using a crumb topping instead. You still get the flaky pastry crust on the bottom, but then you also get the added bonus of butter, brown sugar, oats, and cinnamon on the top. Basically, it's the best of both worlds! The topping is a little bit like what you might expect from an apple crisp—crunchy, golden brown, and completely irresistible.
The other thing that makes this pie special is that the apples are cooked first. With apple pie, it's standard practice to toss the sliced apples with the filling ingredients, then add them to the crust raw. Cooking them on the stovetop first is my secret to a perfect pie. The few minutes of stovetop time softens the apples enough that the pie doesn't have to bake quite as long, keeping your crust in good shape. Plus, it lets the apples, brown sugar, and spices all meld together to coat the apples in a caramel-like sauce.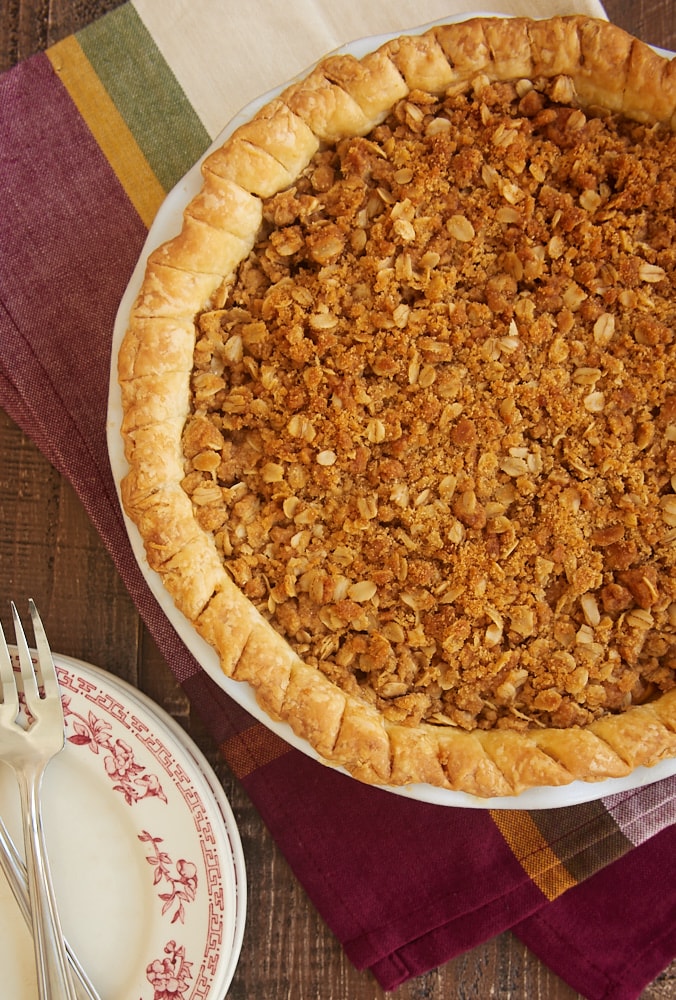 What You'll Need
Don't be intimidated by the length of this ingredient list! If you have a well-stocked pantry, you probably have most of these on hand.
For the crust:
All-purpose flour

Granulated sugar

Salt

U

nsalted butter – The butter needs to be super cold, so don't take it out of the fridge until you're ready to use it.

C

old water – Ice water is best for pie crust; just make sure you discard the ice cubes first and then measure the amount of water you need.
For the topping:
A

ll-purpose flour

L

ight brown sugar

G

round cinnamon

S

alt

U

nsalted butter – This butter needs to be cold too! If it's too warm, you won't get that nice crumbly texture.
Old-fashioned rolled oats – Not to be confused with quick or instant oats! Those oats are finely chopped, but we want to add texture here so a whole rolled oat is key.
For the filling:
A

pples – Use your favorite baking apple. Granny Smith, Honeycrisp, Braeburn, and Pink Lady are all excellent choices.

Light brown sugar

Cornstarch

– Some apple pies use flour to thicken the juices, but I prefer cornstarch.

Ground cinnamon

G

round nutmeg – Use freshly ground nutmeg if you can.

Salt

Ground ginger

Ground cardamom

Ground allspice

U

nsalted butter
How to Make Apple Crumb Pie
This apple pie is surprisingly easy to make once you get past the crust! Here's what you'll need to do.
To make the crust:
Make the dough. In a large bowl, whisk together the flour, sugar, and salt. Use a pastry blender or fork to cut in the butter until a coarse meal forms. Add a tablespoon of water and continue to mix; add water a tablespoon at a time until a dough forms.
Chill the dough. Wrap the dough tightly in plastic wrap and refrigerate it for at least 2 hours.
Roll out the crust. Remove the dough from the refrigerator and let it sit at room temperature for 10 to 15 minutes if needed, until it's softened enough to work with but still cold. Roll out the dough on a lightly floured work surface until you have a 1/8-inch thick circle.
Form the crust. Transfer the dough to a 9-inch pie plate, then trim and crimp the edges. Place the pie plate in the refrigerator until you're ready to fill it.
To make the crumb topping:
Mix the dry ingredients. Whisk together the flour, brown sugar, salt, and cinnamon in a large bowl.
Add the remaining ingredients. Add the butter, and incorporate it using a pastry blender, a fork, or your fingers until the mixture forms crumbs. Stir in the oats. Refrigerate the topping while you make the pie filling
To make the filling:
Prepare. Preheat your oven to 375°F and toss the apples with the brown sugar, cornstarch, salt, and spices in a large bowl.
Cook the apples. Melt the butter in a large skillet over medium heat and add the apple mixture. Cook, stirring frequently, until the sugar melts and starts to bubble. Continue cooking about 5 minutes, or until the liquid has thickened.
Assemble. Pour the apples into the chilled pie crust and sprinkle the crumb topping over the filling.
Bake. Place the pie plate on a lined, rimmed baking sheet and bake for 45 to 50 minutes, or until the crust and topping are golden brown, and the filling is bubbly.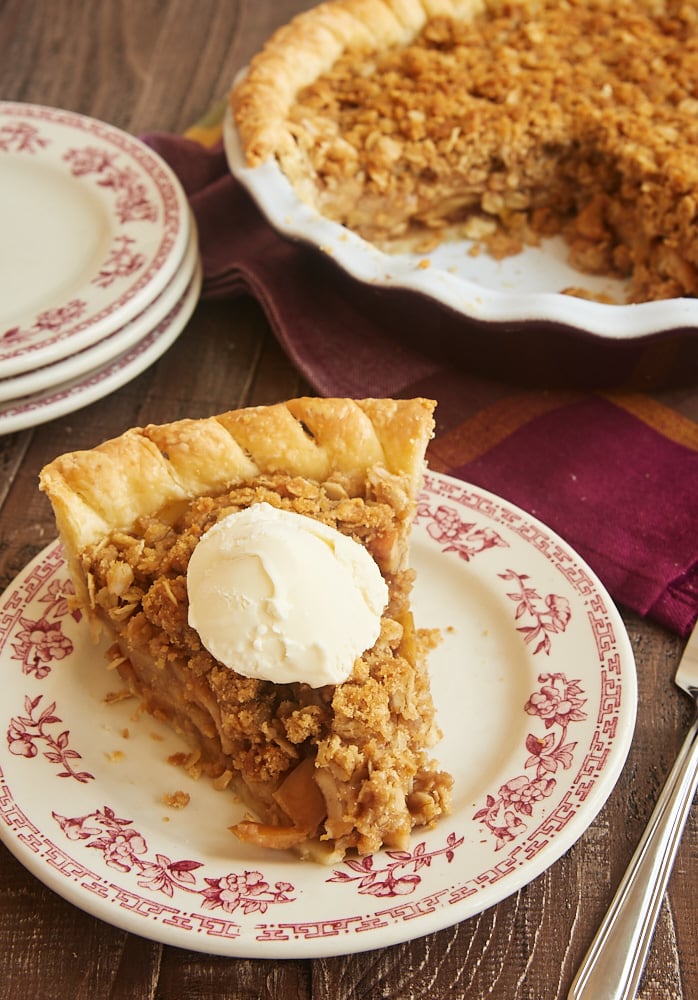 Tips for Success
Here are some tips and tricks to help you along the way.
Substitute your go-to pie crust. I've included my own go-to all-butter pie crust in the recipe below, but you can use your own favorite 9-inch pie crust if you like. If you're in a time crunch, you can also use a store-bought dough.
Freeze the butter if you need to. If you've never made pie crust before, you can pop the butter in the freezer for 30 minutes to make sure it's extra cold. This gives you a little bit of leeway if it takes you longer. Cold butter is key to a flaky crust!
Use good apples. Your apple pie is only as good as the apples you use! Cosmetic imperfections are fine, but you want to make sure the apples taste fresh and flavorful.
How to Store
You can store Apple Crumb Pie at room temperature for up to 2 days, or refrigerate it for up to 5 days. Wrap it tightly or transfer it to an airtight container.
Can This Recipe Be Frozen?
Yes, you can either freeze any uneaten pie or freeze the whole pie to serve later. Wrap it tightly with at least two layers of plastic wrap and store it for up to 2 months; let it thaw in the refrigerator.