November 10, 2014
Coconut Pecan Tarts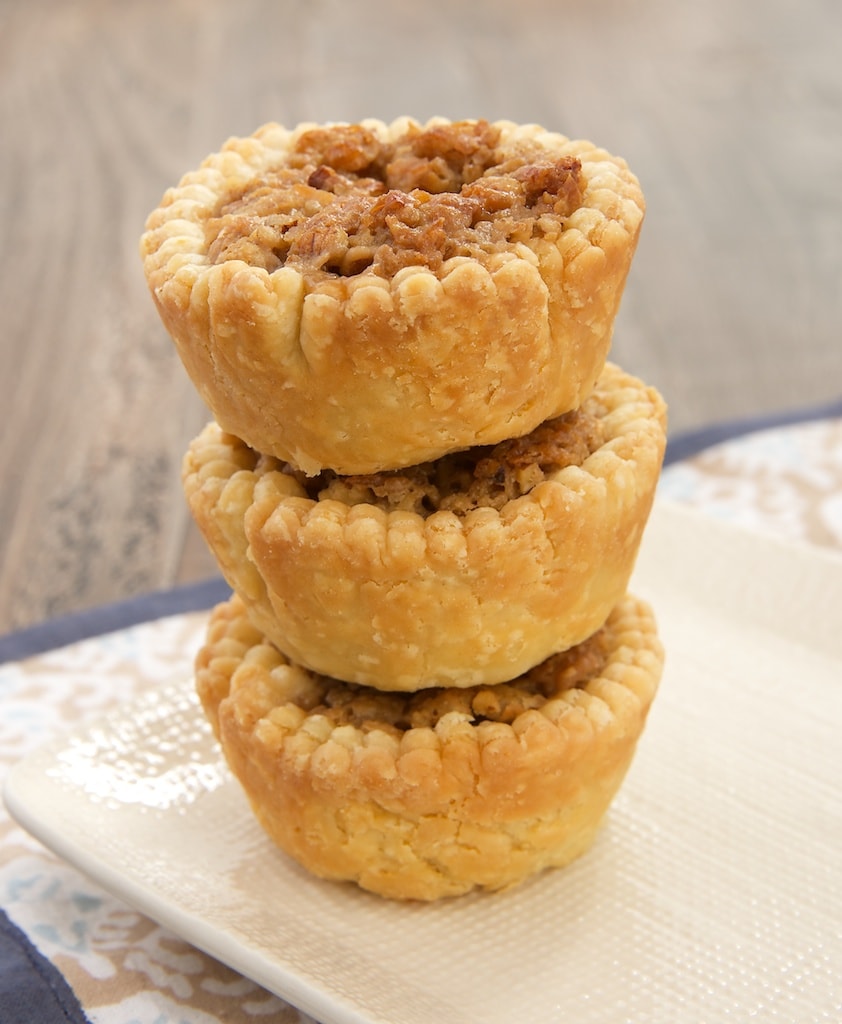 I'm so excited to be sharing these little tarts with you today for a couple of reasons. First of all, well, they're delicious. And secondly, they're part of a surprise virtual bridal shower for my friend Joanne from one of my favorite food blogs, Eats Well with Others. Surprise, Joanne!
Let's talk a bit about these tarts first. I feel a bit bad that I've never shared these with you, as I've been making some version of these since I was in college. The original recipe came from my grandmother's collection, but I've made some changes here and there over the years.
At their heart, these are mini pecan pies. But, they're really so much more. The pecan filling is not quite the traditional one we're all used to making. It's a bit simpler and less sweet than usual. It also has some sweetened coconut stirred in for some bonus flavor. But, the surprise ingredient in the filling is crisp rice cereal. It seems a bit odd at first glance, but trust me. It adds a nice crunch and really just works so well.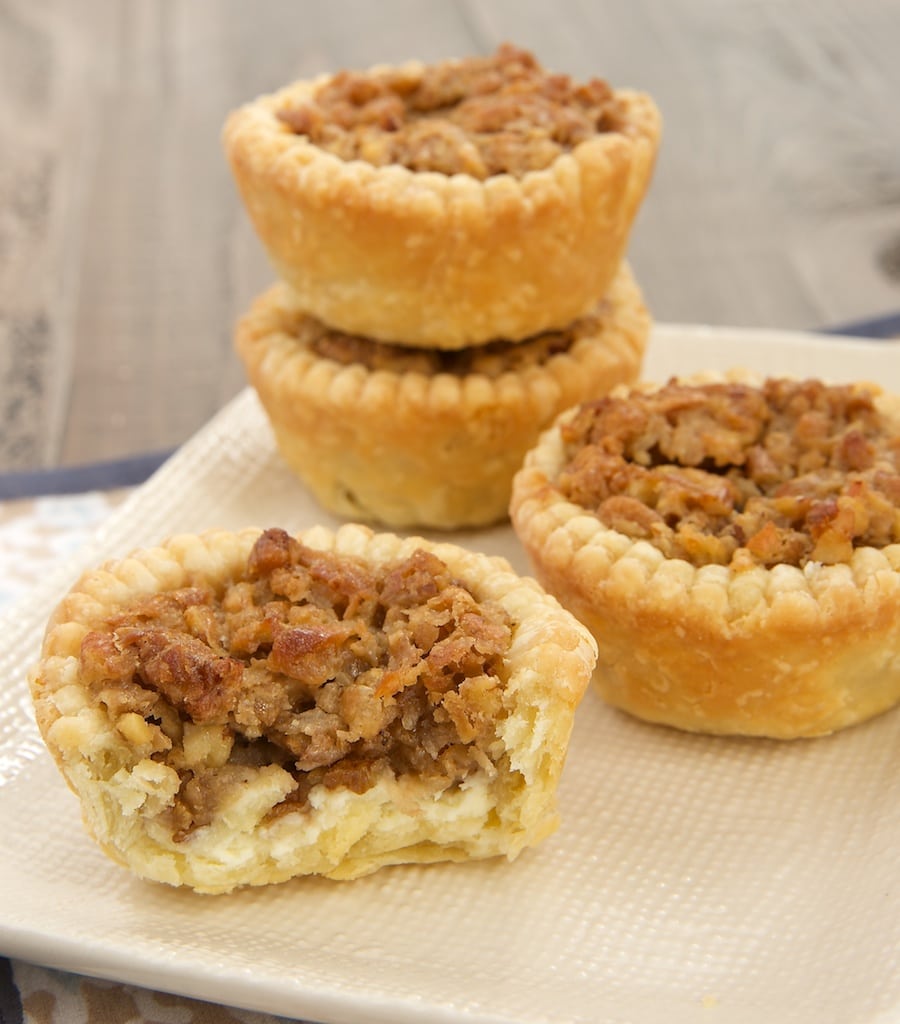 And underneath all that is a layer of sweetened cream cheese for a little burst of sweetness in each bite. Seriously, with pecans, coconut, and cream cheese all inside a little pie, I could not love these more. They're perfect for a dessert tray or for a gift. Or for a shower!
As I mentioned, these tarts are my contribution to our virtual shower for Joanne. I've known Joanne for a couple of years now, but I've known her through her blog for even longer. I can always count on her and her blog for delicious recipes and plenty of humor. Scroll past the recipe to see what else is being brought to this virtual celebration!
Coconut Pecan Tarts
Yield: 12 tarts
Prep Time:35 minutes
Cook Time:25 minutes
Coconut, crisp rice cereal, and cream cheese provide a delicious twist to pecan pie in these Coconut Pecan Tarts.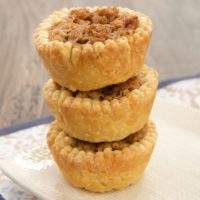 Ingredients:
pastry for double crust pie*
1/3 cup unsalted butter
1/2 cup packed light brown sugar
1 cup crisp rice cereal
3/4 cup chopped pecans
1/2 cup sweetened flaked coconut
1 tablespoon sour cream
1/4 teaspoon salt
4 ounces cream cheese, softened
2 tablespoons confectioners' sugar
Directions:
Preheat oven to 375°F. Grease a 12-cup muffin tin.
Roll out the prepared pie crust pastry to about 1/8-inch thick. Cut the dough into 12 4-inch circles. Fit one circle into each cup of the prepared muffin tin. Refrigerate the pan while you prepare the filling.
Place the butter and brown sugar in a medium saucepan. Cook over medium heat, stirring occasionally. until the butter is melted and sugar is dissolved.
Remove the pan from the heat. Stir in the cereal, pecans, coconut, sour cream, and salt.
In a small bowl, combine the cream cheese and confectioners' sugar until combined and smooth. Place a rounded teaspoonful of the cream cheese mixture in the bottom of each tart crust. Spread evenly.
Divide the pecan mixture evenly among tarts (a heaping tablespoon of mixture per tart).
Bake 20 to 25 minutes, or until crusts are golden brown.
Cool in the pan for 10 minutes. Then, carefully remove the pies from the pan and place on a wire rack to cool completely.
Notes:
*I used my go-to butter pie crust. The quantities in my tutorial are for a single crust pastry, so just double the quantities. I would suggest dividing the dough in half before refrigerating to make rolling out and handling the dough a bit easier.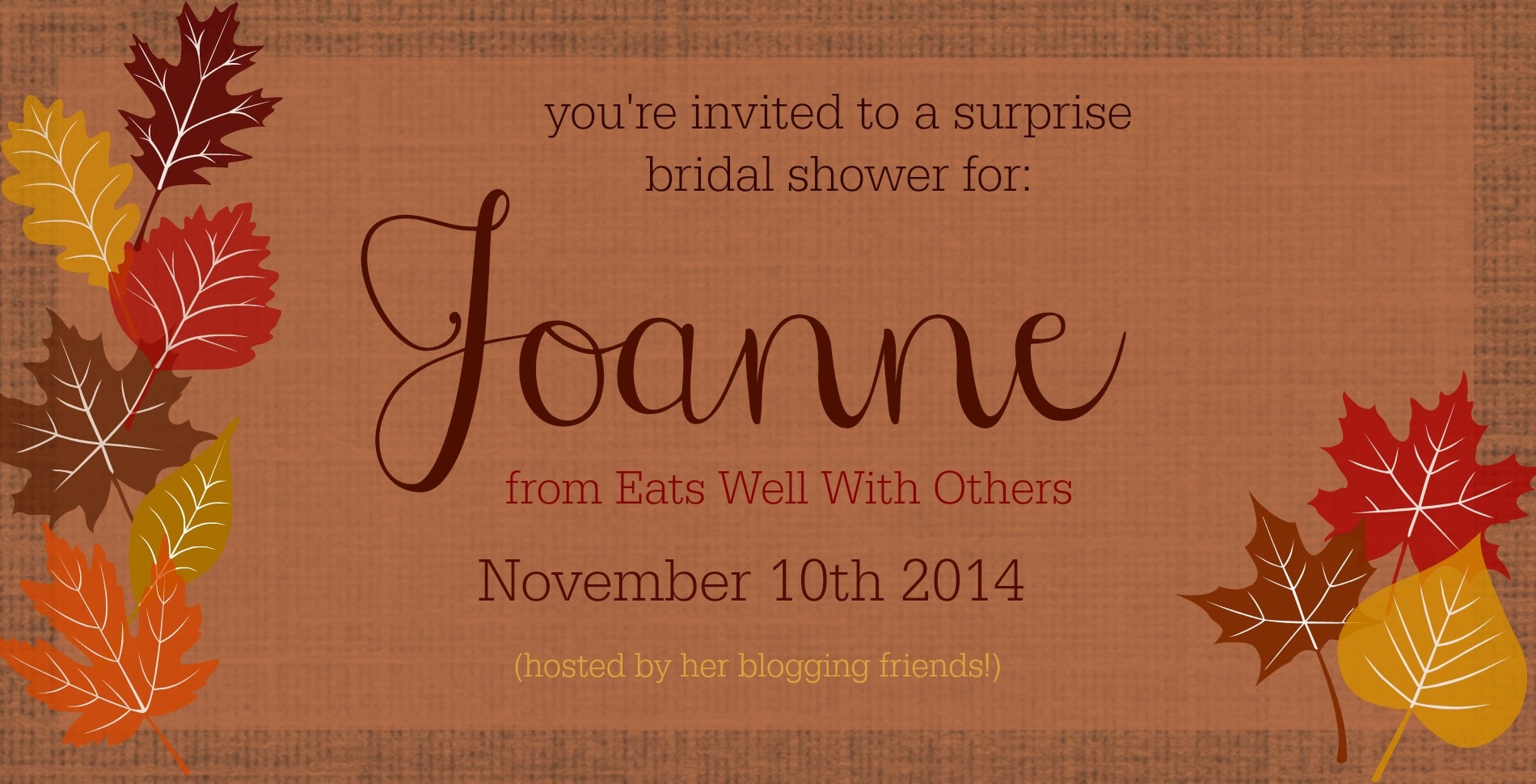 I am so thrilled to be part of this virtual celebration for Joanne. Some very talented blogging friends are participating as well, so be sure to take a tasting tour of all the good stuff we made to help celebrate Joanne's upcoming wedding. And be sure to stop by Joanne's blog and wish her the best!
Cocktails:
Pumpkin Spice White Russian – Nutmeg Nanny
Warm Apple Pie Cocktail – Miss In The Kitchen
Bourbon Apple Cider Cocktail– Cook Like a Champion
Snacks/Savory:
Baked Brie with Honey and Sliced Almonds – The Lemon Bowl
Butternut Squash and Apple Galette – Warm Vanilla Sugar
Roasted Pumpkin Crostini – Annie's Eats
Kale Salad with Maple Butternut Squash and Pomegranate Dressing – Blahnik Baker
Lemony-Pasta Stuffed Zucchini – Very Culinary
Pumpkin Dip with Apple Chips– Meadows Cooks
Sweet:
Pumpkin Cinnamon Roll Cake – The Baker Chick
Peanut Butter Fudge Pie with Salted Peanut Butter Caramel– Taste and Tell
Caramel Apple Upside Down Cake – The Girl in the Little Red Kitchen
Snickerdoodle Bundt Cake – Chocolate and Carrots
Roasted Butternut Squash Pie with Brown Sugar Marshmallow Topping – Keep It Sweet
Caramel Corn Chocolate Chip Cookies – The Cooking Actress
Caramel Cranberry Apple Galette – Bakeaholic Mama
Cranberry Margarita Cupcakes – Baker by Nature
Gingerbread Truffles – Dinners Dishes and Desserts