This Chocolate Pecan Pie offers a rich, decadent chocolate twist on the classic dessert that not only satisfies your sweet tooth but also adds a touch of sophistication to any occasion. It's wonderfully delicious and easy to make, too!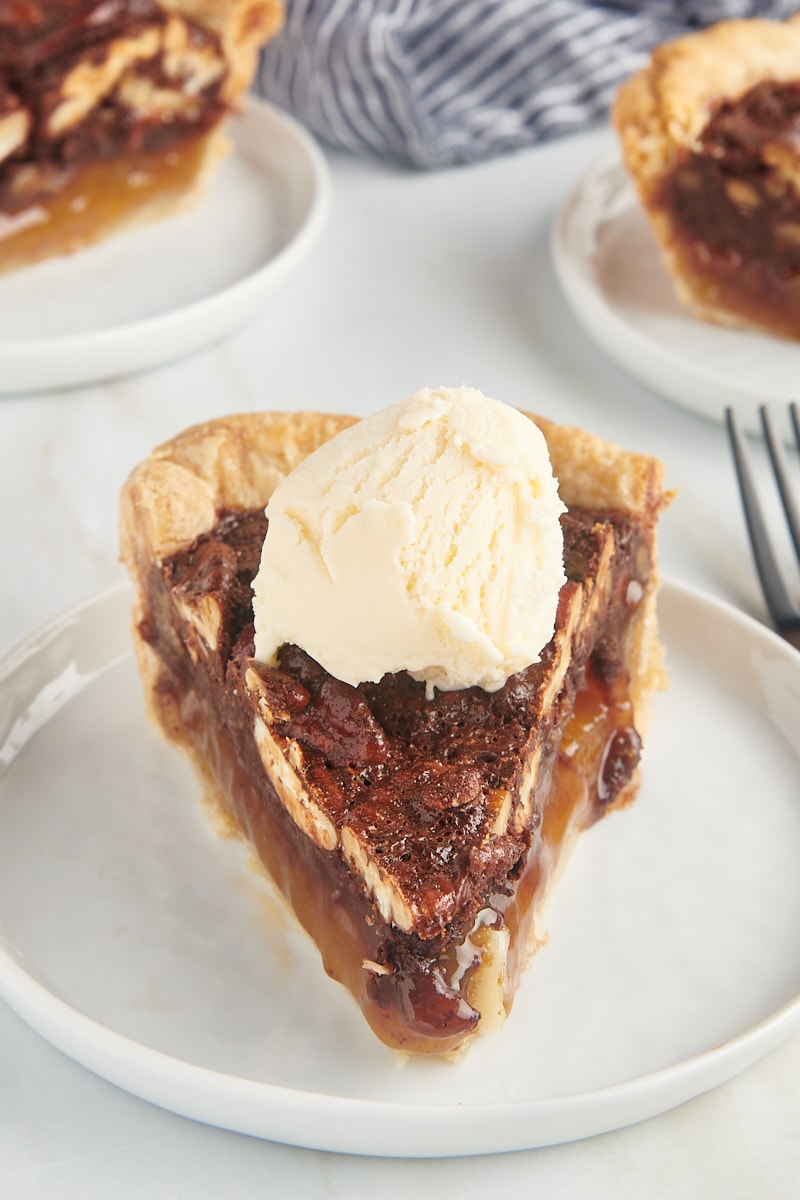 Why You'll Love This Chocolate Pecan Pie Recipe
The addition of chocolate takes the classic pecan pie to a whole new level of deliciousness. Here are just a few of the reasons to fall in love with this delicious pie.
Rich and indulgent. The combination of rich chocolate with the pecans and the sweet filling makes for a truly decadent treat.
Easy to make. Even though this pie looks impressive, the recipe is simple with a short list of ingredients.
Perfect for special occasions. It's a crowd-pleaser, making it great for holidays, birthdays, and gatherings.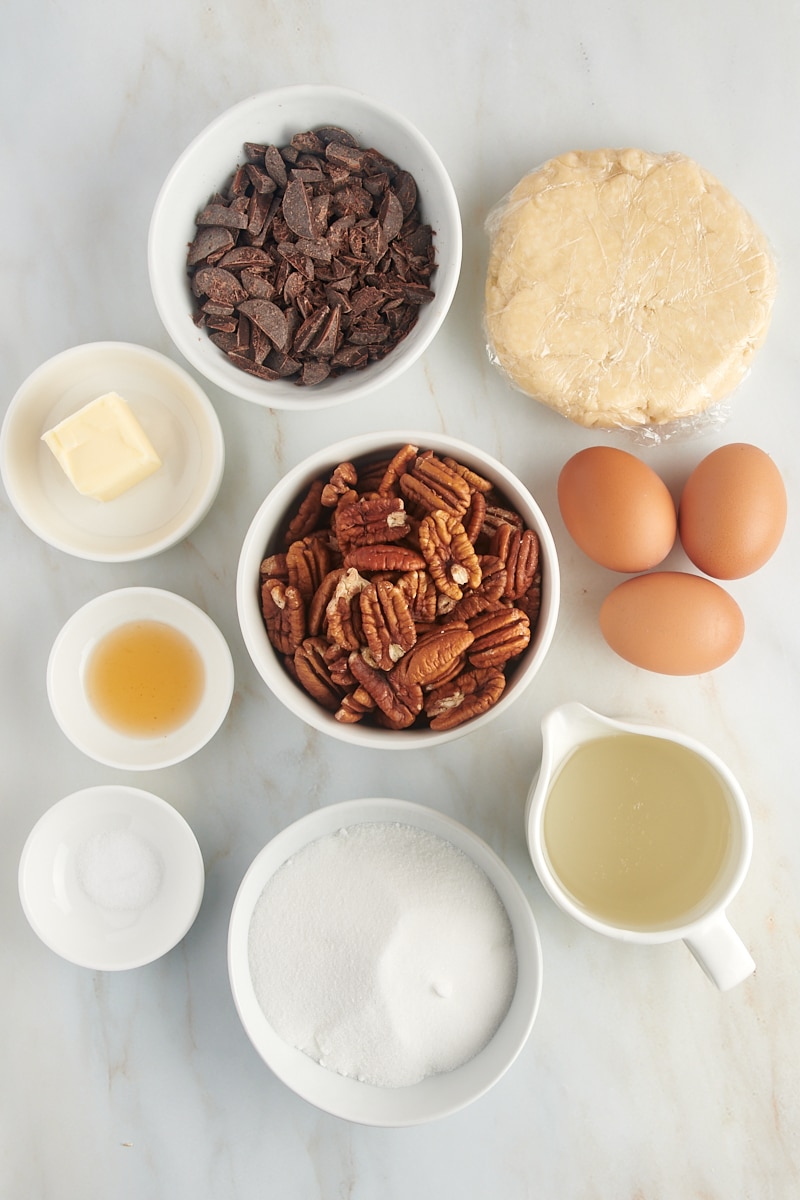 What You'll Need
See the recipe card below for ingredient quantities and full instructions. Here are some notes about the ingredients needed to make your chocolate pecan pie.
Pastry for a 9-inch pie – I like to use my all-butter pie crust, but feel free to substitute your favorite pie crust.
Semisweet chocolate – Use a good quality chocolate for the best flavor and smoothest melting.
Unsalted butter – You'll melt this along with the chocolate.
Eggs – Bring the eggs to room temperature before mixing for a smoother filling. Using cold eggs can cause the chocolate to seize. I recommend baking with large eggs.
Light corn syrup – This provides sweetness and contributes to the gooey texture.
Granulated sugar
Vanilla extract
Salt – If your pecans are salted, you may want to decrease or omit the salt.
Pecans – I love the look of pecan halves in this pie, but you can use pecan pieces or roughly chopped pecans if you prefer. Just keep the total volume the same.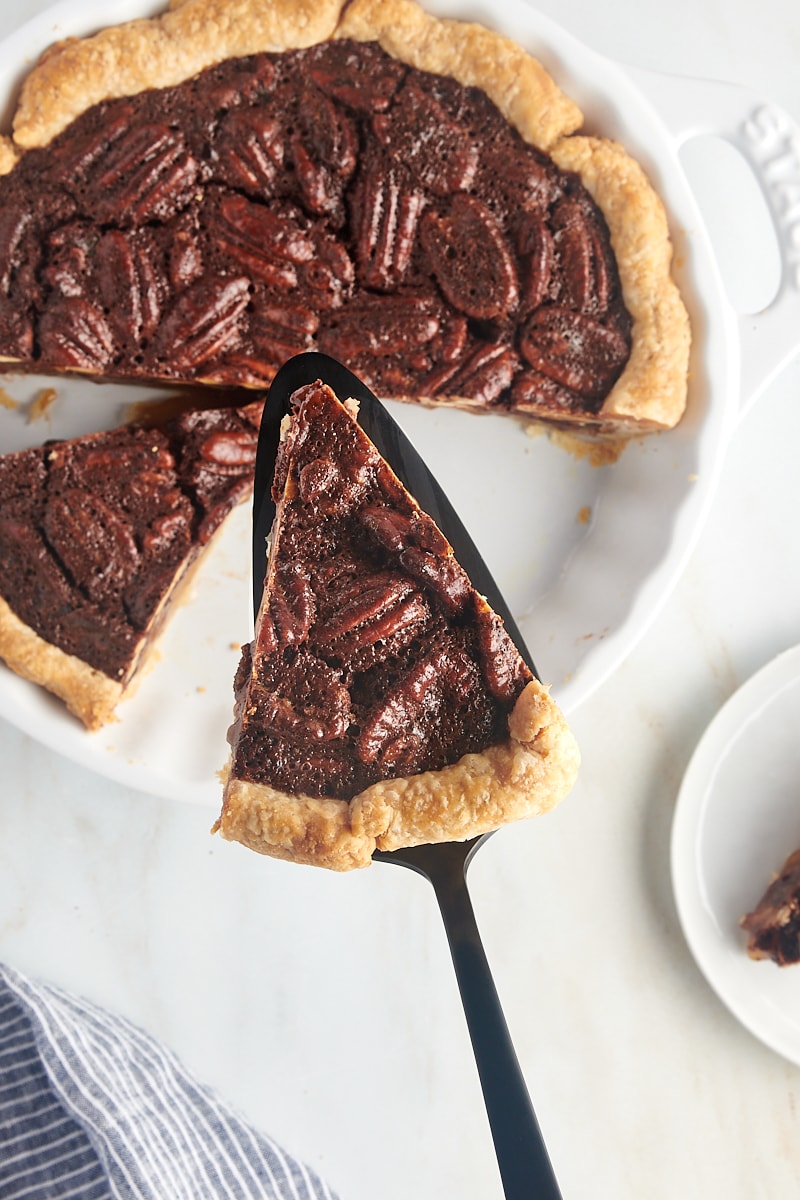 How to Make Chocolate Pecan Pie
You'll love how quickly and easily this pie comes together. No mixer needed here – just grab a big bowl and a mixing spoon! Here's what you'll need to do.
Prepare the crust. Place the pie dough on a lightly floured surface, and use a rolling pin to roll it into a circle about 1/8-inch thick. Fit into a 9-inch pie plate, and trim and crimp the edges as desired. Place in the refrigerator (or freezer) while you make the filling. That will help your crust keep its shape.
Prepare for baking. Heat the oven to 350°F. Line a rimmed baking sheet with parchment paper.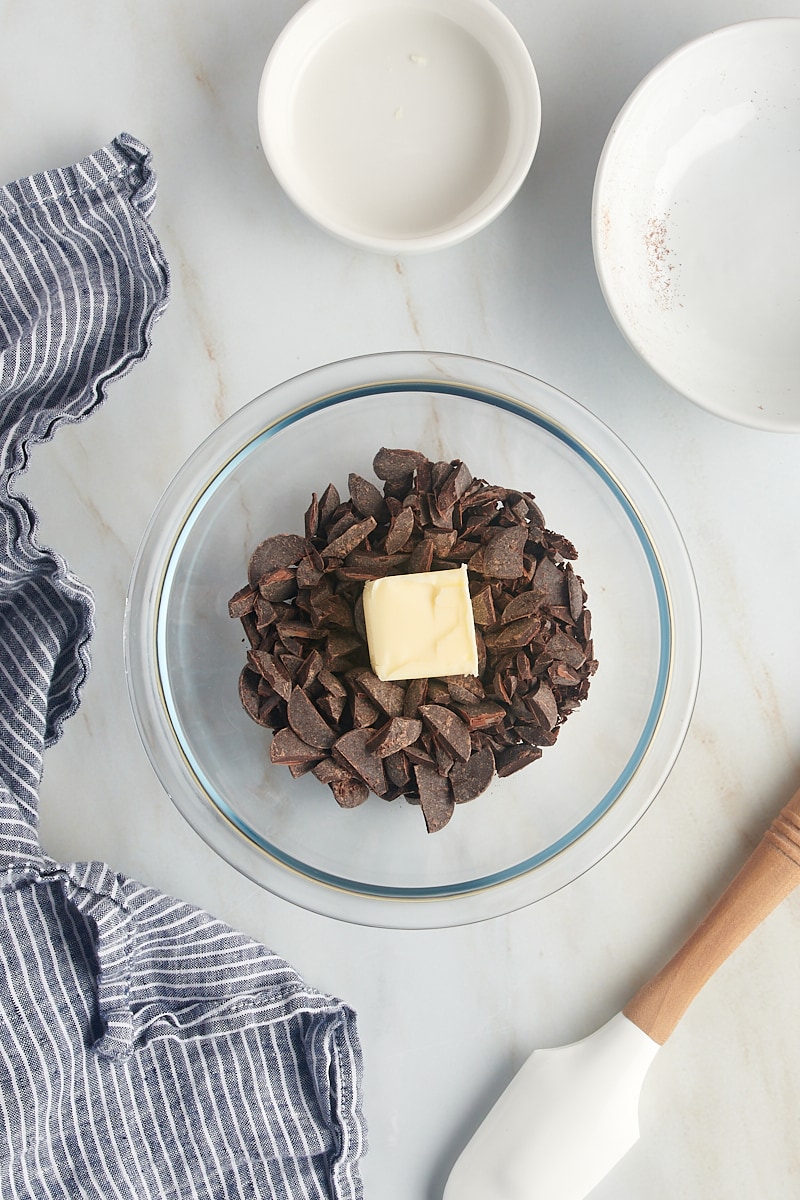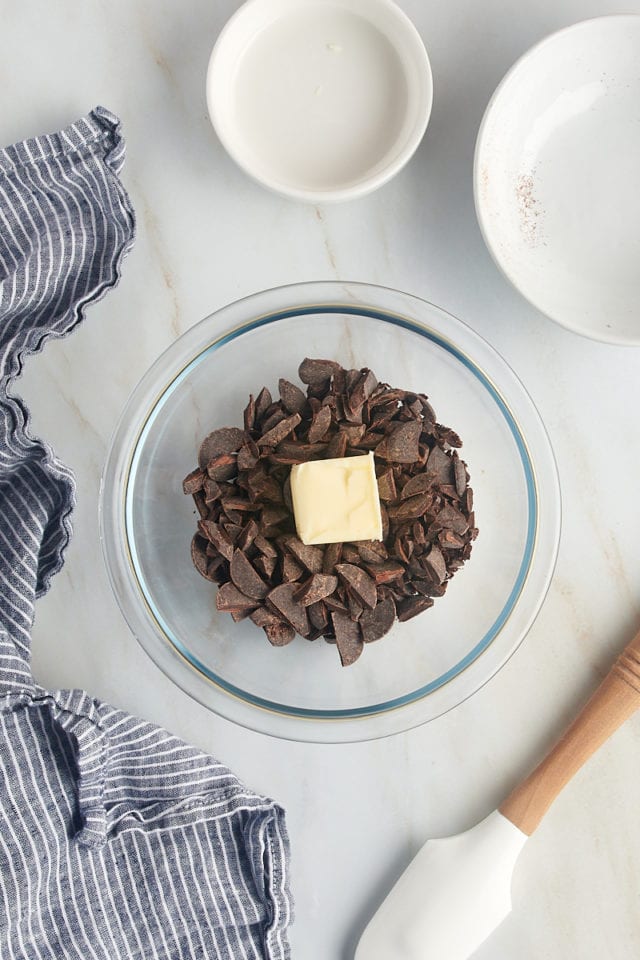 Melt the chocolate and butter. Place these two ingredients in a microwave-safe bowl, and heat in the microwave at half-power in 30-second increments until the butter has melted and the chocolate melts when stirred. (You can use a double boiler if you prefer.) Stir until the mixture is smooth, and then set aside to cool slightly.
Mix the filling. Lightly beat the eggs in a large mixing bowl. Mix in the corn syrup, sugar, vanilla, and salt. Next, stir in the chocolate mixture. Finally, stir in the pecans.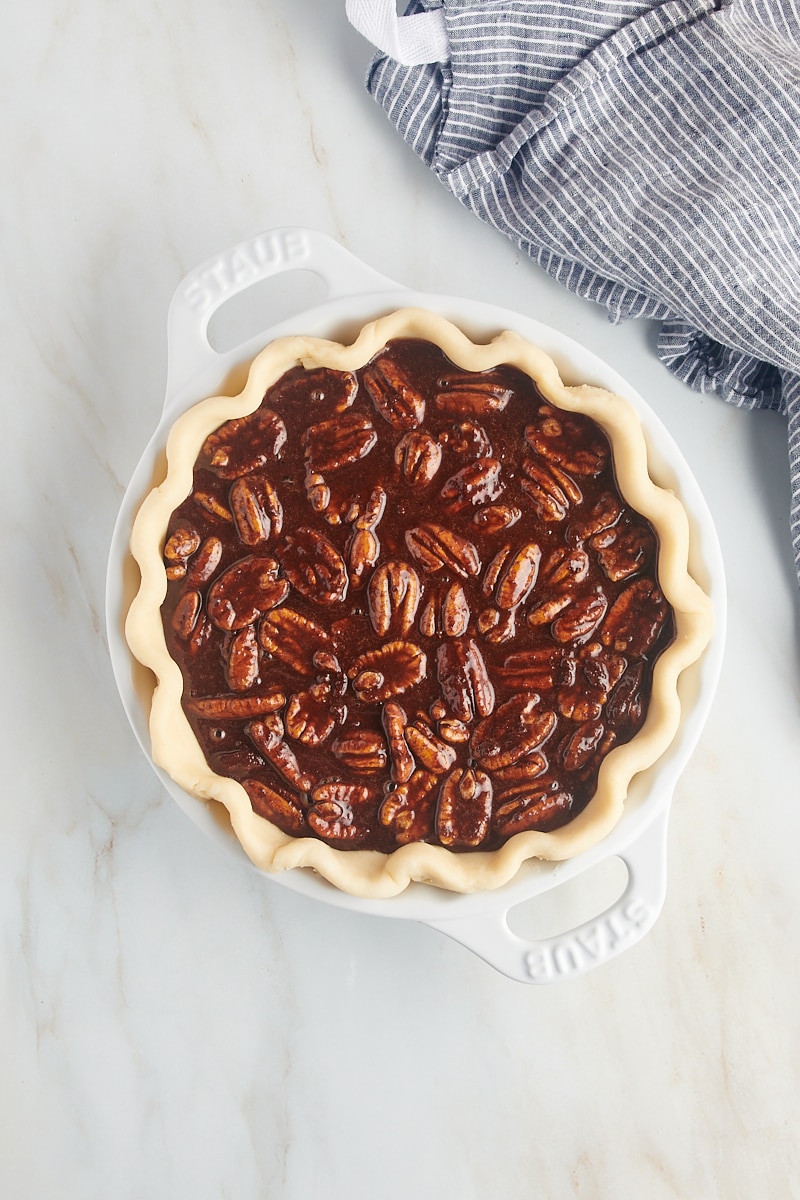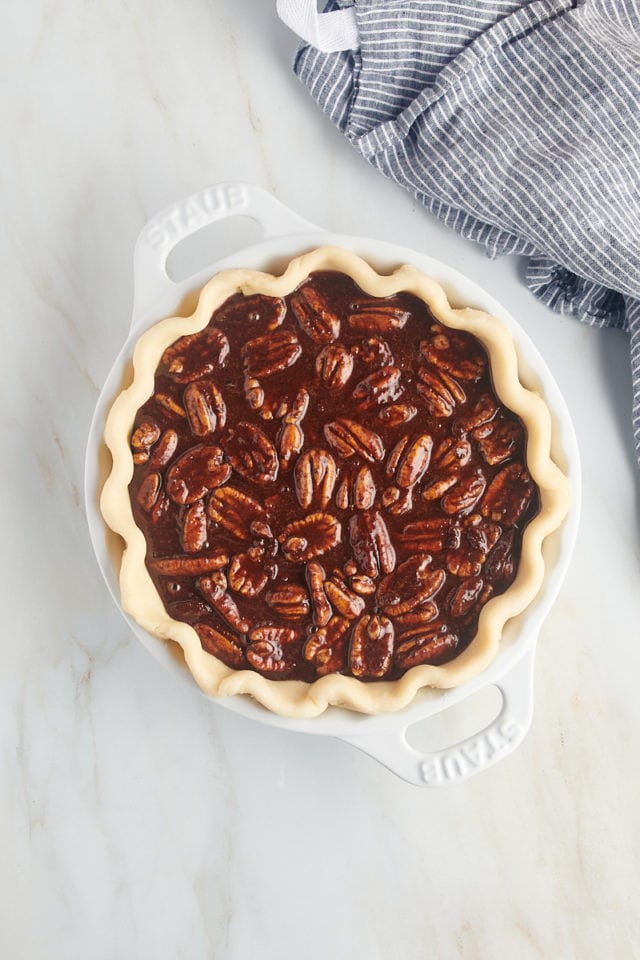 Bake. Pour the filling into the chilled crust, and place the pie plate on the lined baking sheet. (This not only catches any spills, but it also makes it easier to get the pie in and out of the oven.) Bake 45 to 50 minutes, or until the center appears set but has a very slight jiggle. If the crust or top is over-browning, you can place aluminum foil loosely over the pie. (See the tips section below for more about testing for doneness.)
Cool. Place the pan on a wire rack, and allow the pie to cool completely before serving.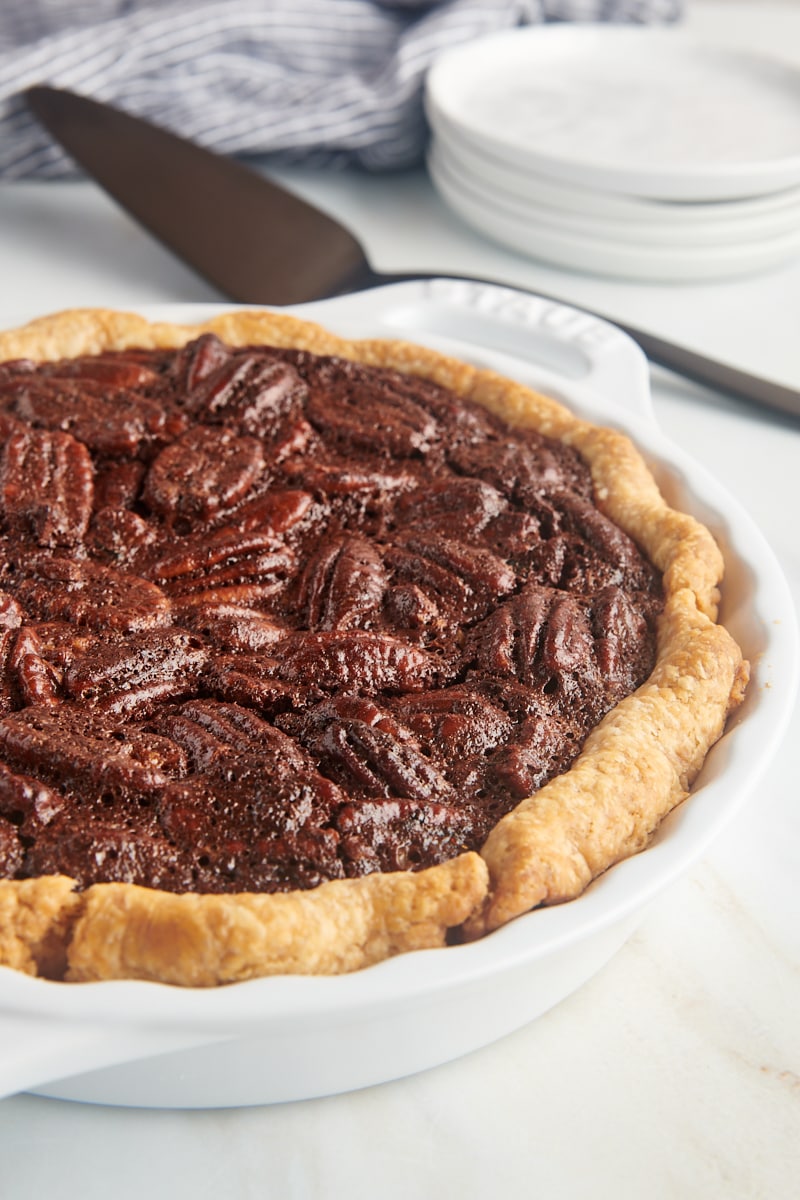 Tips for Success
This is a fairly straightforward recipe, but I do offer these few tips to help ensure pie success.
Need pie crust help? Making pie crust can be intimidating, but it doesn't have to be. See my pie crust tips if you want a little help. If you don't feel ready or are just short on time, you can certainly use a store-bought pie crust dough or pie shell.
Temperature matters. Using room temperature eggs and allowing the chocolate mixture to cool means your filling will mix more smoothly.
Checking for doneness. It can be a bit tricky to know when pecan pie is thoroughly baked. You can look for the visual clue of a very slight jiggle just in the center when you gently shake the pan. More reliably, you can test with an instant read thermometer, aiming for an internal temperature of 200°F.
Cool completely. Let your freshly baked pie cool on a wire rack until it's at room temperature so that the filling can set. Afterwards, you may want to refrigerate the pie for an hour or so to make it a bit more firm. Cutting into a too-warm pie will result in a gooey mess.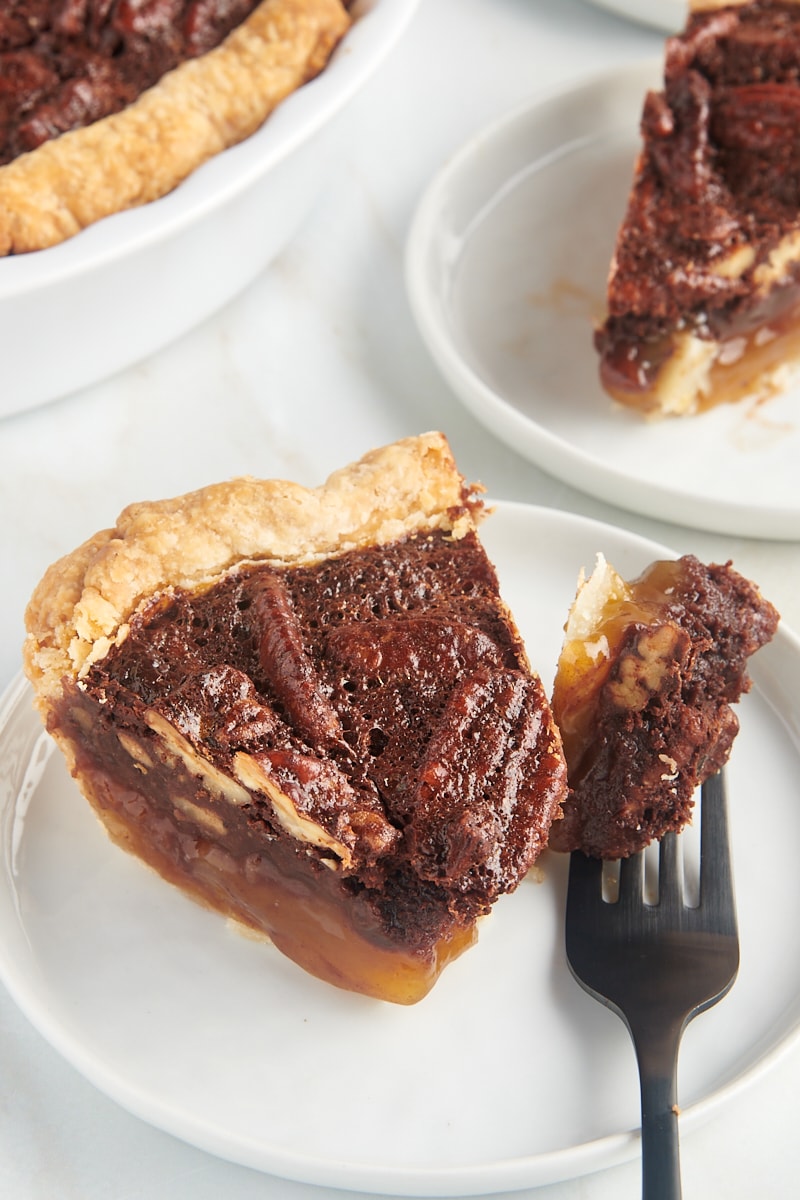 Variations
I think you'll adore this chocolate pecan pie just as it is, but feel free to make some alterations to make it your own. Here are some ideas to get you started.
Bourbon – Add about a tablespoon of bourbon to the filling for a rich flavor.
Flavored liqueur – Instead of bourbon, try adding a liqueur like Kahlua, Frangelico, Grand Marnier, or Bailey's.
Mexican chocolate – For a flavor reminiscent of Mexican chocolate, add up to a teaspoon of ground cinnamon and a small pinch of cayenne pepper.
Dark chocolate – Instead of semisweet chocolate, try a darker chocolate like bittersweet chocolate. This is a great option if you love deep, dark chocolate flavor.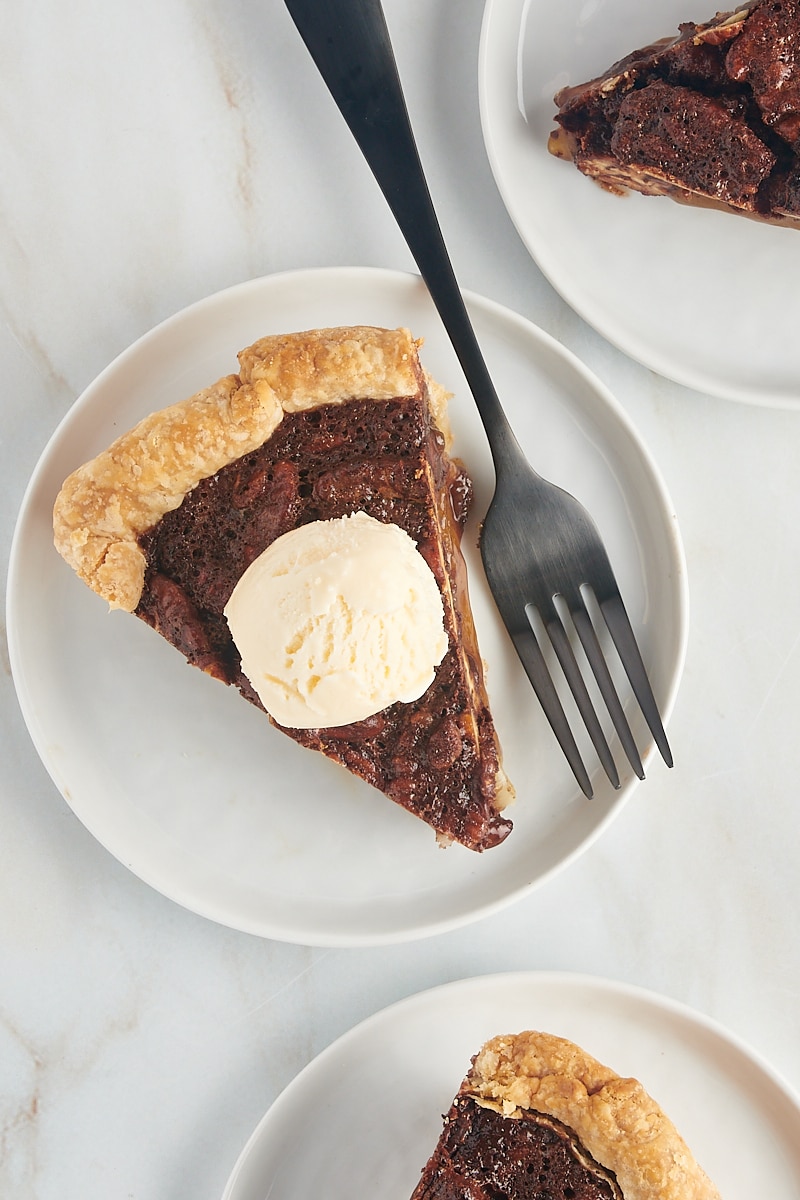 Serving Suggestions
This rich, decadent pie is just begging for a big scoop of vanilla ice cream. If you want to go all-in with the chocolate or pecan flavors, go with chocolate ice cream or butter pecan ice cream. Instead of ice cream, serve with a dollop of whipped cream. Garnish with chopped toasted pecans, chocolate shavings, or cocoa powder.
How to Store
It's best to store your chocolate pecan pie in the refrigerator, covered with plastic wrap or aluminum foil. It should keep up to 4 days in the refrigerator. Let the chilled pie come to room temperature or briefly warm individual servings in the microwave for serving.
Can This Pie Be Frozen?
Yes, you can freeze this pie. Wrap the pie or individual servings in plastic wrap, and then wrap again in aluminum foil or place in an airtight, freezer-safe container or bag. Properly stored, the pie should keep up to 3 months in the freezer. Thaw overnight in the refrigerator before serving.