August 17, 2015
Italian Cream Tart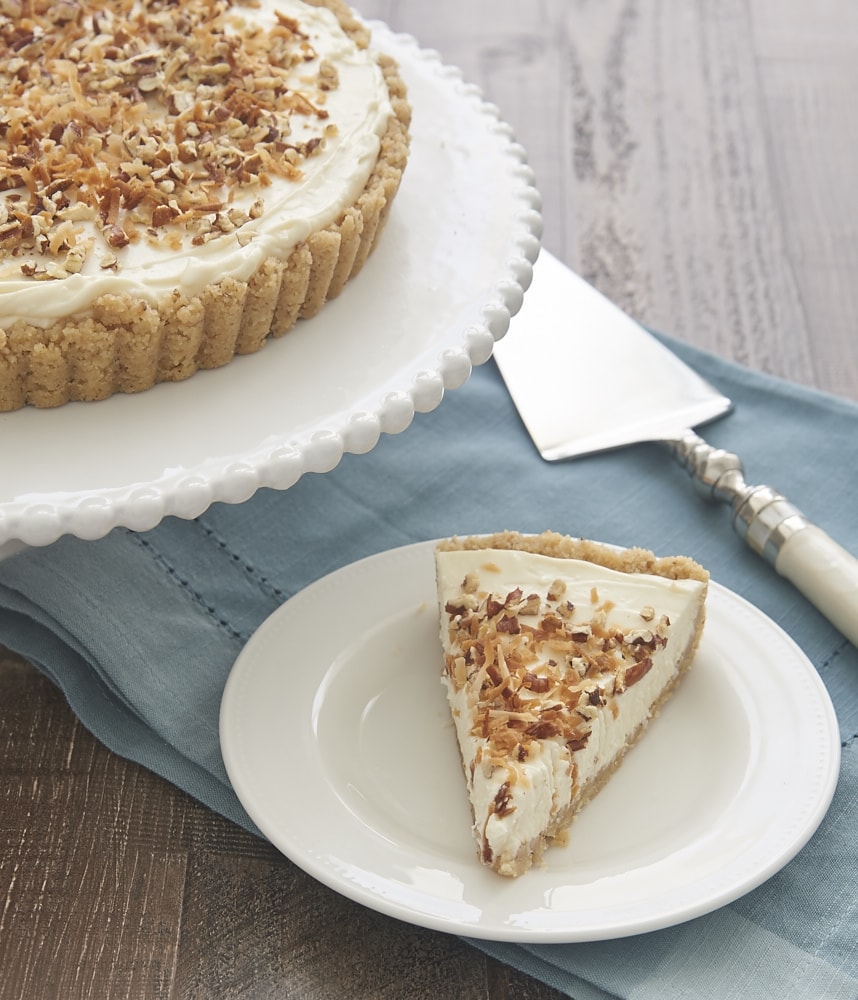 I recently discovered that I am unable to sleep on an overnight flight. I made this discovery on a 6-ish hour flight. Ugh. Trying to keep yourself entertained while everyone around you sleeps can be a bit of a challenge. My iPad was a lifesaver, though, with TV shows, books, mindless games, and magazines.
During my magazine browsing stage, I happened upon a recipe for Italian Cream Tart. I am a huge fan of Italian Cream desserts. It is strongly my opinion that anything with coconut, pecans, and cream cheese has to be good.

I shared an Italian Cream Cake with you years ago (Please forgive the early blogging days photos!), and it remains one of my all-time favorite cakes. Since then, I've deconstructed that cake into individual desserts and simplified the whole idea with a quick and easy snack cake. And now there's this tart.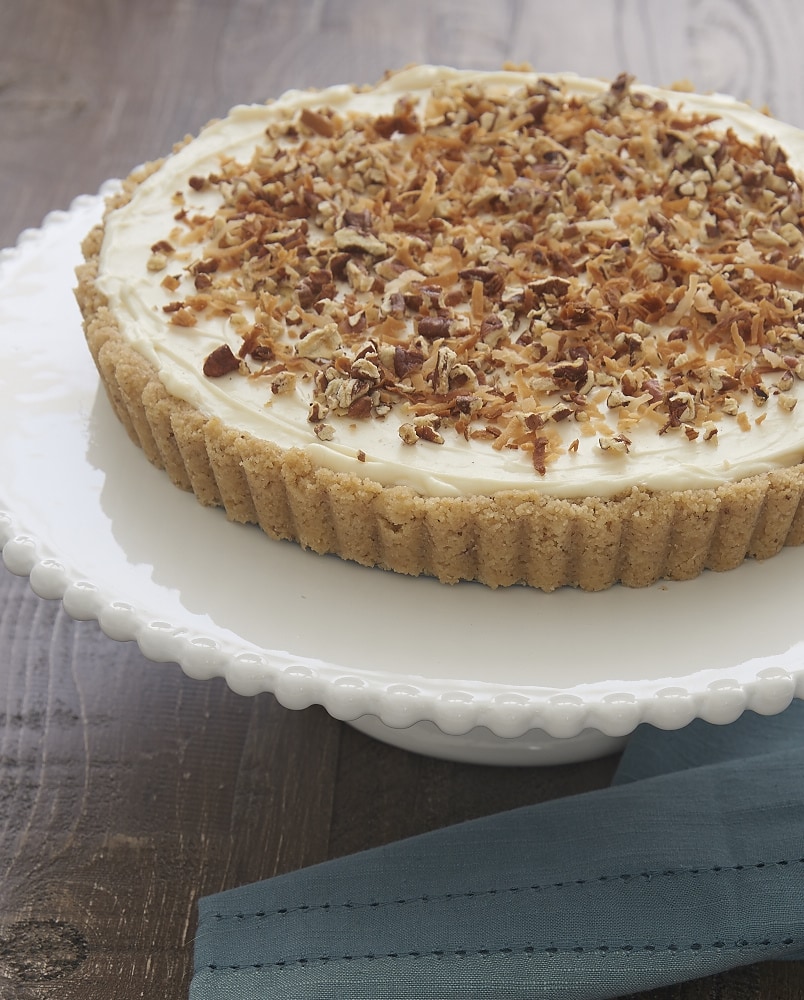 The crust is a standard cookie crust, but it is even better than normal because it's made with one of my favorite store-bought cookies, Pecan Sandies. Those nutty shortbread lend themselves perfectly to a cookie crust. The nutty flavor is exactly the perfect complement to the rest of this tart. And, I have a feeling you'll be seeing something here on BoB made with that crust again.
The filling incorporates the other two major components of Italian Cream desserts (coconut and cream cheese) along with some mascarpone and sour cream to create amazing flavor and texture. It's nicely sweet with a good tangy kick to make it pretty much irresistible.
Really, I know that I can't adequately describe this tart in a way that does it justice. It is just so amazingly good, from its flavor to its texture. I wouldn't want to set the precedent of sleepless nights to find fabulous recipes, but it was totally worth it for this one.
We are a participant in the Amazon Services LLC Associates Program, an affiliate advertising program designed to provide a means for us to earn fees by linking to Amazon.com and affiliated sites.
Italian Cream Tart
Yield: 8 to 10 servings
Prep Time: 25 minutes
Cook Time: 14 minutes
Coconut, pecans, and cream cheese are an irresistible tasty trio in this almost-no-bake Italian Cream Tart.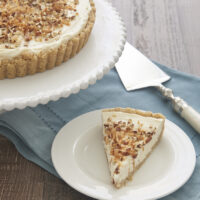 Ingredients:
For the crust:
1 package (11.3 ounces) Pecan Sandies or other pecan shortbread cookies
6 tablespoons unsalted butter, melted
For the filling:
8 ounces cream cheese, at room temperature
8 ounces mascarpone cheese
2/3 cup sour cream
1/4 cup plus 2 tablespoons cream of coconut
1/4 cup granulated sugar
1/4 cup sweetened flaked coconut, toasted
2 teaspoons vanilla extract
chopped toasted pecans and toasted coconut, for garnish
Directions:
To make the crust:
Preheat oven to 350°F.
Place the cookies in the bowl of a food processor. Pulse until the cookies form fine crumbs.
Transfer the crumbs to a medium bowl. Add the melted butter, and stir until thoroughly combined. Press the crust mixture firmly and evenly into the bottom and up the sides of a 9-inch tart pan with a removable bottom.
Bake 12 to 14 minutes, or until lightly browned. Set aside to cool completely.
To make the filling:
Using an electric mixer on medium-high speed, beat the cream cheese, mascarpone, sour cream, cream of coconut, and sugar until thoroughly combined and smooth.
Add the coconut and vanilla, and mix until combined. Transfer the filling mixture to the cooled crust, and spread evenly.
Cover and refrigerate at least 4 hours. Garnish with pecans and coconut before serving.