November 13, 2017
Cinnamon Apple Hand Pies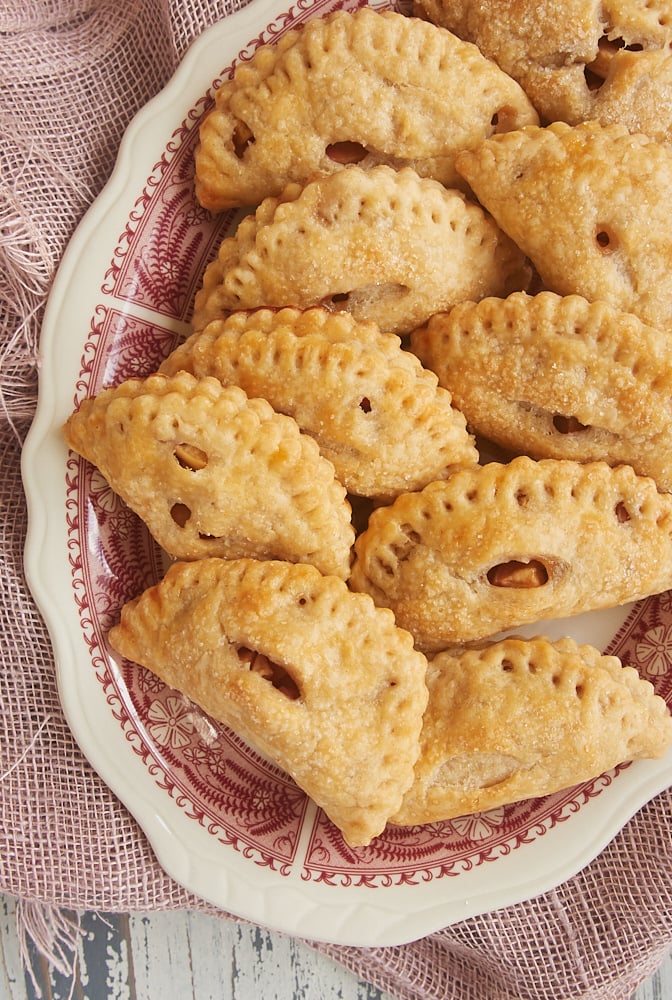 I would bet that I'm not alone in having a soft spot for apple pie. Its classic flavor is pure comfort food. I've certainly made and enjoyed my share of them over the years, but I have an even softer spot for these Cinnamon Apple Hand Pies. How can anyone resist a mini version of a favorite dessert?
When I tell you that these are simple little pies, that applies to not just the preparation but the ingredients and the flavor. Instead of a whole list of spices, we're just sticking with cinnamon here. There's not much added sugar, but instead the flavor and natural sweetness of the apples is the focus.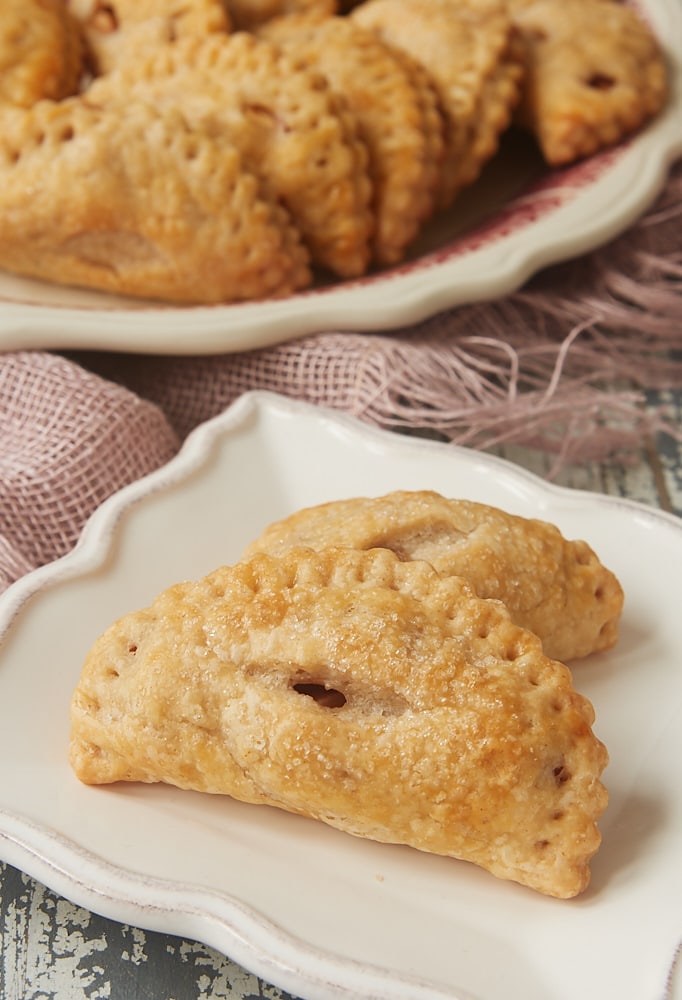 The dough for these pies is one of my favorites. It's so easy to make and such a dream to handle. And I give it big bonus points for the cream cheese. I like to make traditional pie dough by hand with a pastry blender or just my hands, but this dough comes together so well in a food processor, that I never make it any other way. Just add the ingredients and let the food processor do all the work in about a minute.
For something a little different, I like to add a bit of cinnamon to the dough. It amplifies the flavor a bit and also adds just a touch of darker color to the dough. You can certainly omit the cinnamon in the dough if you like. We are big cinnamon fans around here, so I don't often pass on a chance to add a little more.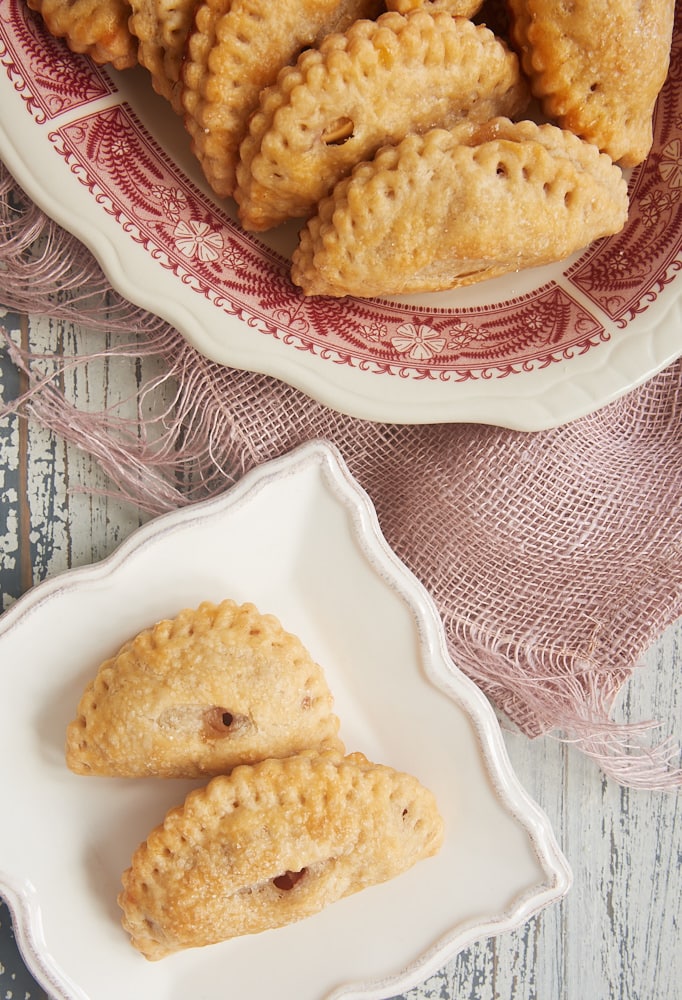 The filling for these pies consists of apples, brown sugar, and cinnamon. That's it! For these small pies, I recommend chopping the apples into small pieces. They fit inside the dough better and make eating them a little easier, too.
I'll offer one quick tip about how many pies to expect from this recipe. The yield will be affected by how efficiently you can cut out the dough. You can re-roll the dough scraps, but I recommend only doing that once for the best results. I can usually get 18 to 20 pies, depending on how diligent I am about efficiency.
Not sure what kind of apples to use for these pies? I've got some tips for you in my Best Apples for Baking.
I love these Cinnamon Apple Hand Pies for a grab-and-go sweet treat, a simple addition to a dessert table, or even fancied up with a scoop of ice cream and a little caramel sauce. They're versatile enough to fit most any situation.
Find more pie recipes in the Recipe Index.
This post contains affiliate links. If you make a purchase through one of the links, I'll receive a
small commission at no additional cost to you.
Cinnamon Apple Hand Pies
Yield: 18 to 20 pies
Prep Time: 30 minutes
Total Time: 22 minutes per pan
Cinnamon Apple Hand Pies are mini versions of a favorite pie. Made simple with an easy crust and a simple flavor focus, these little guys are a favorite!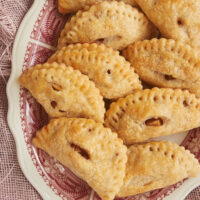 Ingredients:
For the dough:
1 cup unsalted butter, cold and cut into 1/2-inch cubes
8 ounces cream cheese, softened and cut into 1/2-inch cubes
2 & 1/2 cups all-purpose flour
2 teaspoons granulated sugar
1 teaspoon ground cinnamon
1/2 teaspoon salt
For the filling:
about 2 medium apples, cut into small chunks (about 1/2-inch)
2 tablespoons firmly packed light or dark brown sugar
1/2 teaspoon ground cinnamon
For assembling the pies:
1 large egg
1 tablespoon water
sanding sugar, optional
Directions:
To make the dough:
Place the butter, cream cheese, flour, cinnamon, and salt in the bowl of a food processor.* Pulse for about a minute, or until a dough forms.
Divide the dough in half, and form each portion into a disc. Wrap each disc in plastic wrap and refrigerate for 30 minutes. If you need to refrigerate longer, then you may need to let the dough sit at room temperature for about 5 minutes before rolling it out.
Preheat oven to 375°F. Line baking sheets with parchment paper or silicone liners.
Place one disc of the chilled dough on a lightly floured surface. Roll the dough to 1/8-inch thickness. Use a 4-inch round cutter to cut the dough into rounds. Gather and re-roll the remaining dough once as needed. Repeat with the remaining disc of dough.
To make the filling and assemble the pies:
Combine the apples, brown sugar, and cinnamon.
Place the dough rounds on the prepared pans. Spoon about 1 & 1/2 to 2 tablespoons of filling onto each round, leaving about an 1/4-inch border.
Combine the egg and water to make an egg wash. Lightly brush the outside edges of the dough rounds with the egg wash.
Fold over each dough round to form a half circle. Press the edges together, and then use a fork to seal the edges.
Make a slit in the top of each pie. Brush with egg wash, and sprinkle with sanding sugar. (You won't use all of the egg wash.)
Bake 18 to 22 minutes, or until the pies are golden brown. Cool before serving.
Notes:
*I have an 11-cup food processor, and it's just the right size. A smaller capacity likely would be too small. You can also mix this dough using a pastry blender, a fork, or your fingers.