June 19, 2014
Chocolate Mascarpone Tart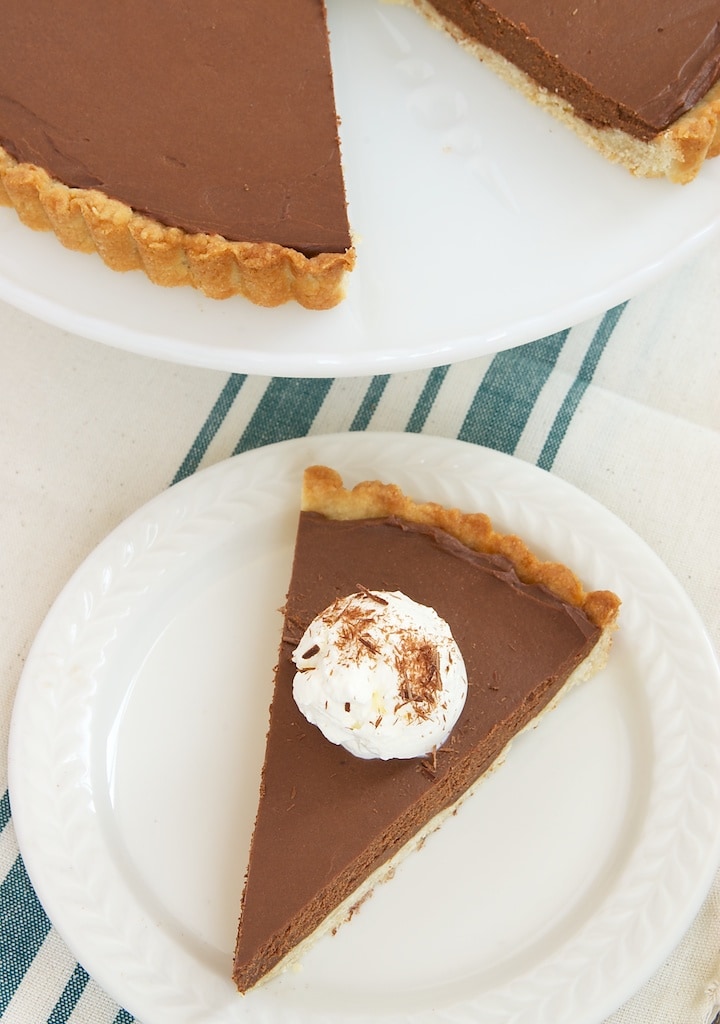 Remember how I was telling you just a couple of days ago that I really like making chilled desserts when it's hot? I think I may have a real problem. Right after that, I was desperately trying to make room in my refrigerator for something or other when I realized that the lack of room was due to the three icebox pies in there.
THREE.
I have since given away two of them, but I haven't been able to part with this Chocolate Mascarpone Tart. When I made that Nutella Pie a while back, I was reminded of how much I love mascarpone. Of course, what's not to love about a delicious ingredient that's essentially just cream?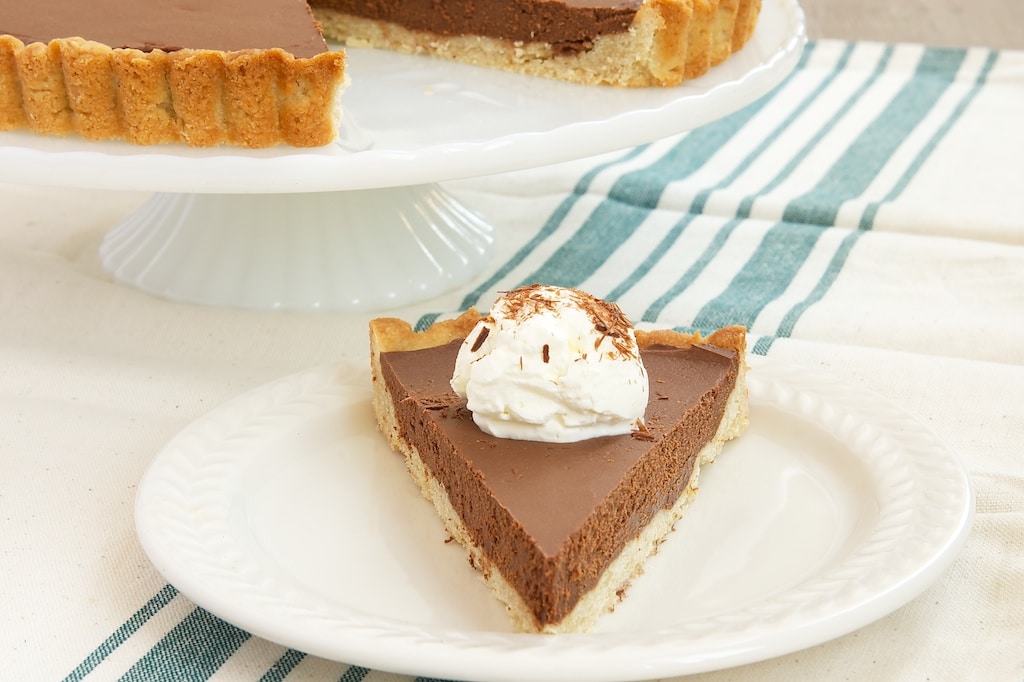 With this tart, that mascarpone is combined with melted chocolate for an it-couldn't-be-much-simpler filling. I was finishing this one up as Quinn came home from work so he got to taste a bit of the filling left in the mixing bowl. He actually started laughing at how good it is. (I am pretty sure that was a compliment.)
I opted to add a splash of hazelnut liqueur to the filling. Coffee liqueur, bourbon, or a whole slew of others would be equally as delicious.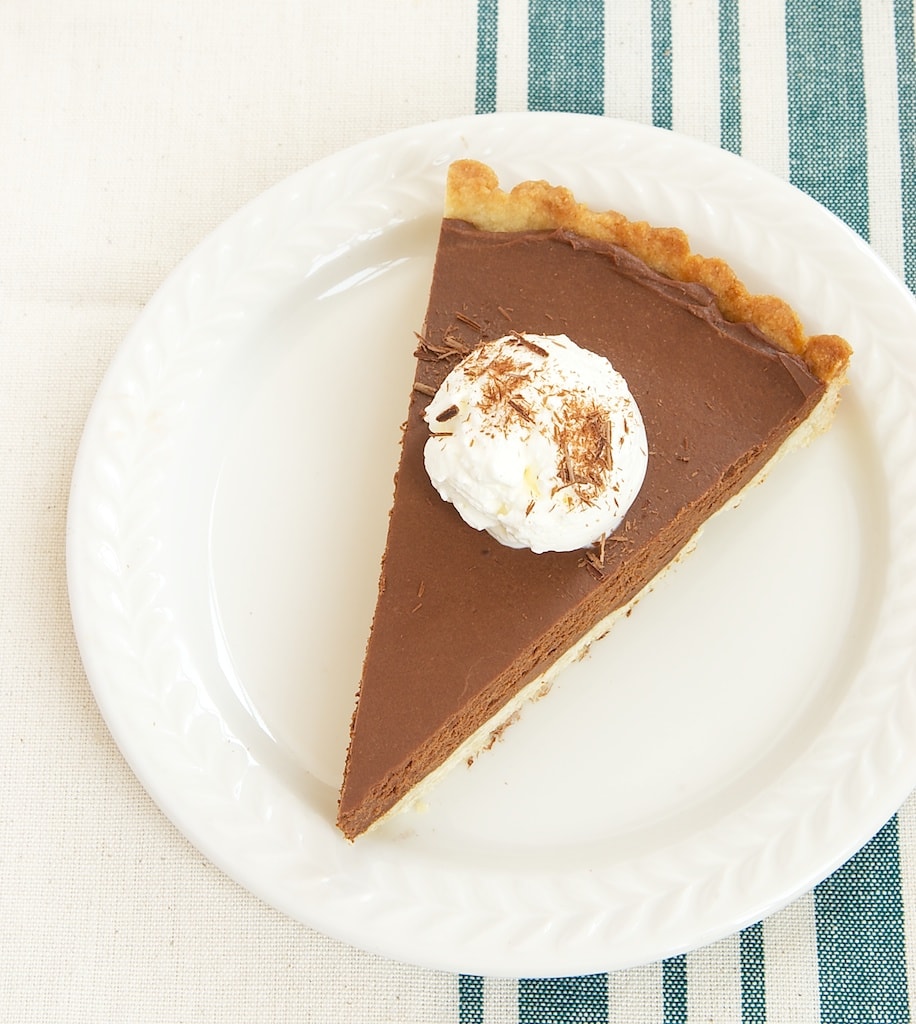 Let's backtrack to the crust for a minute. It's essentially the same crust that I used for Lemon Cream Tarts. I just used brown sugar for a little different flavor. You can, of course, use either granulated or brown sugar, but I really like the brown sugar-chocolate combo.
This is a simply lovely dessert. It's so smooth and creamy. And, it has a wonderfully subtle sweetness. It's low on the effort meter with a high deliciousness payoff. Those are my favorite kinds of desserts!
Chocolate Mascarpone Tart
Yield: 8 to 10 servings
Prep Time:20 minutes
Cook Time:20 minutes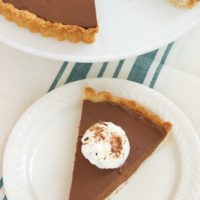 Ingredients:
For the crust:
1/2 cup unsalted butter, softened
1/2 cup packed light brown sugar
1/2 teaspoon vanilla extract
1 & 1/4 cups all-purpose flour
1/4 teaspoon salt
1 tablespoon milk
For the filling:
6 ounces bittersweet chocolate*
8 ounces mascarpone, softened
1 tablespoon hazelnut liqueur, optional
sweetened whipped cream, for garnish
chocolate shavings, for garnish
Directions:
To make the crust:
Grease a 9-inch tart pan or pie pan.
Using an electric mixer, beat butter and sugar until fluffy. Mix in vanilla. Add flour and salt, and mix until combined. Add milk and beat until dough is mixed and holds together when pressed between your fingers.
Press dough into bottom and up sides of prepared pan. Using a fork, prick holes over the bottom of the tart dough. Place pan in refrigerator for about 10 minutes.
Preheat oven to 375°.
Place pan on a baking sheet. Bake for 15 to 20 minutes, or until lightly browned around the edges and center is set. If edges are getting too brown, cover with foil and continue baking. Cool completely.
To make the filling:
Place chocolate in a microwave-safe bowl. Heat in microwave at half-power in 30-second increments until chocolate melts when stirred. Allow to cool to room temperature.
Using an electric mixer on medium speed, beat mascarpone, cooled chocolate, and liqueur until smooth and creamy.
Transfer filling to cooled tart crust and spread evenly. Place tart in refrigerator for at least 2 hours.
Garnish with sweetened whipped cream and chocolate shavings when serving.
Keep tart refrigerated.
Notes:
*I used Guittard 72% bittersweet chocolate.