Peanut Butter Corn Flake Bars are a super easy treat with plenty of flavor. Just FIVE ingredients!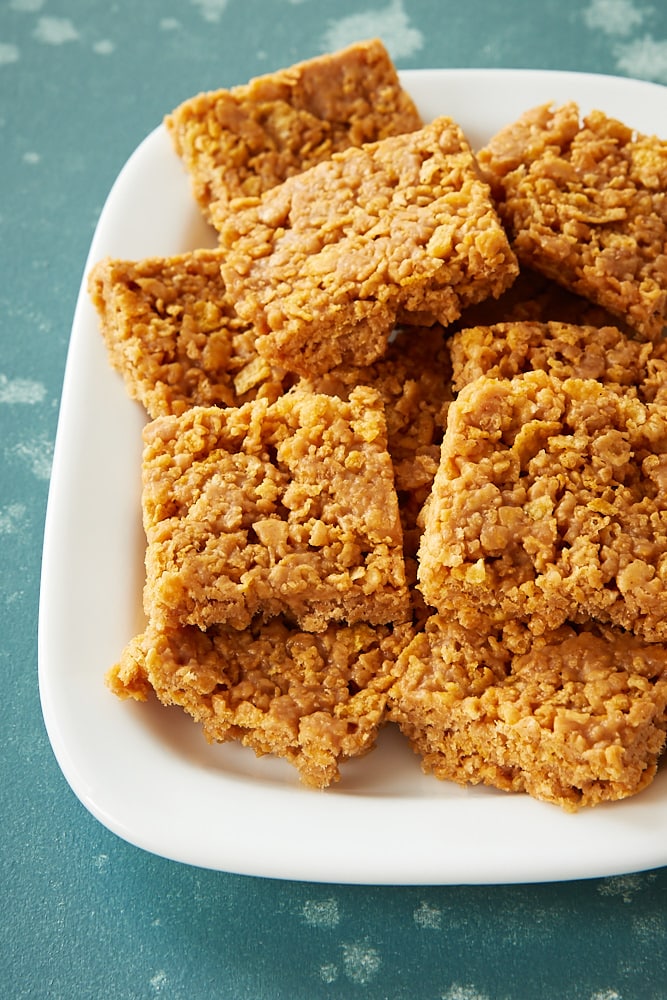 Peanut Butter Corn Flake Bars are one of those recipes that somehow sneaks its way into everyone's recipe box. They're just so good and so unbelievably easy to make! That makes this recipe an easy one to pass around and share.

I was first introduced to these bars by our housekeeper many years ago. She would often bring us a batch of them, much to my delight. After she moved on to other opportunities, I began making them myself when I needed a quick and easy treat for sharing or just when I had the craving.
You can skip the oven time for these bars. You'll just need a few minutes of stovetop time to get things going, and then it's just stirring and spreading the bars into a pan. I do suggest that you have everything measured and ready to go before you get started. That will make the simple preparation go quickly and easily.
I love the simplicity of these. It's not just in their preparation, but in the flavor. It's pretty much all about the peanut butter, with a light sweetness. The corn flakes add a nice texture and crunch, and provide some structure to help hold the bars together.
If you're looking for a quick and easy treat to share with your favorite peanut butter lovers, give these Peanut Butter Corn Flake Bars a try. But don't be surprised if you find yourself making more and more batches.
Find more no-bake recipes in the Recipe Index.
More Peanut Butter Bar Recipes