Chocolate Toffee Bars are a one-bowl wonder! So easy to make and so very delicious!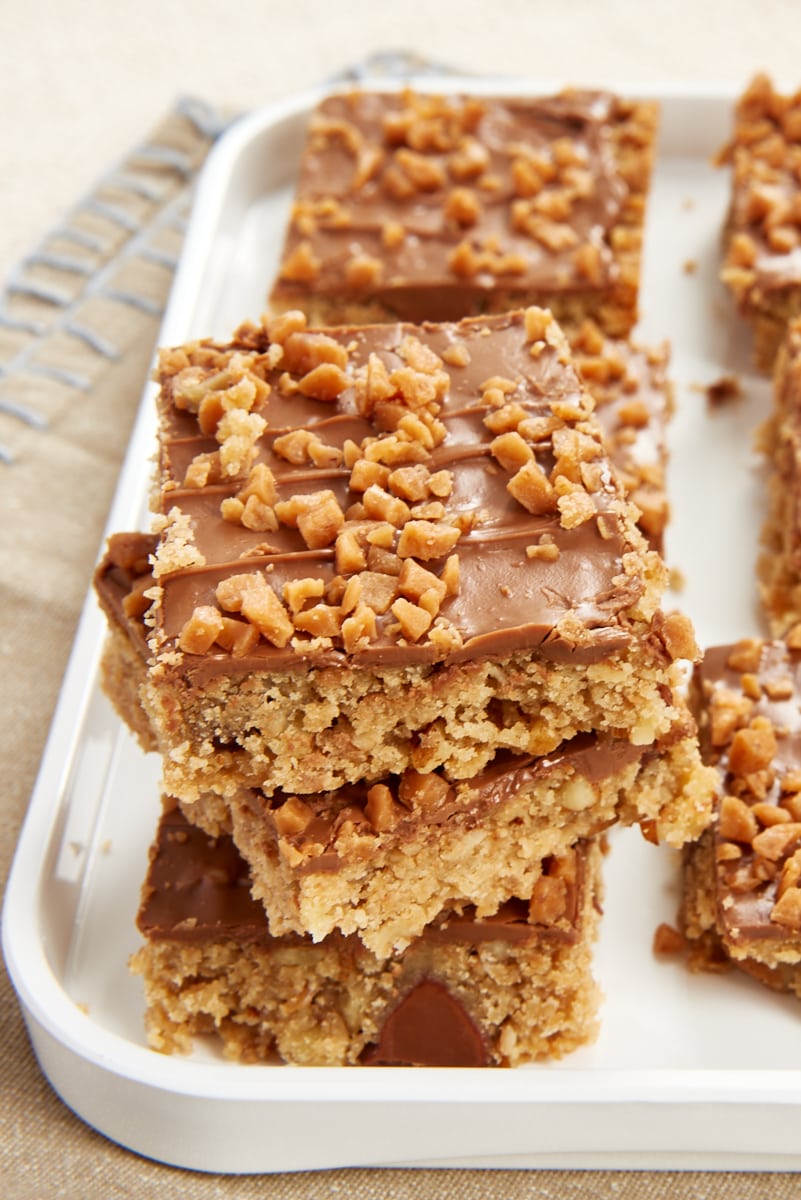 Easy Chocolate Toffee Bars
There are times when you just need things to be simple. After a bad day or just when everything else seems overly complicated. Coincidentally, those are often the times you could really go for something sweet. For those times, there are these Chocolate Toffee Bars.
This is one of those great one-bowl recipes that we all need in our baking arsenal. Homemade dessert with less mess is always a winner with me. That kind of simplicity with wonderfully delicious results is tough to beat.
It all starts with a simple shortbread made with just a handful of ingredients. There are some nuts and chocolate chips in there to supply plenty of flavor. There's also a hint of cinnamon to give them a little something extra. I really like the occasional bit of cinnamon with chocolate. If you're not a fan, you can simply omit it.
Once that gets baked, it gets treated with the simplest of toppings. Just scatter some chocolate chips on top of the warm shortbread, wait a few minutes, and spread the melted chocolate over the top. I like to use milk chocolate here, but semisweet will work just fine.
Hopefully, you'll think of this recipe the next time you need a little simple and a little sweet in your day. Then you can sit back with a couple of these bars and just enjoy.
What You'll Need
You only need a short list of ingredients to whip up a batch of these toffee bars. See the recipe card at the bottom of this post for ingredient quantities and full instructions. Here are some helpful notes about the ingredients you'll need.
All-purpose flour – Measure by weight for best results. If you don't have a digital kitchen scale, you can approximate that accuracy by using the spoon and sweep method. Learn more: How to Measure Flour
Brown sugar – You can use either light or dark brown sugar, depending on your preference. Learn more: Light Brown Sugar vs Dark Brown Sugar
Salt
Ground cinnamon – This is optional, but I love the extra bit of flavor it adds!
Unsalted butter – Set out the butter to allow it to soften before mixing.
Vanilla extract
Chocolate chips – I like milk chocolate chips best in these toffee bars, but either semisweet chocolate chips or bittersweet chocolate chips are good, too. Or use a combination!
Chopped nuts – Pecans are my go-to nut for baking, but most any nut will work.
Toffee bits – I usually use plain toffee bits, but the chocolate-covered kind works, too.
How to Make Chocolate Toffee Bars
Ready to make these easy toffee bars? Grab your mixing bowl and let's go!
Prepare for baking. Heat the oven to 350°F. Line a 9- by 13-inch baking pan with parchment paper or aluminum foil so that the lining hangs over the edge to make it easier to remove later. Grease the lining. (I use a cooking spray with flour, like Baker's Joy.)
Make the crust. Combine the flour, brown sugar, salt, and cinnamon in a large bowl. Add the butter and vanilla, and mix with an electric hand mixer on medium-low speed until the mixture forms coarse crumbs. Stir in 3/4 cup of the chocolate chips and all of the nuts.
Transfer to the pan. Press the dough evenly into the bottom of the prepared pan.
Bake. Place the pan in the heated oven, and bake 25 to 30 minutes. The bars should be golden brown.
Make the topping. Place the pan on a wire rack. Sprinkle the remaining chocolate chips over the top of the bars, and let them sit for a few minutes. Then use an offset spatula to spread the melted chocolate over the bars. Sprinkle the toffee bits over the top.
Cool and slice. Allow the bars to cool completely in the pan. Then use the edges of the lining to lift the bars out of the pan onto a cutting board. Use a sharp knife to cut into bars.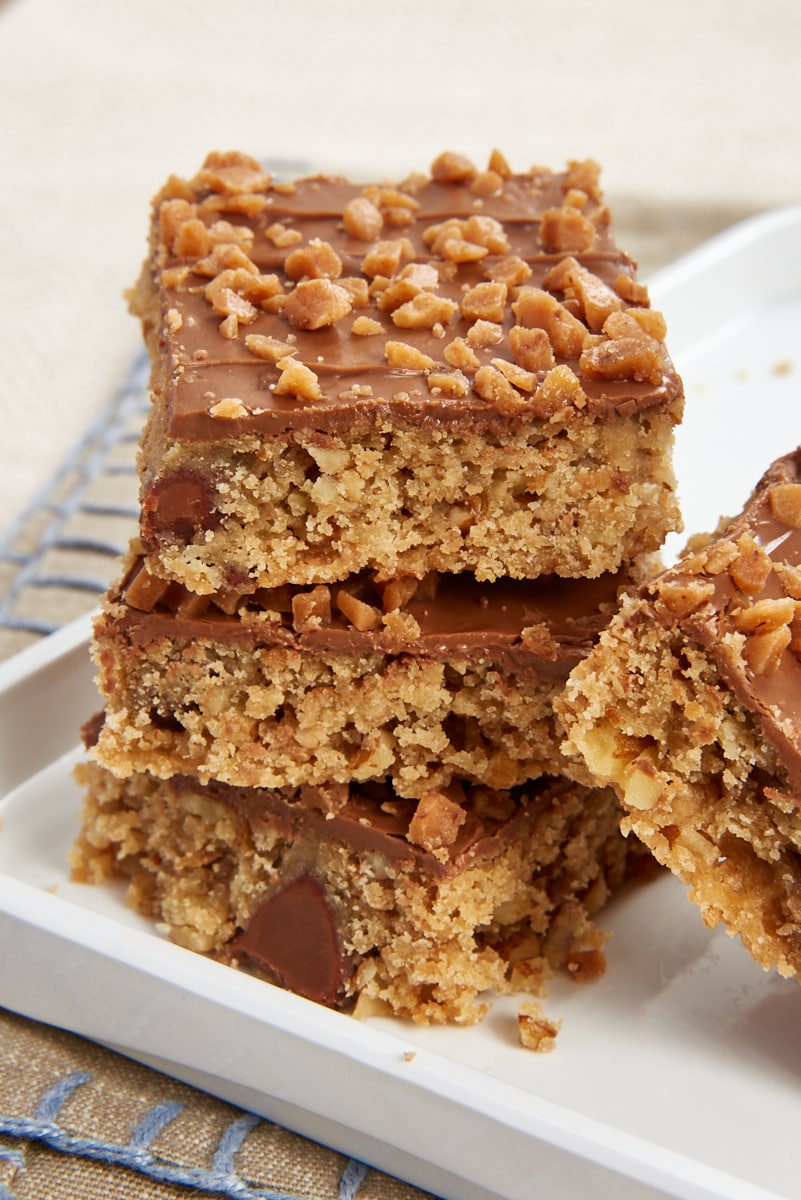 Tips for Success
I think you'll find these toffee bars to be a quick and easy baking project. Here are a few tips to help make sure yours turn out perfectly.
Measure accurately. Most shortbread doughs go awry due to inaccurate measurements, especially with the flour. Take care to be as accurate as possible.
Line the pan. This may seem like just an extra step, but you'll be glad you took those few minutes when it's time to cut and serve the bars.
Customize! These bars are designed for customizing, so feel free to change the add-ins with a different baking chips or a combination of favorite add-ins. You can sprinkle whatever you'd like on top. I used toffee bits, but chopped nuts would be great. Add a little sprinkle of salt for a sweet and salty variation.
How to Store Leftovers
Once the bars have cooled completely, place them in an airtight container in a single layer. They should keep at room temperature up to 3 days. If your kitchen is especially warm, you may prefer to refrigerate them. Just make sure the container is airtight so they won't become dry. Allow the bars to come to room temperature before serving.
Can These Toffee Bars Be Frozen?
Yes, these bars will freeze well. After they bars are completely cooled, place them in a single layer on a baking sheet leaving a small gap between them. Freeze the bars for about 2 hours, or until the topping is solid. Then transfer the frozen bars to an airtight, freezer-safe container. If you like, first wrap each bar in plastic wrap to help keep them looking their best. Properly stored, the bars should keep in the freezer up to 3 months. Thaw in a single layer at room temperature for an hour or two.