Cinnamon Sugar Pound Cake Bites take pound cake and transform it into little bites of sweet, toasty, cinnamon-y deliciousness!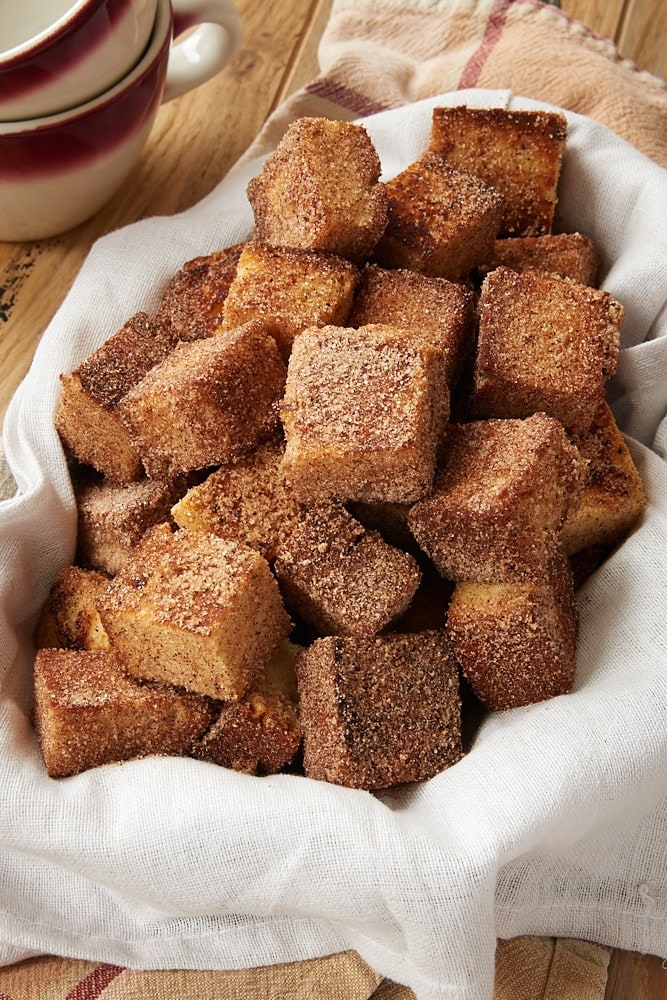 Easy Cinnamon Sugar Pound Cake Bites
If you love pound cake, get ready to fall in love all over again with these Cinnamon Sugar Pound Cake Bites. With just a few simple steps, you can turn plain pound cake into these sweet, cinnamony treats. And you may never want plain pound cake again!
Well, that last part is definitely an exaggeration. I can't imagine ever not wanting a hefty slice of pound cake. But these Cinnamon Sugar Pound Cake Bites are so easy to make yet so good that I find them completely irresistible! All you need to turn your pound cake into these beauties is a little butter, a skillet, and some cinnamon sugar.
I can tell you that these Cinnamon Sugar Pound Cake Bites are an amazing crowd-pleaser. Set out a bowl of them, and you're likely to see that bowl empty fairly soon. Good thing it's easy to make more!
If you can't get enough cinnamon-sugar treats, try Snickerdoodle Bars, Jam-Filled Doughnut Muffins, and Cinnamon Pear Cake, too!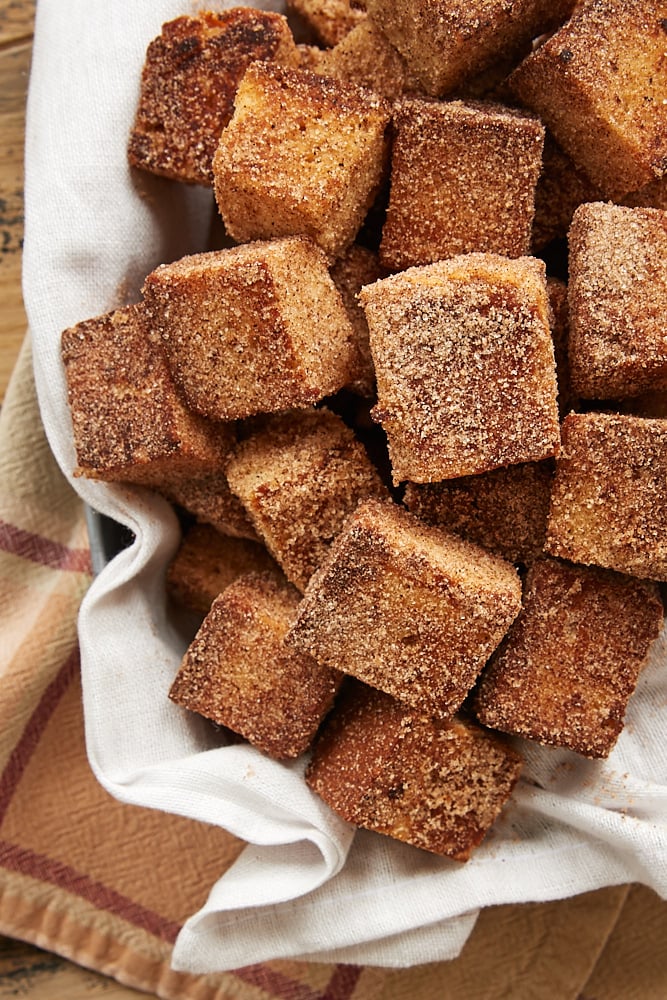 What You'll Need
Granulated sugar
Cinnamon – If your cinnamon has been in your cabinet for a while, give it a smell. If it doesn't have a strong flavor, it's time to replace it.
Unsalted butter
Pound cake – For these little guys, you can use your favorite loaf-size pound cake recipe or even a store-bought pound cake if you're short on time. Cut the cake into 1-inch cubes. My go-to is Cream Cheese Pound Cake. I make a half recipe in a standard loaf pan to make these but a full recipe is great for feeding a crowd.
How to Make Cinnamon Sugar Pound Cake Bites
Gather your tools and ingredients. Place a sheet of waxed paper near your stovetop. Mix the cinnamon and sugar, and place it near the waxed paper.
Melt the butter. Place the butter in a large skillet, and melt it over medium heat.
Add the pound cake. Place several pieces of the cake to the skillet. Use tongs to turn them over so they'll get toasted on each side.
Coat the cake pieces. Transfer the pieces to the bowl of cinnamon sugar, turning them or shaking to coat. Place the coated cake pieces on the waxed paper to cool. Repeat with the remaining cake. Serve warm or at room temperature.
Tips for Success
Adjust the spice level. Feel free to make adjustments to the cinnamon sugar mixture in the recipe if you'd like to dial the cinnamon up or down. (Learn more: How to Make Cinnamon Sugar) We are big cinnamon fans around here, so I'm not shy with it.
Try different spices. Add in other spices if you like, too, for some variety. Try substituting an equal amount of Fall Spice Blend for the cinnamon if you want a little seasonal twist on them.
Be organized. While these are crazy easy to make, I highly encourage you to be organized about making them. I place the cut cake on one side of my stovetop and a pan lined with waxed paper on the other for the finished pieces. I also place the bowl of cinnamon sugar on the side of the pan closest to the stovetop. That way you can work from one side to the other. It really makes the process go quite smoothly.
Tongs are your friend, too, for moving all those little pieces of pound cake from one stage to another. Work in batches, toasting only as many pieces at a time as your bowl of cinnamon sugar can comfortably hold. Once you've worked all the way through the process once or twice, you'll be a pro!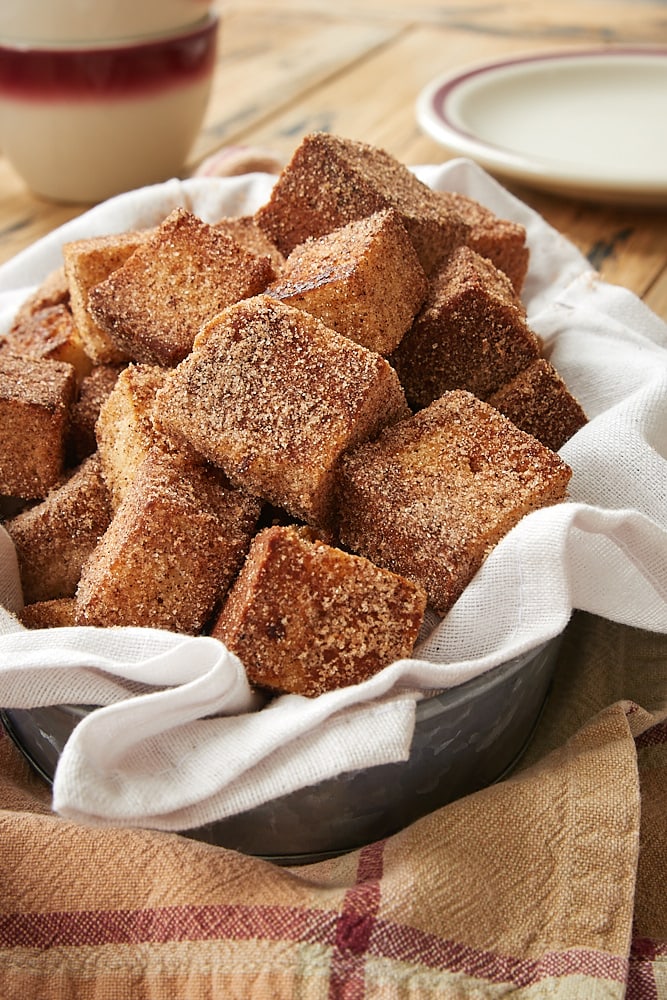 How to Store
After these cake bites have cooled, place them in an airtight container and store at room temperature. While they'll be at their best the day they're made, they'll keep for up to 3 days.
You can freeze these in an airtight, freezer-safe container, too. Again, they'll be best when they're freshly made, as the coating may not hold up well after being frozen.