These easy Biscoff Cupcakes are topped with a dollop of Biscoff that's swirled into the cake batter, creating a pretty marbled look and adding that signature spiced cookie flavor!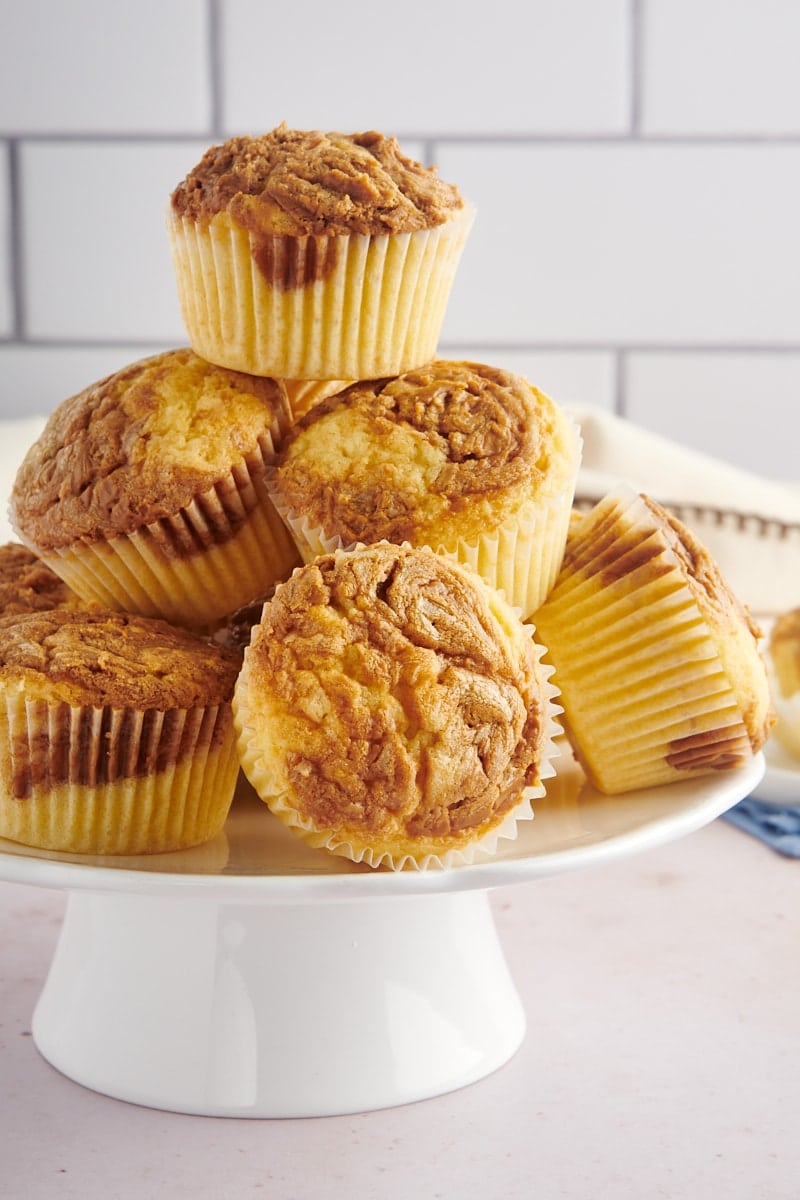 Cookie Butter Marbled Cupcakes
A few weeks ago, I bought a jar of Biscoff Spread with no real plans for it. For those of you unfamiliar with the product, it's a spread made from those Biscoff cookies eaten by anyone who has ever flown Delta. Their caramel-y, cinnamon-y flavor is a true winner, but I wasn't quite sure how to put the spread to use.
Then, I remembered this self-frosting Nutella Cupcake recipe from Baking Bites. Based on a recipe from the fabulous Donna Hay, these cupcakes are tender and quite tasty—and I realized I could accomplish the same self-frosting technique with Biscoff spread.
I dolloped the spread right on top of the cupcakes and used a knife to swirl it into the batter. The batter is a bit on the thick side, so swirling isn't the easiest thing to do. But, because of the thickness of the batter, the swirled Biscoff stays close to the top of the cupcakes and creates a nice, almost-frosting-like topping. So good.
(Looking for more Biscoff baking ideas? Try my Chocolate Oatmeal Biscoff Cookies, Biscoff Gooey Butter Cake, and Apple-Pear Biscoff Crisp!)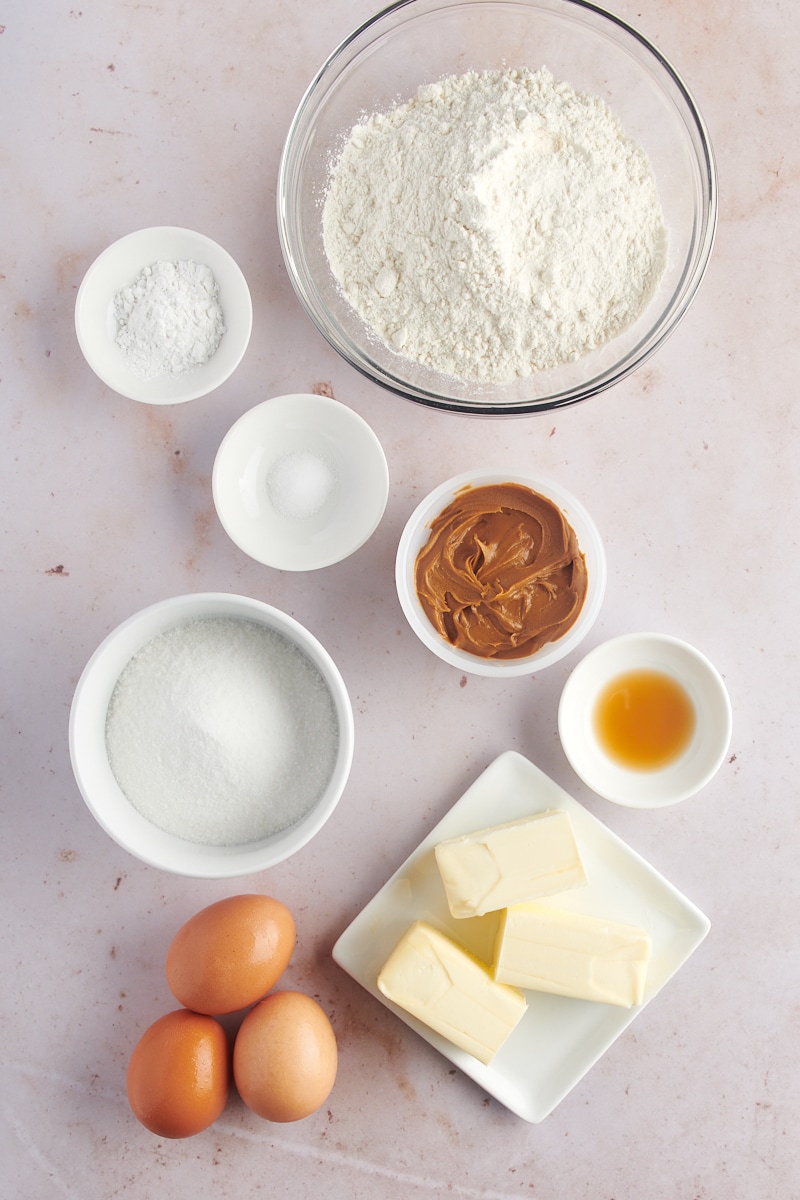 What You'll Need
Scroll down to the recipe card below this post for ingredient quantities and full instructions.
What Is Biscoff Spread Made Of?
Biscoff spread is literally made with Biscoff speculoos cookies, plus sugar, vegetable oil, and other ingredients to create a creamy, spreadable consistency. Although it's often sold alongside nut butters and Nutella, Biscoff spread is nut-free.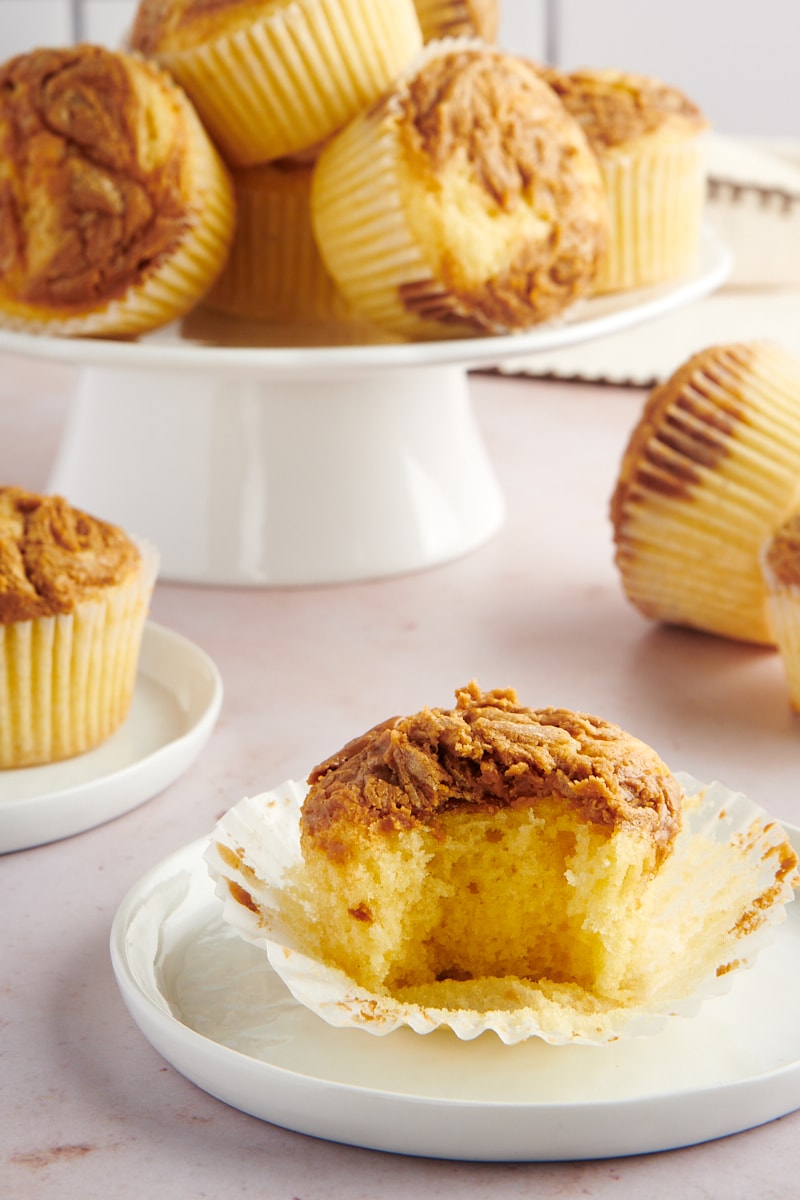 How to Make Biscoff Cupcakes
The wonderful thing about these Biscoff Cupcakes is that you don't need to wait for them to cool and then pipe frosting onto them, so they're ridiculously easy. Here's what you'll need to do.
Prepare. Preheat your oven to 325°F and line 12 muffin cups with cupcake liners.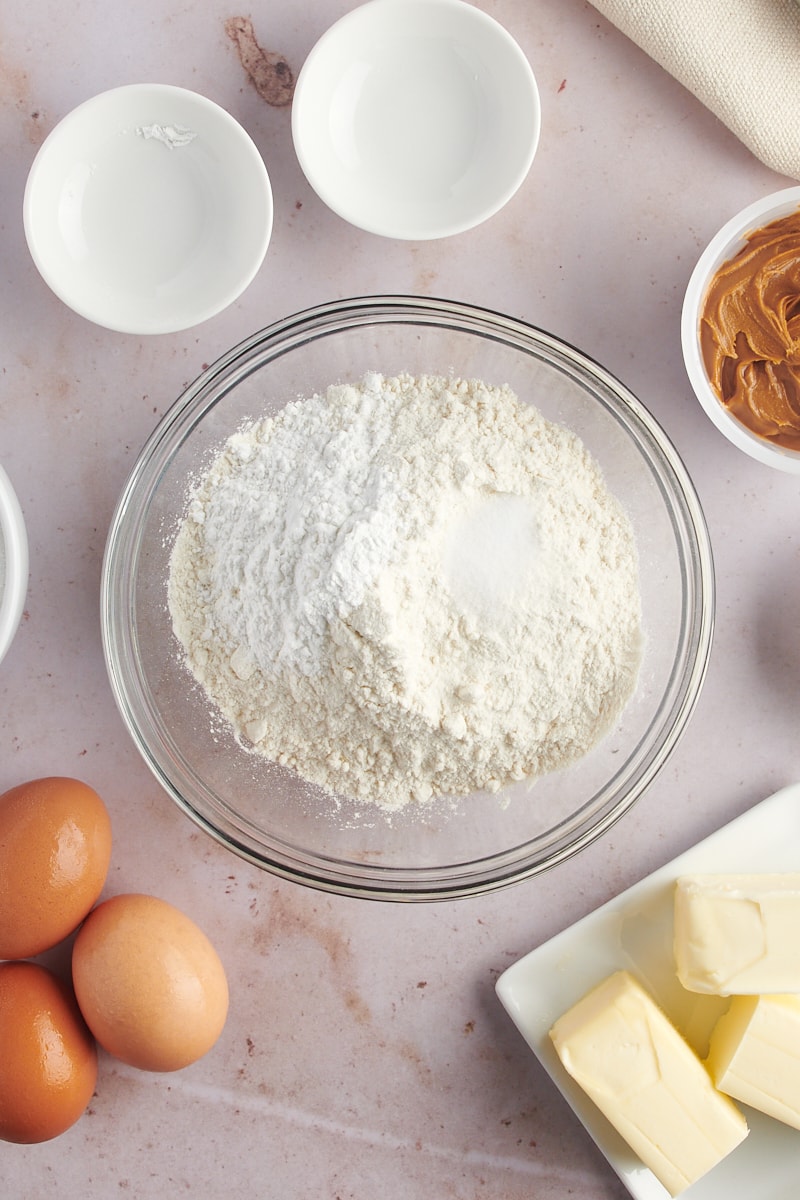 Mix the dry ingredients. Whisk the flour, baking powder, and salt in a medium bowl.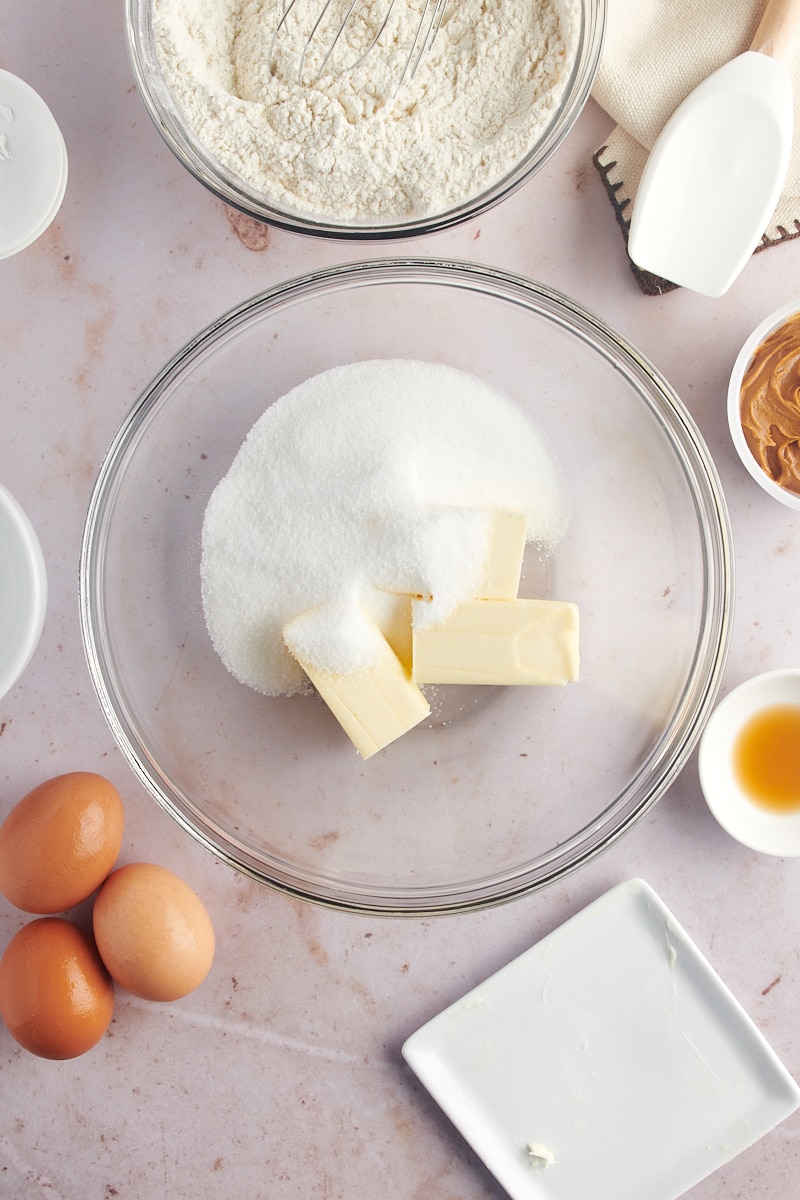 Mix the wet ingredients. Use an electric mixer on medium speed to cream the butter and sugar until they're light and fluffy. Beat in the eggs one at a time, followed by the vanilla.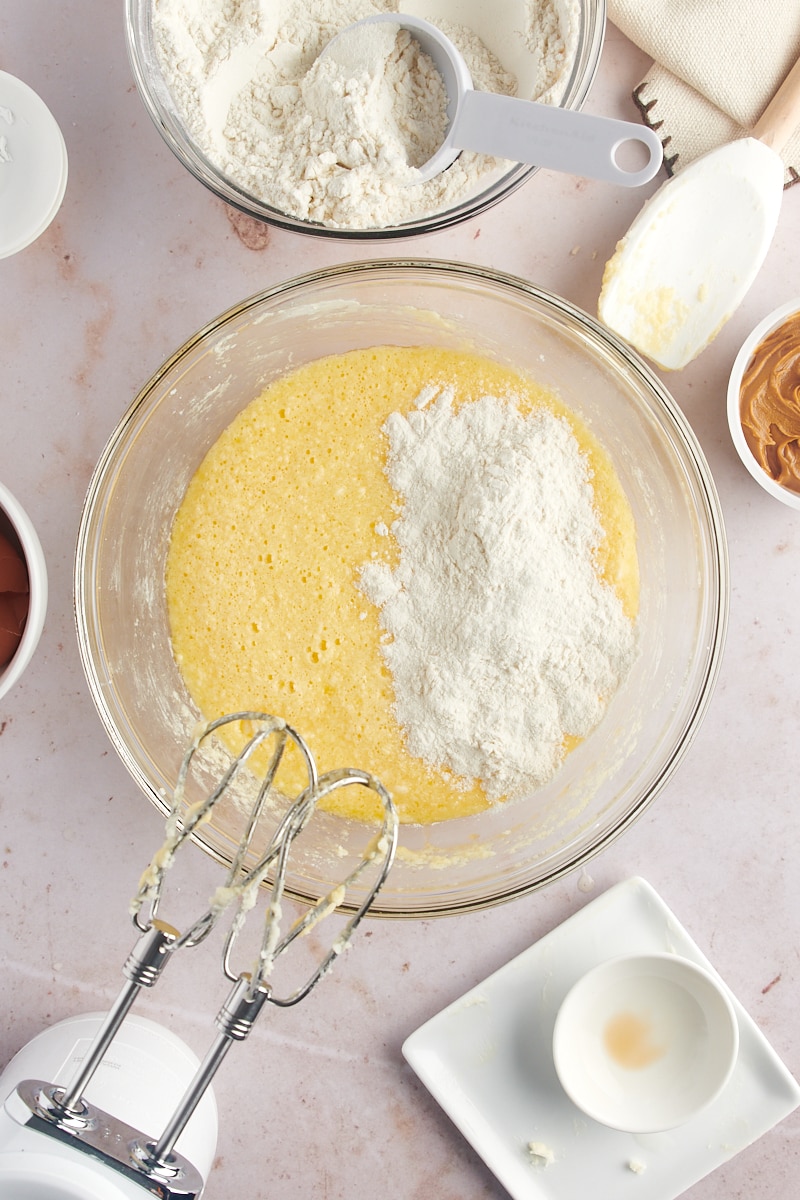 Combine the wet and dry ingredients. Slowly add the flour mixture to the bowl with the wet ingredients and mix just until combined.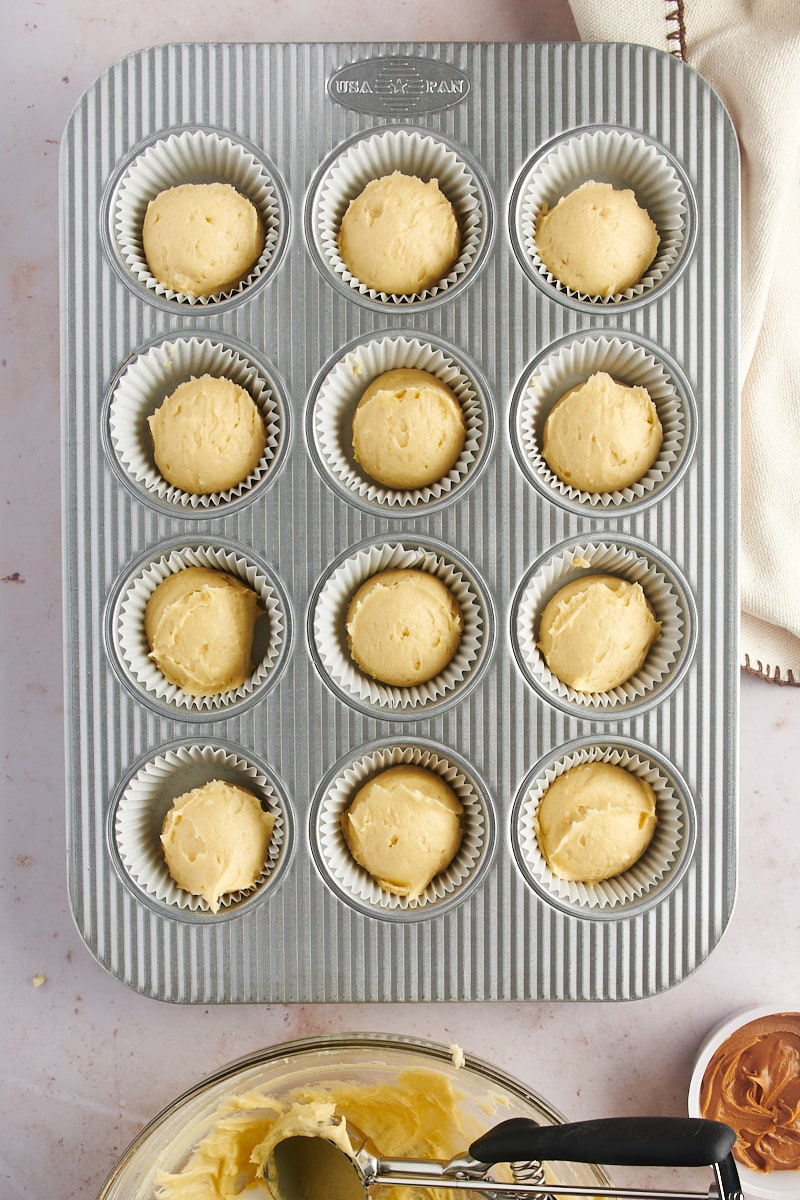 Fill the muffin pan. Add the batter to the lined muffin cups, filling each three-quarters of the way full. Dollop 1 1/2 teaspoons of cookie butter spread onto the batter and use a toothpick or small knife to create a swirl.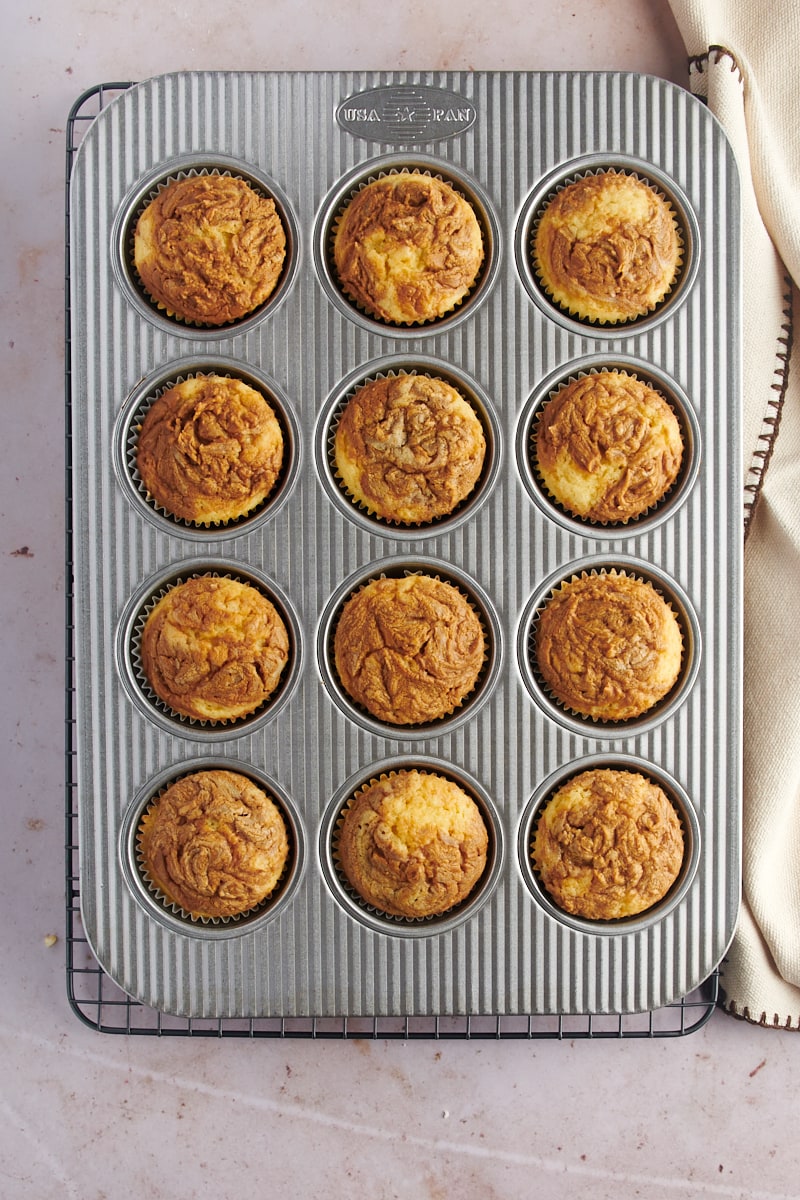 Bake. Place the muffin pan in the oven and bake for 18 to 20 minutes, or until a toothpick inserted into the center of a cupcake comes out clean. Cool completely in the pan on a wire rack. (Learn more: Why Every Baker Needs Wire Cooling Racks)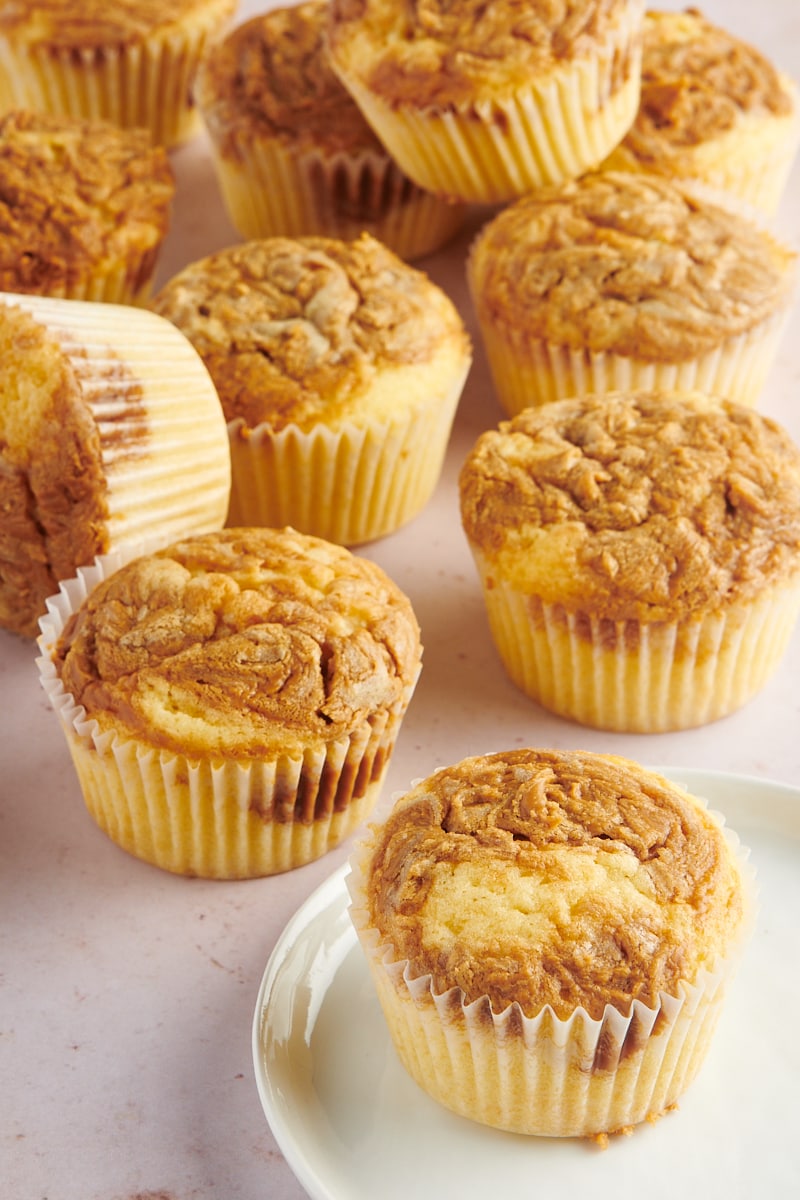 Should Cupcakes Be Flat or Domed?
These cupcakes will puff up very slightly in the middle, but they won't have a large dome like a bakery-style muffin might. This is by design—cupcakes are moister when they aren't domed and since this recipe has no frosting on top, you want the cakes to have a tender, moist crumb.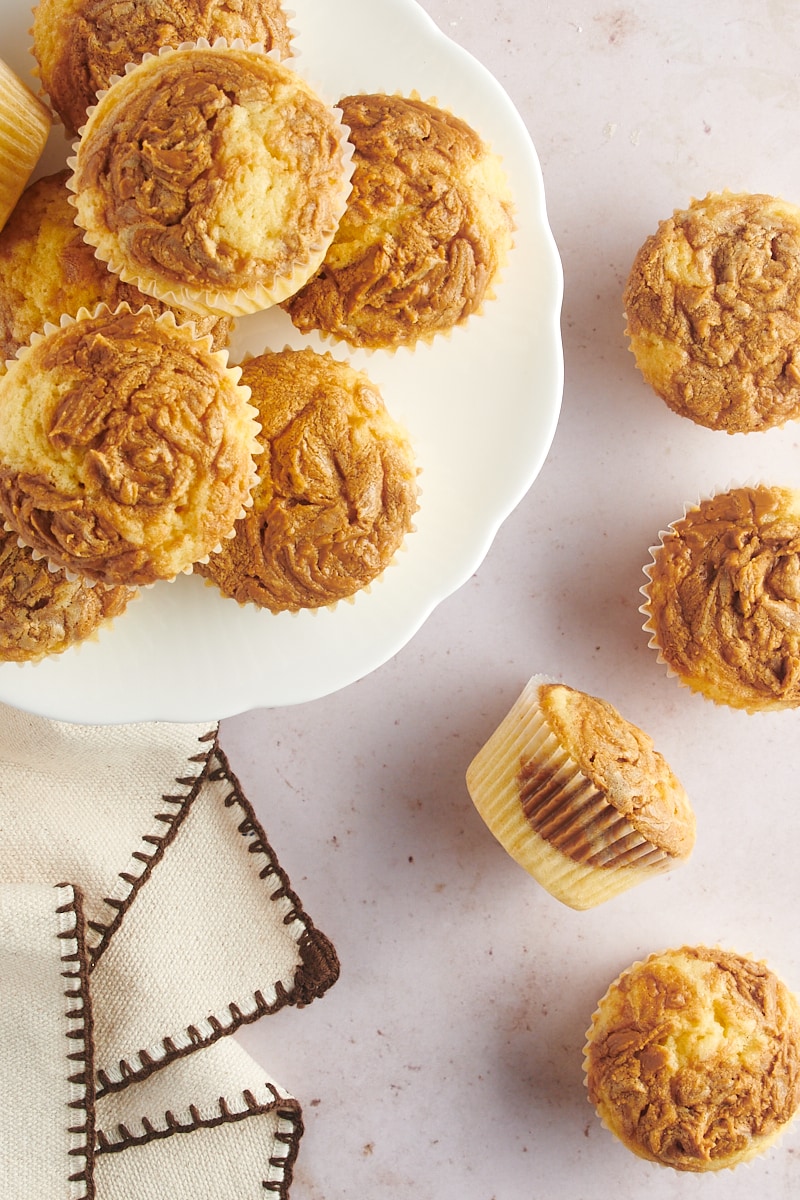 Tips for Success
Here are some tips to help you make sure your Biscoff cupcakes turn out perfect:
Measure the flour accurately. Don't scoop the flour into a measuring cup, as this will compact the flour and you'll end up using more than you need. Instead, lightly spoon the flour into the cup, then use a butter knife to sweep off the excess. Better yet, measure by weight.
Don't over-mix. An over-mixed batter will yield tough cupcakes. It's always better to have a streak of flour in the batter than to mix it too vigorously.
Don't over-swirl, either. You want to create a marbled effect on the top of the cupcake, not mix the Biscoff spread into the batter.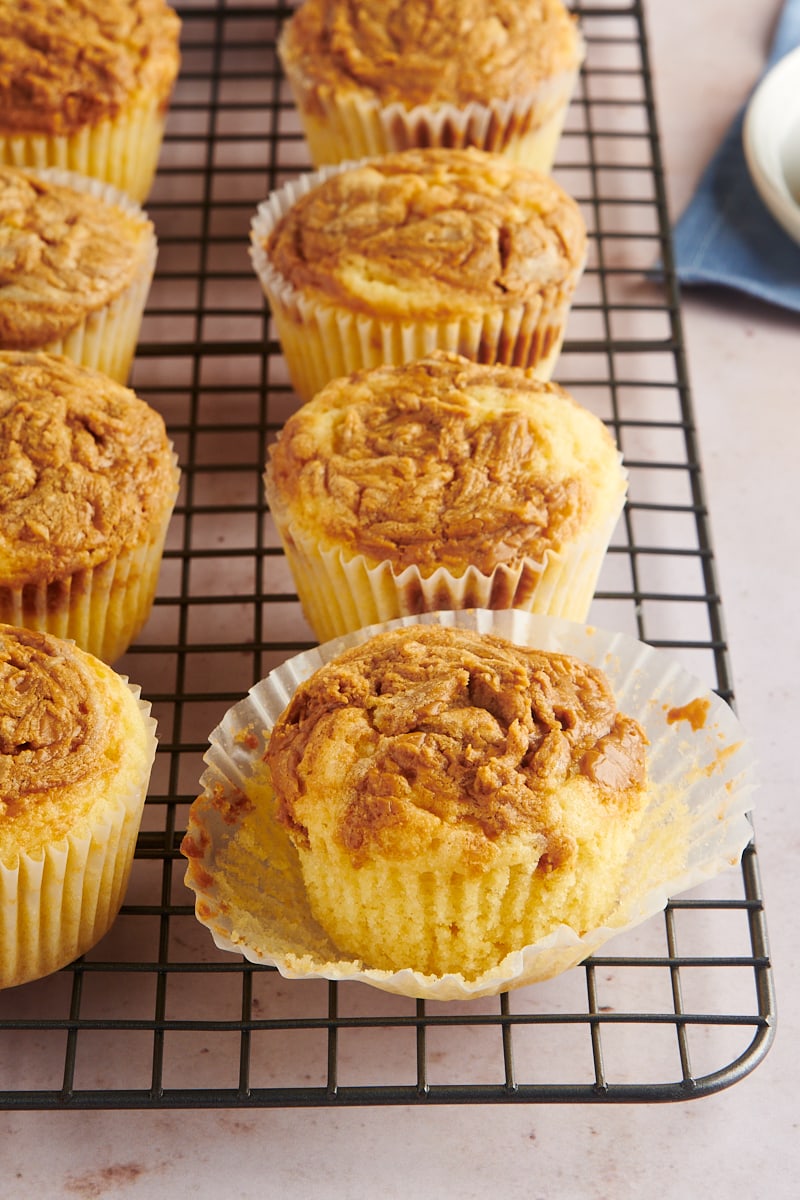 How to Store
Store these Biscoff cupcakes in an airtight container at room temperature for up to 3 days.
Can This Recipe Be Frozen?
You can freeze Biscoff cupcakes in a freezer bag or airtight container for up to 3 months. Let them thaw at room temperature before serving.