March 10, 2016
Almond Gâteau Breton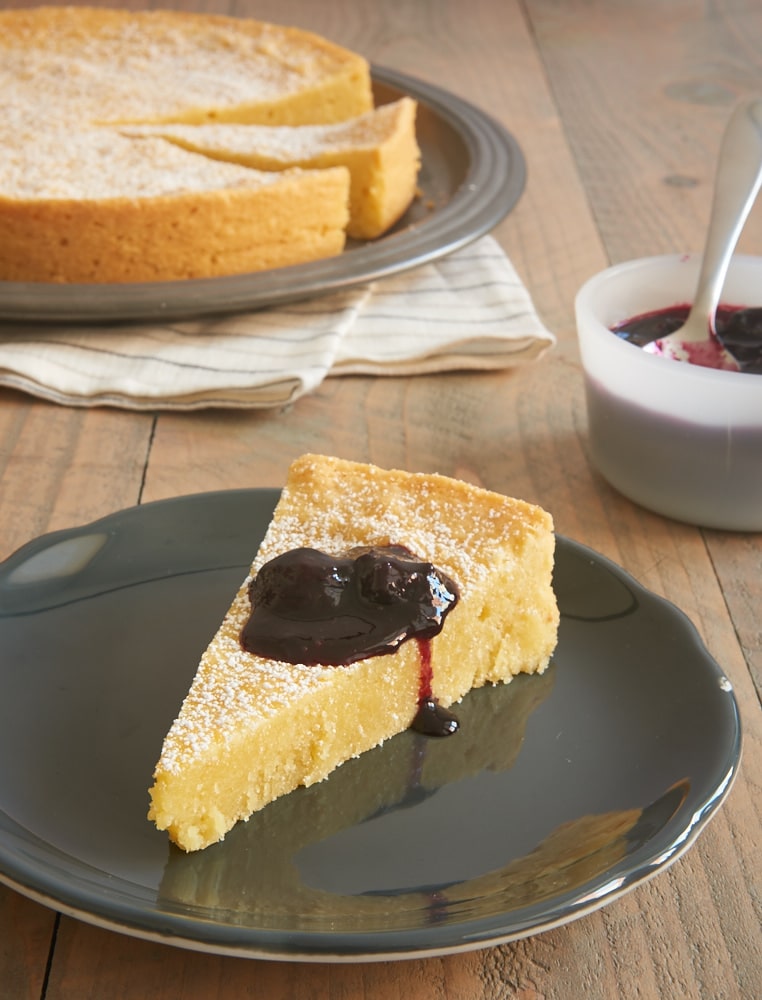 Let's start with a little French lesson. Granted, I was only taught French as a side project in an advanced English class when I was in 5th or 6th grade. Luckily, all we need to know is that this is simply Almond Cake from Brittany. But the French name sounds so much more impressive, doesn't it?
This cake is really, really simple to make. There is only a short list of ingredients, and those are things you're likely to have in your kitchen. It mixes quickly and easily, too. In fact, this little cake is so good and so easy that you may find yourself turning to it again and again when you need a simple dessert.

Once baked, the cake is still a simple thing, but in a good way. It's buttery and full of almond flavor. I've often read this type of cake described as a cross between pound cake and shortbread. I think that's appropriate, as the outside is a bit crisp like shortbread and the inside is dense like a pound cake.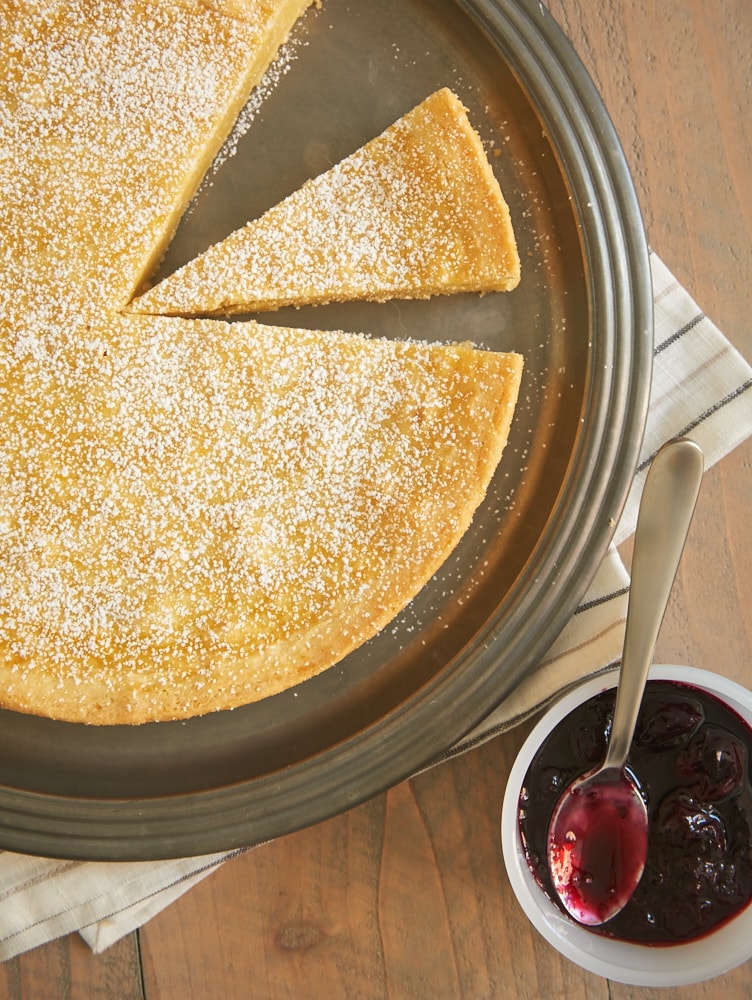 For serving the cake, simply dust it with a bit of confectioners' sugar. It's perfectly lovely just like that. I also like to serve it with a simple fruit sauce, like the blueberry compote in these photos. You could also take a shortcut route with lemon curd, fresh berries and whipped cream, or even just some warmed fruit preserves.
This cake recipe comes from one of my new discoveries, Bake from Scratch. As I'm all about baking from scratch, how could I not love a publication dedicated to that? The publisher was kind enough to send me a copy of their most recent issue, and you can get a copy as well by entering the giveaway below. Three entrants will be randomly chosen to receive one of these big, beautiful magazines! Scroll past the recipe to enter.
Almond Gâteau Breton
Yield: 8 to 10 servings
Prep Time: 25 minutes
Cook Time: 30 minutes
This simple, buttery cake is wonderfully delicious and versatile. A great dessert for most any occasion!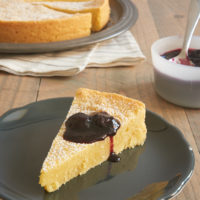 Ingredients:
For the cake:
1 & 1/4 cups granulated sugar
1/2 cup whole blanched almonds, toasted
6 large egg yolks
1 cup unsalted butter, melted
2 cups all-purpose flour, sifted
1 large egg
2 teaspoons water
confectioners' sugar, for garnish
For the blueberry compote:
1 & 1/2 cups blueberries
2 tablespoons water
3 tablespoons granulated sugar
1 & 1/2 teaspoons lemon juice
Directions:
To make the cake:
Preheat oven to 325°F. Grease and flour (or use a baking spray with flour) a 9-inch round cake pan.
Place the sugar and almonds in the bowl of a food processor. Process until finely ground (about 2 minutes).
Using an electric mixer on medium-high speed, beat the egg yolks and sugar mixture until thickened and light yellow (3 to 4 minutes). Gradually add the melted butter, and mix until combined.
Add the flour and stir just until combined. The batter will be thick.
Transfer the batter to the prepared pan and spread evenly.
Whisk together the egg and water to make an egg wash. Brush the egg mixture over the cake. (You won't use all of the egg wash.)
If you like, use a sharp knife to mark a deep circular pattern on top of the cake.
Bake 30 minutes, or until the cake is golden brown and a pick inserted into the center comes out clean.
Cool the cake in the pan for 30 minutes. Dust with confectioners' sugar before serving.
To make the blueberry compote:
Place about 2/3 of the blueberries, the water, sugar, and lemon juice in a heavy saucepan. Cook over medium heat for 10 minutes, stirring frequently.
Add the remaining blueberries, and cook for 8 more minutes, stirring frequently.
Spoon the compote over slices of the cake when serving.
UPDATE: Contest has closed. Congratulations to the winner!
Hoffman Media provided me with a copy of their magazine as well as the giveaway copies.