December 22, 2014
Spiced Oat Scones with Brown Butter Glaze
One of my favorite things to do on Christmas morning is make a breakfast treat for us to enjoy. Granted, I sometimes wimp out after an evening of Christmas Eve festivities, but there's really no excuse when there are simple scones to be made!
Besides the amazing taste, the beauty of these scones is really their simplicity. At first glance, the ingredient list may look a bit long, but don't fret. There are a lot of spices going on here. They really mix up so quickly! Then, just give them a quick pat, shape them a bit, and put them in the oven for a short time.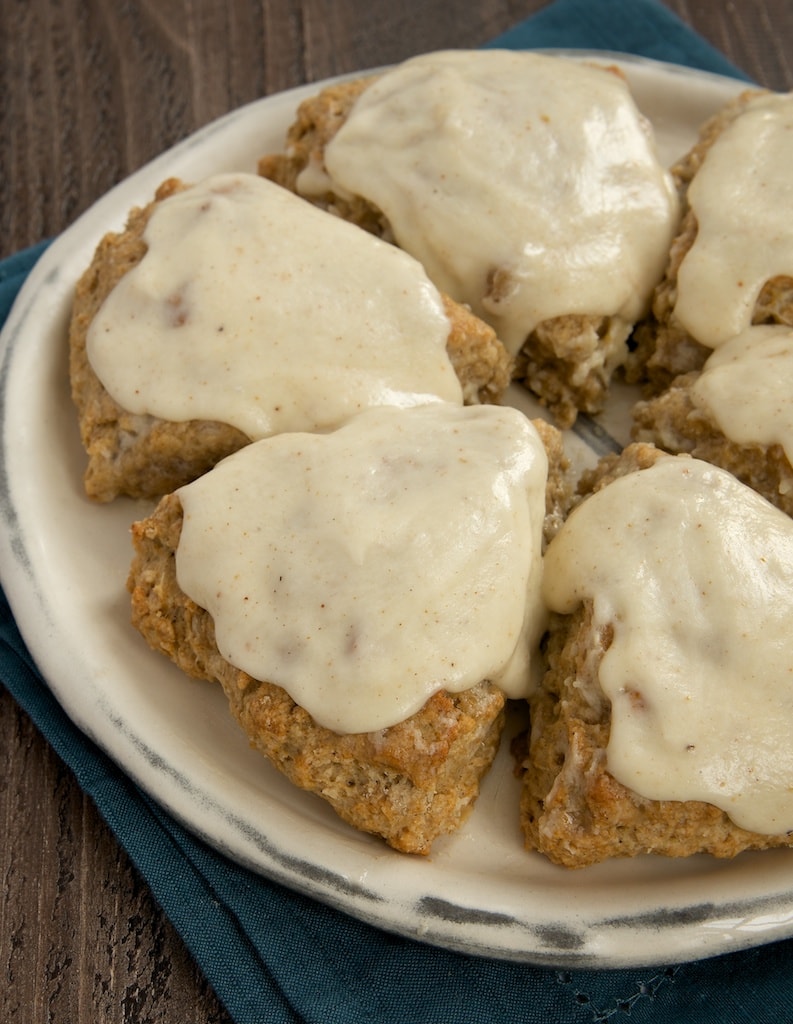 You could absolutely stop there and enjoy some perfectly lovely scones. They are lightly sweet and have a nice chewiness form the oats. But I highly recommend that brown butter glaze. It really bumps up the flavor and turns them into something extra special.
These beauties are a perfect quick treat for a special breakfast or brunch. Or save them for a little later in the day to enjoy with your coffee or tea.
Spiced Oat Scones with Brown Butter Glaze
Yield: 6 scones
Prep Time:20 minutes
Cook Time:25 minutes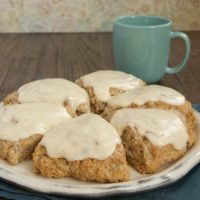 Ingredients:
For the scones:
1 & 3/4 cups all-purpose flour
1/2 cup old-fashioned oats
3 tablespoons packed light brown sugar
1 teaspoon baking powder
1/2 teaspoon baking soda
1/2 teaspoon ground cinnamon
1/4 teaspoon ground allspice
1/4 teaspoon ground nutmeg
1/4 teaspoon salt
1/8 teaspoon ground cloves
1/2 cup unsalted butter, cold and cut into 1/2-inch cubes
1/2 cup buttermilk
1/2 teaspoon vanilla extract
For the glaze:
1/3 cup unsalted butter
1 & 1/4 cups confectioners' sugar, sifted
2 to 3 tablespoons milk
1/4 teaspoon vanilla extract
Directions:
To make the scones:
Preheat oven to 400°. Line a baking sheet with parchment paper.
Stir together flour, oats, brown sugar, baking powder, baking soda, cinnamon, allspice, nutmeg, salt, and cloves.
Add butter and use a pastry blender or a fork to mix until the largest pieces of butter are about the size of small peas.
Add buttermilk and vanilla, and stir just until combined.
Gather dough into a ball and transfer to parchment-lined pan. Gently pat the dough into a disk about 7 inches in diameter. Cut into 6 wedges and separate each wedge so that there is about half an inch between wedges.
Bake 15 to 20 minutes, or until golden brown. Cool in pan on a wire rack.
To make the glaze:
Place the butter in a medium saucepan. Cook over medium heat until butter melts and begins to foam.
Continue cooking, stirring occasionally, until brown specks begin to form at the bottom of the pan and the butter has a nutty aroma. Remove pan from heat and transfer butter to a small mixing bowl. If desired, strain the butter to remove the browned bits. Allow to cool to room temperature.
Add confectioners' sugar and mix until smooth. Add 2 tablespoons of milk and the vanilla. Mix until thoroughly combined and smooth. If needed, add more milk, a teaspoon at a time, until glaze is desired consistency.
Spread glaze over cooled scones.
This recipe was originally developed for Clabber Girl, where I am a paid contributor.