Cheesecake dip will be the hit of your next party! Creamy, sweet, and tangy, it has all of the flavor of cheesecake, with none of the effort.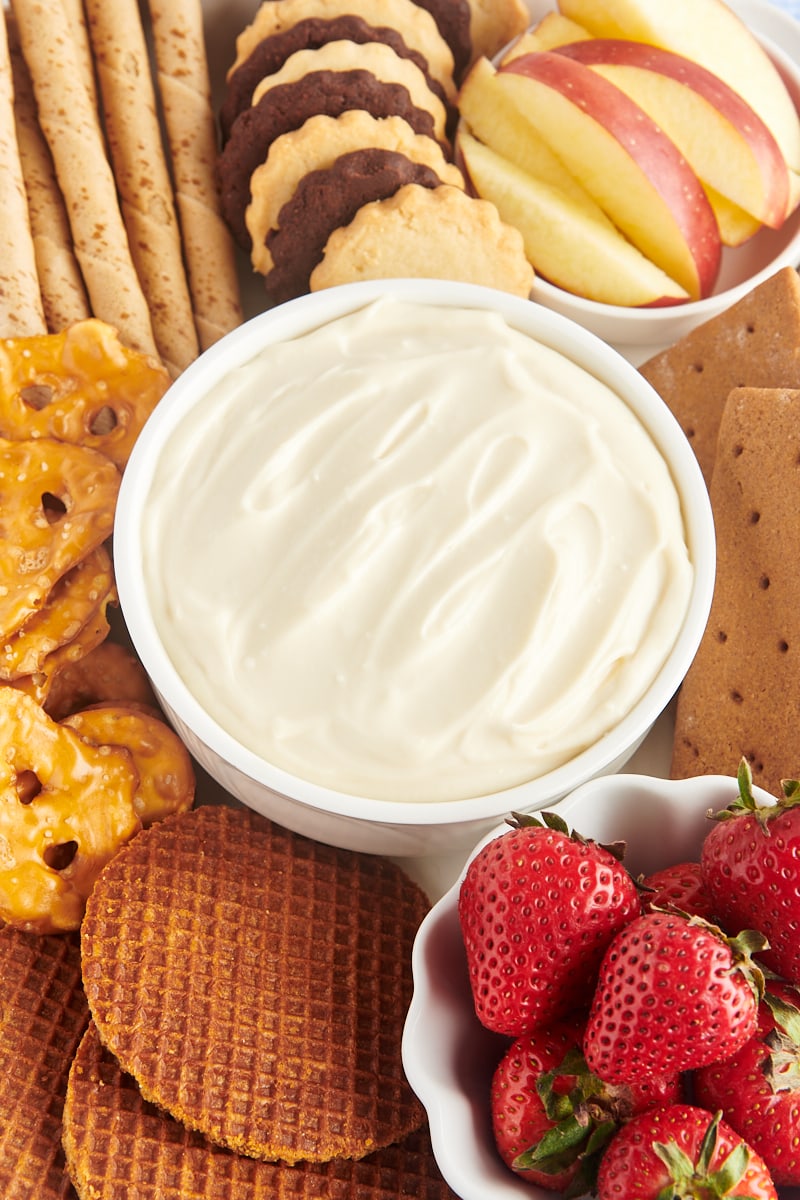 Creamy Cheesecake Dip
Cheesecake dip is a creamy, indulgent dessert that's easy to make and a great way to enjoy all the flavors of cheesecake without having to bake an entire cake. That means no worry about water baths, cracking, or long baking and chilling times!
This no-bake cheesecake dip recipe is made with cream cheese, sour cream, powdered sugar, vanilla extract, and a few other ingredients—basically, most of the ingredients of a classic cheesecake, minus the eggs.
The resulting dip is smooth, creamy, and rich—a little bit like cream cheese frosting, but leaning more towards tart and tangy. Serve it with graham crackers, cookies, or fruit for an easy dessert or party snack.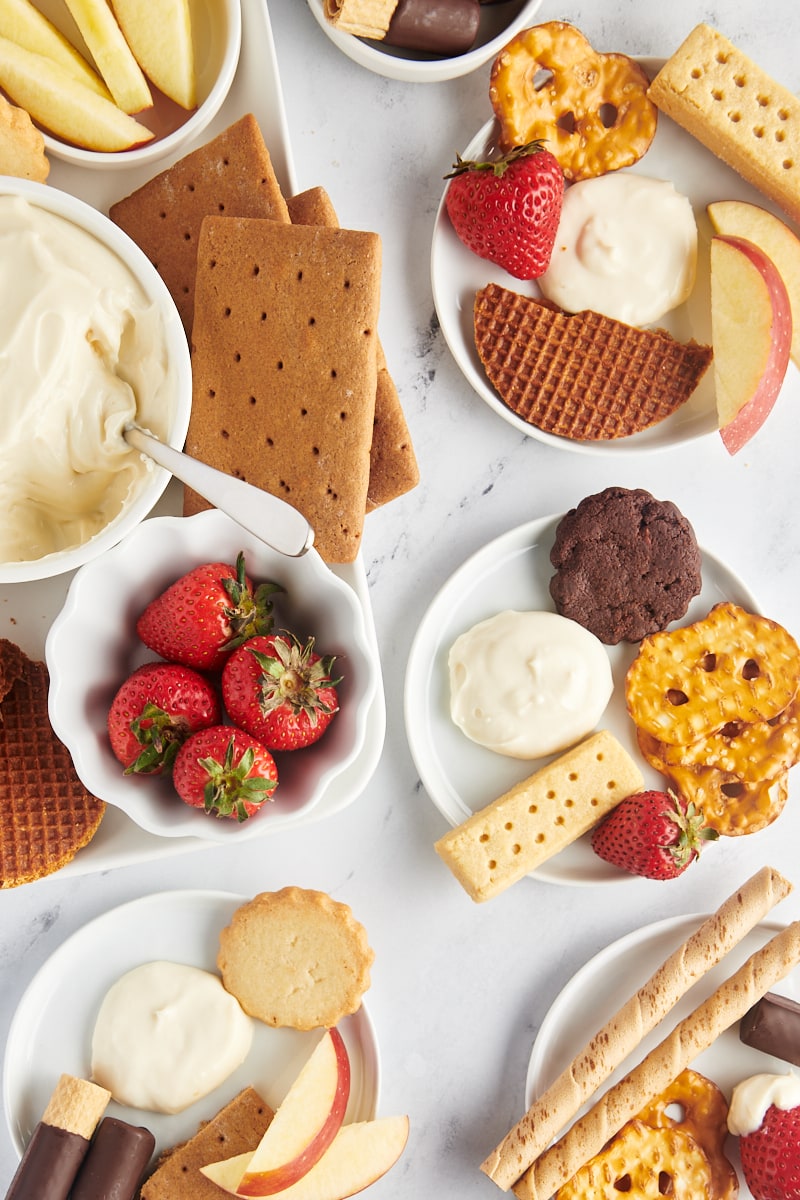 Why You'll Love This Cheesecake Dip
Here's why this cheesecake dip is always a hit.
Easy. Cheesecake dip comes together quickly, with just a few simple ingredients. It's an effortless no-bake recipe that makes party prep a breeze.
Delicious. A classic combination of tangy, sweet, and creamy, cheesecake dip is impossible to resist.
Customizable. Use this recipe as a base for your favorite add-ins and toppings. You really can't go wrong!
Impressive. It might only take minutes to make, but serve it on a wooden board with artfully arranged fruit and dippers and you're sure to get oohs and ahhs from your guests.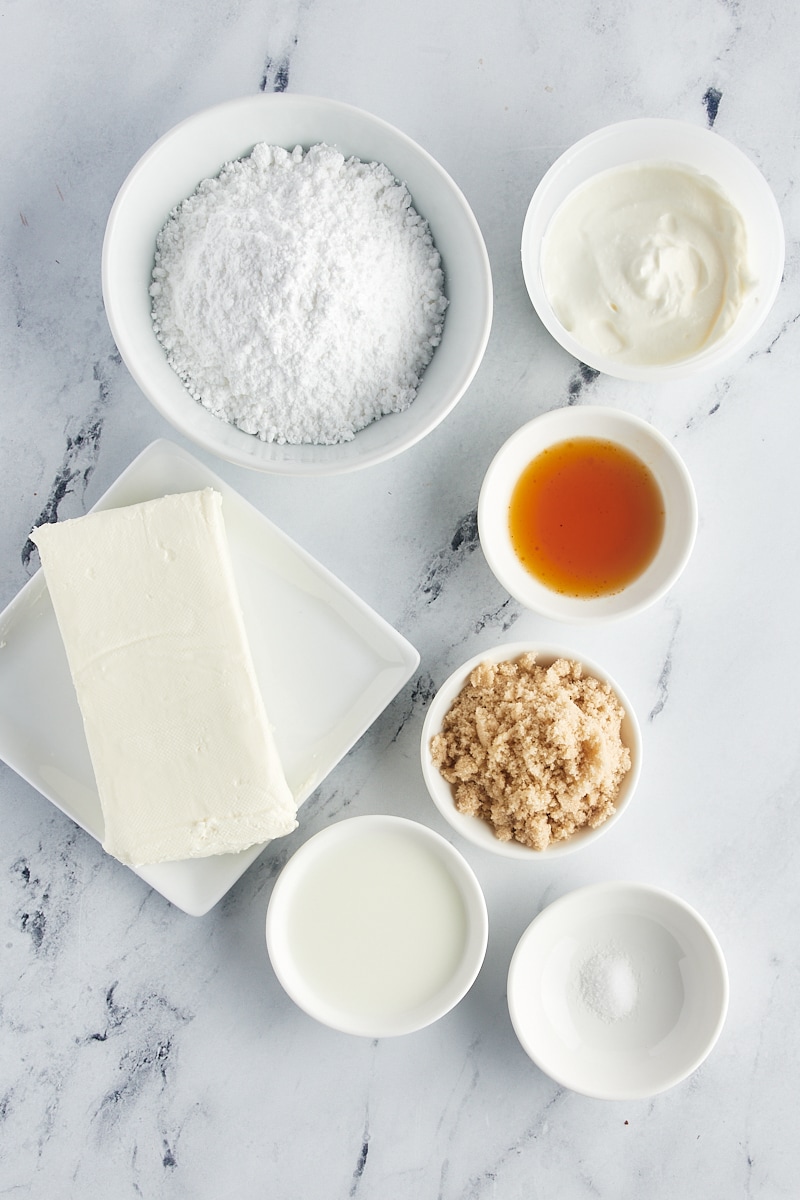 What You'll Need
Scroll down to the recipe card to find the ingredient quantities and recipe instructions.
Cream cheese – Let this come to room temperature so it's easy to mix with the rest of the ingredients.
Sour cream – This amps up the tanginess of the dip, making it truly taste like cheesecake.
Milk – Any kind you have on hand.
Vanilla extract – Use store-bought or homemade vanilla extract.
Confectioners' sugar – Also known as powdered sugar.
Brown sugar – This adds a note of caramel for some depth—and a flavor reminiscent of graham cracker crust.
Salt – Just a pinch to balance the flavors
How to Make Cheesecake Dip
This might just be the easiest dessert you'll ever make! Here's how it's done.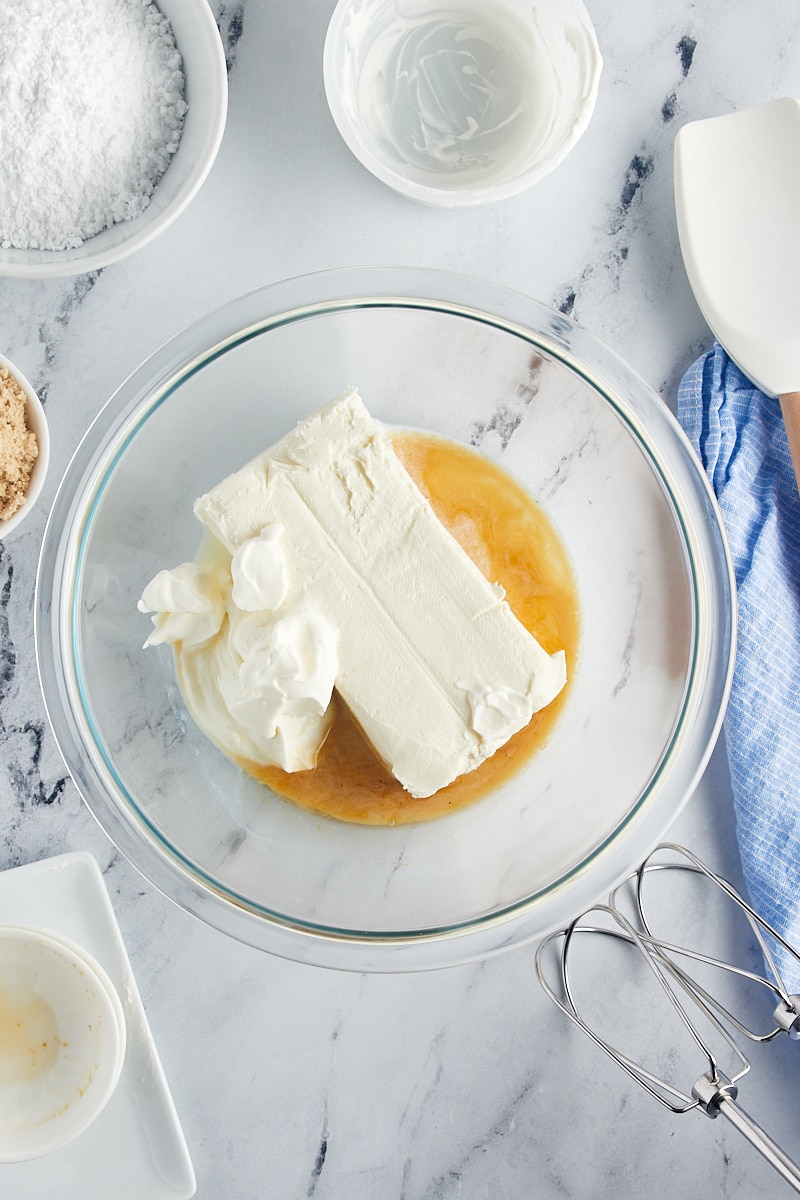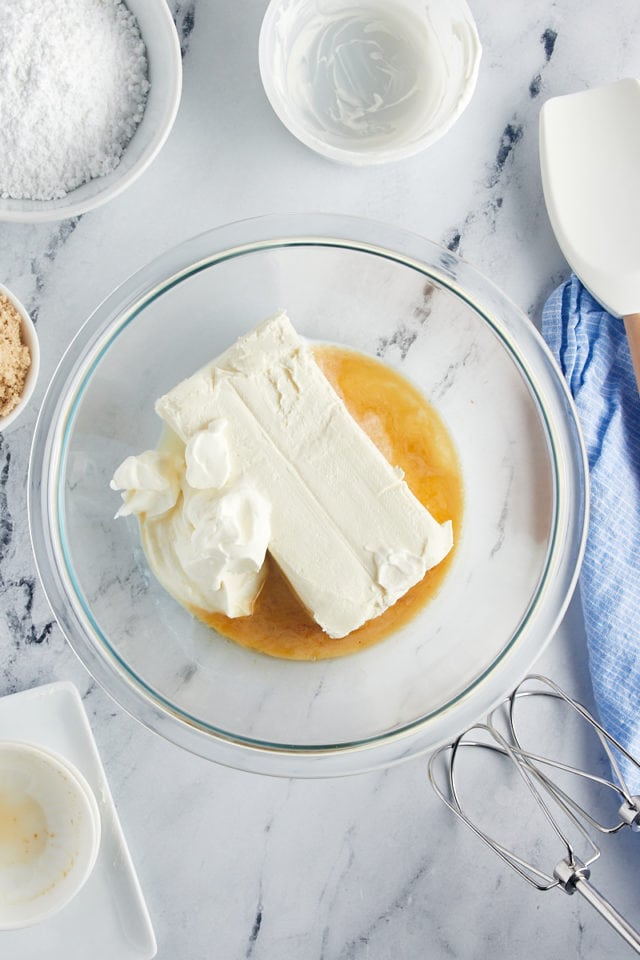 Beat the wet ingredients. Use an electric mixer on medium speed to beat the cream cheese, sour cream, milk, and vanilla until they're thoroughly combined.
Add the dry ingredients. Mix in the confectioners' sugar, brown sugar, and salt until the dip is smooth.
Chill. Refrigerate your cheesecake dip at least 1 hour before serving.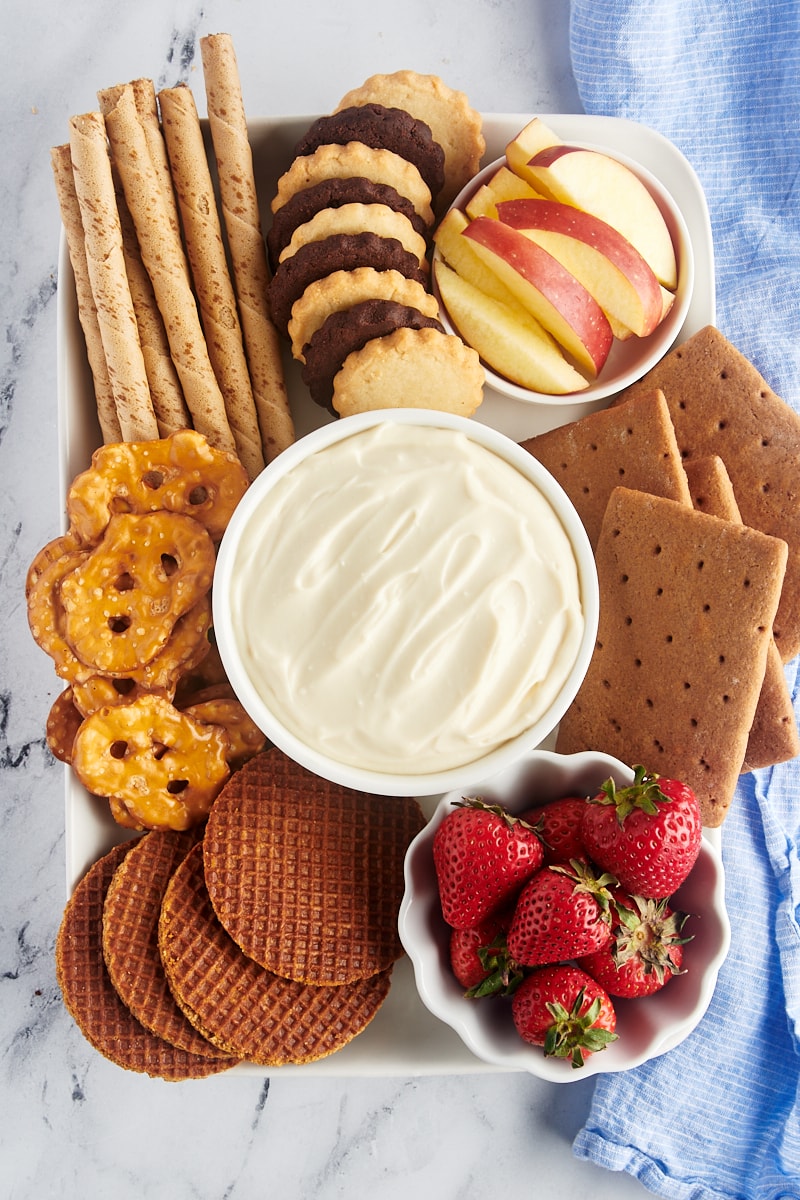 Tips for Success
These tips will help you make sure your cheesecake dip turns out perfect.
Make sure the cream cheese is at room temperature. If it's cold, it won't blend smoothly into the dip, leaving you with little lumps of unblended cheese.
Sift the sugar. Another potential source of lumps is the confectioners' sugar. Sift it before adding it to the dip.
Make it your own. Stir in mini chocolate chips or lemon zest, add cherry pie filling on top of the dip, or sprinkle graham cracker crumbs over the top before serving. There are so many ways to put your own spin on this cheesecake dip!
Serving Suggestions
Cheesecake dip pairs perfectly with graham crackers, pretzels, wafer cookies, strawberries, and other fresh fruits. I like to make a dessert "charcuterie" board with a bowl of this dip and arrange some favorite dippers around it.
In addition to dipping, you can use this cheesecake dip as a filling for crepes, a topping for pancakes, or even a spread for toast.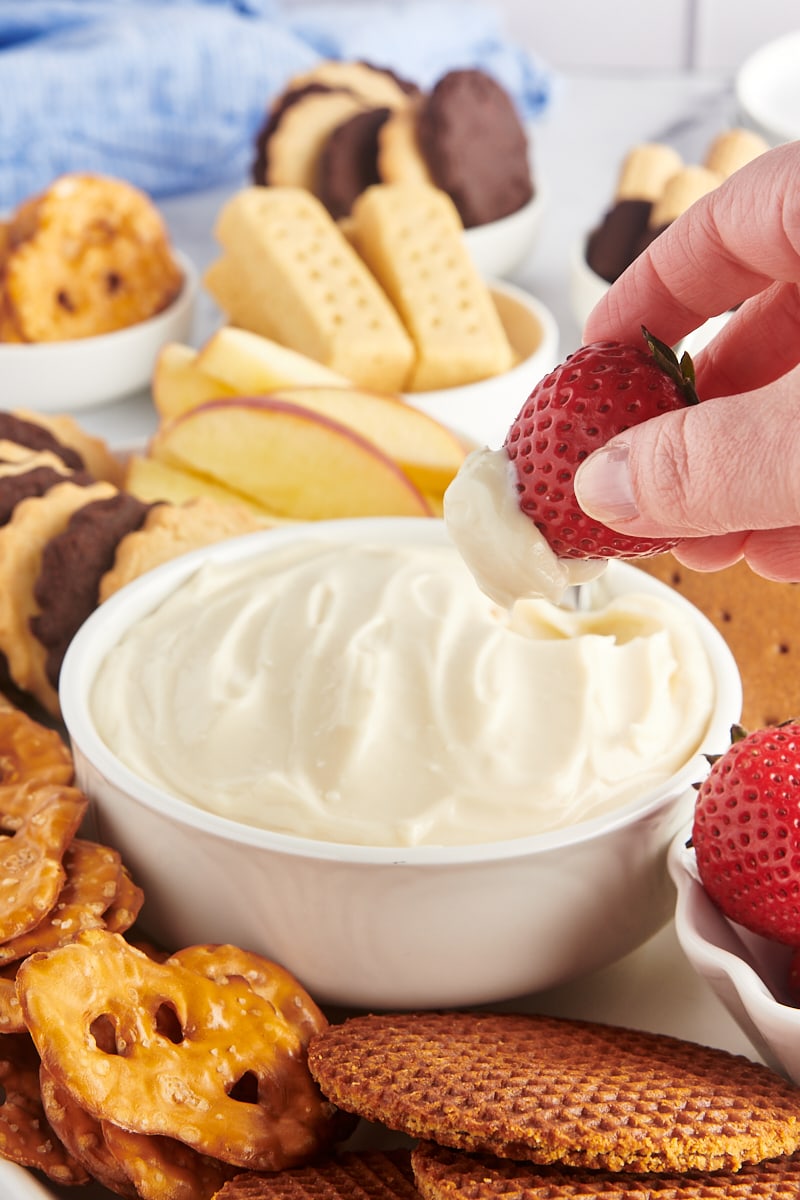 How to Store
Cheesecake dip can be stored in an airtight container in the refrigerator for up to 4 days.
Can This Recipe Be Frozen?
Yes, cheesecake dip can be frozen. Transfer it to an airtight container and freeze for up to 3 months. Thaw overnight in the refrigerator before serving.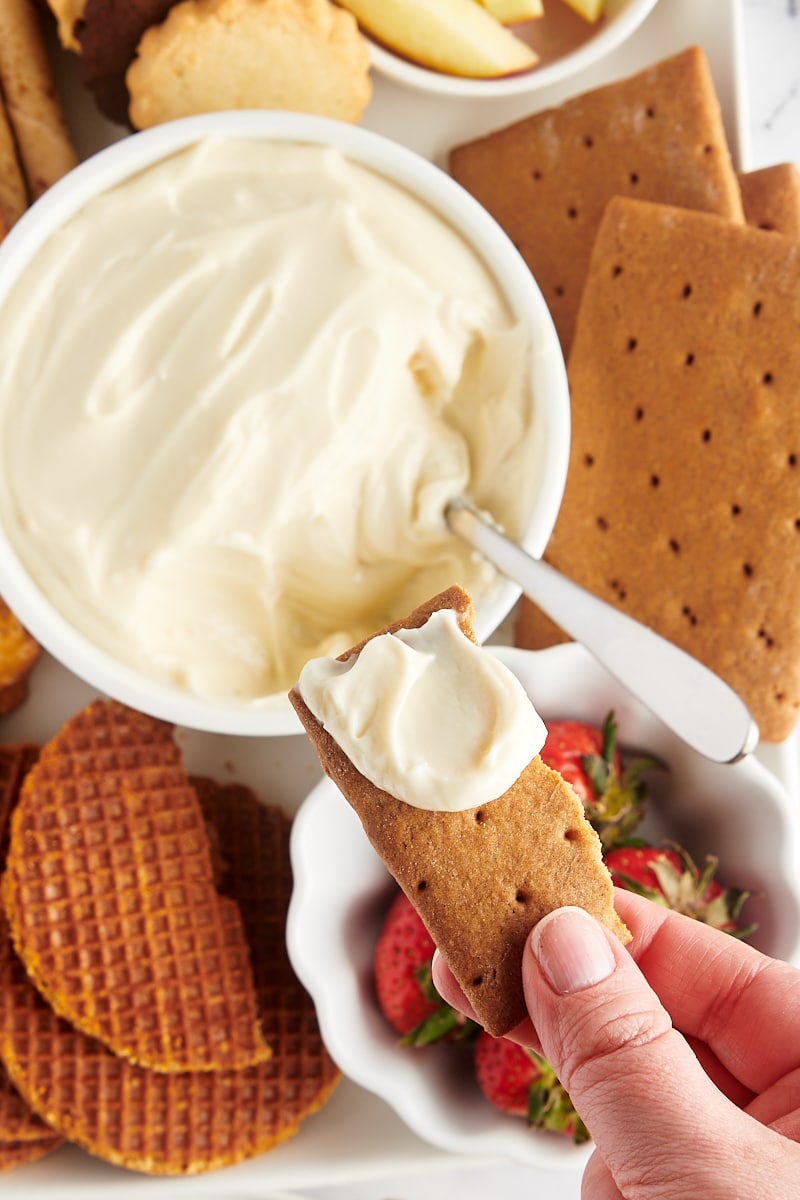 More Recipes for Cheesecake Lovers