Who doesn't want dessert with less fuss? These single layer cake recipes are designed to make cake baking simpler while still giving you irresistible results.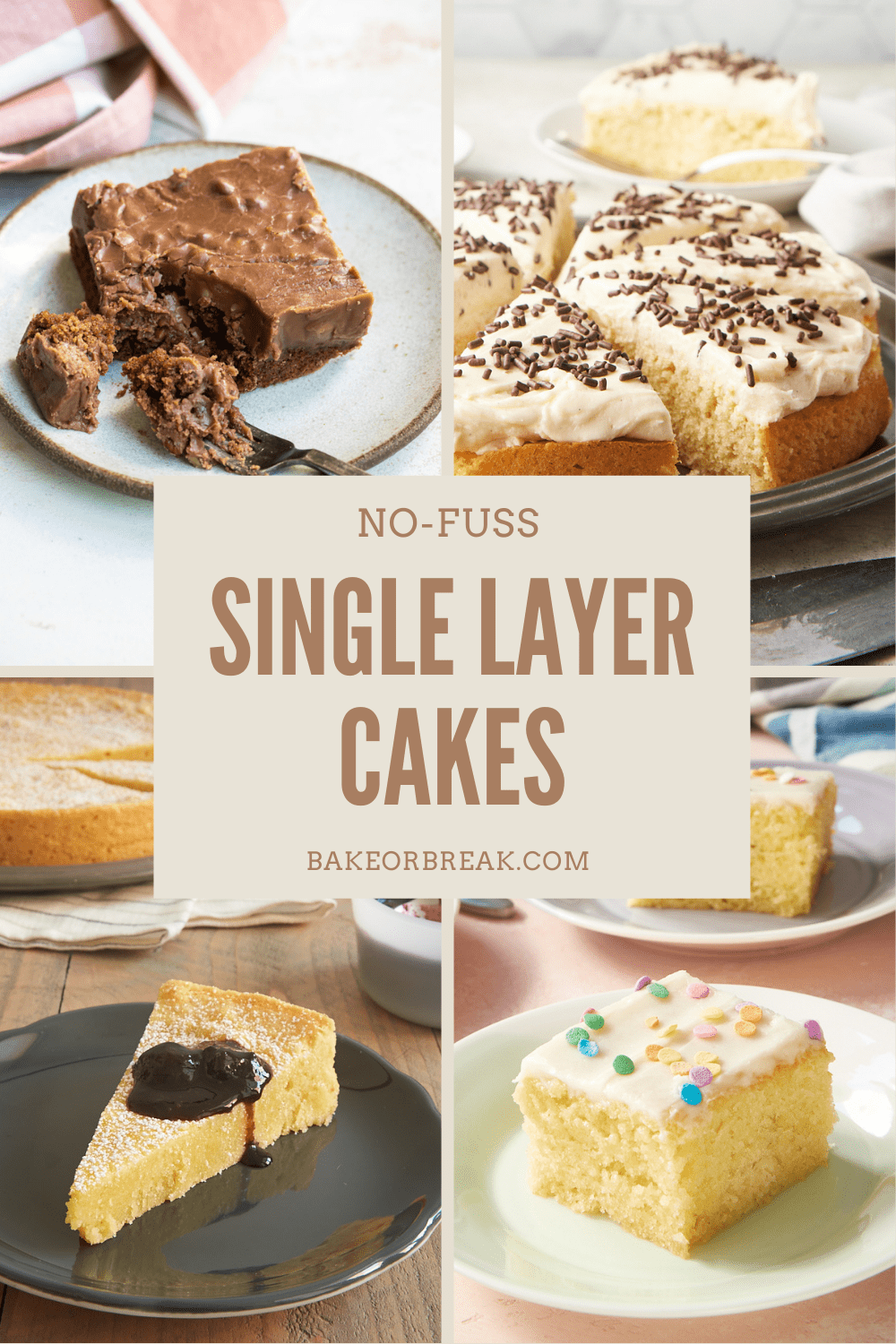 Easy One Layer Cake Recipes
As much as I love the beauty of prettily decorated multi-layer cakes, the truth of the matter is that they're just not my favorite thing to bake. Sure, I'll make one from time to time, but I'm far more likely to whip up a simple single layer cake.
Just because there aren't multiple layers with fillings and frostings doesn't mean these aren't beauties in their own right. These cakes are great choices for those times when you want a fabulous cake without the fuss. If you crave a little simplicity in your cake baking, too, then this collection of one-layer cakes is for you!
If you aren't already there, I hope these recipes will make you believer that single layer cakes can be just as beautiful and appealing as their multi-layer counterparts. And if you're craving more, be sure to see all of BoB's one-layer cakes in the Recipe Index.
Tips for Making Single Layer Cakes
Luckily, one of the great things about single layer cakes is that you don't need advanced baking skills to create them. Each recipe has its specific tips, but there are some general things to keep in mind to help make sure yours turn out perfectly.
Measure accurately. This is always important in baking, and I don't usually miss an opportunity to remind you to take care with your measurements. If you have a digital kitchen scale, use it for the best results.
Use the right pan. Unless stated otherwise, a light-colored metal pan is pretty much always your best option. For cakes, I usually avoid pans with sloped sides in favor of ones with straight sides.
Spread the batter evenly. Take an extra minute or two to make sure your batter is spread evenly so that your cake won't be lopsided. It will look better, obviously, but it will also help it bake more evenly.
Make clean slices. For most cakes, you'll get the best looking slices by using a sharp knife to make smooth, confident cuts with no sawing motion. Wipe off the knife between slices.
More Recipe Collections You'll Love