Brownie cupcakes are rich, fudgy, and oh-so-easy to make! No cutting or slicing with these—just grab a brownie and enjoy!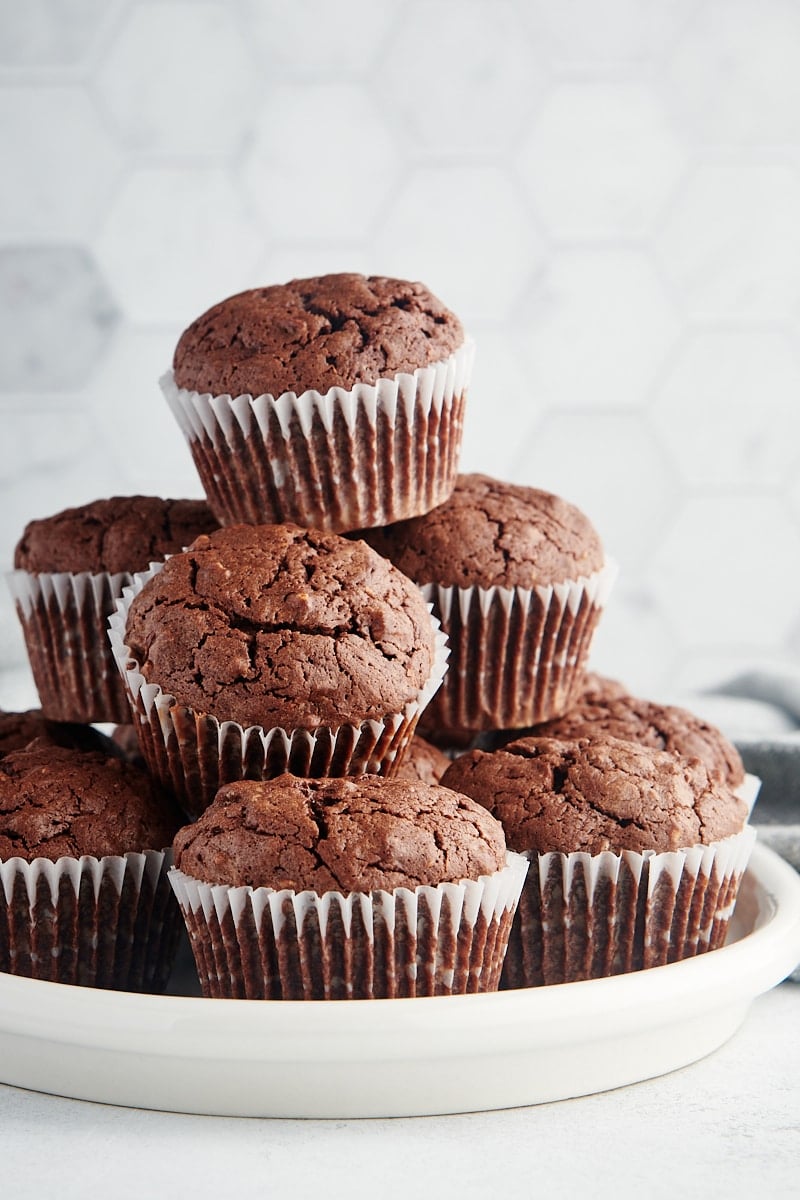 Decadent Homemade Muffin Brownies
As much as I love traditional fudgy brownies, I am always trying to come up with some twist on the classic.
This brownie cupcake recipe doesn't fit neatly into any one category. Sure, they're brownies. But they have a lovely cake-like texture. And they're baked in a muffin pan. Perhaps we should call them bruffins? Or… maybe sticking with brownie cupcakes is for the best.
These brownies are pretty great as-is, but for a little something extra, you can add a surprise inside. Once you fill the muffin cups about halfway, just drop in a few milk chocolate or white chocolate chips before adding the rest of the batter. Or how about peanut butter chips or butterscotch chips? Feel free to get creative!
If you're looking for a quick-and-easy, one-bowl, sure-to-please dessert, you've found it with these brownie cupcakes!
Why You'll Love These Brownie Cupcakes
Here are just a few of the things that make these brownies a favorite:
Easy. With a short list of ingredients you probably already have in your kitchen, you can have these brownies mixed and baking in short order! No frosting, no special techniques, and no fuss!
Portable. Whether you're taking these brownie cupcakes to a party or just want to have a sweet treat at home, the size and shape of these make them easy to grab and enjoy. There's no slicing and serving, thanks to your trusty muffin pan.
Flavorful. Chocolate lovers will love the wonderful flavor. Plus, you can add even more flavor with the chocolate chips inside!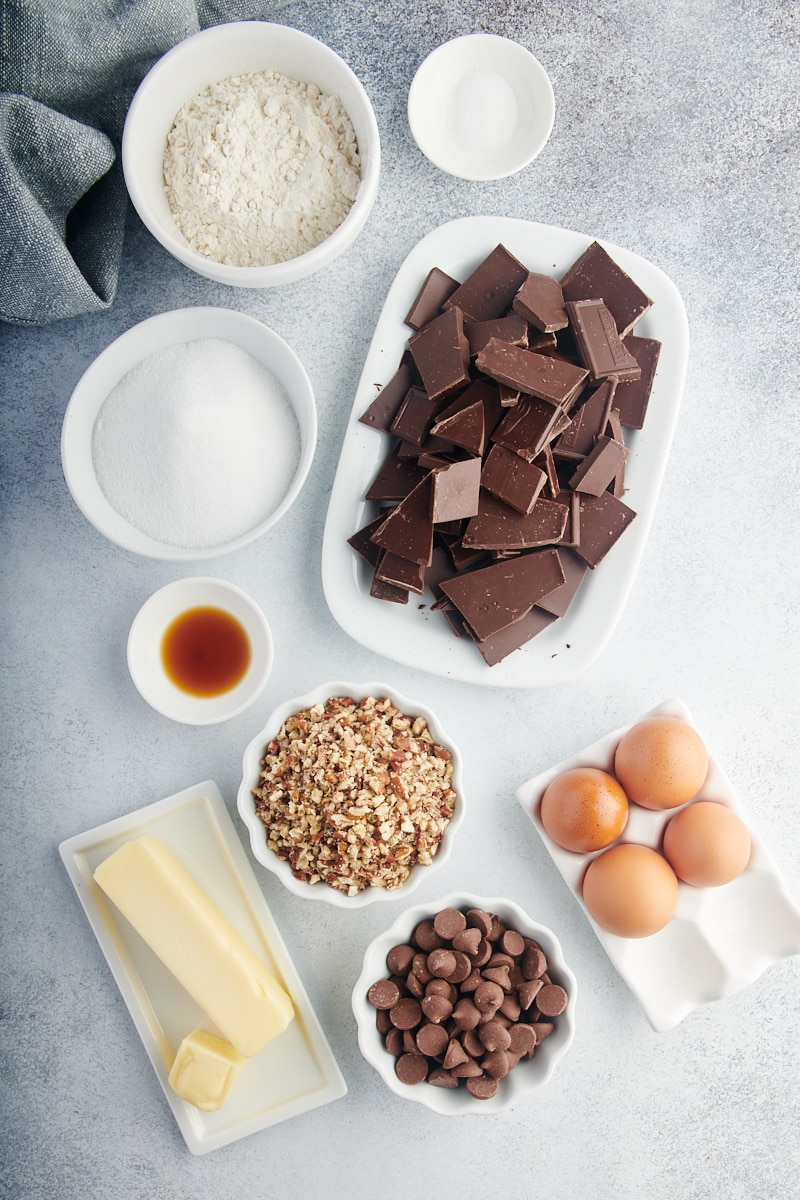 What You'll Need
Scroll down to the recipe card below this post for ingredient quantities and full instructions.
Semisweet chocolate
Unsalted butter – Learn more: Unsalted or Salted Butter: Which is Better for Baking?
Eggs – Lightly beat these in a small bowl.
Granulated sugar
Vanilla extract
All-purpose flour – Learn more: How to Measure Flour
Salt
Chopped nuts – I like pecans or hazelnuts in brownies.
White chocolate, milk chocolate, or other flavored chips – These are optional but are an easy way to add more flavor. Keep it simple and classic with chocolate chips, or try another flavor for something different.
Should I Melt Butter for Brownies?
For most brownie recipes, including these brownie cupcakes, you'll use either melted butter or oil. This is what gives brownies a denser texture than light, fluffy cake—you're not creaming the butter and sugar to create air bubbles, but instead melting the butter to prevent air bubbles from forming.
How to Make Brownie Cupcakes
You can have these mixed up and in the oven in a matter of minutes. And once they're done, you can skip the cutting. Just put them on a plate and let everyone grab their very own brownie!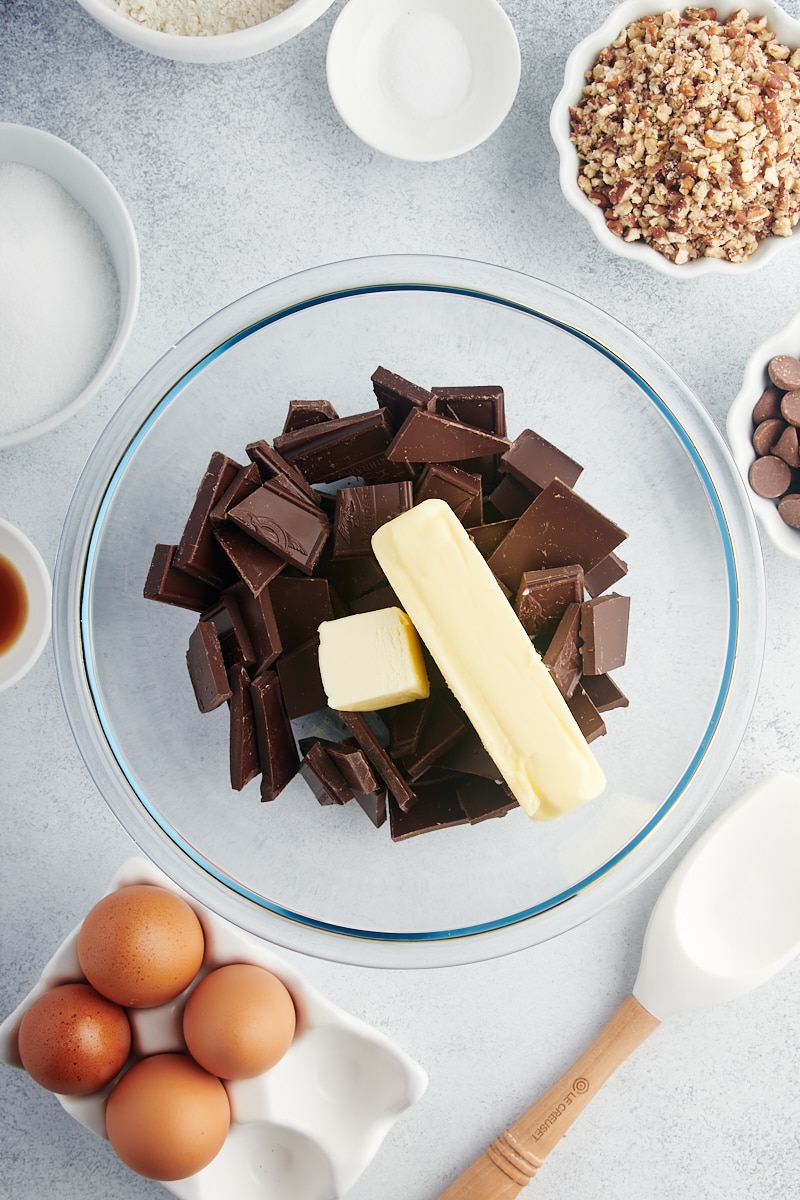 Melt the chocolate and butter. Place the semisweet chocolate and butter in a large microwave-safe mixing bowl. Heat at half power in 30-second increments until the butter is melted and the chocolate melts into the butter when you stir it. Stir to combine, then set the mixture aside to cool a bit.
Prepare. Preheat your oven to 350°F and grease 12 standard-size muffin cups or line them with paper cupcake liners.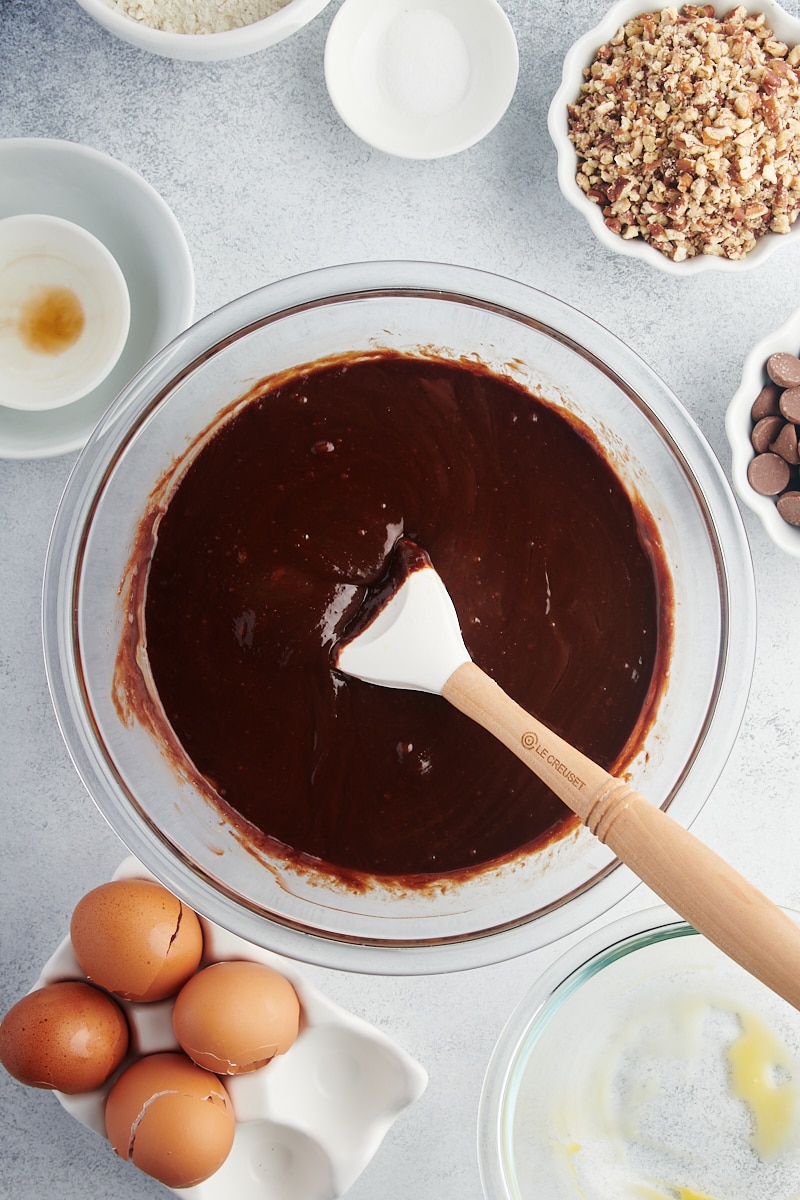 Mix the wet ingredients. Add the eggs, sugar, and vanilla to the cooled chocolate mixture. Use a spoon or electric mixer and mix until combined and smooth.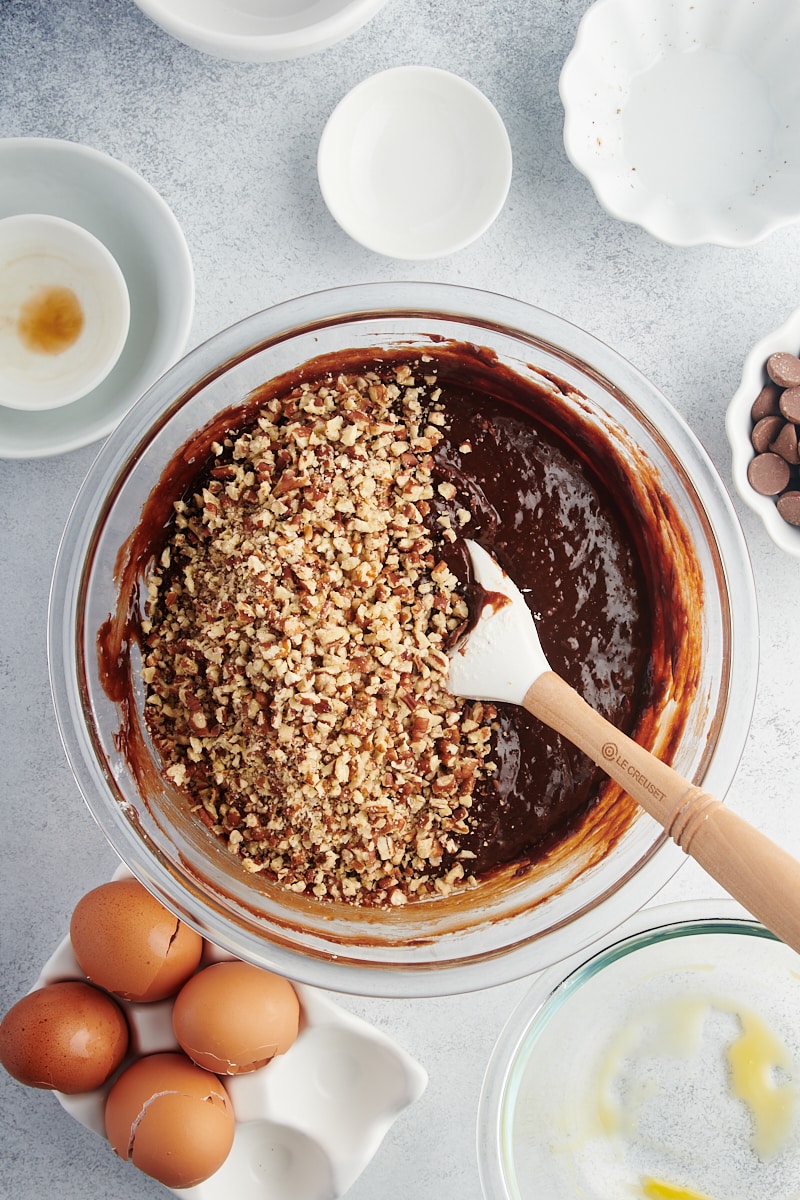 Finish the batter. Stir the flour and salt into the wet ingredients until just combined. Fold in the nuts.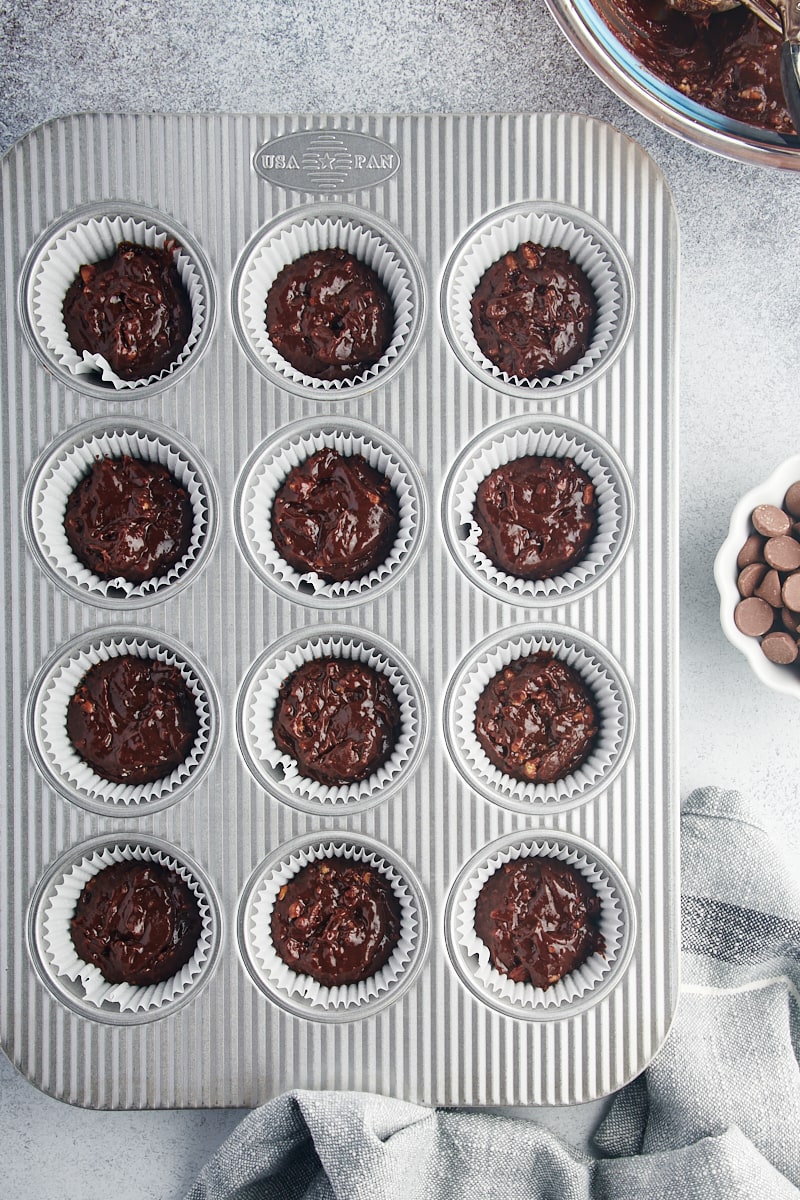 Assemble. Fill each muffin cup about halfway with the brownie batter. Place about a tablespoon of chocolate or flavored chips on top of the batter, if you're using them. Add the remaining batter, filling each cup until it's almost full.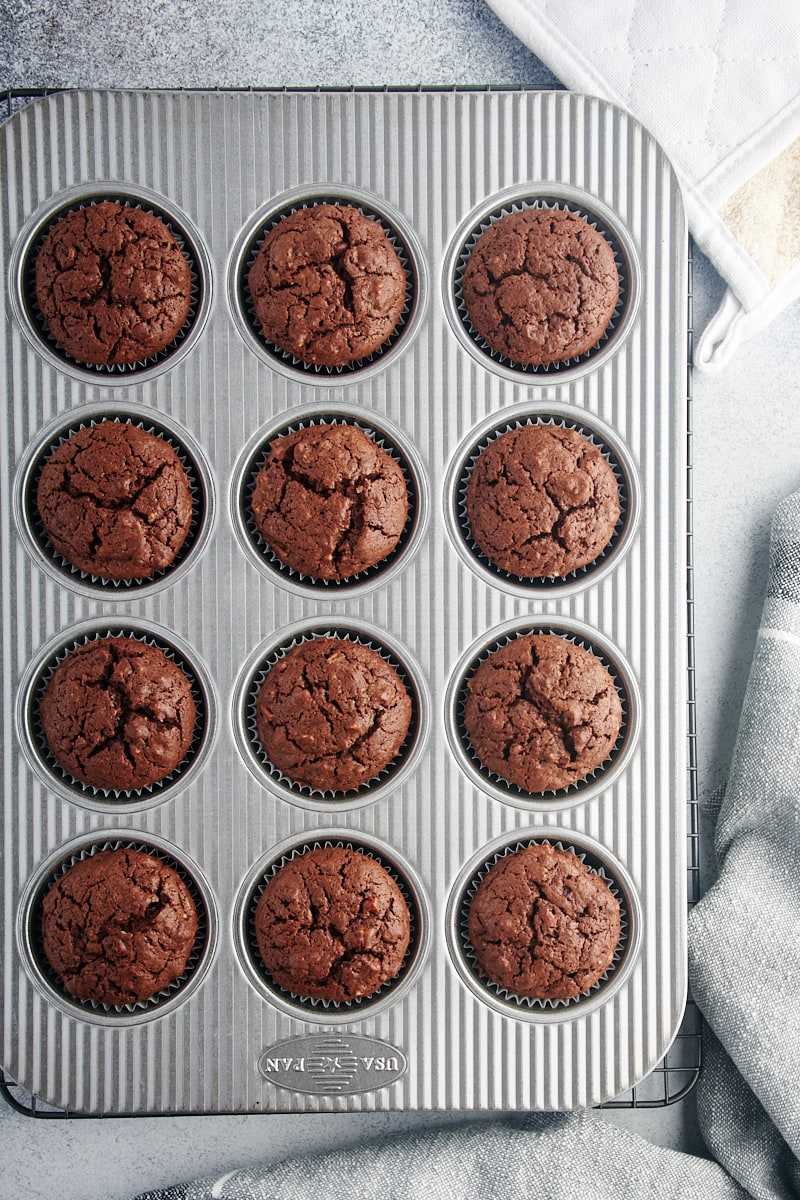 Bake. Place the muffin tin in the oven and bake for 30 to 35 minutes, or until a toothpick inserted into the center comes out with moist crumbs. Set the muffin tin on a wire rack to cool.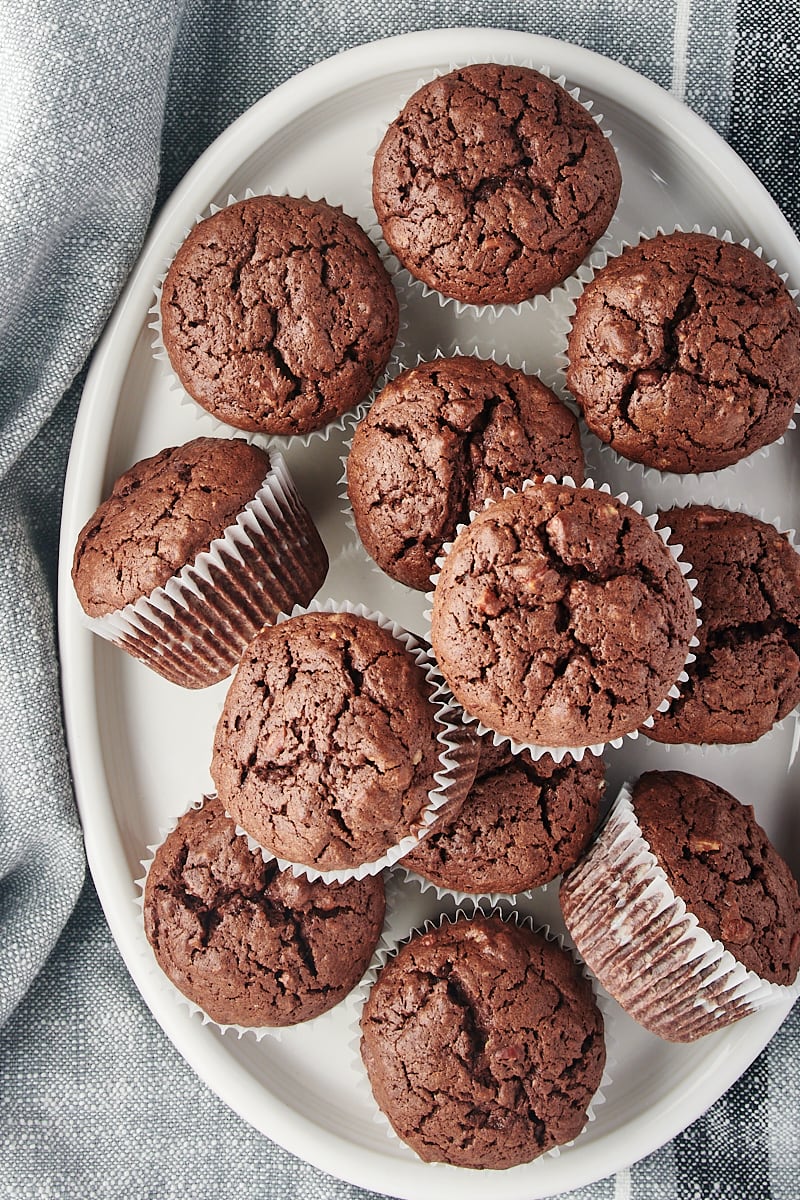 Do Brownies Go on the Top or Bottom Rack?
Brownies are actually best baked on the middle rack. On the top rack, the top of the brownies may bake too quickly, but on the bottom rack, you'll have the opposite problem. In fact, unless a recipe says otherwise, the middle rack is the best option for most baked goods.
Tips for Success
Here are some hints and tips to help make sure your brownie cupcakes turn out perfect—and to make the recipe your own!
Don't over-mix. The more you stir once the flour is added, the more you'll activate the gluten, which means a tougher brownie cupcake.
Use quality chocolate. It's the star of the show here, so invest in a good one!
Add a finishing touch. Serve brownie cupcakes with a dollop of sweetened whipped cream or ice cream, or top them with chocolate ganache for some extra decadence. (Get a recipe for ganache here: Chocolate Ganache Brownies)
Get more brownie baking tips. See my post all about making brownies: Tips for Baking Brownies from Scratch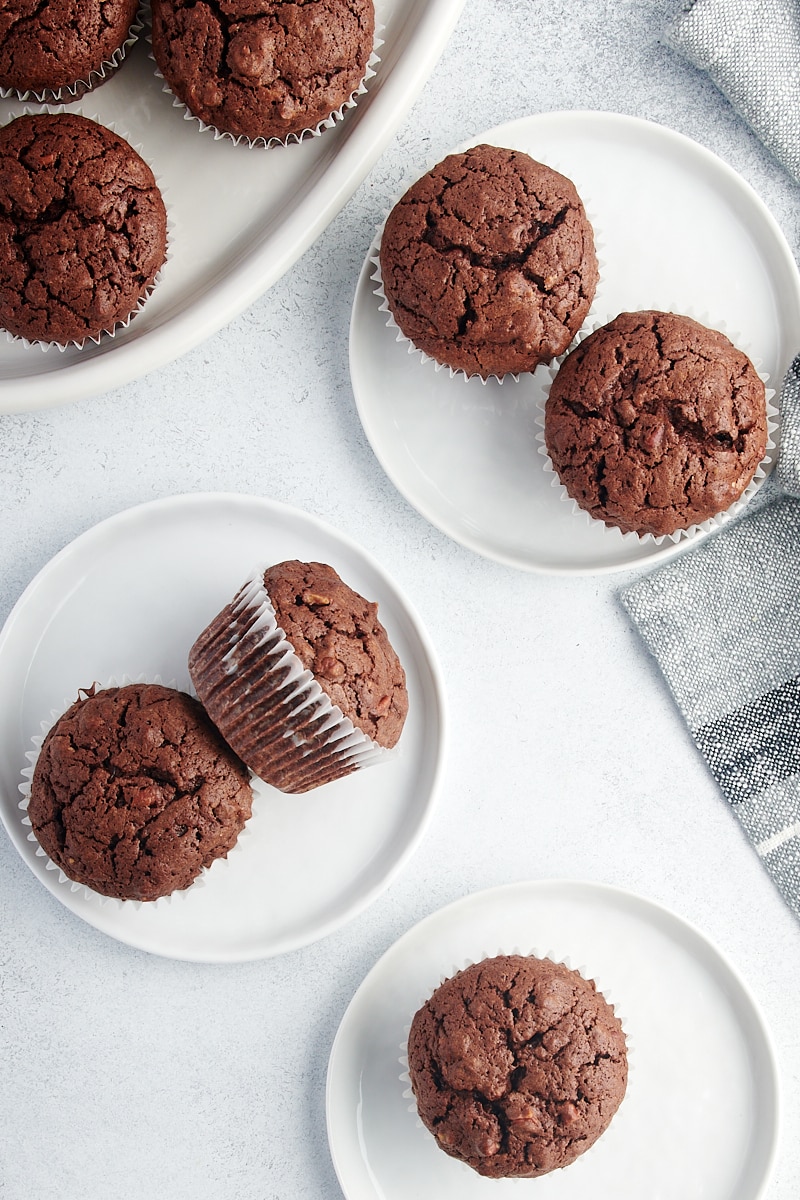 How to Store
Transfer your brownie cupcakes to an airtight container and store them at room temperature for 3 to 4 days.
Can This Recipe Be Frozen?
You can freeze these brownie cupcakes for up to 3 months. Place them in an airtight container or freezer bag and let them thaw at room temperature before serving.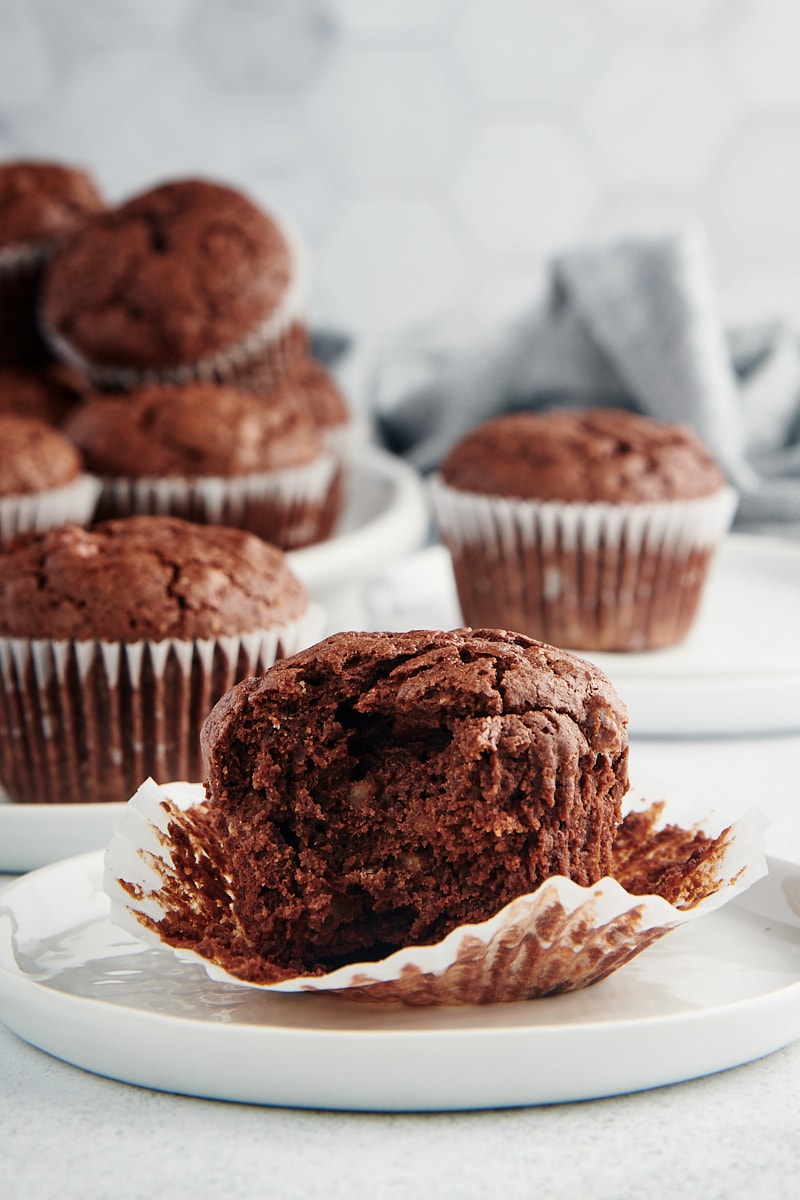 Find more brownie recipes in the Recipe Index!
More Brownies in Muffin Pans
Video Tutorial: Brownie Cupcakes