With flaky croissants, jammy preserves, and cozy cinnamon, this blueberry croissant bread pudding does double-duty as a decadent brunch or a crowd-pleasing dessert!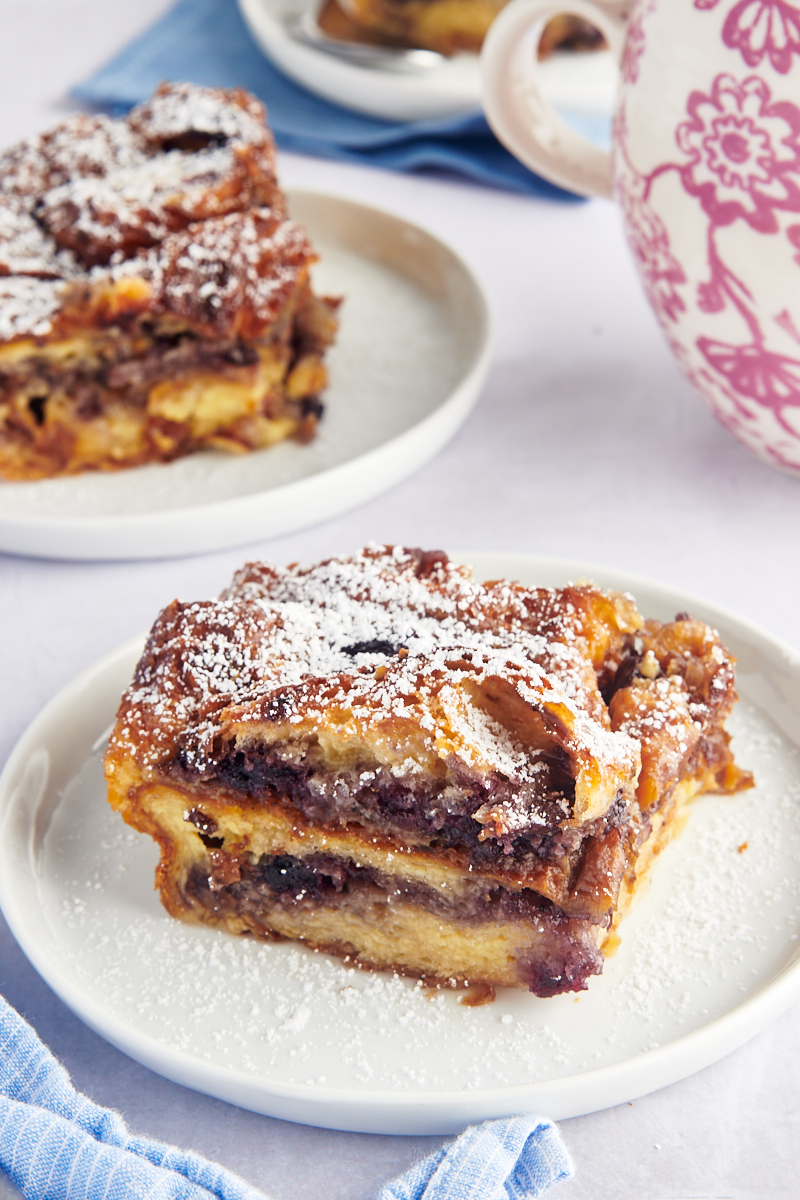 Croissant Bread Pudding With Blueberry Preserves
Sometimes fate has a hand in the kitchen. I had a lovely bread pudding recipe picked out for the holidays. It was simple and sounded delicious. All I needed was a package of Hawaiian bread. That seemed like a simple enough task until I realized that there is none to be found on the isle of Manhattan.
Moments after that realization, I found this blueberry croissant bread pudding recipe in an ad for Smucker's in a food magazine. I had bread pudding on the brain, so I was immediately drawn to it. When I realized that it was made with croissants, I remembered the French bakery we had recently stumbled upon in our neighborhood. All signs pointed to making this.
This blueberry croissant bread pudding is one of the easiest things I've made. You can have it put together and in the oven in 15 minutes. The best part is the return on your time investment. This is seriously good—the flaky croissants, sweet preserves, vanilla-scented custard, it all comes together for an unforgettable treat.
(For another take on bread pudding with blueberries, see my blueberry bread pudding recipe.)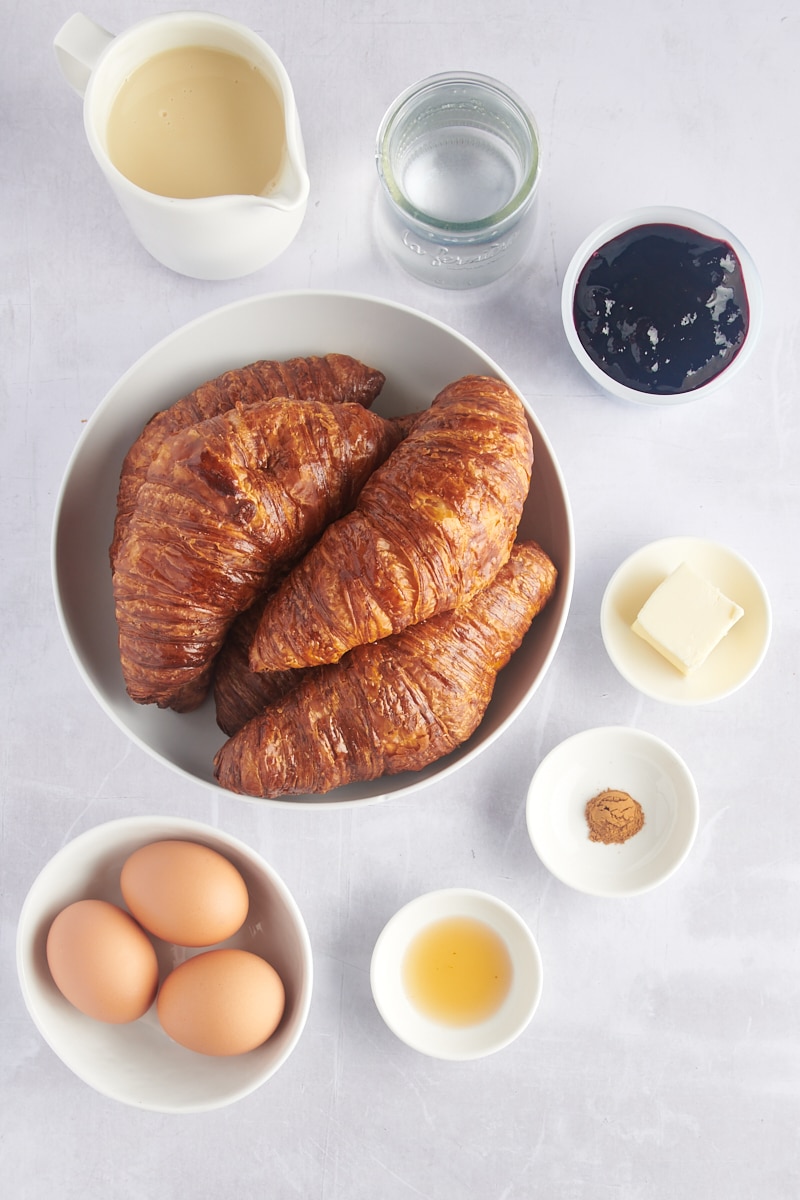 What You'll Need
Scroll down to the recipe card to find the ingredient quantities and recipe instructions.
Croissants – Be sure to use flaky, buttery croissants, not crescent rolls. The name is similar, but they're not the same!
Blueberry preserves – Preserves have more texture than jam and jelly, so you'll get whole blueberries in your croissant bread pudding.
Eggs
Sweetened condensed milk – Not to be confused with evaporated milk! Condensed milk has sugar added, which means you won't need to add any additional sweetener to the custard mixture.
Water
Unsalted butter – Melt this, then cool it slightly so it doesn't cook the eggs.
Vanilla extract – Use store-bought or homemade vanilla extract.
Ground cinnamon
Confectioners' sugar or whipped cream – Optional for garnish, but a serving of bread pudding with a dollop of homemade whipped cream is perfection on a plate.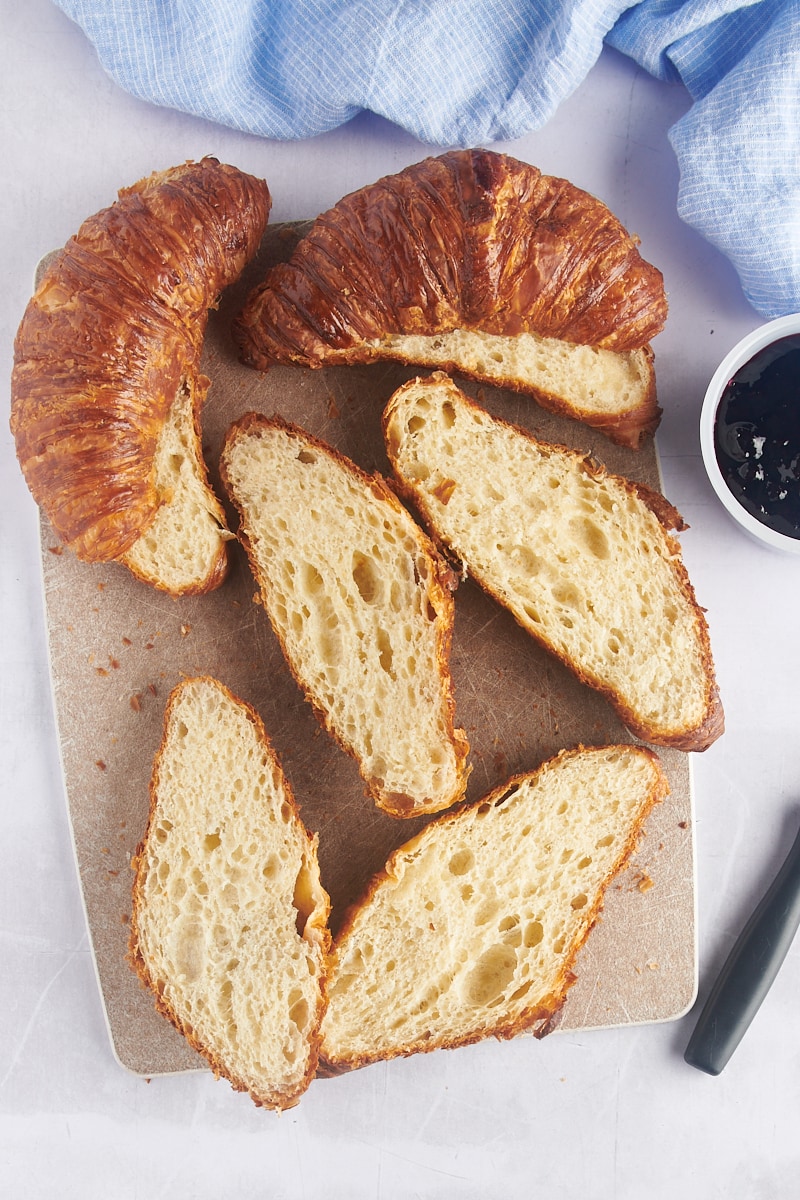 Why Does Bread Need to Be Stale for Bread Pudding?
When bread is stale for bread pudding, it will soak up the custard you add to it, giving you that tender, moist texture we all know and love. It also helps the bread hold its shape a bit more, keeping it from getting soggy and falling apart.
How to Make Blueberry Croissant Bread Pudding
I can't imagine ever being in a situation where I have stale croissants sitting around—we always eat them right away!—but if you do, this is the perfect recipe to use them up because it's practically effortless.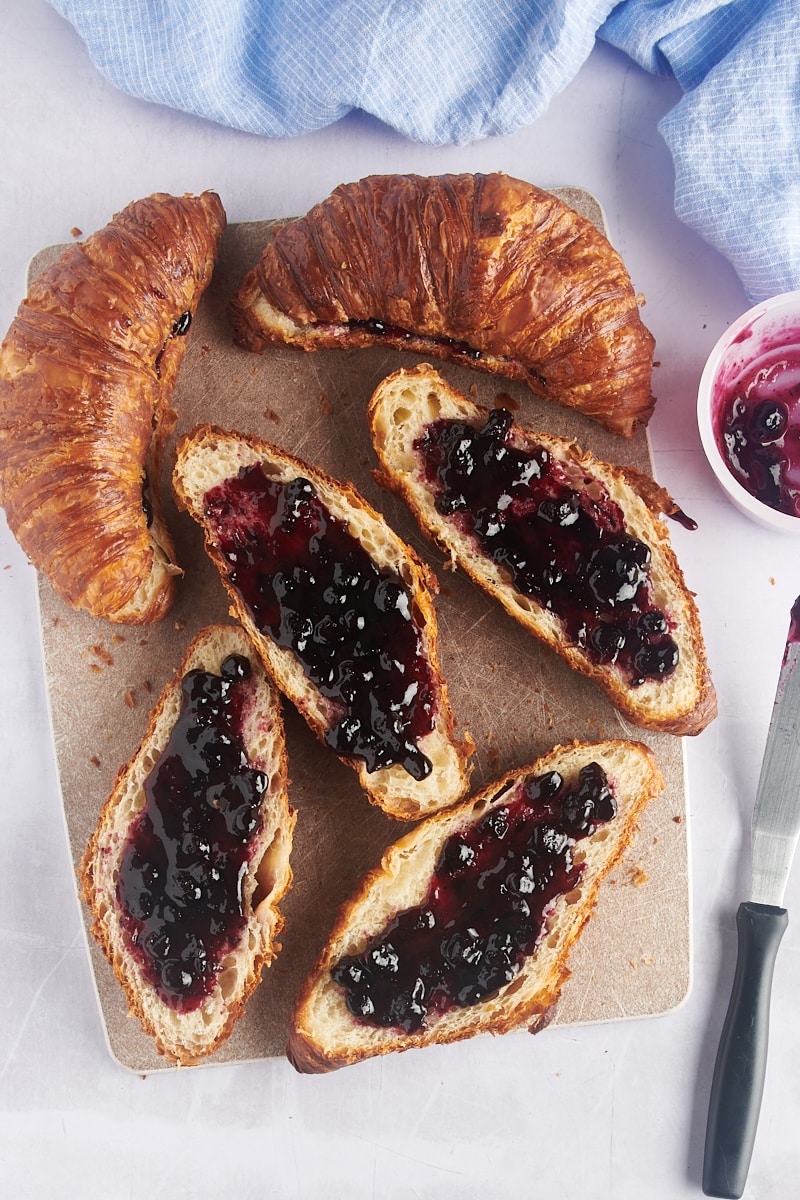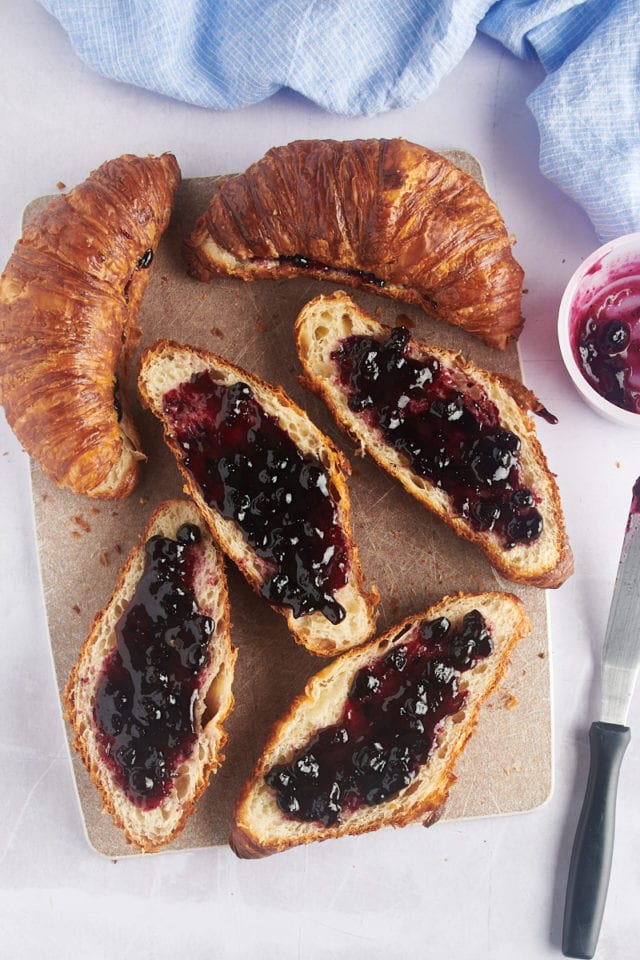 Prepare. Preheat your oven to 350°F, then coat a 9-inch square baking pan with cooking spray.
Spread the jam on the croissants. Split the croissants in half lengthwise, then spread about 1 tablespoon of preserves on each half. Put the tops back on (like you've just made a croissant-and-jam sandwich) and cut the croissants into strips. Arrange the strips in the prepared pan, then drop spoonfuls of the remaining preserves on top of the croissants.
Make the custard. Lightly beat the eggs, then whisk in the condensed milk, water, butter, vanilla, and cinnamon. Pour the custard over the croissants and then press the croissants into the liquid so they're submerged. Let this sit for 5 minutes.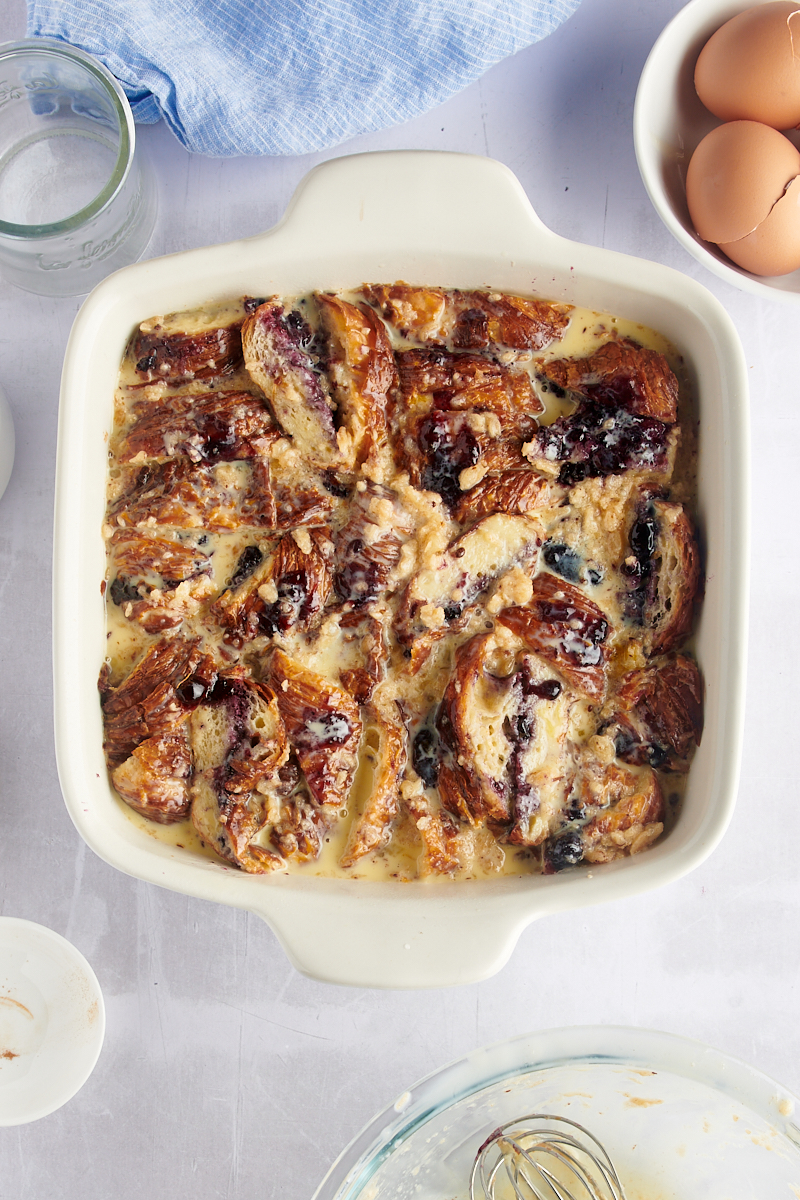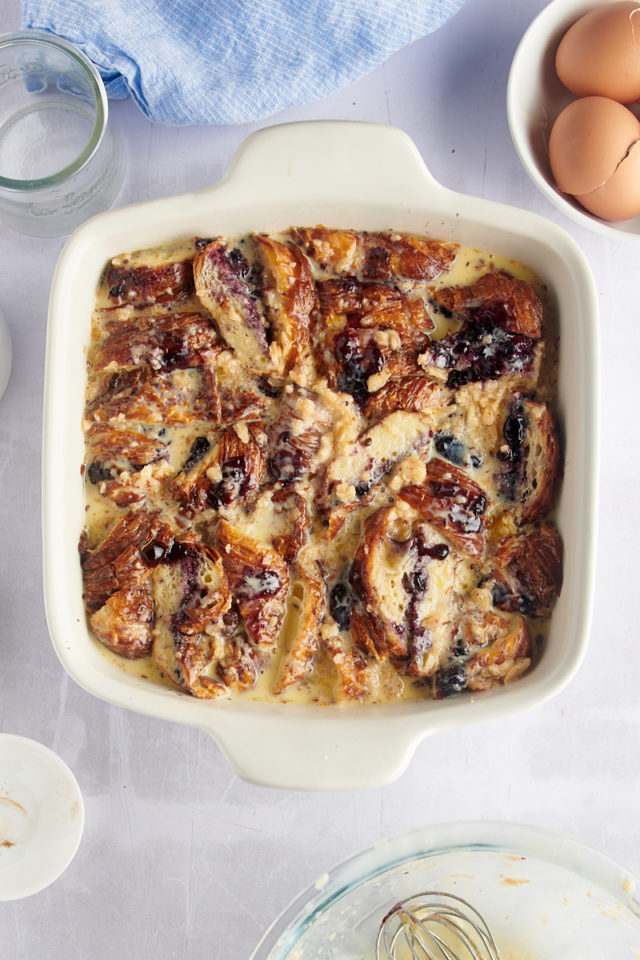 Bake. Place the pan in the oven and bake for 40 to 45 minutes, or until a thin knife or toothpick inserted into the center comes out clean.
Cool and serve. Allow the croissant bread pudding to cool for 15 minutes. Top each serving with a sprinkle of confectioners' sugar or a dollop of whipped cream.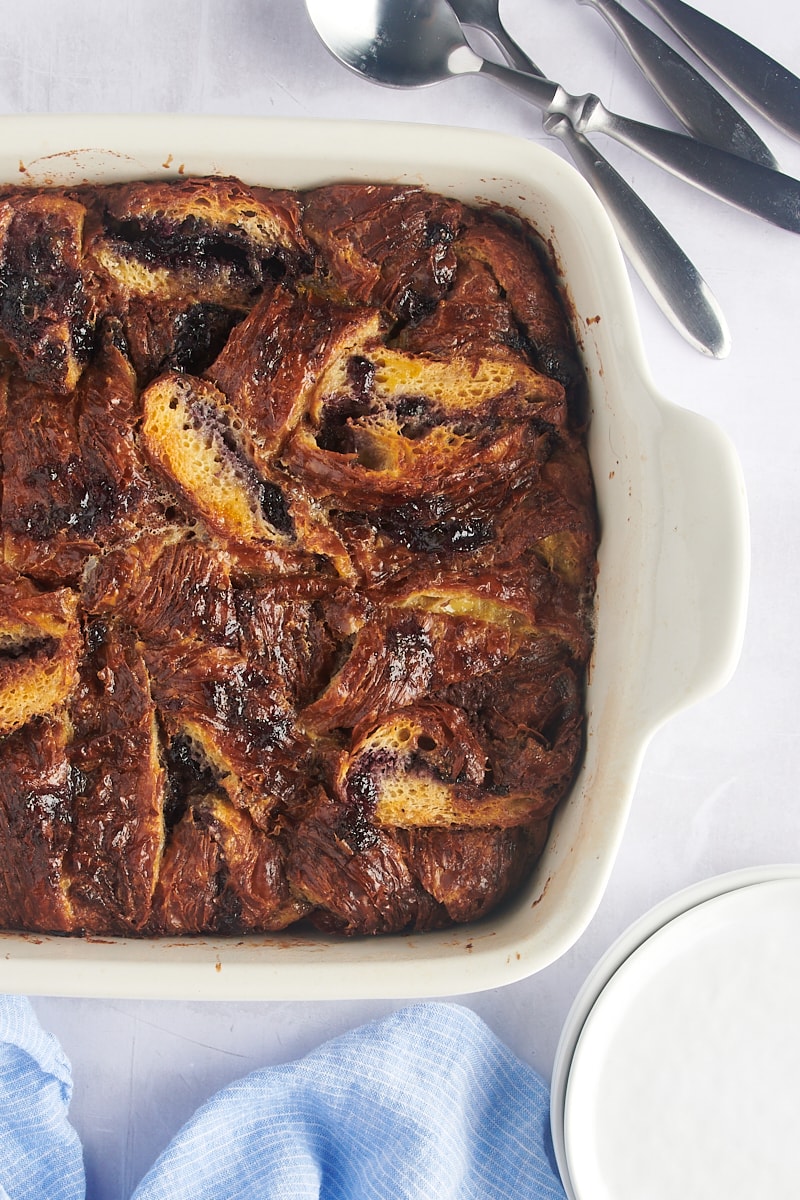 Tips for Success
Read over my baking tips for beginners, then follow these additional tips for a perfect blueberry croissant bread pudding.
Use high-quality croissants. Ideally, croissants from a bakery, not the clamshell containers of croissants sold at the grocery store. Those croissants are much softer and less flaky than their fresh-baked counterparts.
Make sure the croissants are all submerged. This will help ensure that all of the bread is soaked through with custard, keeping the top of your bread pudding from drying out in the oven.
Serve warm. Bread pudding can be served warm, cold, or at room temperature, but in my humble opinion, it's always best when served warm.
Variations
There are a number of small tweaks you can make to customize this croissant bread pudding recipe. Try swapping the blueberry preserves for cherry, strawberry, or apple; use a different spice like cardamom, or a blend of spices. Almond extract can be used in place of vanilla, as it pairs particularly well with berries.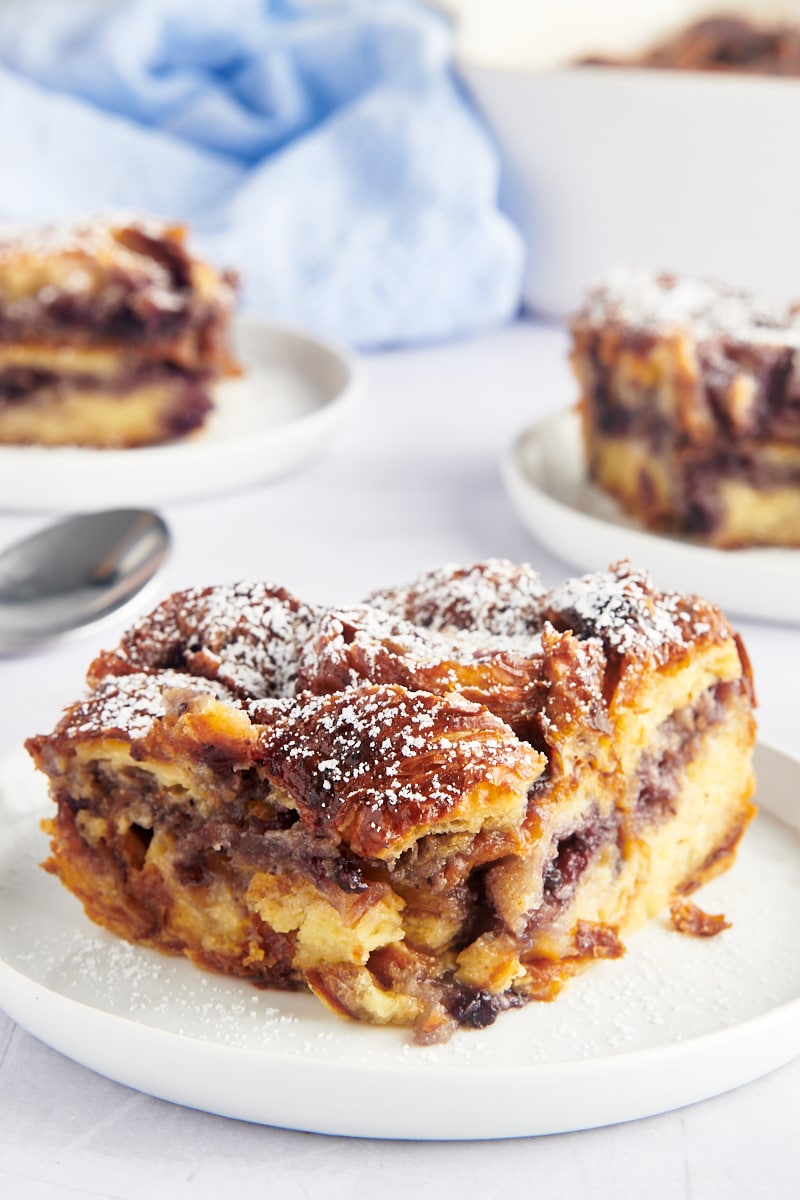 Serving Suggestions
Depending on how you dress it up, you can spin this blueberry croissant bread pudding as a treat-worthy brunch recipe or as a dessert.
For breakfast or brunch, serve it with a dusting of powdered sugar or a drizzle of pure maple syrup. And for dessert? You can't go wrong with a scoop of vanilla ice cream, whipped cream, or a generous pour of creme anglaise over the top. Either way, garnish with some fresh berries.
How to Store
Wrap the bread pudding in the pan, or transfer leftovers to an airtight container. Refrigerate bread pudding for 4 to 5 days; reheat it in the microwave before serving, or enjoy it chilled or at room temperature.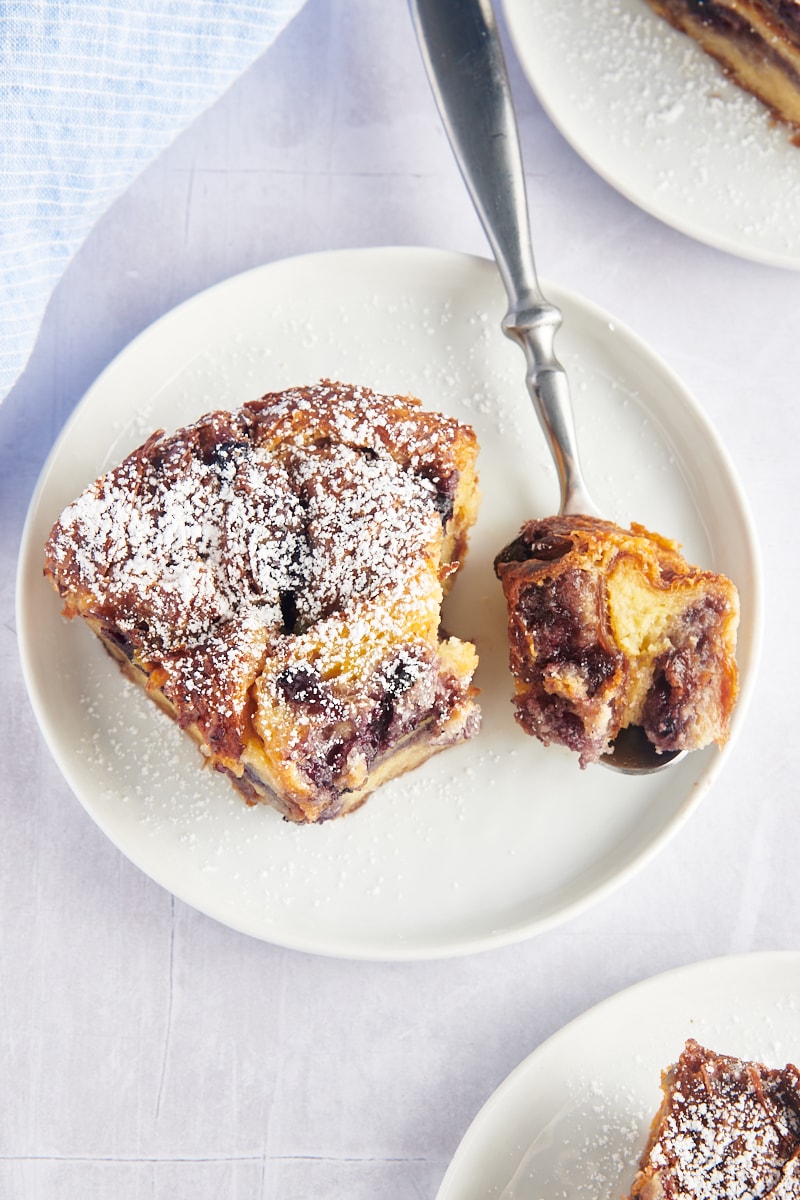 Can This Recipe Be Frozen?
You can freeze blueberry croissant bread pudding wrapped in the pan or in an airtight container for up to 3 months. Let it thaw in the refrigerator before serving or reheating.
More Bread Pudding Recipes