April 4, 2013
Peanut Butter Fudge Tartlets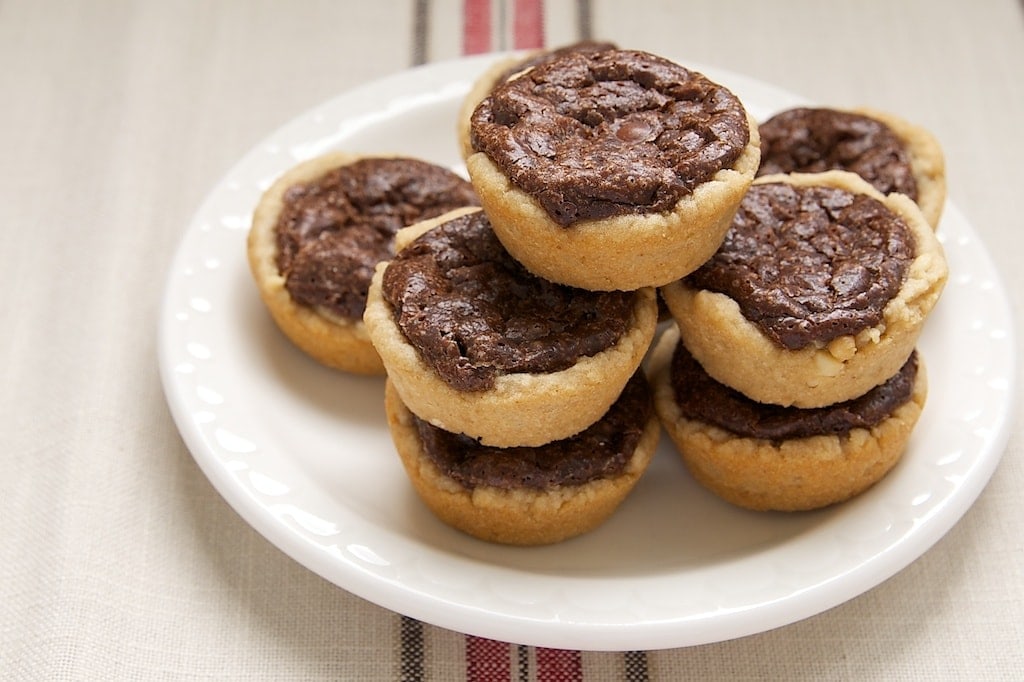 Because of how much I love the glorious combination of chocolate and peanut butter, I'm always looking for new ways to use them. I've covered cookies, brownies, cheesecakes, and more. But, these little tartlets are pretty special.
It all starts with the crust, which is essentially a peanut butter cookie. If you're like me, you're already sold. Then, a fudgy chocolate filling goes into the crust for a magical chocolate-peanut butter experience.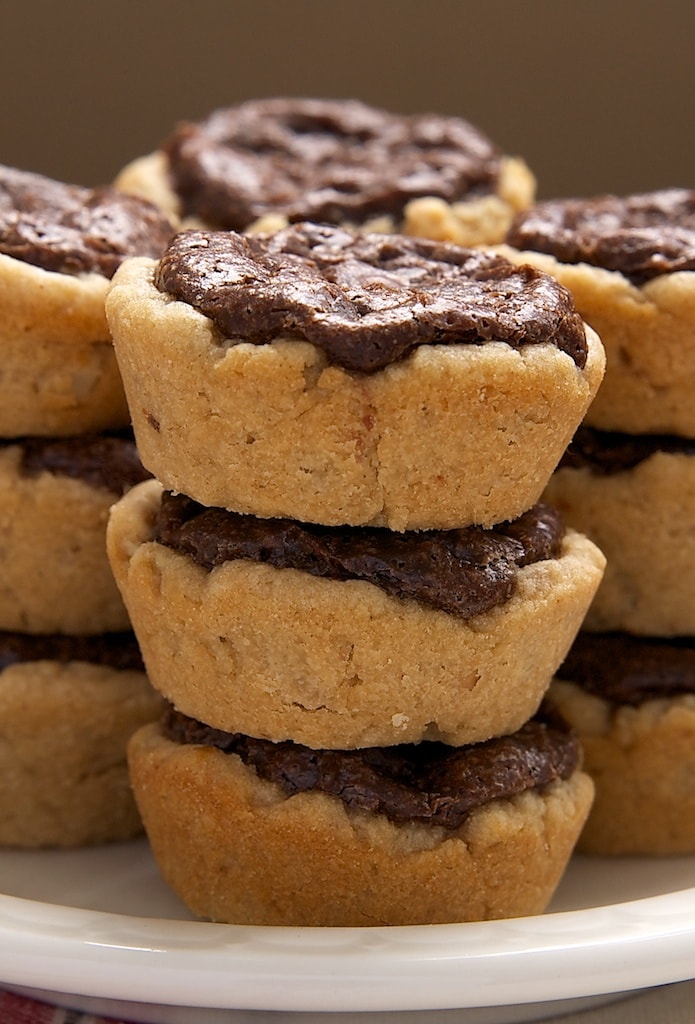 I am happy to tell you that these are very simple to make. You can have them mixed up and in the oven pretty quickly and without much fuss. They look more involved than they actually are. That's always a selling point for me.
One of my favorite things about these is that they aren't too sweet. Instead, they really focus on the flavors of peanut butter in the crust and rich chocolate in the filling. The original recipe suggests sprinkling the tops with confectioners sugar. If you'd like these a bit sweeter, then that's a great way to add a little sweet punch.
Click here to see some of my favorite chocolate and peanut butter recipes.
Peanut Butter Fudge Tartlets
Yield: 24 mini tarts
Prep Time:25 minutes
Cook Time:12 minutes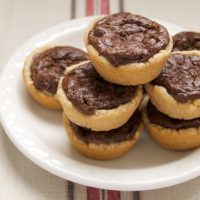 Ingredients:
For the crust:
1/4 cup crunchy peanut butter
3 tablespoons packed light or dark brown sugar
2 tablespoons unsalted butter, cold & cut into small pieces
1 & 1/2 tablespoons light corn syrup
1 cup all-purpose flour
1/4 teaspoon salt
3 tablespoons cold water
For the filling:
2/3 cup packed light or dark brown sugar
2 tablespoons unsweetened cocoa powder
2 tablespoons semisweet chocolate chips
1 tablespoon unsalted butter
3 tablespoons milk
2 tablespoons all-purpose flour
1 large egg
confectioners sugar, optional, for dusting
Directions:
To make the crust:
Preheat oven to 350°. Coat 24 miniature muffin cups with cooking spray.
Using an electric mixer at medium speed, beat peanut butter, brown sugar, butter, and corn syrup until smooth. Add flour and salt. Mix using a pastry blender or a fork or 2 knives until the mixture resembles coarse meal.
Sprinkle surface of mixture with 1 tablespoon cold water. Mix with pastry blender or a fork. Add remaining water, 1 tablespoon at a time, and mix until combined.
Using a scant tablespoon of dough at a time, roll dough into 24 balls. Place 1 ball in each cup of prepared pan. Using a tart tamper or your fingers, press dough into bottom and up the sides of each muffin cup. Set pan aside.
To make the filling:
Place brown sugar, cocoa powder, chocolate chips, butter, and milk in a small saucepan. Cook over medium-low heat, stirring frequently, until smooth (about 3-4 minutes).
Remove pan from heat. Stir in flour and egg until well-blended.
Divide chocolate mixture evenly among muffin cups. (I used about 1 & 1/2 teaspoons of chocolate mixture per cup.)
Bake 10-12 minutes, or until crust is lightly browned. Cool in pan on wire rack for 5 minutes. Then, run a knife around the edges of each tart. Remove tarts from pan to wire rack to cool completely.
If desired, dust the top of each tart with confectioners sugar.