This delicious Peach Crisp is the perfect way to enjoy summer's sweet, juicy peaches. It's simple to make and always a hit!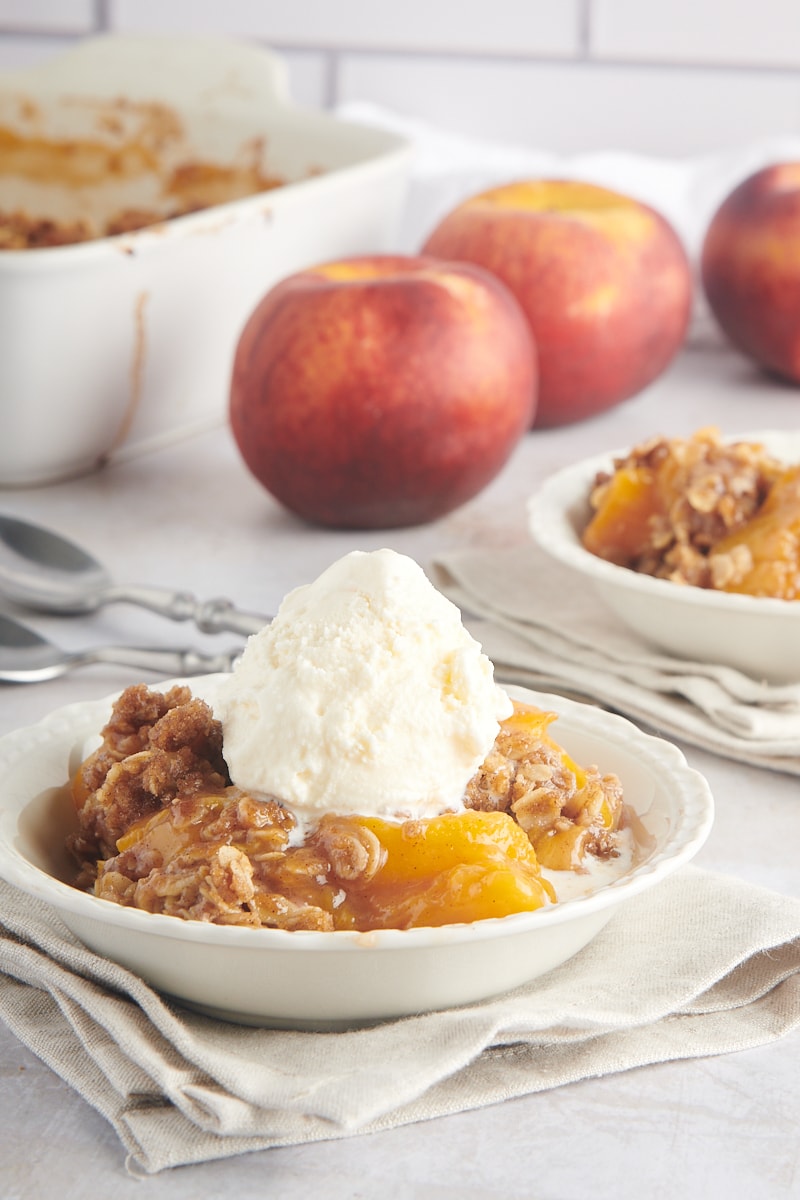 The Best Peach Crisp – So Easy!
There's nothing quite like the taste of fresh, ripe peaches in the summertime. And when those peaches are turned into a delicious peach crisp? Even better!
And how fortunate is it that one of summer's quintessential desserts is also wonderfully easy to make? You'll have this peach crisp assembled and in the oven in short order. This is just the kind of quick and easy dessert you'll make over and over for a summertime treat.
It's not just about peaches here. There's cinnamon in both the topping and the filling for a kick of flavor. A squeeze of lemon juice helps balance the sweetness of those juicy peaches. The brown sugar adds a caramel-like flavor. And, of course, there are oats to make a chewy, crunchy topping.
Put together the simplicity and the fantastic flavor, and this peach crisp recipe is sure to become a summertime must-bake! It's one of The Best when it comes to easy summer desserts.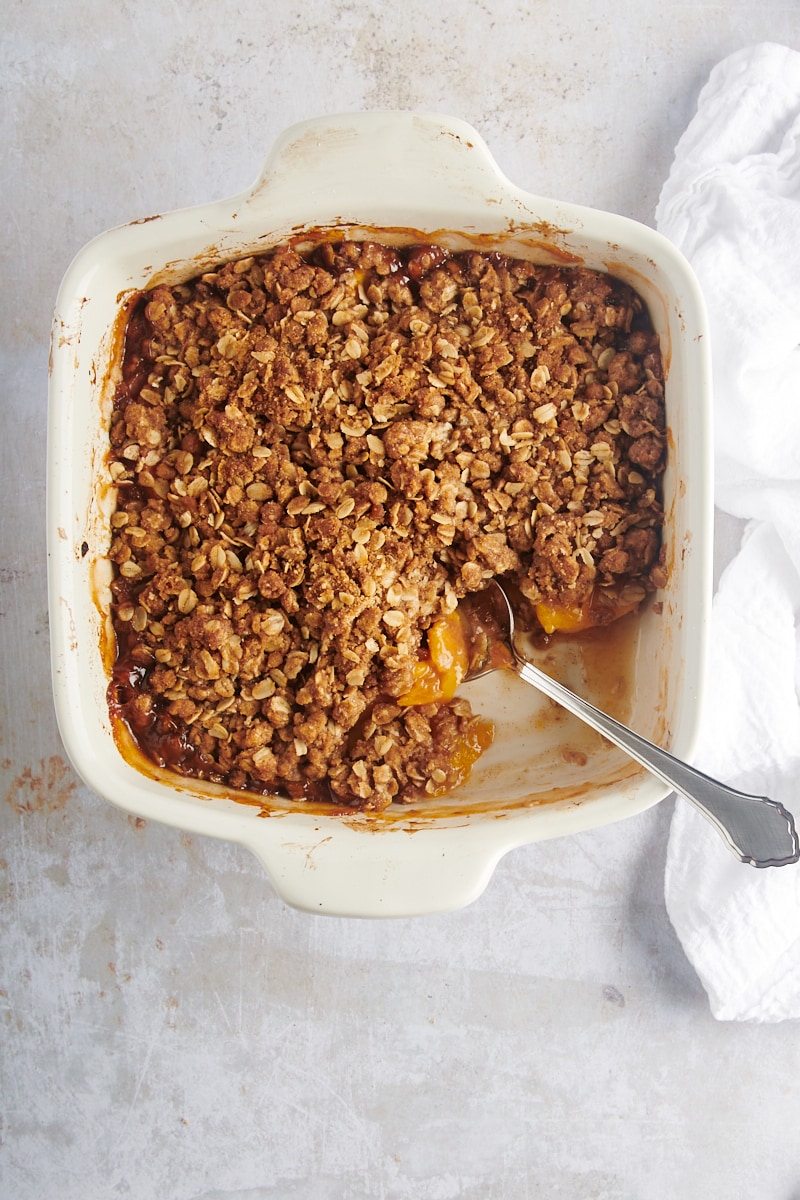 What's the Difference Between Peach Crisp and Peach Cobbler?
Crisps and cobblers are both fruit desserts that are typically made with a fruit filling and a topping. The primary difference is with the type of topping.
Crisps typically have a streusel topping made with oats, flour, and butter, while cobblers have a biscuit-style topping made with flour, sugar, and butter. For all you cobbler lovers out there, be sure to try my Ginger Pecan Peach Cobbler.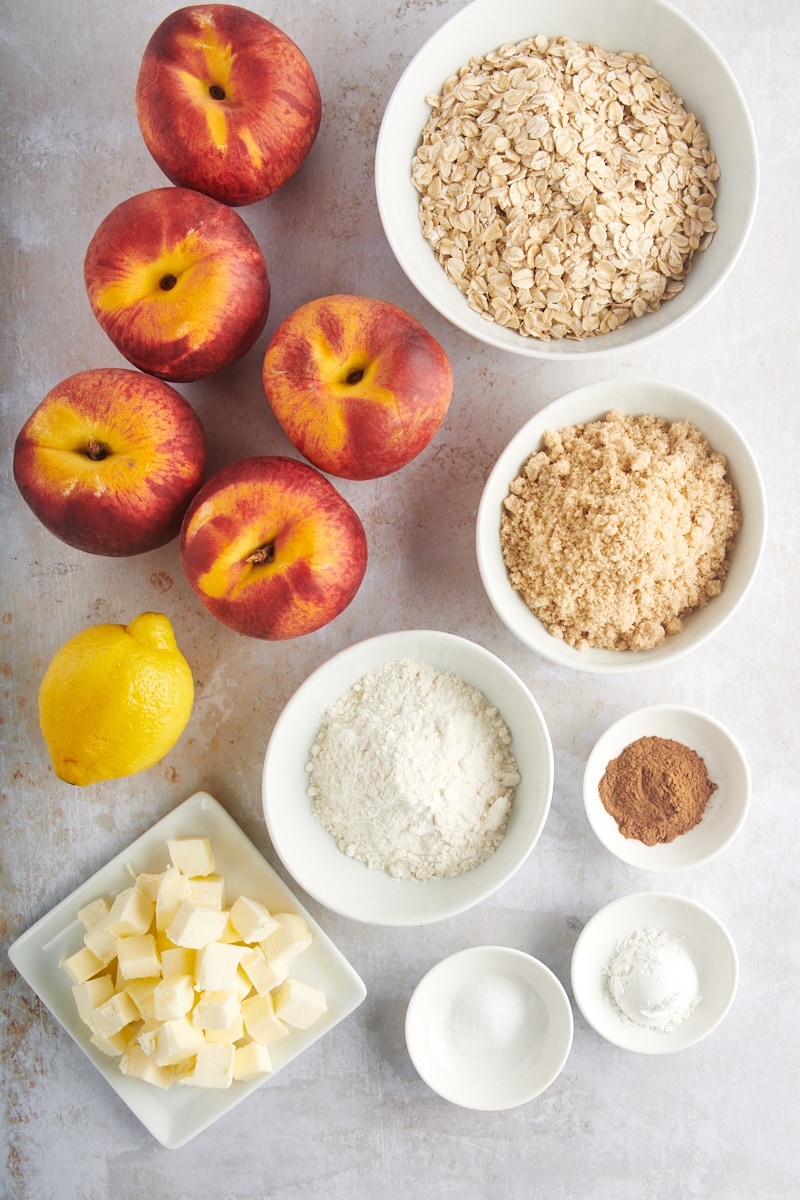 What You'll Need
Besides the peaches and lemon, you'll likely have everything else you need to whip up this easy peach crisp! Be sure to scroll down to the recipe card at the end of this post for ingredient amounts and full directions.
For the filling:
Peaches – Depending on their size, you'll need 4 to 6 peaches to get about 4 cups of sliced peaches. This doesn't need to be a particularly accurate measurement. (If you prefer to dice the peaches, that's fine, too.)
Brown sugar – I prefer light brown sugar in this crisp. If you want a more pronounced molasses flavor, then go with dark brown sugar. Learn more: Light Brown Sugar vs Dark Brown Sugar
Cornstarch – This helps thicken the filling.
Cinnamon
Lemon juice – The bitterness of the lemon helps balance the sweetness. I recommend fresh lemon juice from half of a medium lemon. That should give you 1 & 1/2 to 2 tablespoons of juice. Learn more: How to Zest and Juice Lemons
For the topping:
Oats – Use old-fashioned rolled oats for a chewy, sturdy topping. Quick oats are smaller and will tend to make a mushy topping.
Brown sugar
All-purpose flour
Cinnamon – You can use 1 to 2 teaspoons of ground cinnamon, depending on your tastes. (If you like, add 1/4 to 1/2 teaspoon of ground nutmeg for a little more spice.)
Salt
Unsalted butter – The butter should be cold for mixing. Cut it into cubes when you're gathering your ingredients, and put it back in the refrigerator until you're ready to mix it into the topping.
How to Choose Peaches for Baking
When choosing peaches for this recipe, make sure they're ripe but not too ripe. The best way to test a peach for ripeness is to give it a gentle squeeze. If it's soft to the touch but not mushy, it's perfect for baking! You'll also want to make sure your peaches are free of bruises or blemishes.
For baking, yellow peaches generally work best. These are the peaches you're most likely to find at your grocery store. They have yellow flesh and a reddish area round the pit.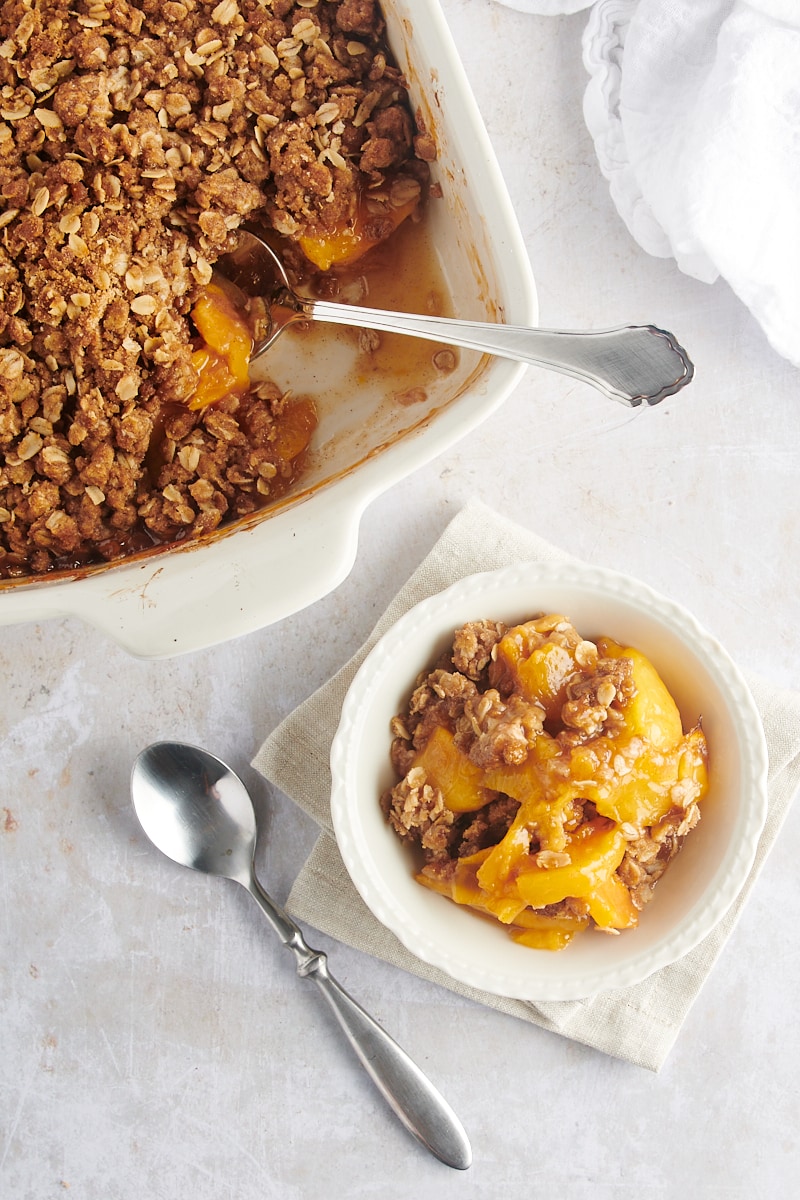 Do Peaches Need to Be Peeled Before Baking?
Whether or not you peel the peaches is a matter of preference. With unpeeled peaches, the skins should soften and dissolve into the filling as they bake. However, some find that the peels add a bitter flavor. My preference is to peel the peaches, but either way is fine.
You can peel them with a vegetable peeler or a paring knife. Or you can cut a small X in the bottom of the peaches and place them in boiling water for 30 to 60 seconds. Transfer the peaches to a bowl of ice water, and the peels should come off easily after a couple of minutes.
Can I use Frozen Peaches?
You can use frozen peaches for this peach crisp if fresh ones are out of season or if that's just your preference. If using frozen peaches, there's no need to thaw them before baking. Simply add them to the baking dish and proceed with the recipe as written.
Because of the higher moisture content of frozen fruits, the filling can be a bit thinner and the topping a bit soggy. Also keep in mind that you may need to bake the peach crisp for a few minutes longer if using frozen fruit.
Can I Use Canned Peaches?
While fresh peaches are the best choice for this recipe, you can also use canned peaches in a pinch. Just make sure to drain them well before using. Canned fruits often have extra sugar added, so you may want to adjust the sugar in the recipe to account for that.
How to Make Peach Crisp
Are you ready to make this quick and easy dessert? No mixer or special equipment needed! You can mix the filling right in the baking pan, and the topping mixes in just a few minutes in a small bowl.
Prepare for baking. Heat the oven to 375°F. Butter a 2-quart baking pan.
Make the filling. Place the sliced peaches in the prepared pan. Add the brown sugar, cornstarch, cinnamon, and lemon juice. Stir to combine. (If you prefer, you can mix the filling in a large mixing bowl and then transfer to the pan.)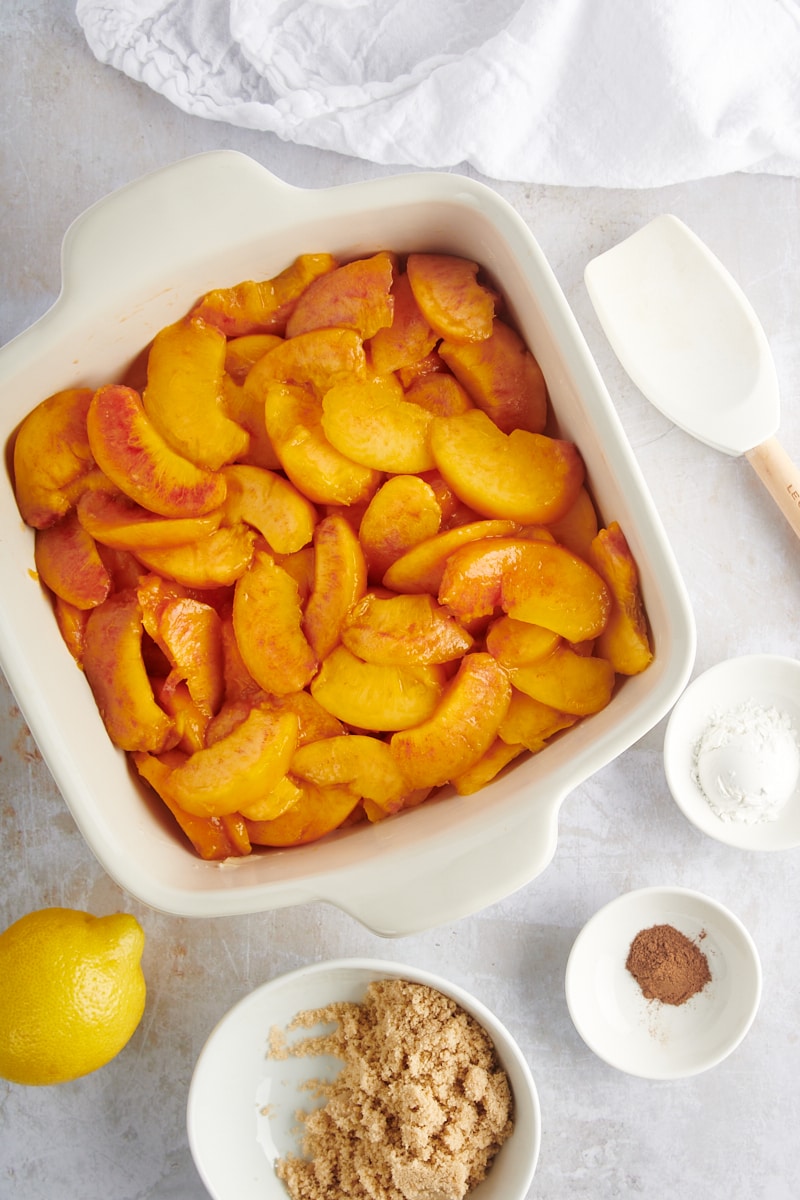 Make the topping. Combine the oats, brown sugar, flour, cinnamon, and salt in a medium bowl. Add the butter and mix with a pastry blender, a fork, or your fingers until the mixture is clumpy but combined.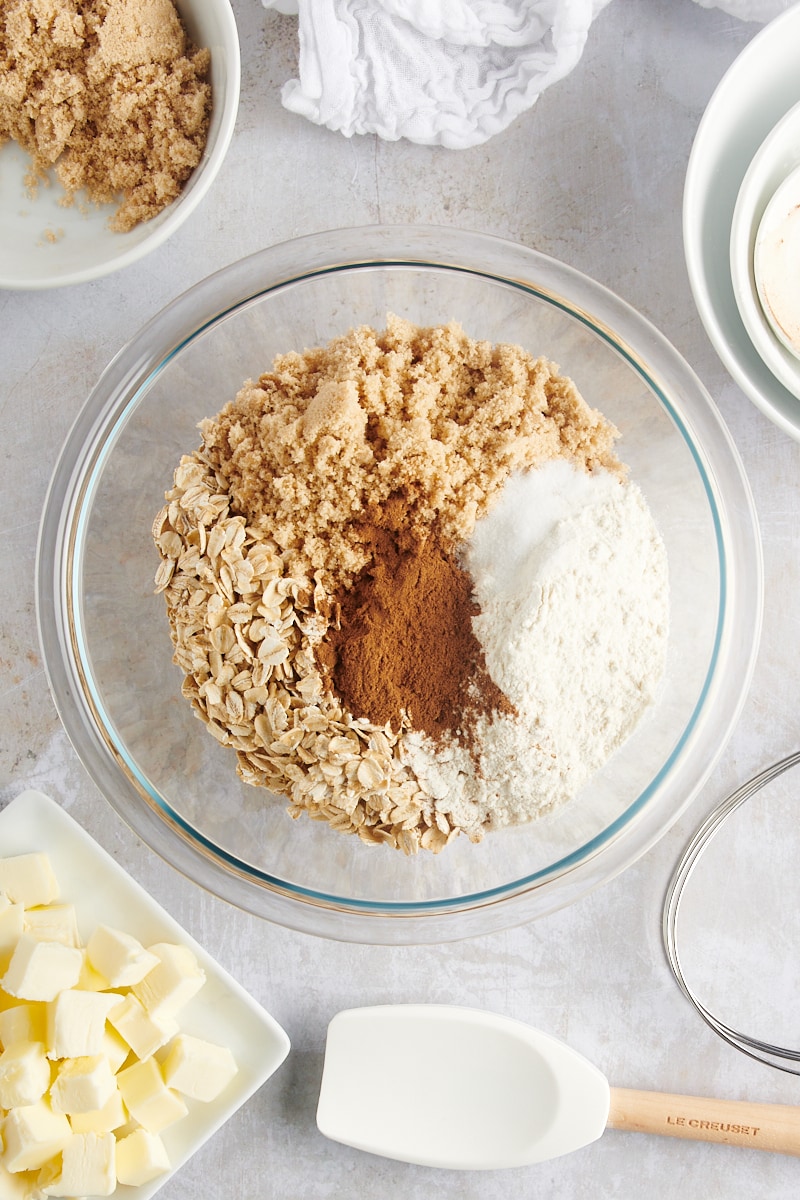 Assemble. Sprinkle the topping evenly over the peach mixture.
Bake. Place the pan in the oven and bake 40 to 45 minutes. (If you're worried about the filling bubbling over the edges, place the pan on a lined rimmed baking sheet.) The topping should be golden brown and the filling should be bubbly.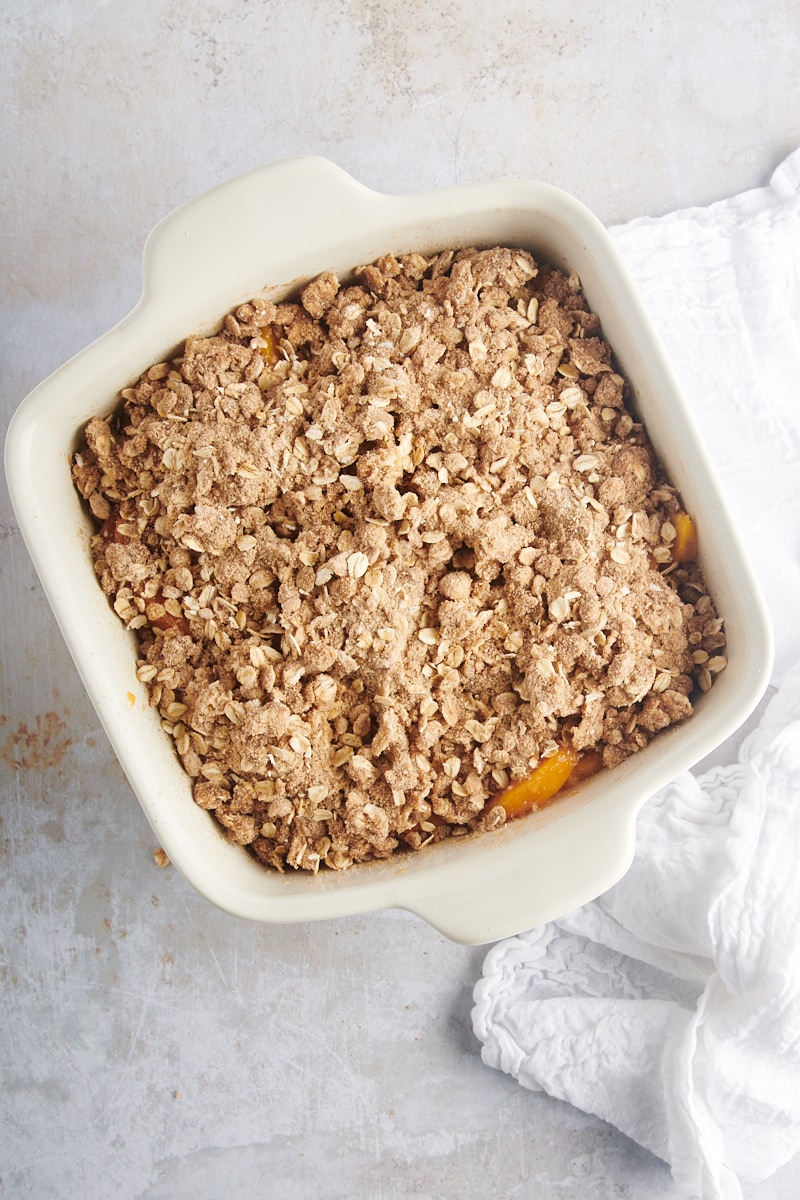 Cool. Let the crisp cool briefly before serving to allow the filling to thicken a bit more.
Tips for Success
Make sure your pan is large enough. The filling gets pretty bubbly while baking. If your pan is too full, the filling is likely to spill over the sides. If you're worried about spills, you can place the pan on a lined rimmed baking sheet for baking.
Don't over-mix the topping. It should be clumpy, not a solid dough.
Don't have a lemon? Try substituting about a teaspoon vanilla extract or almond extract.
Want to add nuts? Simply add a handful of chopped nuts to the topping mixture. Chopped pecans, almonds, and hazelnuts would all be good choices.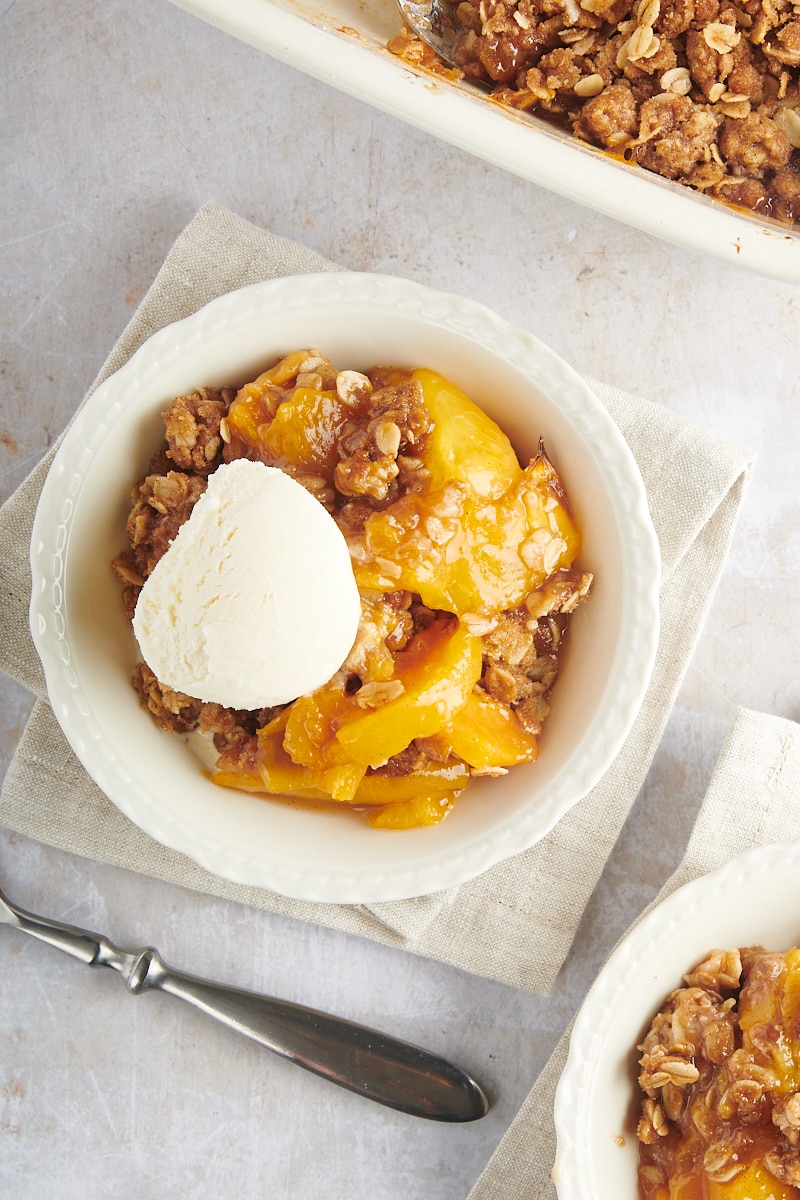 Serving Suggestions
A big scoop of vanilla ice cream is never a bad idea here, but don't forget about sweetened whipped cream. For something extra, sprinkle some nuts on top or add a drizzle of caramel sauce.
How to Store
Leftover peach crisp can be stored in an airtight container at room temperature for two days or in the refrigerator for up to four days. Reheat individual servings in the microwave, or warm the entire crisp for a few minutes in a 350°F oven.
Can Peach Crisp Be Frozen?
Yes, peach crisp can be frozen! Simply place leftovers in an airtight, freezer-safe container and freeze for up to 3 months. Thaw overnight in the refrigerator before reheating as described above.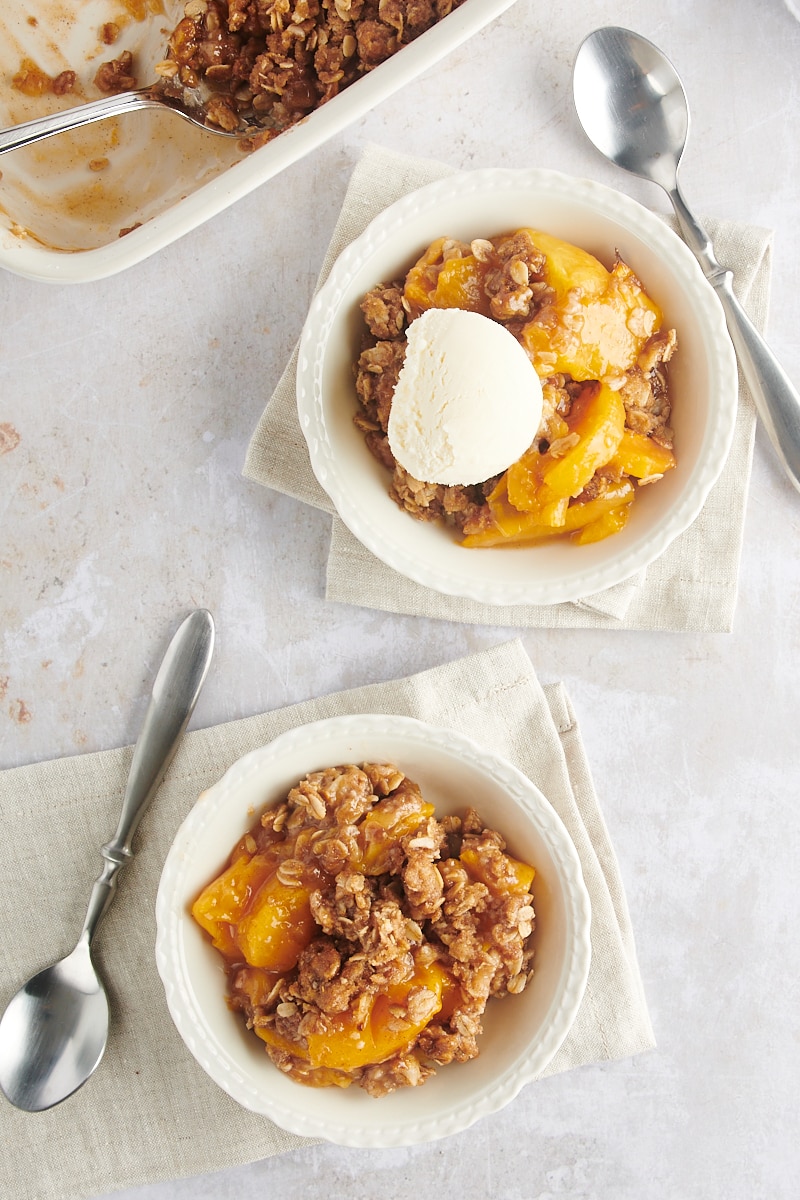 Video Tutorial: Peach Crisp