This easy-to-make Italian Jam Crostata is just the recipe you need in your baking repertoire for a simple, delicious dessert that's made with ingredients you likely have in your kitchen!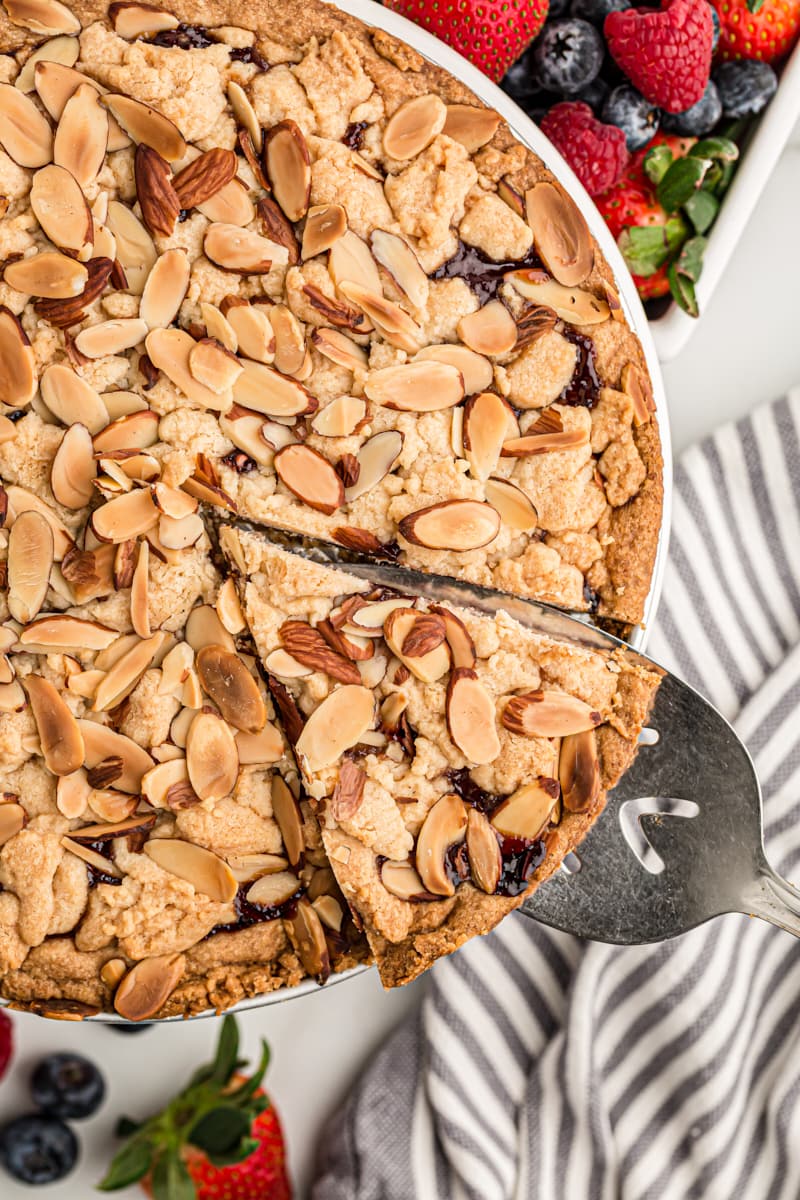 Easy Italian Jam Crostata
Every once in a while, you find one of those magical recipes that's so simple yet so delicious and gorgeous that it immediately becomes a favorite. Well, baking friends, this recipe is exactly that. Let me introduce you to this Italian Jam Crostata.
There are lots of recipes out there for crostatas, but I just adore the simplicity of this one. It begins with a simple shortbread crust that's also used as part of the topping. That's followed by fruit jam and sliced almonds. And that is all there is to this beauty! It's a perfect example of something that's greater than the sum of its parts.
Another plus? It's very easy to keep the ingredients for this on-hand for whenever you need a last-minute beauty of a dessert. That's winning!
What is a Crostata?
We'll get the fancy name out of the way first. A crostata is an Italian dessert, specifically a pie or tart that's usually filled with fruit jam or other fruit fillings. It may or may not have a pastry topping as well. There are other variations, but we'll stick with jam for our purposes here.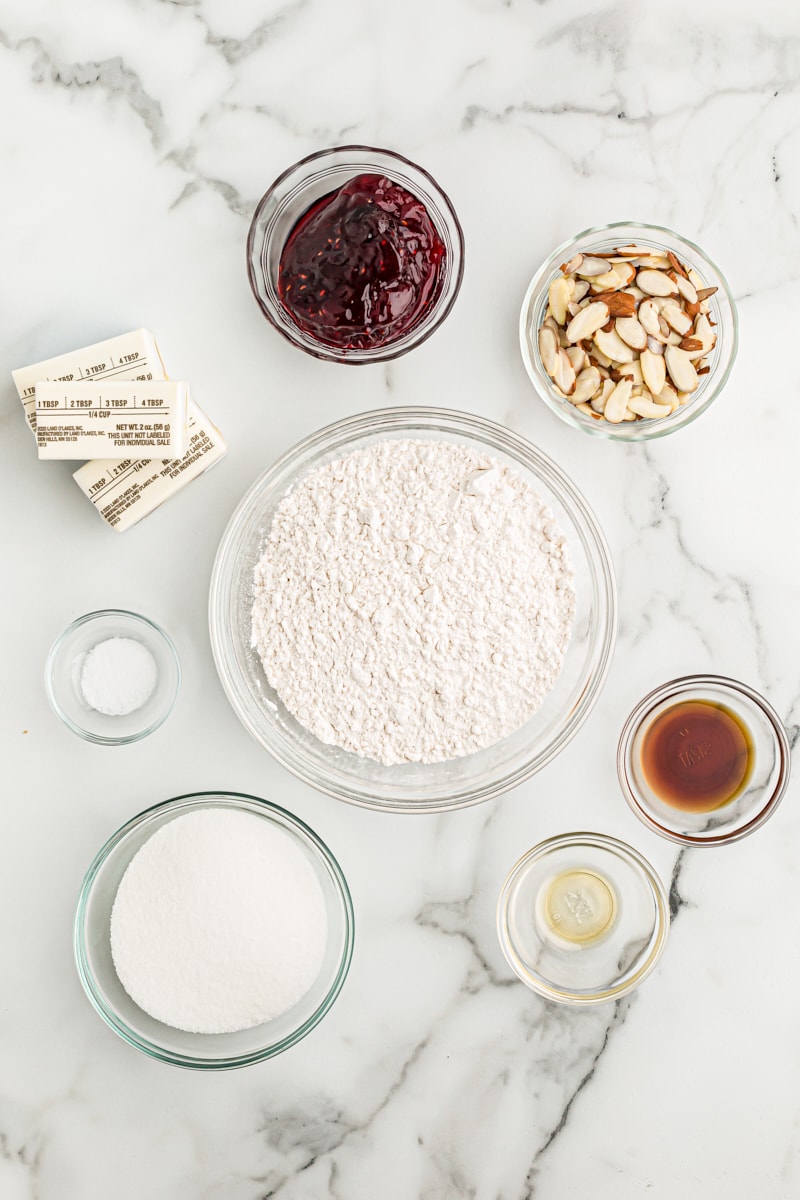 What You'll Need
You'll just need some baking basics to whip up this tart! Scroll down to the bottom of this post for ingredient quantities and full instructions.
Unsalted butter – Set out the butter about half an hour before baking so it will be properly softened for mixing. Learn more: How to Soften Butter
Granulated sugar
Vanilla extract
Almond extract – You can just use vanilla extract, but the almond addition provides wonderful flavor.
Salt
All-purpose flour – Measure by weight for best results. Otherwise, spoon and sweep to avoid over-measuring.
Jam – Use your favorite fruit jam. The jam is really featured here, so be sure to use a good one.
Almonds – Use sliced almonds for the best texture and appearance.
How to Make Italian Jam Crostata
This is such a simple recipe to make! It's great for bakers of all levels who want a simple yet impressive dessert.
Prepare for baking. Heat the oven to 350°F. Grab a 10-inch springform pan. With all the butter in the crust, you shouldn't need to grease the pan.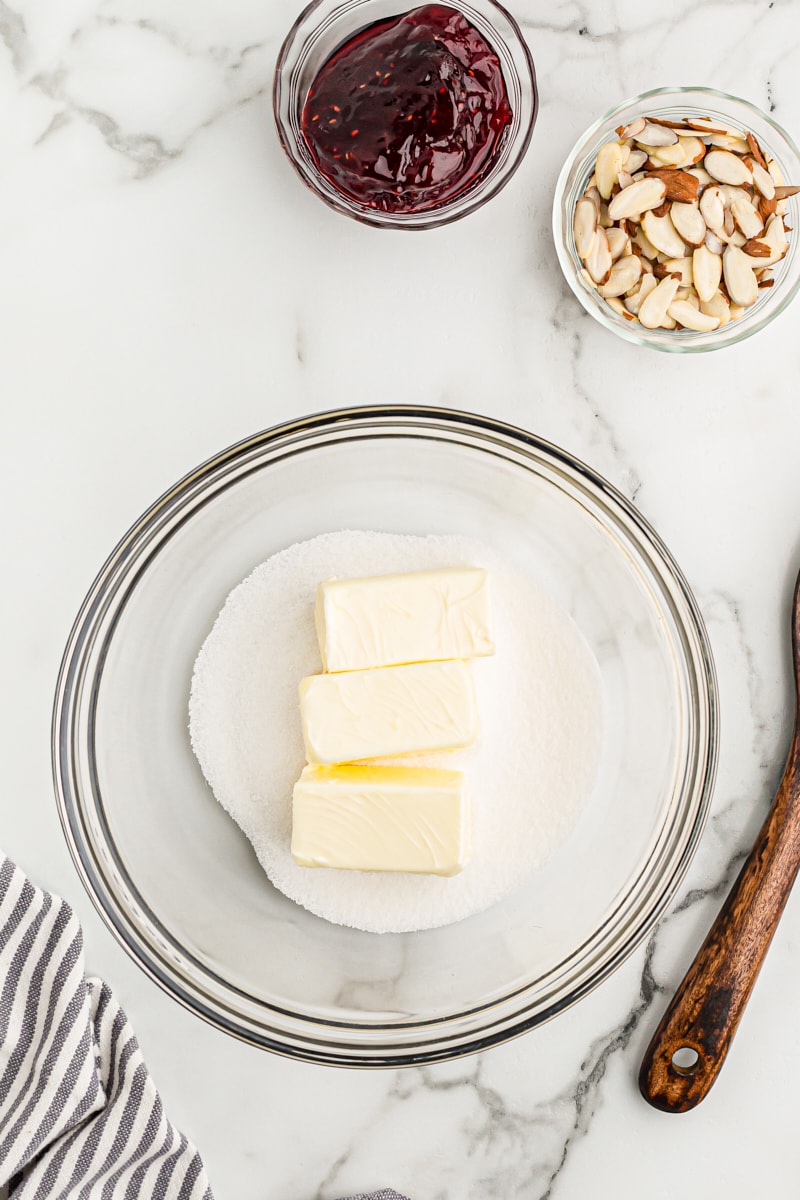 Mix the wet ingredients. With an electric hand mixer or stand mixer, beat the butter and sugar in a large bowl until the mixture is light in color and fluffy. Add the extracts and the salt, and mix just until combined.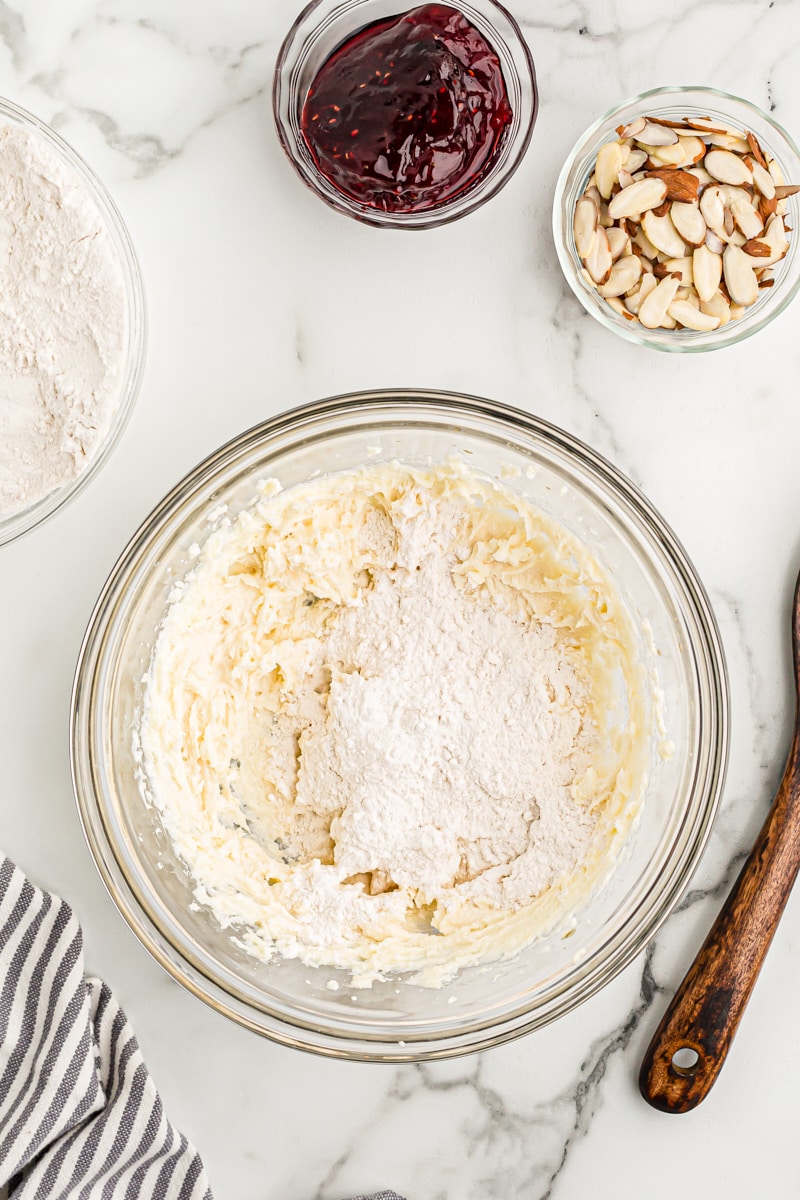 Add the flour. With the mixer on low speed, gradually add the flour and mix just until combined. The dough will be crumbly but should hold together when pinched.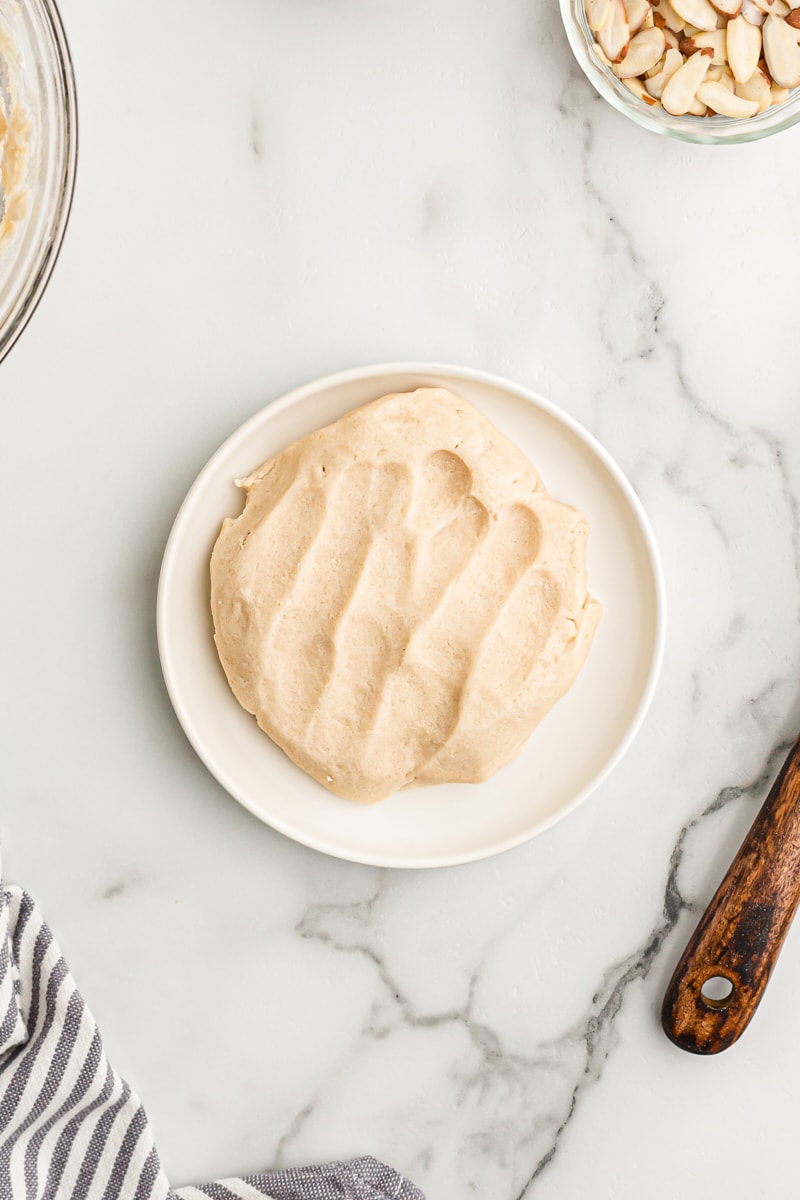 Reserve the topping. Take 1/2 cup of the crust dough and press it onto a small plate until it's 1/4- to 1/2-inch thick. Cover the plate with plastic wrap and place it in the freezer while you finish assembling the tart.
Press the crust into the pan. Transfer the remaining crust dough to the pan. Press it firmly and evenly into the bottom of the pan. You can lightly flour your fingers to make this easier to do without sticking.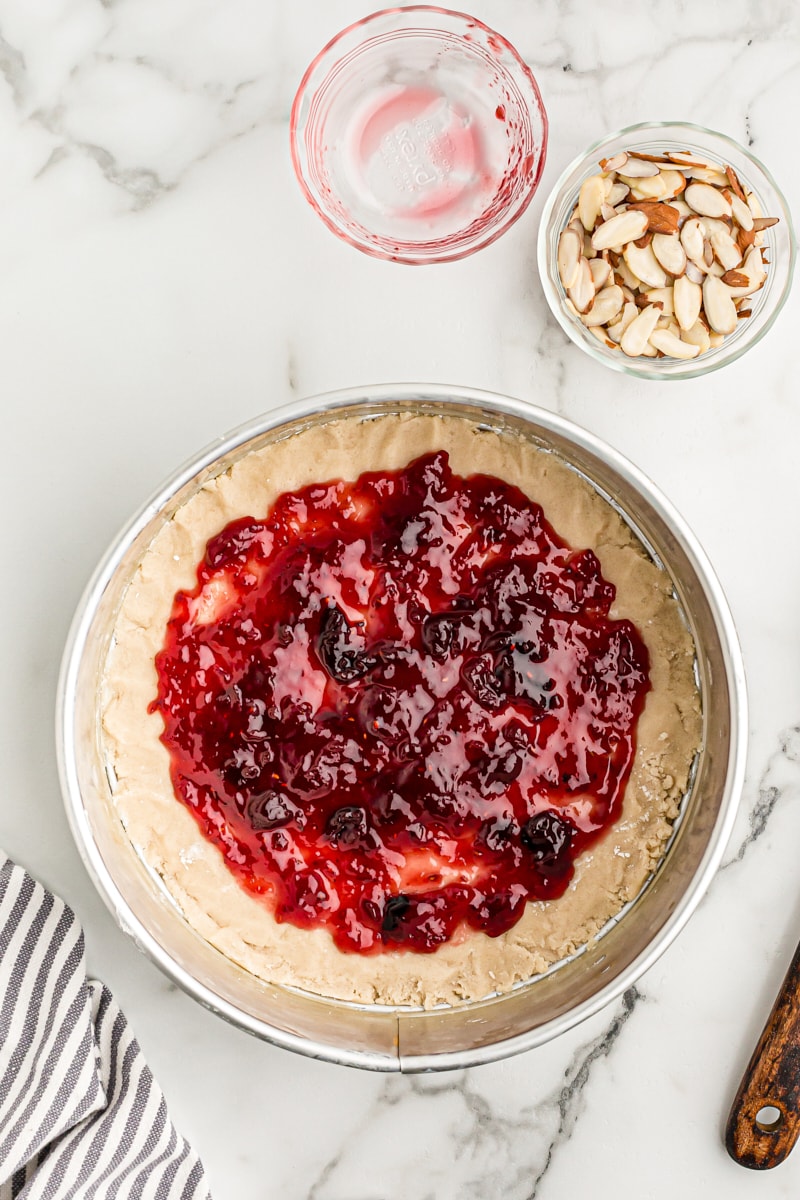 Finish assembling. Spread the jam over the dough, leaving about a 1-inch border around the outside edges. Next, crumble the reserved dough over the jam. Finally, sprinkle the almonds over the top.
Bake the crostata. Place the pan in the oven, and bake for 45 to 50 minutes. The edges will be golden brown when the tart is done. Cool completely before removing the sides of the pan and cutting into wedges.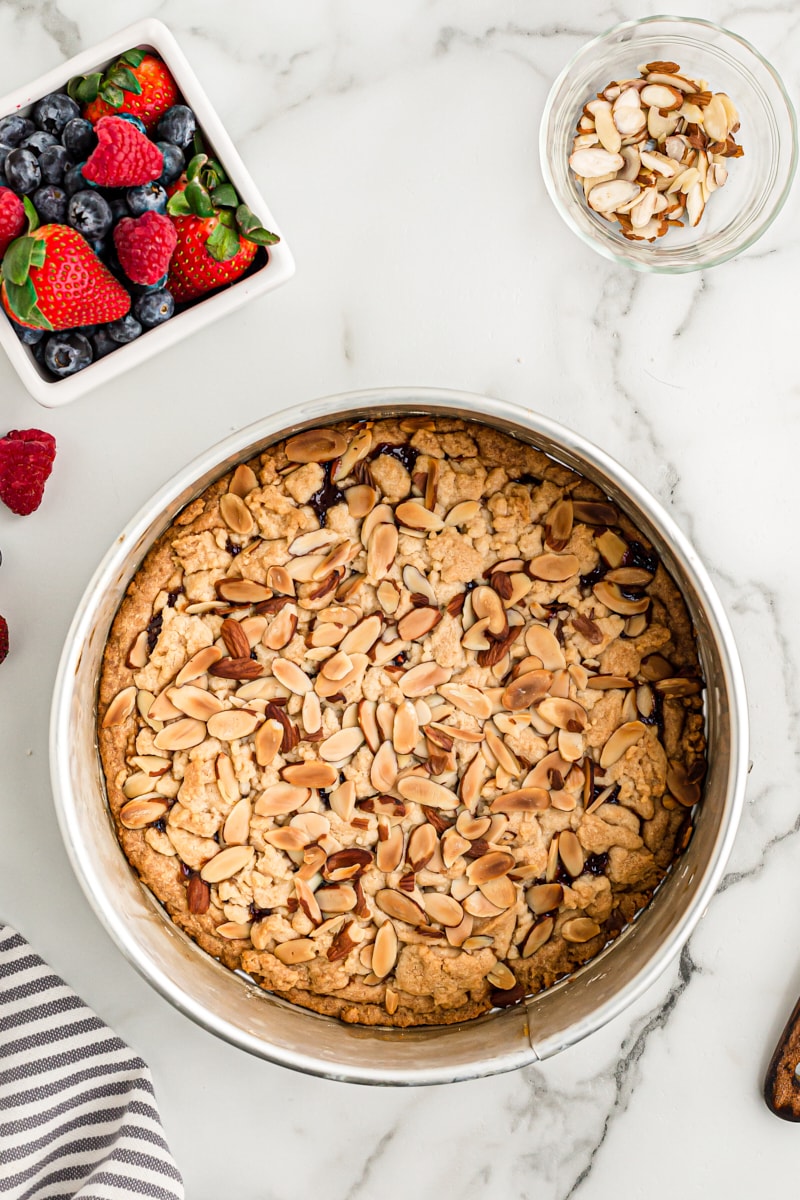 What Flavor of Jam to Use
You can use any flavor of jam you like! I personally love using blueberry or strawberry jam, but you could also use flavors like raspberry, peach, blackberry, or apricot jam. If you can find it, apple jam is another lovely idea! I usually see apple jam at the farmer's market once fall draws closer.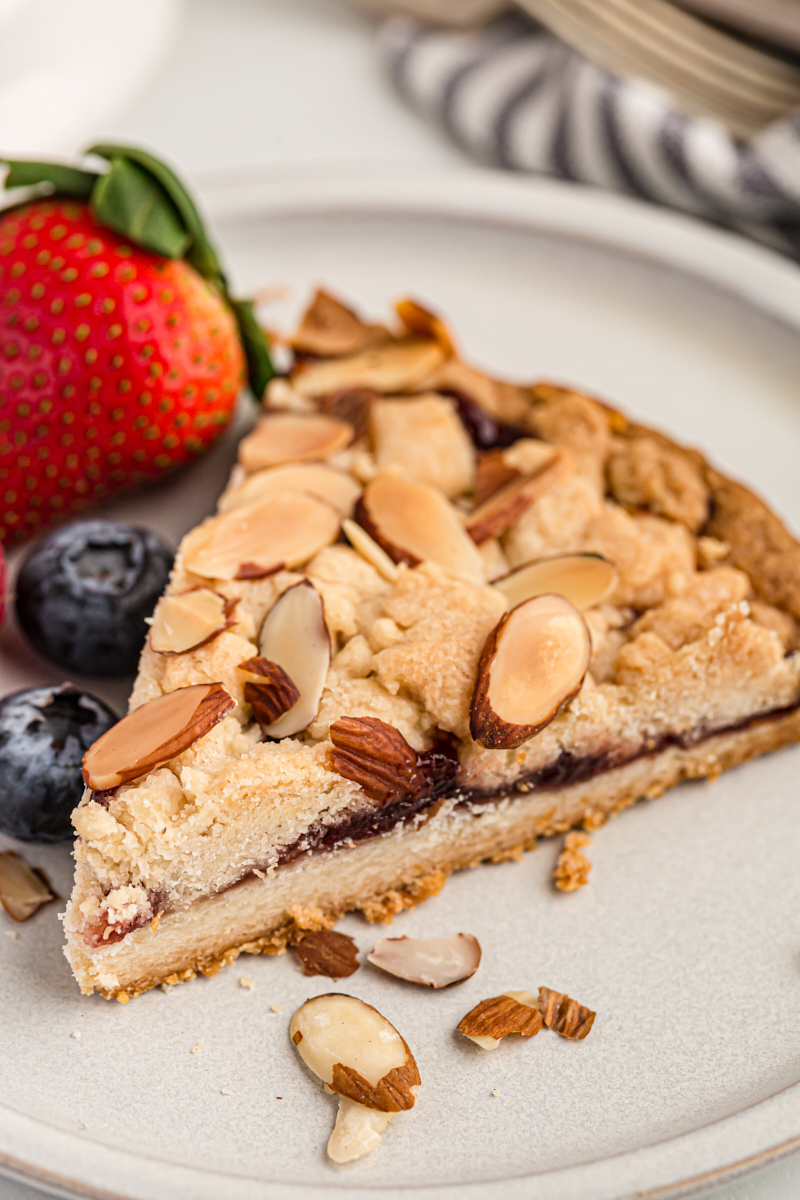 Serving Suggestions
This beautiful, simple Italian jam tart is lovely served all on its own for a simple dessert or sweet snack. But if you want to dress it up a bit for a special occasion, here are some simple ideas to do just that.
Whipped cream – A dollop of sweetened whipped cream is a simple, delicious way to top off servings of this tart. Learn more: How to Make Whipped Cream
Fresh fruit – Serve with fresh berries or other fruit to complement the flavor of jam you used.
Ice cream – Add a scoop of ice cream. Vanilla is always a good choice, but try a complementary flavor for something a little different.
Confectioners' sugar – Simply dust confectioners' sugar over the top of each serving.
Lemon curd – For a citrus twist, add a little dollop of lemon curd.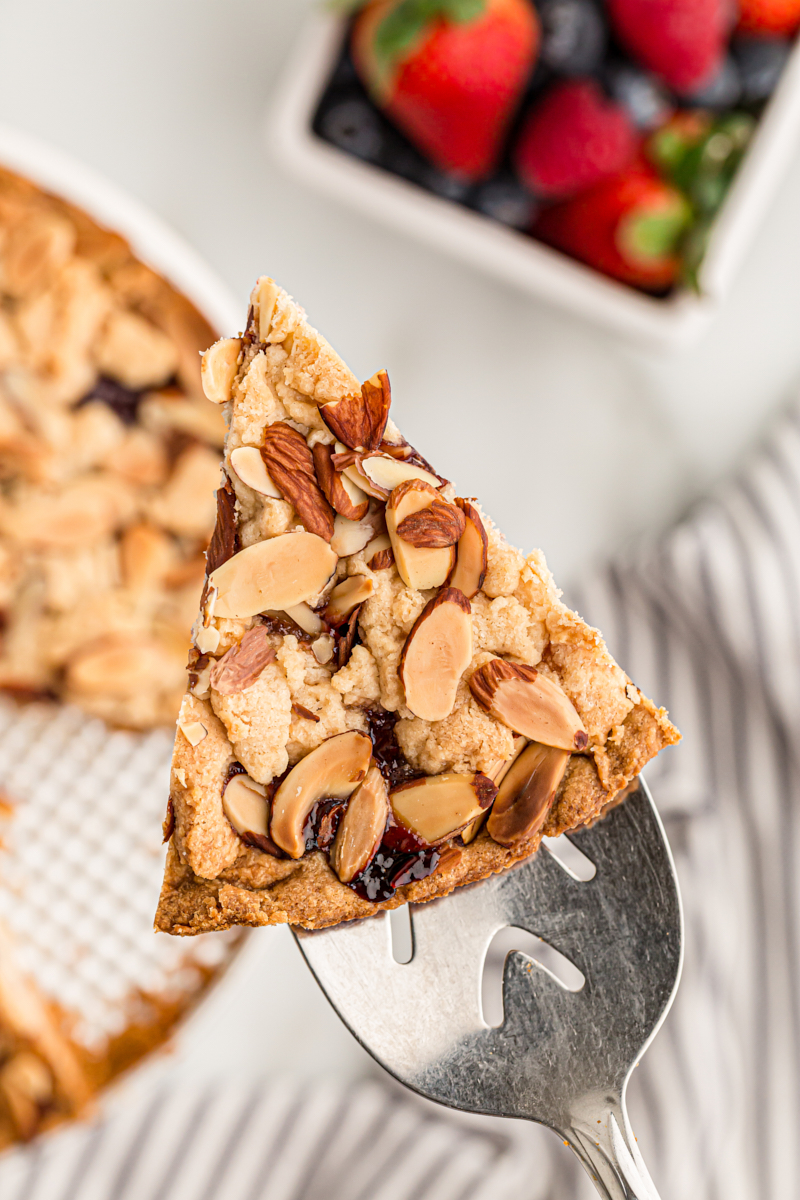 Tips for Success
Measure accurately. I mentioned this above in the details of the ingredients, but it bears repeating. Accurate measurements will give you the best results. If you don't have a kitchen scale, I highly encourage you to get one.
Use a light-colored metal pan. The crostata will bake more evenly and thoroughly. If you have a 10-inch tart pan with a removable bottom, you can use that instead of a springform pan. Just be careful when removing the bottom so the tart stays intact.
Get creative! I often make this tart using whatever jam I happen to have in the refrigerator, and I've yet to find one that doesn't make a delicious addition. For a fun twist, try using a few different kinds of jam divided into sections on top of the tart so that you can easily offer some flavor variety.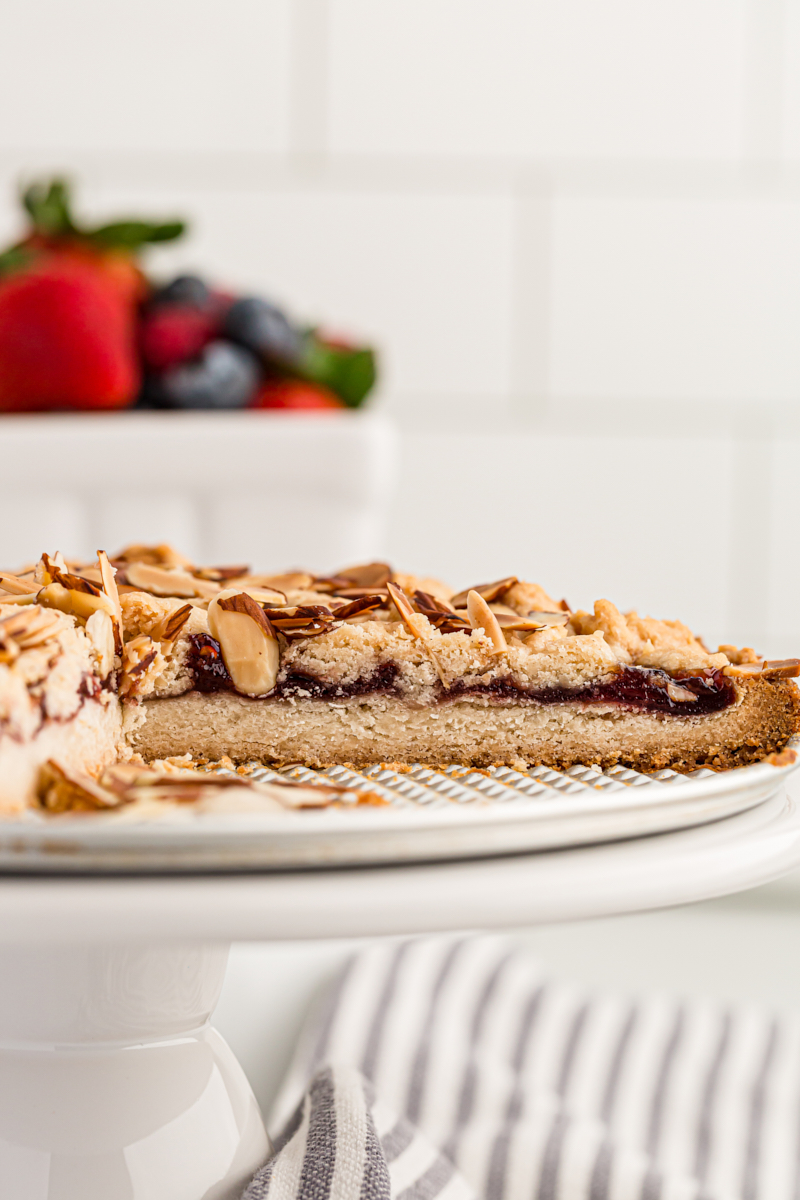 How to Store
Counter: Cover the cooled tart and store it or individual slices in an airtight container at cool room temperature for up to 3 days.
Fridge: For a few more days of storage or if your kitchen stays fairly warm, place the container in the refrigerator and let it come to room temperature for serving.
Freezer: For longer storage, wrap the completely cooled tart or individual slices in two layers of plastic wrap and then wrap again in aluminum foil or place in a freezer-safe container. Stored properly, it should keep up to 3 months. Thaw overnight in the refrigerator or for an hour or two at room temperature.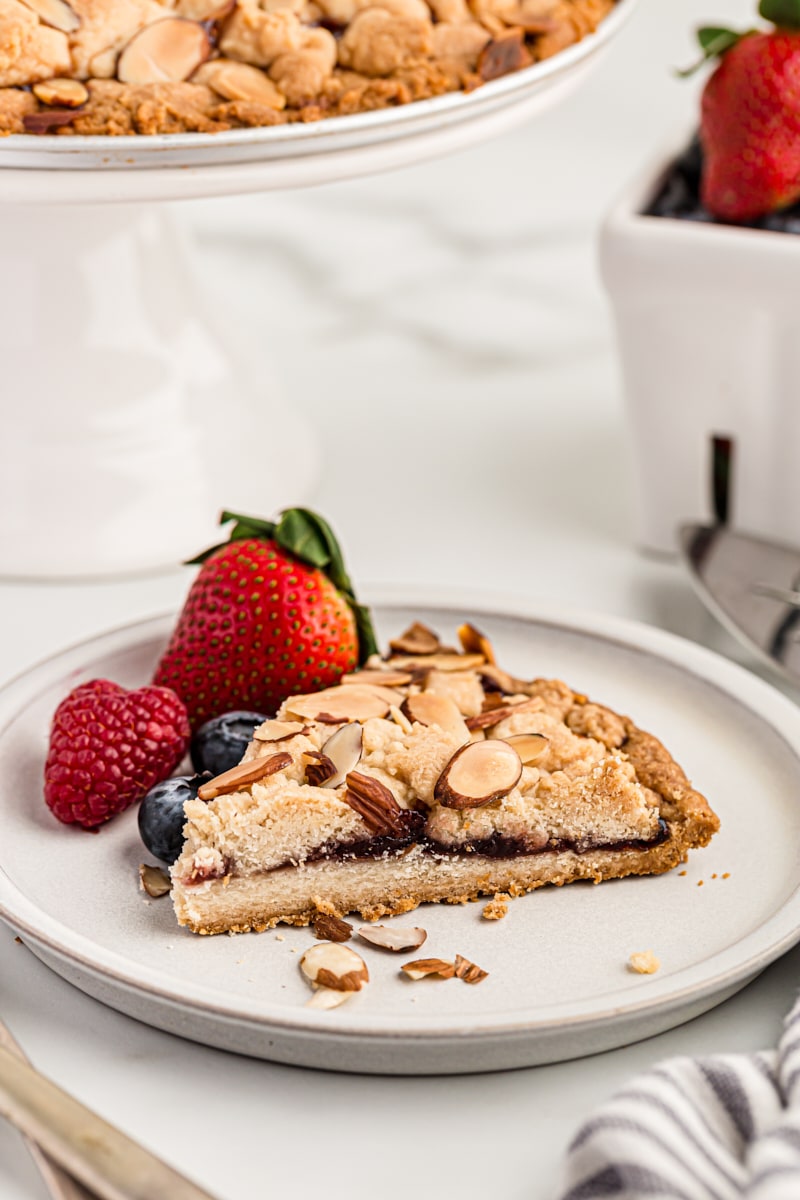 Video Tutorial: Italian Jam Crostata
More Jam-Filled Treats