Chocolate Chip Cupcakes are a delicious mashup of cookie and cupcakes. With plenty of chocolate and nuts, these sweet treats are sure to please!
Chocolate Chip Cookies in Cupcake Form!
I've mentioned before that I'm not much of a "pretty dessert" maker. I lack the patience for intricate detail work, so when I make cupcakes, they are usually the ones without the swirls of piped frosting and decorations. I'm all about simple.
These Chocolate Chip Cupcakes don't really fall into the traditional cupcake category. In fact, the batter is much more like cookie dough than cake batter. Its consistency is more toward scooping than pouring. But they're presented as cupcakes, so consider this recipe a cookie-cupcake hybrid!
The flavor of the cupcake portion is reminiscent of a blondie, with the brown sugar really shining through. As these lean toward the cookie spectrum, you'll find that they're sturdier than a traditional cupcake, while still being soft.
This base is topped with a chocolate and pecan combination that really pushes them over the edge to perfection. There's quite a bit of flavor punch in these little guys. Just be warned that it may be hard to stop with just one!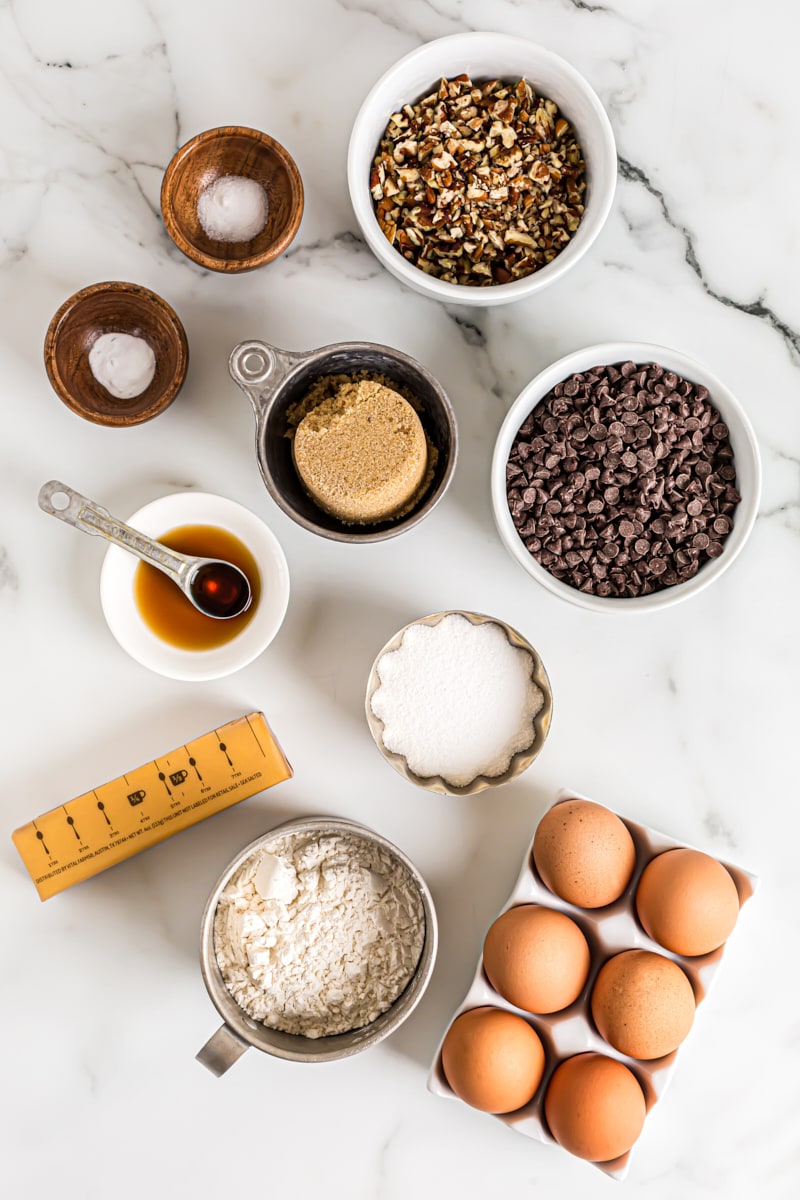 What You'll Need
This recipe calls for simple, everyday ingredients. If you're lucky, you might have them all on hand already!
For the cupcakes:
Unsalted butter – Let this soften, but not all the way to room temperature.
Granulated sugar
Light brown sugar
Vanilla extract
Egg – Let the egg come to room temperature.
All-purpose flour – Here's how to measure flour.
Baking soda
Salt
For the topping:
Light brown sugar
Egg
Salt
Miniature semisweet chocolate chips – The size of mini chocolate chips is just right for this topping. If you don't have mini chips, then you can roughly chop some chocolate and use that instead.
Pecans – These will be chopped, so save yourself some money and buy pecan pieces at the grocery store instead of pricier whole pecans.
Vanilla extract
Are Dark Chocolate and Semisweet the Same?
Semisweet chocolate is a type of dark chocolate with a cocoa solid content between 35 and 65%. In other words, all semisweet chocolate is dark chocolate, but not all dark chocolate is semisweet!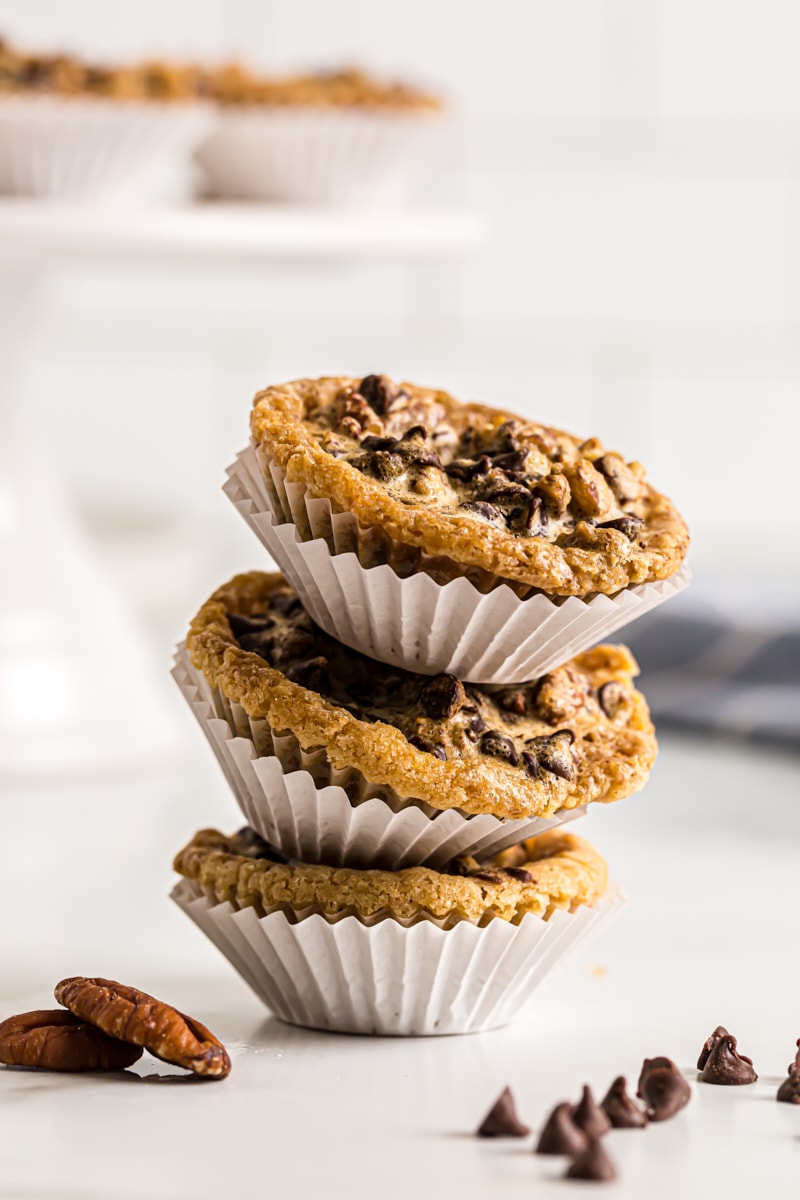 How to Make Chocolate Chip Cupcakes
I should also mention that this recipe is quick and easy to make! It's perfect for when you're craving something sweet and you want it now.
Make the cupcakes:
Prepare. Preheat your oven to 350°F and line 36 cups of miniature muffin pans, then coat them with cooking spray.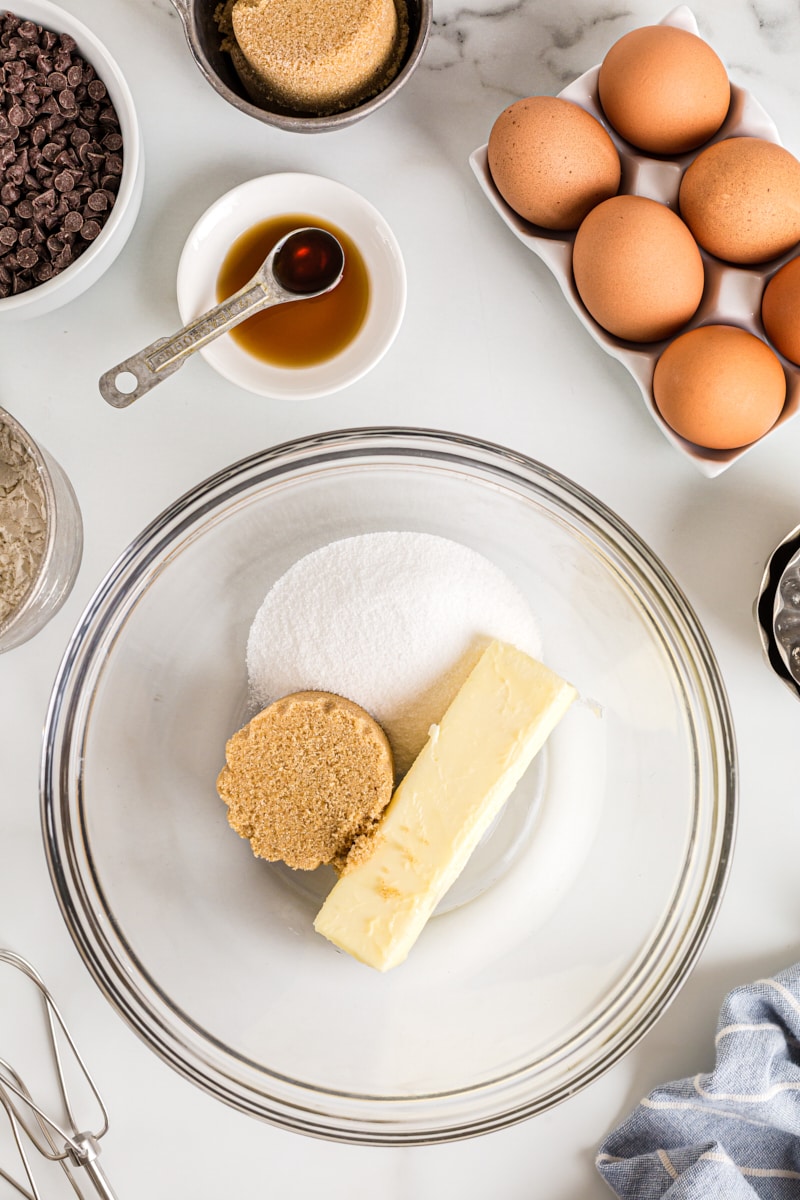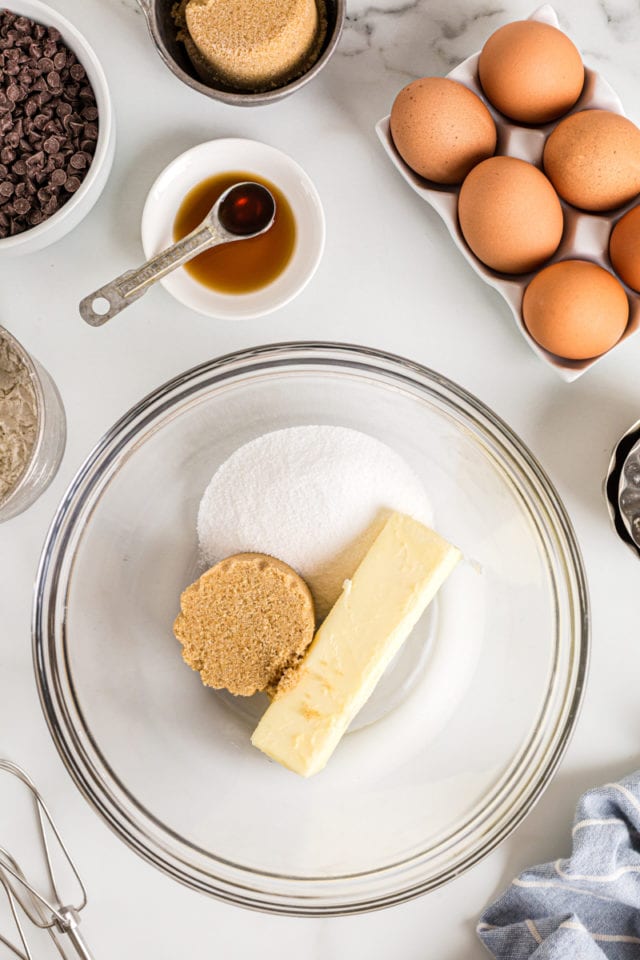 Combine the wet ingredients. Use an electric mixer on medium speed to beat the butter and sugars until the mixture is creamy. Beat in the vanilla extract, followed by the egg.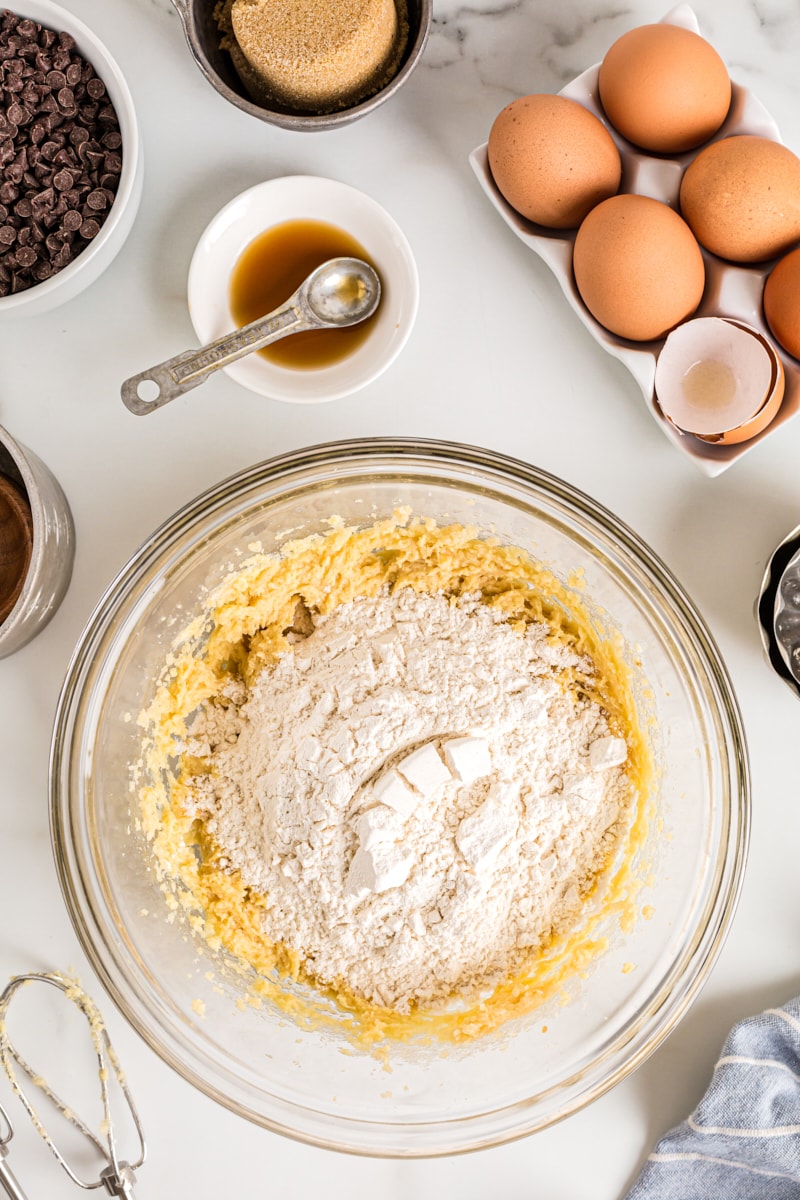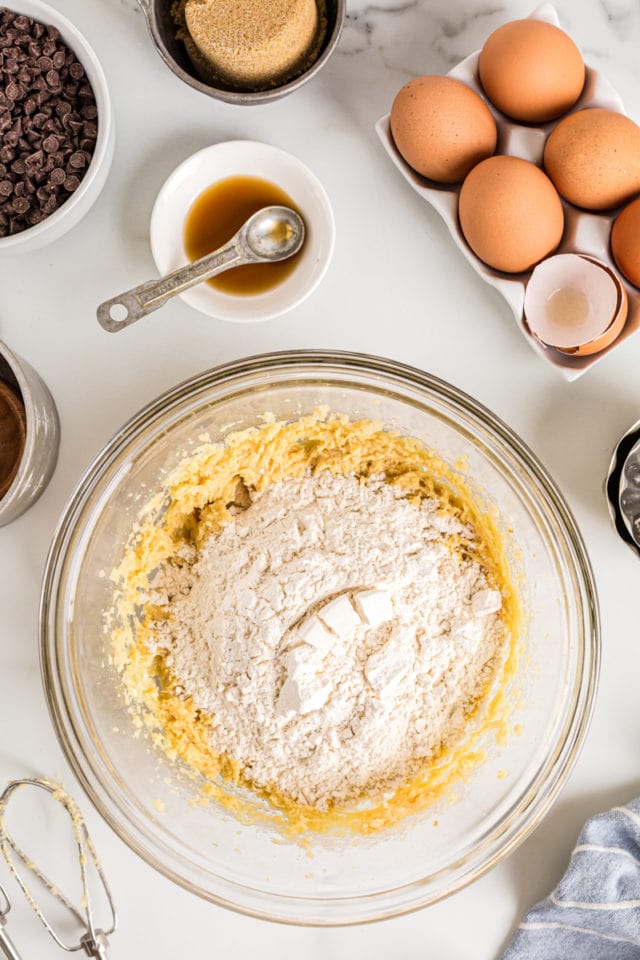 Finish the dough. In a separate bowl, whisk together the flour, baking soda, and salt. Add the dry ingredients to the butter mixture, mixing just until combined.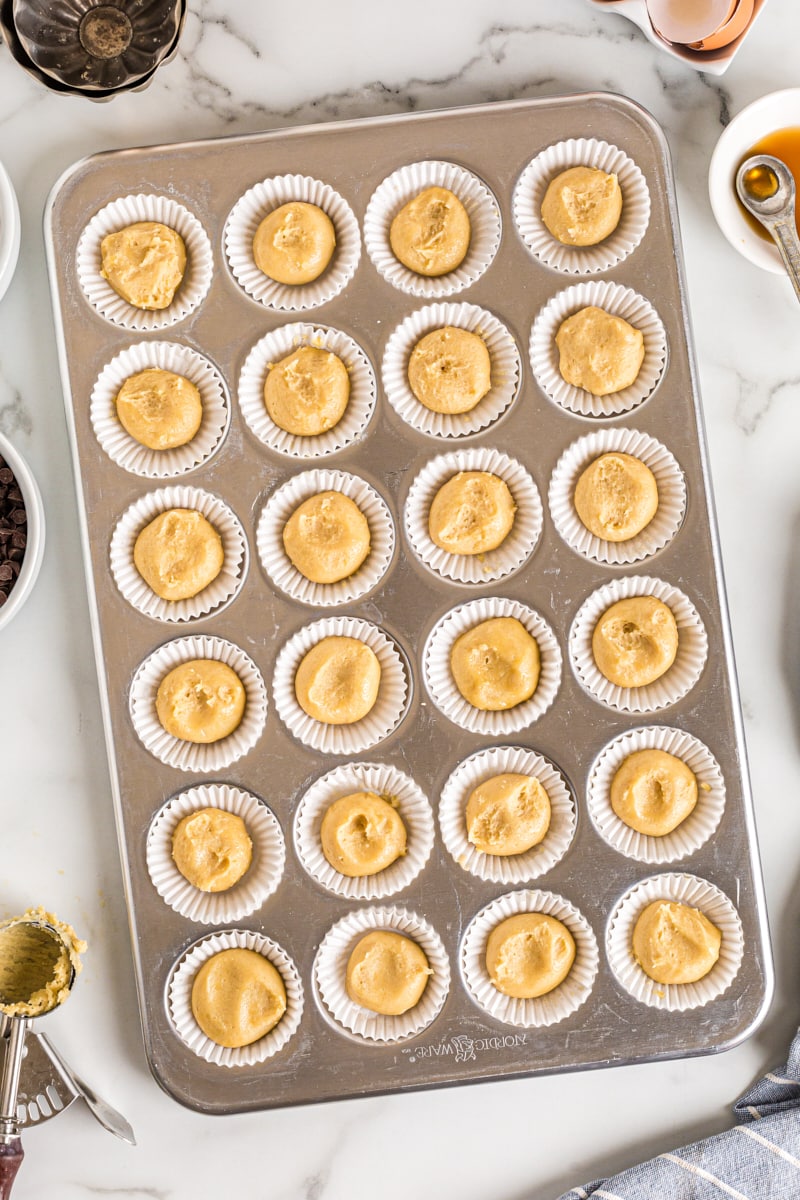 Fill the muffin cups. Spoon about 1 1/2 teaspoons of the batter into each muffin cup.
Bake. Place the muffin tin in the oven and bake for 10 to 12 minutes. The cupcakes will bake more once the topping is added, so they will only be partially baked at this point. They should be very lightly browned.
Make the topping and finish: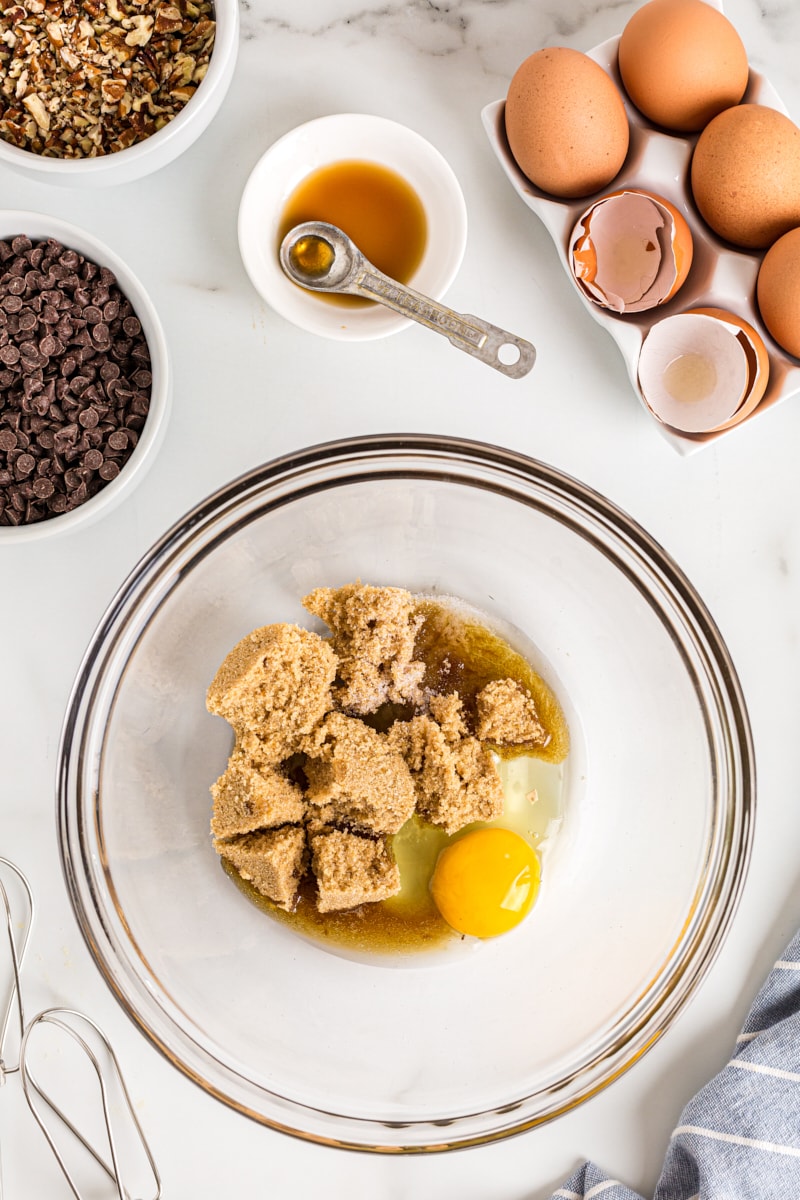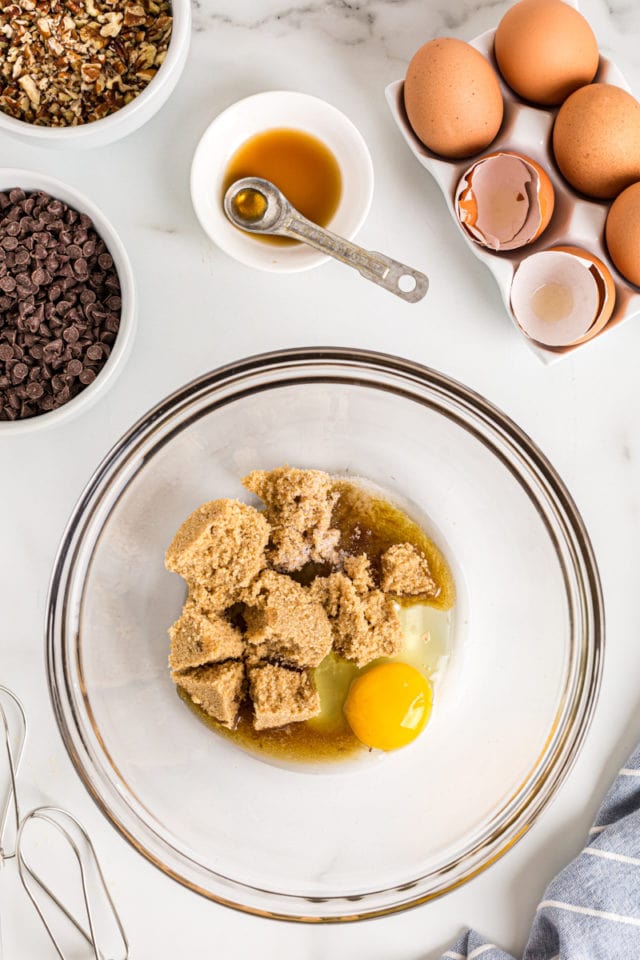 Mix the topping ingredients. Use an electric mixer on medium speed to beat the brown sugar, egg, and salt until well-combined. Fold in the chocolate chips, pecans, and vanilla extract.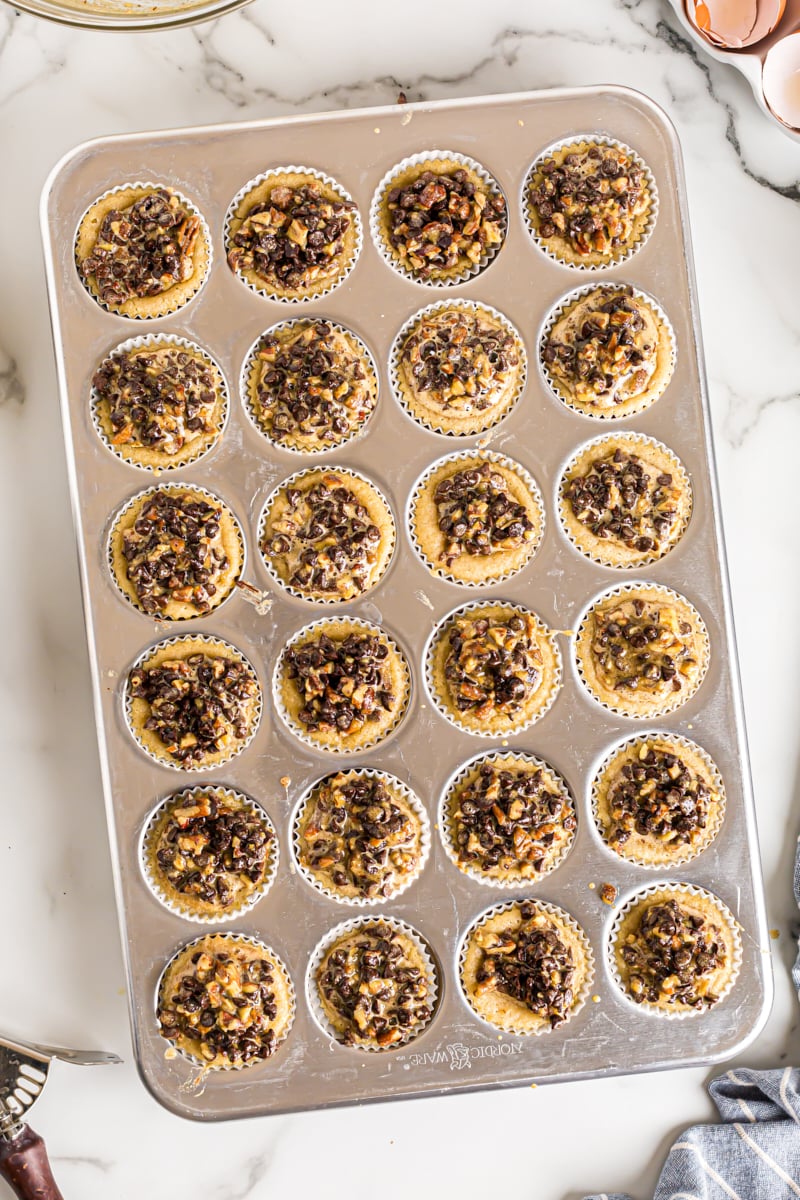 Top the cupcakes. Spoon the topping onto the partially baked cupcakes.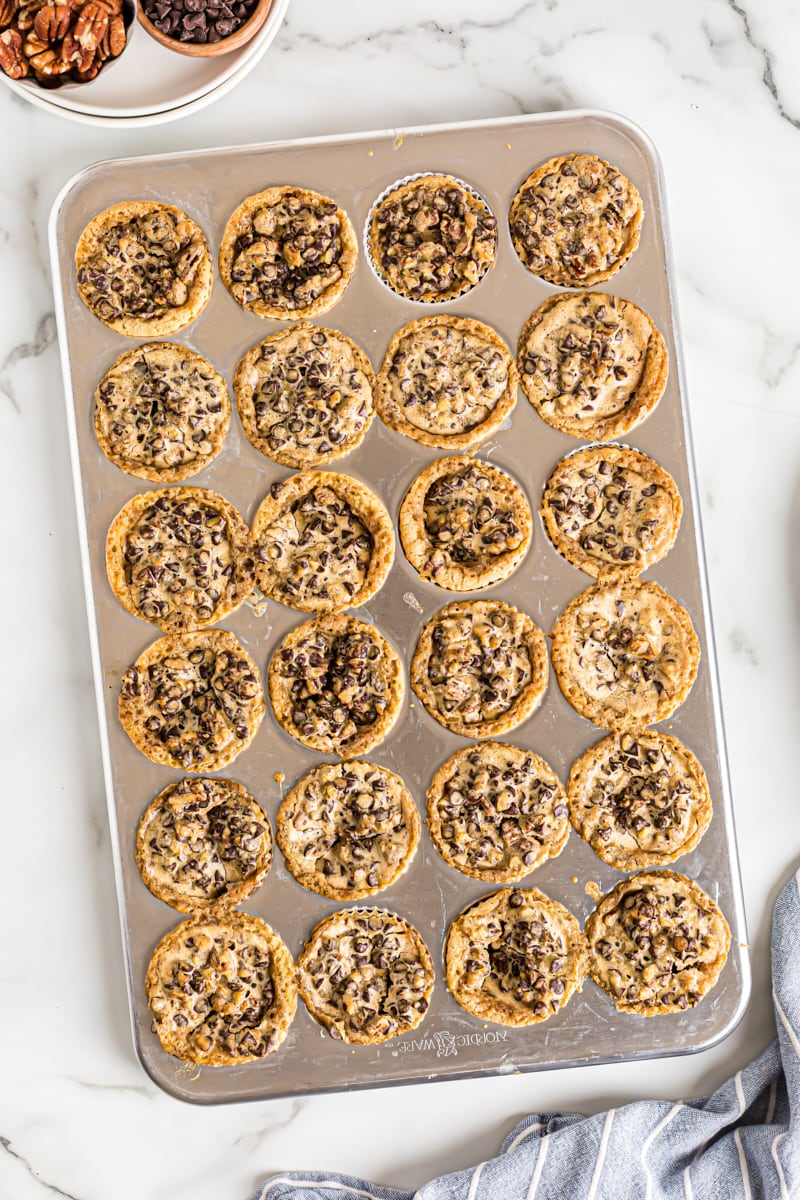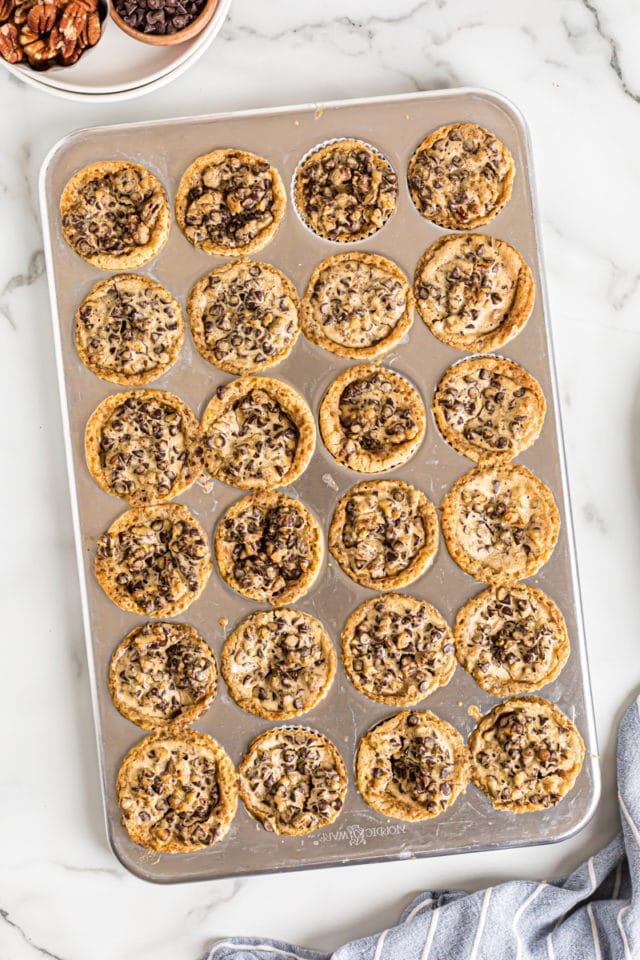 Bake and cool. Return the muffin tin to the oven and bake for 8 to 10 more minutes. Cool the cupcakes in the pans before removing them.
How Far Do I Fill Cupcake Liners?
With traditional cupcakes, you'll usually fill the cupcake liners 2/3 or 3/4 of the way full. This gives them enough room to rise without overflowing.
Because these are a cookie-cupcake hybrid, they're a bit different and don't rise in the same way most cupcakes do. Follow the instructions in the recipe for how much batter to add to each cup. If you have a 1 & 1/2 teaspoon scoop, use it to help make portioning quick and consistent.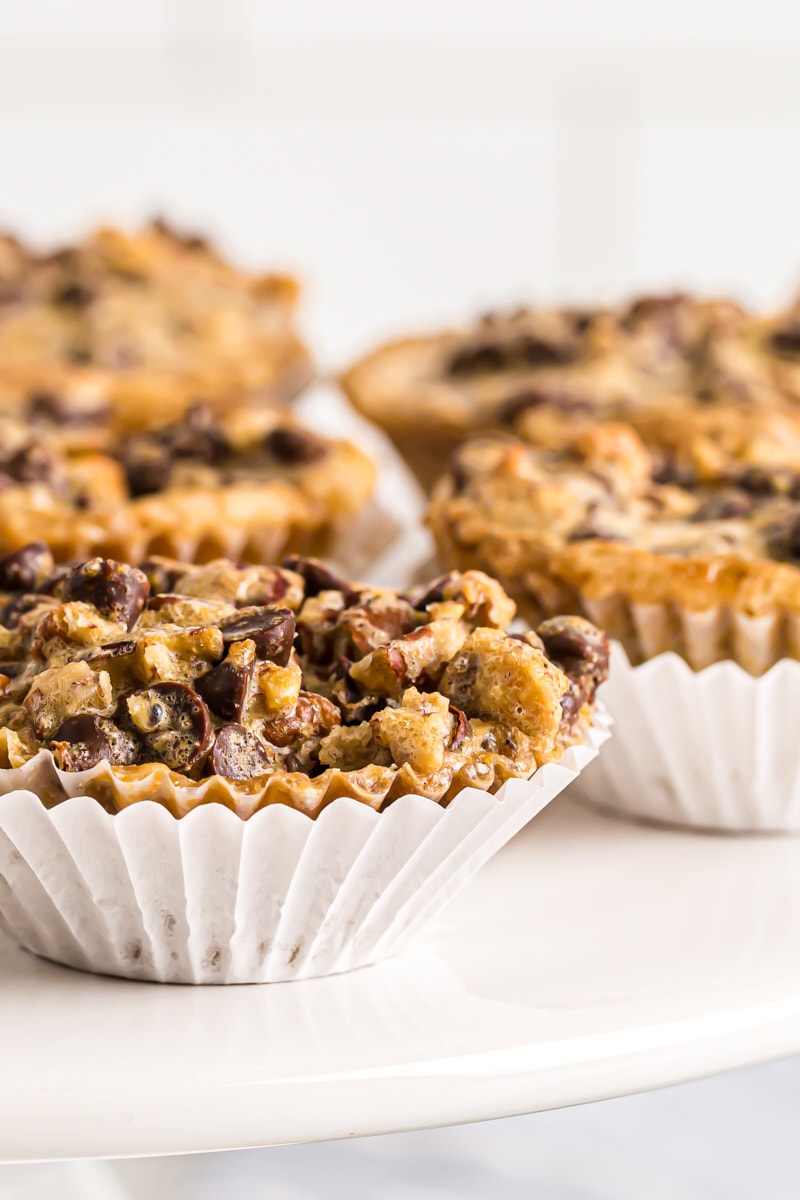 Tips for Success
Here are a few tips to help you nail this recipe—and ideas for making it your own!
Grease the cupcake liners. Usually cupcake liners mean you can skip the greasing, but this dough is sticky, so I recommend taking the extra step of spraying the liners with oil or cooking spray to ensure that the cupcakes don't stick to the paper.
Checking for doneness. When you insert a toothpick into the center, it should come out mostly clean—a little bit of chocolate is okay, but it shouldn't come out with cookie batter on it.
Customize your cupcakes. Swap the mini chocolate chips for mini M&Ms or drizzle the finished cupcakes with melted dark chocolate or white chocolate for a decorative (and delicious!) touch.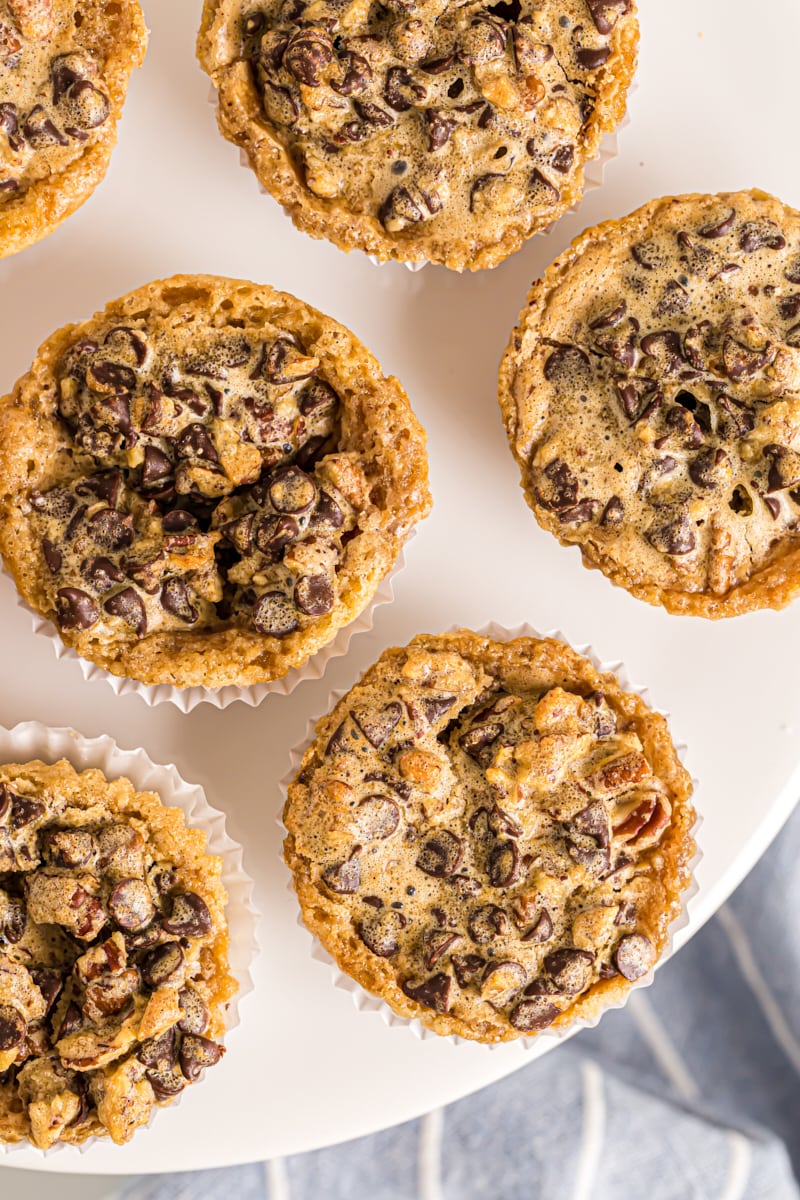 How to Store
Store these Chocolate Chip Cupcakes in an airtight container at room temperature for up to 4 days.
Can This Recipe Be Frozen?
You can freeze Chocolate Chip Cupcakes in an airtight container for up to 3 months. Let them thaw at room temperature before serving.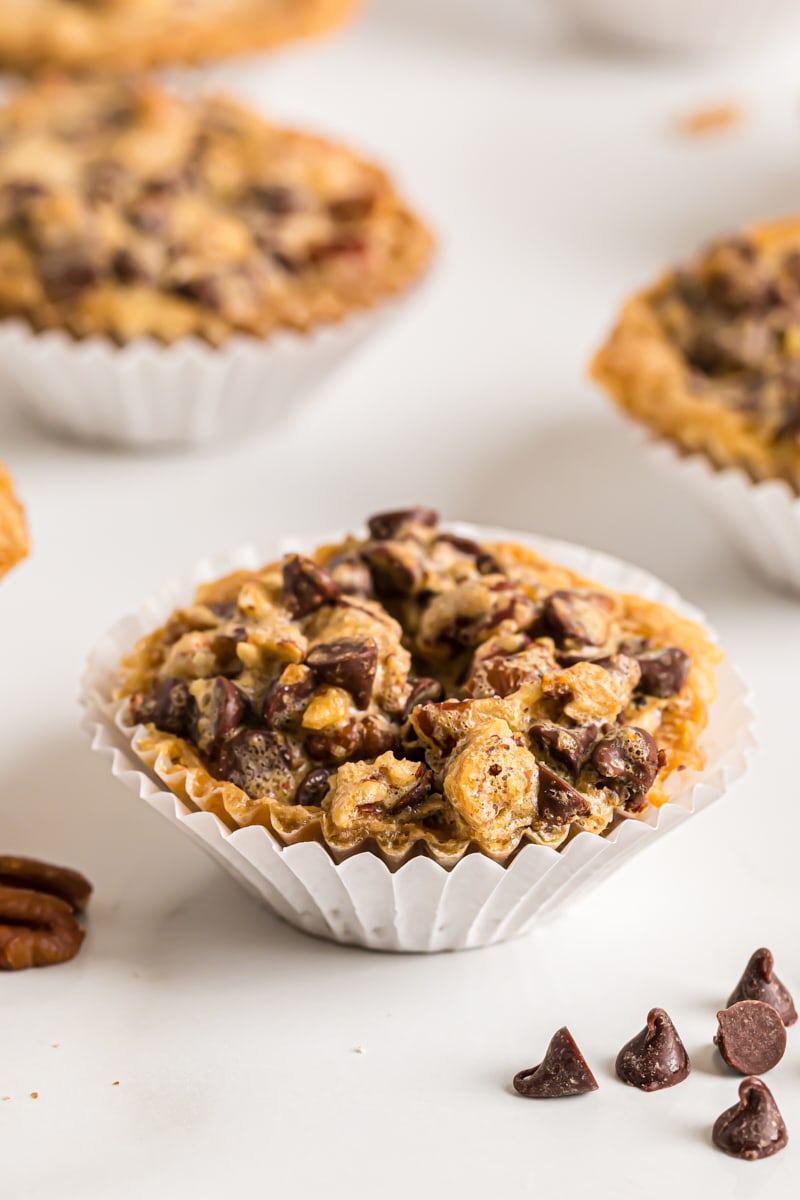 Video Tutorial: Chocolate Chip Cupcakes
Find more cupcake recipes in the Recipe Index.
More Chocolate Chip Desserts