This Chocolate Chip Loaf Cake is the perfect dessert for when you're craving something sweet but don't want to make a big fuss. The recipe is simple and straightforward, and the results are delicious!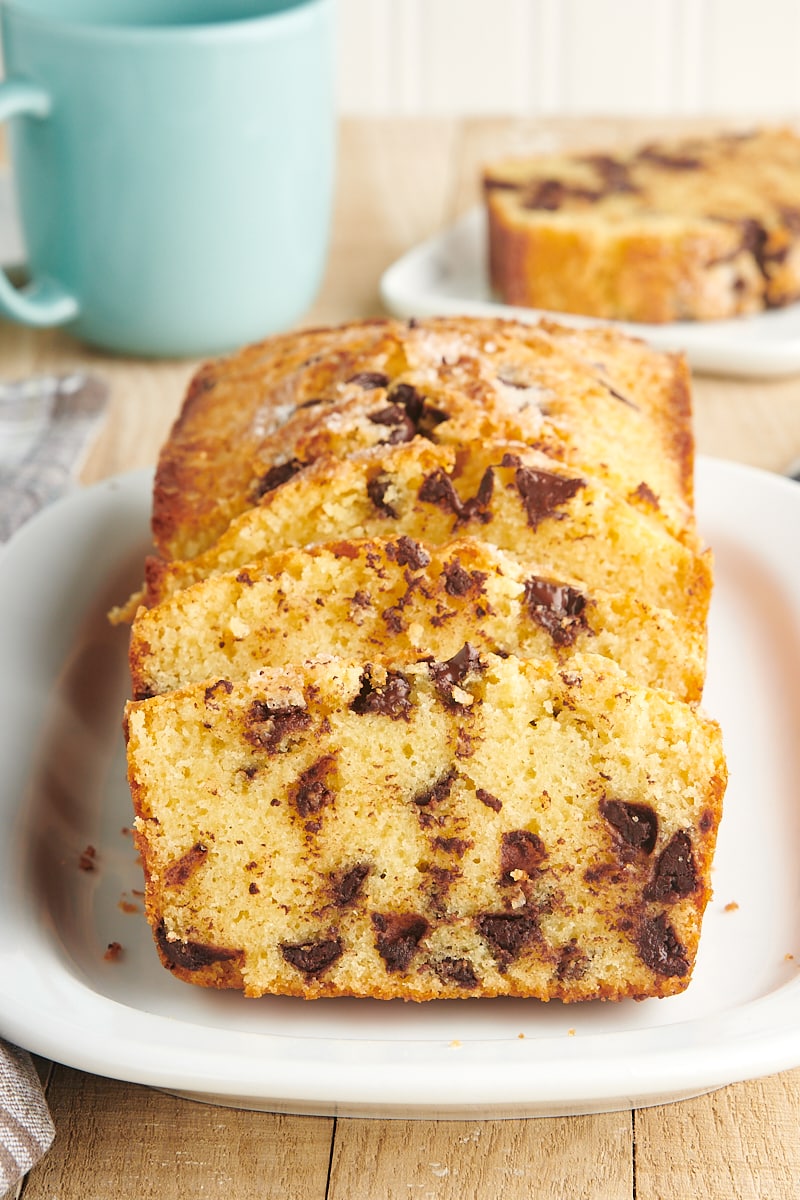 Chocolate Chip Loaf Cake
I'm all about simple recipes that deliver in a big way, and this Chocolate Chip Loaf Cake falls firmly into that category.
It has a lot of things going for it. First is that simplicity I mentioned. This cake is made with basic baking ingredients that you're likely to have on-hand most any time. And it mixes quickly and easily, meaning you can have this cake in the oven in short order.
Secondly, the flavor is fantastic. There aren't a lot of competing flavors here. It's a celebration of a really good vanilla cake with a punch of chocolate.
Lastly, this recipe is toward the small batch spectrum of baking. You can get a really great cake without making a layer cake or using a big pan. You'll get 8 to 10 servings here, depending on how generously you slice it.
All of that put together makes this Chocolate Chip Loaf Cake a dessert you're likely to find yourself making again and again. It's perfect for a simple weeknight treat, a casual gathering, or even a potluck or picnic!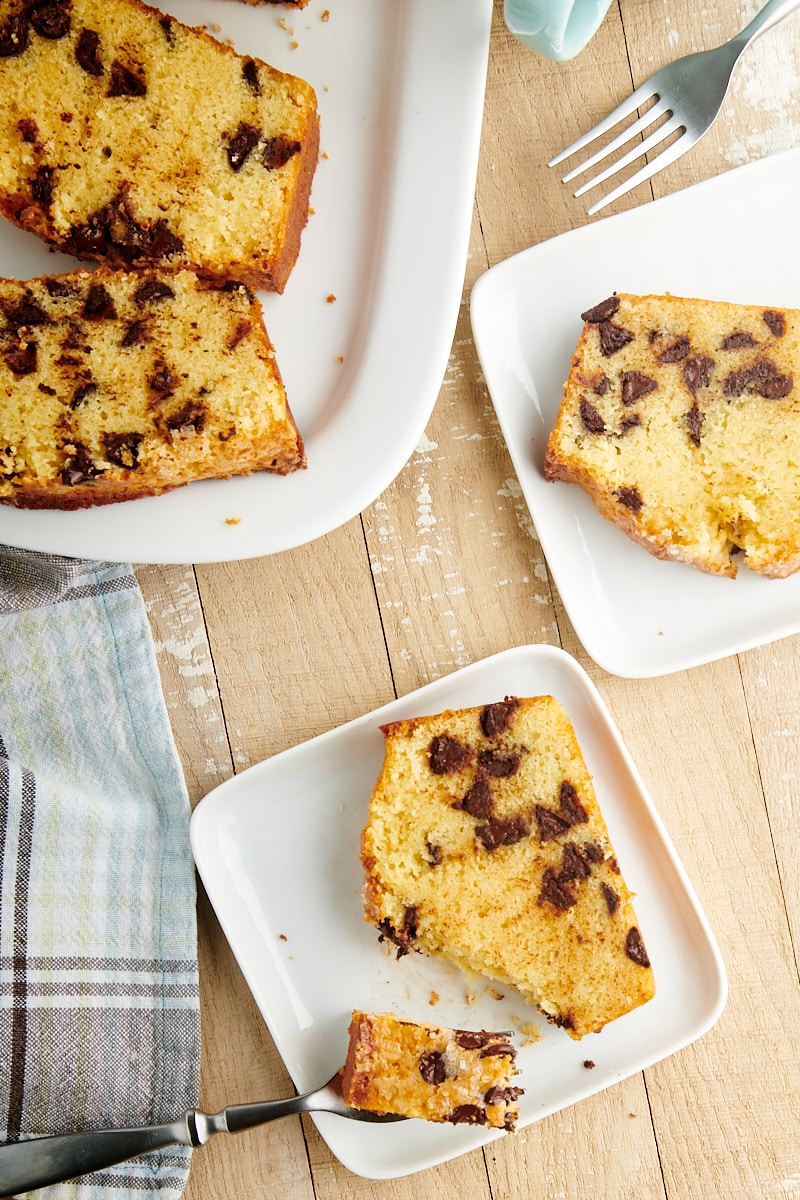 What is the difference between a loaf cake and a pound cake?
In its simplest definition, a loaf cake is any cake baked in a loaf pan. While that can include pound cake, that's not always the case. Pound cakes usually contain no or very little leavening agents, making it dense. Other cakes, like this one, rely on leavening to help them rise and create a softer crumb.
Want to make pound cake instead? Try my Chocolate Chip Pound Cake!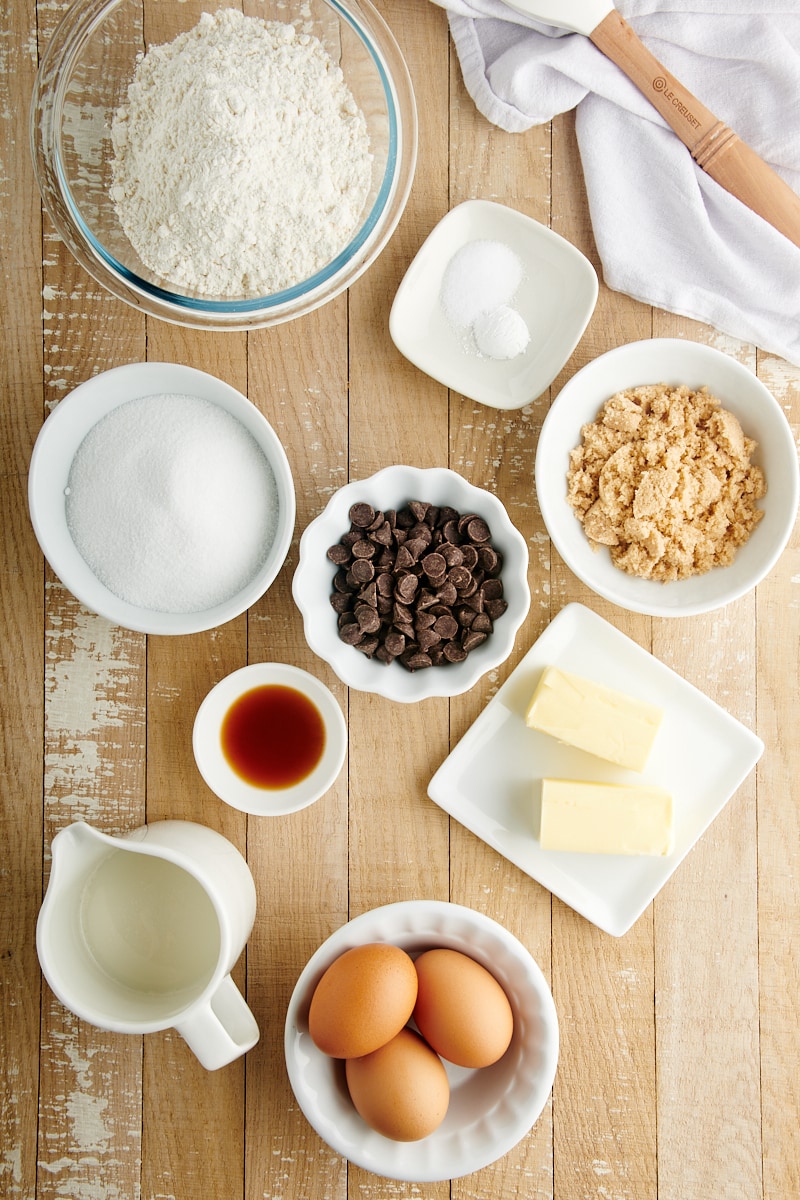 What You'll Need
You may very well have everything you need to whip up this cake today! Be sure to scroll to the recipe card at the bottom of this post for the ingredient quantities and full instructions.
All-purpose flour – As always, measure by weight or spoon and sweep.
Baking powder
Salt
Unsalted butter – Allow the butter to soften before mixing. Learn more: How to Soften Butter
Granulated sugar
Brown sugar – Be sure to pack the brown sugar firmly. Even better, measure it by weight.
Eggs – Set these out before you begin baking to allow them to come to room temperature.
Vanilla extract
Milk – Bring the milk to room temperature, too. I recommend baking with either whole milk or 2% milk.
Chocolate chips – I like dark chocolate chips (bittersweet or semisweet) in this cake, but milk chocolate chips would also work. Or use a combination for a total of 1 cup chocolate chips.
Coarse sugar – This is optional, but I like to sprinkle a few pinches of coarse sugar (like sanding sugar or turbinado sugar) on top of the batter before baking. It forms a sweet crust on top that adds flavor and a nice look. If you prefer a different topping or a little something extra, see below for some other suggestions.
Topping Ideas
This cake is pretty darn perfect in its simplicity, but here are some ideas if you want to dress it up a bit.
Confectioners' sugar – Simply dust the cake with confectioners' sugar before serving.
Chocolate glaze – Add even more chocolate with a simple glaze like the one on this Chocolate Loaf Cake.
Fresh berries – Serve slices of this cake with some fresh berries, like raspberries or strawberries.
Vanilla glaze – Add a simple glaze made with confectioners' sugar, like the 3-ingredient glaze on this Chocolate Pound Cake.
Ganache – Chocolate ganache is an easy addition, too. You can make a small amount for just drizzling on top, or make a bit more to cover the top. See my Chocolate Chip Ganache Blondies for a simple recipe.
Sweetened whipped cream – Such a great topping for SO many things! Add a dollop to each serving along with some chopped chocolate, nuts, or berries.
Ice cream – Vanilla, chocolate chip, chocolate… whatever you like!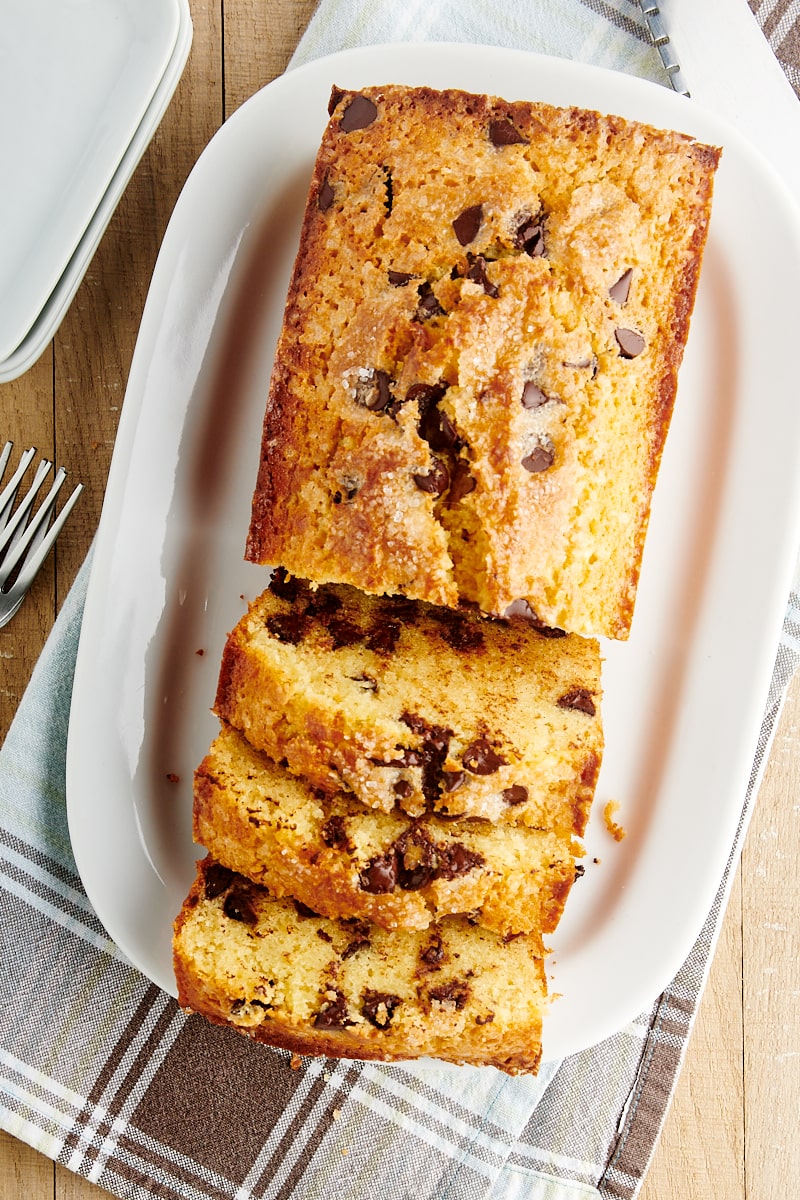 How to Make Chocolate Chip Loaf Cake
You'll love how quickly and easily this cake mixes! It's a great baking project for bakers of all skill levels.
Prepare for baking. Heat the oven to 350°F. Grease a 9- x 5-inch loaf pan, line with parchment paper, and grease the paper. (You can skip the lining if you like, but it makes browning more even and removing the cake from the pan simpler.)
Combine the dry ingredients. Whisk together the flour, baking powder, and salt.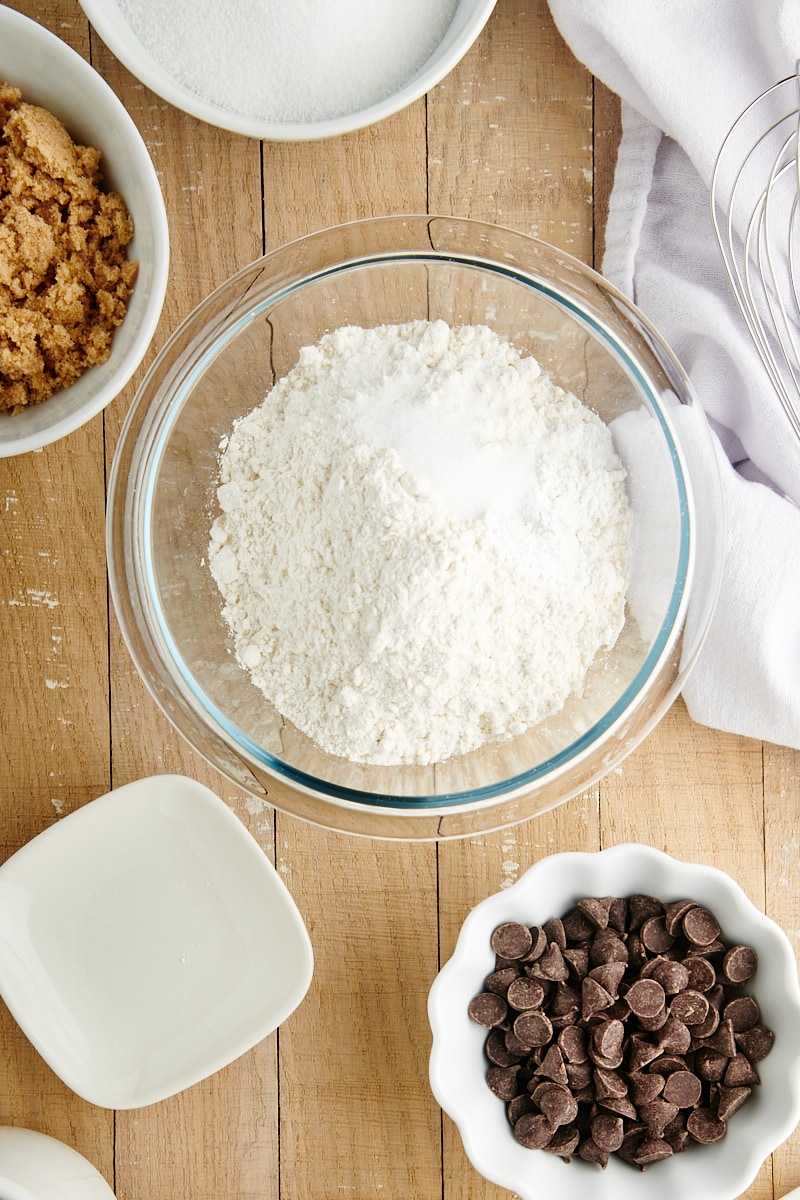 Combine the wet ingredients. Place the butter, sugar, and brown sugar in a large mixing bowl, and beat with an electric hand mixer or stand mixer on medium speed. Mix until the mixture is fluffy and lightened in color. Add the eggs one at a time, mixing well after each addition. Mix in the vanilla.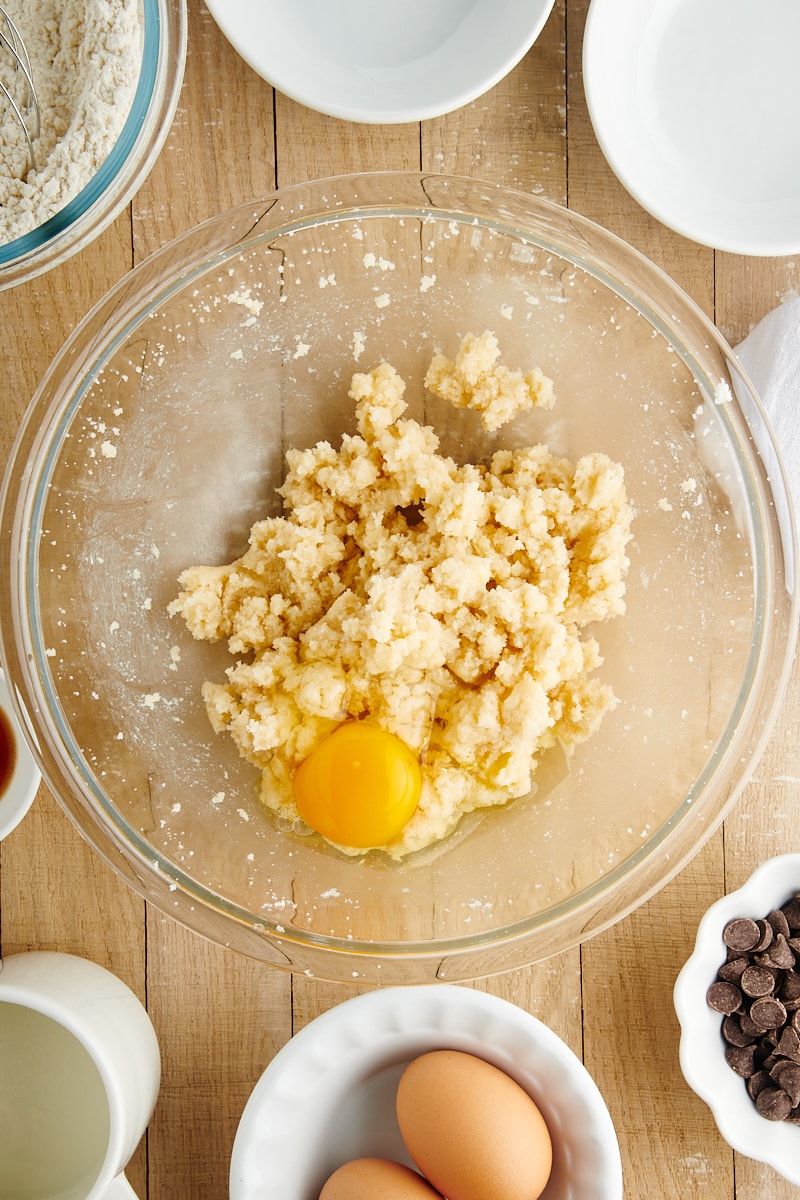 Finish mixing. With the mixer on low speed, add the flour mixture in three portions, alternating with two portions of milk. Mix just until combined or a few streaks of flour remain. Set aside 1/4 cup of the chocolate chips, and stir in the rest.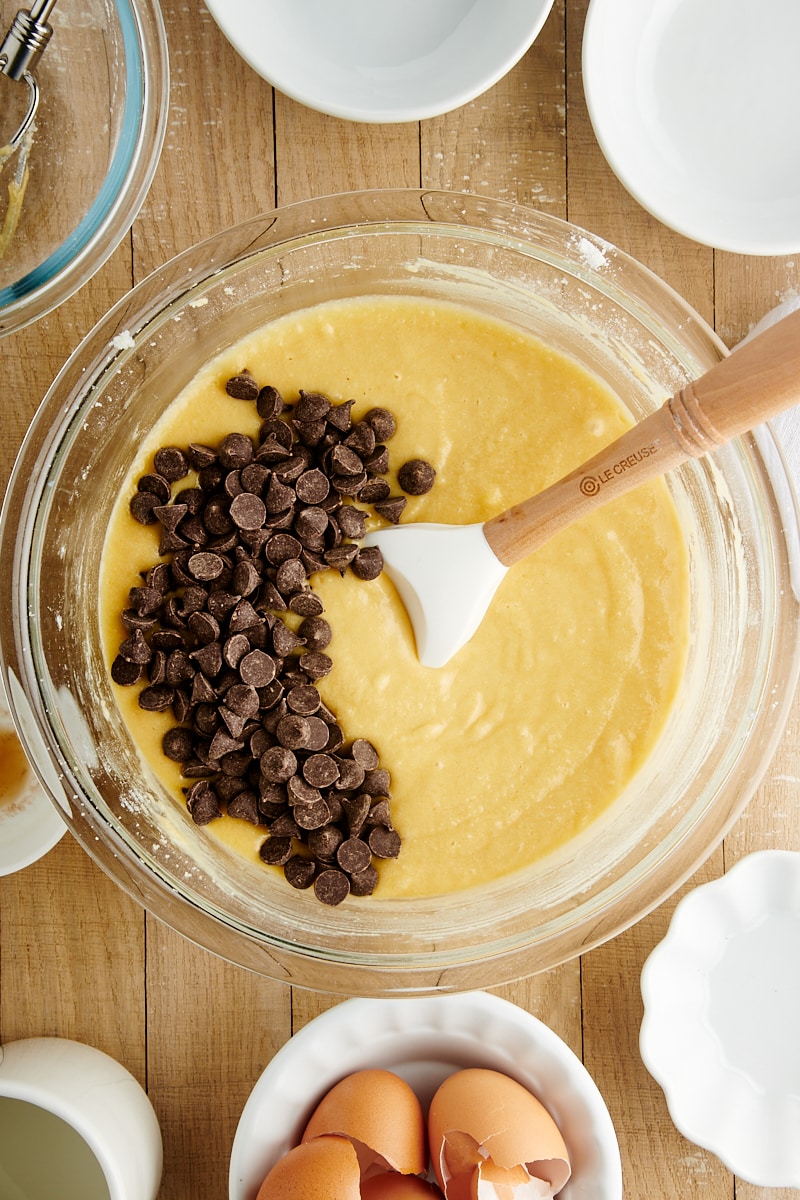 Bake. Spread the cake batter evenly in the prepared loaf pan. Sprinkle the remaining chocolate chips on top. If you like, sprinkle a few pinches of coarse sugar on top of the batter. Place the pan in the heated oven, and bake for 60 to 65 minutes. The cake is done when the top is lightly browned, and a pick inserted into the center comes out clean.
Cool. Place the pan on a wire rack and allow to cool for 10 to 15 minutes. Then remove the cake from the pan and place directly on a wire rack to continue cooling.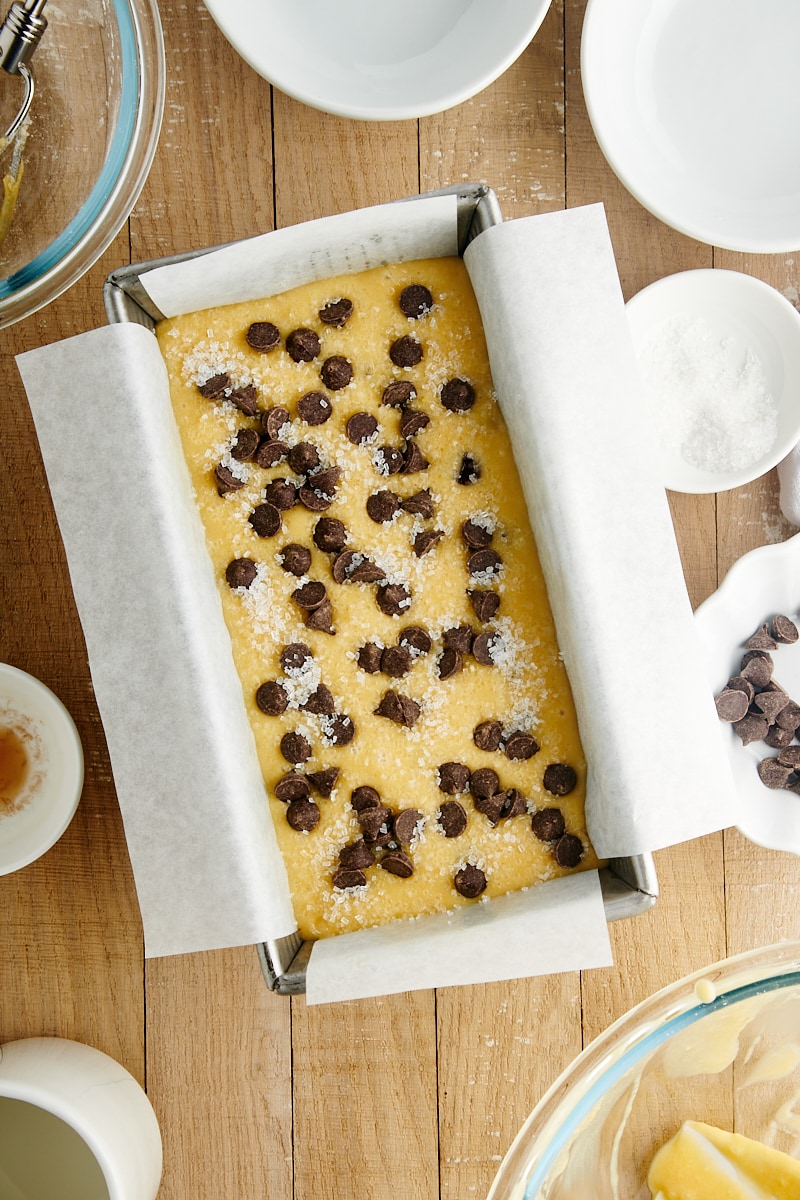 Worried about the chocolate chips sinking?
The chocolate chips will inevitably sink to some degree, but you can mitigate that a bit by not mixing all of them into the batter. Sprinkling some on top of the batter before baking helps ensure that there will be a good distribution of chocolate chips throughout the cake. You can also use mini chocolate chips if you want to take an extra step to keep the chips from sinking. If you'd like to learn more, see How to Keep Chocolate Chips from Sinking.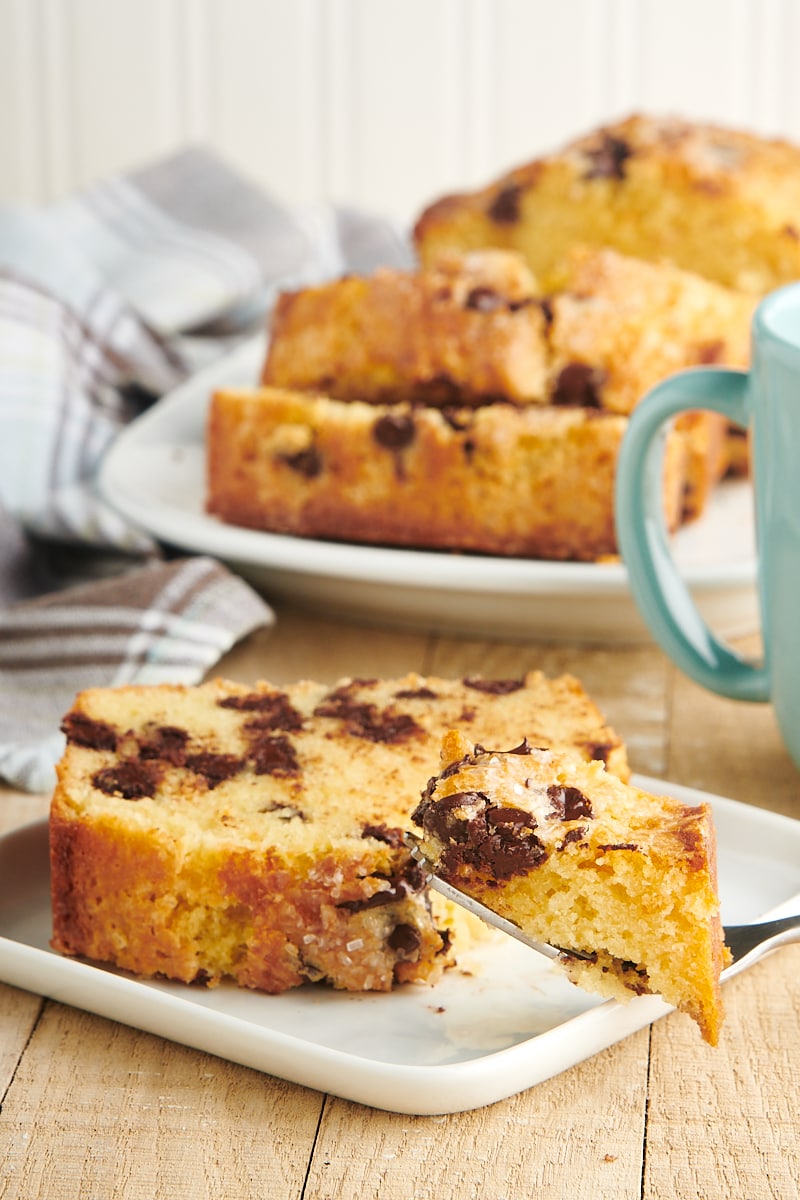 Tips for Success
Use a light-colored metal pan. Your cake will bake more evenly and thoroughly.
Don't over-mix. Too much mixing leads to a tough texture.
Use good quality chocolate. That flavor takes a starring role here, so choose one that has a flavor you enjoy eating out of hand.
Want to add nuts? Just substitute part of the chocolate chips with your favorite chopped nuts.
How to Store
Once the cake has cooled completely, it can be stored in an airtight container at room temperature up to 3 days. You can extend that by a few days by storing the container in the refrigerator. However, keep in mind that cakes tend to become dry when stored in the refrigerator.
How to Freeze
Wrap the entire cake or individual slices in two layers of plastic wrap after the cake has cooled completely. Wrap again in aluminum foil or place in a freezer bag or container. Properly stored, the cake should keep up to 3 months in the freezer. Thaw for an hour or two at room temperature, or warm briefly in the microwave.