The bright tartness of apple blends with warm autumn spices and sweet cinnamon sugar in this classic Apple Crisp. With tender chunks of tangy apple and a crunchy oat topping full of brown sugar, the layers of rich and complex flavor make this the ultimate fall dessert.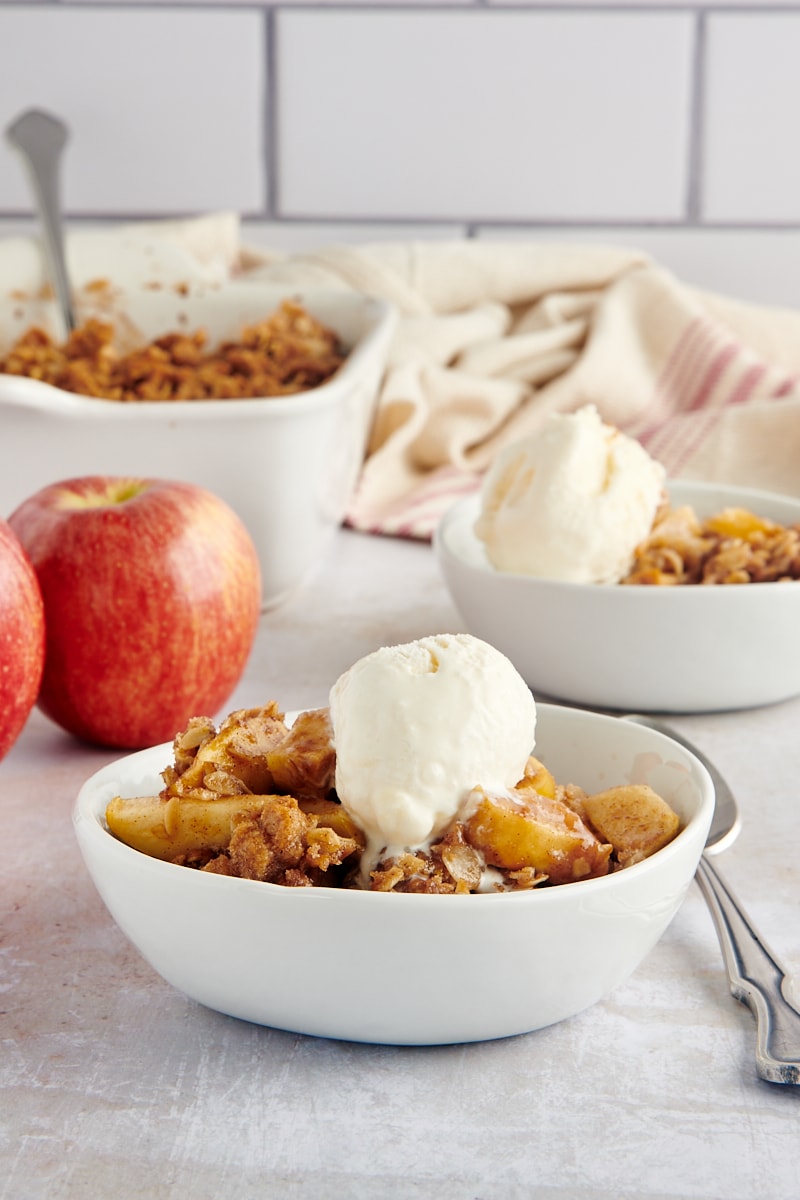 Easy Old-Fashioned Apple Crisp Recipe
Apple season has arrived again, and it's time to put this crisp and sweet-tart fruit to good use in the kitchen! There are so many scrumptious apple desserts, but this classic crisp is one of the best. It's quick, easy, and hits the perfect balance in both flavor and texture.
The filling of this crisp features tender, tangy apples coated in cinnamon sugar. To top those off, the rich and buttery streusel offers a delightful crunch along with a warm layer of fall spices. A hint of ginger adds a subtle bite, rounding out the flavors perfectly.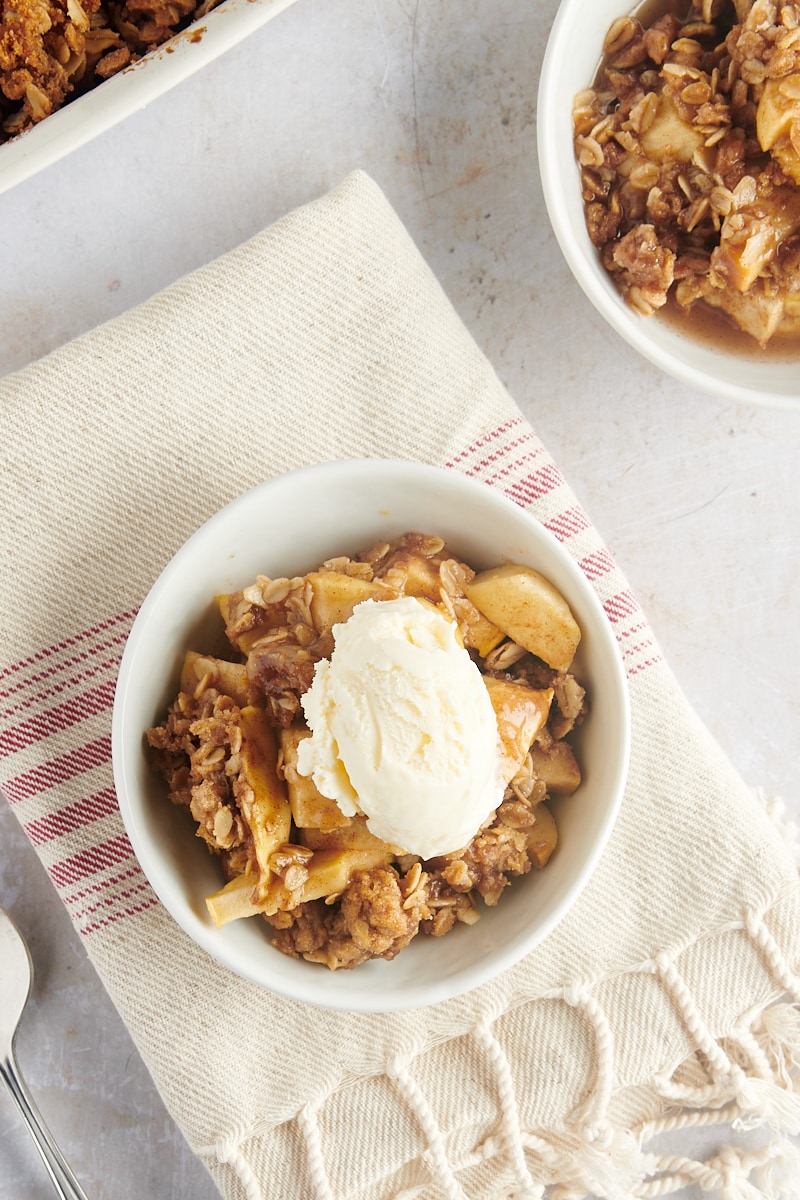 What Is the Difference Between Apple Crisp and Apple Crumble?
Since crisps and crumbles both feature a crumbly streusel topping, it can be hard to tell what sets them apart. The main difference between the two is oats. Crisps have them, while crumbles don't. The oats crisp up in the oven in a way brown sugar by itself won't, giving the streusel topping on this apple crisp its satisfying crunchy texture.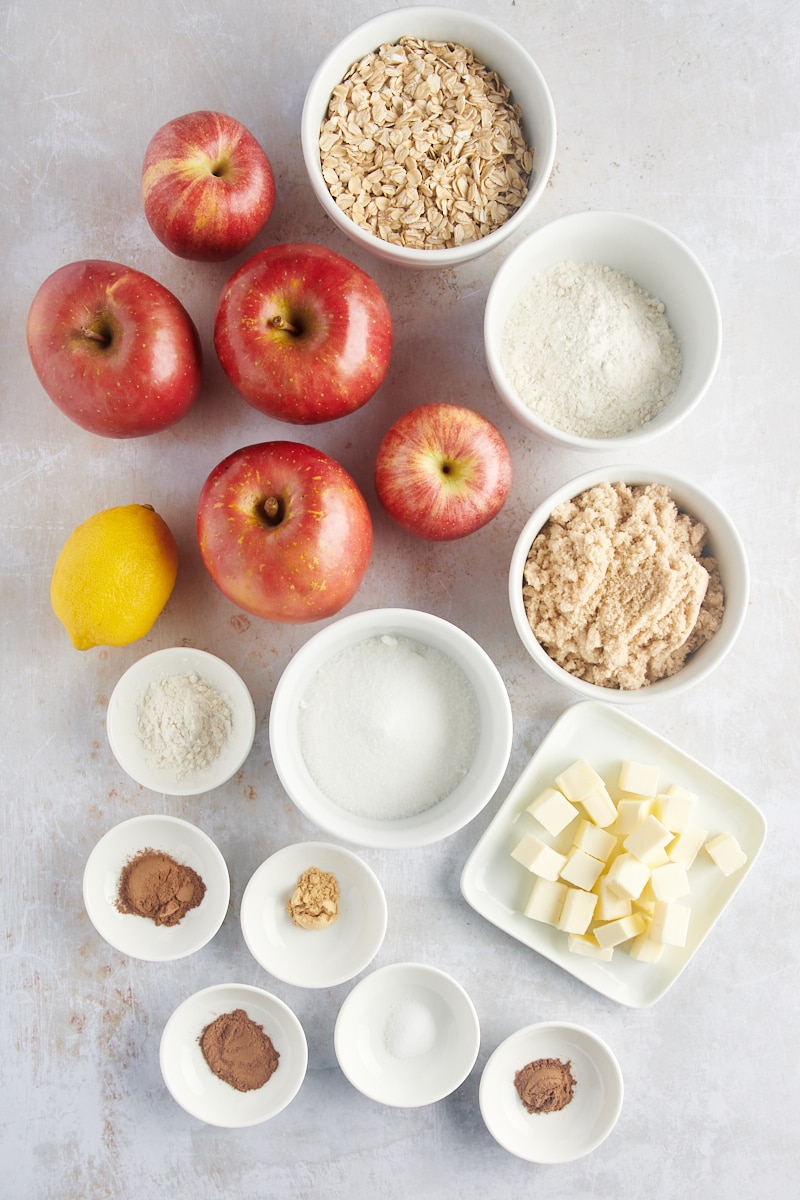 Ingredients You'll Need
We'll start with the ingredients for the filling, then move on to the streusel topping. You can find exact amounts for everything down in the recipe card.
For the Filling
Apples: I like to slice them into wedges and then cut those in half, but whole wedges or smaller cubes also work.
Granulated sugar
All-purpose flour
Lemon juice: This adds some tartness and keeps your apples from browning.
Cinnamon
For the Topping
Oats: Use old-fashioned rolled oats to get that crisp topping. Learn more: Rolled Oats vs Quick Oats
Brown sugar: I use light brown sugar, but you can use dark if you want.
All-purpose flour
Cinnamon
Nutmeg
Ginger
Salt
Unsalted butter: Cut into small cubes.
What Kind of Apples Are Best for a Crisp?
Not all apples are great for baking. You want to look for apples with a good sweet-tart flavor and with a nice texture that won't let them fall apart while they bake. Pink Lady, Fuji, Gala, and Jonagold are my go-to choices for the best baked-apple desserts. If you want to ramp up the tartness, try using Granny Smith.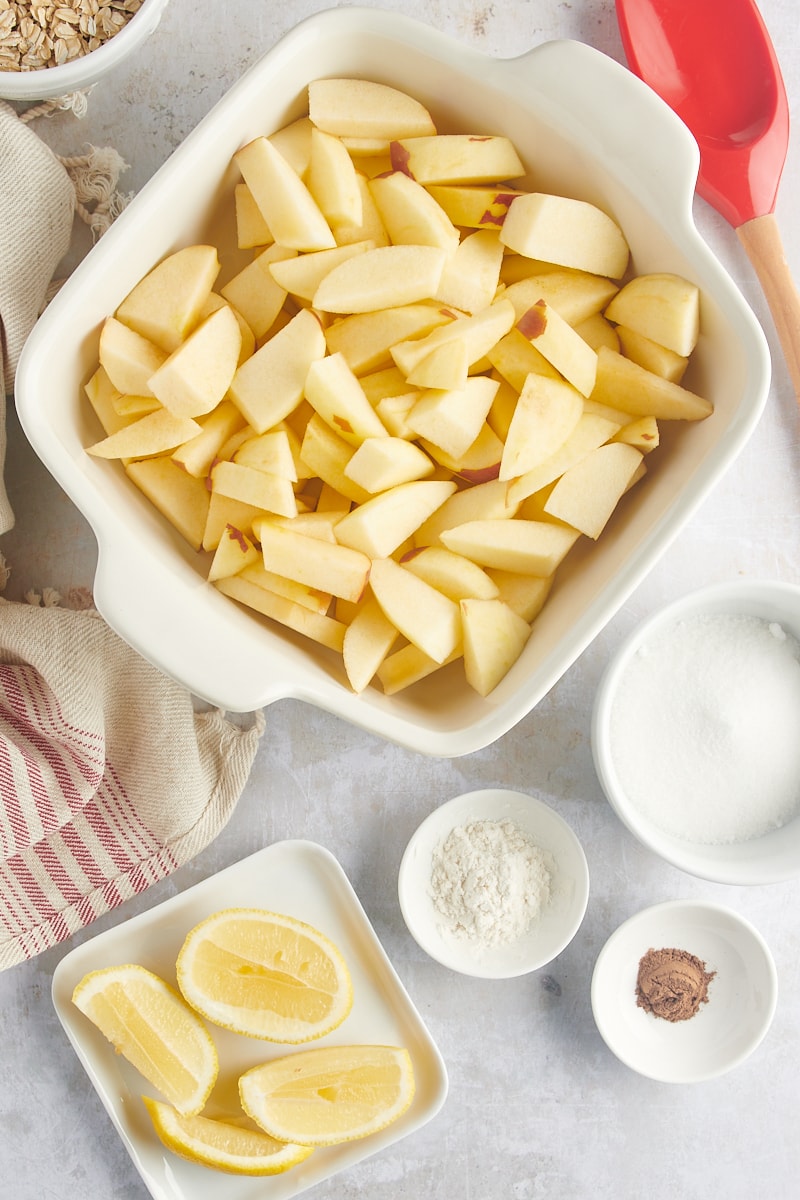 How to Make Apple Crisp
Desserts don't get much simpler than this easy apple crisp! In just 5 steps, you'll have a mouth-watering fall dessert ready for the table.
Prepare for baking. Preheat your oven to 375°F and grab a 2-quart baking dish.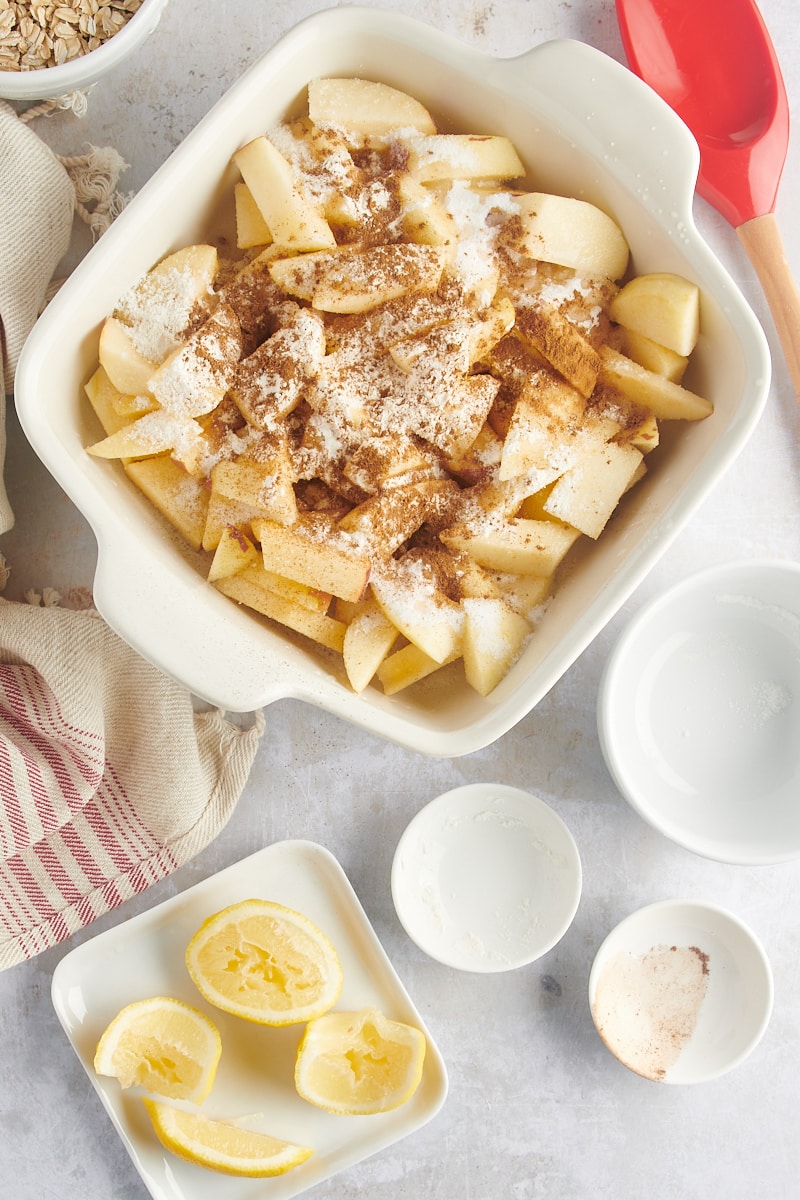 Make the filling. Spread the sliced apples evenly over the bottom of the pan. Add the sugar, flour, lemon juice, and cinnamon, then stir it to combine everything.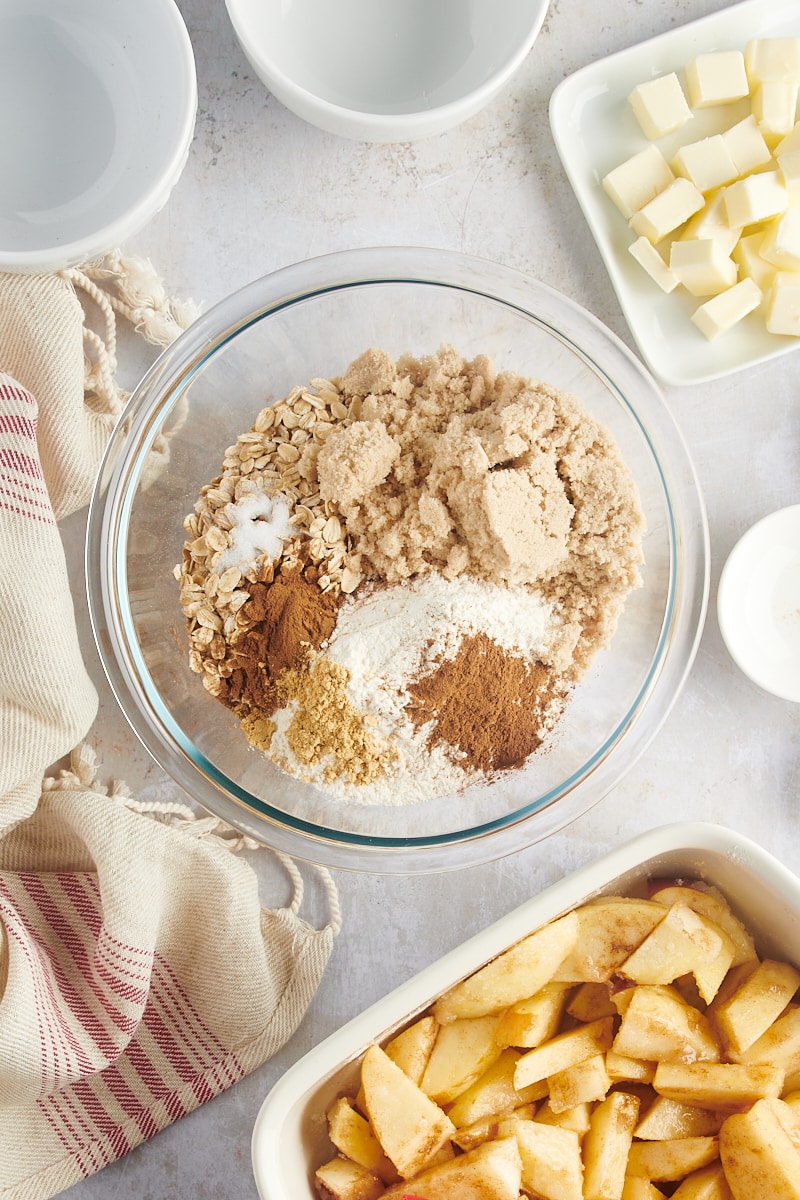 Make the topping. Stir the oats, brown sugar, flour, cinnamon, nutmeg, ginger, and salt together in a medium-sized bowl. Add the butter and mix your streusel with a pastry blender, a fork, or your fingers until it forms small clumps. Sprinkle the mixture evenly over the apples.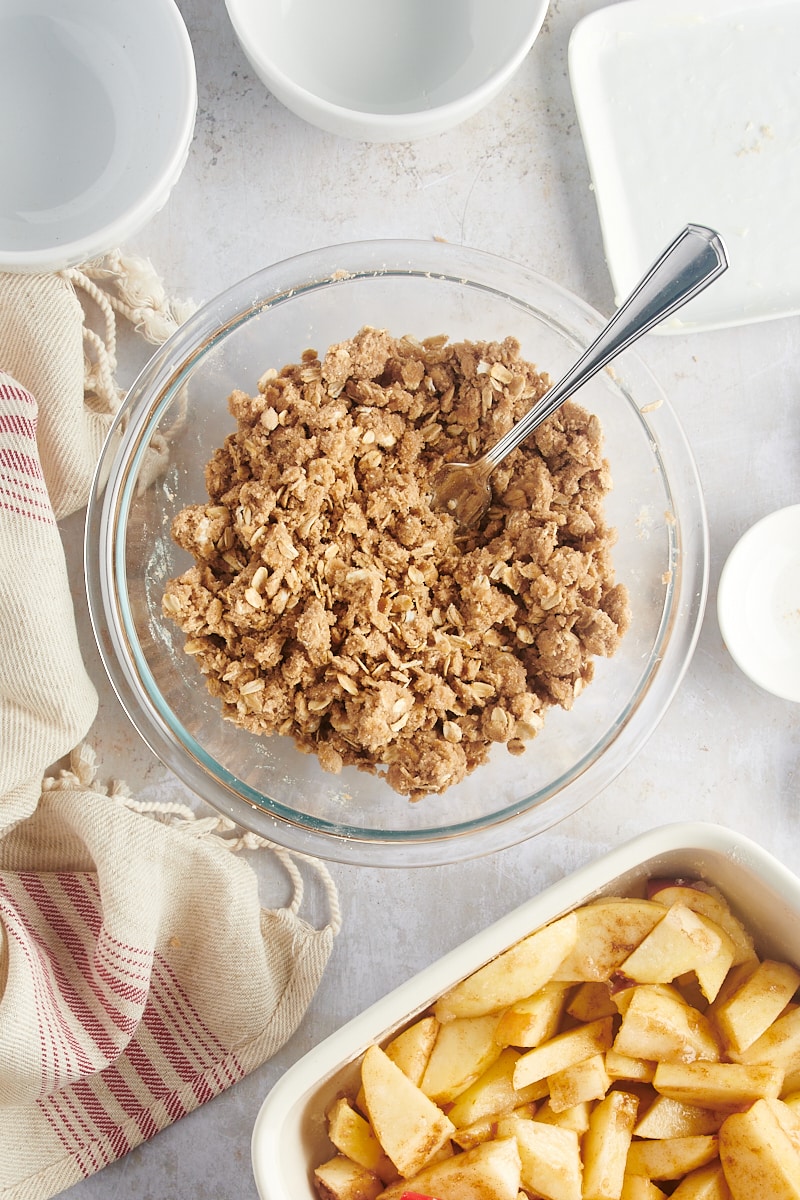 Bake. Place the pan in the oven for 30 to 35 minutes, or until the top is golden brown, the filling is bubbly, and the apples are fork-tender.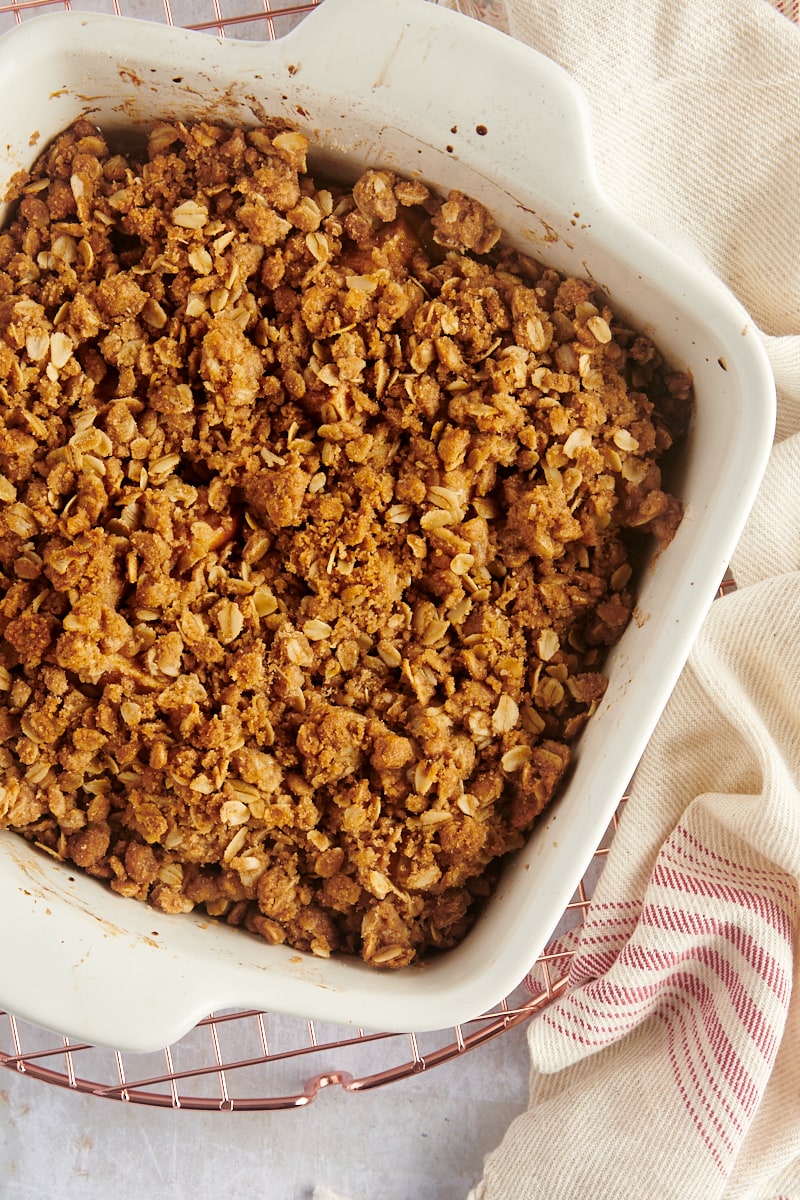 Cool and serve. Place the pan on a wire rack to let the crisp cool briefly before serving it. Portion the apple crisp out into 6-8 equal sections and serve them warm or at room temperature.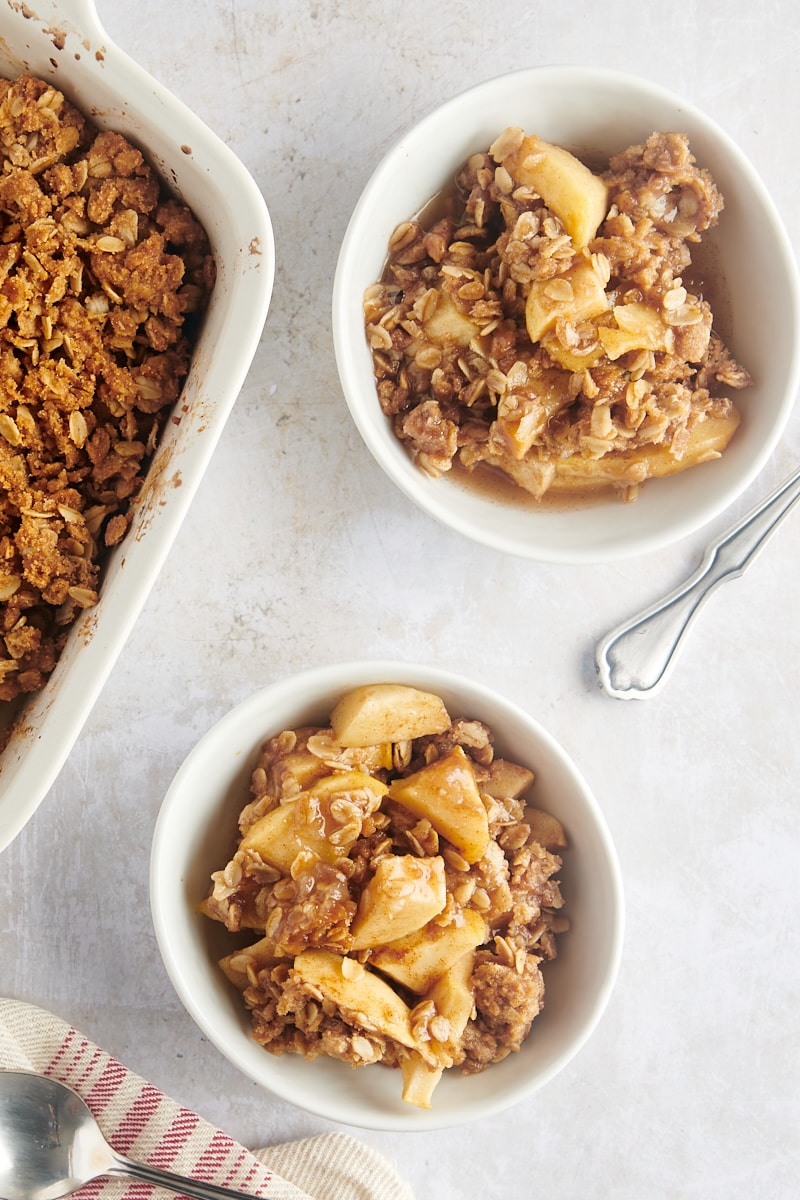 Tips for Success
This classic apple crisp comes out great every time I make it. Here are a few tips to keep things running as smoothly as possible.
To peel or not to peel? Really, it's up to you! Keep the skin on the apples if you want all those good vitamins and minerals, or remove it to keep the texture smooth and tender.
Keep the butter cold. The streusel won't fall apart like a pie crust if you don't use perfectly chilled butter, but butter that's too soft won't hold together as well. As long as you don't let your butter get to room temperature, you should be fine.
Slice your apples thinly. If you use large chunks of apple, you may end up with a little crunch in the filling as well as the streusel. To avoid this, make sure you cut your apples into thin slices or small cubes.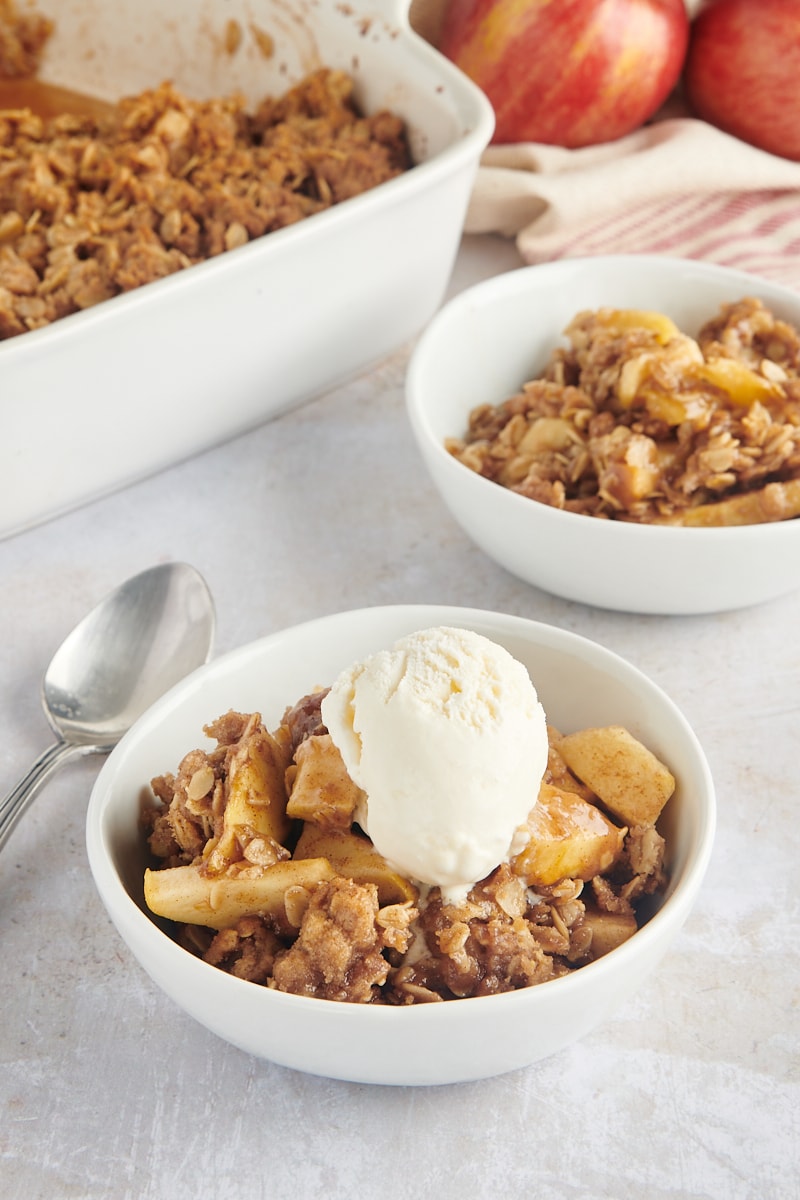 Serving Suggestions
You can serve this crisp warm or at room temperature. Honestly, I wouldn't turn it down straight out of the refrigerator, either. Add a scoop of vanilla ice cream or a dollop of Sweetened Whipped Cream if you like. Maybe drizzle some caramel sauce over the top and add some toasted nuts. You can even put those two things together and top your apple crisp off with a luscious Caramel-Pecan Sauce.
Storage and Reheating
The most important thing to remember when storing your apple crisp is to make sure it cools completely before you cover it. If it's still warm, that creates condensation, and your crisp won't stay crispy for long. Once it cools fully, cover it lightly with a paper towel and wrap the whole thing firmly in plastic. It will last on the counter for up to 2 days, and in the refrigerator up to 5.
Can I Freeze Apple Crisp?
Absolutely! Frozen apple crisp will stay good for about 3 months. Wrap it tightly in plastic, then foil, and place it in the freezer. While defrosting overnight can lead to moisture seeping through the topping, that can be reversed if you reheat the crisp in the oven for around 20 minutes, or until it's warmed all the way through.
More Comforting Apple Dessert Ideas