January 2, 2014
Chocolate Chip Tiramisu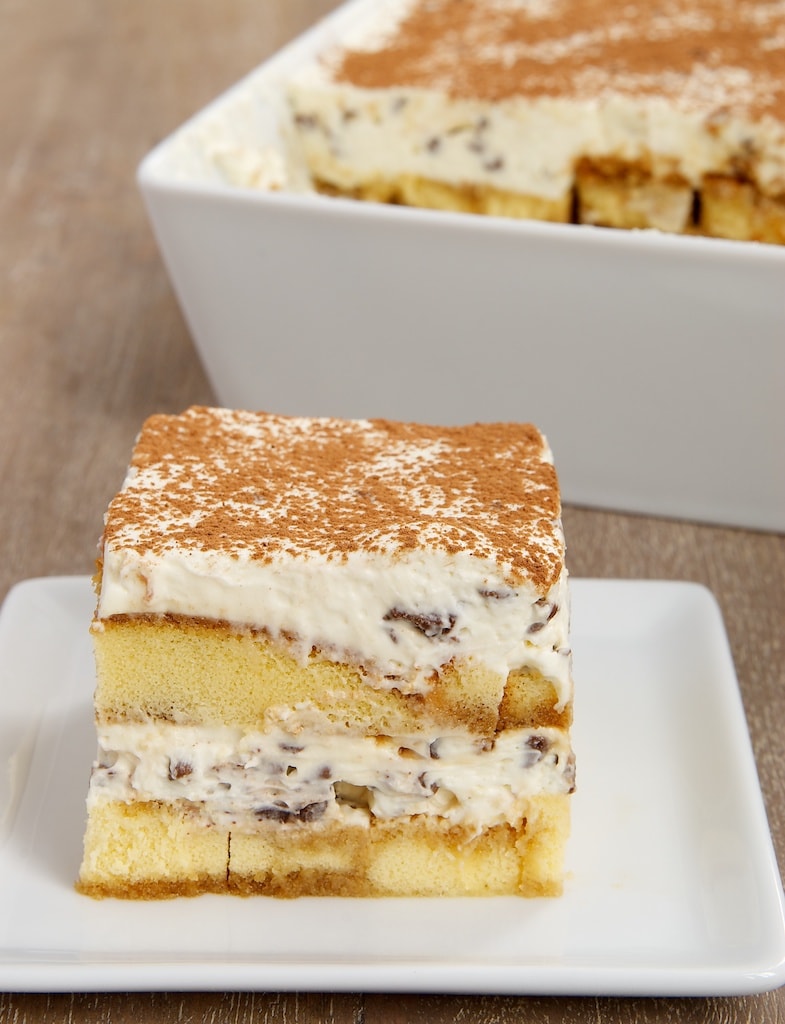 Happy new year, my baking friends! I hope your 2014 is treating you well so far. I always struggle with what kinds of recipes to post in January. I know that lots of people kick off the year with a new diet, and most of what you'll find here is not diet-friendly. But, it's all about moderation, right?
In any case, on New Year's Eve, we were cooking and not doing much else, as we tend to prefer to stay in versus going out. We had planned our dinner and got it in the oven. Then, I realized that if our dinner had to have 4+ hours of oven time, I probably wasn't going to bake a dessert. So, I went the no-bake route.
I gave Quinn a choice of dessert ideas, and he chose tiramisu. I couldn't have agreed more. I merged a few recipe ideas and made this amazingly simple and amazingly delicious tiramisu.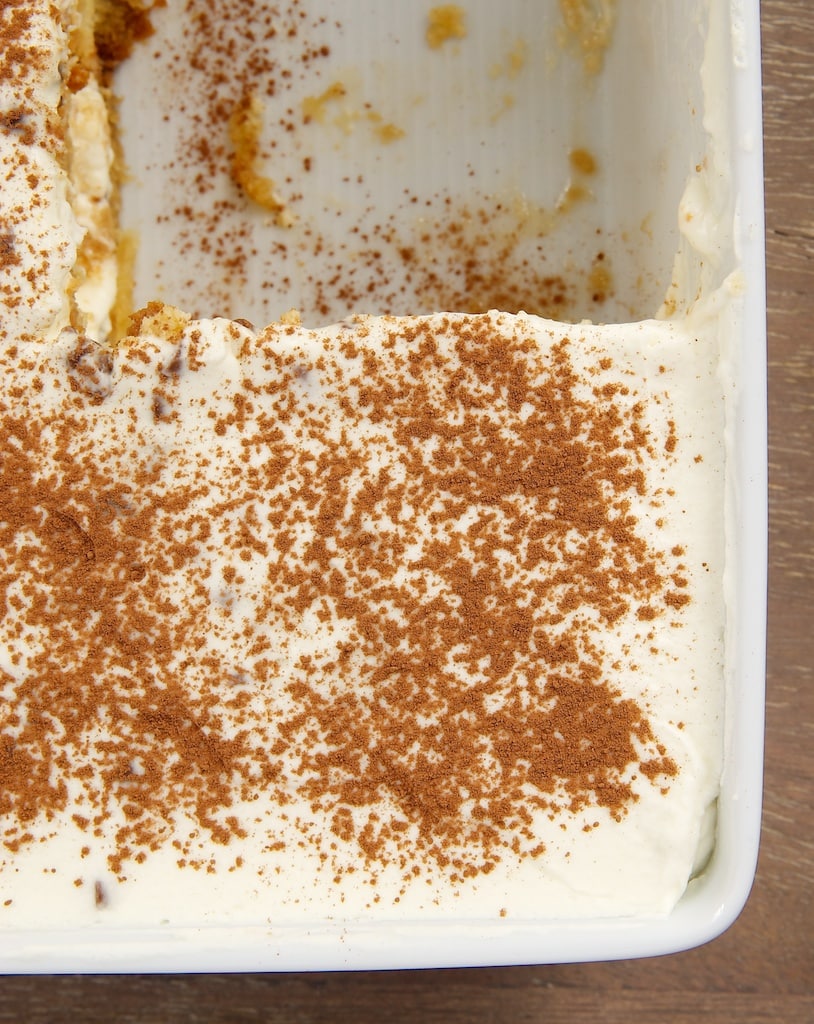 This is a bit different from the traditional idea of tiramisu in a few ways. First of all, I didn't use any coffee in it. I'm not a big fan of coffee, but I do like coffee liqueur. I debated a combination of coffee and liqueur, but I ultimately went all liqueur. You can certainly use coffee or a combination if you prefer.
The next difference is the absence of ladyfingers. Granted, I had every intention of using ladyfingers, but there were none to be found in the neighborhood. Pound cake it is! I used a standard 1-pound frozen pound cake cut into small pieces. I know it's been done before, but I'd never tried it myself. I must say it worked very well.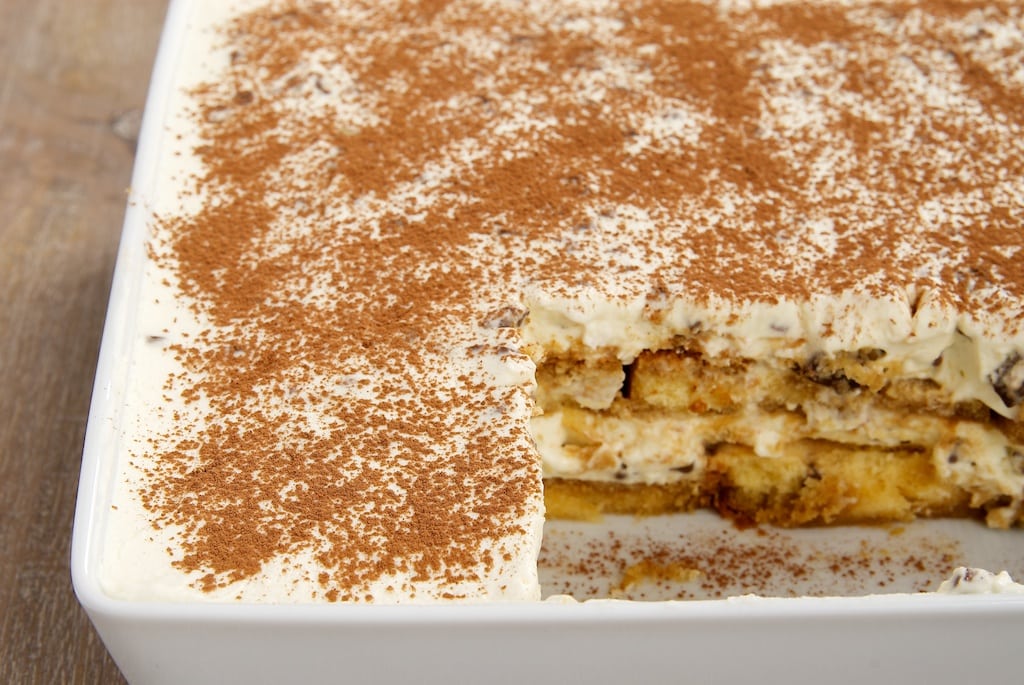 The filling is a bit of a departure, as well. Cream cheese instead of masarpone, and a generous helping of chocolate chips. Again, it was different than any tiramisu I've made, but it all worked beautifully.
We really loved this dessert. Not only is it so very good, it was assembled and chilling in the refrigerator in about 20 minutes. It's an incredible return for the amount of effort involved.
Find more no-bake recipes in the Recipe Index.
Chocolate Chip Tiramisu
Yield: 10 to 12 servings
Prep Time: 20 minutes
Chocolate Chip Tiramisu is so simple to make with pound cake and a sweet chocolate chip filling. Delicious!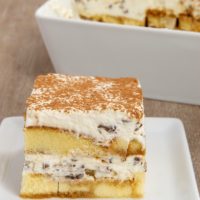 Ingredients:
For the cake layers:
1 16-ounce pound cake loaf*
1/2 cup coffee-flavored liqueur
1/4 cup granulated sugar
For the filling:
8 ounces cream cheese, at room temperature
1/3 cup granulated sugar
1 teaspoon vanilla extract
2 cups heavy cream
1 cup mini semisweet chocolate chips
unsweetened cocoa powder, for garnish
Directions:
To assemble the cake layers:
Slice the loaf in half to make two smaller loaves. Slice one of the smaller loaves in half lengthwise. Then, slice each of those pieces in half lengthwise. Line up the sliced pieces and make cuts about 1 inch apart along the short side. Repeat with the other half of the loaf.**
Arrange half of the pound cake slices in an even layer in the bottom of a 2 & 1/2-quart serving dish.
Mix the liqueur and sugar until the sugar is dissolved. Drizzle half of the mixture over the pound cake in the dish.
To make the filling:
Using an electric mixer on medium speed, beat the cream cheese, sugar, and vanilla until smooth. Add the cream and continue beating until soft peaks form. Gently fold in the chocolate chips.
Spread half of the filling evenly over the pound cake in the serving dish.
Arrange the remaining pound cake slices evenly over the filling. Drizzle with the remaining liqueur mixture.
Spread the remaining filling evenly over the pound cake.
Cover and chill for at least 2 hours or up to 24 hours.
Sift the cocoa powder over the top before serving.
Notes:
*I used a basic Sara Lee frozen pound cake. The directions for cutting the cake apply to a loaf-shaped pound cake. If you're using something different, adjust the size of the slices to fit your pan.
**You may need to cut some smaller pieces, depending on the size of your serving dish. Just be sure to make even layers of cake. It doesn't have to be pretty. It just needs to form the layers.