In this Cranberry Apple Crumble, sweet apples and tart cranberries combine with a nutty oat crumb topping for a big serving of comfort food.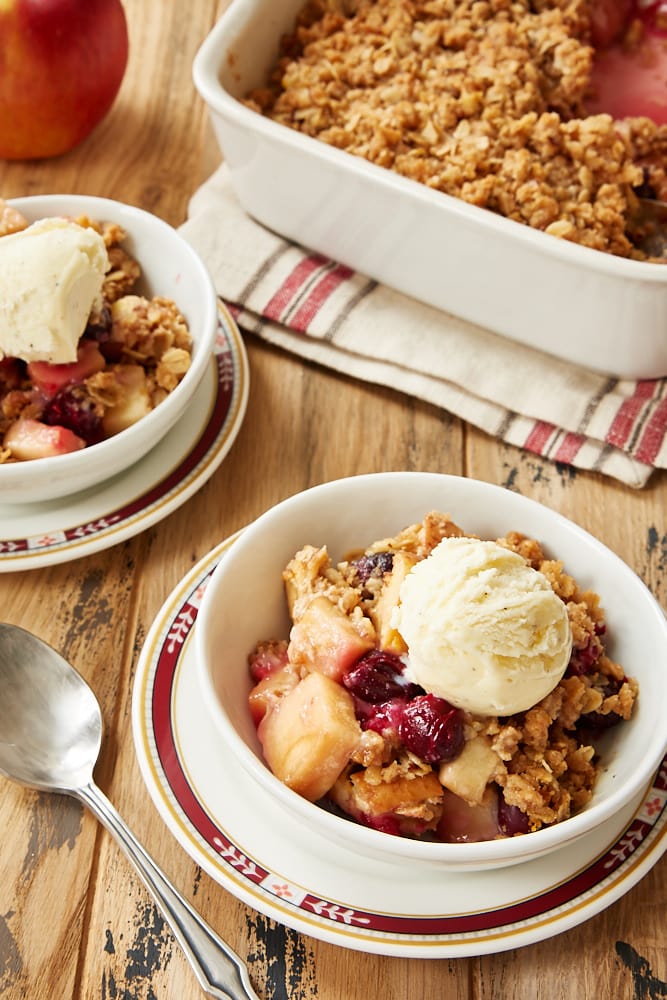 Easy Cranberry Apple Crumble
Cranberry Apple Crumble is one of those wonderfully quick and easy recipes that you can toss together when you're short on time or just want to give yourself a break. You can mix the filling right in the baking dish. Then just add the topping and put it in the oven. The toughest part is waiting for it to be done so you can enjoy it!
We start with some favorite fall fruits in apples and cranberries. The subtle sweetness of apples and the tartness of cranberries are a wonderful pair.
The crumb topping is one of my favorites, too. That bit of cinnamon and some chopped almonds make it a little different than a traditional crumb topping.
Fruit crumbles are certainly not a new sensation, but I think this one is especially good. The orange zest mixed with the apples and cranberries is what makes this crumble special. That little zing from the zest is the perfect complement to the other flavors. It's theoretically optional, but I encourage you not to skip it.
This is such a great fall dessert! Make it for a casual gathering, a holiday, or just for your family dinner. And as easy as it is to make, you can make it often!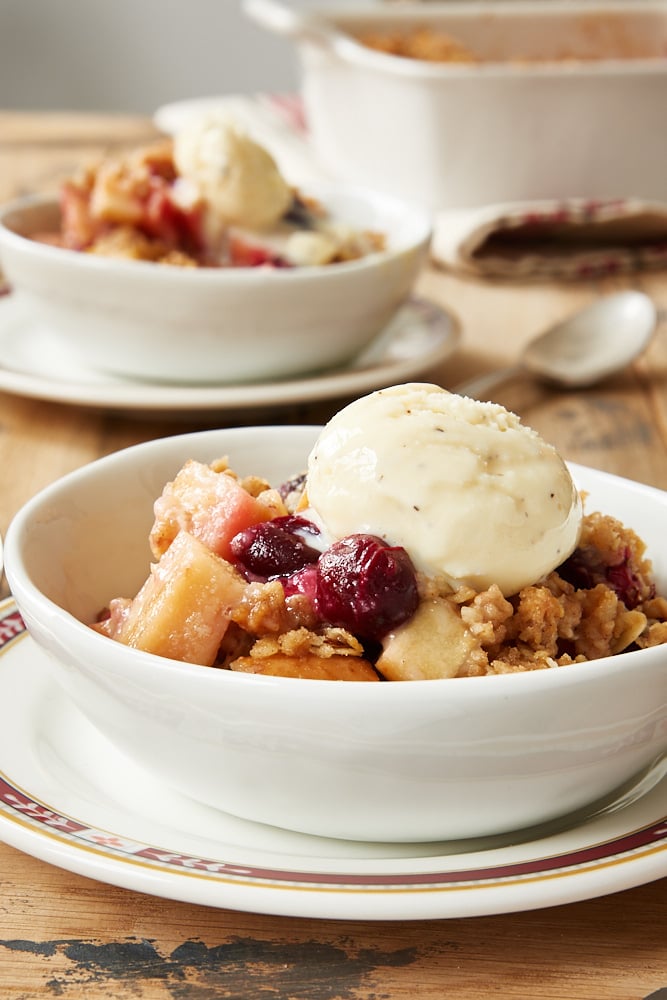 What You'll Need
Don't be put off by the long-ish list of ingredients for this Cranberry Apple Crumble. It comes together quickly and easily!
For the filling:
Apples – Chop or slice these according to your preferences. The same goes for whether or not you peel them. If you want some help picking out apples, I've got some good tips for choosing apples for baking.
Cranberries – Fresh or frozen will work for this recipe. You won't need to thaw frozen cranberries.
Granulated sugar
All-purpose flour
Orange zest – You can omit this, but I think it really adds a wonderful flavor.
For the topping:
All-purpose flour
Oats – Use old-fashioned rolled oats for a chewy, hearty texture.
Brown sugar
Almonds – Chop these into small pieces so they'll mix well into the topping.
Ground cinnamon – Don't use that container that's been in your pantry for a couple of years, as it's likely lost a lot of flavor.
Salt
Unsalted butter – Make sure it's nicely cold.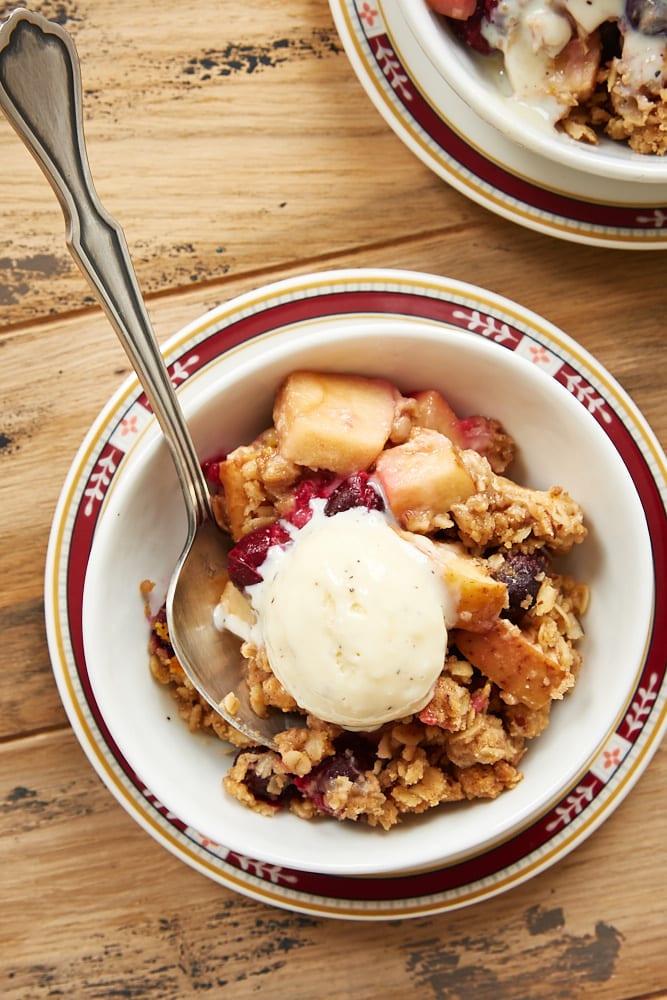 How to Make Cranberry Apple Crumble
You'll love how easy it is to make this fruit crumble. You'll need one or two mixing bowls and a 2-quart baking dish.
Prepare for baking. Heat the oven to 375°F. Set out a 2-quart baking dish. I prefer metal baking pans for most baking recipes, but a stoneware or glass pan will be just fine here.
Make the filling. Stir together the apples, cranberries, sugar, flour, and orange zest. You can do this right in the baking dish, or use a mixing bowl and then transfer to the baking dish.
Make the topping. Mix together the flour, oats, brown sugar, almonds, cinnamon, and salt. Mix in the butter using a pastry blender, a fork, or just your fingers. When combined, it should form crumbs. Sprinkle it over the top of the filling.
Bake. The crumble will need 35 to 40 minutes to bake. The topping should be brown and the filling bubbly.
Recipe Variations
Change the ratio of apples to cranberries. Just keep the total volume about the same.
Use pears instead of apples. Or use a combination of apples and pears.
Don't like cranberries? Just stick with apples! Add another apple or two to the filling. You may want to skip the orange zest and add a splash of lemon juice or an extract like vanilla or almond.
Use a different nut in the topping. Hazelnuts, pecans, or walnuts would be great here.
Omit the nuts. Not a nut fan? Just leave them out or add some more oats in their place.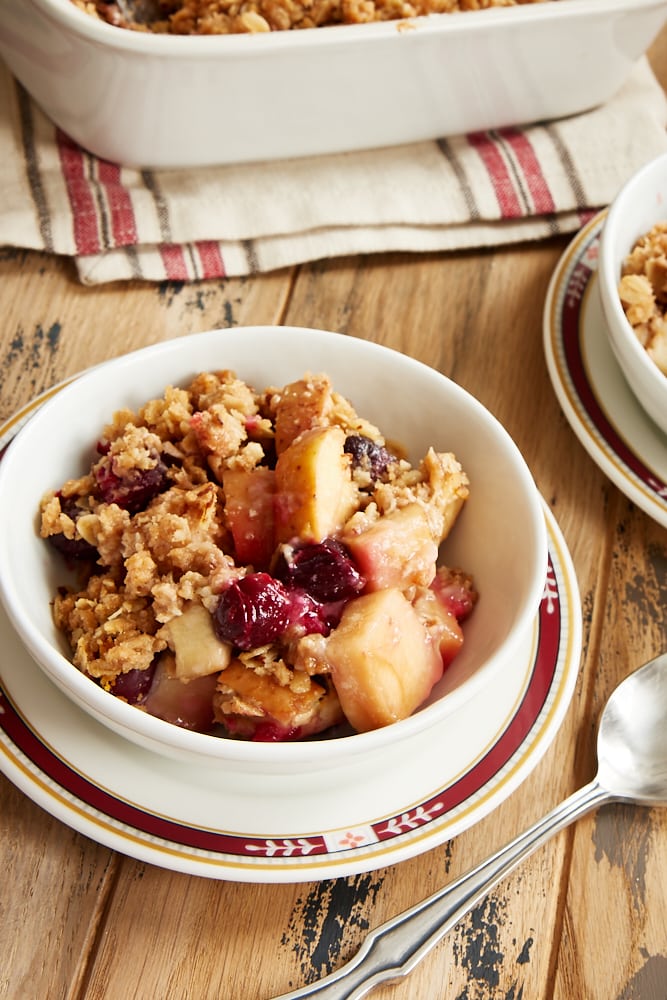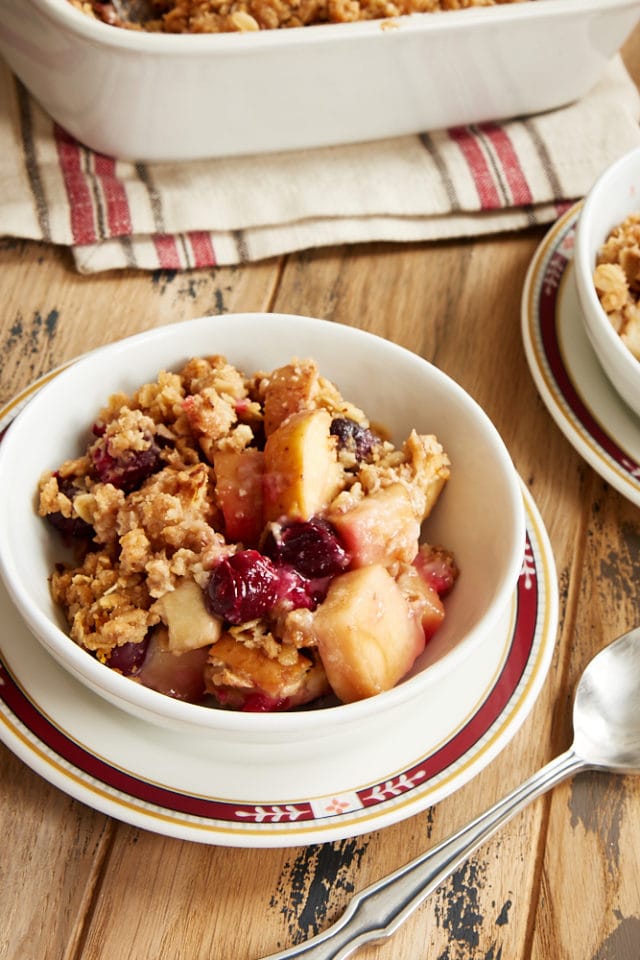 Tips for Success
Gather all ingredients. While this crumble is easy to make, it will go more quickly and smoothly if you have all of your ingredients measured and ready to go.
Slice the apples last. Once sliced and exposed to the air, apples can begin to turn brown. When making the filling, save the apple prep for last, especially if you tend to be a slow baker.
Check the size of your pan. Make sure your pan is the right size. If you have any concerns about the filling bubbling over the sides, place the pan on a lined rimmed baking sheet when it's time to put it in the oven.
Serving Suggestions
Serve warm or at room temperature.
Add a big scoop of ice cream. My favorite way to enjoy this Cranberry Apple Crumble is warm with vanilla bean ice cream.
Add a dollop of sweetened whipped cream. Sprinkle more chopped nuts on top if you like.
How to Store Cranberry Apple Crumble
If you'll be serving this crumble within a day, it will be fine at room temperature if tightly covered. Beyond that, cover the completely cooled crumble with plastic wrap, and store in the refrigerator for up to 5 days. The topping will likely absorb some of the moisture from the filling, so expect it to be a bit softer and less crisp.
You can also freeze it by first cooling it completely and then placing it in a freezer-safe container. Thaw overnight in the refrigerator.
How to Reheat Cranberry Apple Crumble
While some may enjoy eating cold fruit crumbles, I definitely prefer it to be warm. You can reheat individual servings in the microwave. Heat for 30 seconds and add more time if needed.
This Cranberry Apple Crumble can also be reheated in the oven. Heat for 20 to 30 minutes at 350°F. This may dry out the topping, so consider covering with foil or drizzling a little melted butter over the top before heating.
Find more cobblers, crisps, and crumbles in the Recipe Index.
More Apple Spoon Desserts