This easy Chocolate Mousse recipe is made with just a few ingredients. It's such an elegant dessert that's sure to please any chocolate lover!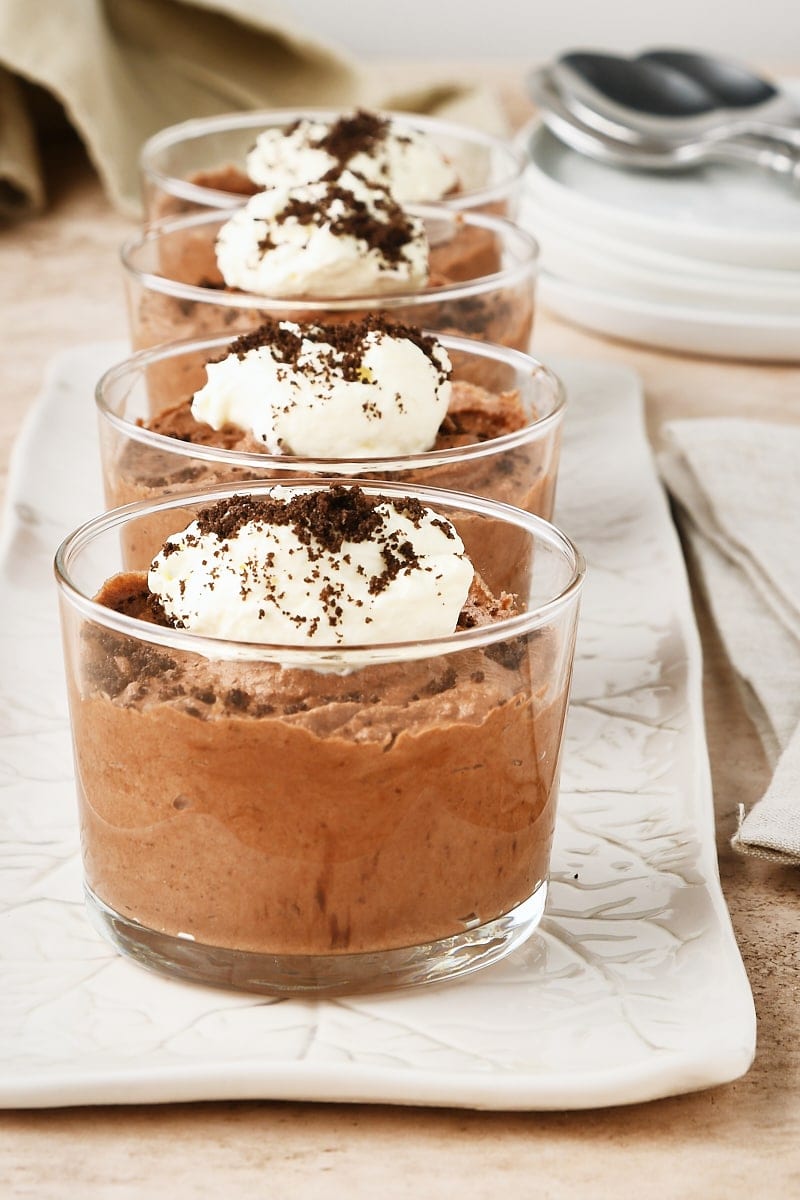 Easy Chocolate Mousse Recipe – Just 4 Ingredients!
Okay, chocolate lovers. Get ready to fall in love with this amazingly easy Chocolate Mousse! If you don't read any of the details and tips below, I want to make sure you know that this is one of the quickest, easiest chocolate desserts you could ever hope to make. And it's SO good!
First things first: This isn't a traditional chocolate mousse, which is made with eggs and sometimes gelatin. Instead, this is a quick and easy variation that gives you a similar result without the fuss. (If you're looking for a more traditional chocolate mousse, see Chocolate-Glazed Hazelnut Mousse Cake, which features a Nutella-infused mousse filling.)
I've been making some version of this chocolate mousse for years, and it always feels like a perfectly indulgent treat that's so elegant. This recipe will make four to six servings, making it pretty perfect for a small dinner party or for a weeknight dessert treat.
If you love creamy chocolate desserts like this chocolate mousse, be sure to try my Double Chocolate Pudding and Chocolate Pots de Crème, too!
What is Mousse?
Mousse is a classic French dessert and is actually quite easy to make. It is light, creamy, and incredibly rich, making it an elegant dessert that feels fancy. Usually, mousse is spooned into single-serving dishes before being chilled, then served with toppings like whipped cream or chocolate shavings.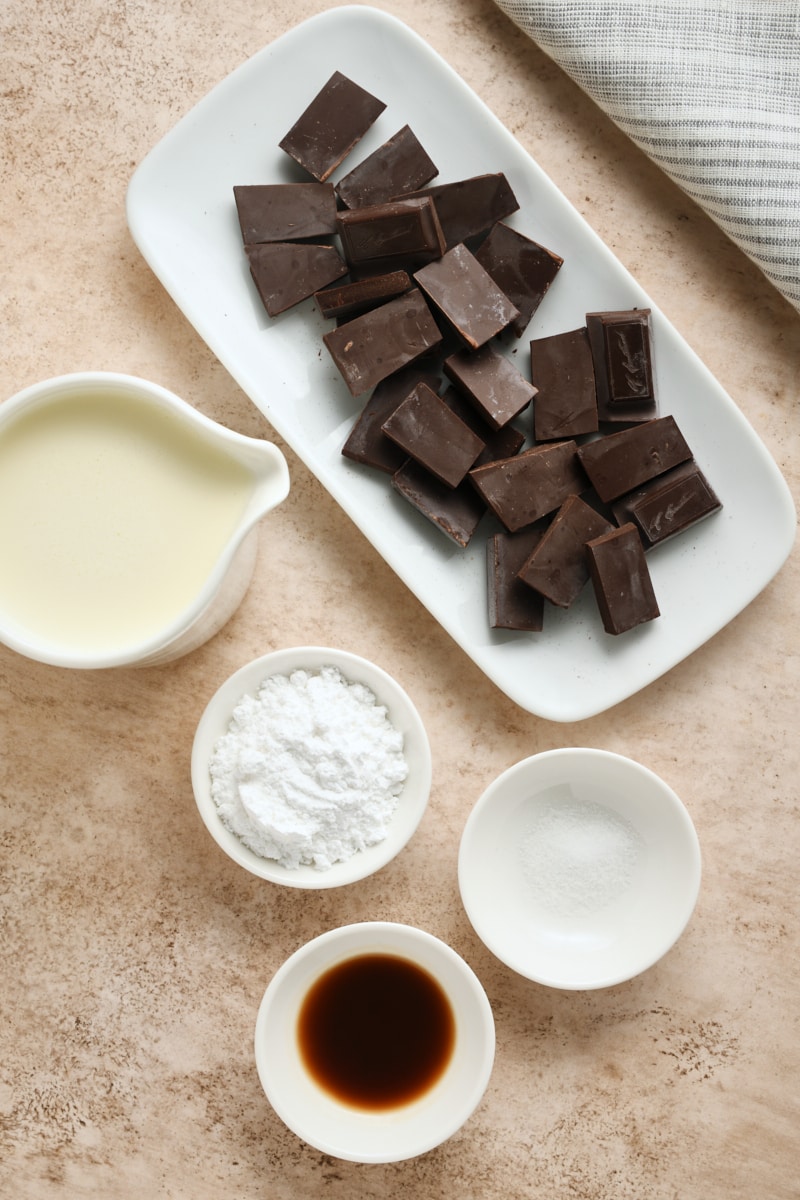 What You'll Need
While I consider this a 4-ingredient recipe, technically there are 5 ingredients if you like to add a pinch of salt like I do. It's completely optional, so just go with your preference.
Here is a quick overview of what you'll need to make chocolate mousse from scratch. Be sure to scroll down to the recipe card for specific amounts.
Dark chocolate – I prefer somewhere around 70% cacao for a rich, dark chocolate flavor, but use what suits your tastes. No matter what you use, make sure it's a good quality chocolate. I recommend using chocolate baking bars instead of chocolate chips. Roughly chop the chocolate so it will melt more easily.
Confectioners' sugar – This is also called powdered sugar or 10x sugar.
Vanilla extract – If your chocolate has a strong vanilla flavor, you can omit the vanilla extract.
Salt – This is optional, but I usually add just a pinch or two.
Heavy cream – Go with heavy cream or heavy whipping cream, not whipping cream for best results.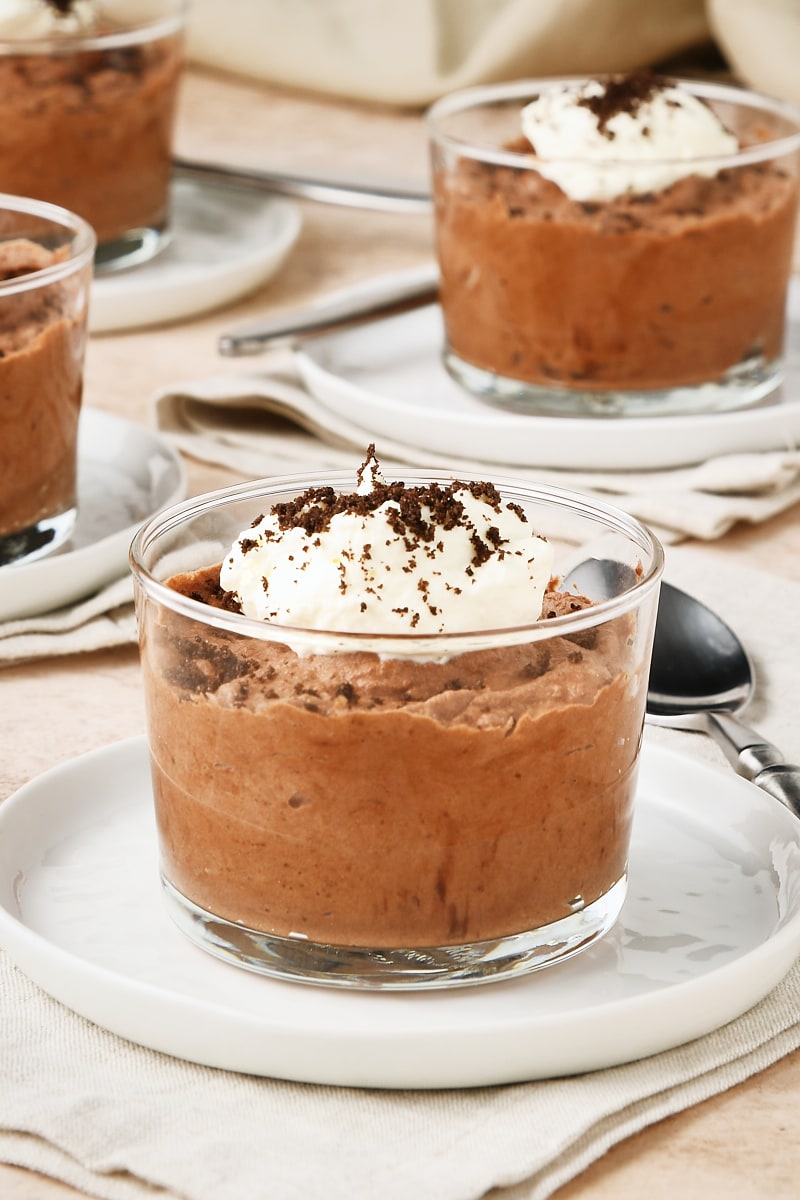 Topping Ideas for Chocolate Mousse
While this decadent chocolate dessert is perfectly delicious in its unadorned form, I like to add a dollop of sweetened whipped cream to individual servings. The topping options are practically endless!
Sweetened whipped cream – Add just this or top with another garnish like the ones below.
Cocoa powder – Dust a little cocoa powder over the top for even more chocolate flavor.
Fresh raspberries or strawberries
Cookie crumbs – I sprinkled Oreo cookie crumbs on top of the servings you see in these photos.
Sprinkles!
Chocolate curls
Chopped toasted nuts
Toasted coconut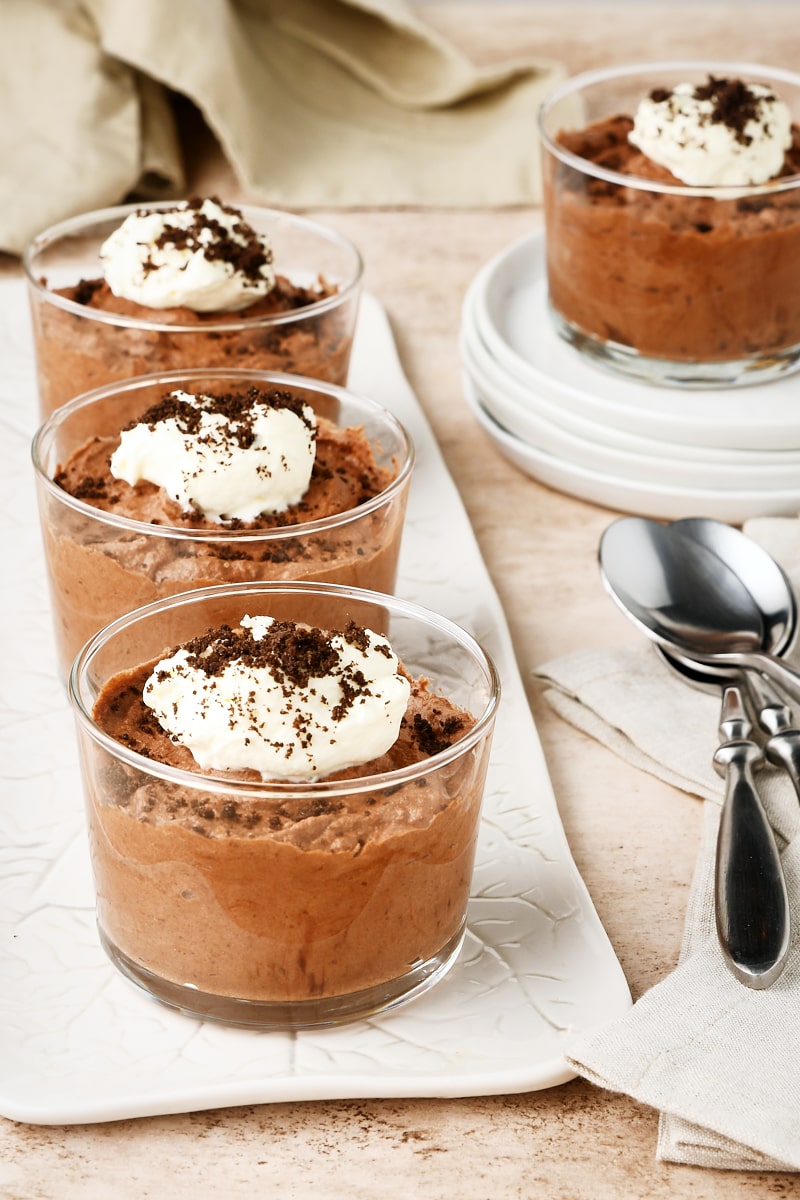 How to Make Chocolate Mousse
You'll just need a couple of mixing bowls and a big mixing spoon, as well as your electric mixer for making the whipped cream. Now, let's do this!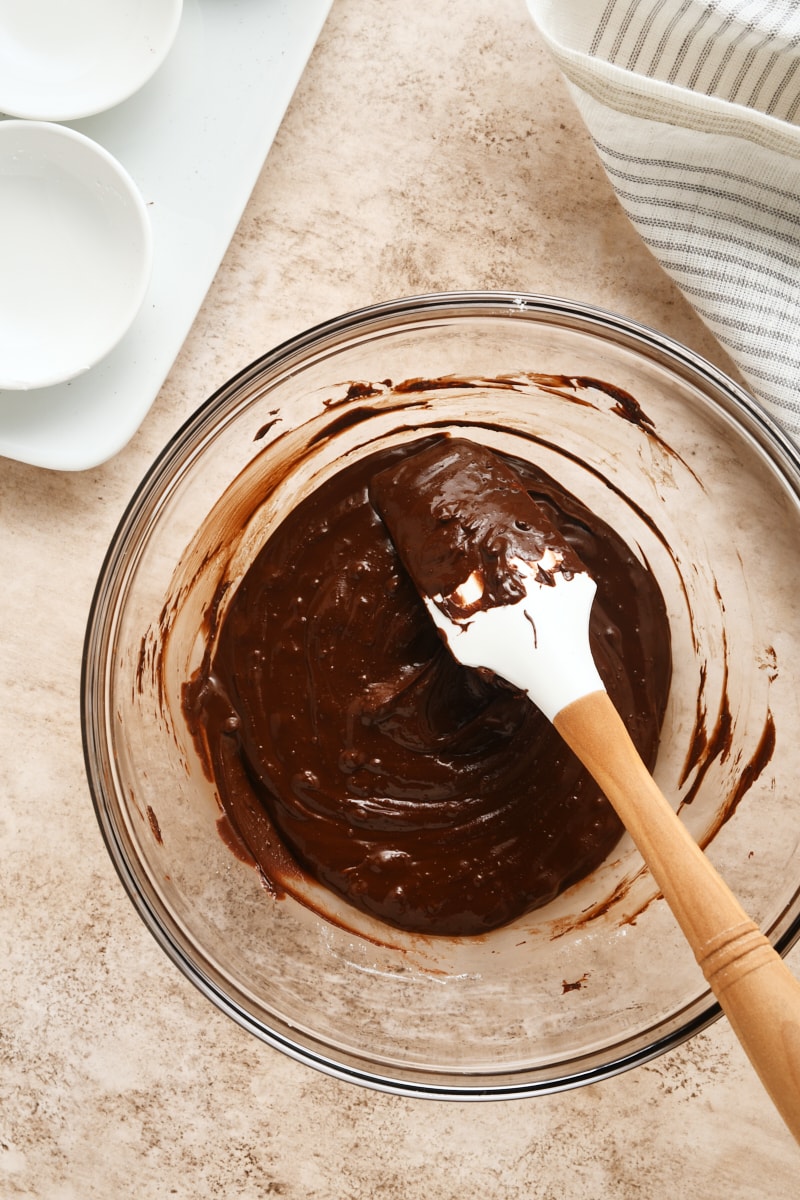 Melt the chocolate. Place the chocolate in a microwave-safe bowl along with the confectioners' sugar, vanilla, and salt (if using). Heat in the microwave at half-power in 30-second increments, stirring after each interval. Repeat until the chocolate melts when stirred. Stir until smooth. (You can opt to do this in a double-boiler if you prefer.) Allow the mixture to cool for about 10 minutes.
Whip the cream. Place the cream in large mixing bowl. Use the whisk attachment of an electric mixer to beat the cream to firm peaks. (The cream should form a peak that points straight up when you lift the whisk out of the cream.) Start at medium-low speed and work your way up to medium-high over about a minute to keep splatters to a minimum.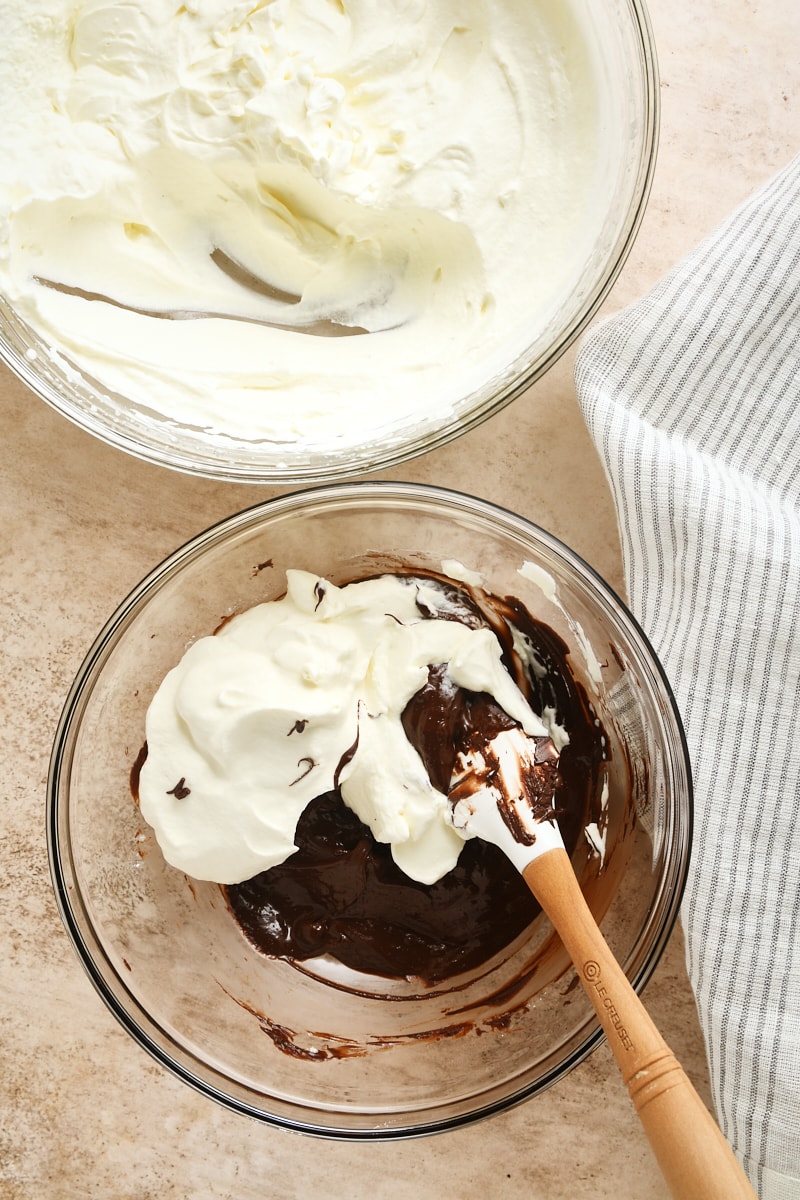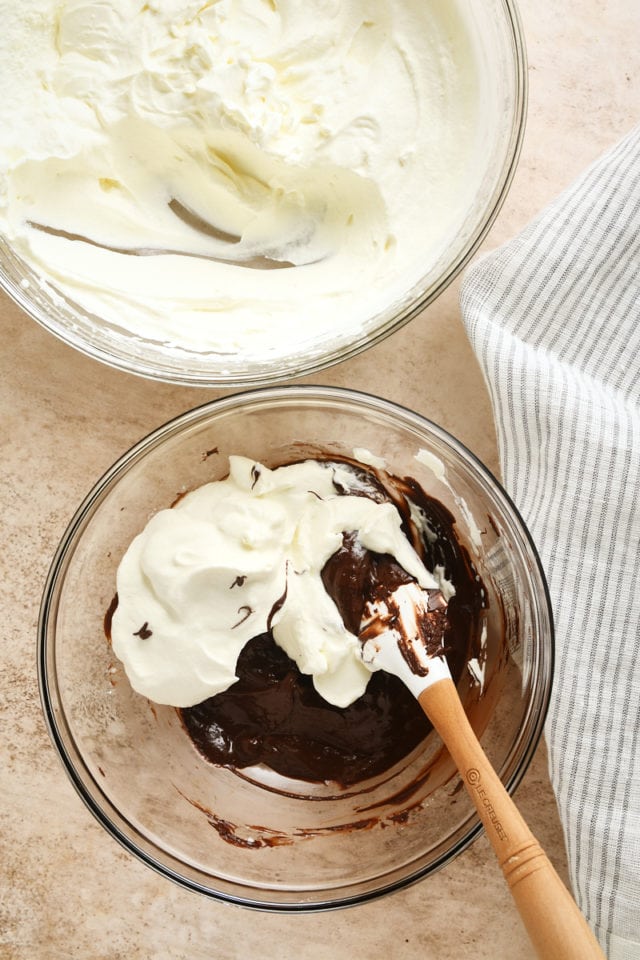 Fold the whipped cream into the chocolate mixture. Add about a quarter of the whipped cream to the chocolate mixture, and fold until combined. (This loosens the chocolate mixture and makes adding the rest of the whipped cream easier without over-mixing.) Then add the remaining whipped cream, and gently fold it into the chocolate until combined. Be sure not to over-mix, or the whipped cream will deflate, losing that fluffy, airy texture.
Serve or chill. Once mixed, the Chocolate Mousse can be served immediately or covered and refrigerated until ready to serve. If you're dividing into individual serving dishes, divide them among 4 to 6 small glasses or bowls. When it's time to serve, add any toppings you like.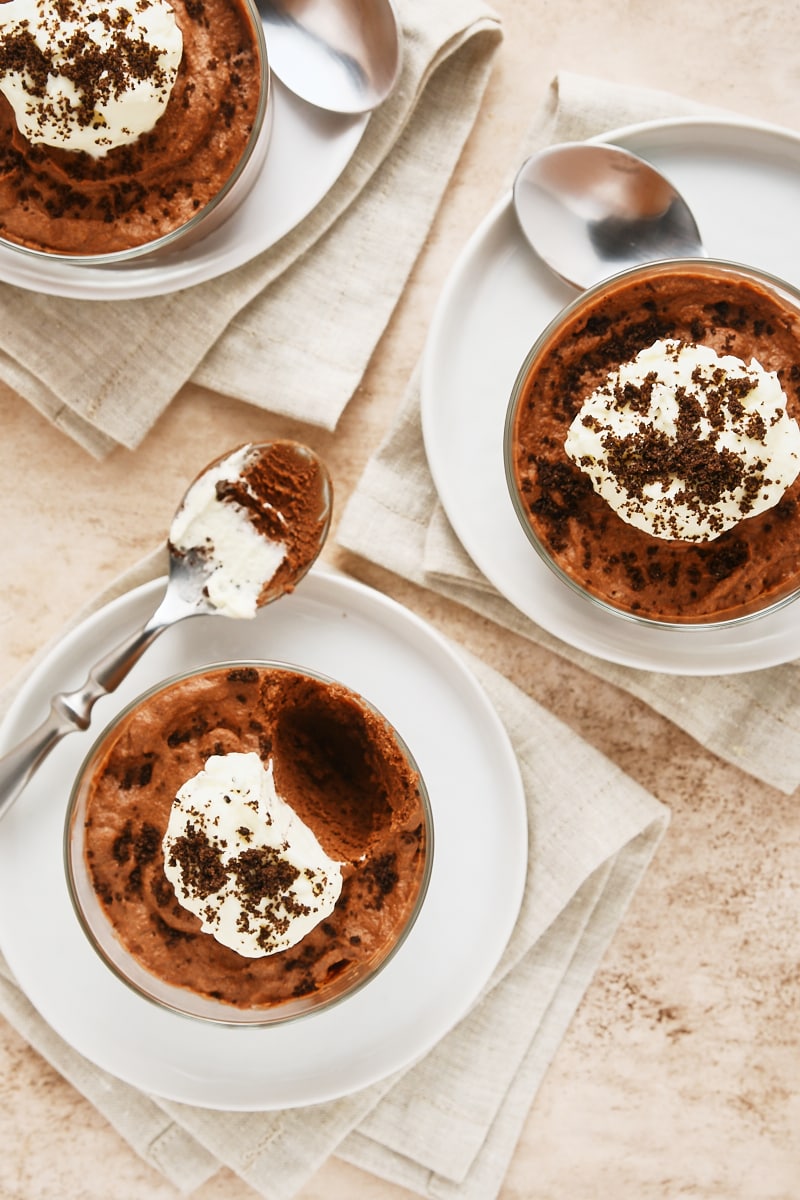 Tips for Success
Here are some easy tips to ensure that your mousse comes out perfectly every time:
Use good quality chocolate. I mentioned this above, but it absolutely bears repeating. You won't get a good result without using good chocolate. Go with a good quality chocolate baking bar, as that type of chocolate will generally melt better than chocolate chips.
Don't over-mix. When folding the whipped cream into the chocolate, start with a small portion and mix it well. This serves to loosen the chocolate mixture a bit so the remaining whipped cream will mix more easily without over-mixing. Then gently fold the remaining whipped cream into the chocolate using as few turns as possible. I recommend using a flexible spatula for thorough mixing.
Dress them up! I love to serve this Chocolate Mousse in individual glasses for an elegant presentation. Portion when you're done mixing, cover, and refrigerate. (You ambitious types can pipe the mousse into the glasses, but I just spoon it into the glasses and spread it evenly.) Then you just have to grab them out of the refrigerator when it's time to serve. See the ingredients discussion above for some topping ideas.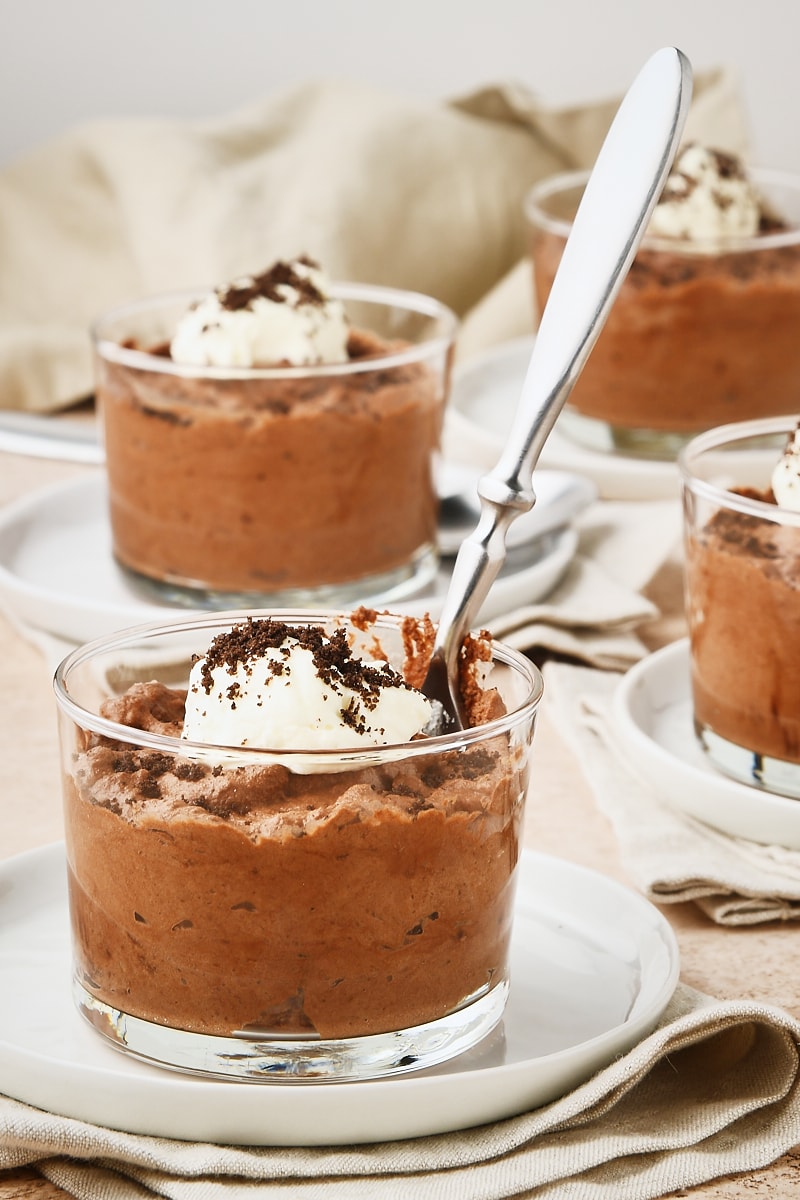 How to Store Leftovers
Cover and refrigerate. If you're serving with toppings, they may hold up better aesthetically if you wait to add toppings until it's time to serve. It should keep in the refrigerator up to 5 days, although it will be best within a day or two.
Video Tutorial: Chocolate Mousse
More Individual Dessert Recipes