Maple Pecan Cookies are soft, flavorful cookies that conjure thoughts of cool, crisp fall days. There's maple syrup to give them a wonderful flavor and plenty of pecans for a bit of crunch.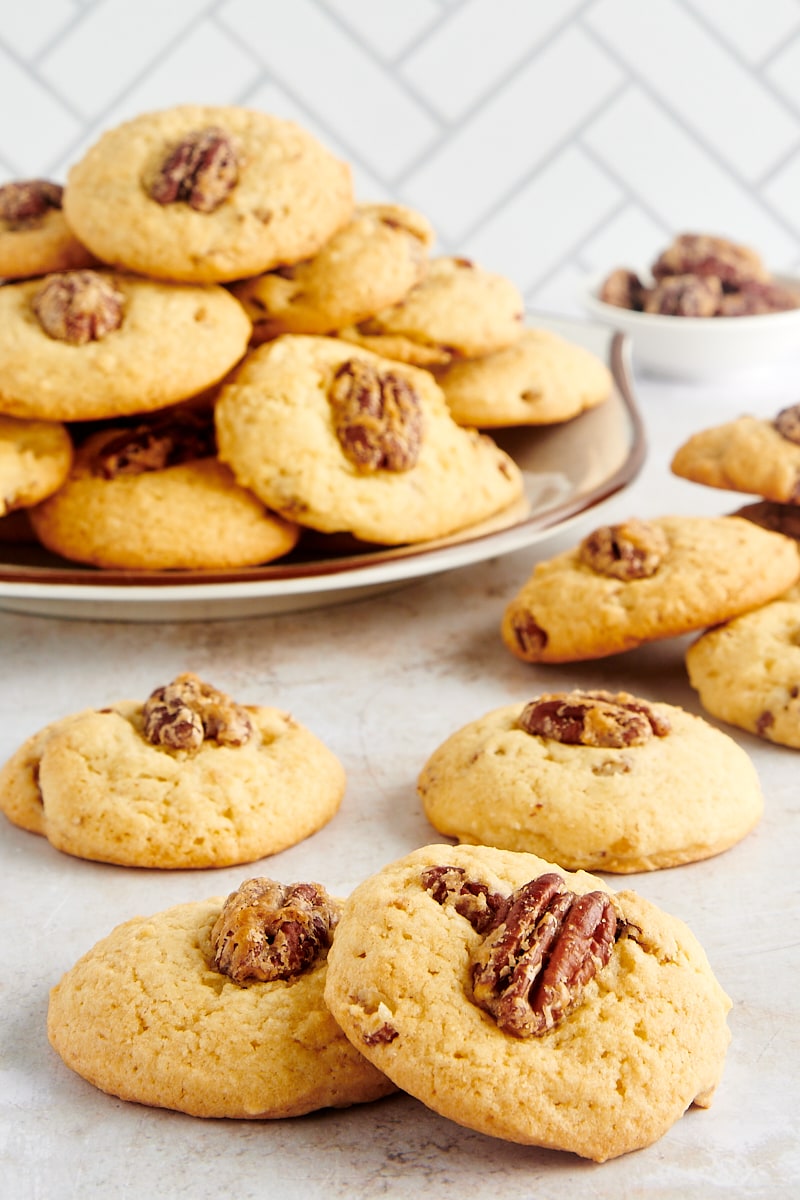 Maple Pecan Cookies
Maple is one of those flavors that I didn't think I liked until I was older. Now I can't help but be sad for all the maple-flavored treats I could have had!
These Maple Pecan Cookies help make up for lost maple time, though. They're just so good that I'm afraid I usually eat more than my fair share of them.
So, what makes them so good? First and most obviously, it's the maple syrup. There's a bit of it in the cookie dough, and there's even more in the pecans. That's because these aren't just your everyday pecans. No, these are glazed pecans made with brown sugar, butter, and maple syrup. Feel free to pause right here and go find out more because you need these ASAP.
Now that you're back with me, I'll tell you that there are lots of chopped glazed pecans in the batter along with a good dose of brown sugar for flavor and softness. Top them with a big pecan half on each cookie to finish.
These maple cookies are sure to be a favorite through the fall and winter. And if you're craving more maple treats, try Maple Nut Muffins, Maple Ginger Cookies, and Maple Date Bread Pudding, too!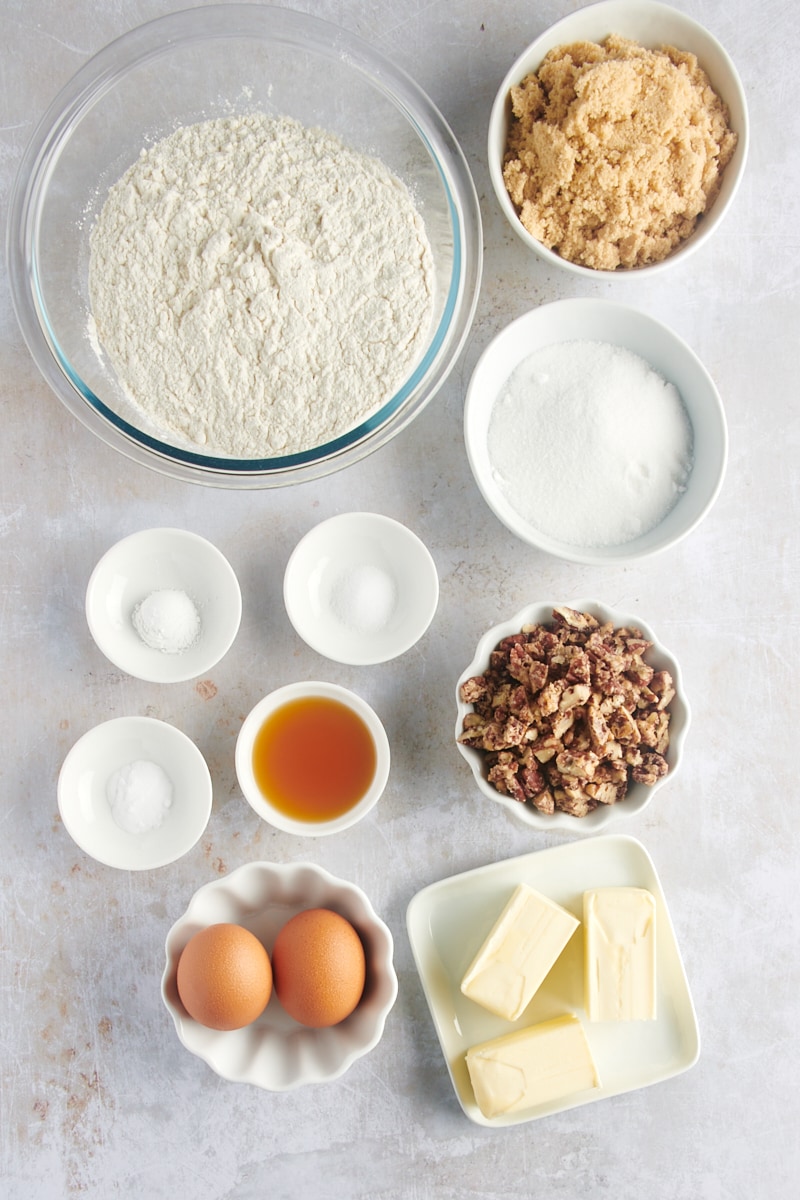 What You'll Need
See the recipe card at the bottom of this post for ingredient quantities and full instructions. Here are some helpful notes about the ingredients you'll need.
All-purpose flour – Measure by weight or use the spoon and sweep method. Learn more: How to Measure Flour
Baking powder
Baking soda
Salt
Unsalted butter – Set out the butter to soften before baking. Depending on how warm your kitchen is, this should take about half an hour. Learn more: How to Soften Butter
Brown sugar – I like light brown sugar in these cookies, but you can use dark brown sugar if you want a bolder molasses flavor. Pack it firmly into the measuring cup or measure by weight.
Granulated sugar
Eggs – Set these out to allow them to come to room temperature.
Maple syrup – See my notes below for tips for choosing a maple syrup for these cookies.
Pecans – While you can use plain pecans for these cookies, I highly recommend glazed pecans for the best flavor.
What Kind of Maple Syrup Should I Use?
For these cookies, you can use any type of maple syrup. To get a bold maple flavor, go with dark or very dark maple syrup. Those names correspond with the newer guidelines for classifying maple syrup, which gives them all the Grade A name but with the color and flavor described as well.
You may still see them labeled by the old letter grade system. With that, grade B is dark, while grade C is very dark. Golden or amber maple syrup (which may be labeled simply as grade A medium amber) are lighter and have a more delicate flavor.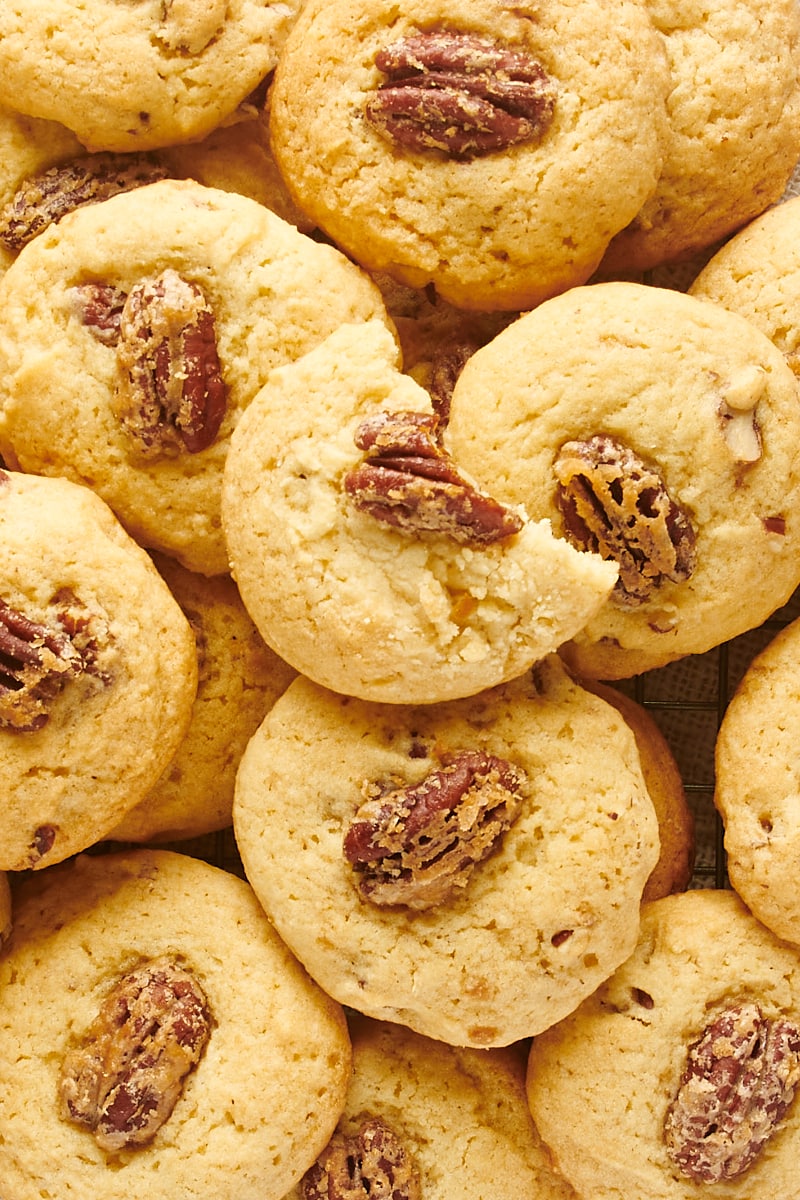 How to Make Maple Pecan Cookies
If you've made a basic cookie dough before, then this recipe will seem familiar to you. You'll be using the creaming method to make the dough.
Combine the dry ingredients. Whisk together the flour, baking powder, baking soda, and salt in a medium bowl. Set this mixture aside while you mix the other ingredients.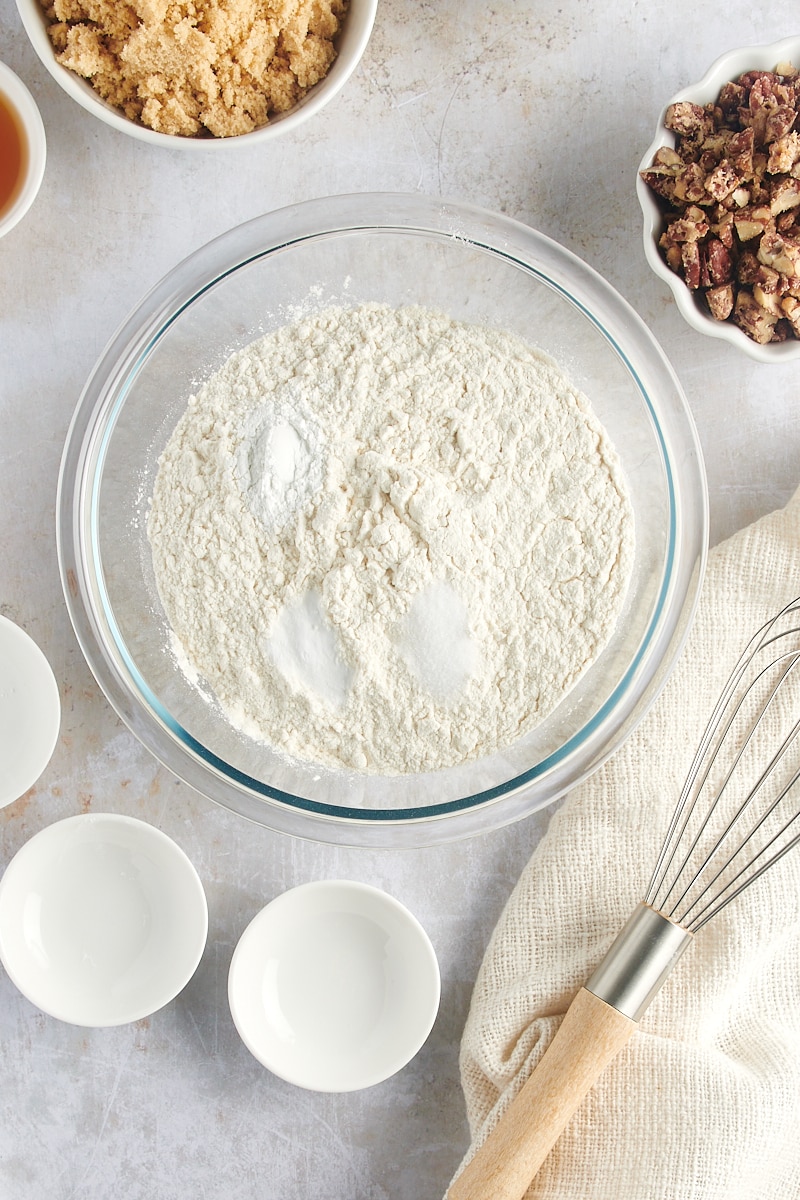 Combine the wet ingredients. Place the butter, brown sugar, and granulated sugar in a large mixing bowl. Use an electric hand mixer or stand mixer on medium speed to mix these ingredients until they're fluffy and lightened in color. Mix in the eggs one at a time, and then mix in the maple syrup.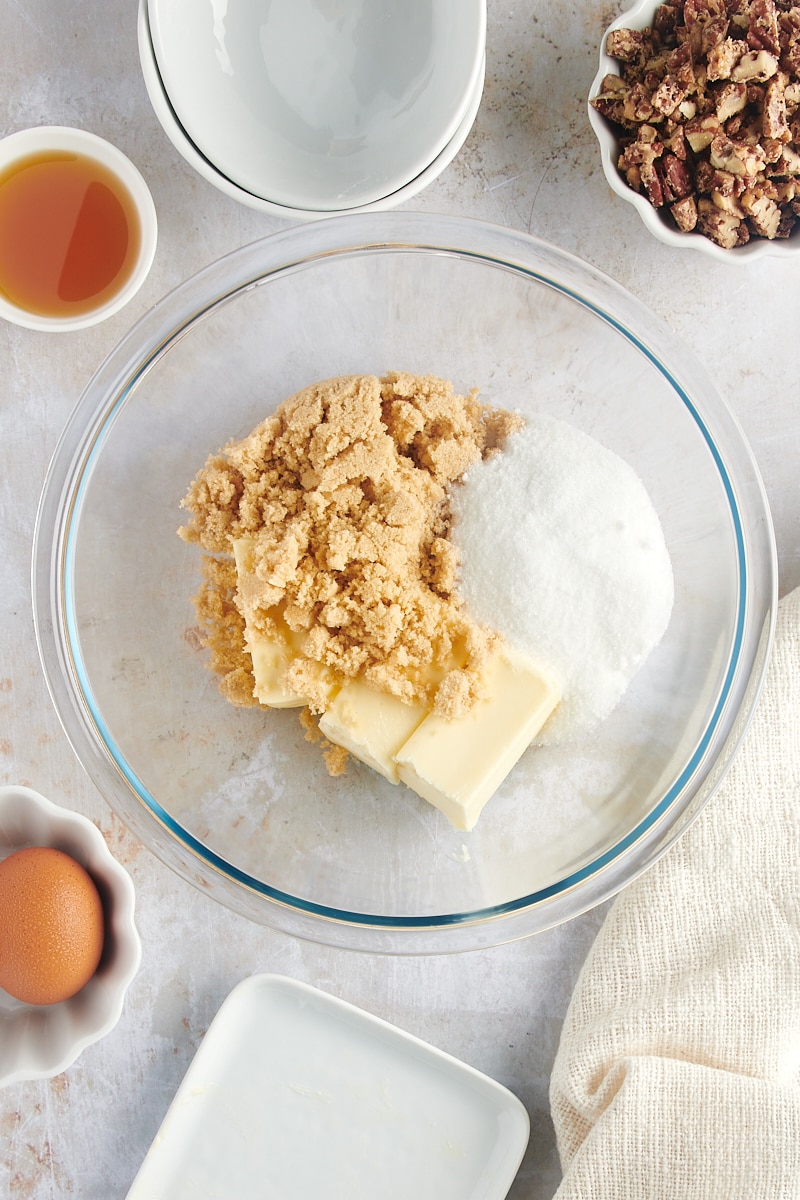 Add the dry ingredients to the wet ingredients. With the mixer speed reduced to low speed, gradually add the flour mixture. Mix just until everything is combined or until you see just a few small streaks of flour in the dough.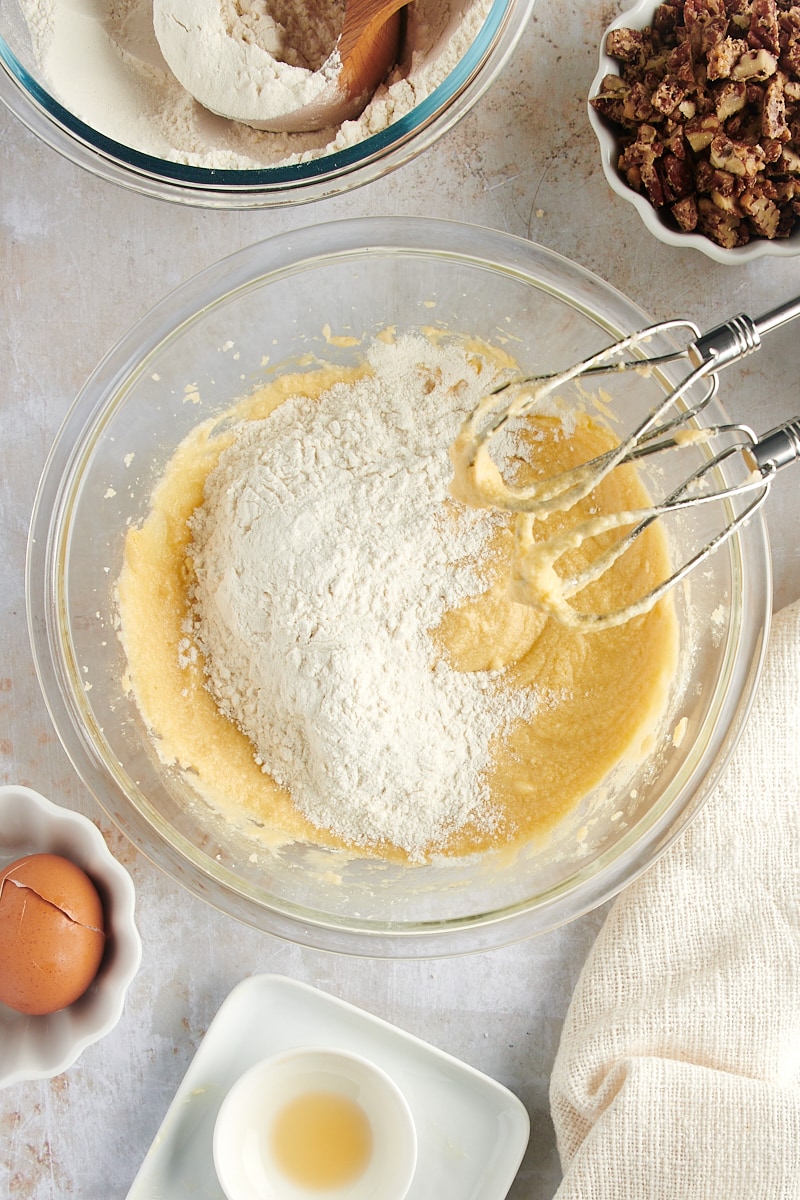 Mix in the pecans. Stir the chopped pecans into the dough until they're evenly distributed.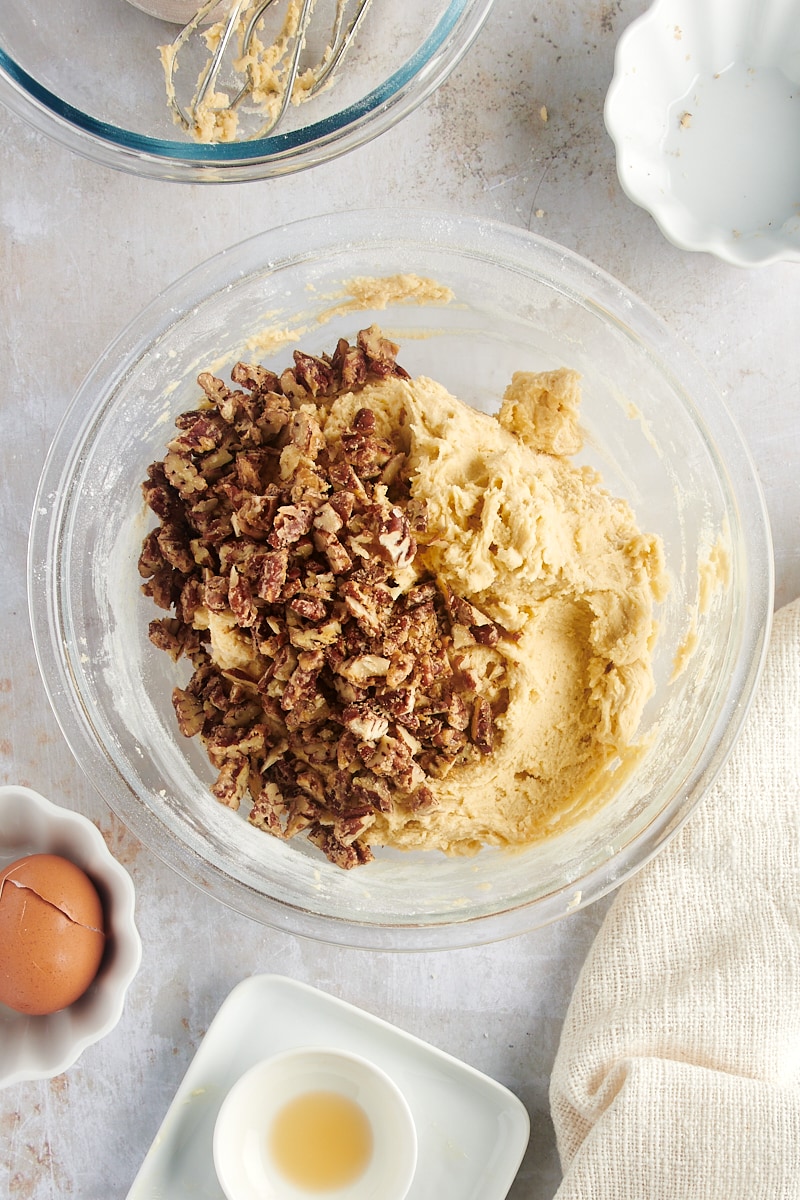 Chill. Cover the dough and refrigerate it for about 15 minutes. If your kitchen is particularly warm, you may want to chill the dough a little longer. It should be cool and easy to handle.
Prepare for baking. Heat the oven to 350°F. Line baking sheets with parchment paper or silicone liners.
Portion the dough. Scoop 2 tablespoons of dough at a time, and place the balls of dough on the prepared pans. Leave about 2 inches between each cookie to allow room for spreading. Place a pecan half on top of each cookie, and press down gently to flatten slightly.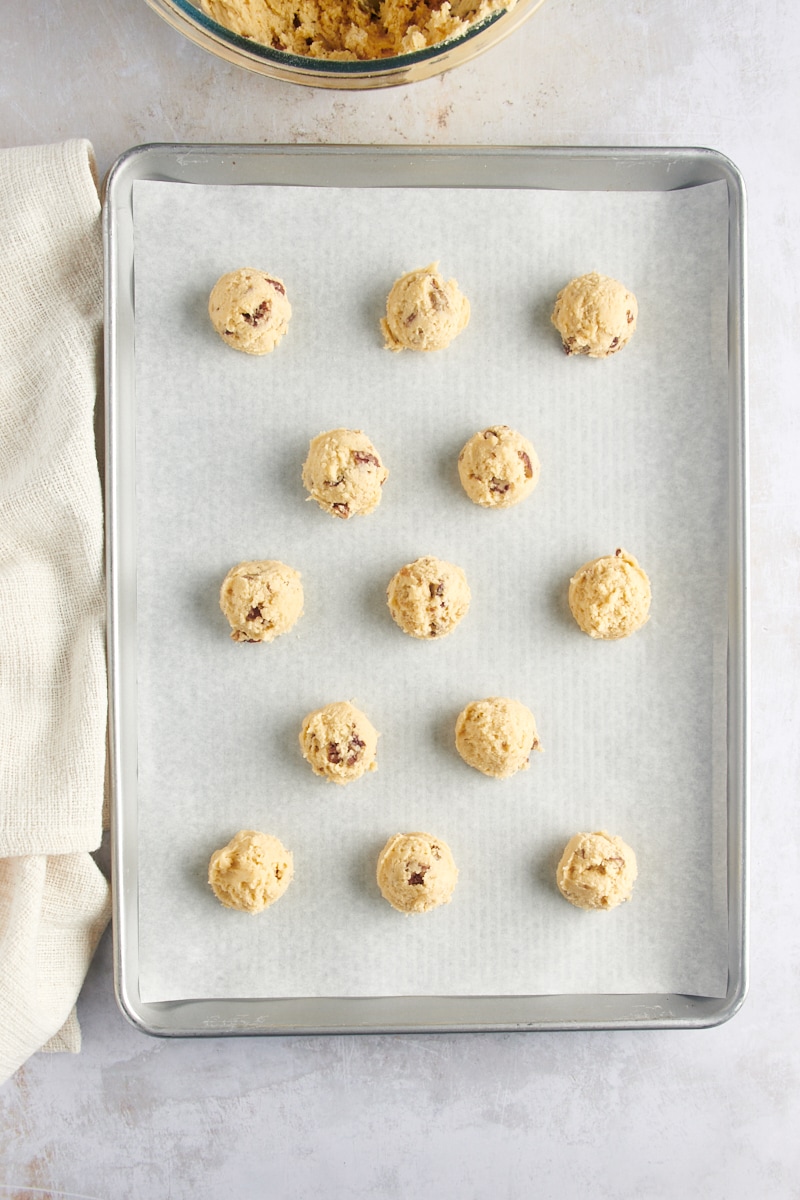 Bake. Place one pan at a time in the heated oven, and bake for 16 to 18 minutes. The edges of the cookies should be browned, and the cookies should appear set. Repeat with the remaining cookie dough.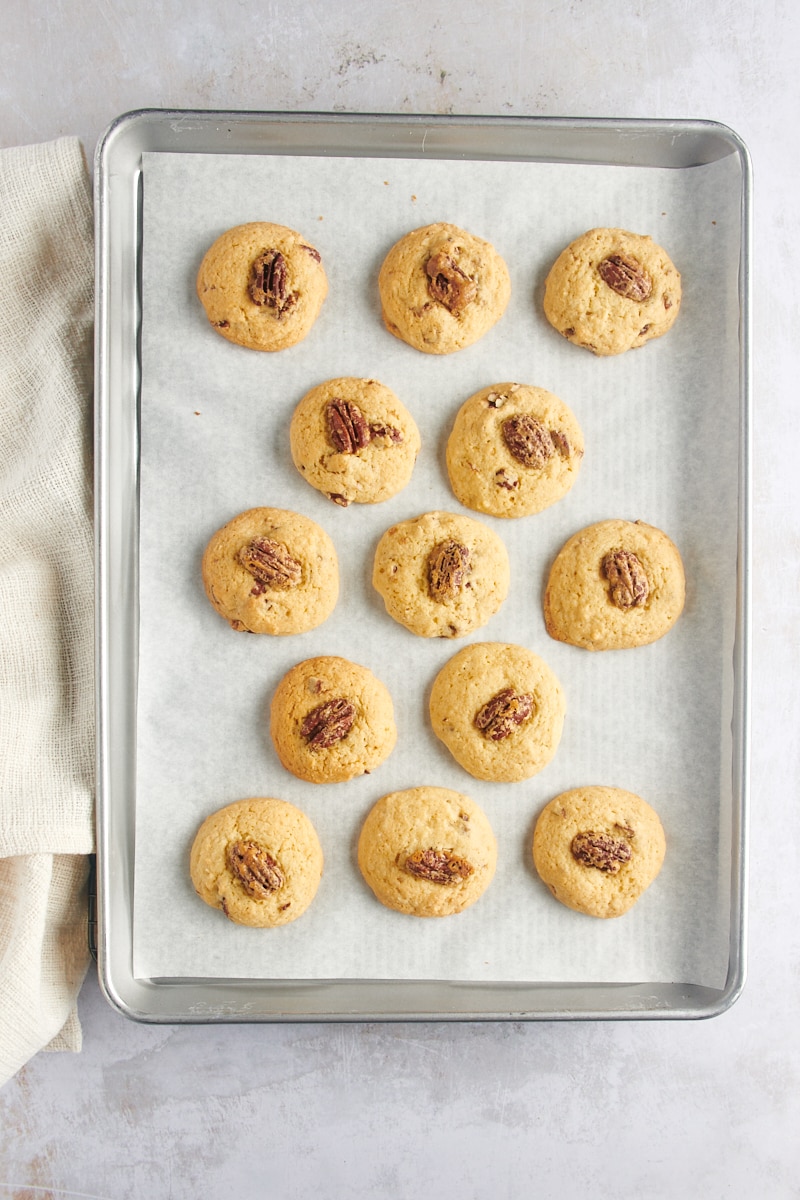 Cool. Place the pan on a wire rack, and allow the cookies to cool for 5 minutes. Then transfer the cookies from the pan directly onto a wire rack to cool completely.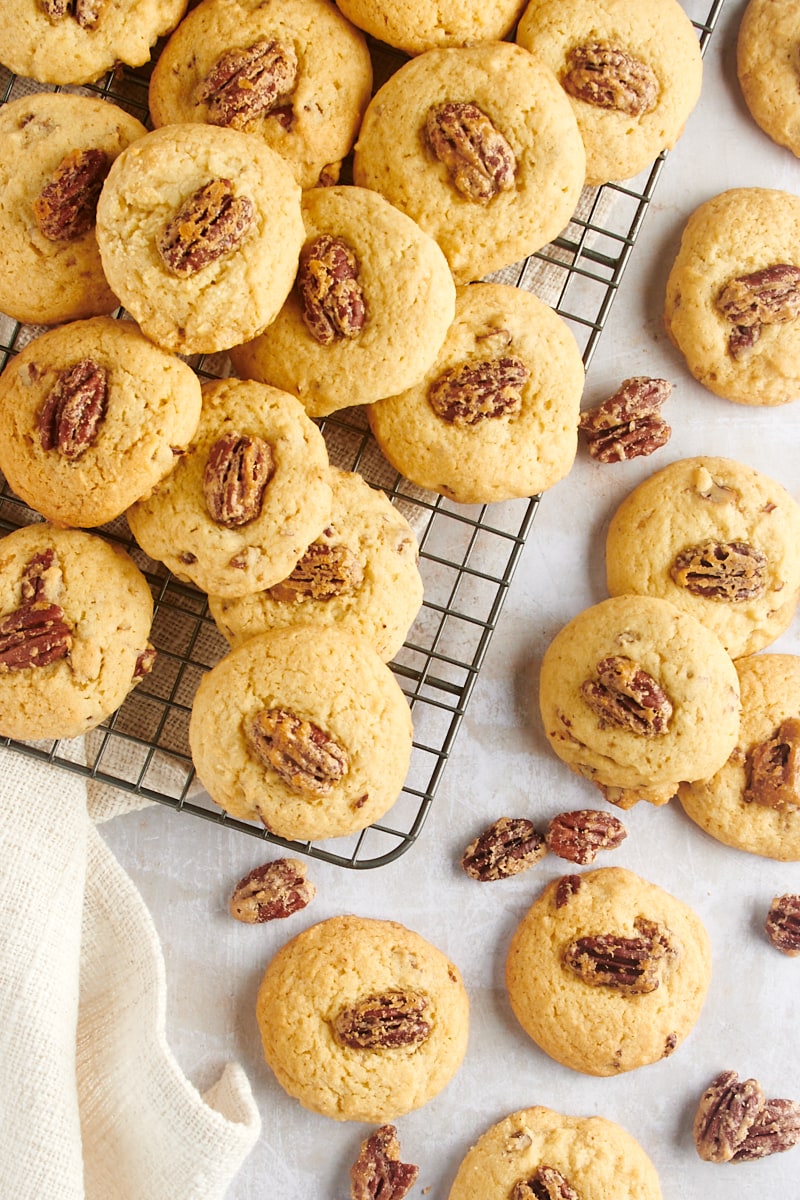 Tips for Success
I think you'll find that these Maple Pecan Cookies are easy to make, but here are a few tips to help ensure success.
Don't over-mix. Too much mixing leads to tough cookies. After adding the flour, mix just until everything is combined or you see just a few small streaks of flour in the batter. Those will get mixed as you stir in the pecans.
Chill the dough. These cookies don't require a long chill time, but their brief stint in the refrigerator will make them easier to scoop and help keep them from spreading too much as they bake. Keep the remaining dough refrigerated between baking batches, too.
Use a cookie scoop. It will help you portion the cookies quickly and equally. Having them all the same size not only looks nice, but it helps ensure thorough, even baking.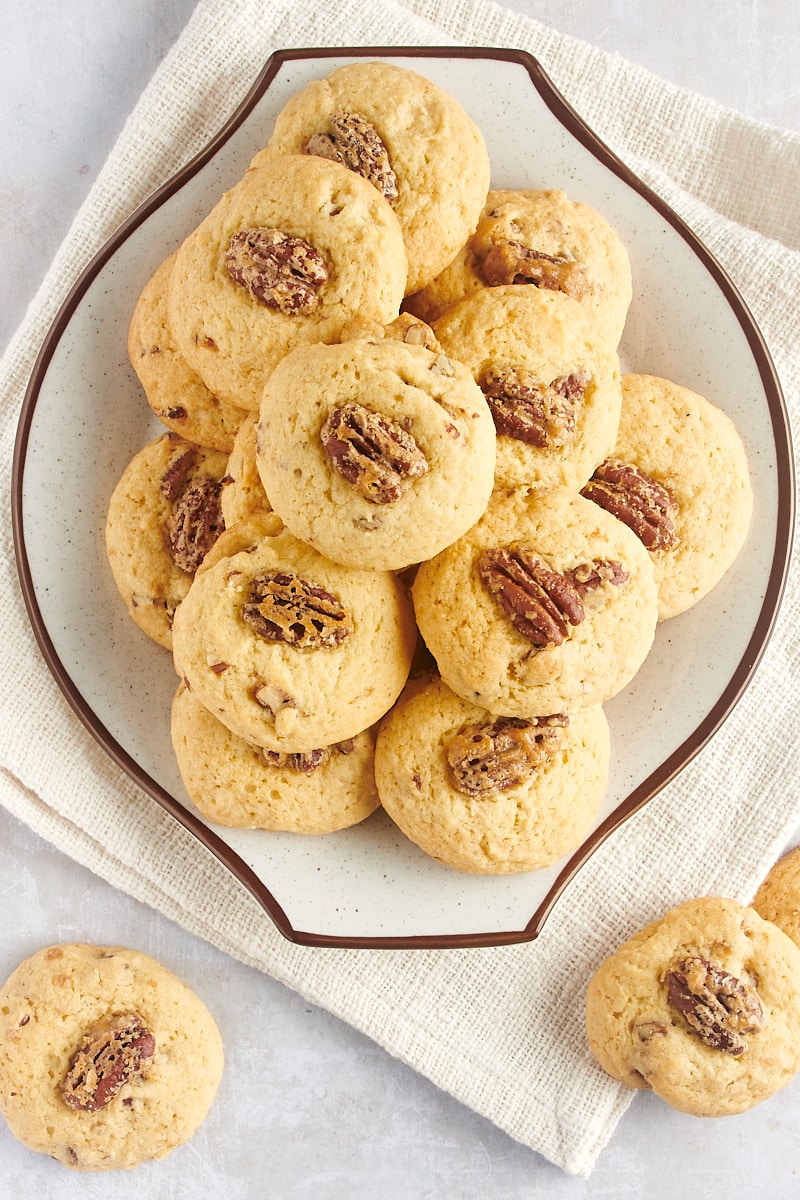 How to Store
After the cookies have cooled, place them in an airtight container. They should keep at room temperature up to 3 days. To keep them looking their best, you may want to place a sheet of waxed paper or parchment paper between layers of cookies.
How to Freeze
Place the cooled cookies in an airtight, freezer-safe container or zip-top bag. Properly stored, the cookies should keep in the freezer up to 3 months. Thaw for an hour or so at room temperature.
You can also freeze the cookie dough. After portioning and shaping, place the balls of dough on a lined rimmed baking sheet, and freeze until solid (about 2 hours). Then transfer the frozen cookie dough balls to an airtight, freezer-safe container for storing up to 3 months. When you're ready to bake, follow the directions in the recipe, adding an extra couple of minutes to the baking time.