M&M Brownie Bites are fun little brownies with a splash of happy color, thanks to mini M&Ms!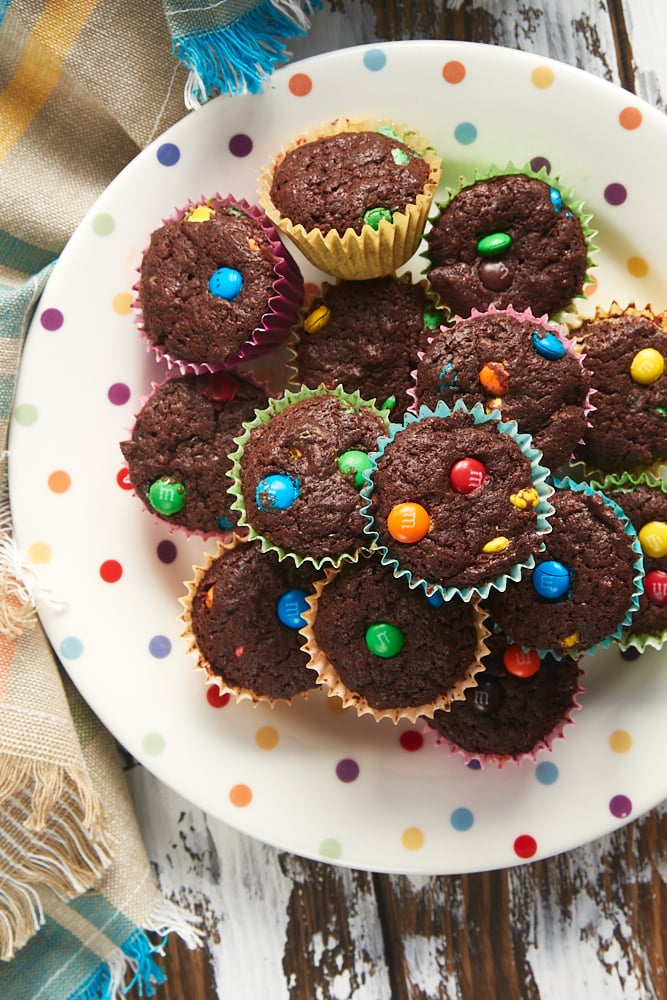 Brownie Bites with M&Ms
Brownies always have a high irresistibility factor for me, but the adorableness of these M&M Brownie Bites really pushes them over the top! These are just so fun, aren't they?
Beyond the cuteness factor, these are soft, fudgy brownies with wonderful chocolate flavor. I feel like sometimes brownies don't optimize their chocolate flavor potential, but these are perfect for serious chocolate lovers.
M&M Brownie Bites are a great dessert for a fun celebration or just because. The splash of color from the candies makes them eye-catching, but the flavor is what will have you coming back for more. And because they're so easy to make, they make a great baking project when you want something homemade without a lot of fuss.
What You'll Need
With one exception, these brownies are made with basic baking ingredients you likely already have on-hand. In addition to the basics, you'll also need mini M&Ms. See the recipe card at the bottom of this post for ingredient quantities and full instructions.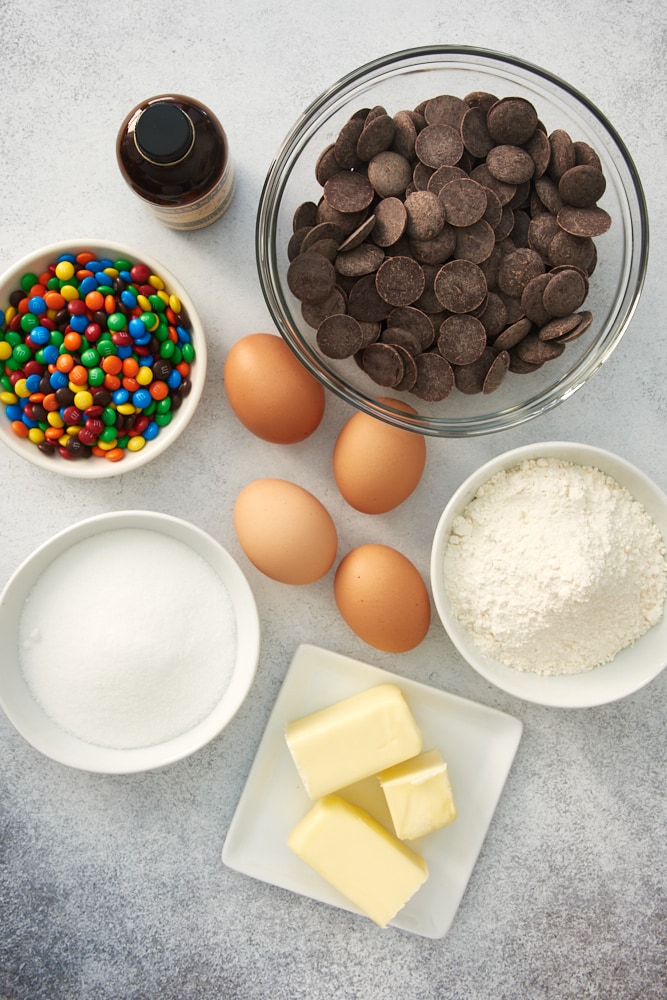 Semisweet chocolate – Chocolate discs or bars will generally melt better than chocolate chips.
Unsalted butter
Eggs – Set these out to let them come to room temperature, and then lightly beat them before mixing with the other ingredients. I recommend baking with large eggs.
Granulated sugar
Vanilla extract
All-purpose flour – Measure by weight or use the spoon and sweep method for best results. Learn more: How to Measure Flour
Salt
Mini M&Ms – The mini size is key because of the small size of these brownies. Those little guys will mix much easier into the batter and better distribute throughout the small portions.
How to Make M&M Brownie Bites
You'll have these one-bowl brownies mixed in short order! The batter can be mixed by hand, so you can leave the mixer in the cabinet if you like.
Melt the chocolate and butter. Place them in a large microwave-safe bowl, and heat in 30-second increments at half power until the butter melts and the chocolate melts when stirred. Stir until smooth, and set aside to cool slightly.
Prepare for baking. Heat the oven to 350°F. Line 48 mini muffin cups with paper liners. Alternatively, you can skip the liners and grease the pans.
Mix the brownie batter. Add the eggs, sugar, and vanilla to the chocolate mixture. Use a mixing spoon or an electric mixer to mix just until combined. Stir in the flour and salt, followed by the M&Ms.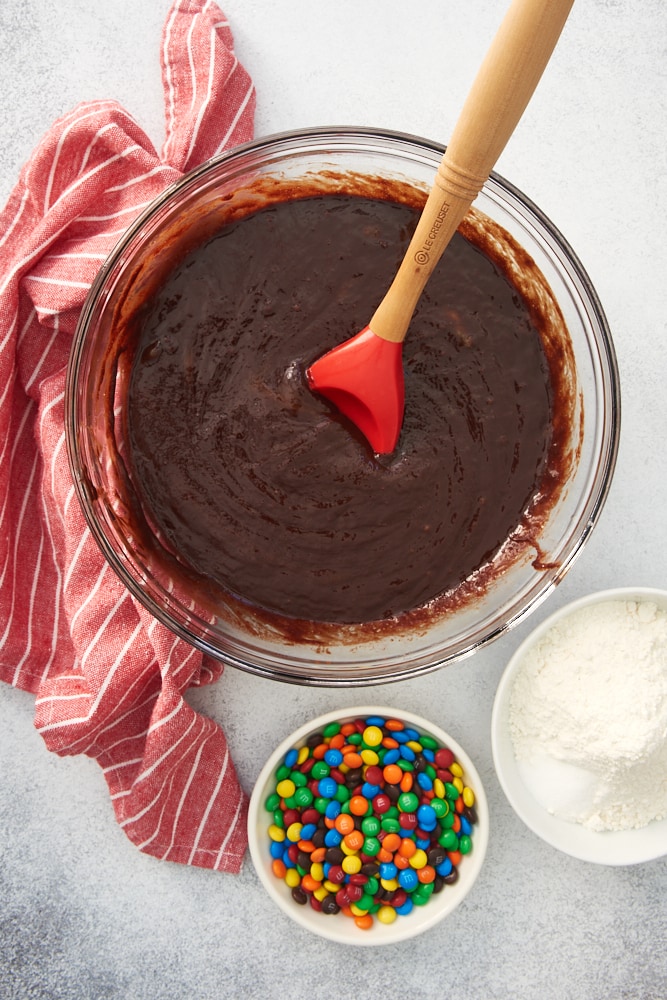 Portion the batter. Divide the batter among the muffin cups, filling each almost to the top.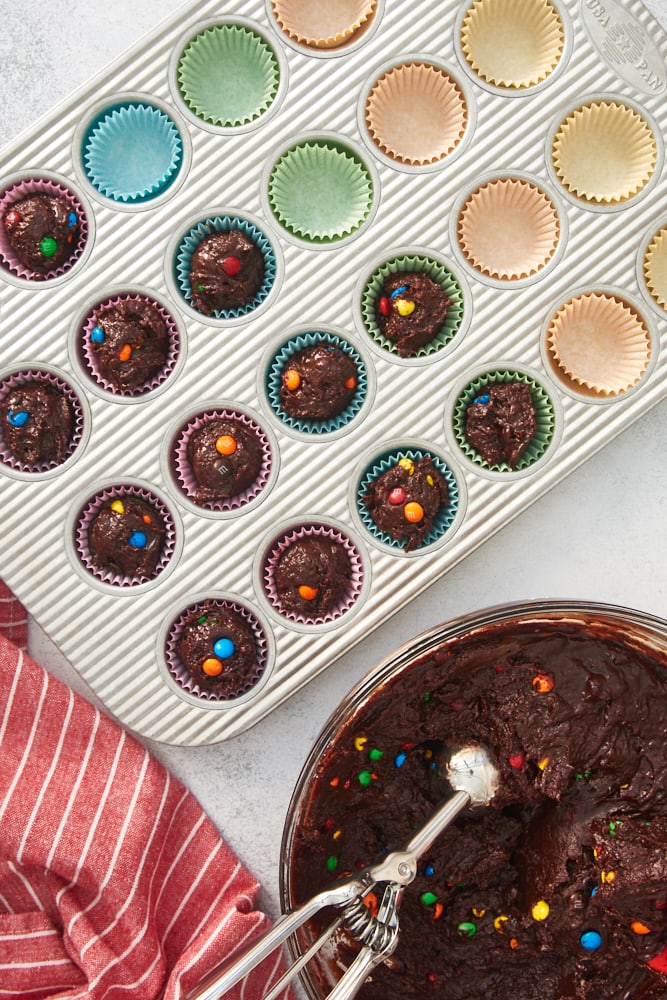 Bake. Place one pan at a time in the oven, and bake 12 to 15 minutes. A toothpick inserted into the center of a brownie should come out with moist crumbs.
Cool. Place the pans on wire racks to cool before serving.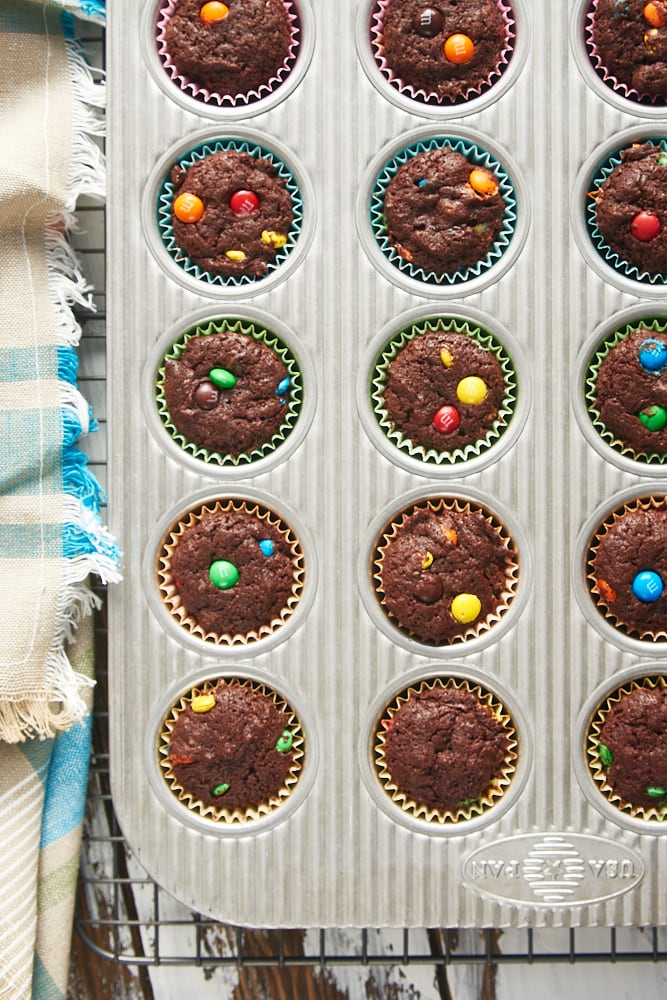 Should I Line the Pans?
Whether you line the pans or not is a matter of preference. The liner adds another layer between the batter and the pan, so you'll get softer sides than if you bake them directly in the pan.
For small desserts like these, I tend to use liners so that they're as grab-and-go as possible. Also, the colorful liners give them that extra pop of happy color!
Tips for Baking Brownie Bites
Here are a few tips to help make sure your brownie bites turn out perfectly. If you want a little more help, start with my Tips for Baking Brownies from Scratch.
Use a good quality chocolate. This will give you the best flavor and texture. Good chocolate doesn't have to be expensive. Pick one that has a good flavor and that melts easily.
Don't over-mix. That will keep these brownies nice and fudgy. I prefer mixing with just a large mixing spoon, but you can use an electric mixer if you prefer. The more it's mixed, the more cake-like they'll be. That applies to the eggs as well. I really mean that "lightly" beaten part.
Cool the melted butter and chocolate. If you add the other ingredients immediately, you'll have a mess on your hands because the hot mixture will actually start cooking the eggs. The mixture should still be warm but not hot.
Don't over-bake. When a pick inserted into the center comes out with a few moist crumbs, they're ready.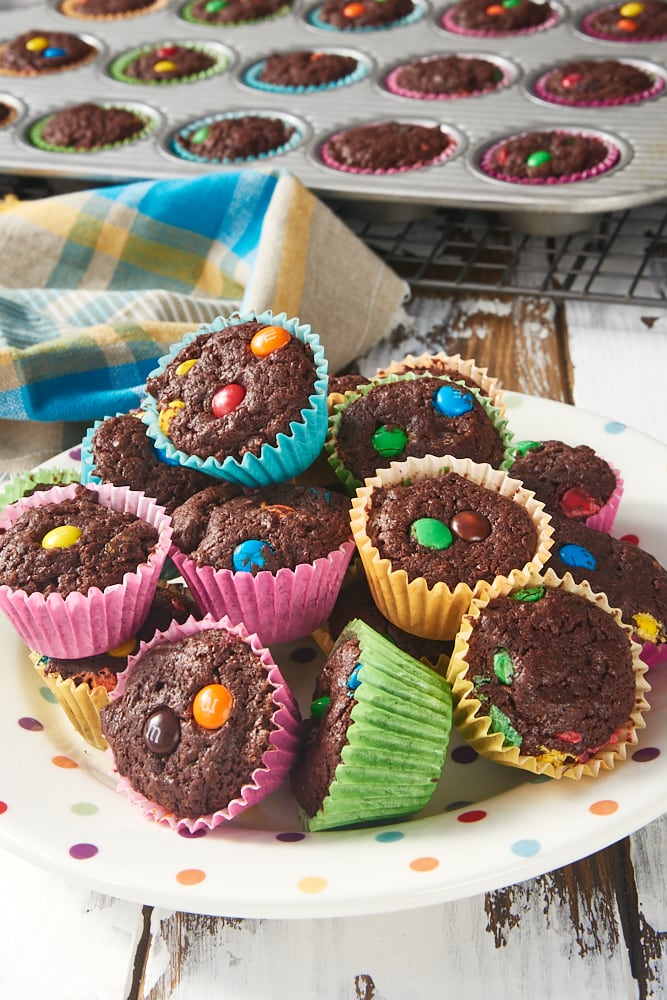 Ideas for Variations
You can easily substitute something else for the M&Ms if you like. You can also omit them entirely. Just keep in mind that you won't get as many brownies from the recipe when omitting add-ins entirely.
Chocolate chips – Use mini chocolate chips or roughly chop regular chocolate chips.
Chopped nuts – Most any kind will work – pecans, hazelnuts, walnuts, etc. Be sure to chop them small for these little brownies.
Other baking chip flavors – Butterscotch, peanut butter, caramel, or any other flavor you like! Depending on their size, you may want to chop them into smaller pieces before adding them to the batter.
Combine a few flavors – Mix some different add-ins together. Just keep the total amount the same.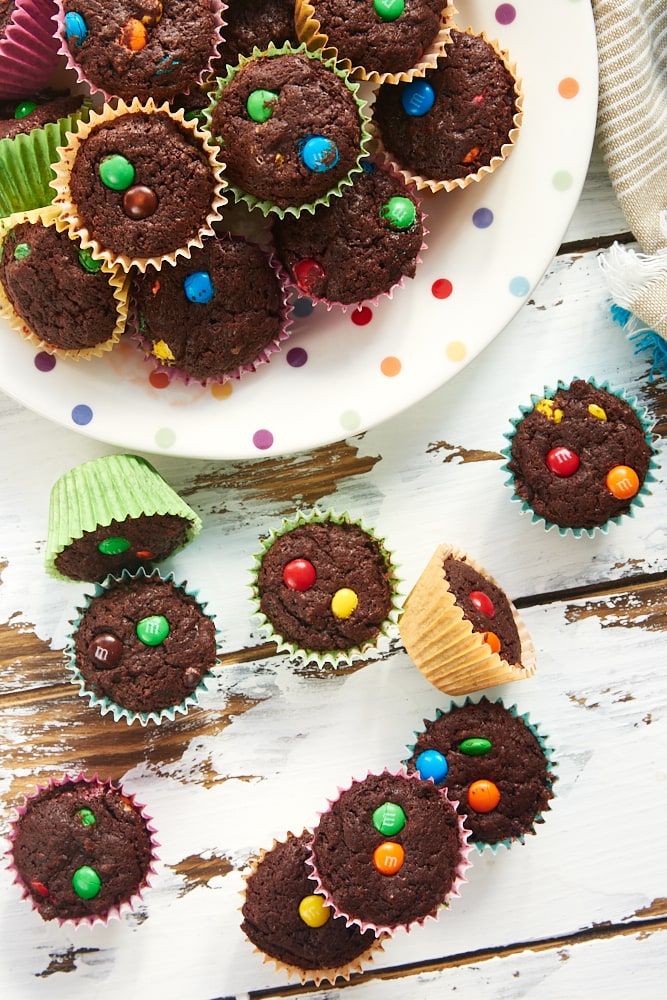 How to Store
These brownies will keep up to 3 days in an airtight container at room temperature. Because they make a big batch, you'll have plenty to share!
Or freeze some for when your future self is craving brownies! Place the cooled brownies in a freezer bag or container, and seal tightly. Properly stored, the brownies should keep in the freezer up to 3 months. Thaw at room temperature before serving.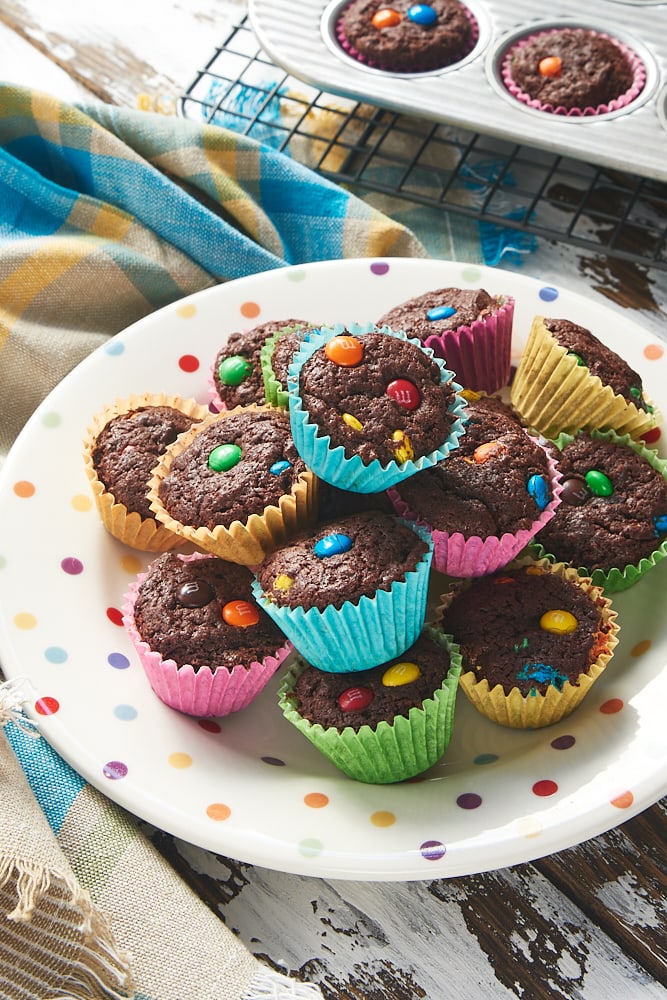 Video Tutorial: M&M Brownie Bites
Find more brownie recipes in the Recipe Index.
More M&M Dessert Recipes