Snickerdoodles are an old-fashioned favorite and it's easy to see why. With a soft, chewy texture and fragrant cinnamon-sugar coating, they're guaranteed to be a hit every time you make them!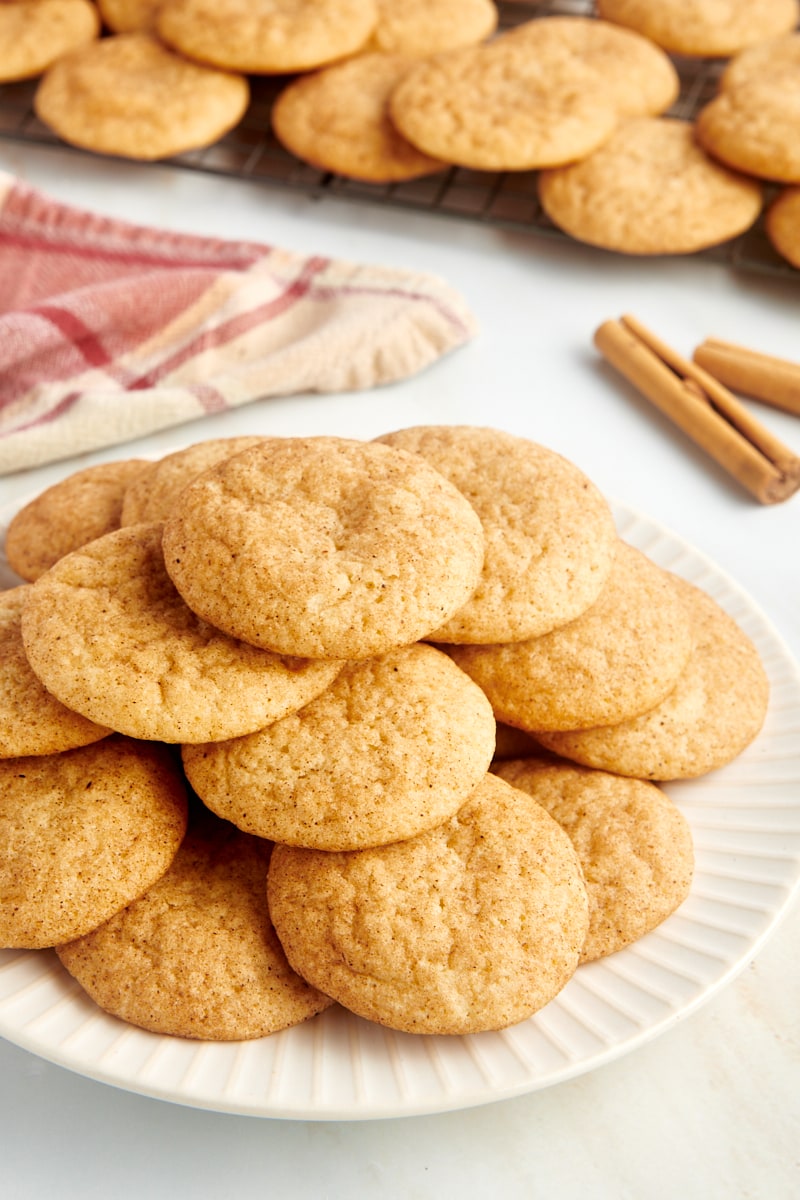 The Best Snickerdoodles Recipe
Let's revisit a classic cookie: the snickerdoodle.
Snickerdoodles are an American cookie that became popular sometime around the 19th century. The exact origins of the recipe are unknown, but it's believed to have originated in New England, with German or Dutch influences. (Some food historians trace the name to the German "shneckennudel," a type of cinnamon bun.)
Like Drop Sugar Cookies, snickerdoodles are a soft, chewy cookie with just a hint of crunch on the outside from the caramelized sugar. The warm, cinnamon sugar coating is so fragrant, you can almost taste it before you even take a bite!
With the cozy cinnamon flavor, I think these classic snickerdoodles are perfect for the holidays, but this is definitely a year-round kind of cookie like Chewy Chocolate Chip Cookies. They're also easy enough to make any time you're craving that cinnamon flavor!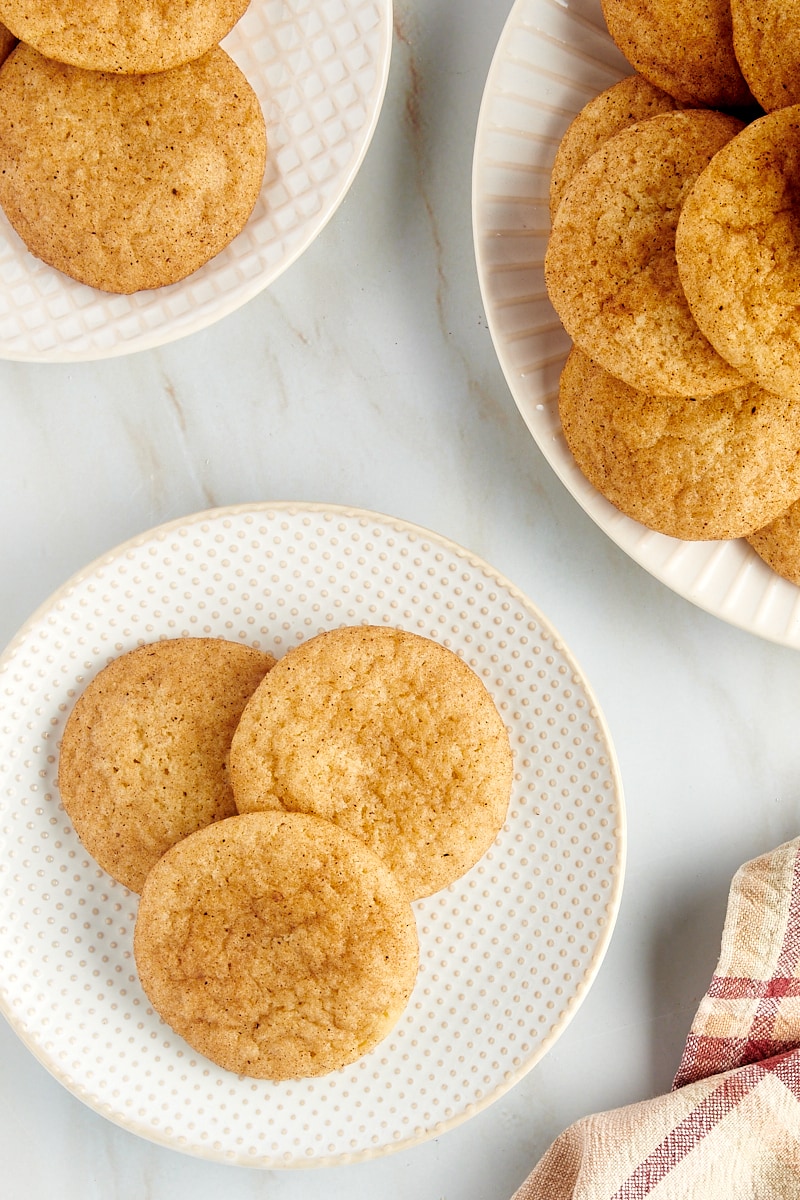 Why You'll Love This Snickerdoodles Recipe
Here's what makes these snickerdoodles irresistible:
A cookie for cinnamon lovers. Can't get enough cozy cinnamon? Then these soft, chewy snickerdoodles are for you! The cinnamon sugar coating on the outside provides just the right amount of sweetness and spice without overdoing it.
Perfect texture. Snickerdoodles strike the perfect balance between soft and crisp. You'll get a slight crunch from the cinnamon sugar topping, but once you take a bite, the inside is pure chewy goodness. It's the best of both worlds in one cookie!
Easy recipe with simple ingredients. This recipe is practically effortless—no rolling out the dough, no cutting it, and you don't even need to chill it before baking. And aside from the cream of tartar, all of the ingredients are kitchen staples!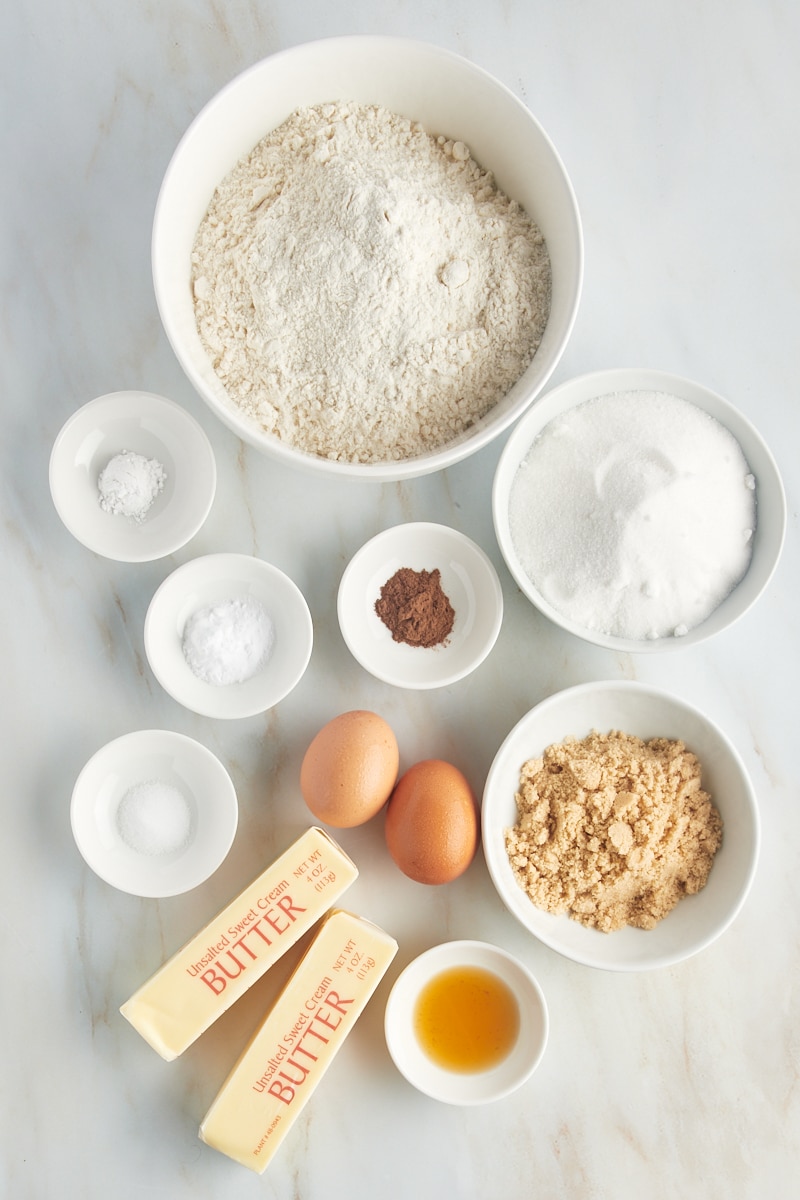 What You'll Need
Scroll down to the recipe card to find the ingredient quantities and recipe instructions.
For the Cinnamon-Sugar:
Granulated sugar
Ground cinnamon – I love using Saigon cinnamon, which has a warmer, richer flavor than other varieties. Of course, any ground cinnamon you have on hand is just fine. Learn more: Types of Cinnamon: A Home Baker's Guide
For the Cookies:
Why Do You Put Cream of Tartar in Snickerdoodles?
Cream of tartar, or potassium bitartrate, has acidic properties that react with baking soda to create carbon dioxide gas. This reaction helps the cookies rise and gives them their signature texture.
How to Make Snickerdoodles
You're just a few minutes away from a baking sheet full of warm, cinnamon-scented snickerdoodle cookies! Here's what you'll need to do.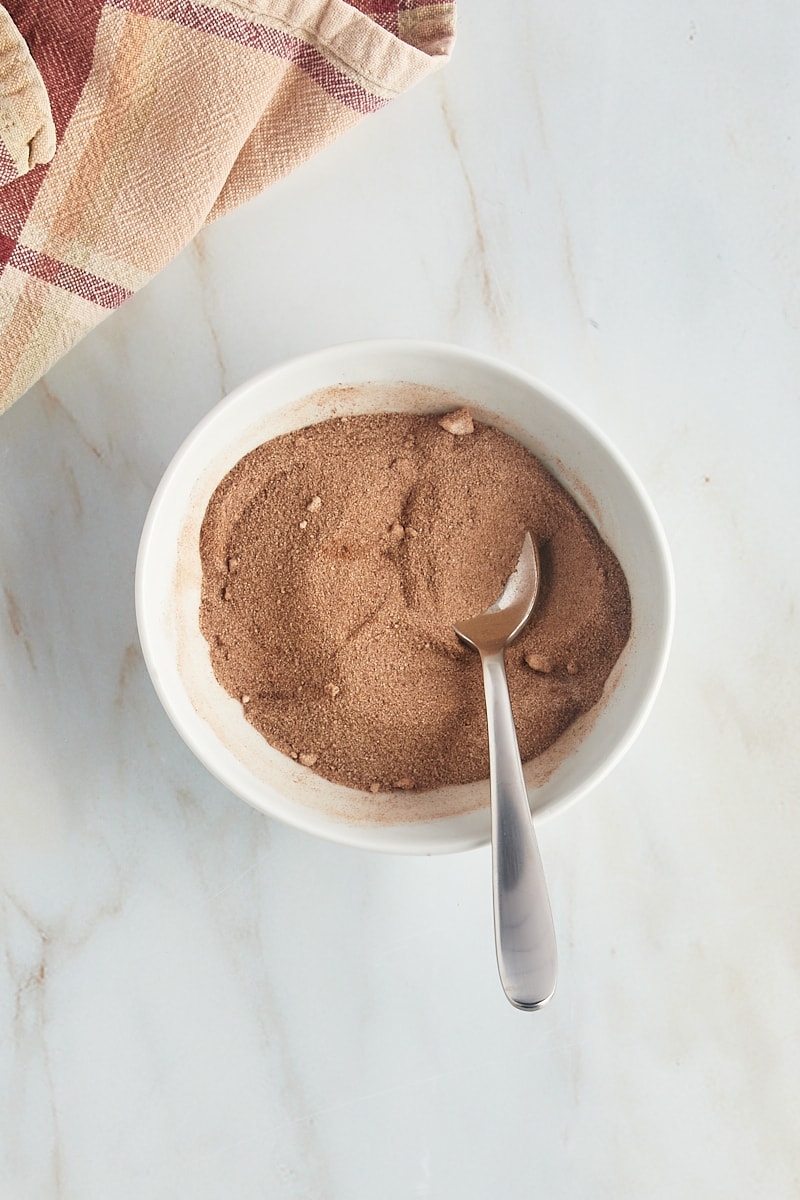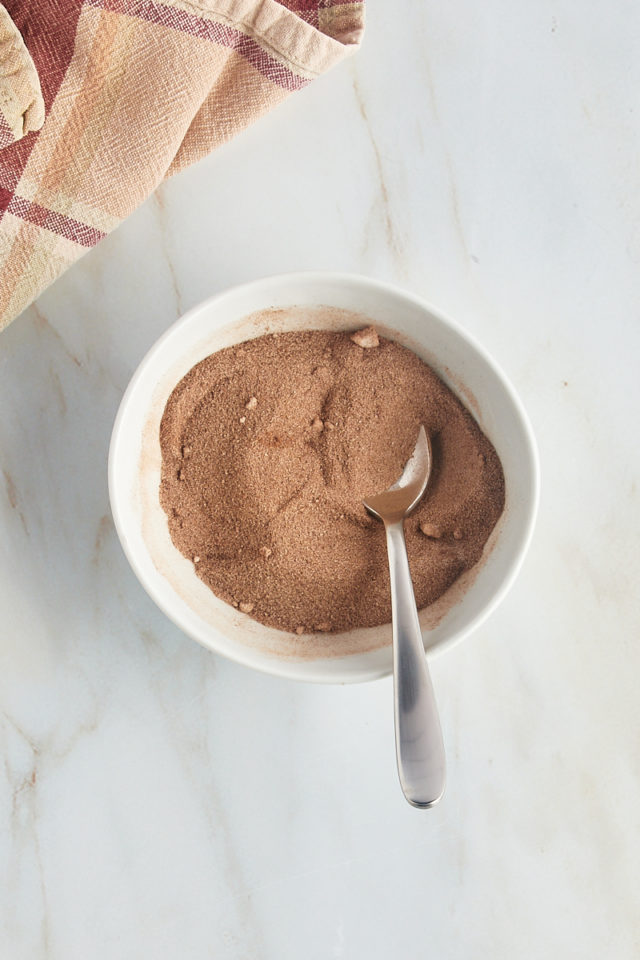 Make the cinnamon sugar. Combine the sugar and cinnamon in a small, shallow bowl.
Prepare. Preheat your oven to 350°F and line baking sheets with parchment paper or silicone liners.
Mix the dry ingredients. Whisk the flour, baking soda, cinnamon, cream of tartar, and salt in a mixing bowl.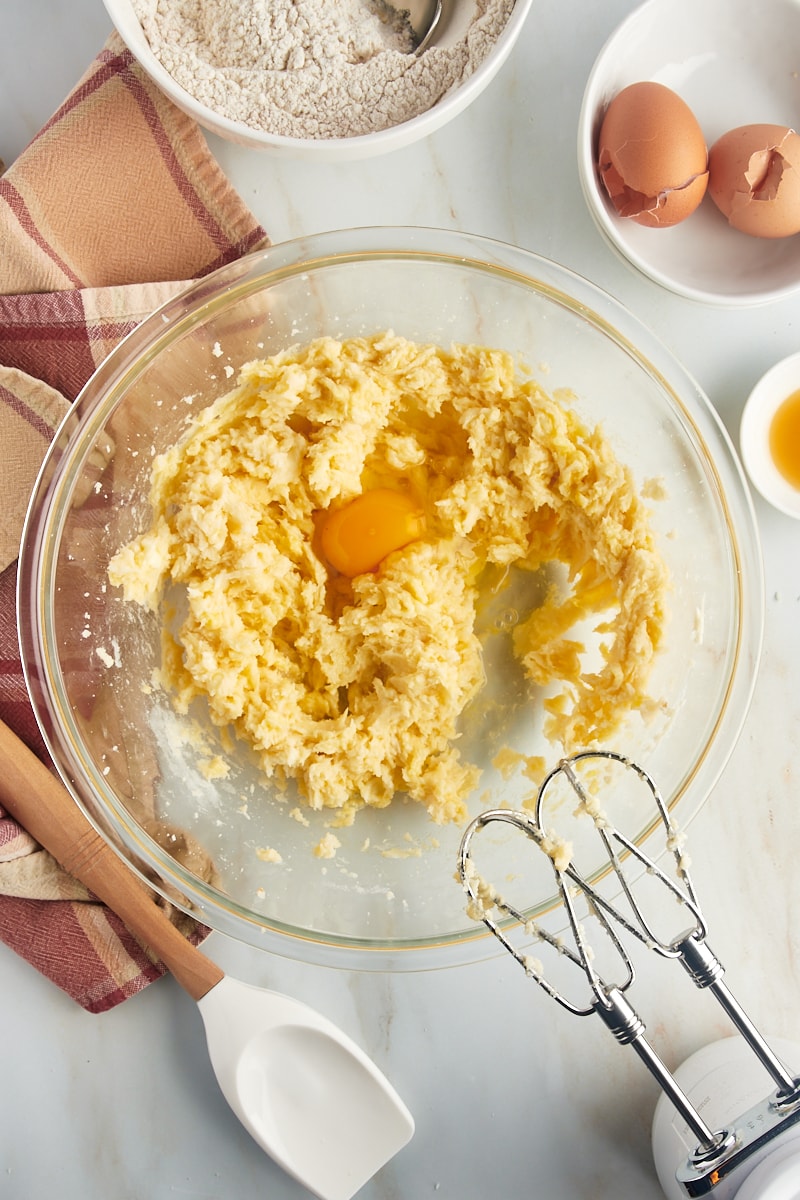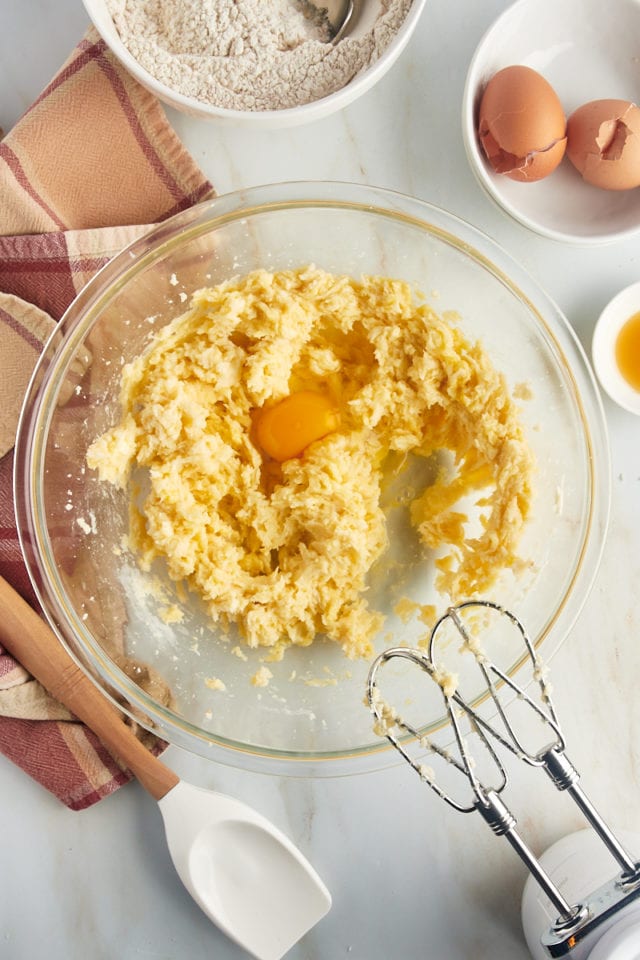 Mix the wet ingredients. Use an electric hand mixer or stand mixer on medium speed to beat the butter, sugar, and brown sugar until they're light and fluffy. Beat in the eggs one at a time, mixing well after each addition, followed by the vanilla.
Finish the dough. Reduce the mixer speed to low and slowly add the dry ingredients, mixing just until combined.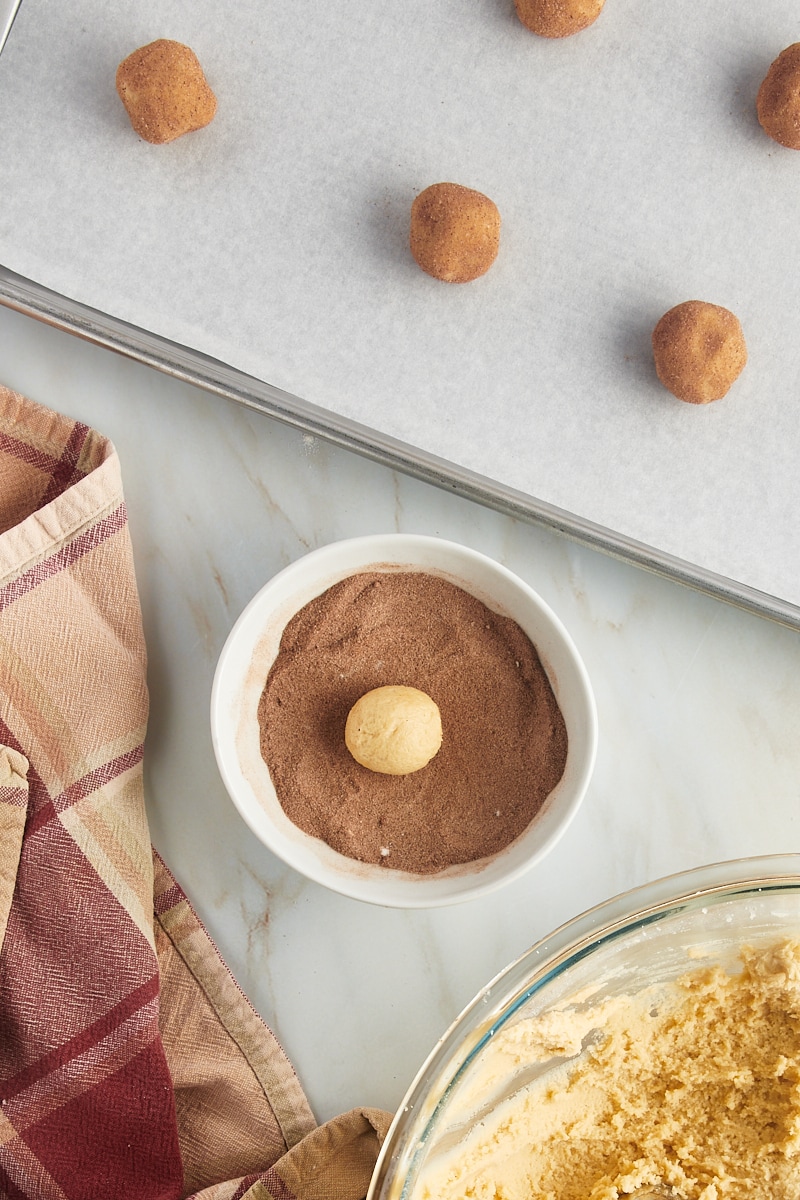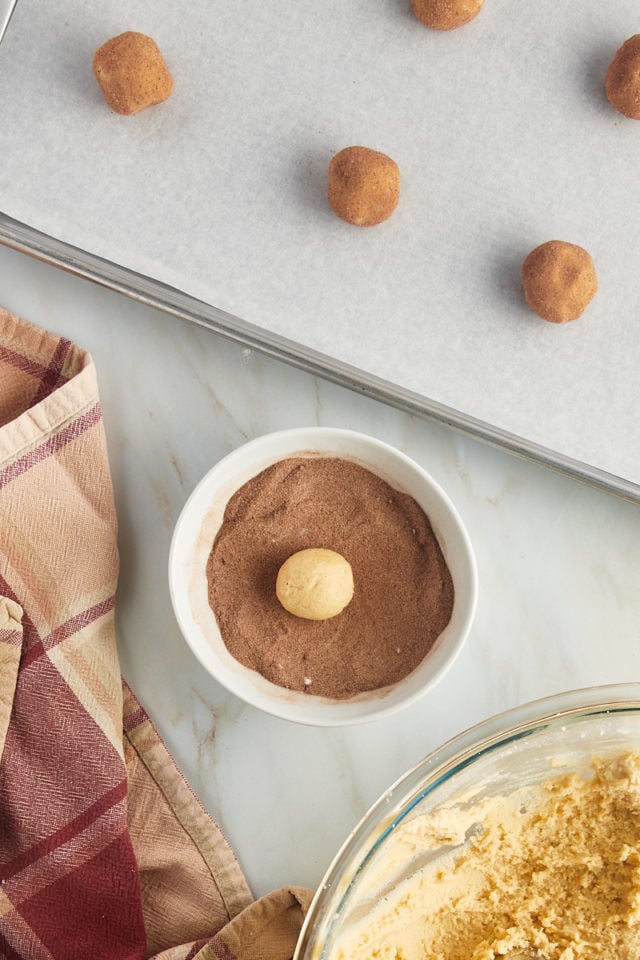 Form the cookies. Scoop a tablespoon of dough, then roll it into a ball between the palms of your hands. Roll the ball in the cinnamon sugar mixture, then set it on the prepared pan. Repeat with the remaining dough, leaving 2 inches between cookies.
Bake. Place a pan in the oven and bake for 8 to 10 minutes, or until the snickerdoodles are set and lightly browned. Repeat with the rest of the pans.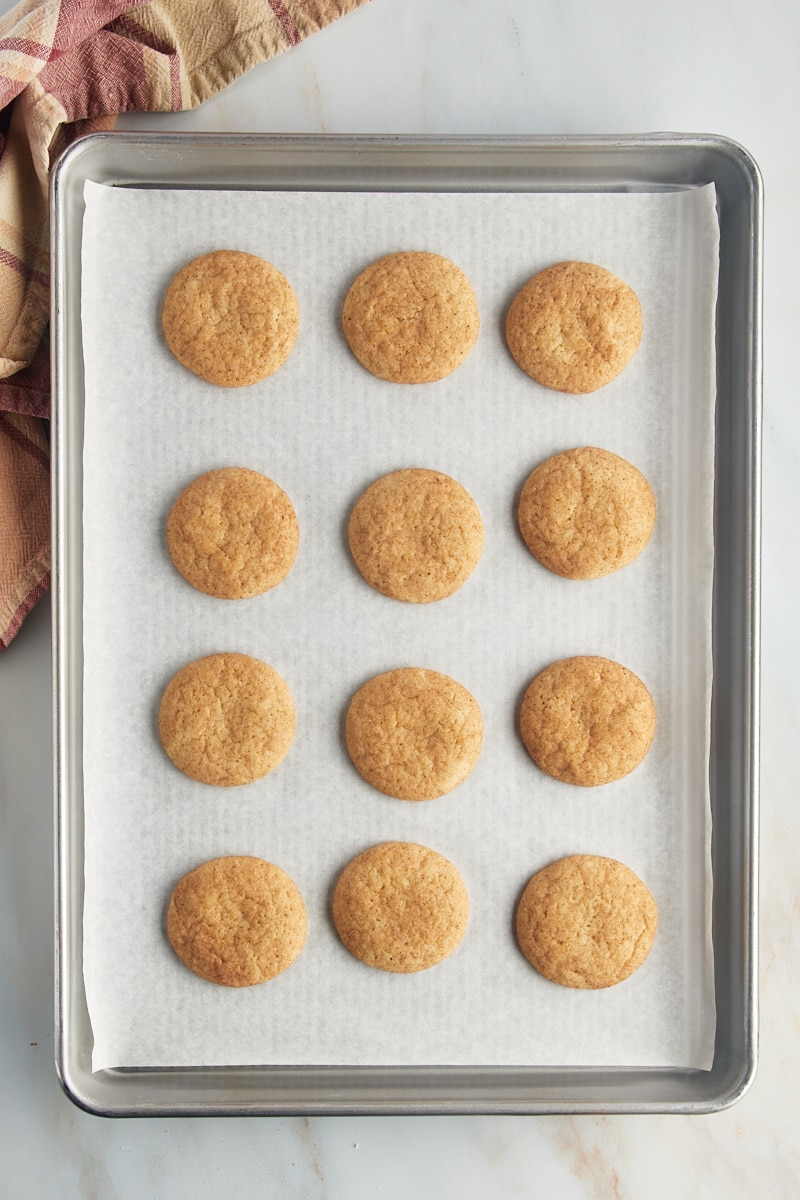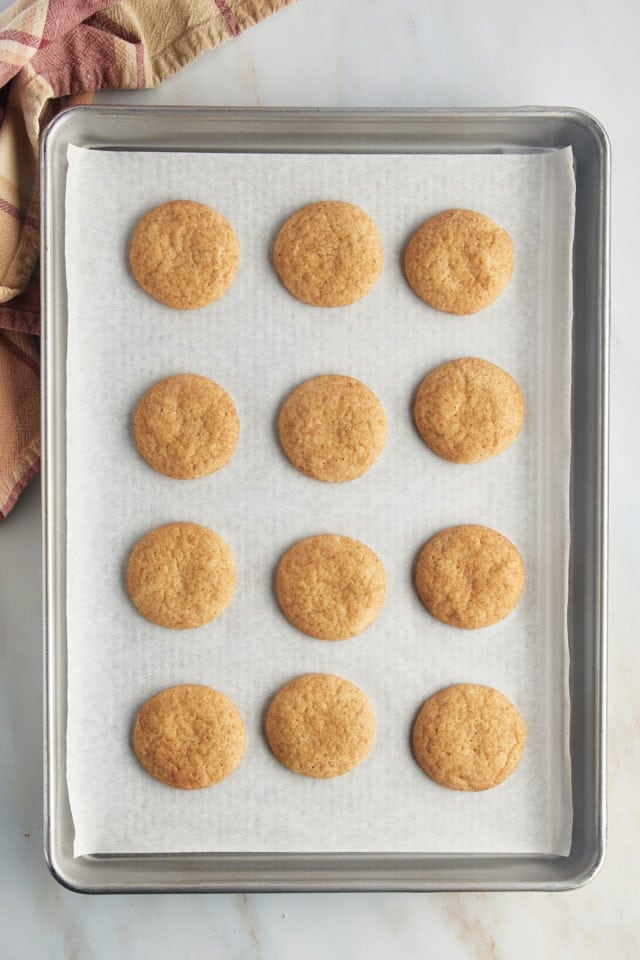 Cool. Set the pans on a wire rack and cool for 10 minutes. Then, transfer the snickerdoodles from the pan directly to the wire rack to cool completely. (Learn more: Why Every Baker Needs Wire Cooling Racks)
Tips for Success
Read over my baking tips for beginners, then follow these additional pointers for perfect snickerdoodles.
Soften the butter. This is important! Softened butter allows for the proper creaming of ingredients and keeps the butter from getting stuck to your beaters. Learn more: How to Soften Butter
Use a cookie scoop. You'll make quick work of portioning the dough, and your cookies will bake more evenly because they're all the same size. After scooping, remember to roll each portion into a ball before coating in cinnamon-sugar.
Don't over-bake. Snickerdoodles should be soft and chewy, not crispy or hard. Baking them for too long will result in a dry, crunchy cookie.
Let the pans cool between batches. If you have to reuse the same pan for making all of the snickerdoodles, let it cool between batches. Using a hot baking sheet will result in over-baked cookies that spread.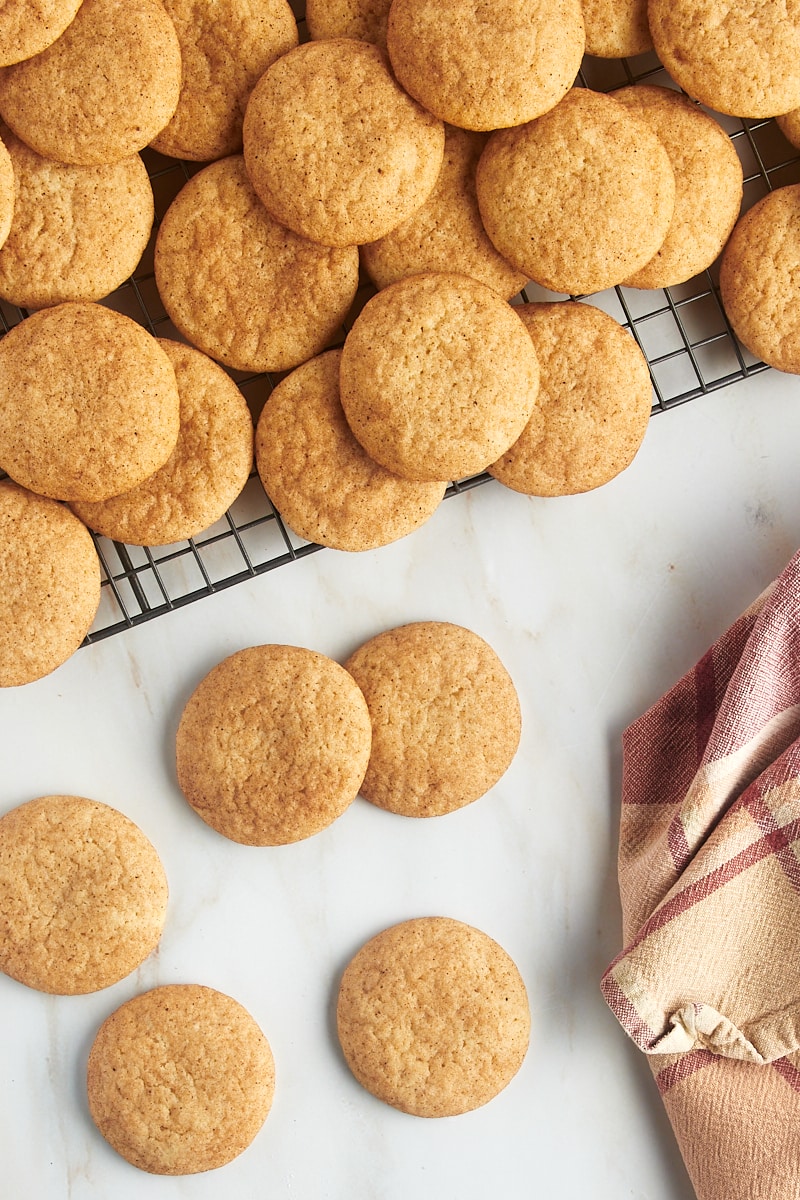 Variations
For a twist on the classic, you can substitute almond extract for the vanilla extract, or use half vanilla extract and half almond extract. To give your snickerdoodles a fancy finish, drizzle melted white chocolate over the tops or dip the cookies in the white chocolate.
Serving Suggestions
Snickerdoodles make a fantastic base for homemade ice cream sandwiches! Simply scoop your favorite ice cream between two cookies and enjoy. Try it with Butter Pecan Ice Cream or No-Churn Vanilla Ice Cream.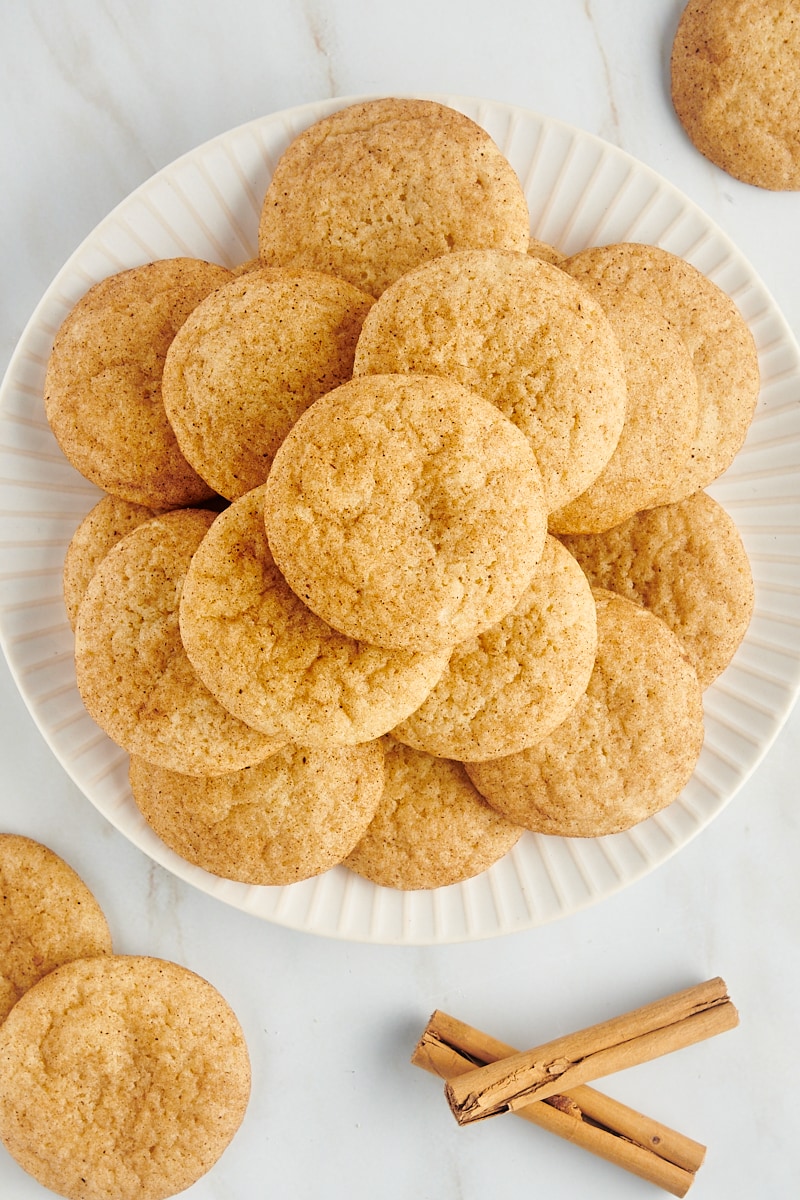 How to Store
Store snickerdoodles in an airtight container at room temperature for up to 5 days.
Can I Freeze This Recipe?
Snickerdoodles freeze well and can be stored for up to 3 months. Simply place them in a freezer bag or airtight container and thaw at room temperature before enjoying.
You can also freeze the dough for later use by rolling it into individual balls and placing them on a lined baking sheet in the freezer until frozen, then transferring them to a freezer bag or container. When ready to enjoy, simply bake the frozen dough balls at the same temperature for a few extra minutes.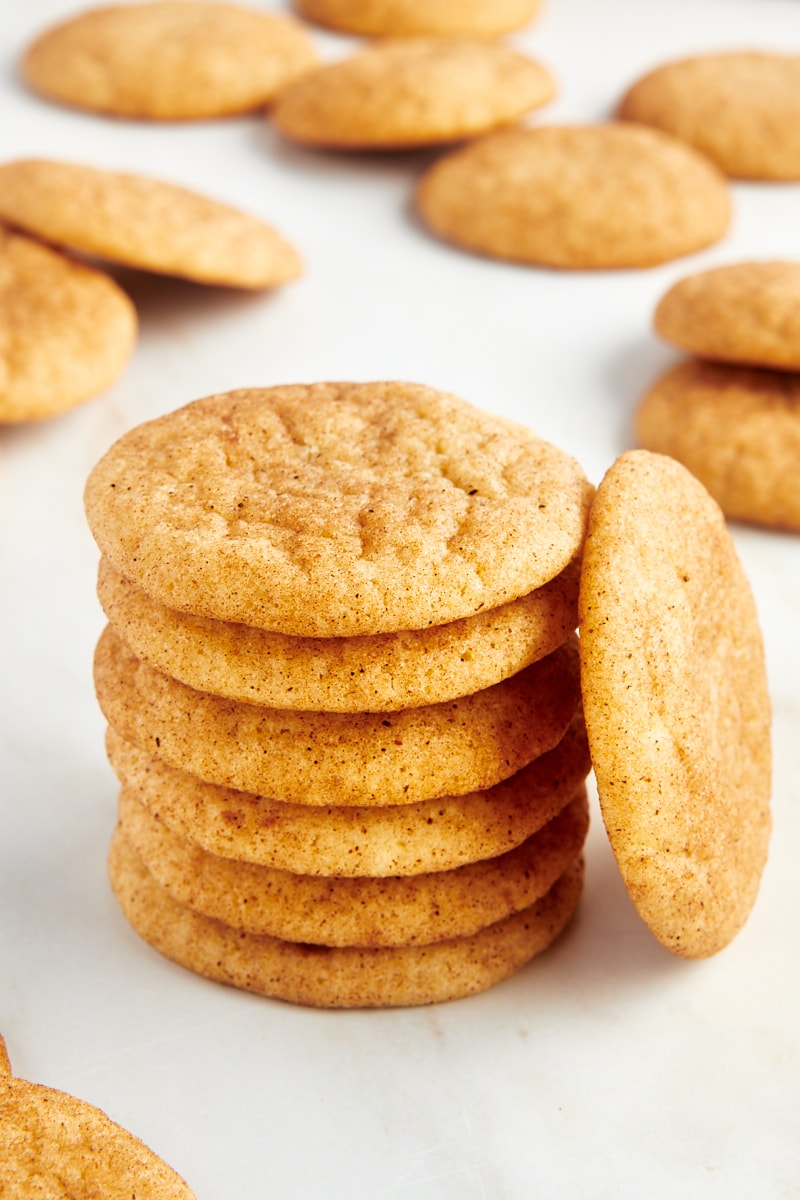 More Snickerdoodle Recipes