These Glazed Pecans are made with brown sugar and maple syrup for a sweet, crunchy, easy snack or dessert topping!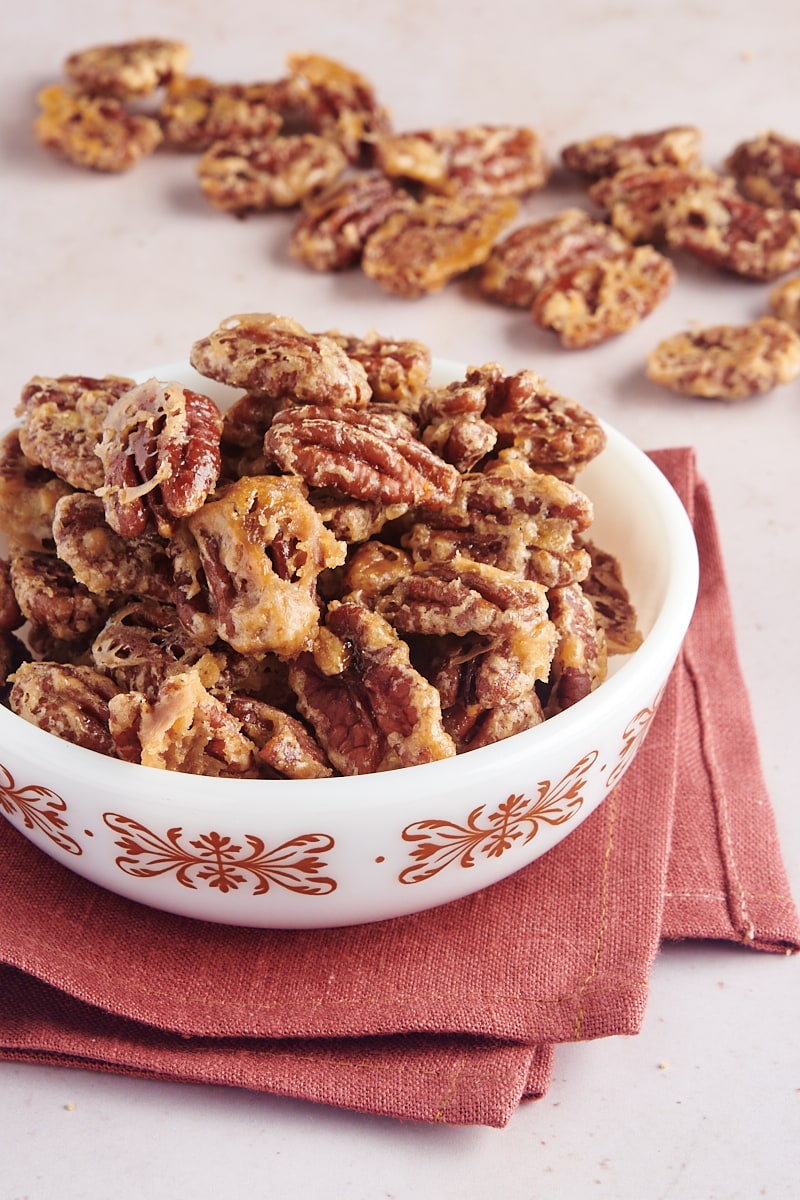 Quick and Easy Glazed Pecans
This simple, delicious recipe is is a great way to make a batch of sweetly flavored pecans to use for snacking or as an ingredient. I've always known them as glazed pecans, but some call them candied pecans. Either way, they're delicious!
It all starts with a simple 4-ingredient glaze that's made on the stovetop. After cooking the pecans briefly in that mixture, they'll go in the oven for a short stint. That helps the glaze to stick to the nuts and to make them less sticky.
These flavorful nuts are quite versatile. You'll find yourself using them for topping both savory and sweet foods as well as just for a crunchy, sweet snack!
A jar of these sweet pecans is a fantastic gift, too. If you love making homemade gifts and treats for friends and family, add this recipe to your repertoire for gifting occasions.
No matter how you use these maple-glazed pecans, I think you'll find that you use them well and often!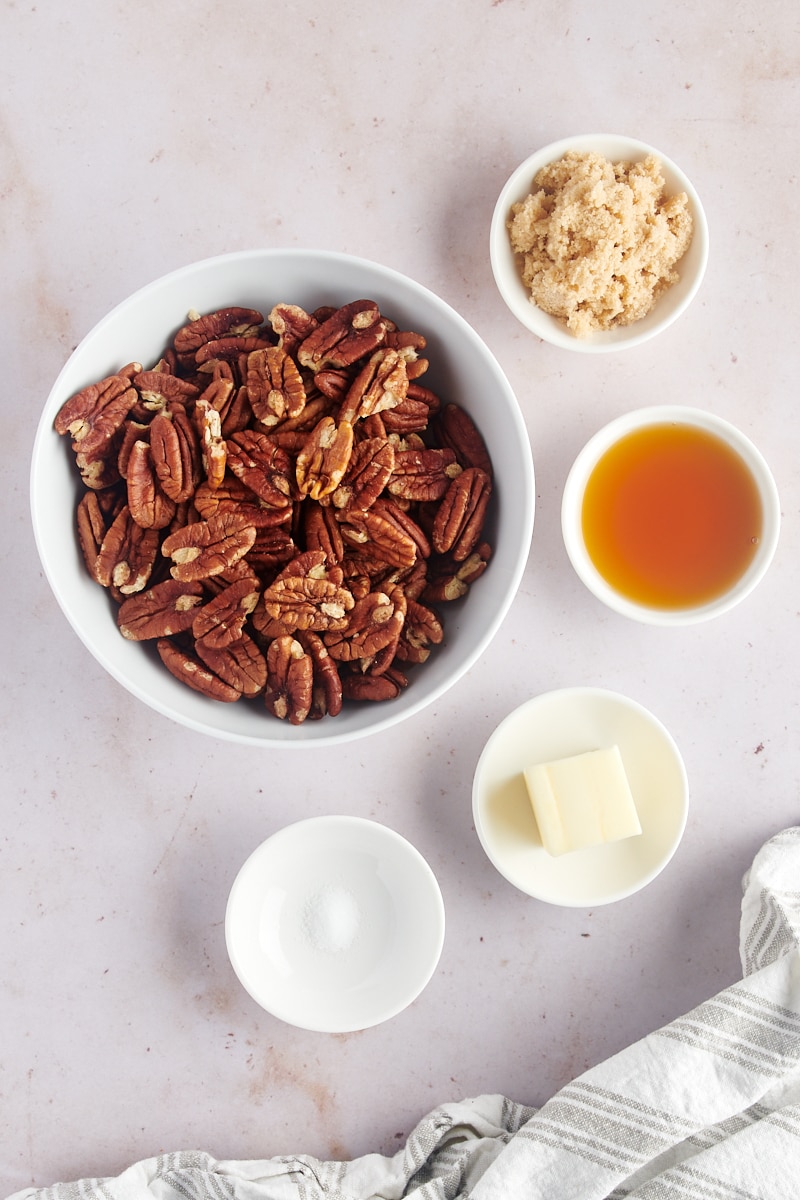 What You'll Need
Unsalted butter – While I encourage baking with unsalted butter, salted butter will work here if that's what you have. Omit the salt in the recipe.
Brown sugar – You can use light or dark brown sugar, depending on how strong you prefer its molasses flavor to come through in the nuts.
Maple syrup – See my tips section for info about choosing a good maple syrup.
Salt
Pecans – For gifting and garnish, you'll want to use pecan halves. Pecan pieces will work if you only plan to use them chopped.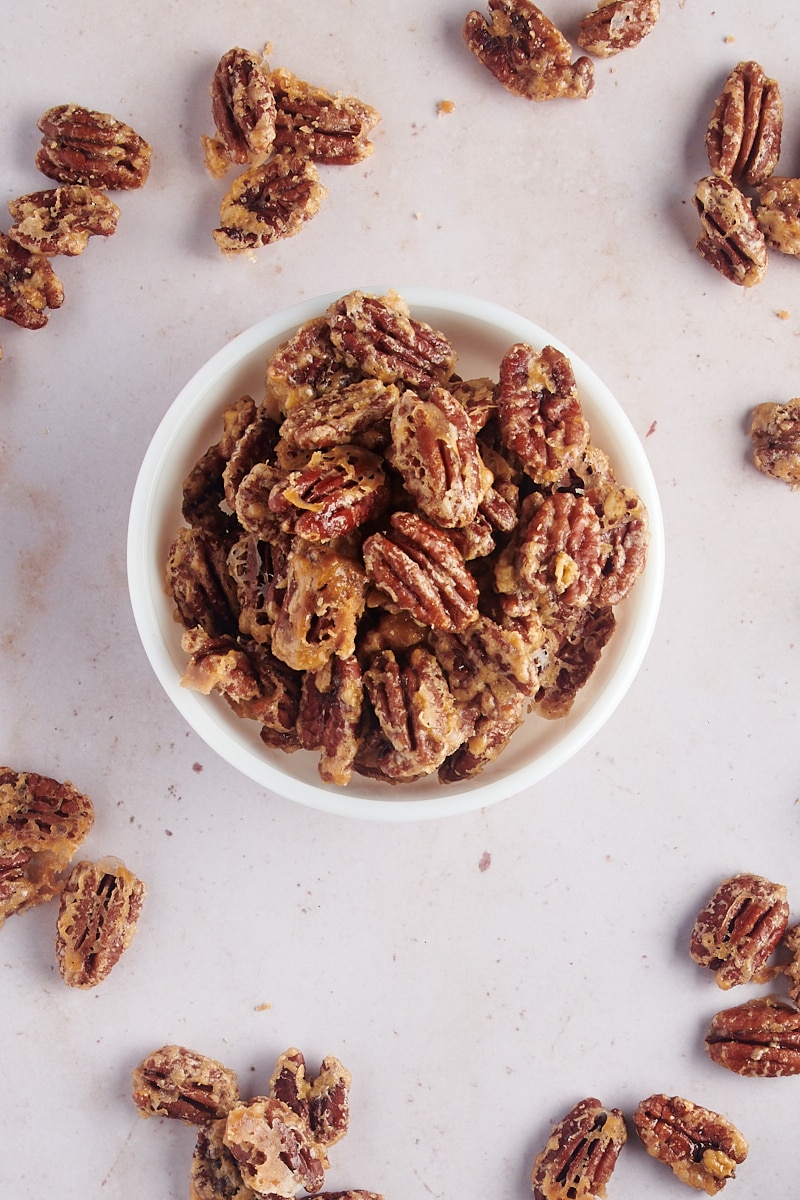 How to Make Glazed Pecans
Prepare for baking. Heat the oven to 350°F. Line a half sheet pan or a jelly roll pan with aluminum foil or parchment paper.
Make the coating. Melt the butter in a large skillet over medium heat. (Be sure your skillet is large enough for the pecans to spread out evenly in the bottom.) Add the brown sugar, maple syrup, and salt, and stir constantly until the mixture is bubbly.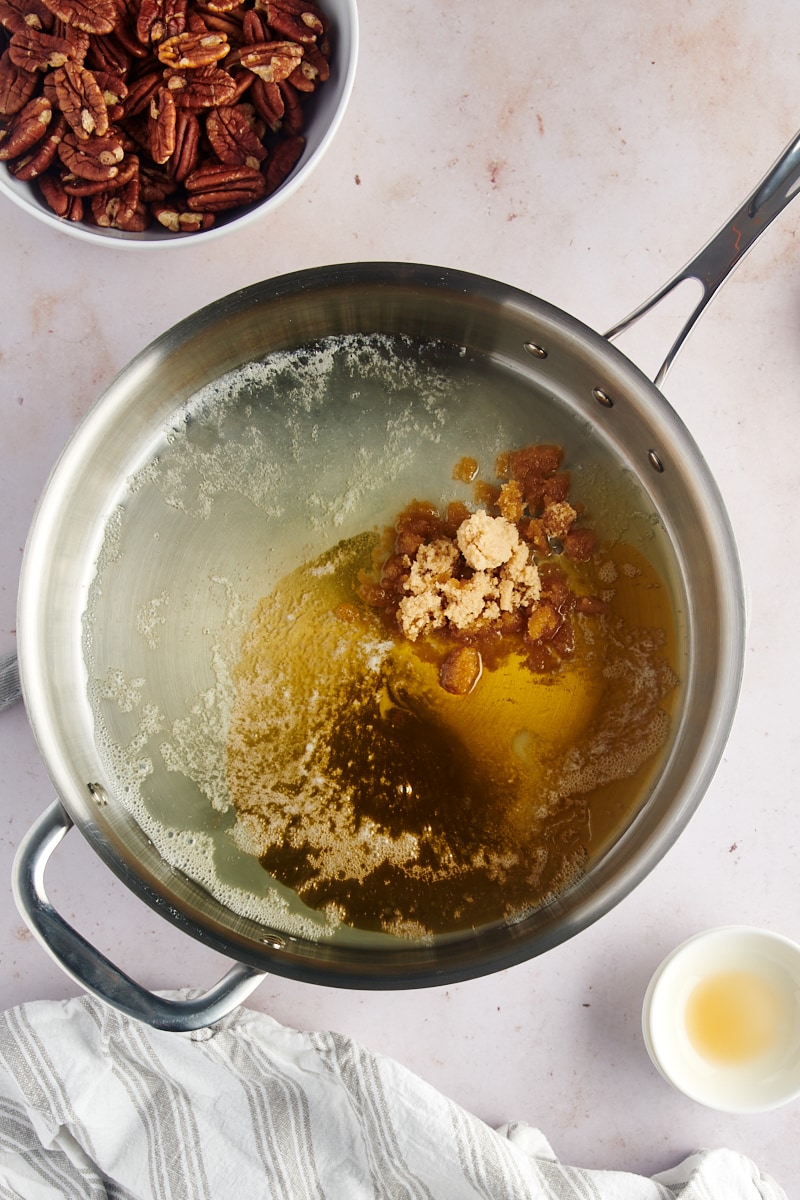 Add the pecans. Place the pecans in the skillet with the coating mixture. Continue cooking, stirring constantly, for 3 to 4 minutes or until the pecans are well-coated.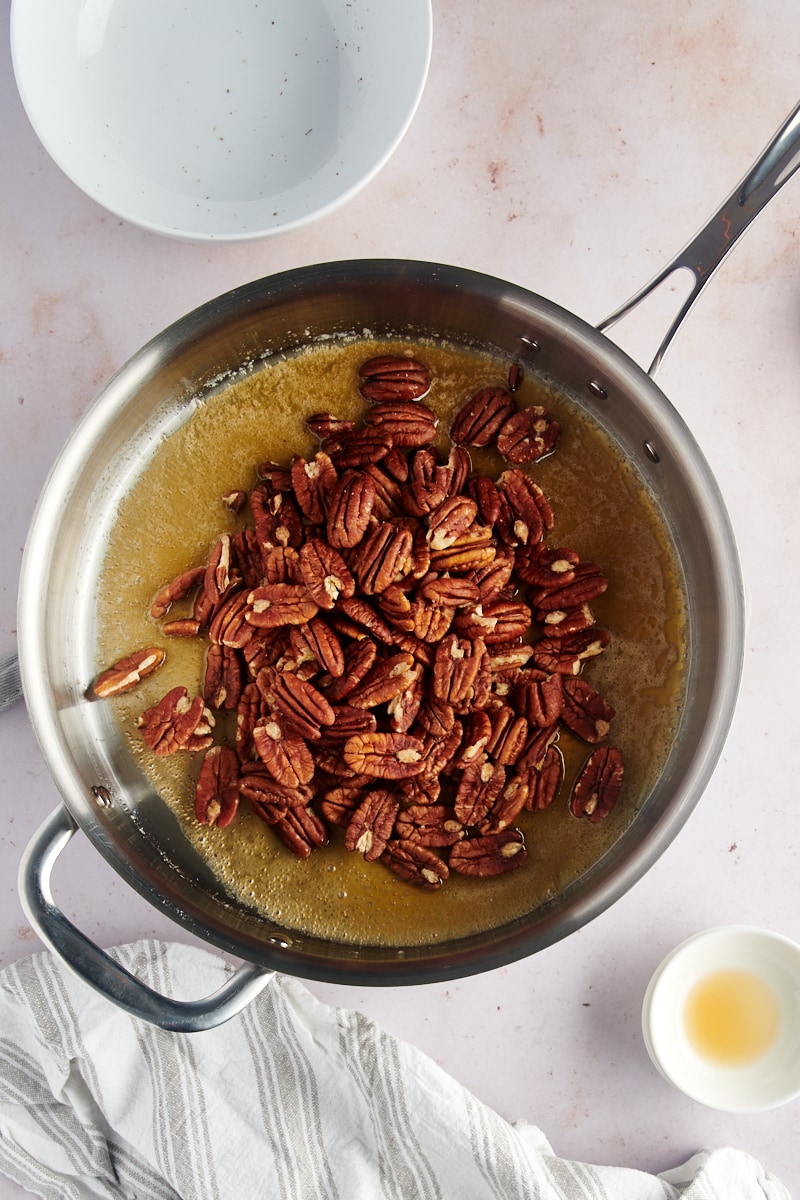 Bake. Transfer the pecans to the prepared pan, spreading them evenly. Bake 6 to 8 minutes, or until they're golden brown.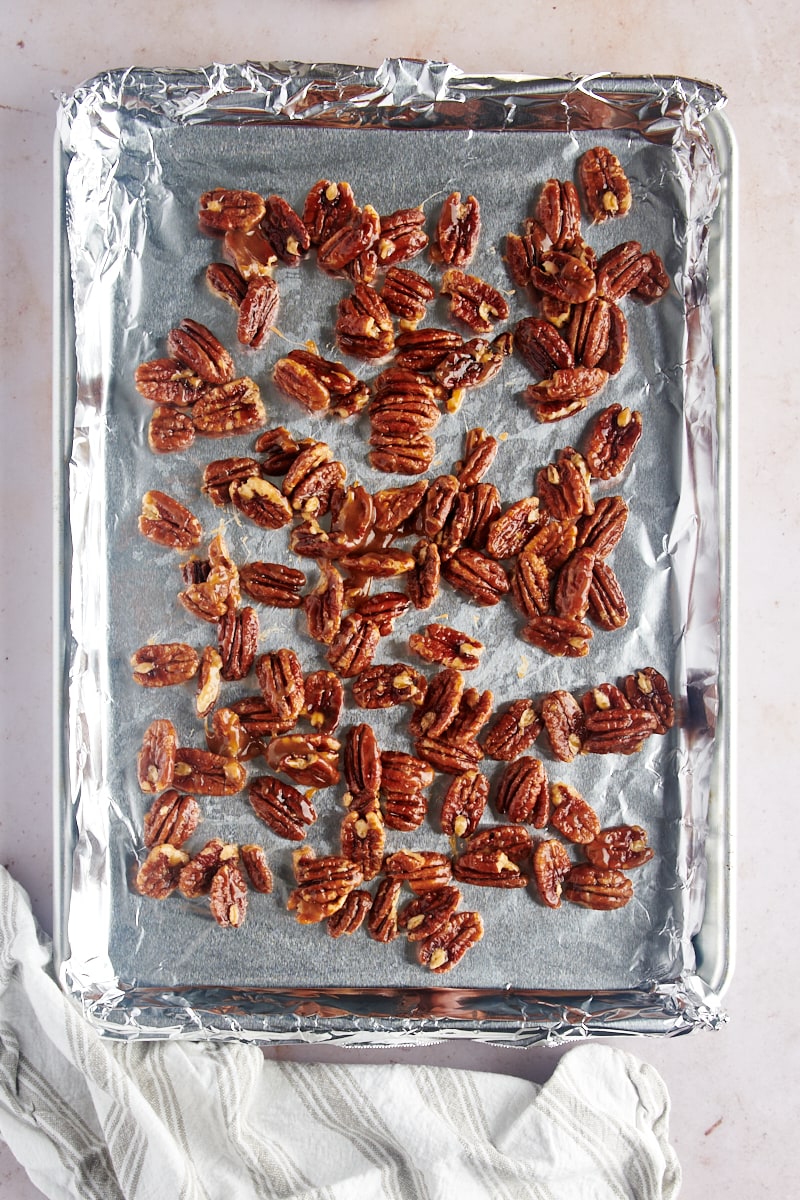 Cool. Place the pan on a wire rack and allow the pecans to cool completely.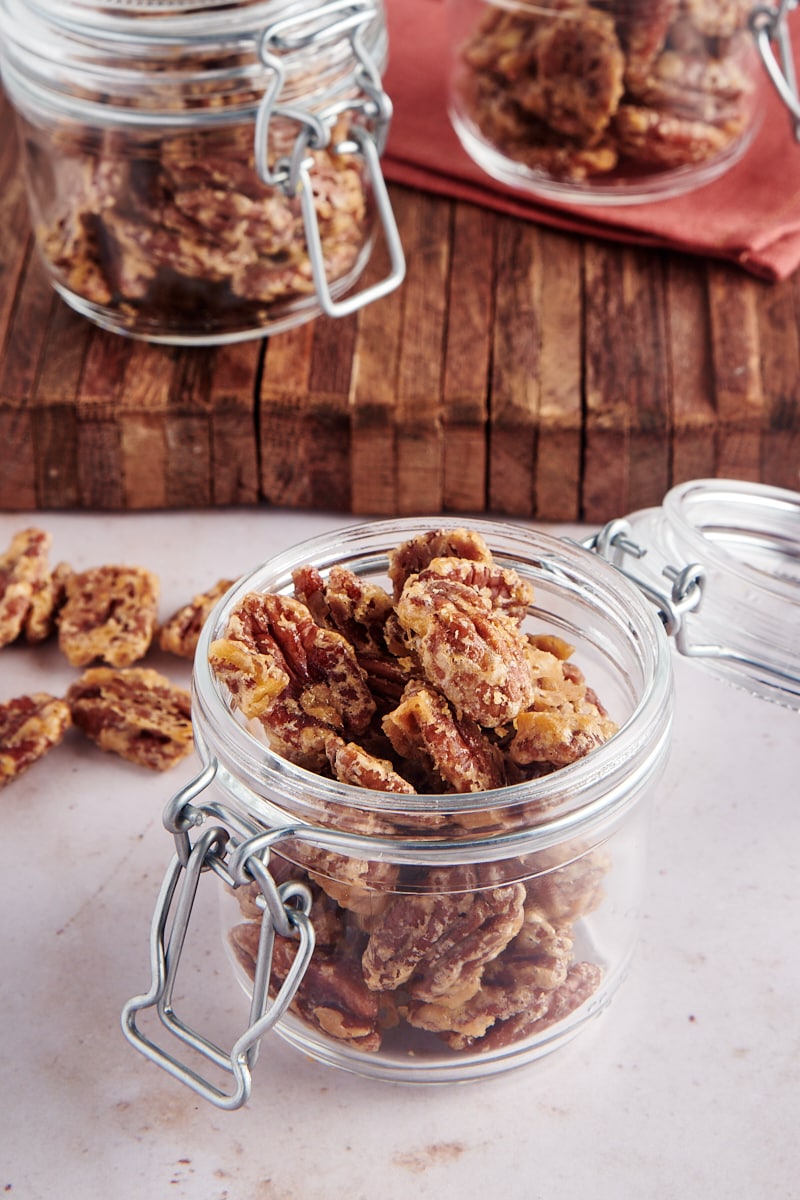 Ideas for Variations
While I most often make these glazed pecans just as described in the recipe, there are some easy variations for making them to suit your tastes.
Use different nuts. I have a special fondness for pecans, but this recipe will work for other nuts. Try walnuts, almonds, cashews, or even a combination of nuts.
Add some spice. You can add about a teaspoon of ground cinnamon or your favorite spice blend when making the glaze. (Try my Fall Spice Blend!)
Use an extract. For a departure from maple, try vanilla extract or another extract. Use about 1/2 teaspoon of your chosen extract and make up the rest of the maple syrup volume with water.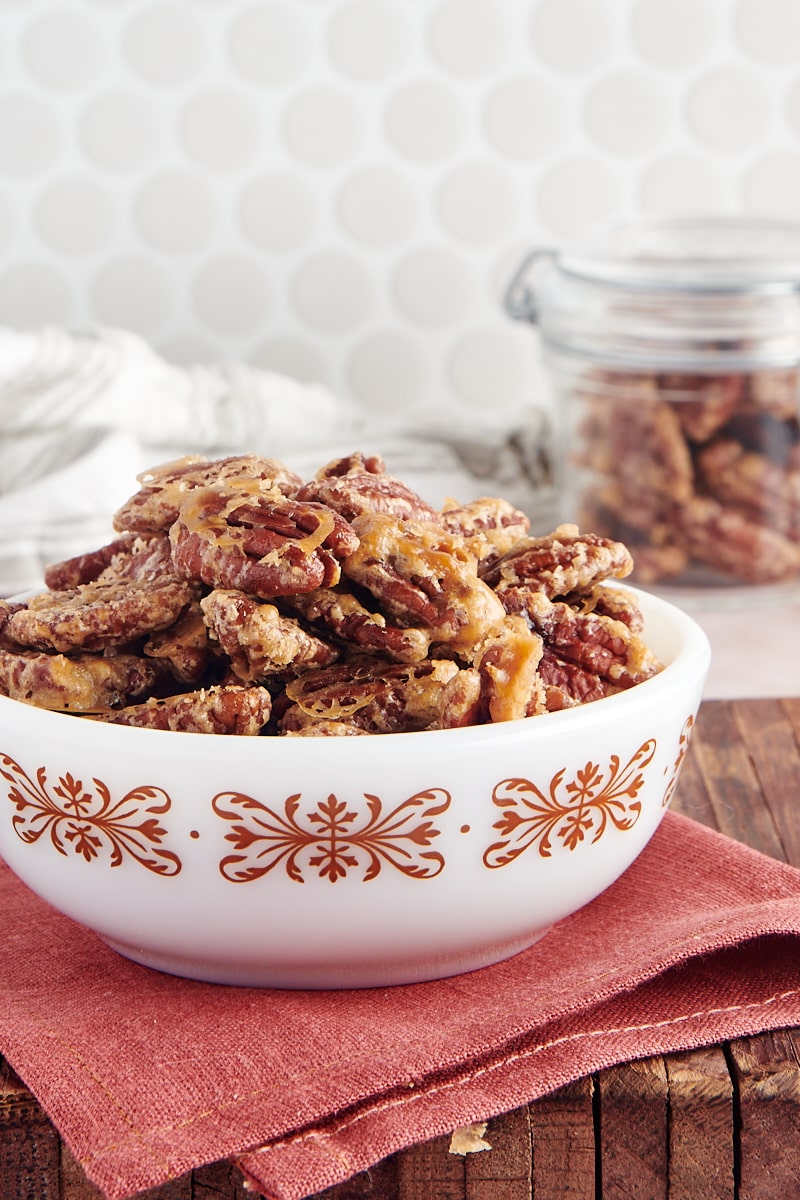 How to Use Glazed Pecans
These delicious pecans are quite versatile! Here are some ideas for using them.
Snacking. Keep things simple and just enjoy a handful of these glazed pecans as a snack.
Homemade gifts. Put the pecans in a jar, wrap with a pretty ribbon, and you've got a lovely gift!
Garnish for savory dishes. Sprinkle them over a salad or side dish.
Topping for desserts. Use them as a garnish for simple treats like ice cream to other desserts like peach cobbler.
Baking. These maple-glazed pecans are a great addition to many baking recipes. Try them in Maple Pecan Cookies and Cinnamon Pecan Muffins.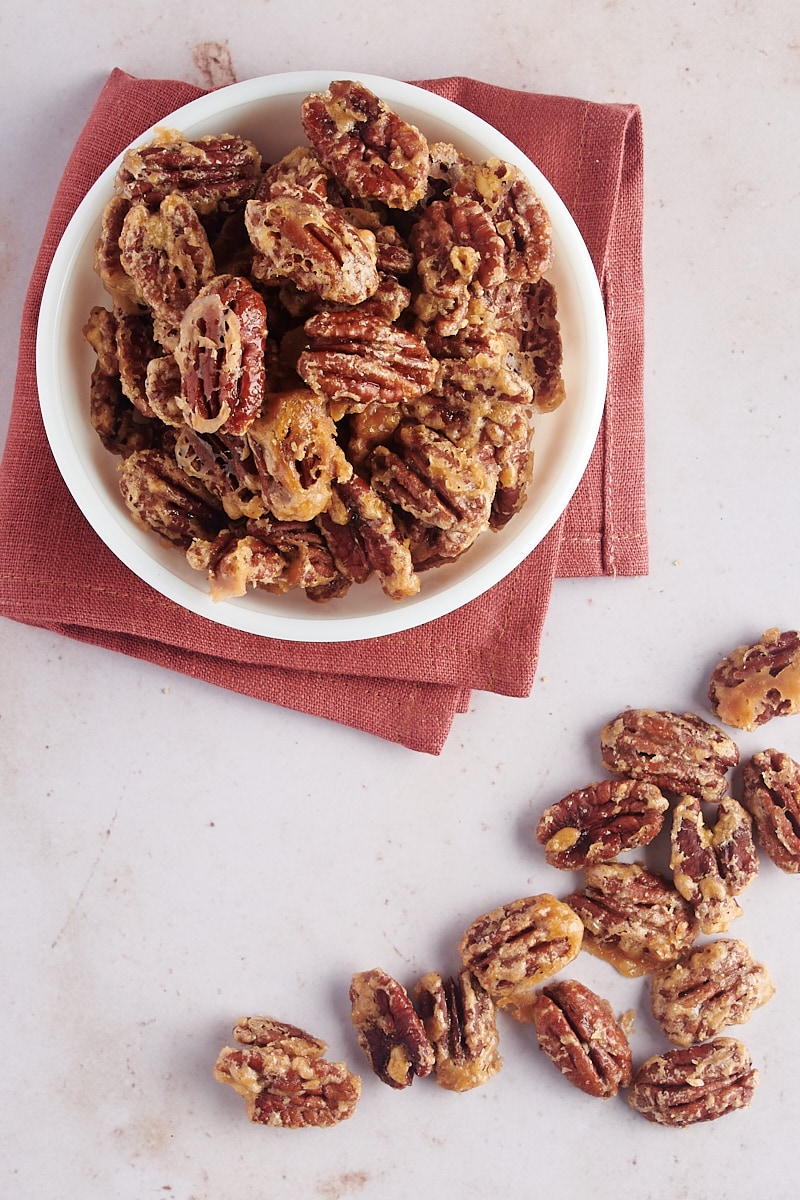 Tips for Success
Use a good quality maple syrup. That little bit of maple syrup will really come through with a good, strong variety. I recommend using dark or very dark. And remember not to confuse pancake syrup with maple syrup.
Using salted pecans? Omit the salt in the recipe.
Keep an eye on the skillet. Don't walk away once you start cooking. You'll need to stir the glaze mixture and the pecans constantly while they're on the stovetop so they will be well-coated and won't burn. Be sure to cook until the mixture is bubbly so that the sugar dissolves.
Cool completely. The pecans make look a little sticky and shiny when they come out of the oven, but that will dissipate as they cool. Allow them to come all the way to room temperature before serving or storing.
How to Store
After the pecans have cooled completely, place them in an airtight container. They'll keep at room temperature up to 2 weeks. For longer storage, they can be stored in an airtight, freezer-safe container in the freezer up to 3 months.
For gift packaging, I like to use clear glass jars like the ones you see in these photos. Canning jars or Weck jars work well, too. (See the product links at the bottom of the recipe card.)