If you like your cookies crispy on the edges, chewy in the middle, and studded with chocolate and nuts, these chocolate chunk pecan cookies are destined to become a new favorite!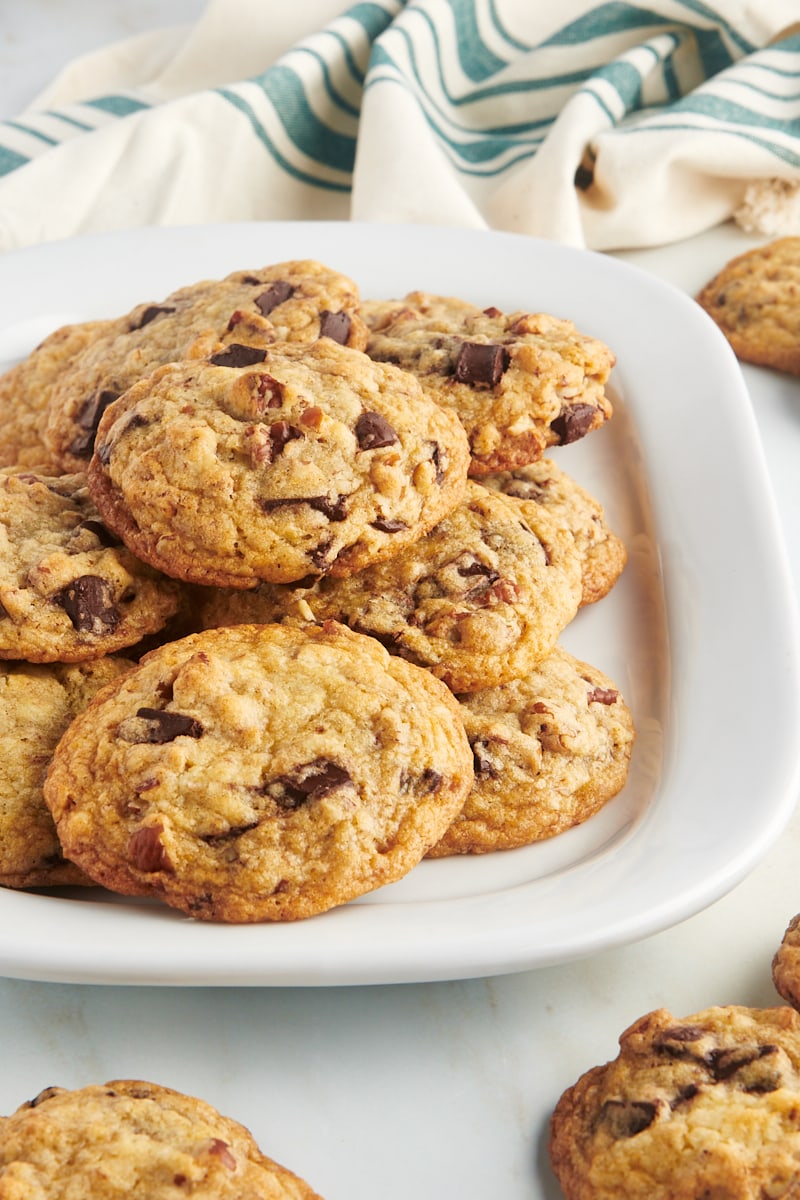 Easy Pecan Chocolate Chip Cookies
It's difficult to top a chewy chocolate chip cookie, but add in some crunchy pecans and you've just succeeded in taking that classic cookie to the next level. If, like me, you're a proud pecan fan, you're going to want to make these chocolate chunk pecan cookies ASAP.
One of the beauties of these cookies is how easy they are to make. They are one of those elusive one-bowl recipes for when you want to bake but you don't want to clean up endless bowls, beaters, etc. (Honestly, that's most of the time for me these days.)
These particular cookies are from Sticky, Chewy, Messy, Gooey, the same cookbook that brought us these ridiculously decadent and delicious sticky biscuits. They are that perfect crispy on the outside, chewy on the inside cookie, packed with chocolate and toasty pecans.
All I can say is: make them and make them soon.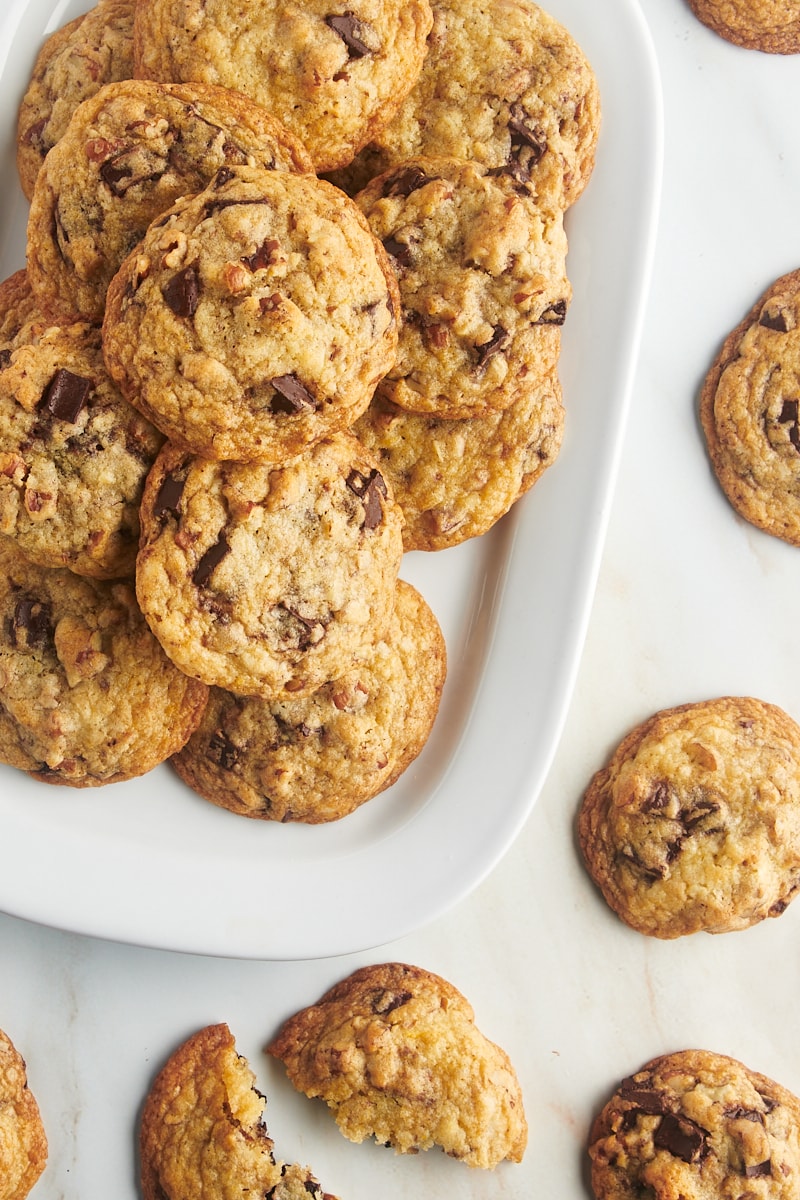 Why You'll Love This Chocolate Chunk Pecan Cookie Recipe
Here's what makes these chocolate chunk pecan cookies such a hit:
Minimal effort, maximum reward. Don't you love those recipes where you only have to put in a small amount of work and the payoff is an absolutely delectable treat? That's exactly what you get with these cookies.
A chocolate chip cookie for pecan lovers. Walnuts are often the go-to for adding to brownies and chocolate chip cookies, but why not switch things up and add pecans instead? We all know pecans are the superior nut!
Simple ingredients. You don't need anything fancy to make these cookies; you likely have almost everything you need already in your pantry.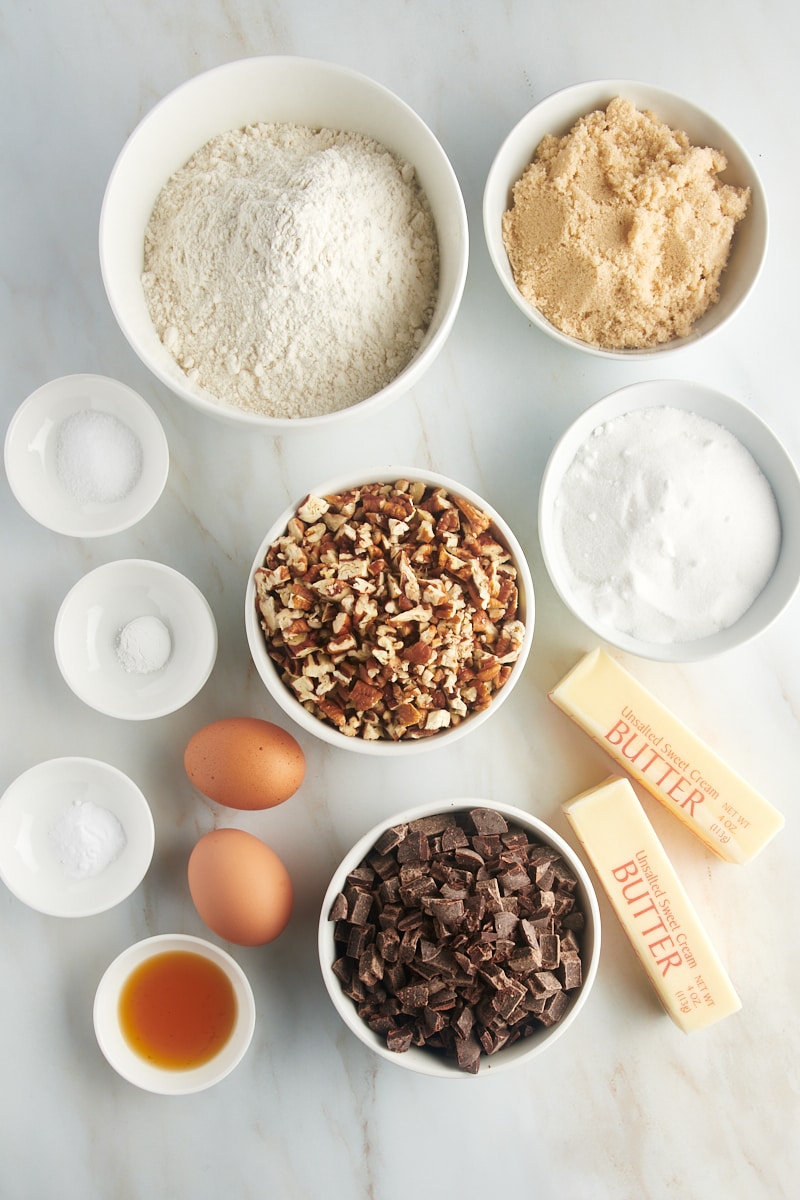 What You'll Need
Scroll down to the recipe card to find the ingredient quantities and recipe instructions.
What Is the Best Way to Toast Nuts?
Toasting nuts is a great way to enhance their flavor. It's an easy process that takes just a few minutes.
Preheat your oven to 350°F. Spread the pecans in a single layer on a rimmed baking sheet, then bake for 5 to 7 minutes, stirring once. (Watch them closely, as they can go from lightly toasted to burnt in no time!) Once the nuts are fragrant and golden brown, transfer them from the pan to a plate or bowl to cool.
How to Make Chocolate Chunk Pecan Cookies
You'll need to chill the cookie dough before baking it, so keep that in mind when planning your baking. Although it needs a minimum of 30 minutes in the refrigerator, you can chill it longer than that, which means you can start the recipe the night before and bake the cookies the next day.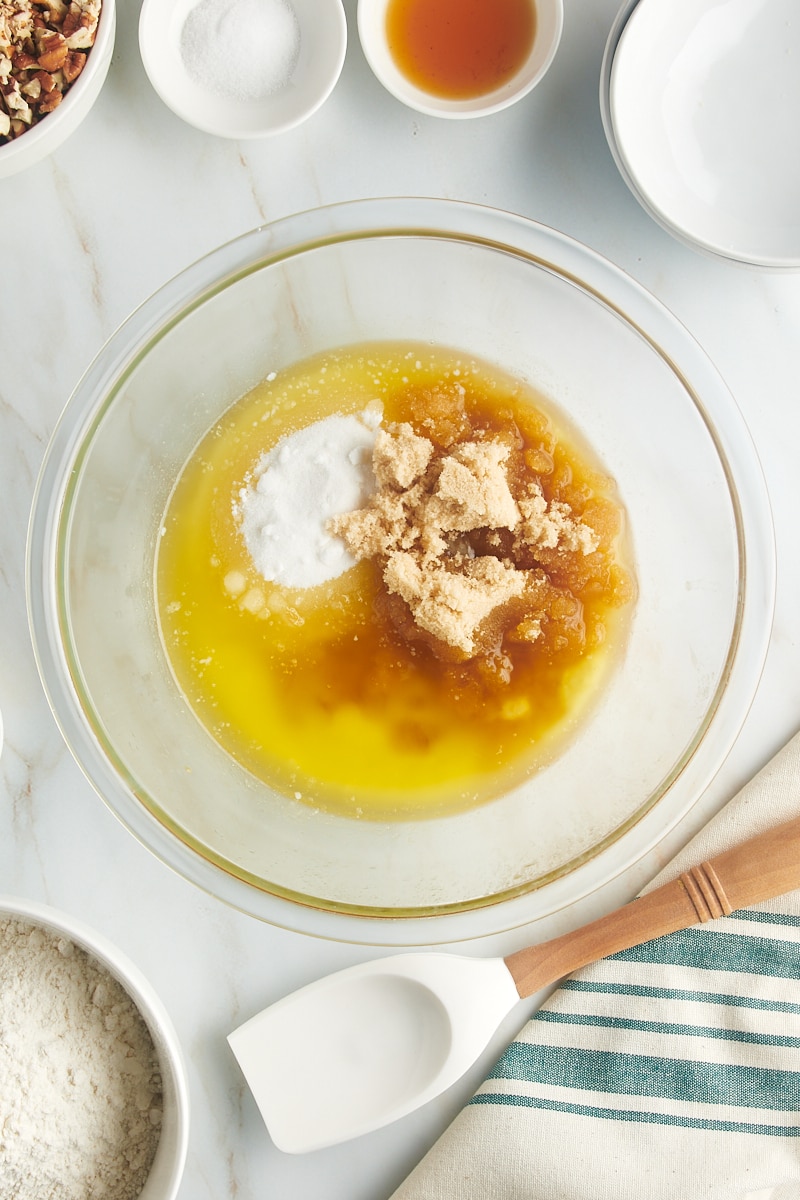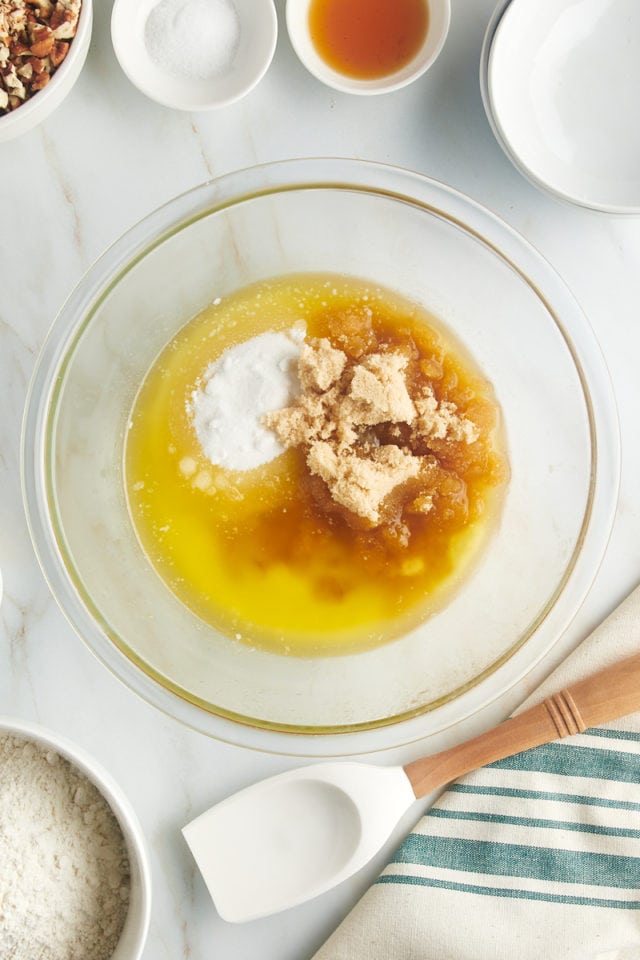 Melt the butter. Place the butter in a large microwave-safe bowl. Heat in 30-second increments at half power until the butter has melted. Let it cool slightly.
Mix the wet ingredients. Stir the sugars into the bowl with the melted butter. Add the salt, vanilla, and eggs and stir until the mixture is smooth.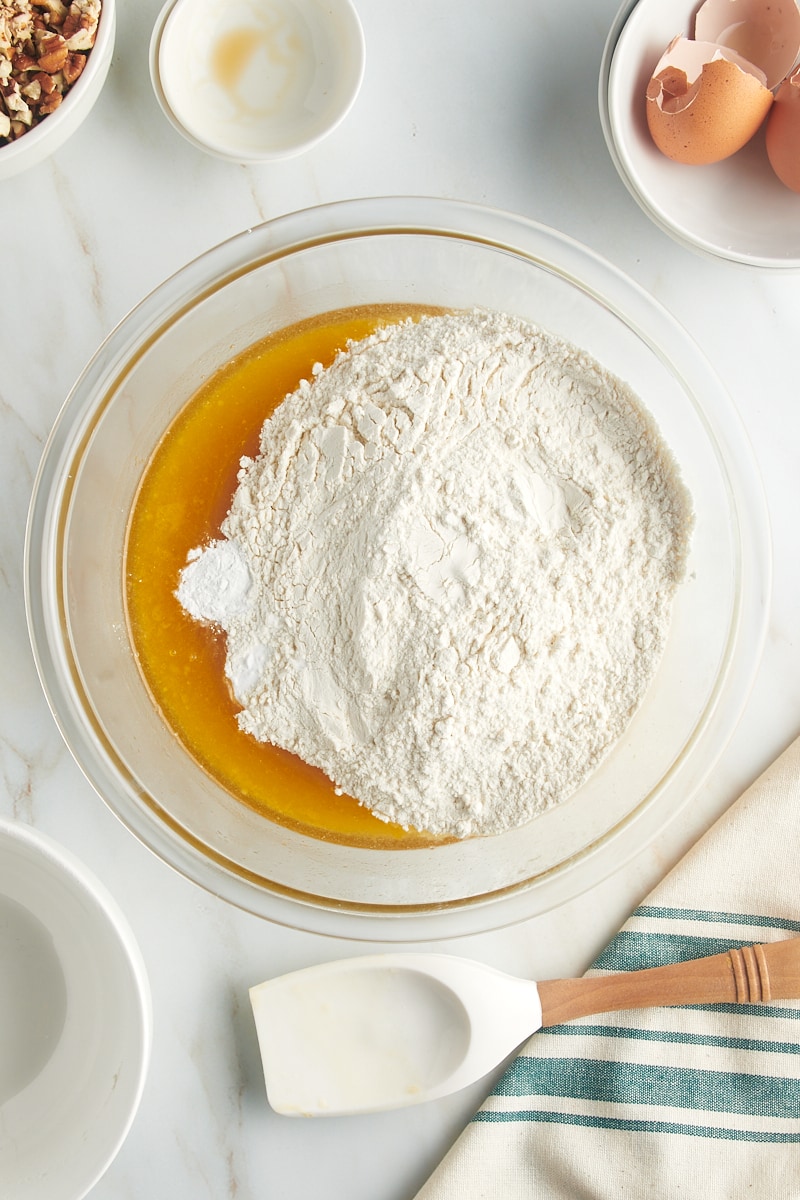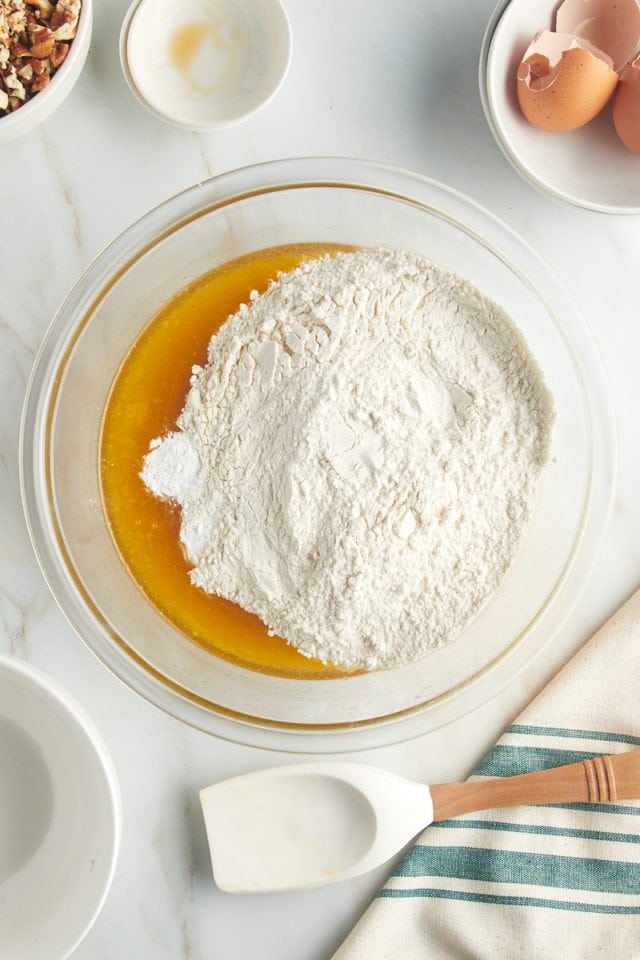 Finish the dough. Stir in the flour, baking soda, and baking powder, then fold in the chocolate and pecans.
Chill. Cover the bowl and refrigerate for about 30 minutes, or until the dough is firm.
Prepare. Preheat the oven to 350°F and line your baking sheets with parchment paper or silicone liners.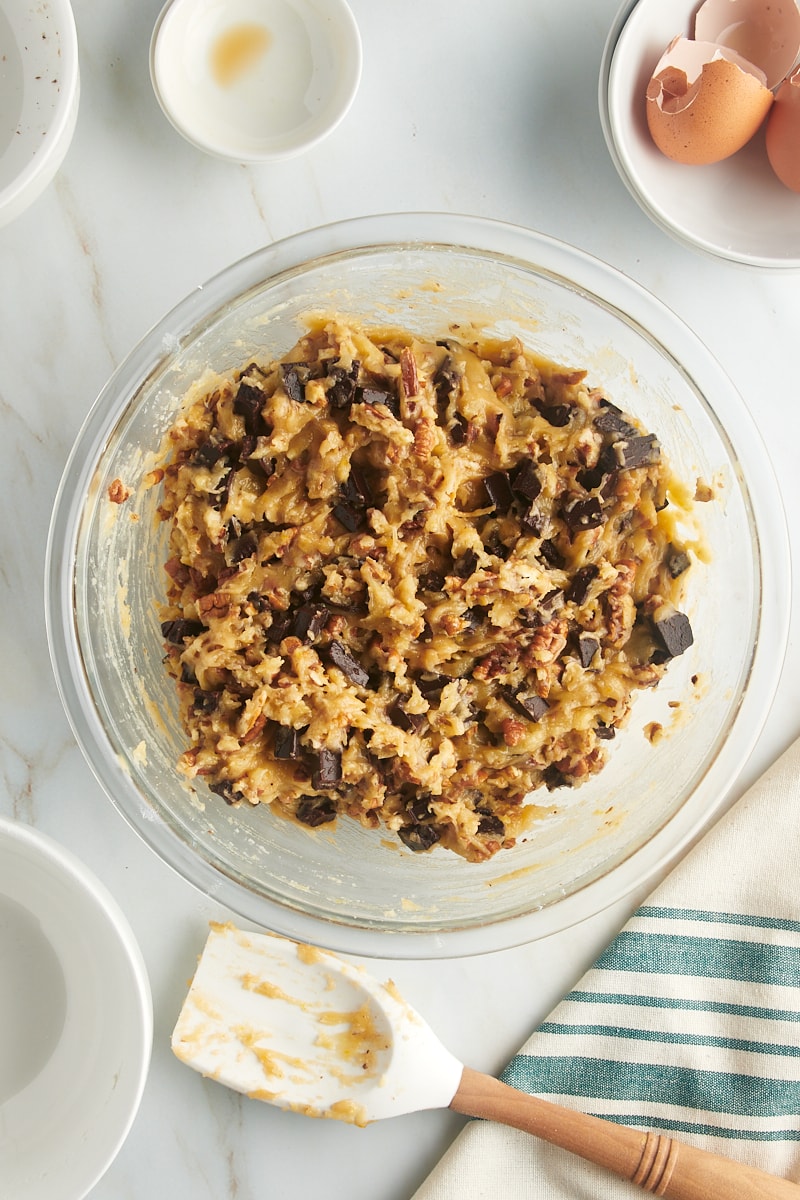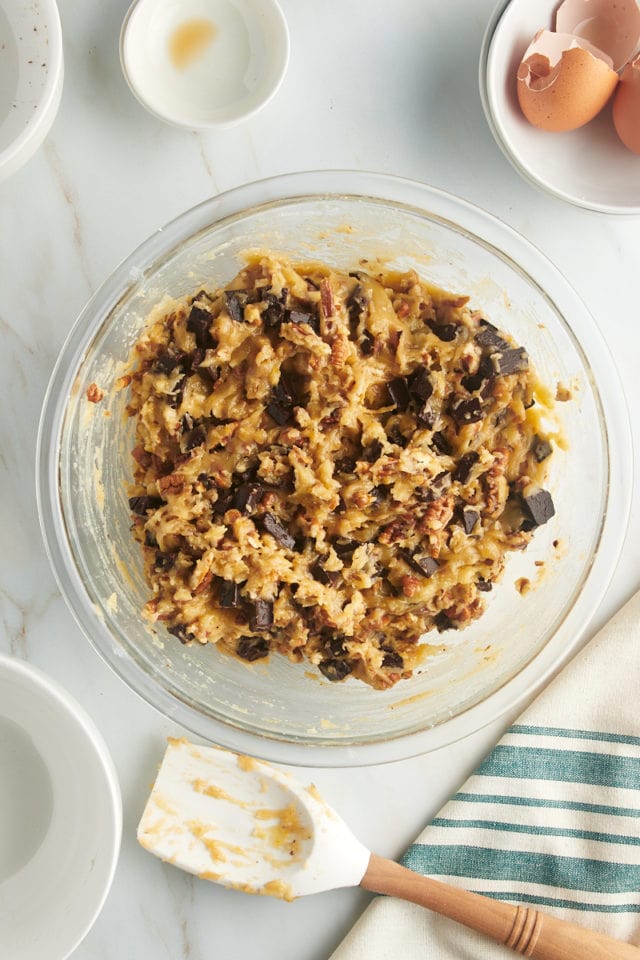 Form the cookies. Scoop out 3 tablespoons of dough and roll it into a ball. Set it onto the baking sheet and repeat with the remaining dough, leaving 3 inches between the cookies.
Bake. Place one pan in the oven at a time and bake for 14 to 18 minutes, or until the cookies are golden around the edges but still soft in the center.
Cool. Set the pans on a wire rack and allow the cookies to cool for about 5 minutes. Then, transfer the cookies from the baking sheets directly to the wire rack to finish cooling. (Learn more: Why Every Baker Needs Wire Cooling Racks)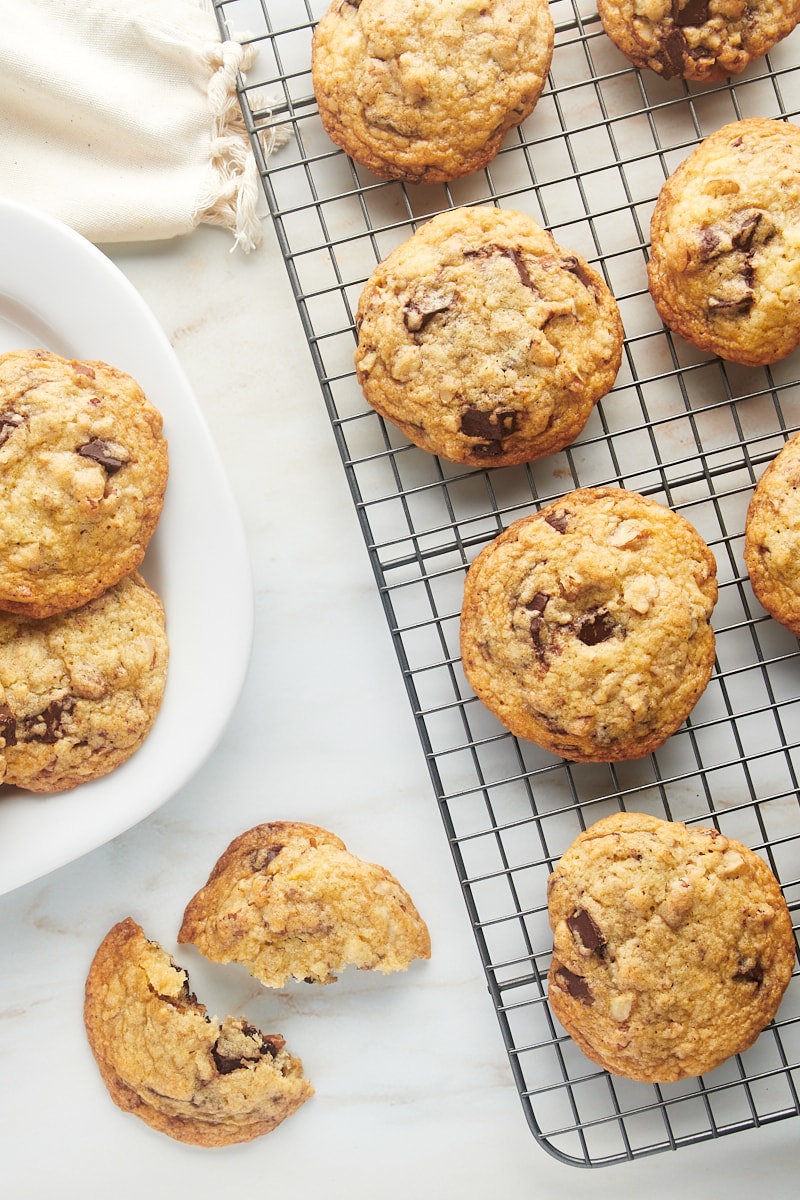 Tips for Success
Read over my baking tips for beginners, then follow these additional pointers for perfect chocolate chunk pecan cookies:
Don't over-bake. Over-baked cookies will still be delicious, but they won't have that chewy center we all love. If the edges of your cookies are getting too browned, reduce the baking time by a few minutes for the next batch.
Cool the pans if you're reusing them. If you don't have enough cookie sheets for all of your dough, you'll need to let them cool completely between batches. Putting cookie dough on hot pans will cause them to spread or over-bake on the bottom.
Don't skip the chilling. You want to start with chilled dough for best results, so make sure you let the dough chill in the refrigerator for at least 30 minutes before portioning and baking. This also keeps the cookies from spreading.
Variations
As with other chocolate chip cookie recipes, there's a lot of room for customizing these chocolate chunk pecan cookies as long as you stick with the original proportions of the recipe. Try these ideas:
Add white chocolate or milk chocolate chips in addition to or instead of semi-sweet.
Make them gluten-free by swapping in a cup-for-cup gluten-free flour blend for the all purpose flour.
Give them more of a crunch factor by substituting half of the pecans with toffee bits.
Use browned butter instead of simply melting the butter in the microwave.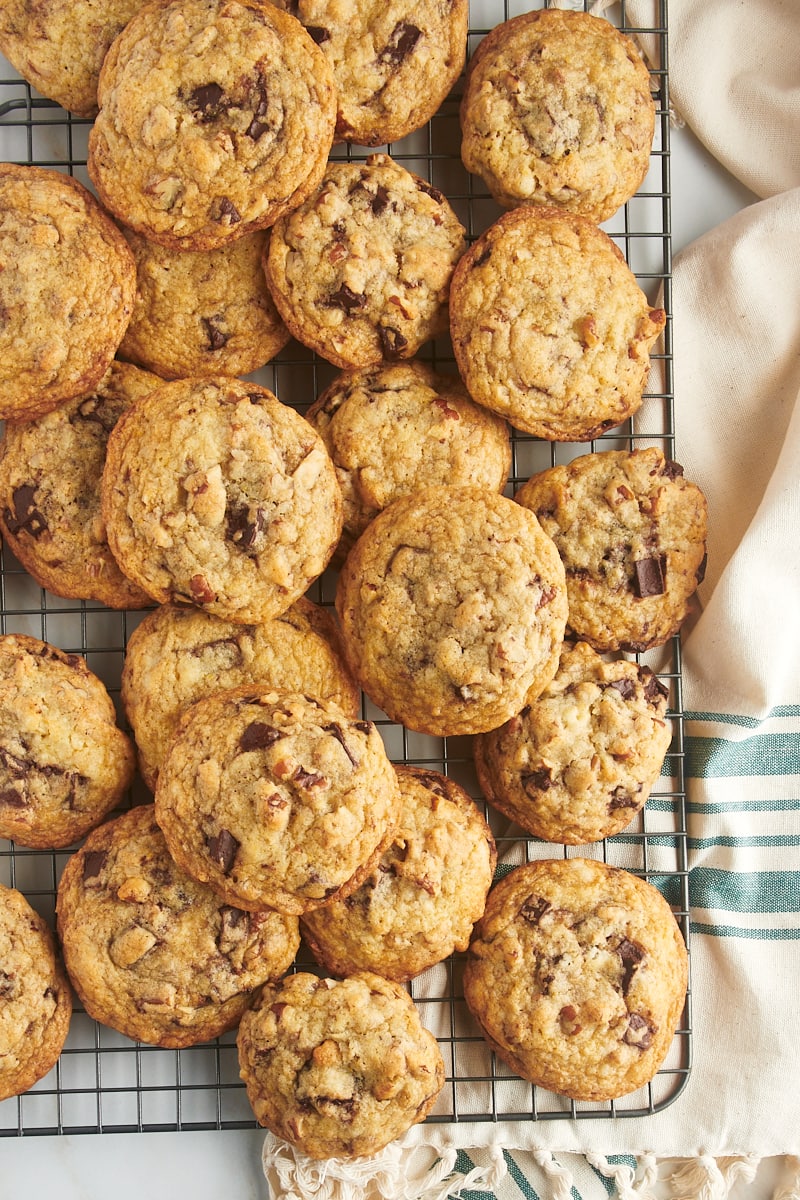 How to Store
These cookies keep well in an airtight container at room temperature for about 3 days.
Can I Freeze This Recipe?
You can freeze these chocolate chunk pecan cookies either before or after baking.
To freeze the cookie dough, portion it into balls and arrange them on a parchment-lined baking sheet. Place in the freezer for several hours, or until frozen solid. Transfer to a zip-top bag, label, and freeze for up to 3 months. Bake them according to the original recipe instructions, simply adding another minute or two to the baking time to account for the dough starting out frozen.
To freeze already baked cookies, allow them to cool completely and place in an airtight container or zip-top bag. Freeze for up to 3 months and thaw at room temperature when you're ready to serve them.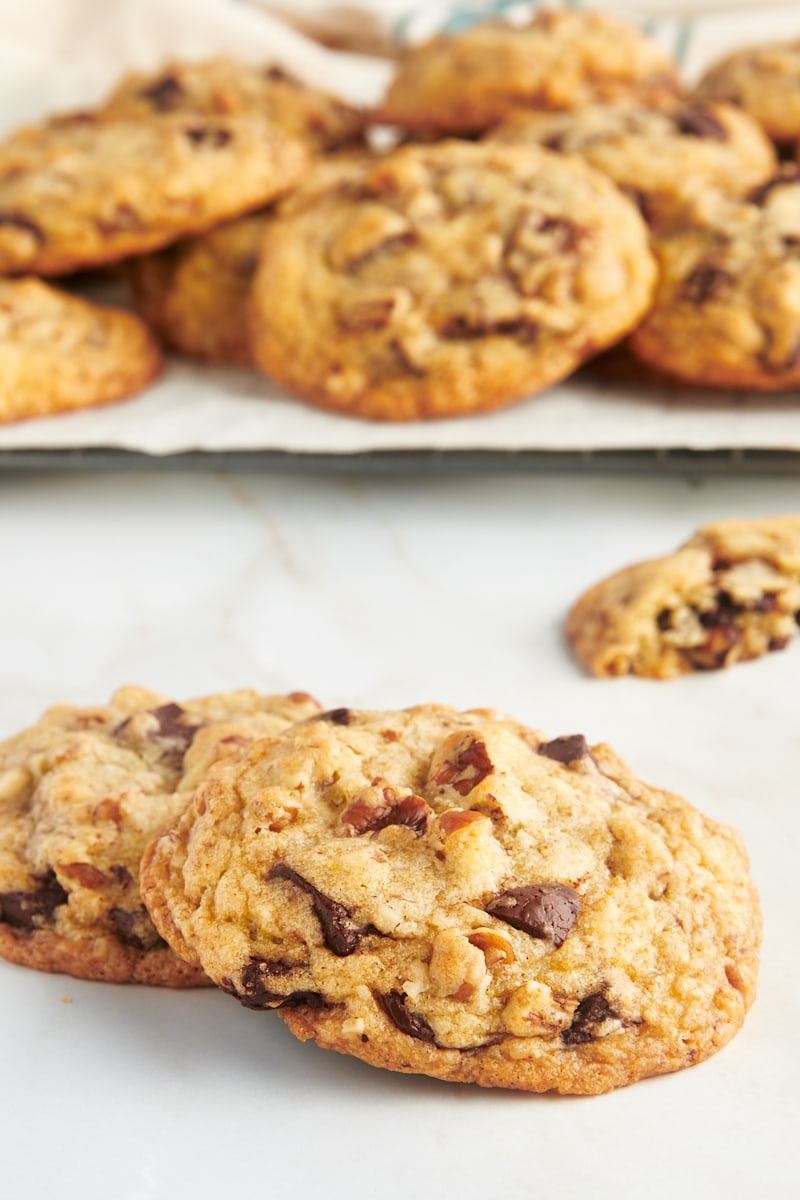 More Chocolate Chip Cookie Recipes