Toffee Squares offer a mouthwatering fusion of flavors and textures with chocolate chips, nuts, butterscotch chips, and coconut. Get ready to indulge in some sweet and nutty goodness!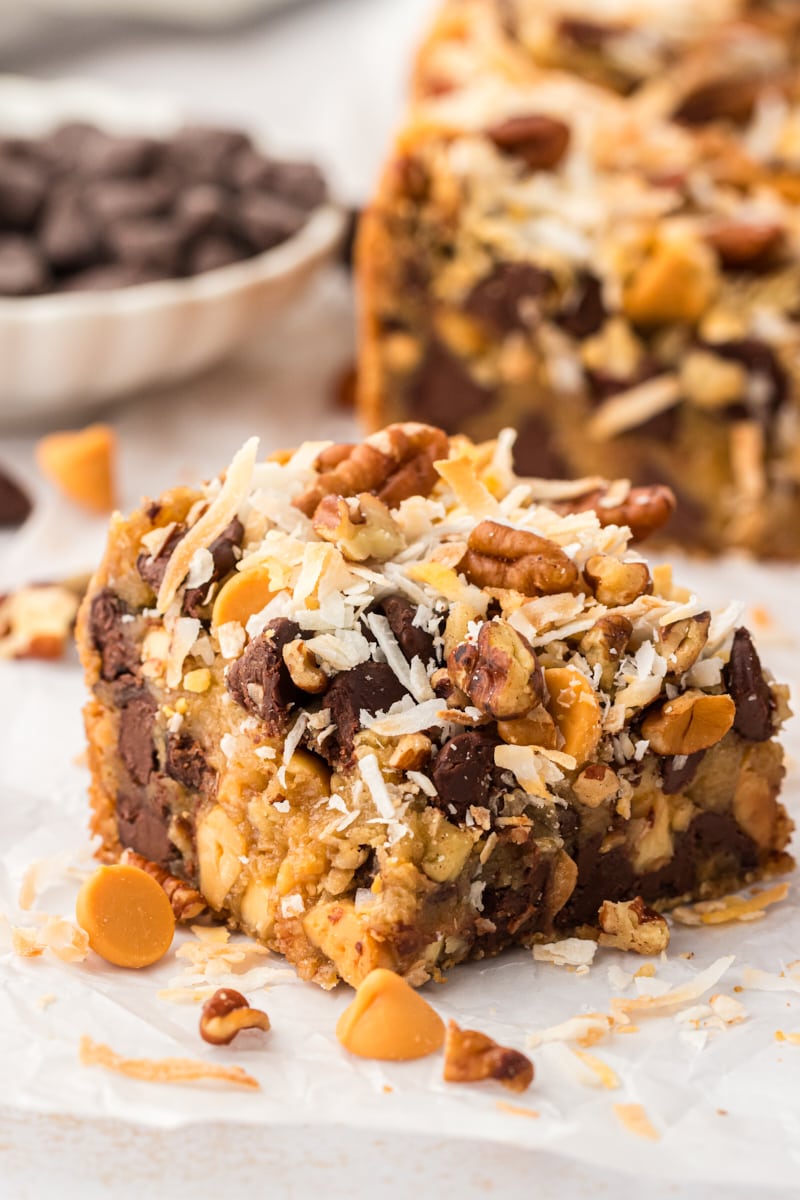 Loaded Toffee Squares
In the West Village of New York City, there was once an incredibly quaint little spot called Milk & Cookies Bakery. As you might guess, this place was known for its cookies, like these amazingly delicious Toffee Squares.
What I love about these toffee bars is that they are a bit like a cookie and a candy bar rolled into one. The brown sugar gives them their wonderful toffee flavor, and the nuts and chocolate chips provide even more flavor and some crunch. That's the cookie-like part.
Topping that off is all kinds of good stuff – butterscotch, chocolate, nuts, and coconut. These guys are positively loaded with toppings, giving them a candy bar feel. The total package is a flavor-packed, over-the-top treat!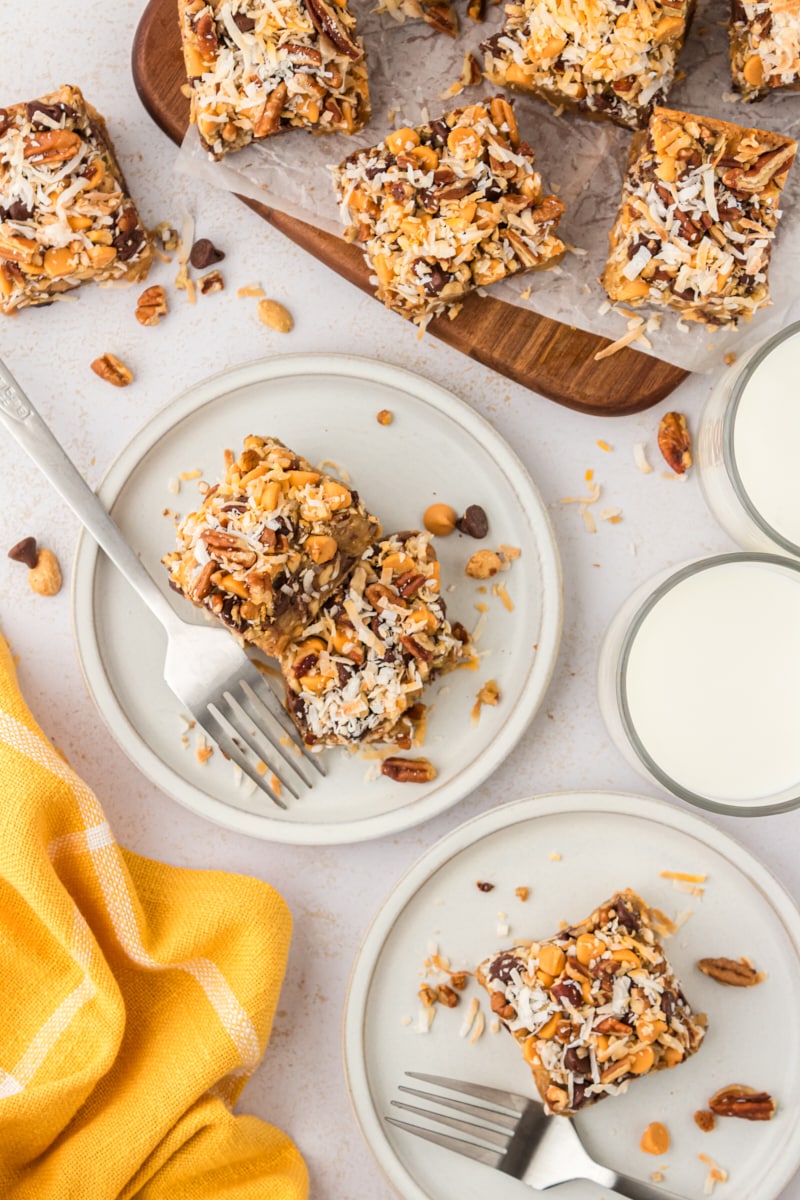 Why You'll Love This Toffee Squares Recipe
There's so very much to love about these bars. Here are a few reasons I think you'll adore them.
So much flavor. With a variety of toppings, these toffee squares aren't shy on flavor!
Pantry-friendly. If you're a frequent baker, you may very well have everything you need to make these any time you get a craving!
Customizable. You can easily adapt the toppings to your tastes. (See some of my suggestions below.) You can even top parts of them with different toppings to please everyone's flavor choices.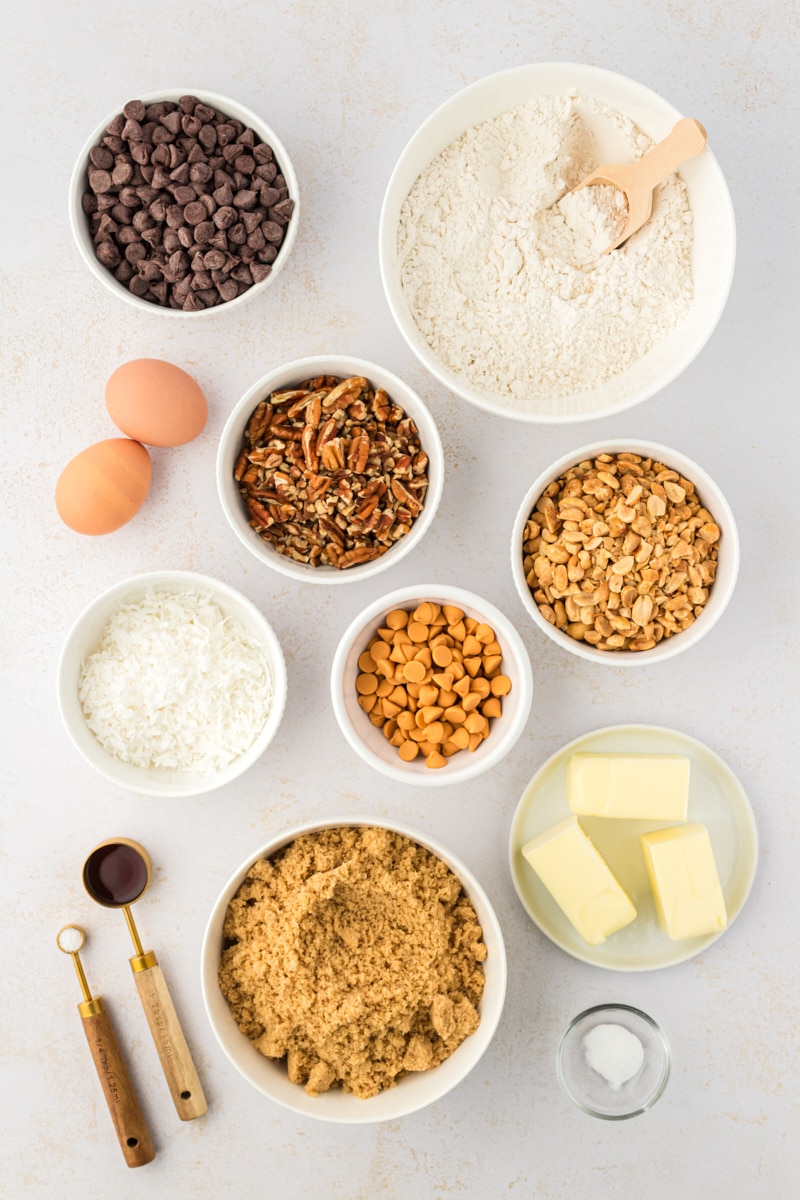 What You'll Need
See the recipe card below for ingredient quantities and full instructions. Here are some notes about the ingredients you'll need to make your toffee squares.
All-purpose flour – Measure by weight or use the spoon and sweep method. Learn more: How to Measure Flour
Baking soda
Salt
Unsalted butter – Let the butter soften at room temperature until it holds a thumbprint when pressed. Learn more: How to Soften Butter
Brown sugar – Be sure to pack the brown sugar firmly into the measuring cup or (better yet) measure by weight.
Eggs – Set these out along with the butter so they can come to room temperature.
Vanilla extract
Peanuts – These add a nice crunch to the bars. I prefer to use unsalted peanuts, but you can use the salted variety if you want to add a salty bite to the bars.
Chocolate chips – You'll use these both in and on top of the bars.
Butterscotch chips
Pecans – This is my go-to nut for baking, but you can use a different variety if you like.
Coconut flakes – Look for sweetened flaked coconut, like Baker's coconut.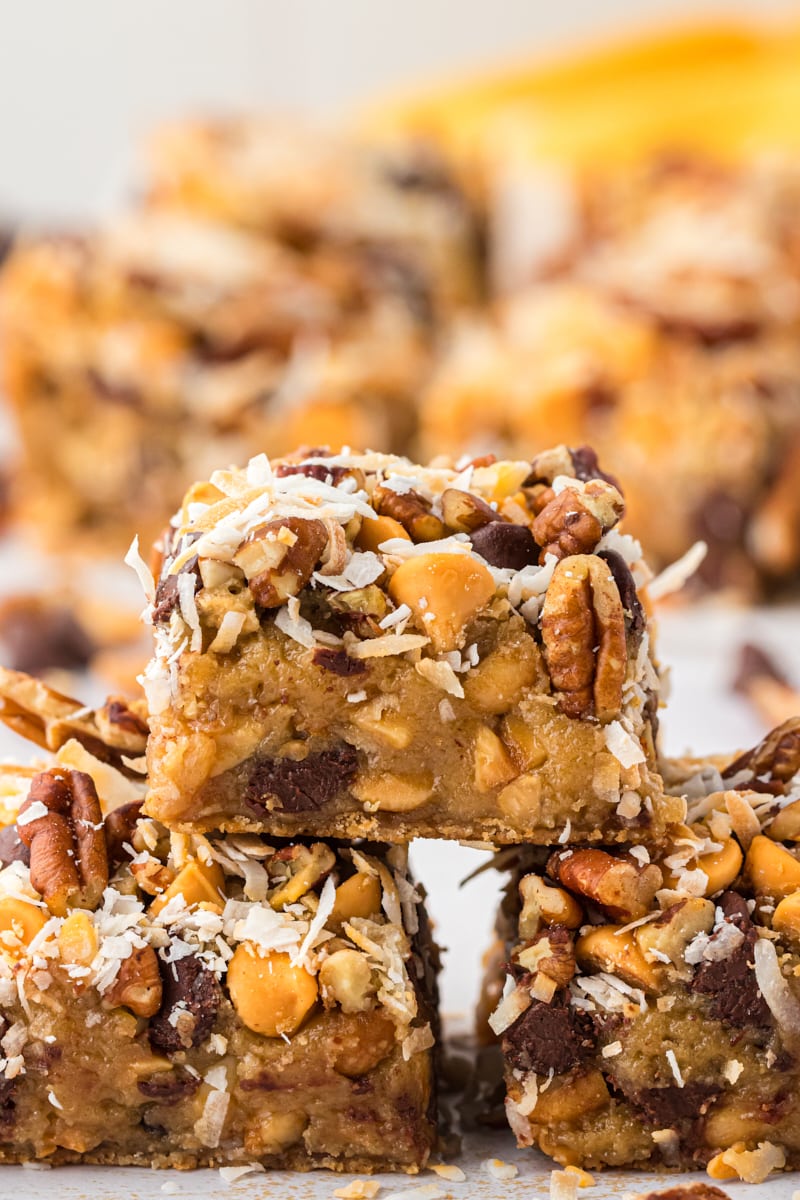 How to Make Toffee Squares
These bars come together quickly and easily. Here's what you'll need to do.
Prepare for baking. Heat the oven to 350°F. Grease a 9-inch square baking pan, and line with parchment paper.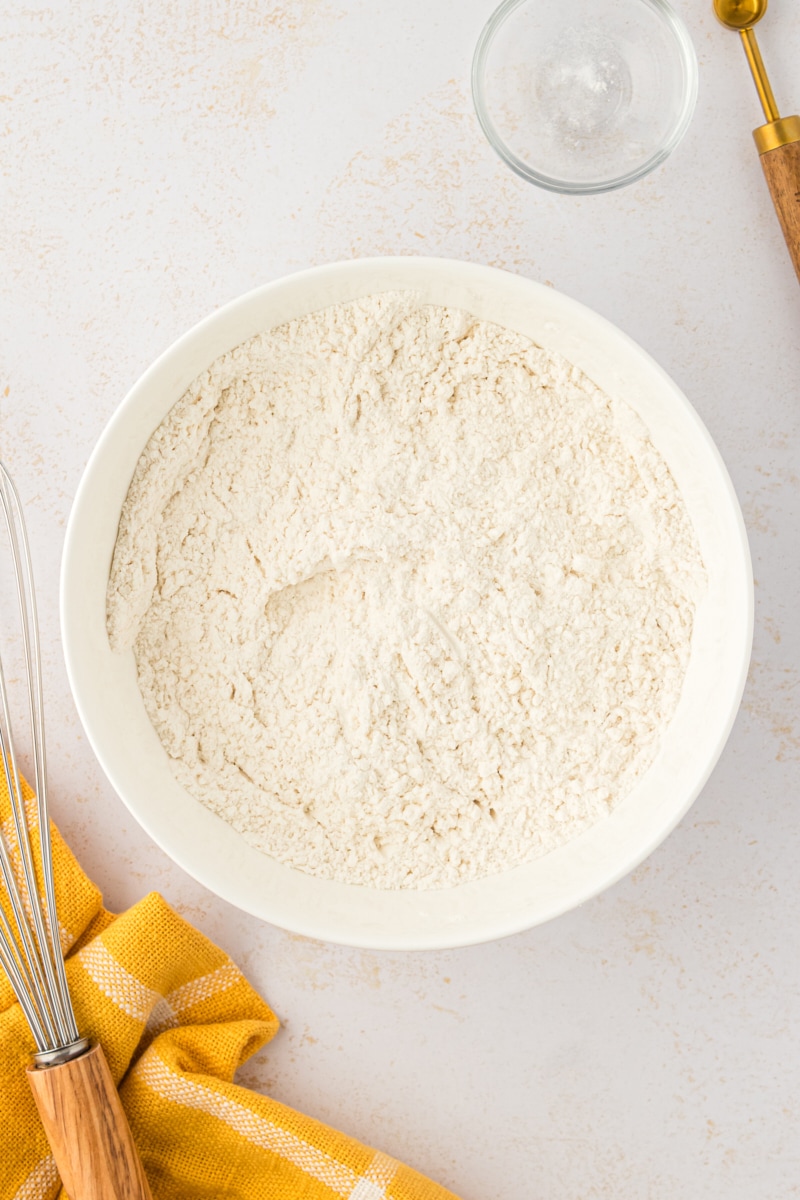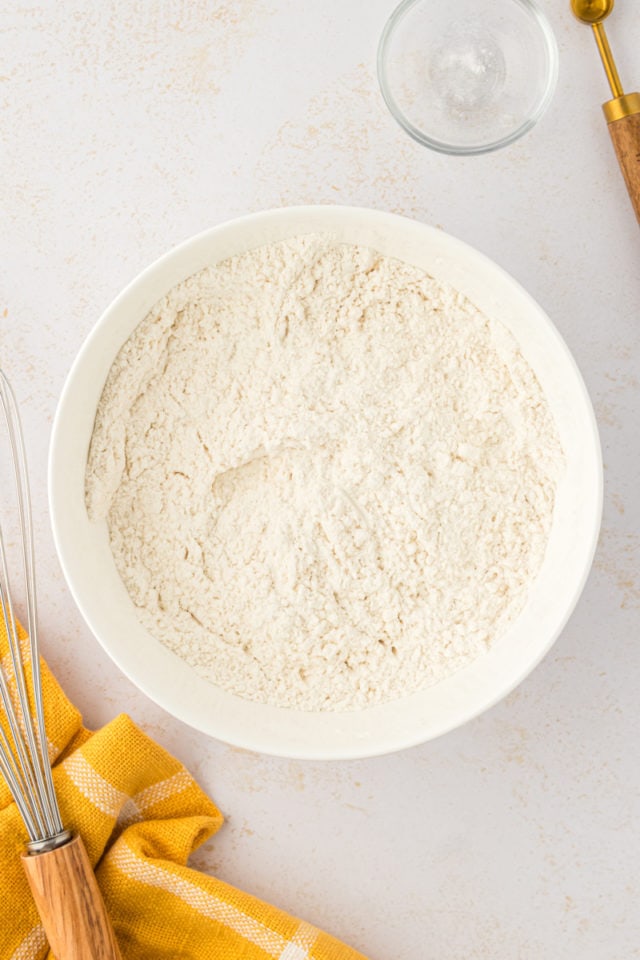 Mix the dry ingredients. Whisk together the flour, baking soda, and salt.
Mix the wet ingredients. With an electric mixer on medium speed, beat the butter until fluffy and lightened in color. Add the brown sugar, and mix until creamy. Next, add the eggs one at a time and mix well after adding each. Finally, mix in the vanilla.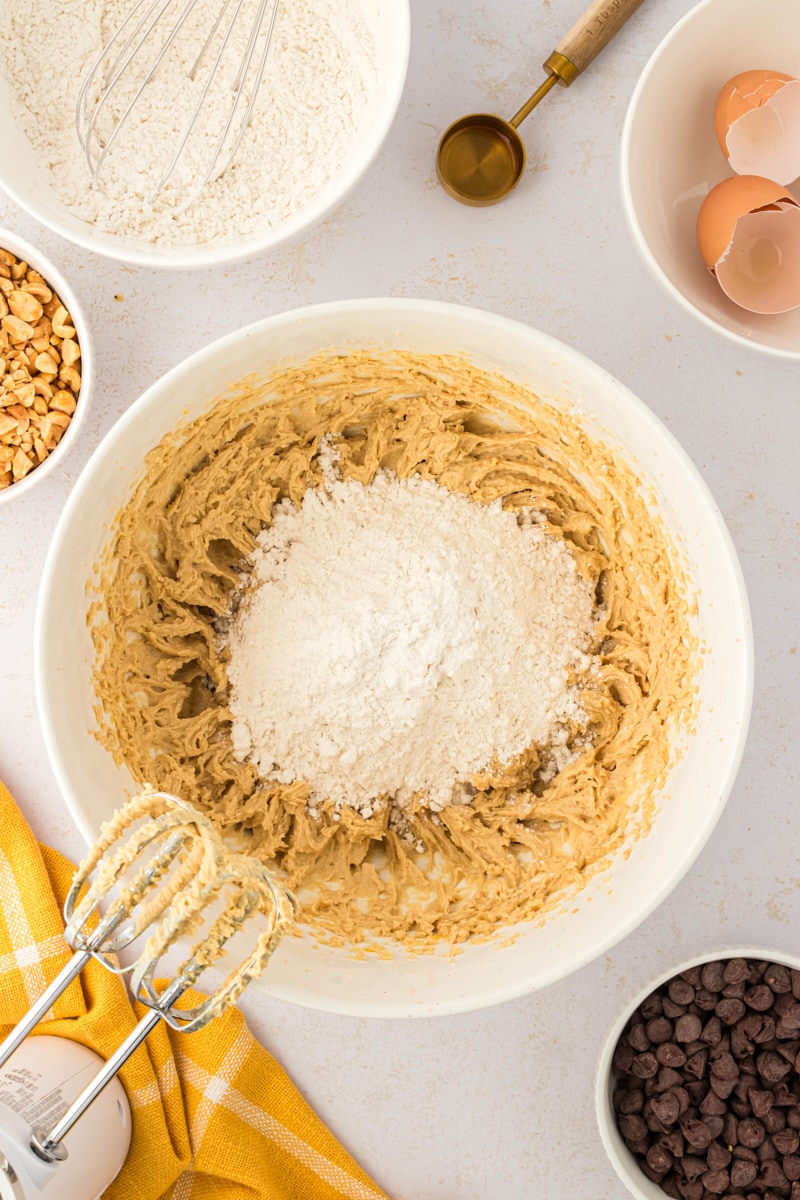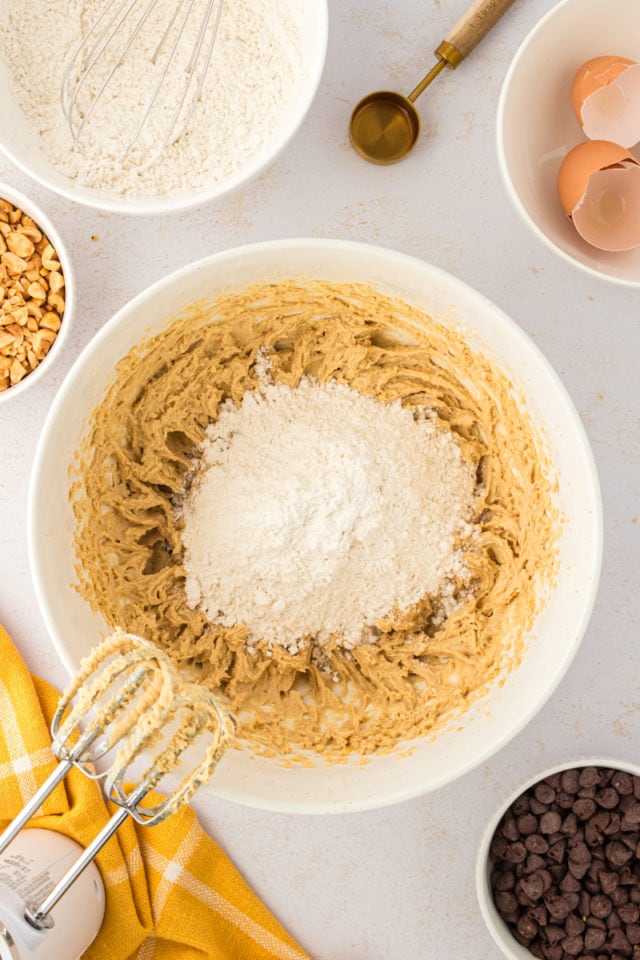 Finish mixing the dough. With the mixer on low speed, gradually add the flour mixture. Mix just until combined or a few streaks of flour remain. Stir in the peanuts and 1 cup of the chocolate chips.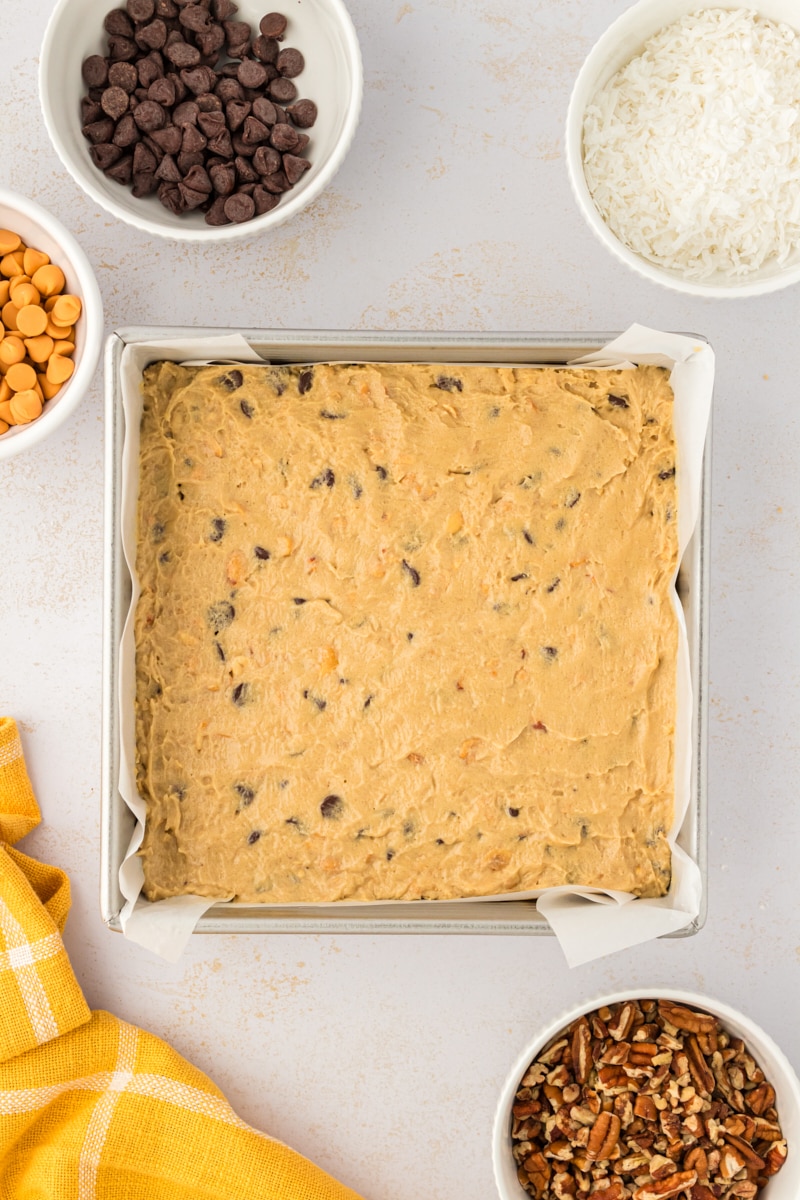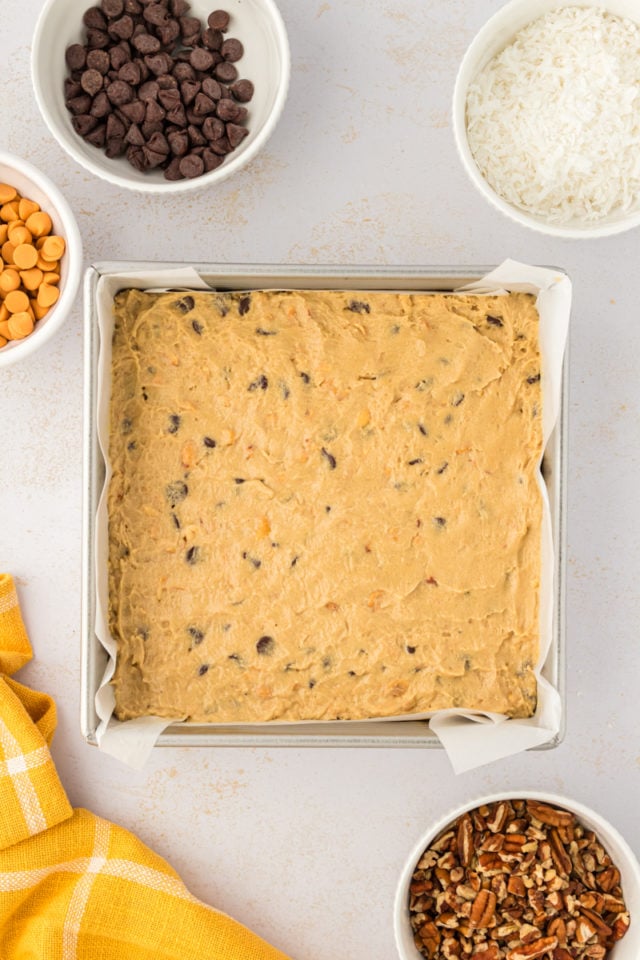 Assemble the bars. Spread the dough evenly in the prepared pan. Sprinkle the remaining chocolate chips, the butterscotch chips, pecans, and coconut over the top of the dough.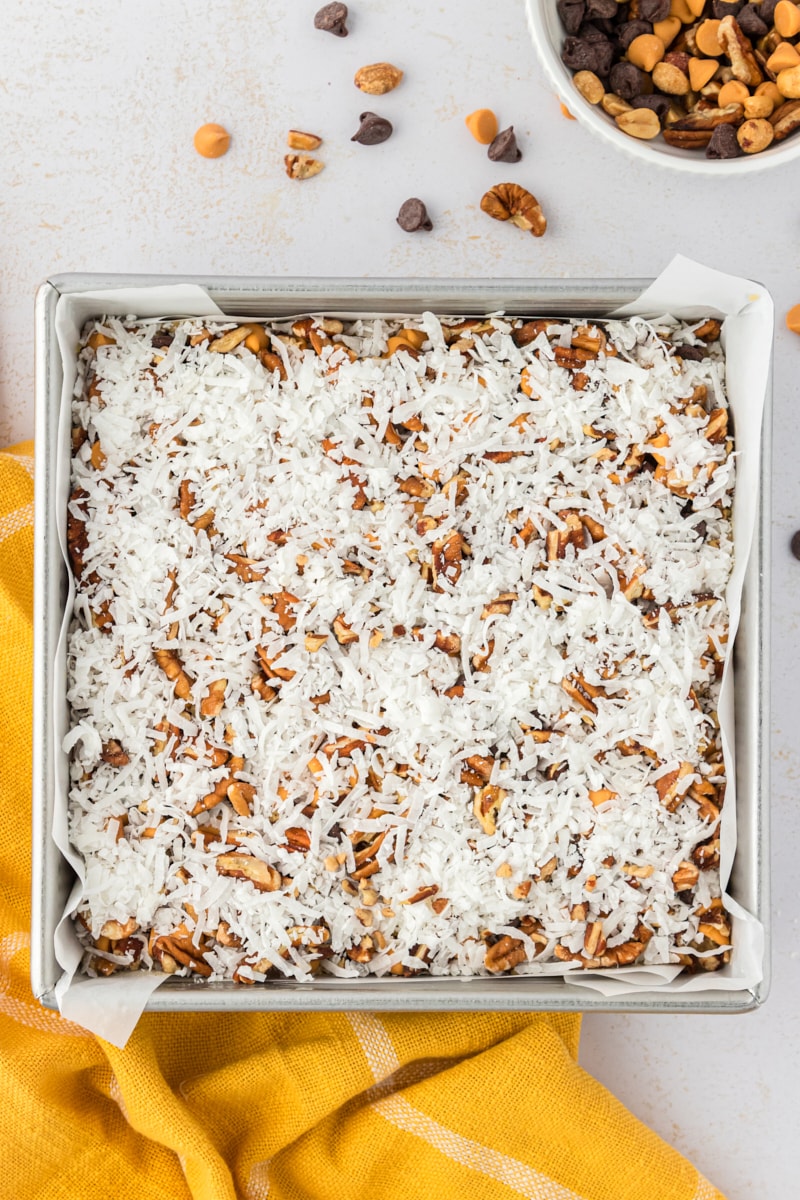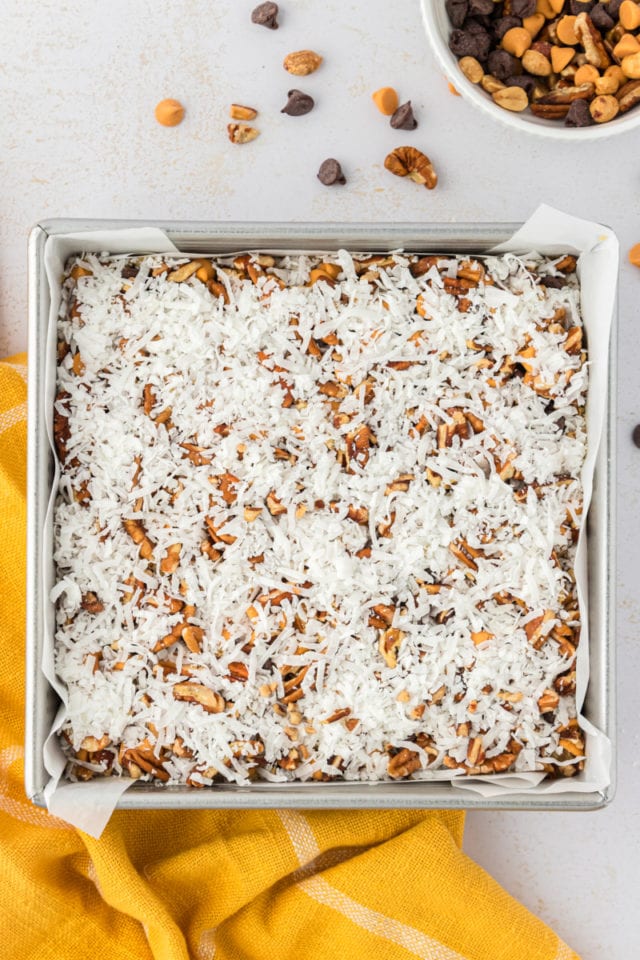 Bake. Place the pan in the heated oven, and bake for 30 to 35 minutes or until the edges are golden and the topping is bubbly and lightly browned.
Cool. Place the pan on a wire rack, and allow the bars to cool completely in the pan before cutting into bars.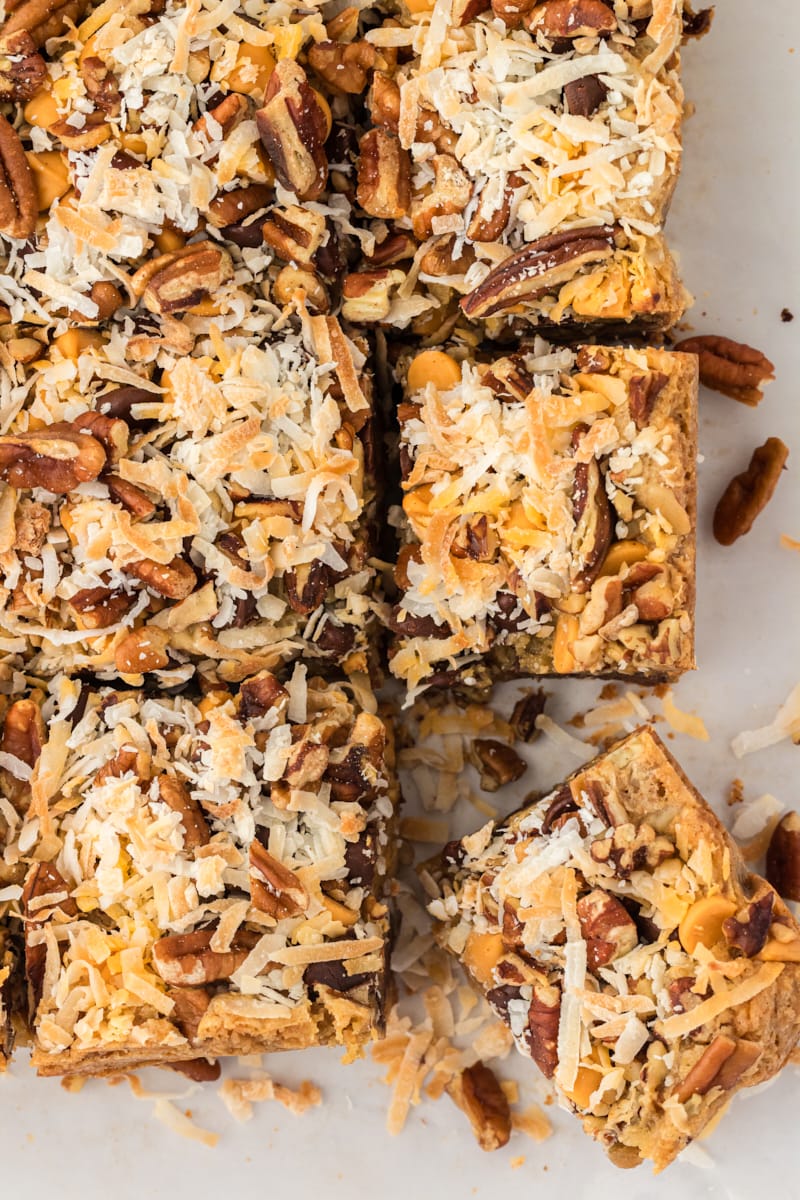 Tips for Success
If you've made your share of cookies, then this recipe won't hold many surprises for you. Here are a few tips to help make sure your toffee squares turn out perfectly.
Use a light-colored, metal pan. You'll get the best and most consistent results in browning and thorough baking.
Line the pan with parchment paper. It's so easy to use the overhanging parchment to lift the baked and cooled bars onto a cutting tray when it's time to slice them.
Adapt the toppings to your tastes. Add some or all of your favorites!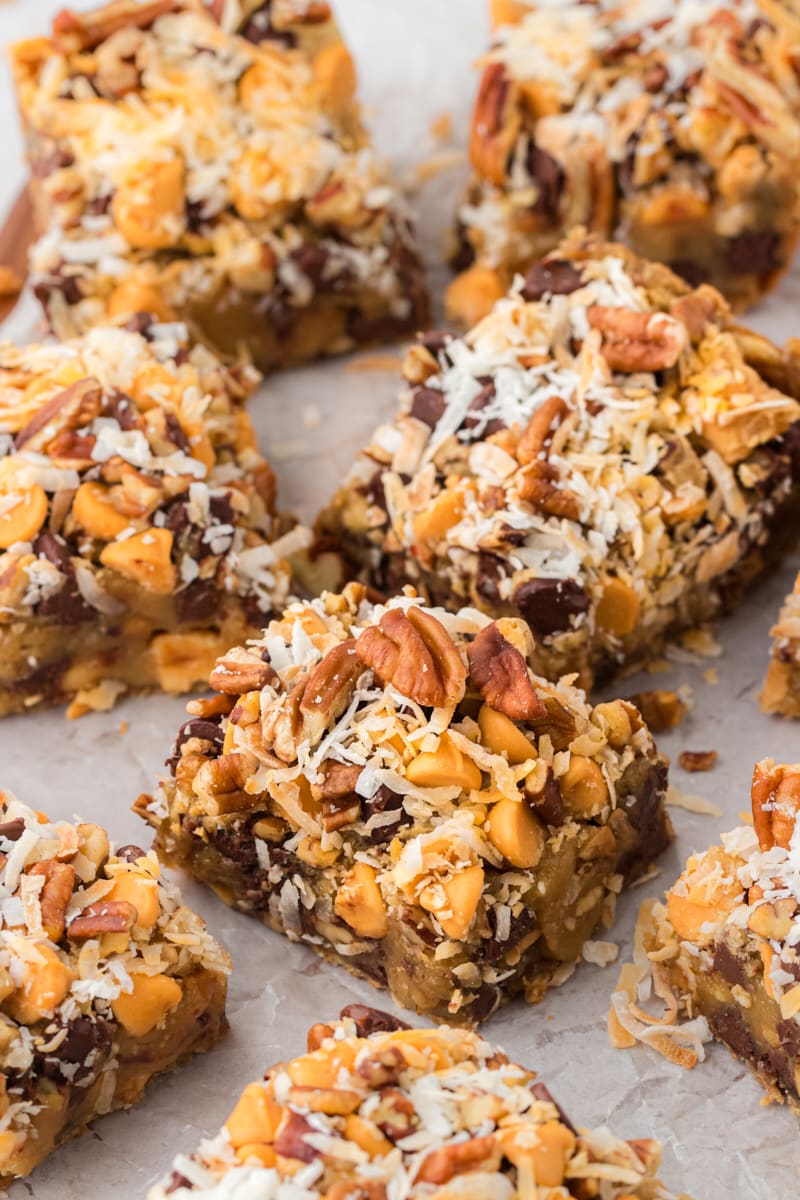 Variations
These toffee squares are the perfect kind of treat for customizing to your tastes. Change the add-ins to feature more chocolate chips, try another flavor baking chip (like peanut butter or cinnamon), or go the extra nutty route with a combination of nuts. As long as you keep the total amount of toppings the same, you can have a lot of fun changing up these bars!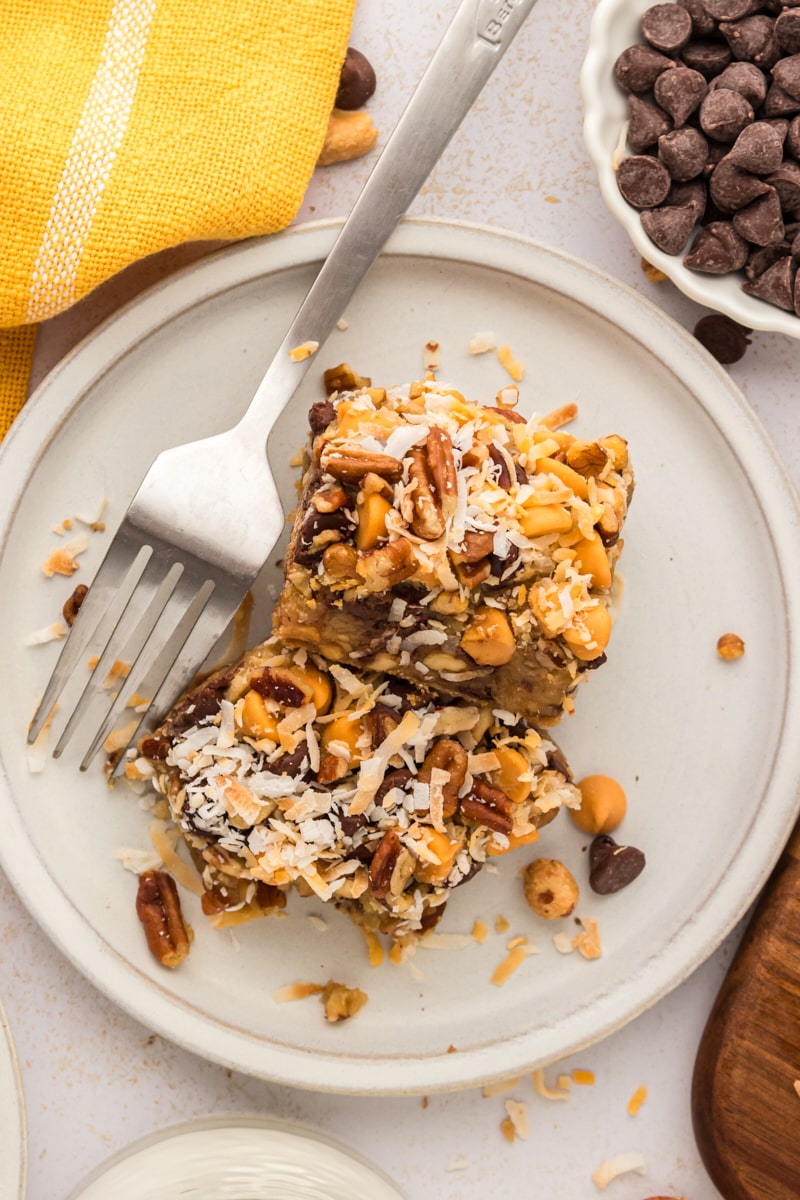 How to Store
After the bars have cooled completely, store them in an airtight container at room temperature. They should keep for about 3 days.
Can These Bars Be Frozen?
Yes, these toffee bars freeze quite well. Place the cooled bars in an airtight container (or zip-top bag) that's freezer-safe. For an extra layer of protection, you can wrap individual bars in plastic wrap before putting them in the container. Properly stored, they should keep in the freezer up to 3 months. Thaw for an hour or so on the countertop.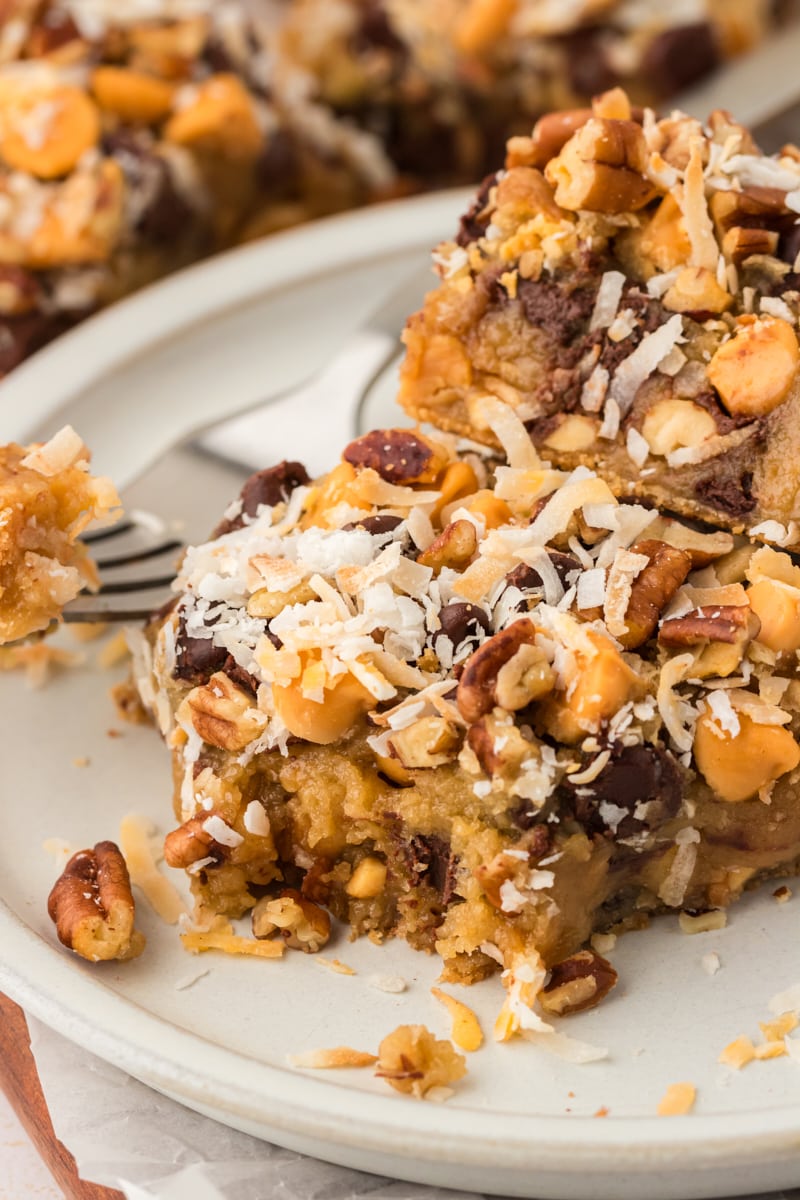 More Cookie Bar Recipes