October 30, 2013
Vunderbars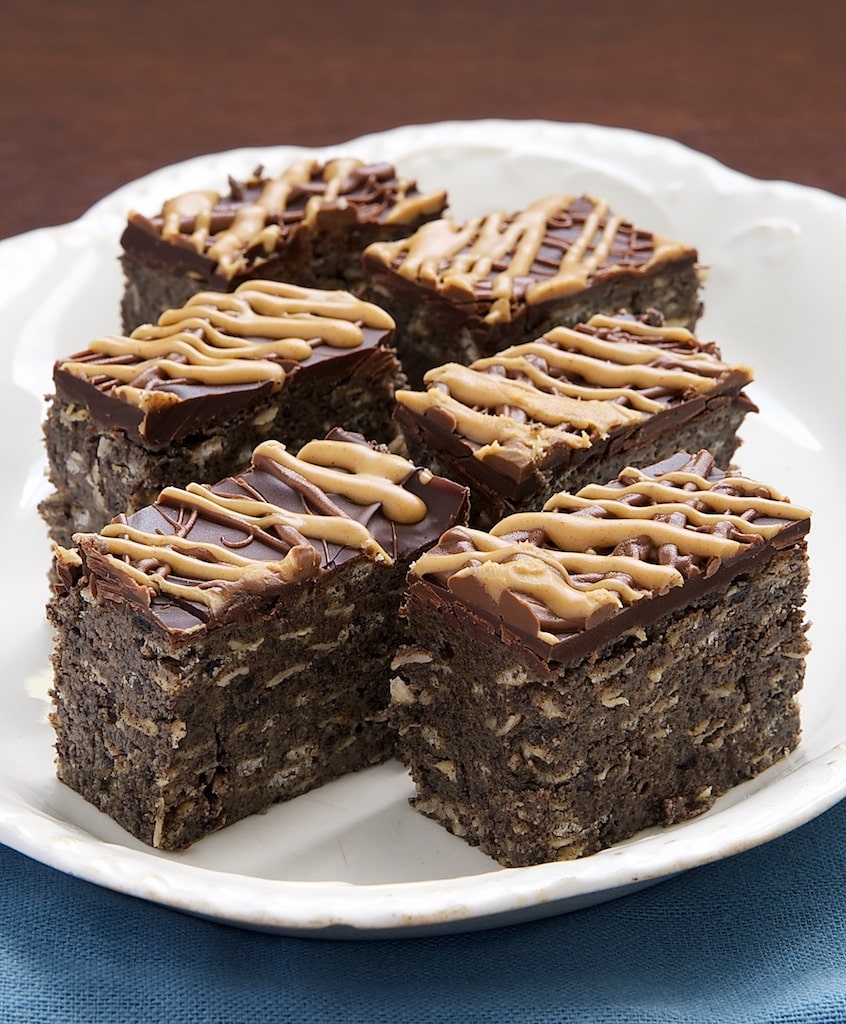 I've made it a point in all my years of blogging to be very cautious in proclaiming anything to be "the best." Not only is that completely subjective, but I also don't want to eliminate the possibility that something else wonderfully delicious might dethrone that Best Thing Ever.
I can only think of two recipes that I've deemed worthy of that moniker. There are these chocolate chip cookies that I've been baking for years. And, then there is an amazing banana bread that surpassed all of my banana bread dreams. But, my friends, these bars are joining the ranks of the best as the best no-bake bars I've ever had.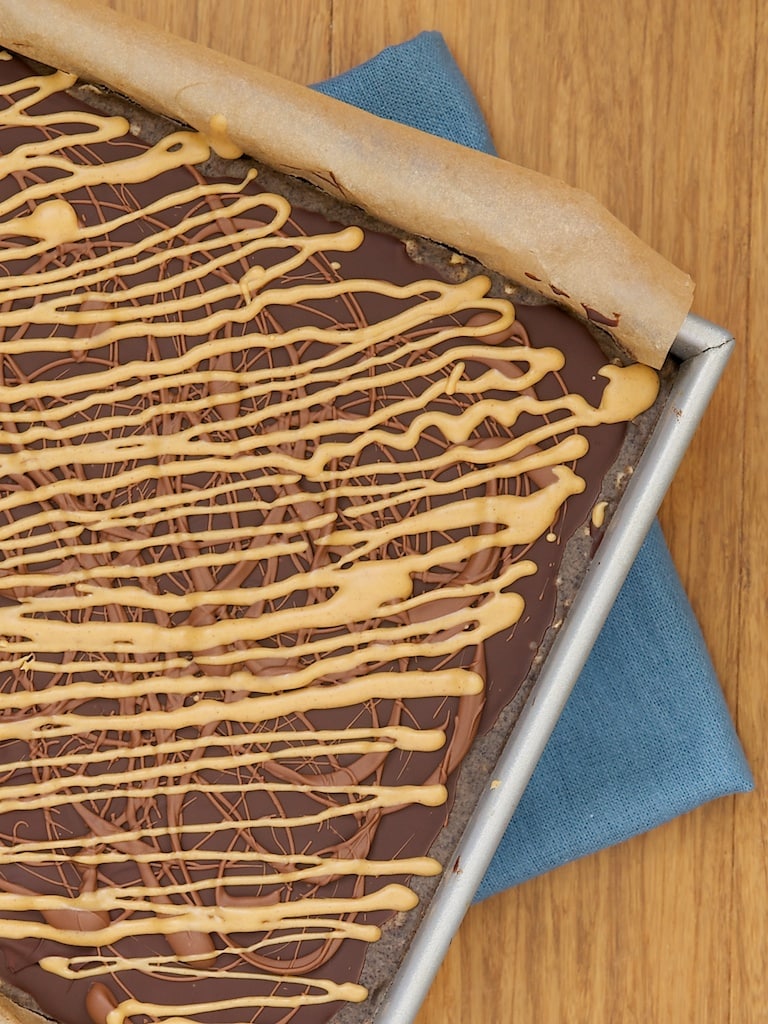 The recipe for these bars comes from Butter Baked Goods, a new cookbook from the Vancouver bakery of the same name. Bakery cookbooks are my favorite, so when the publisher offered to send me a copy, I quickly accepted. This is a beautiful book full of recipes for delicious baked goods like Chocolate Caramel Shortbread and Peanut Butter and Jelly Cupcakes. While there were several recipes that I wanted to make, these bars just called to me.
First of all, there is so much chocolate and peanut butter going on here that I can't help but love them. Besides that, there's lots of crunch from oats and Rice Krispies. And, did I mention they are no-bake? You'll need some stovetop time for a little melting, but otherwise you're just stirring things together and topping them with lots of chocolate and peanut butter. Are you sold yet?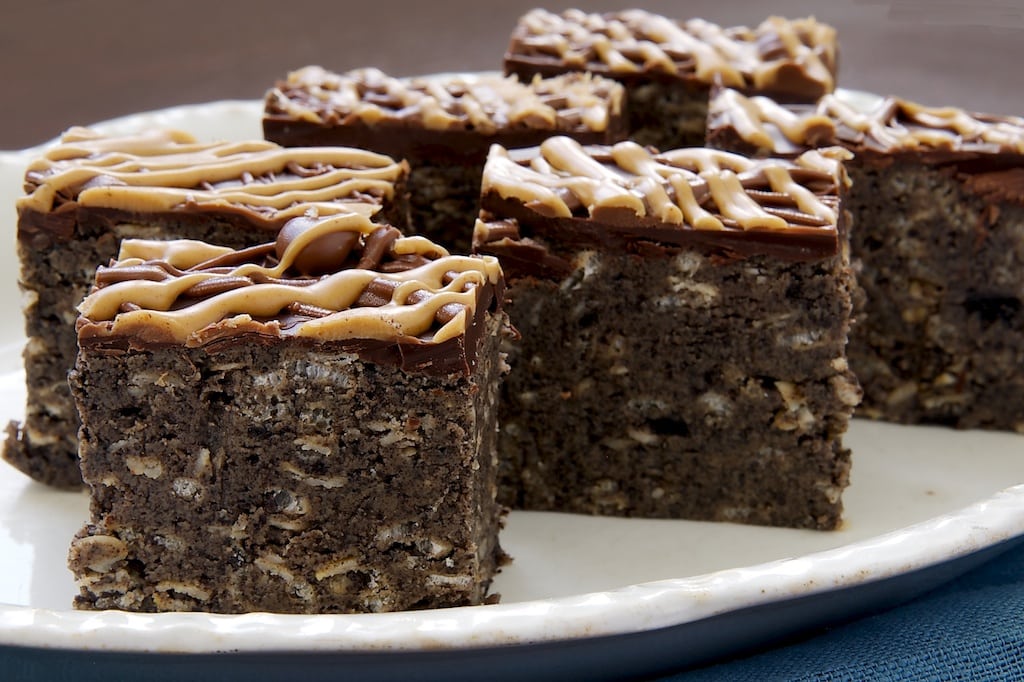 I do believe this recipe is going to be a staple for me for many years to come. I love everything about them. The flavor is mind- and mouth-altering amazing, the preparation is simple, and they even keep for a long time. Plus, they're so tall and pretty! You can make new best friends with these beauties. Or, make a batch, put them in the refrigerator, and enjoy one whenever you get a craving.
By the way, vunderbar is a variation of the German term wunderbar which simply means wonderful. I couldn't agree more.
Find more no-bake recipes in the Recipe Index.
Vunderbars
Yield: 24 2"x 1" bars
Prep Time:20 minutes
Vunderbars are an amazingly delicious treat filled with chocolate, peanut butter, and so much more. And they're no-bake, too!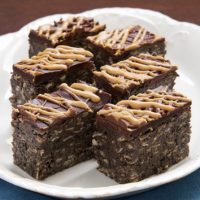 Ingredients:
For the bars:
4 cups chocolate wafer crumbs*
2 & 1/2 cups confectioners' sugar
2 cups Rice Krispies
1 cup rolled oats
1/2 teaspoon salt
3 & 1/2 cups smooth peanut butter**
3/4 cup unsalted butter
1 cup (6 ounces) dark chocolate
For the topping:
1/4 cup (1.5 ounces) milk chocolate chips
1/4 cup smooth peanut butter
Directions:
To make the bars:
Butter a 9-inch square baking pan. Line with parchment paper so that the paper overhangs about 2 inches on opposite sides.
Combine the chocolate wafer crumbs, confectioners' sugar, Rice Krispies, oats, and salt in a large bowl. Set aside.
Place the peanut butter and butter in the top of a double boiler or in a heatproof bowl set over a saucepan of simmering water***. Heat the peanut butter and butter until melted and smooth.
Pour the peanut butter/butter mixture over the chocolate wafer mixture. Stir until well combined.
Transfer the mixture to the prepared pan. Spread evenly.
Place the dark chocolate in a microwave-safe bowl.*** Heat in the microwave at half-power in 30-second increments until the chocolate melts when stirred.
Pour the melted chocolate over bars. Spread evenly. Place the pan in refrigerator.
To make the topping:
Place the milk chocolate in a microwave-safe bowl.*** Heat in the microwave at half-power in 30-second increments until the chocolate melts when stirred.
Place the peanut butter in another microwave-safe bowl***. Heat in the microwave at half-power for 20 to 30 seconds, or until the peanut butter is thinner and can be stirred easily.
Remove the bars from the refrigerator. Use a piping bag or a small spoon to drizzle the chocolate over the bars. Then, drizzle the peanut butter over the bars.
Refrigerate for 2 hours or overnight.
Run a knife along the two sides of the pan that aren't lined. Use the overhanging parchment paper to lift the bars out of the pan and onto a cutting board. Use a long, sharp knife to cut into 2″x1″ bars. (Try not to cut and drag the knife. Make the cuts straight down.)
Place the bars in an airtight container. Store in the refrigerator for up to 2 weeks or in the freezer for up to 3 months.
Notes:
*I used Nabisco Chocolate Wafers. You'll need about 2 full packages to get this many crumbs.
**This is not a typo. This is A LOT of peanut butter. And, it's so good.
***You can certainly use a double boiler to melt each of these things. I prefer the microwave method for small amounts. When melting the peanut butter and butter, though, I think the double boiler is a must. That's just too much volume for melting in the microwave.
One lucky Bake or Break reader will receive their own copy of Butter Baked Goods.
Please note that the winner must be a U.S. resident 18 years or older. If the winner doesn't respond to the notifying email within 48 hours, another winner will be chosen. Add bakeorbreak at gmail dot com to your address book so that a winning email from me doesn't go to your spam folder.
UPDATE: Contest has closed. Congratulations to the winner!
Disclosure: I was provided with a review copy of Butter Baked Goods and the opportunity to give away a copy to one of you. All opinions are my own. This post contains affiliate links.