August 28, 2012
Browned Butter Salted Chocolate Chip Cookies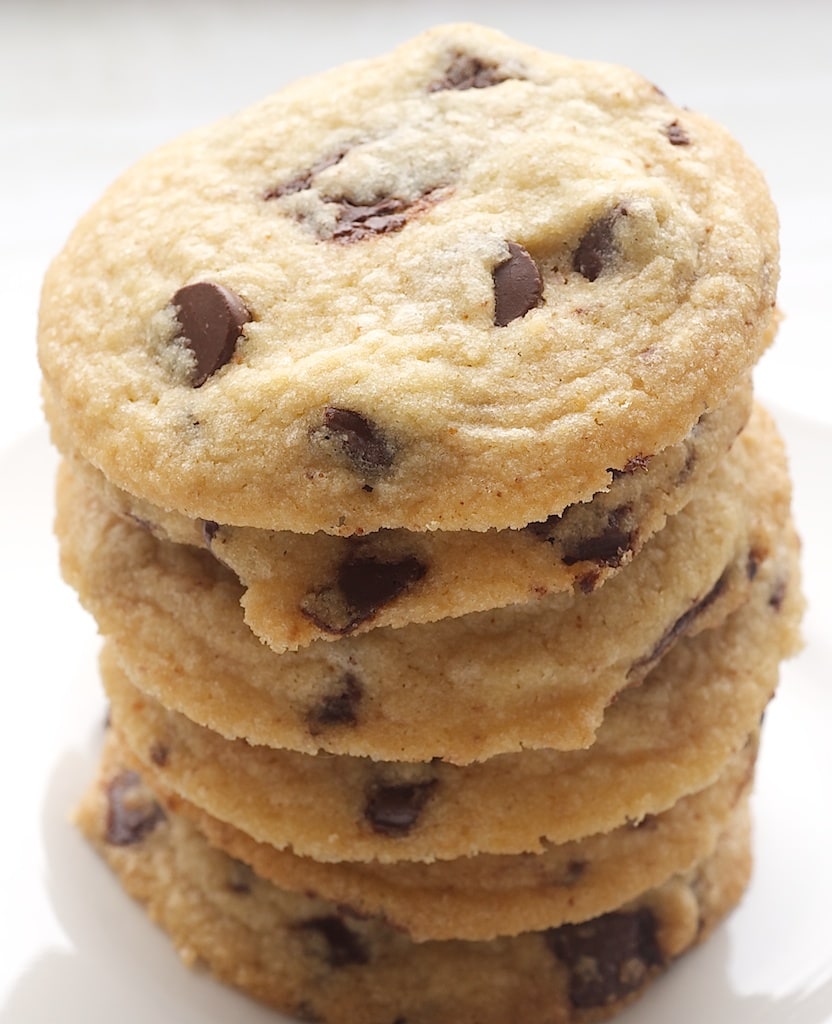 After 6+ years of baking and blogging, sometimes I think I've covered all the baking bases. Then, I realize that I've inexplicably ignored something so delicious that I set out to rectify that as soon as possible.
That's the case with browned butter. How have I never done this? If you're not familiar with the concept, browning butter creates a rich, nutty, amazing taste that is pretty hard to beat. It's fairly simple to make browned butter. All you need is a saucepan, a spoon, and some butter.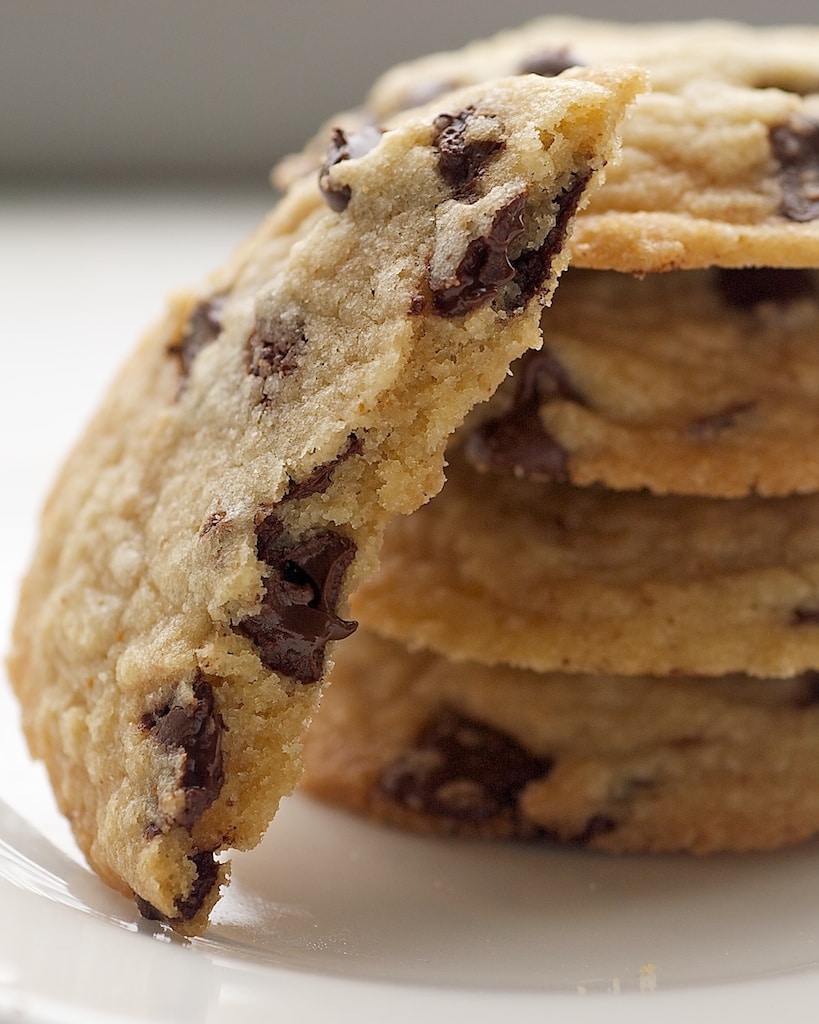 I decided to pair that browned butter deliciousness with some chocolate in these chocolate chip cookies. Recently, the good people of Lindt were kind enough to send me a sampling of their amazing chocolate. One of those goodies was their A Touch of Sea Salt Bar. I chopped up that salty dark chocolate goodness and stirred it into the batter along with some chocolate chunks.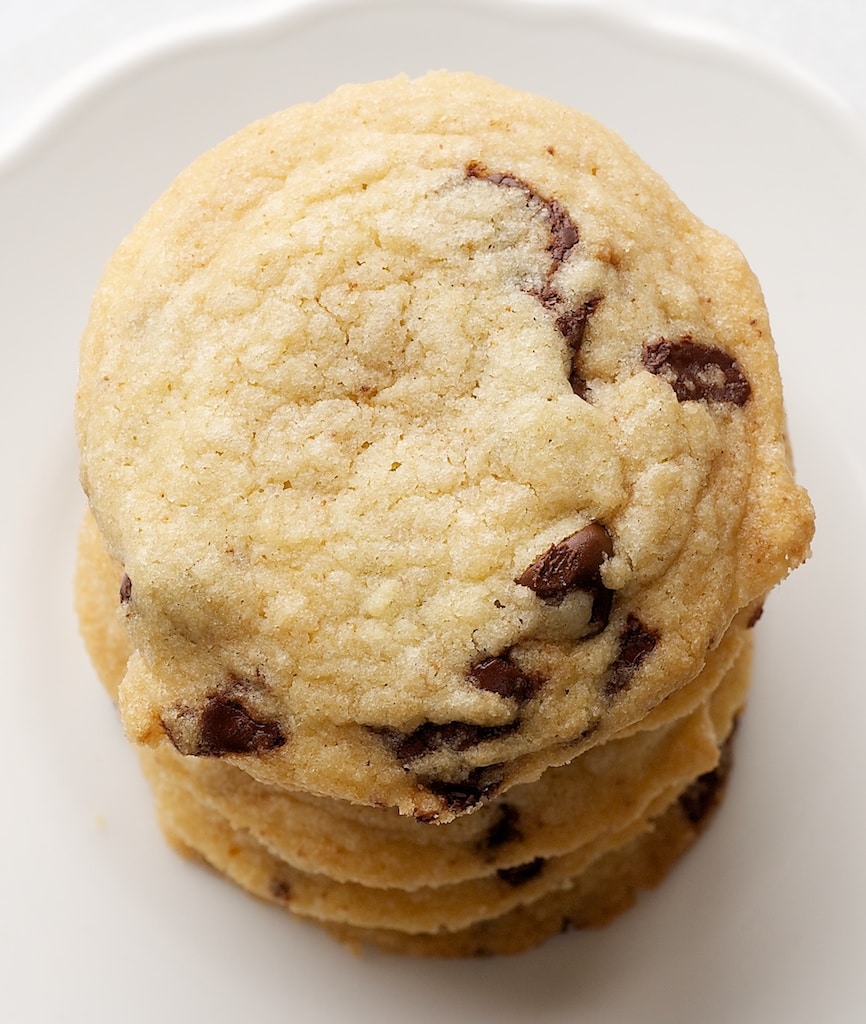 I really liked having that salty chocolate stirred into the cookie dough. That means that some bites give you a little burst of saltiness. And that makes me quite happy.
For those of you who are big sweet-and-salty fans, you might like to sprinkle a little coarse salt on top of each cookie before baking them. If you're less of a fan, then you can choose your saltiness level. Leave off the extra salt or, if you don't want any extra saltiness, use all semisweet chocolate chips.
Browned Butter Salted Chocolate Chip Cookies
Yield: about 48 cookies
Prep Time:25 minutes
Cook Time:12 minutes
Ingredients:
1 cup unsalted butter
2 & 1/2 cups all-purpose flour
1 teaspoon baking powder
1 teaspoon coarse salt, plus more for tops of cookies if desired
1 cup packed light brown sugar
3/4 cup granulated sugar
2 large eggs
1 tablespoon vanilla extract
1 & 1/2 cups chopped chocolate or chocolate chips*
Directions:
Place butter in medium saucepan. Heat over medium heat, stirring frequently. Once butter melts and begins to foam, continue to cook until brown specks start to form on the bottom of the pan. Butter will have a nutty aroma. Remove from heat and transfer to a glass bowl to cool to room temperature.
Preheat oven to 350°. Line baking pans with parchment paper or silicone liners.
Whisk together flour, baking powder, and salt. Set aside.
Using an electric mixer on medium speed, beat butter, brown sugar, and sugar until fluffy. Add eggs, one at a time, mixing well after each addition. Mix in vanilla.
Gradually add flour mixture, mixing until almost combined. Stir in chocolate.
Drop dough by tablespoonfuls onto prepared pans. If desired, lightly sprinkle the top of each cookie with a little coarse salt.
Bake for 10-12 minutes, or until lightly browned. Cool on pans for 5-7 minutes. Then, transfer to wire racks to cool completely.
Disclosure: I was provided with products from Lindt. No other compensation was received. All opinions are my own.