With chunks of melty chocolate and the rich, nutty flavor of brown butter, these Brown Butter Salted Chocolate Chip Cookies hit the perfect mix of salty and sweet. Sink your teeth into one of these moist, chewy cookies and brace yourself for a flavor explosion!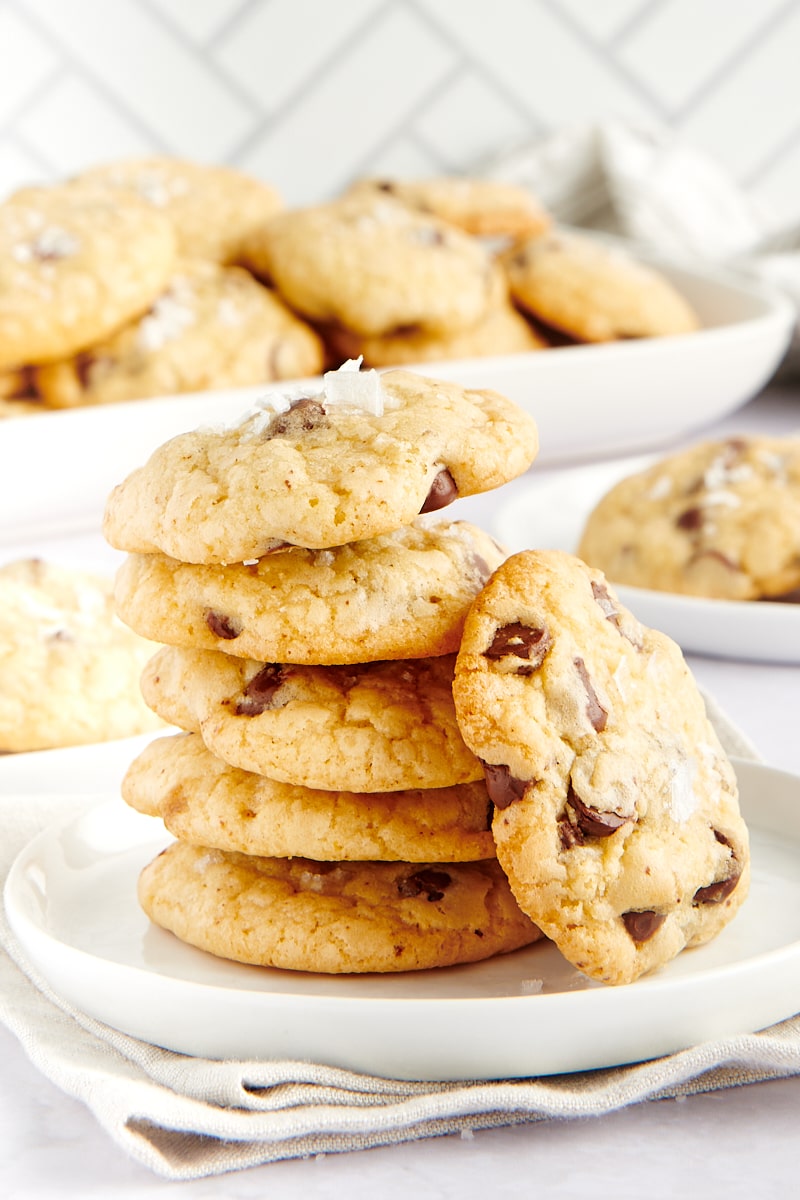 Ultra-Decadent Chocolate Chip Cookies
These brown butter chocolate chip cookies practically melt in your mouth. Packed with melty chocolate chips and nutty brown butter flavor, the taste is just as incredible as the texture. When the heavenly smell hits you, it'll be pretty much impossible not to sneak one right off the cooling rack.
The classic flavor profile of the chocolate chip cookie is made even better by the caramelized edge from the brown butter. What you get is layer upon layer of flavor in a rich and complex dessert. If you take these with you to a bake sale or potluck, don't be surprised when yours is the first empty platter.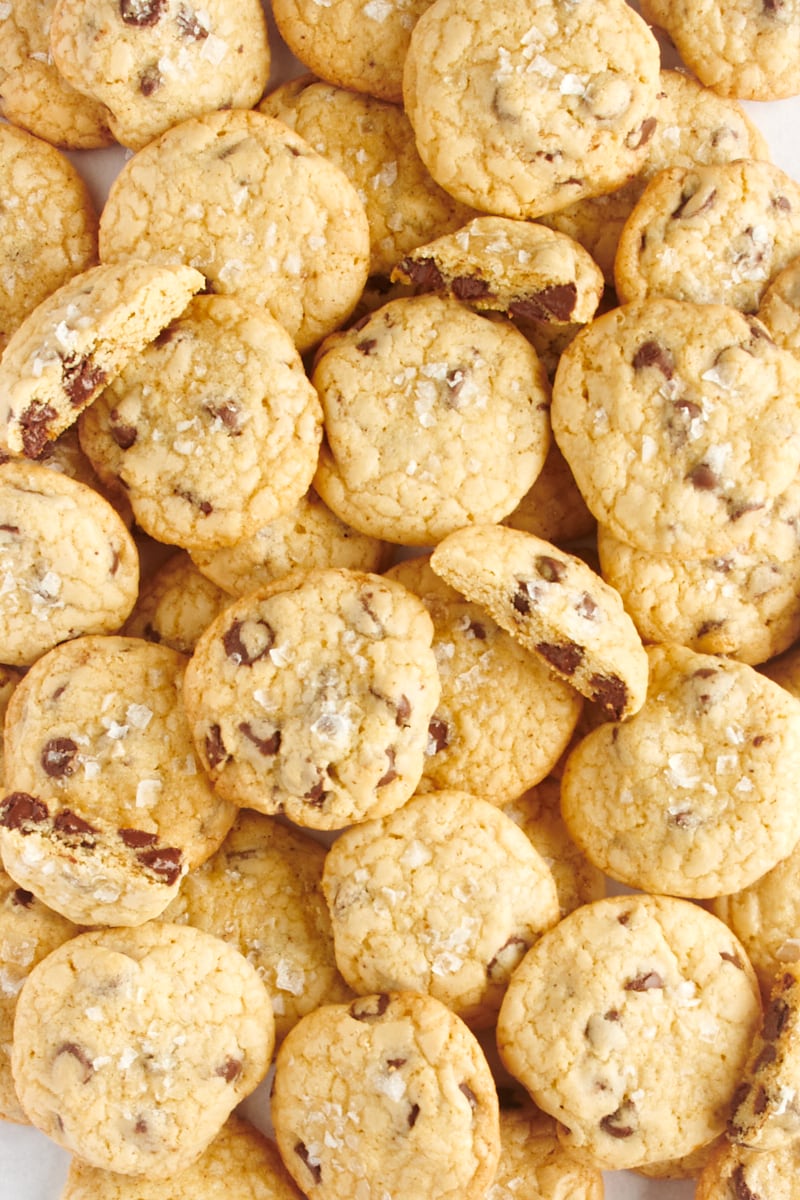 What Does Brown Butter Do to Cookies?
Browning the butter in your chocolate chip cookies gives them a rich and nutty caramelized flavor. It also reduces the amount of water in the cookies, making them chewier. You'll notice a big difference in the depth and complexity of the flavor.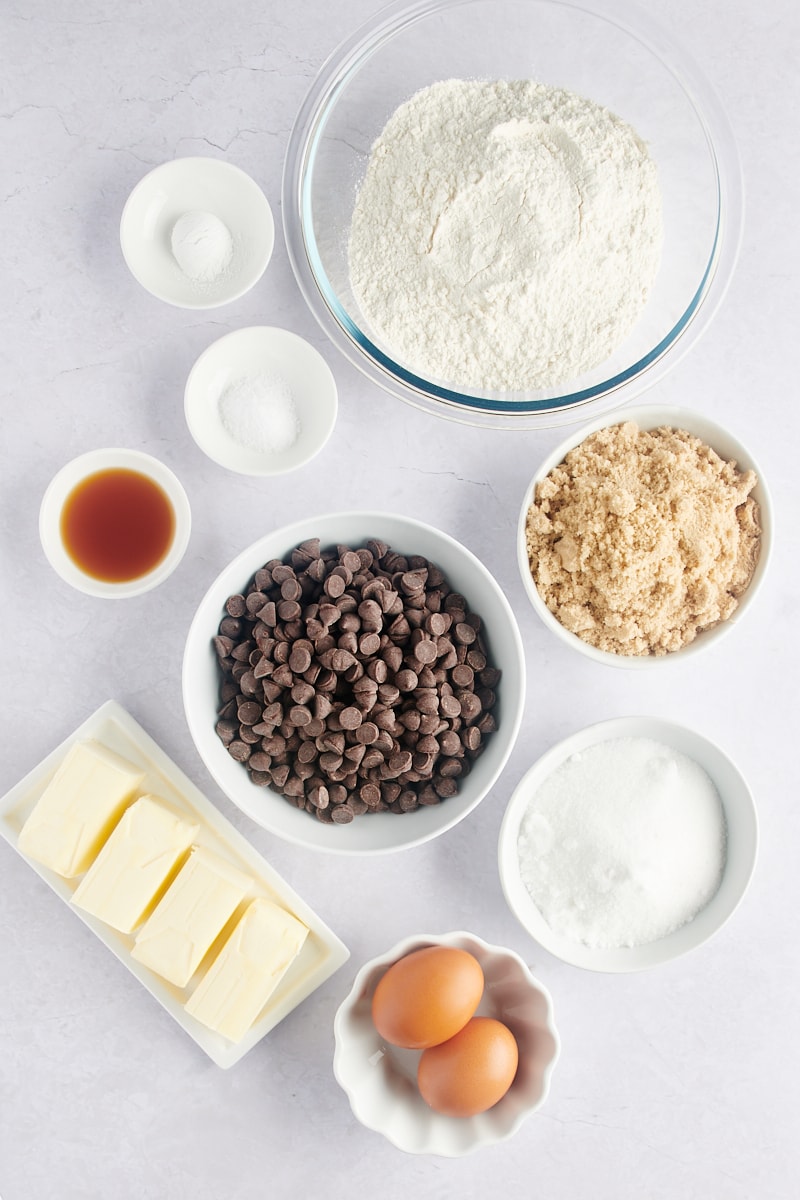 Recipe Ingredients
A handful of simple kitchen staples come together to make these brown butter chocolate chip cookies. Scroll down to the recipe card for exact amounts.
Unsalted butter
All-purpose flour
Baking powder
Salt – This goes into the batter and can also be used to top the cookies. You can use regular or Kosher salt for the batter. A coarse salt like sea salt is a good choice for topping the cookies.
Light brown sugar: Be sure yours is tightly packed or measure by weight.
Granulated sugar
Eggs
Vanilla extract
Chocolate: I recommend semisweet chocolate chips or chopped dark chocolate with at least 50% cacao.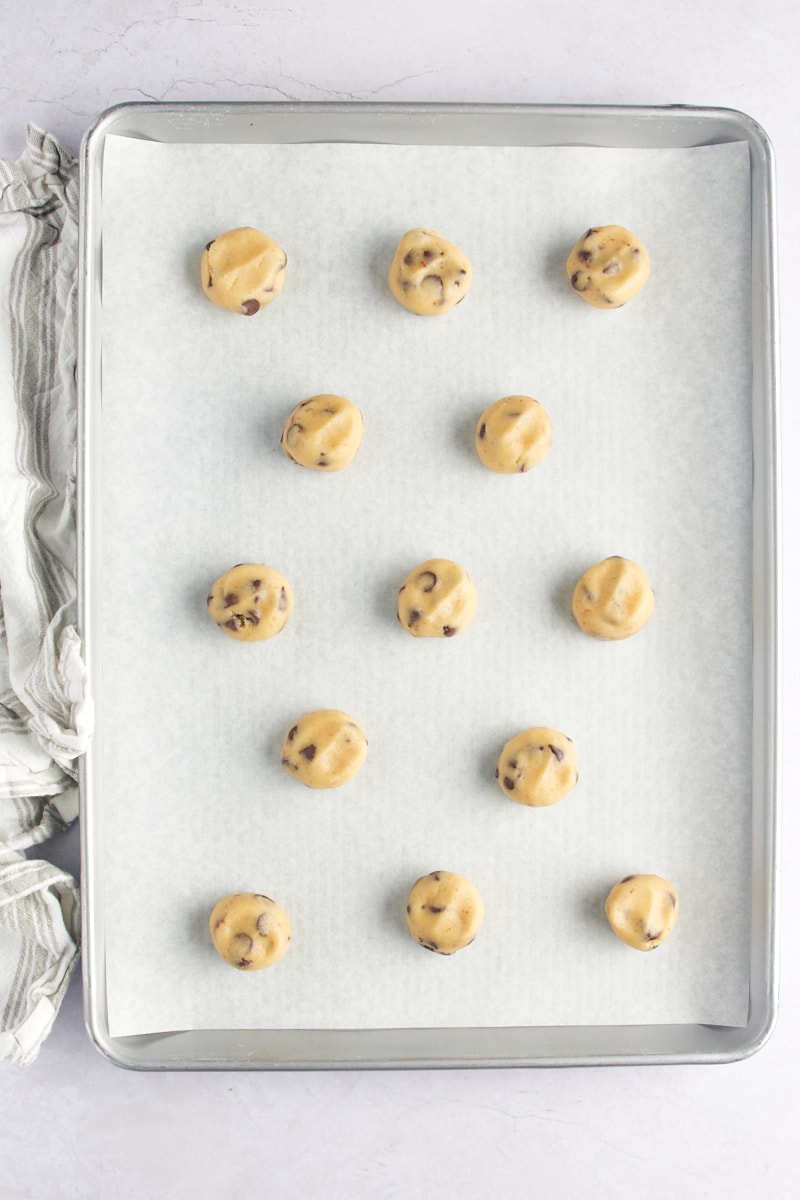 How to Make Brown Butter Salted Chocolate Chip Cookies
Just one extra step adds so much flavor to these chocolate chip cookies. You won't regret taking a little bit of time to brown the butter after you taste the results.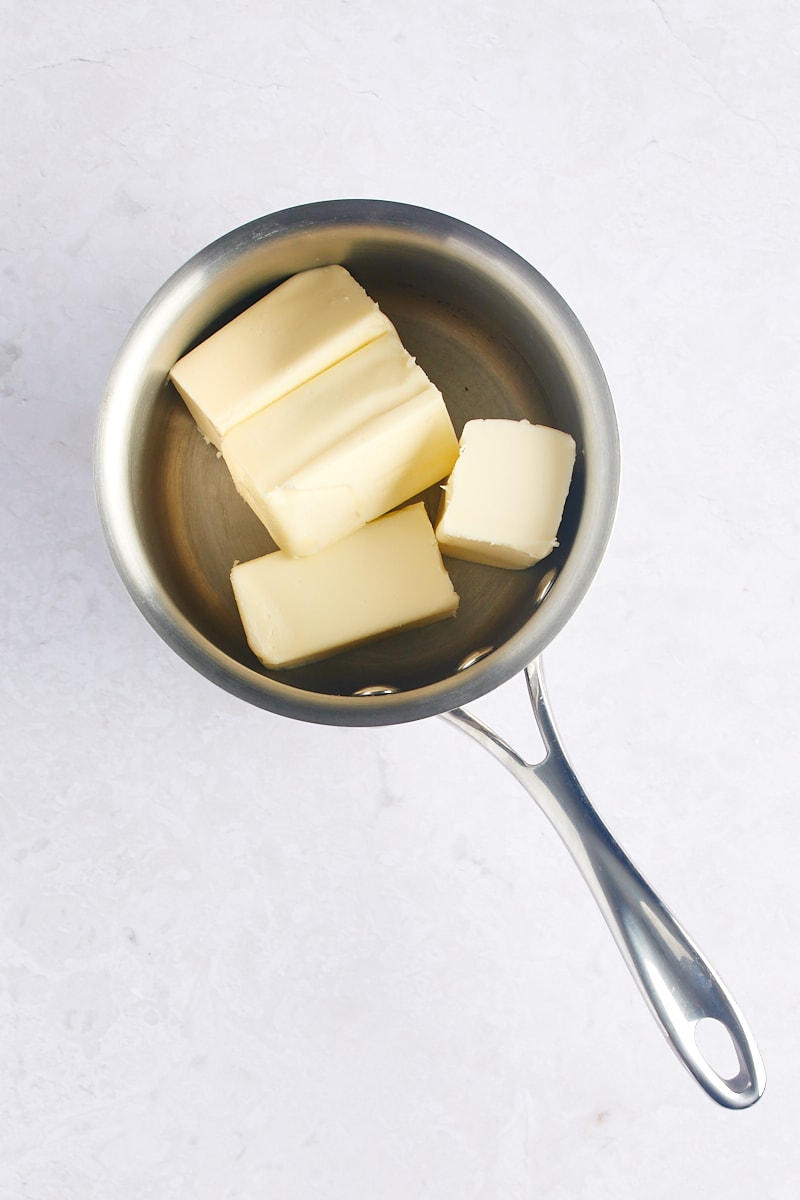 Brown the butter. Place the butter in a saucepan over medium heat, stirring frequently. Once the butter melts and begins to foam, continue to cook it until brown specks start to form on the bottom of the pan. The butter will slowly stop foaming and will start to give off a nutty aroma. Once the scent strengthens, go ahead and set the pan aside to cool slightly.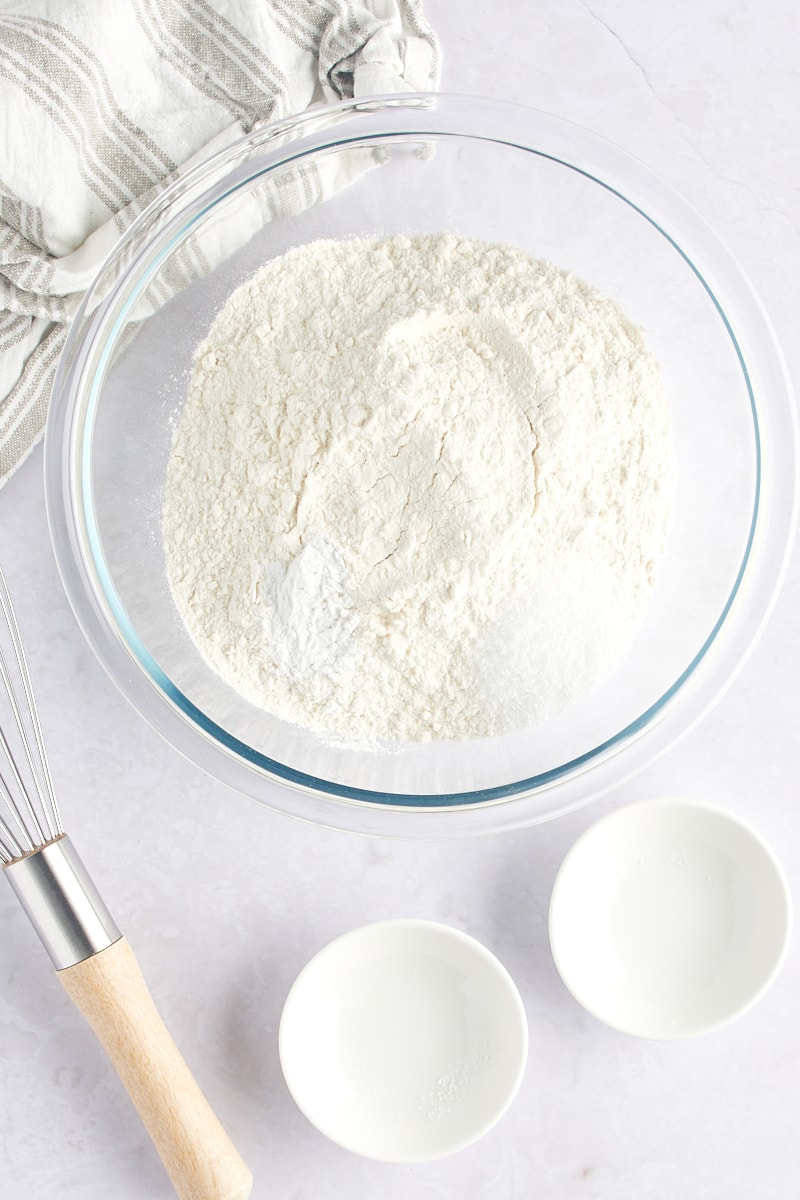 Mix the dry ingredients. Whisk the flour, baking powder and salt together in a medium bowl, then set it aside.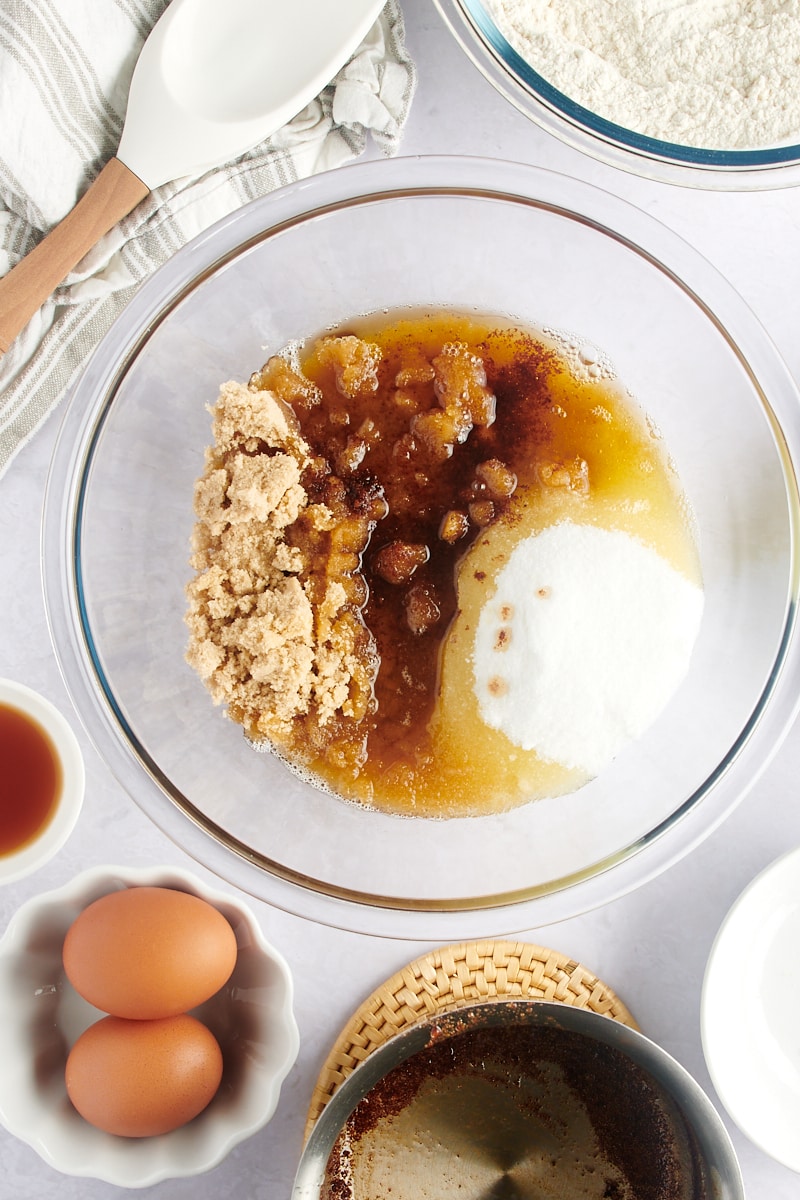 Mix the wet ingredients. Beat the cooled butter, brown sugar, and granulated sugar together using an electric mixer on medium speed. When the mixture turns fluffy, add the eggs one at a time, beating in each egg until it's incorporated. Mix in the vanilla.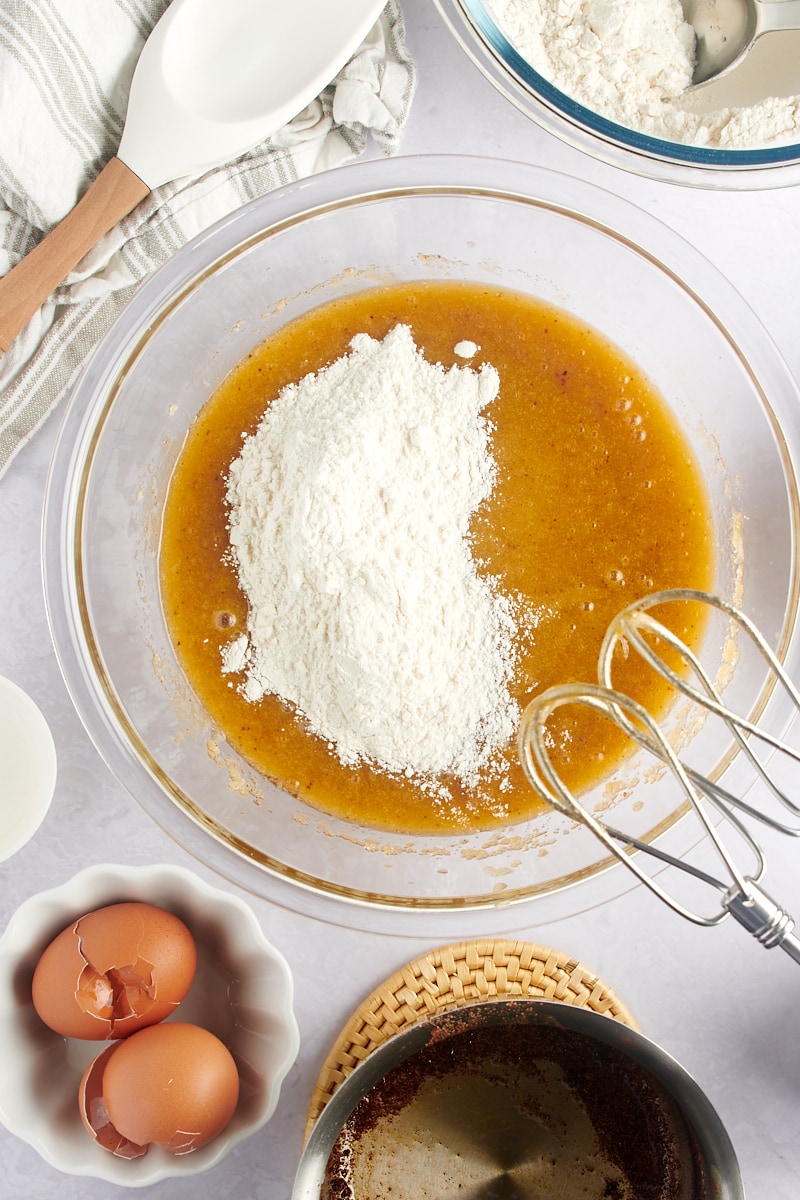 Combine the wet and dry ingredients. Turn your mixer down to low speed. Gradually add the flour mixture to the butter mixture, beating them until they're almost combined. Stir in the chocolate chips using a large spoon. Cover the dough and place it in the refrigerator to chill for an hour.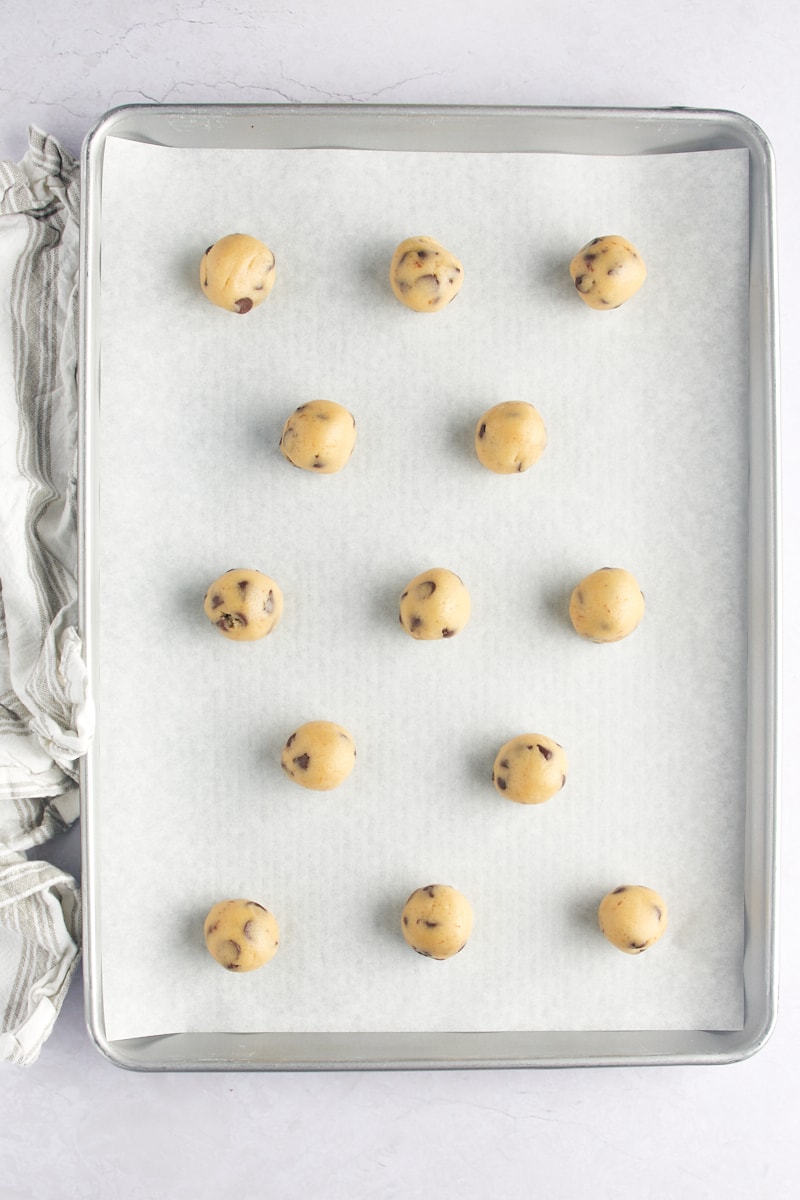 Prep your cookies for the oven. Preheat your oven to 350°F. Line a baking pan with parchment paper or silicone liners. Drop one tablespoon of dough at a time onto the prepared pans, leaving an inch or two of space between each cookie. If you want, lightly sprinkle the top of each cookie with a pinch of coarse salt.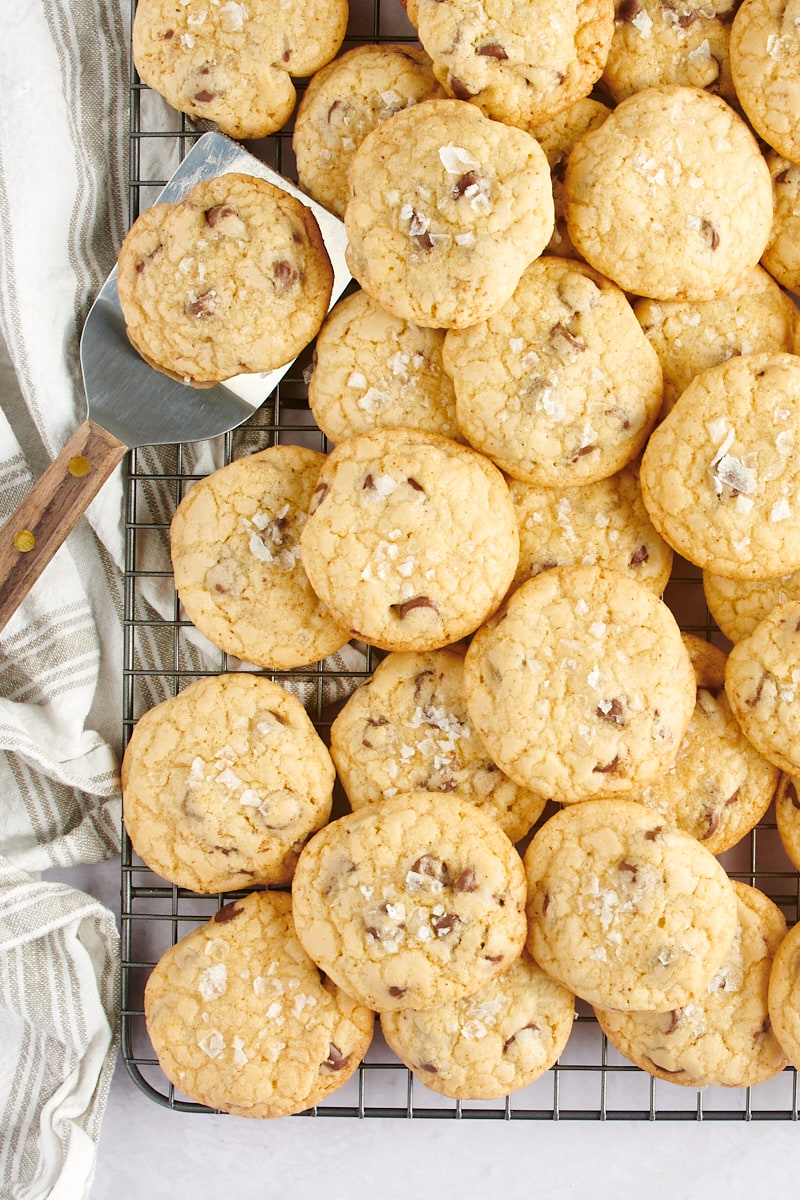 Bake and serve: Place your cookies into the oven one pan at a time for 12-15 minutes, or until the tops of the cookies turn golden. Move the pan onto a wire rack and allow each batch of cookies to cool for 5 minutes. Then, transfer the chocolate chip cookies from the pan to the wire rack so they can cool completely, or serve them warm.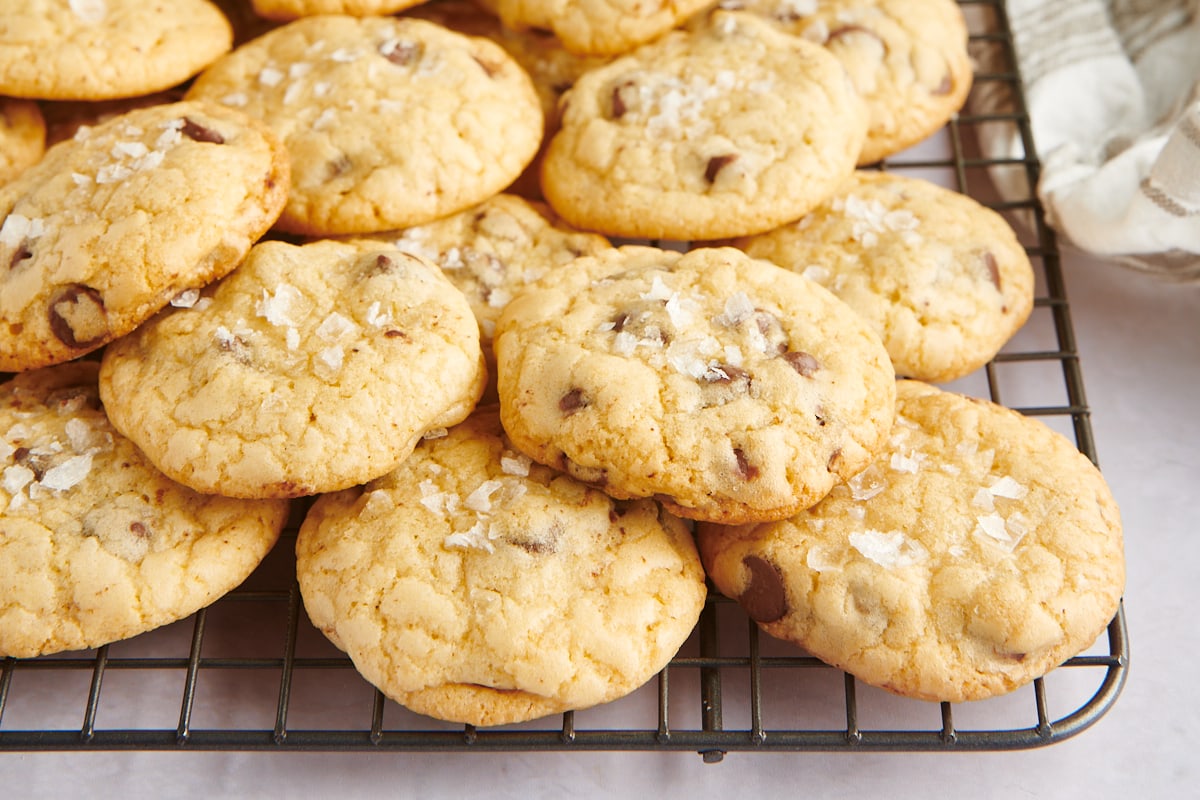 Can I Make the Dough Ahead of Time?
This cookie dough lasts in the refrigerator for up to 3 days, so feel free to mix it up in advance! You can also freeze the dough in balls so they're ready whenever you want them. Whether you choose to freeze or refrigerate, make sure you wrap the dough tightly.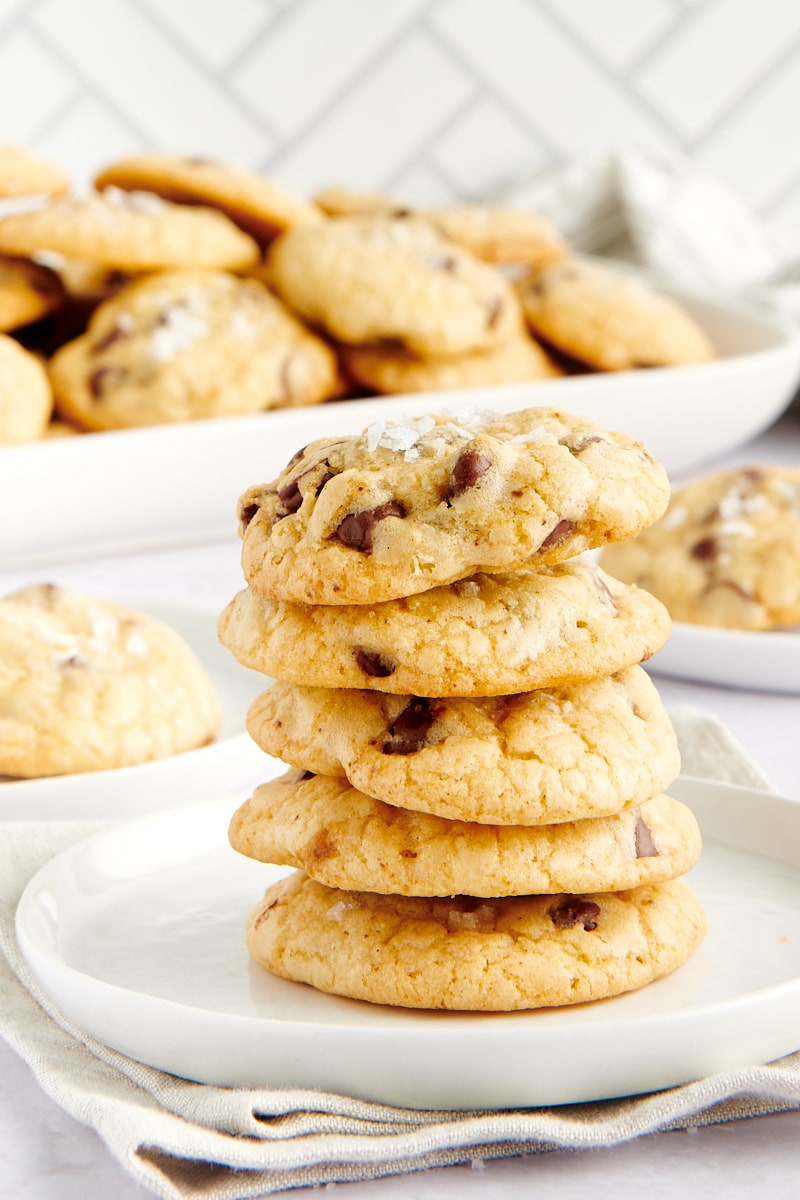 Tips for Success
These chocolate chip cookies come together so beautifully every time I whip them up. Follow these tips, and yours will turn out just as good.
Check your baking powder. One of the main reasons baked goods turn out wrong is expired baking powder. Make sure you check the date on the container to keep your cookies from coming out flat. Learn more: How to Check Baking Powder for Freshness
Spoon and level. Using too much flour in your cookies can make them crumbly and dry. Measuring by weight is the best way to avoid this. If you don't have a scale, try using the spoon and sweep method to measure your flour. Instead of shoving the measuring cup into the flour bag and packing it in, use a spoon to transfer the flour into the cup and level it off. Learn more: How to Measure Flour
Use a cookie scoop. That will make portioning easier and help ensure that your cookies bake evenly by making them all the same size.
Adjust the salt. If you have any big sweet-and-salty fans in your family, you might want to sprinkle a little coarse salt on top of each cookie before baking them. But you can reduce the amount, or even leave it off entirely, and still end up with a pretty incredible cookie.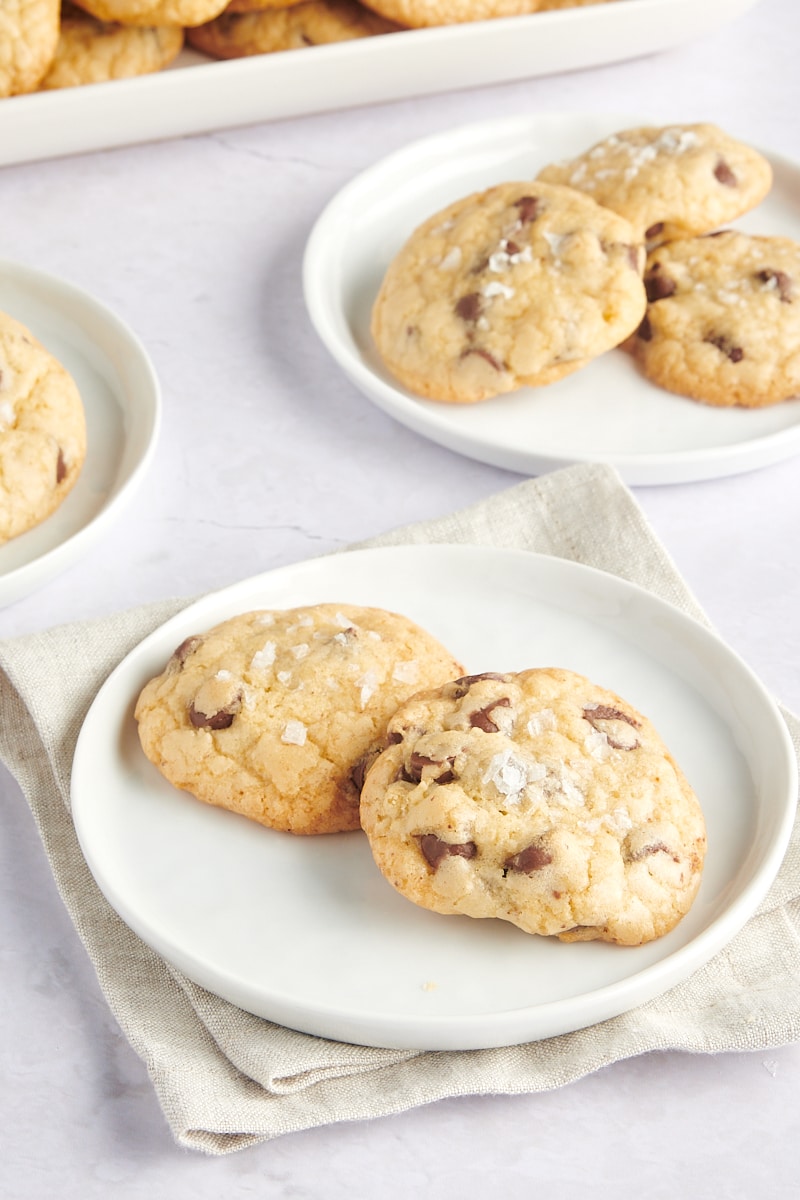 Add-In Ideas
While these chocolate chip cookies are classic, there are so many ways to mix things up and make them your own. They're particularly good with toffee bits or butterscotch chips folded in, both of which dial the nutty flavor up even higher. For more sweetness, go with mini marshmallows or switch the semi-sweet chocolate out for milk chocolate morsels. You can also add a pop of color with rainbow sprinkles or M&Ms.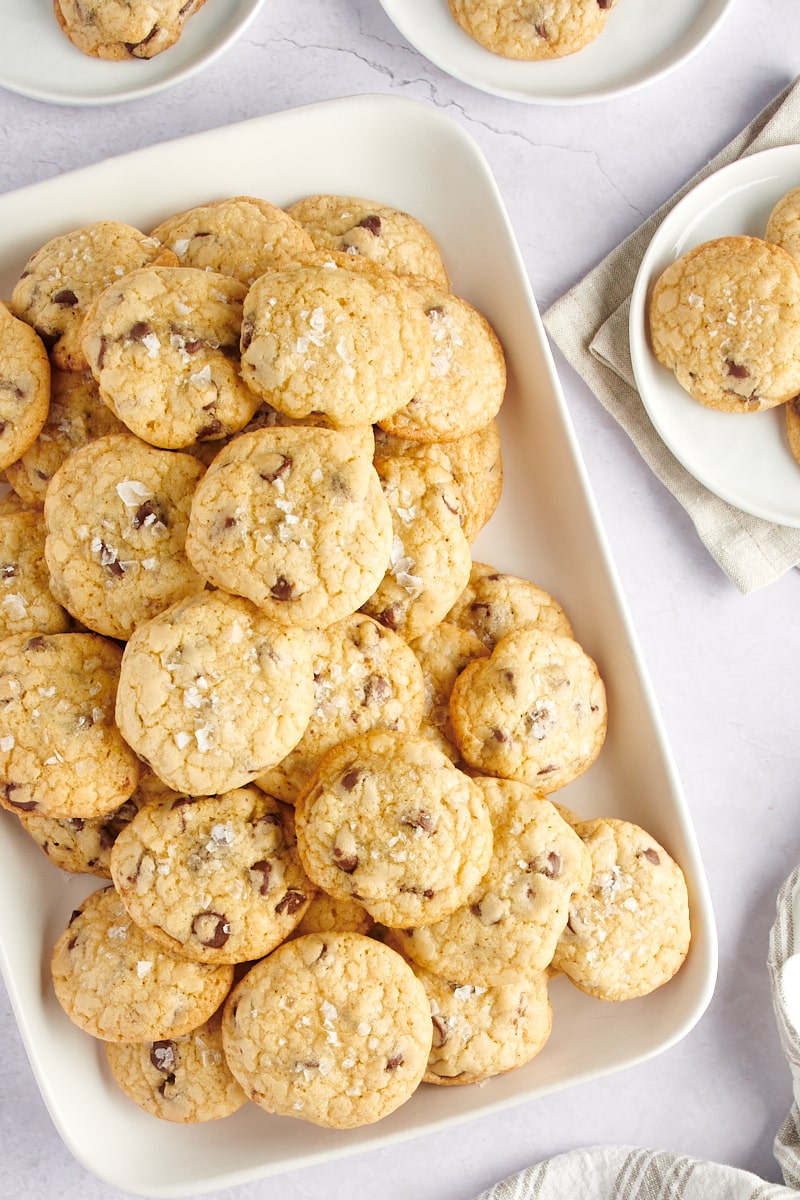 Storage Instructions
Place these cookies into an airtight container and keep them at room temperature for up to 3 days. That is, if you have any leftover at all! If you want, you can warm them in the microwave for around 5 seconds just to get the chocolate slightly melty before you dig in.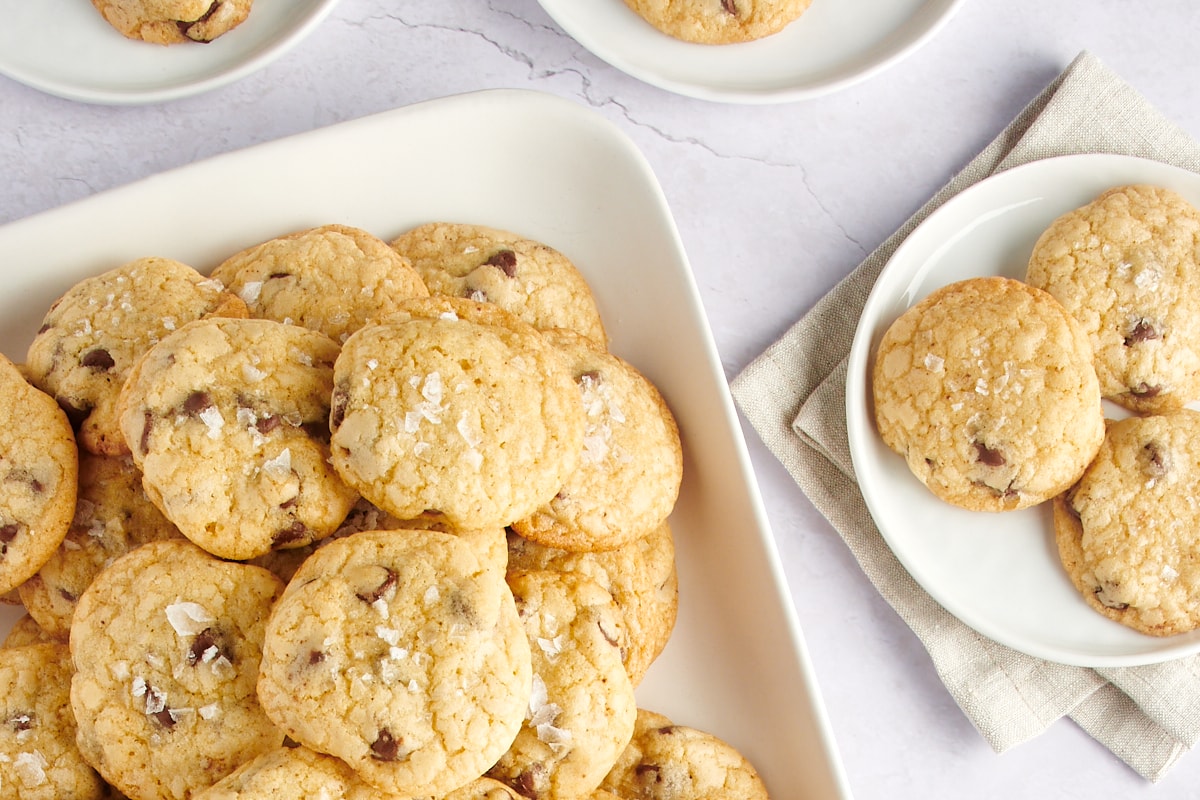 Do These Freeze Well?
These chocolate chip cookies freeze really well, in both dough and cookie form. Freeze the dough in balls on a baking sheet, then move them into a freezer bag. Bake them as directed, adding an extra minute or two to the baking time. If you're freezing the cookies after baking them, make sure you wrap them tightly or keep them in an airtight, freezer-safe container.
More Crave-Worthy Cookies to Try