These Chewy Chocolate Chip Cookies are a classic favorite with crispy edges and chewy middles. This easy recipe will have you making the best chocolate chip cookies in no time!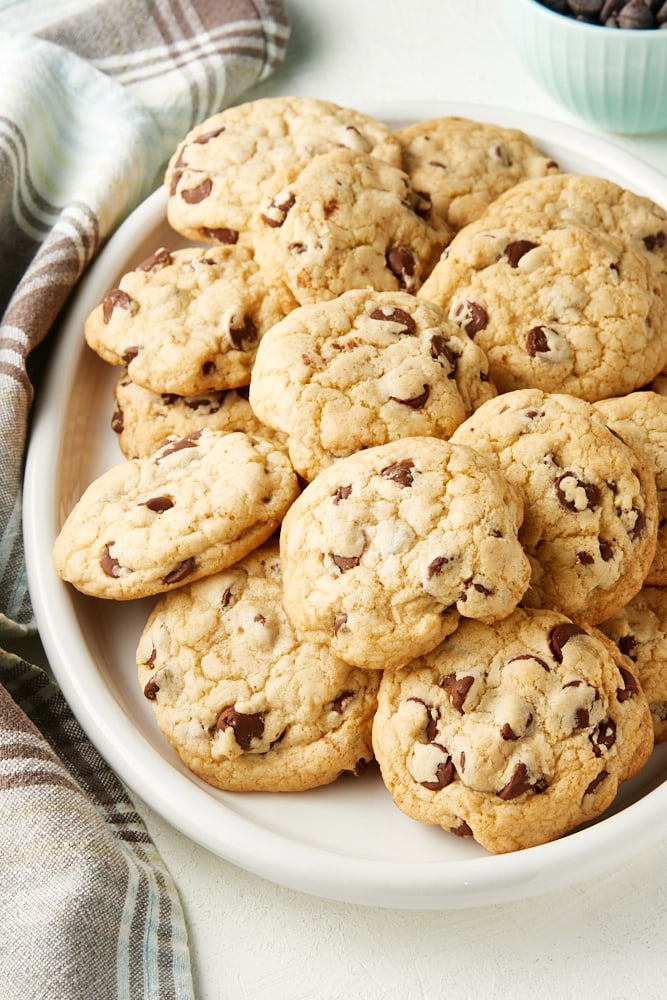 Easy and Chewy Chocolate Chip Cookies
Not all chocolate chip cookies are created equally, and not all people look for the same things in chocolate chip cookies. If you asked all your friends and family what they want their cookie to be, you'd likely get a variety of answers.
I like all kinds of chocolate chip cookies, from soft to dense to crispy to chewy and pretty much anything in between. These Chewy Chocolate Chip Cookies are my latest obsession, though. They've got that crispy outside thing going while being dense and chewy on the inside.
Why You'll Love This Recipe
Simple ingredients. You won't need any fancy or hard-to-find ingredients to make these cookies. Just pantry staples that you probably already have in your kitchen.
Easy to make. A couple of bowls and a hand mixer are all you need to whip up a batch of these chocolate chip cookies.
Perfectly chewy. The best part about this recipe is how perfectly chewy the cookies come out. Biting into one of these treats is so satisfying!
Golden edges. Crisp, golden brown edges offset the chewy centers. You get that little bit of crunch along with a soft and chewy center. Totally irresistible.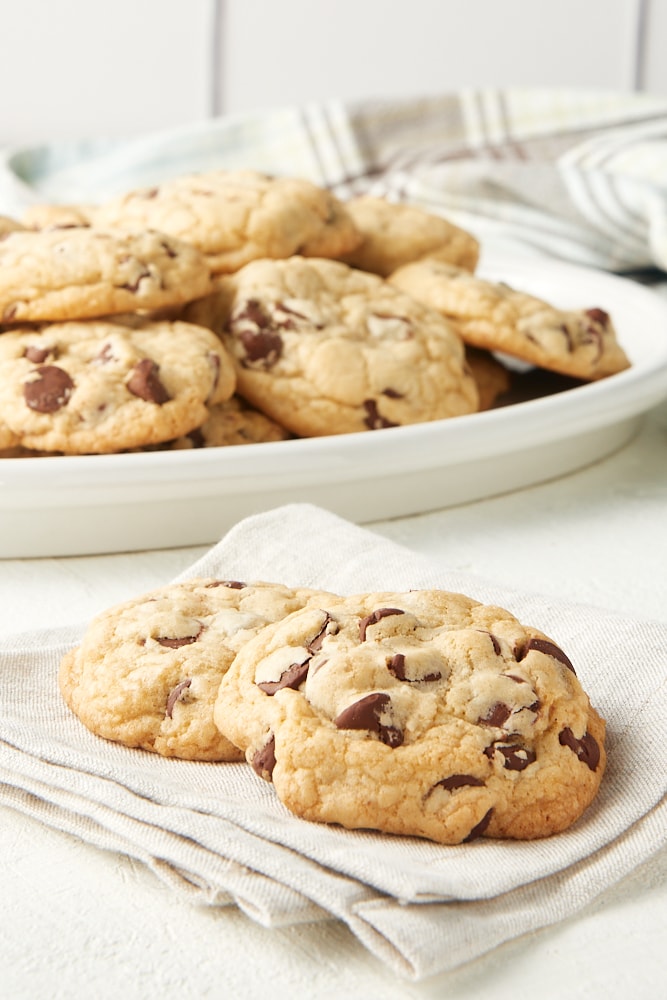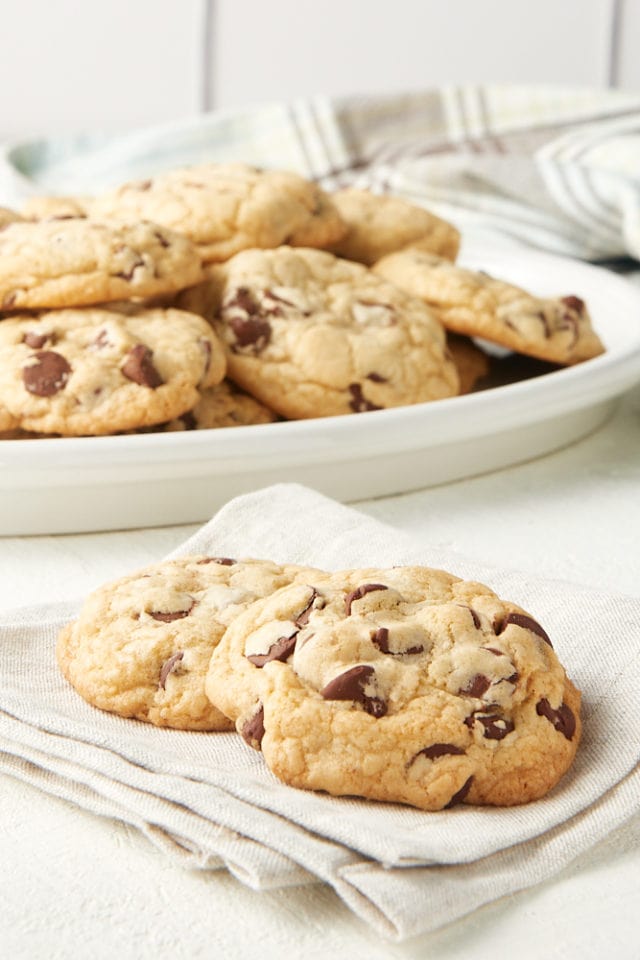 What Makes These Cookies Chewy?
The answer to that is not entirely simple, as there are a lot of things that contribute to the final texture of the cookies.
Melted butter. First, using melted butter instead of softened butter means denser, chewier cookies.
Brown sugar. In addition, using mostly brown sugar adds more moisture to the dough than just using white sugar. More moisture means chewier cookies.
Baking soda. The baking soda also contributes to the dense texture and the craggy, uneven tops.
Egg yolk. Finally, the extra egg yolk helps make the cookies moist and chewy.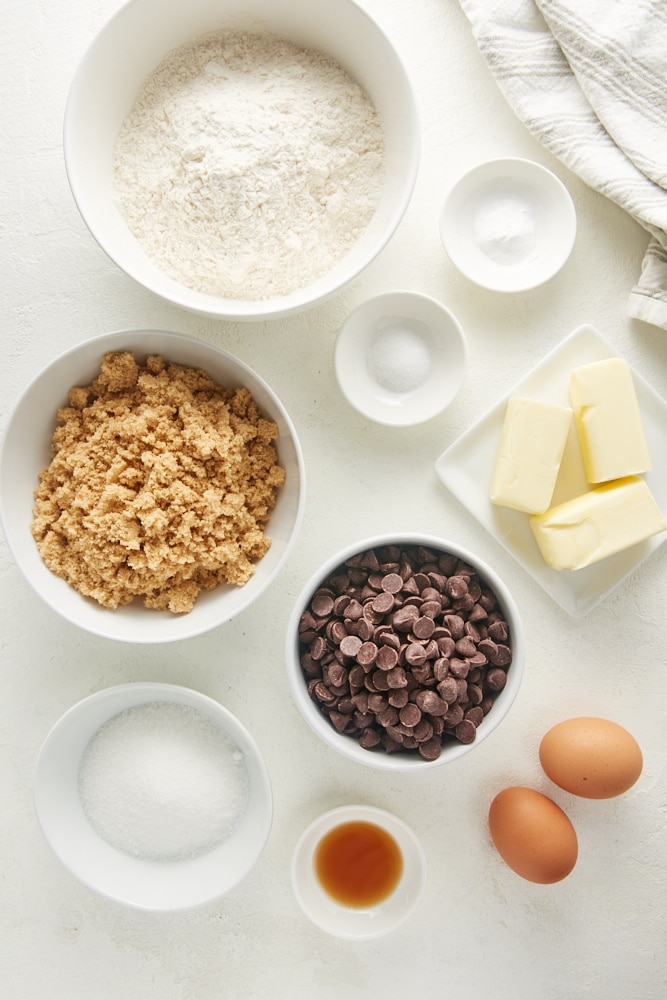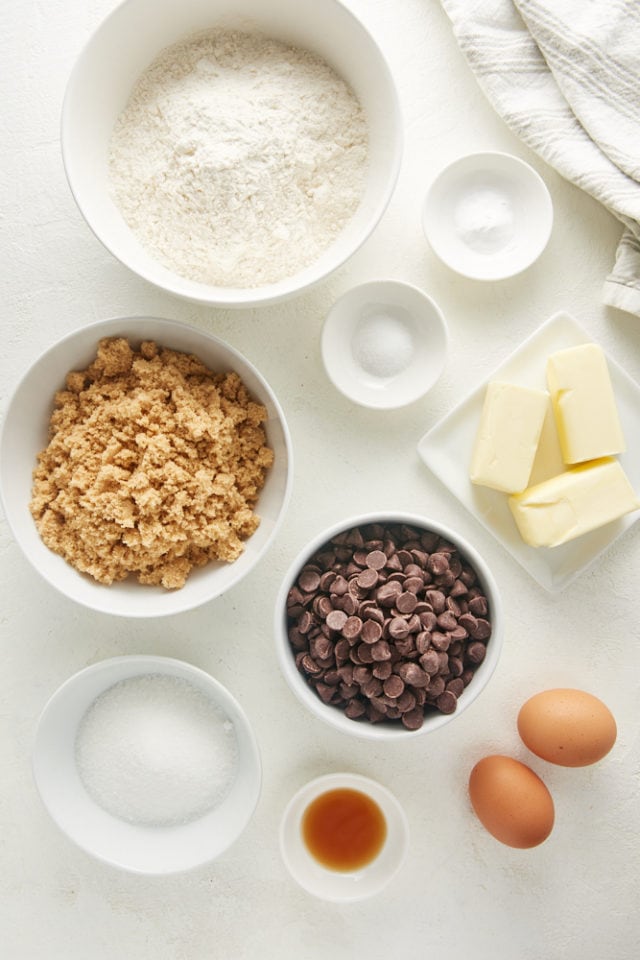 What You'll Need
You'll only need the basics to make these Chewy Chocolate Chip Cookies. If you bake regularly, chances are good that you have everything you need to make a batch of these cookies!
All-purpose flour – Measure by weight for the best results. Otherwise, use the spoon and sweep method. Too much flour can make these cookies dry and tough.
Baking soda
Salt
Unsalted butter – Melt the butter when you begin gathering your ingredients and allow it to cool slightly. It needs to be cool enough it won't start cooking the eggs when they're added but still warm so it will dissolve the sugar.
Brown sugar – I usually use light brown sugar. For a stronger flavor and moister cookies, try dark brown sugar.
Granulated sugar
Eggs – You'll need 1 large egg plus an egg yolk. Set the eggs out so they can come to room temperature. Remember that it's easier to separate eggs when they're cold, so do that when you're gathering your ingredients.
Vanilla extract – Use a good quality vanilla here for the best flavor.
Semisweet chocolate chips – You can alternatively use chocolate chunks or chopped chocolate. Whatever your choice, just be sure it's a good quality chocolate that you enjoy eating. I prefer dark chocolate, but feel free to use a different variety if you like.
How to Make Chewy Chocolate Chip Cookies
These cookies mix quickly and easily, making them a great choice for bakers of all skill levels. Be sure to factor in chilling time when you start baking.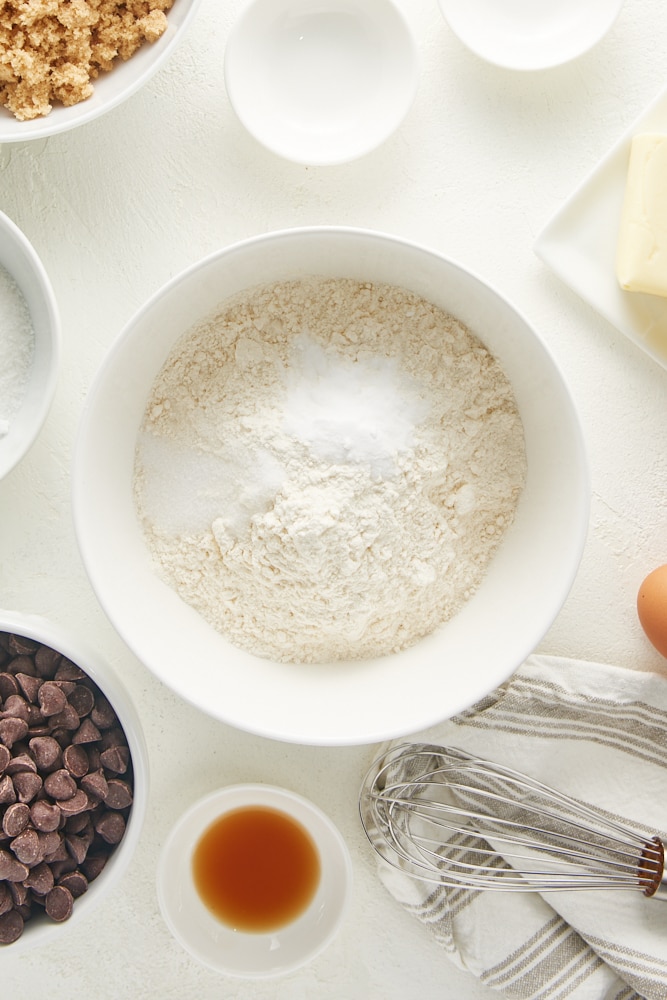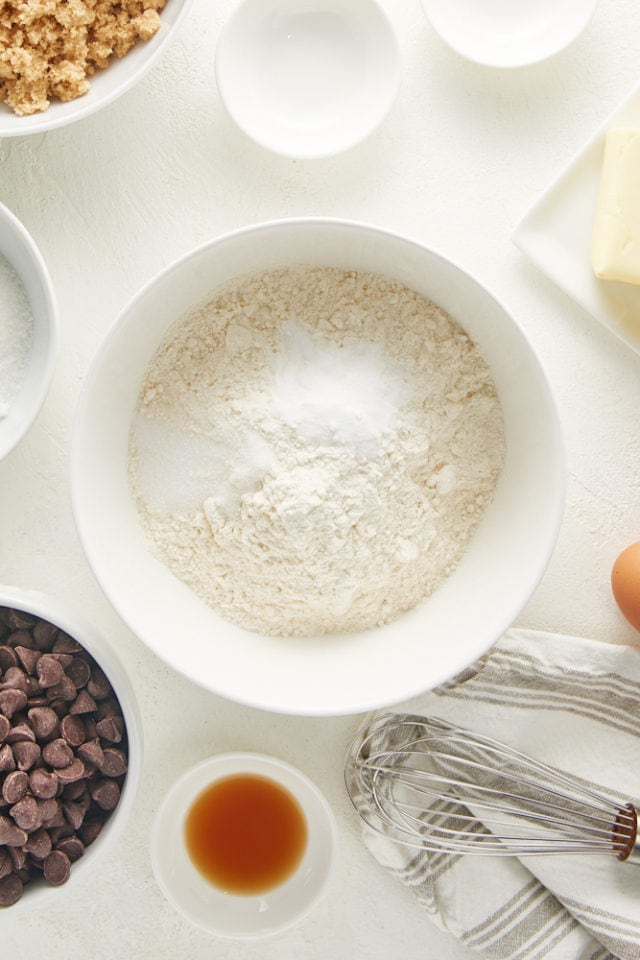 Gather all the ingredients. Make sure you've got room in your refrigerator for your mixing bowl when it's time to chill the dough.
Combine the dry ingredients. Whisk together the flour, baking soda, and salt.
Combine the wet ingredients. Use an electric mixer on medium speed to beat the butter, brown sugar, and sugar until thoroughly combined. Add the egg, egg yolk, and vanilla. Mix well.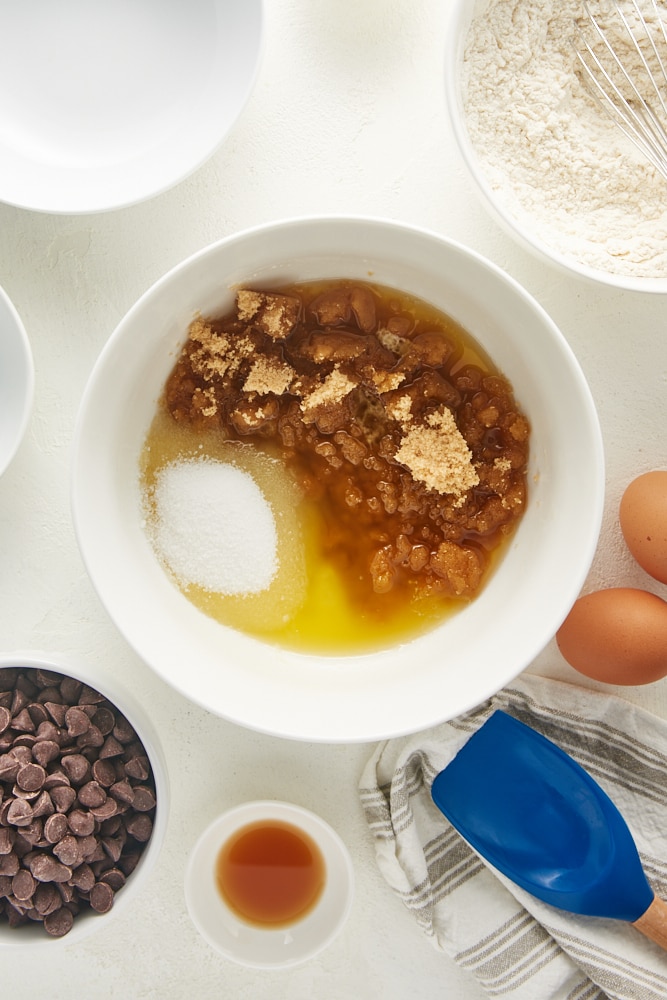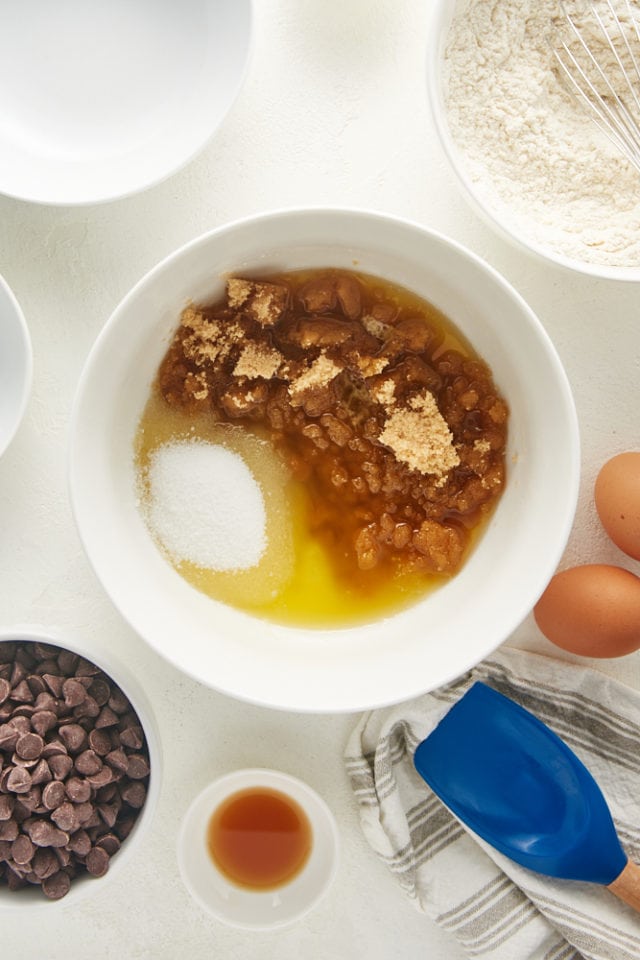 Combine the wet and dry ingredients. With the mixer speed on low, gradually add the flour mixture to the butter mixture, mixing just until combined or a few streaks of flour remain. Do not over-mix.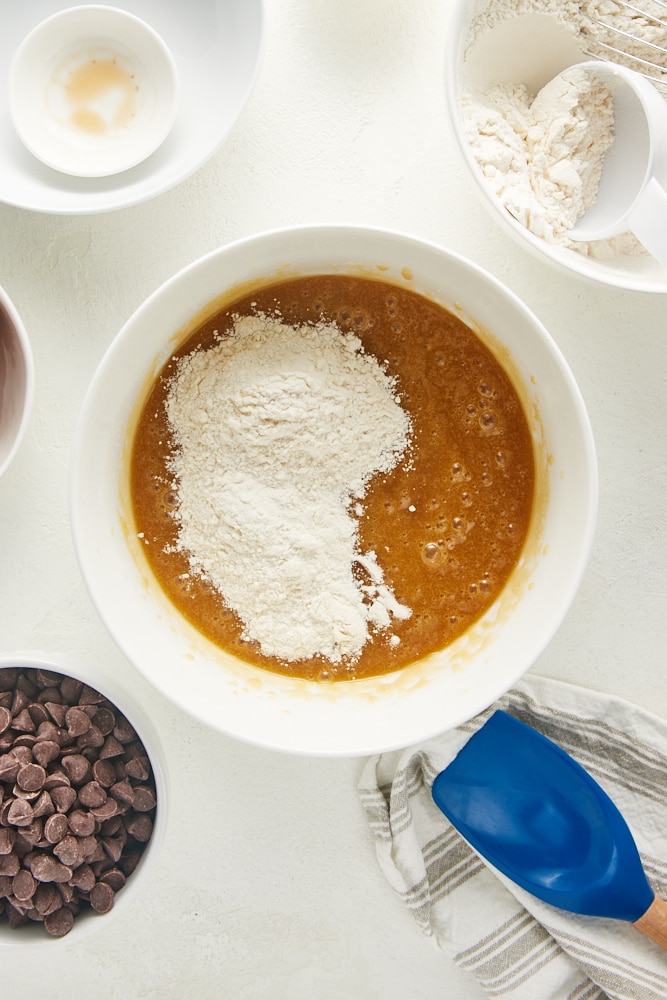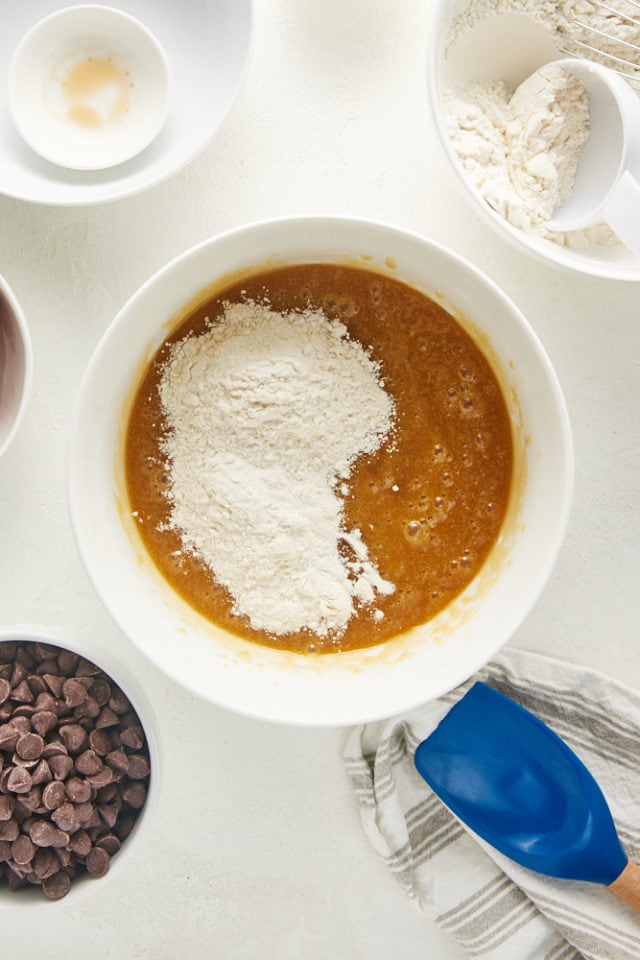 Add the chocolate chips. Stir them into the dough until evenly incorporated. There are a lot of chocolate chips here, but there's plenty of dough to hold them!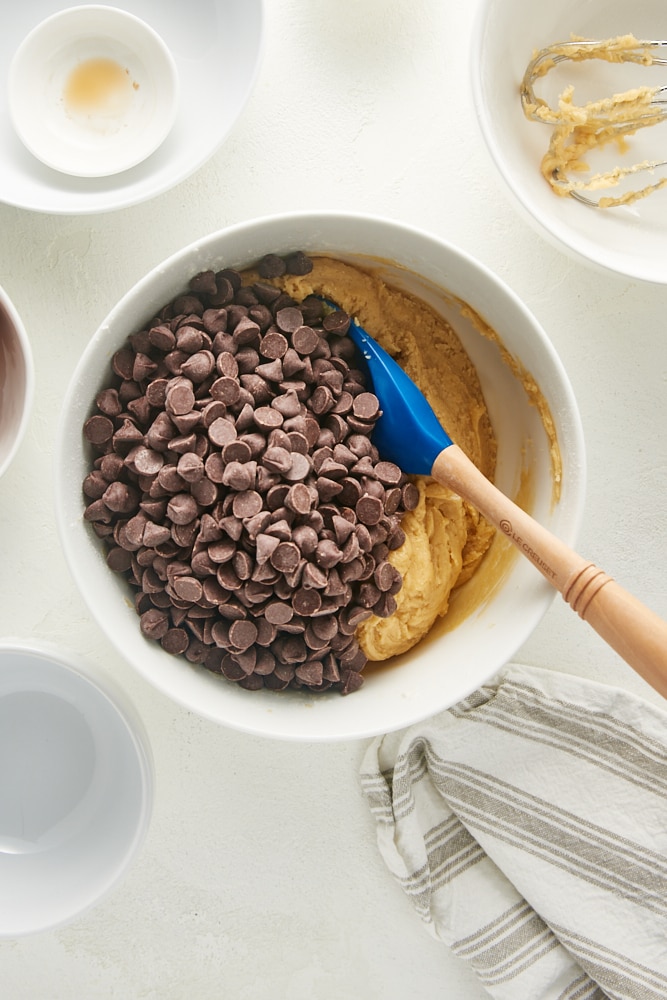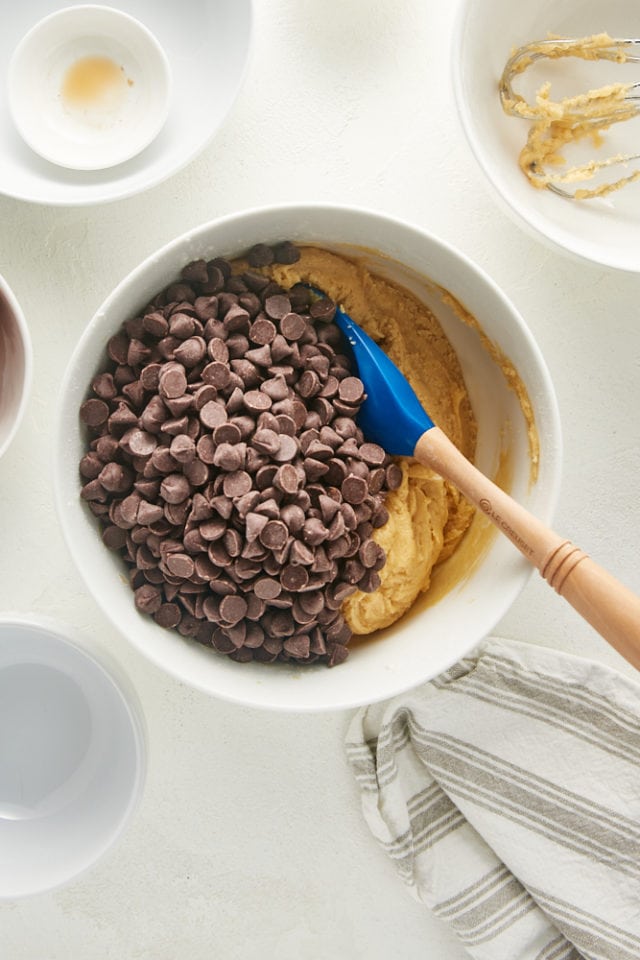 Chill the dough. Cover and refrigerate for 2 hours or overnight.
Prepare for baking. Heat the oven to 350°F, and line baking sheets with parchment paper or silicone baking mats.
Portion the dough. Using 2 tablespoons of dough at a time, drop the dough onto the pans or roll the dough into balls, depending on how you want them to look in the end. I prefer to portion with a cookie scoop so the cookies are evenly sized for thorough baking, (A #30 or #40 scoop works well.) and then lightly squeeze into balls to smooth out the edges. If the dough is too hard to scoop, let it sit at room temperature for about 10 minutes until it's soft enough to scoop. Place the cookies on the prepared pans, leaving about 2 inches between cookies.
Bake. Bake each pan of cookies for 12 to 15 minutes, or until golden. Be sure not to over-bake.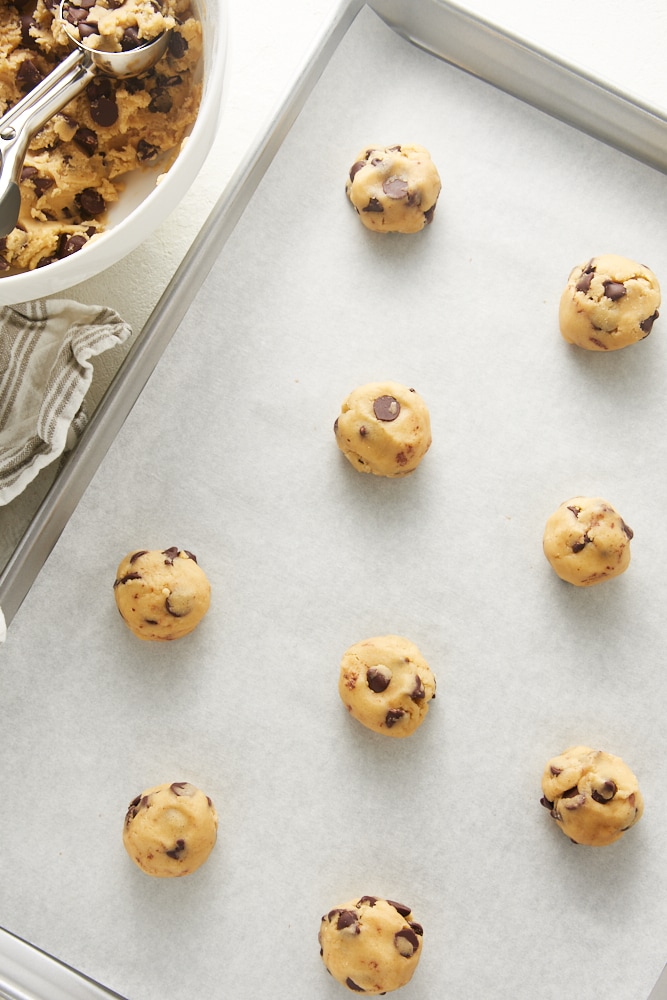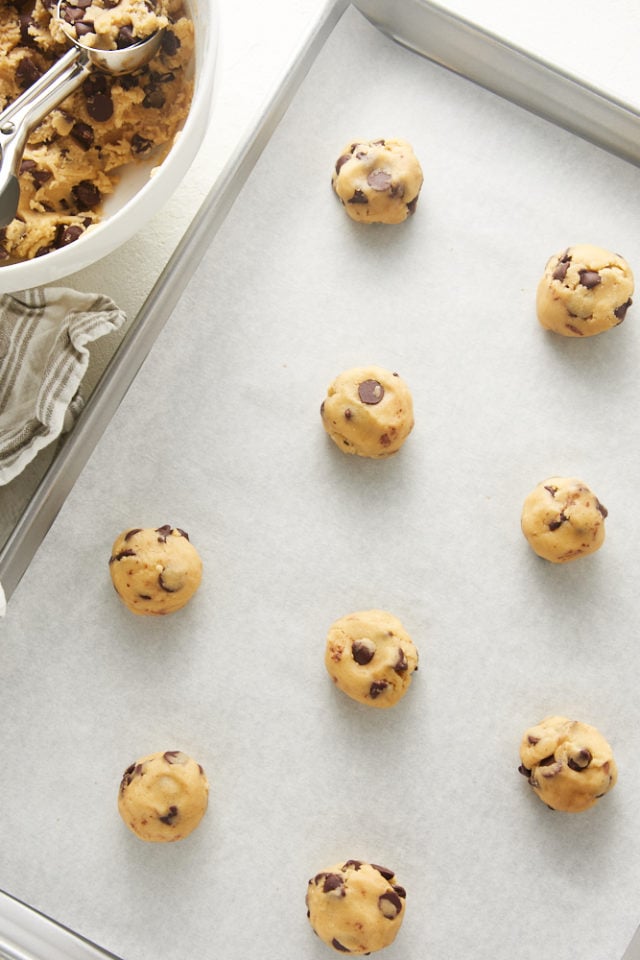 Cool the cookies. Place the pans on wire racks and allow the cookies to cool for 5 minutes. Then transfer the cookies from the pans to a wire rack to cool completely.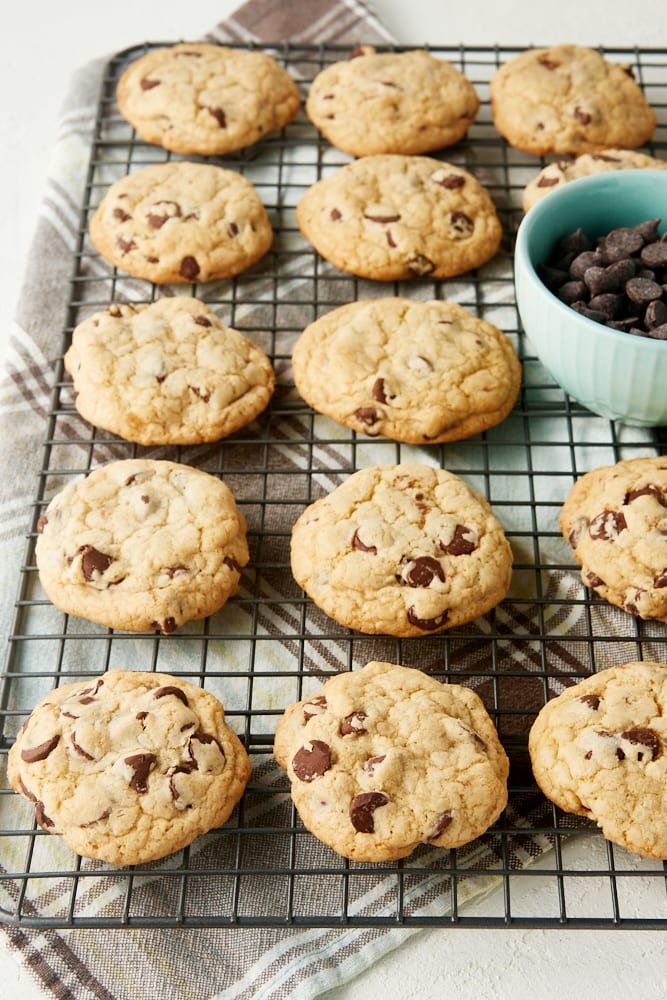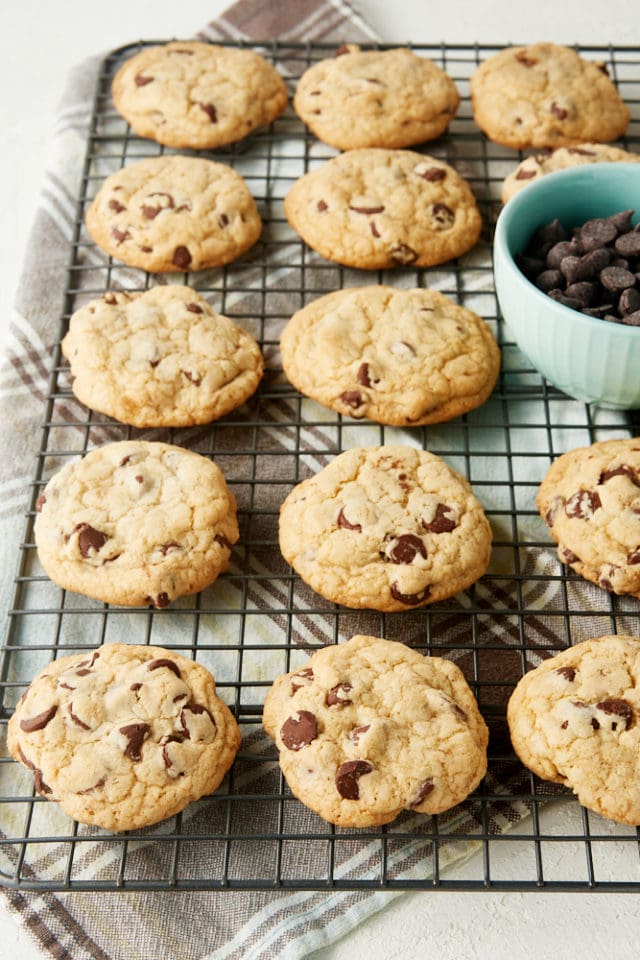 Variation Ideas
Here are a few ideas for some tasty ways to tweak these Chewy Chocolate Chip Cookies.
Use a combination of chocolates. Keeping the total volume the same, try using a mixture of chocolate chips – semisweet, dark, milk, white.
Add nuts. Reduce the chocolate chips by 1/2 cup to 1 cup and substitute the same volume of chopped nuts. Pecans, walnuts, hazelnuts… whatever you like!
Use other flavored chips. Mix in some peanut butter chips, butterscotch chips, or another favorite in place of some of the chocolate chips.
Add a sprinkling of coarse salt. Sprinkle a pinch of flaky salt on top of each cookie before baking for a sweet and salty version. I like a chunky sea salt!
Stuff them. For a decadent and irresistible variation, try Cheesecake-Stuffed Chocolate Chip Cookies!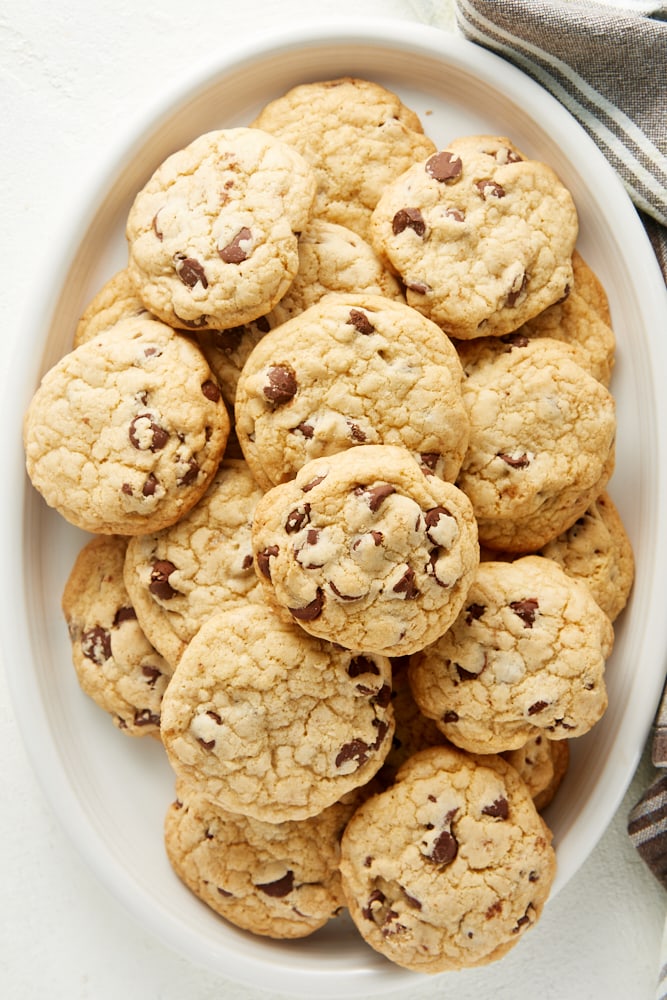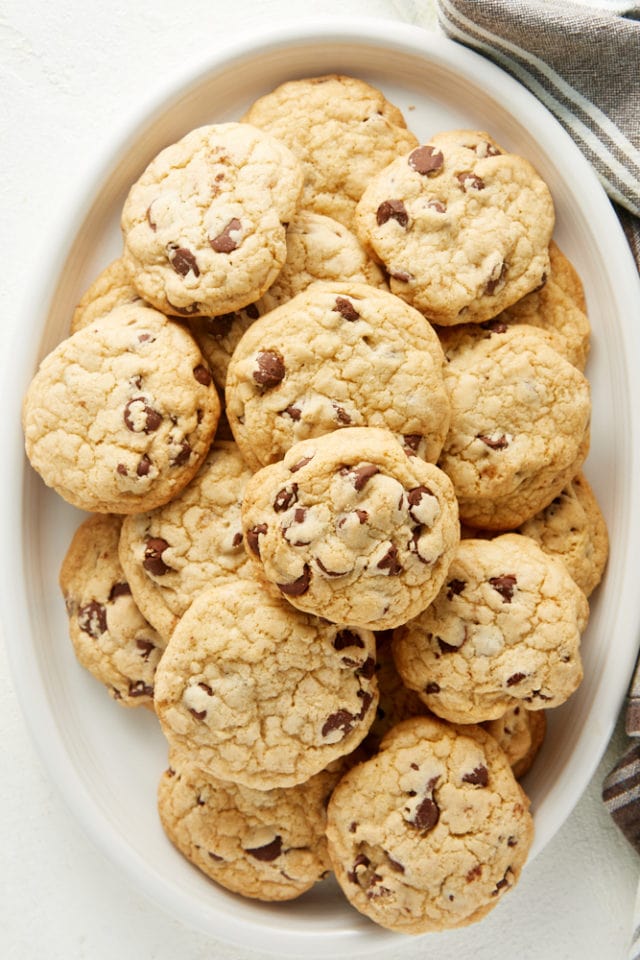 Tips for the Chewiest Chocolate Chip Cookies
Don't skip the chilling time. That time in the refrigerator helps prevent excessive spreading and also lets the flavors mellow and mingle together.
Use a cookie scoop. I highly recommend using a cookie scoop for drop cookies like these. A #30 or #40 scoop is a good choice for these cookies.
Bake one pan at a time. I generally don't bake multiple pans of cookies at once. My experience has been that I get better results baking one pan at a time. Be sure to chill the dough between batches. And if you're reusing baking pans, be sure to let them cool completely before placing more dough on them.
Don't over-bake. Too much oven time and you'll get crispier, less chewy cookies. If that sounds good to you, then feel free to tack a couple more minutes onto the baking time.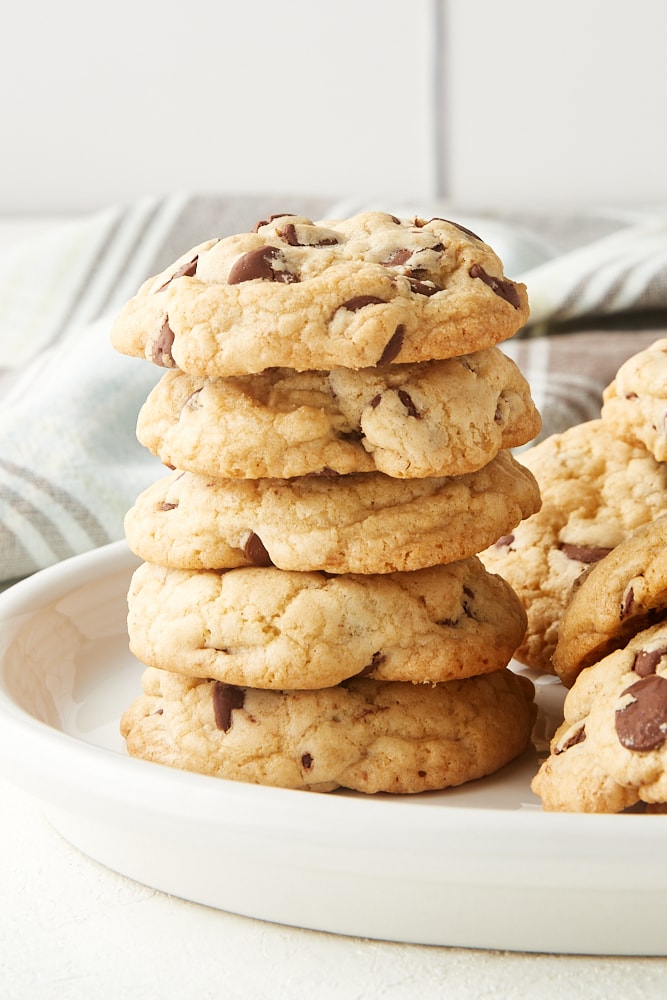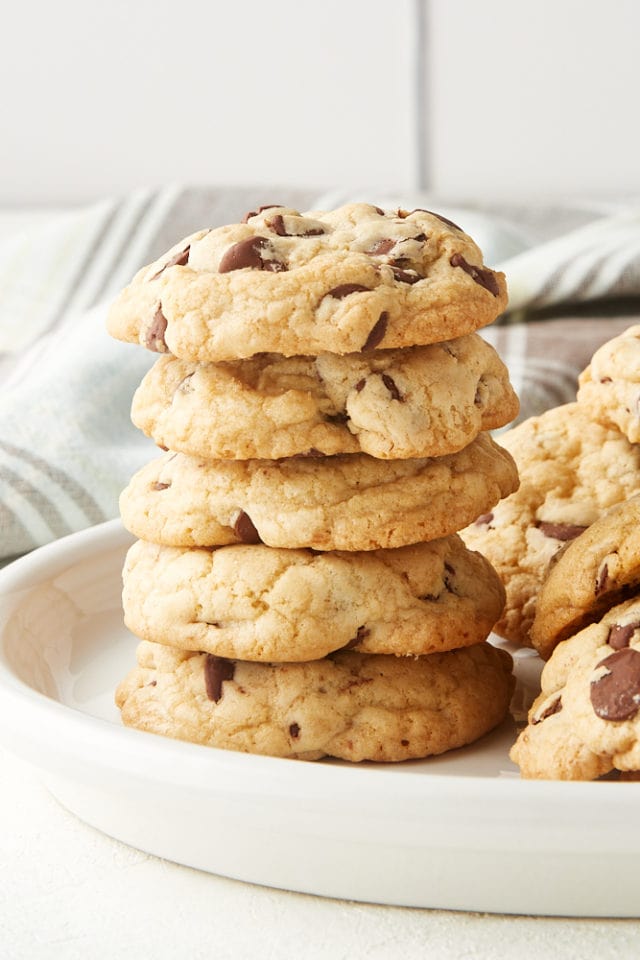 How to Store Your Cookies
Place the cooled cookies in an airtight container. To keep your cookies looking their best, place them between layers of waxed paper. Store at room temperature for up to 3 days.
Can You Freeze Chocolate Chip Cookies?
To freeze baked cookies: After the cookies have cooled, place them in an airtight, freezer-safe container or bag. You can initially freeze them in a single layer for about an hour before packing them to harden the chocolate before placing them in containers. This can help the cookies stay looking their best. Thaw overnight in the refrigerator or for an hour or so at room temperature.
To freeze the unbaked cookie dough: Scoop the dough and place in a single layer on a parchment-lined baking sheet. Freeze for 2 hours, and then place the frozen cookie dough balls in a freezer-safe container or bag. When you're ready to bake cookies, there's no need to thaw. Just place them on a baking sheet as normal and bake, keeping in mind that they'll likely need a couple more minutes of baking time than normal. (Read more at How to Freeze Cookie Dough.)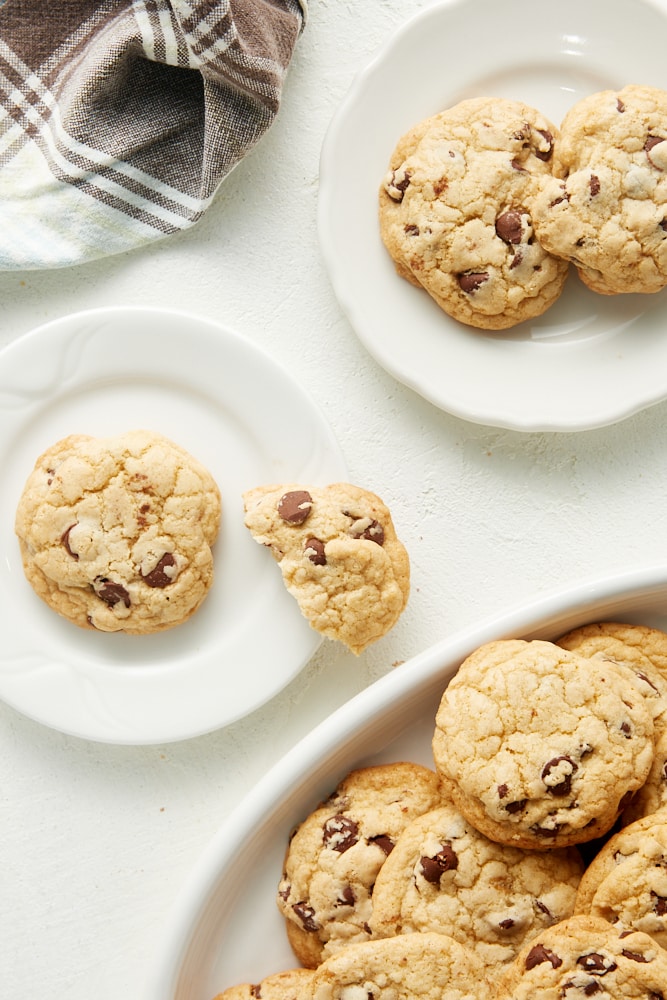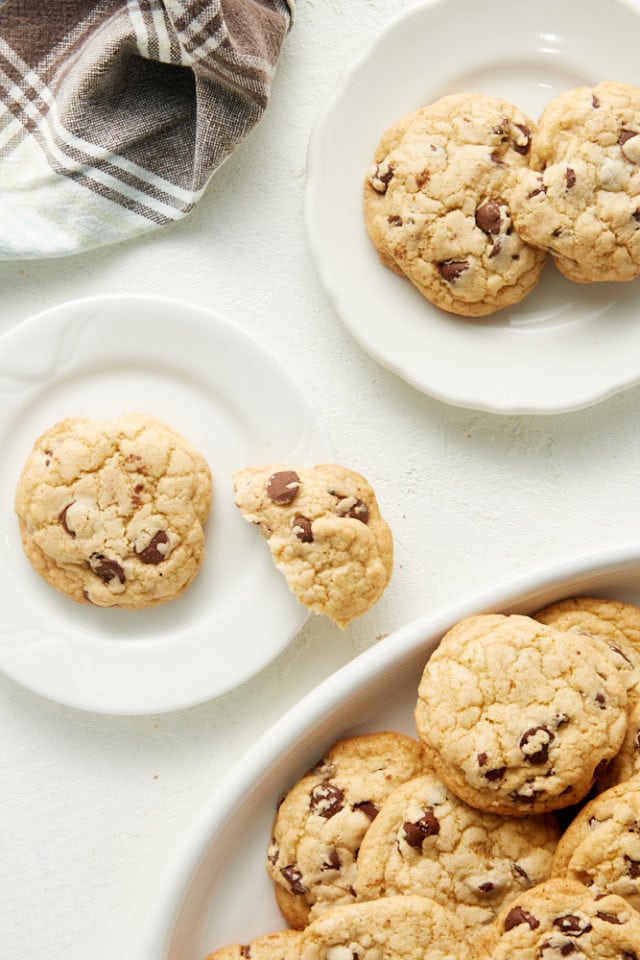 Watch the Step-by-Step Video Tutorial
More Chocolate Chip Cookie Recipes